7 Best Flashlights Under $20 Reviewed For All Purposes
Filed under: outdoors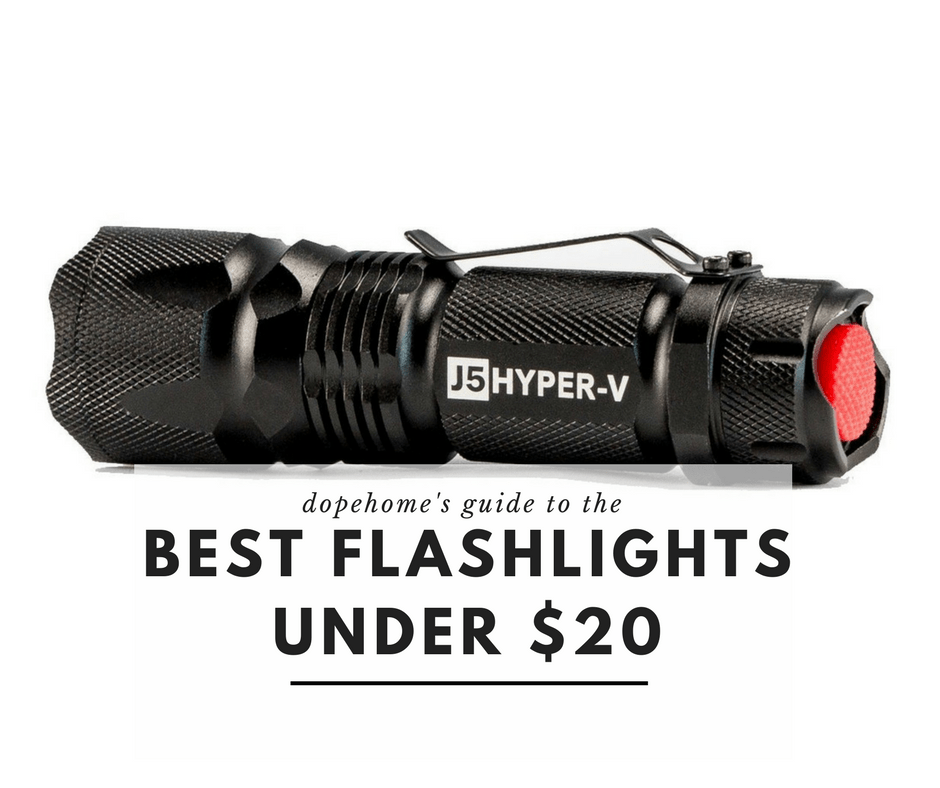 Looking for the best flashlights under $20? Look no further!
If you're getting tactical, need a spare flashlight in the home or something to keep in the car for emergencies, these flashlights are each so versatile you'll easily find one to fit for the purpose you need.
The Best Flashlight Under $20 Is The All Round J5 Hyper V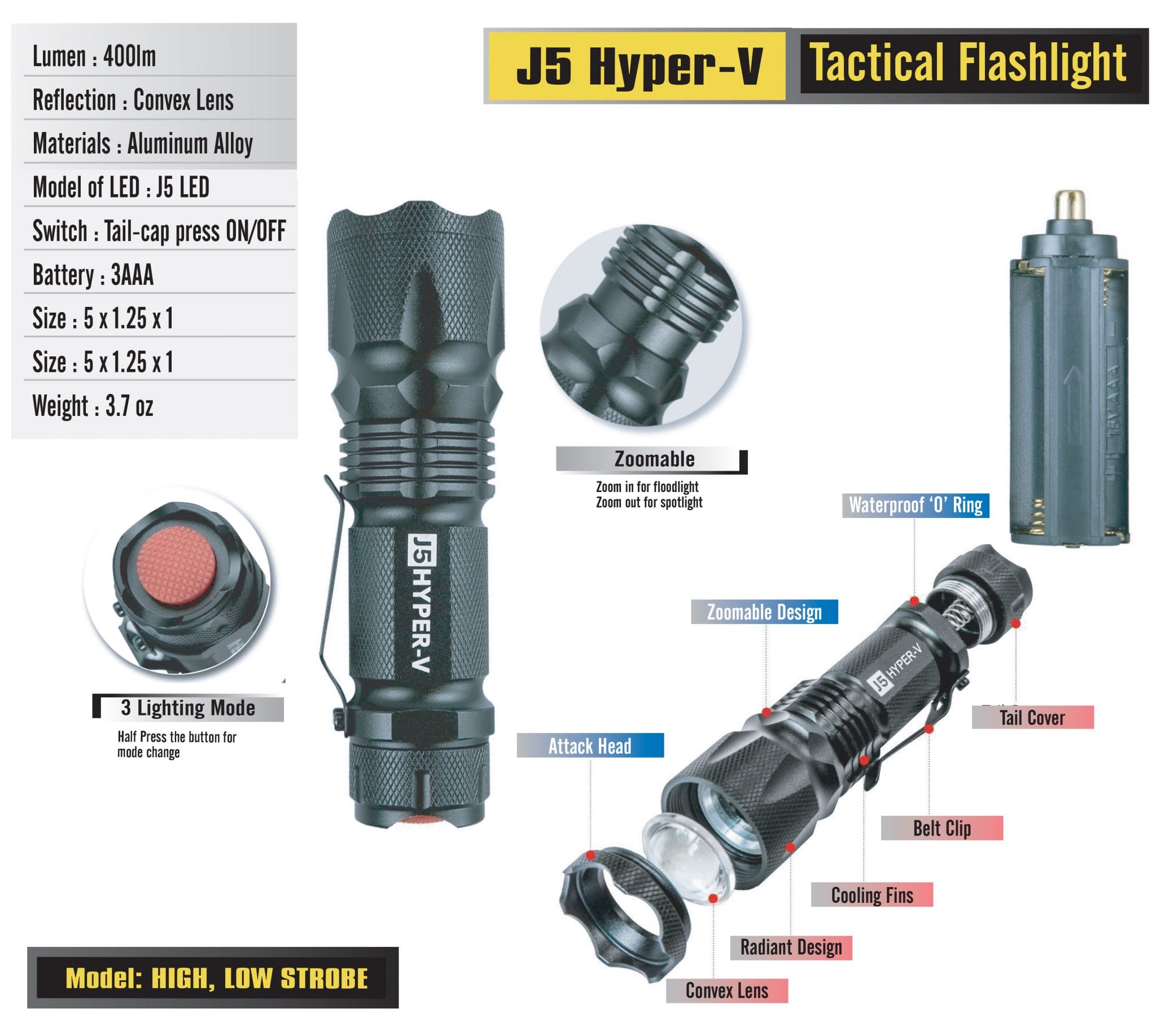 The J5 Hyper-V is hands down the best flashlight under $20. What makes it so great is it's all round usefulness - it's bright, light, compact, and extremely tough.
A great hack is to combine the J5 with a 3500mAh rechargeable battery which helps pump out the strong brightness of 400 lumens through the three LEDs.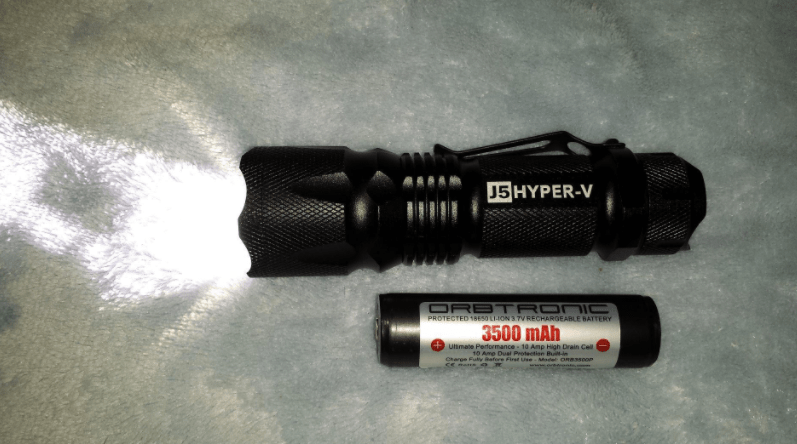 The beam of light is reportedly so bright that kids of parents who own them, use the torches as light sabres!
Features
400 Lumens
800ft light
Adjustable focus
Not waterproof
Takes AA or AAA or rechargeable
Clip for easy placement on belt
Best Flashlight For The Car - LED, Magnetic & Waterproof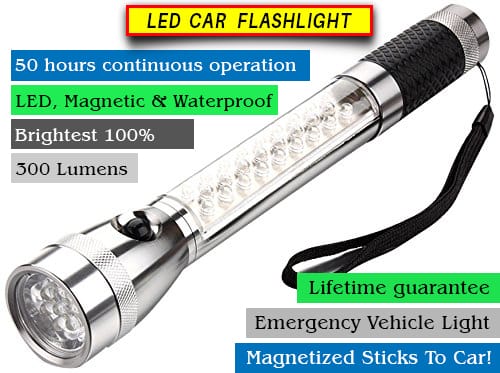 The center light is by far the best selling aspect of this popular tactical flashlight. In addition the blinking red emergency light is an incredibly valuable feature if ever stranded or broken down on the side of the road. The brightness of the main flashlight isn't the greatest and doesn't really compare to the other options on the market, but that's not really what you'd be getting this flashlight for.
The area light on the side is the key selling point. If you need to light up under the hood, a garage or a room that has no electricity, it's so simple to attach the flashlight using its powerful magnet and you have the brightness similar to that of a ceiling light.
Features:
300 Lumens
50 hours continuous operation
Magnetic body easily attaches to metal surface
Waterproof
Area illumination with 26 side LEDs
Lifetime guarantee
Red blinking emergency light
Best Hiking/Camping Flashlight - LEDGOO Solar Powered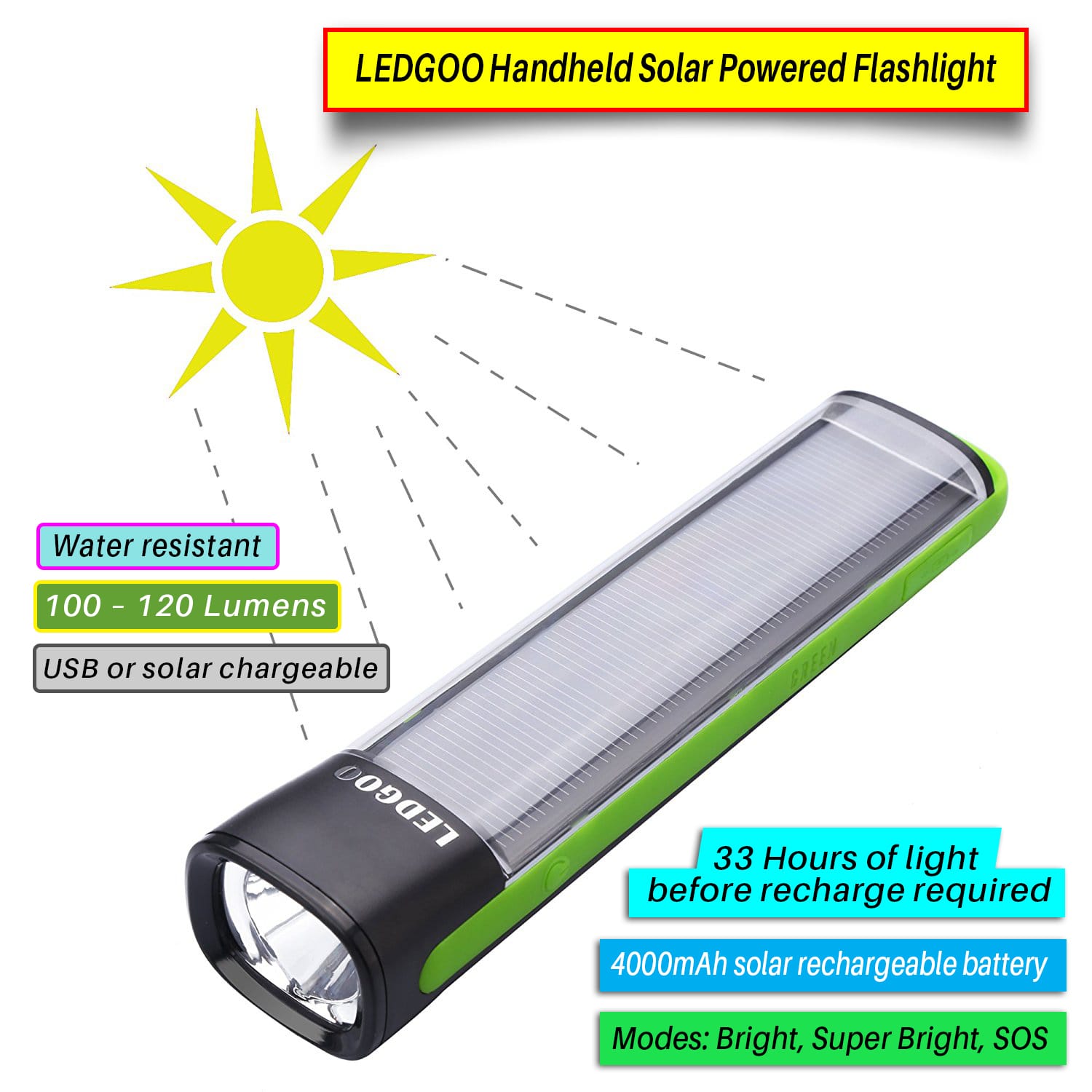 The LEDGOO is truly a fantastic invention, however, it does come with its share of flaws. With such a large capacity battery, solar recharging can take quite some time in direct sunlight. You will need almost two days of sunlight in order to give it a full charge. Now, this still needs to be put in perspective of the size of the battery. It's capable of giving light for 33 hours continuously and can charge phones and iPads. So it's really not a bad trade off.
The light of the torch is a little weak at around 100-120 Lumens (adjustable). This is weak compared to the other very high powered torches we have featured, but will still provide ample light in the tent and around a campsite. So it really comes down to what you are using it for - you don't want a 400 lumen flashlight in your tent! Additionally, the flashlight is not zoomable or cannot be focused.
The other downside of the light is that a mobile phone needs to be plugged into the light in order to see the remaining battery capacity of the flashlight. Considering that most other flashlights do not have such a feature, it shouldn't frighten off anyone interested. Just something to be aware of.
In light of these downsides, the solar rechargeable ability of the flashlight and its large battery capacity are still some damn awesome features that should put to rest any worries. That's why we've given it the best flashlight for hiking and camping.
Features:
4000mAh solar rechargeable battery
USB or solar chargeable
100 - 120 Lumens
33 Hours of light before recharge required
Water resistant (not waterproof)
Days on end off the grid, it's perfect.
Best Tactical Flashlight - Xtreme Bright X-3500 Military Grade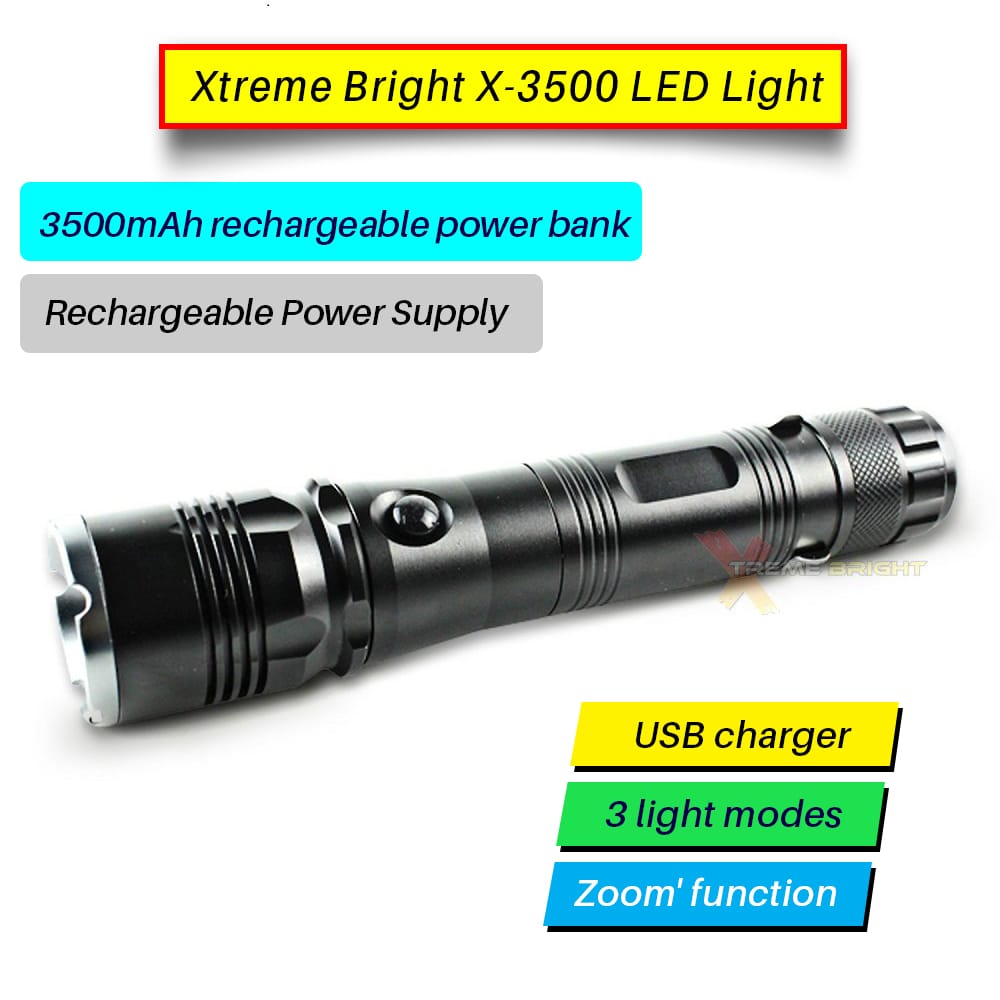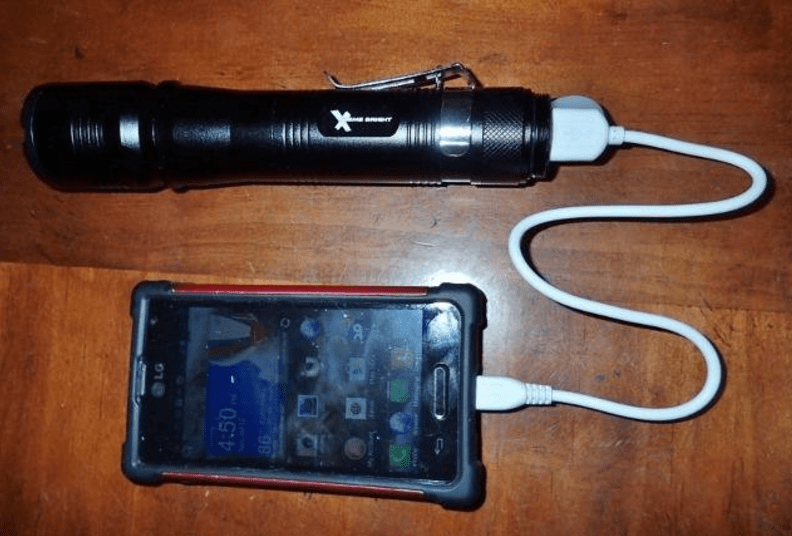 Features:
3500mAh rechargeable power bank
USB charger
Requiring expensive and difficult to find HC is a large drawback.
Best Hunting Flashlight Under $20 - Xtreme Bright Camo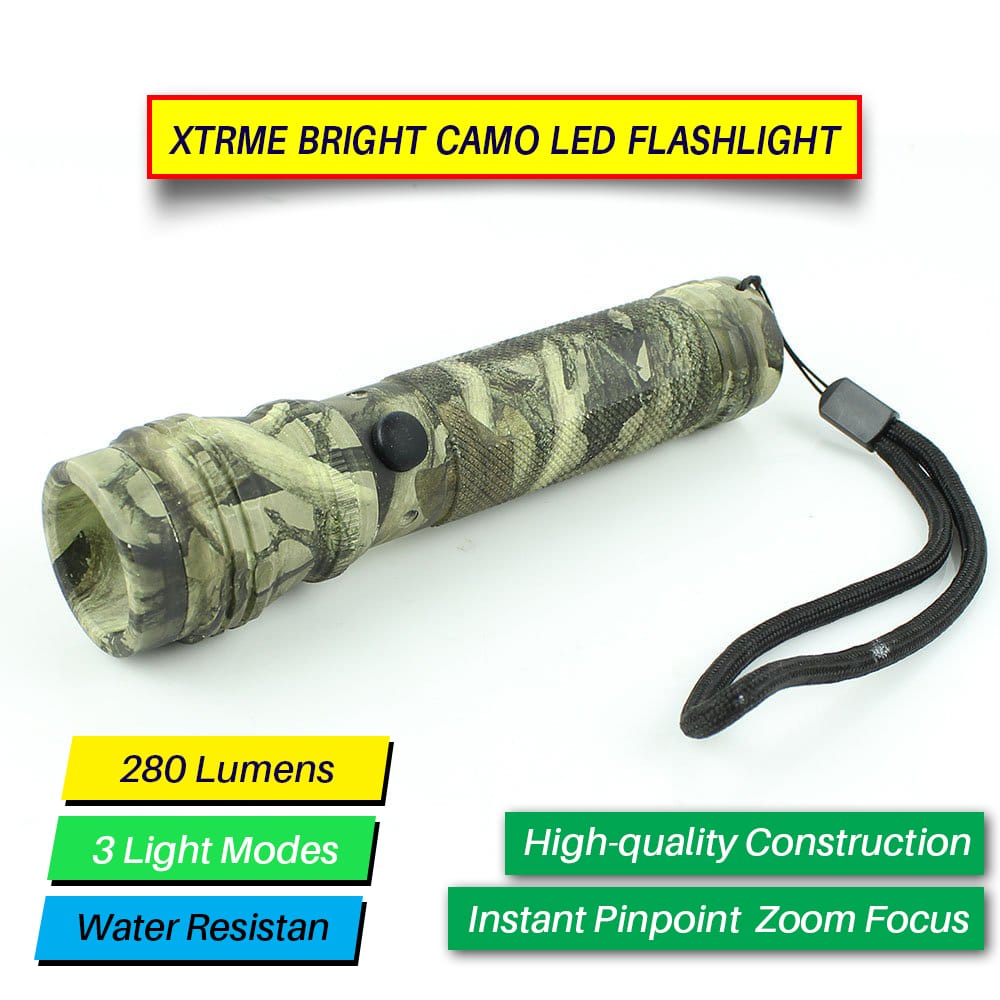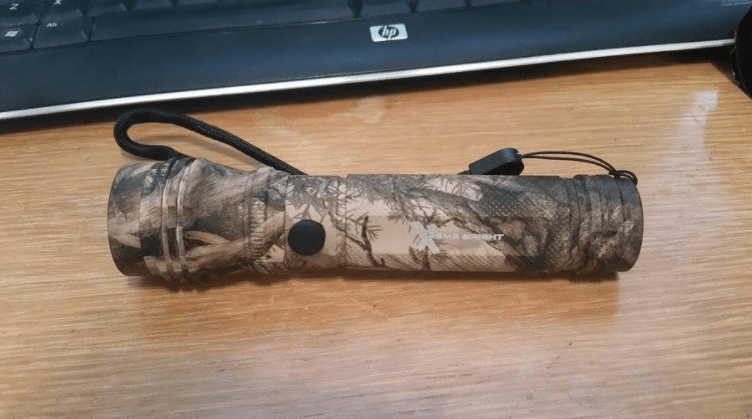 Best Emergency/Survival Flashlight Under $20 - PrimalCamp Handcrank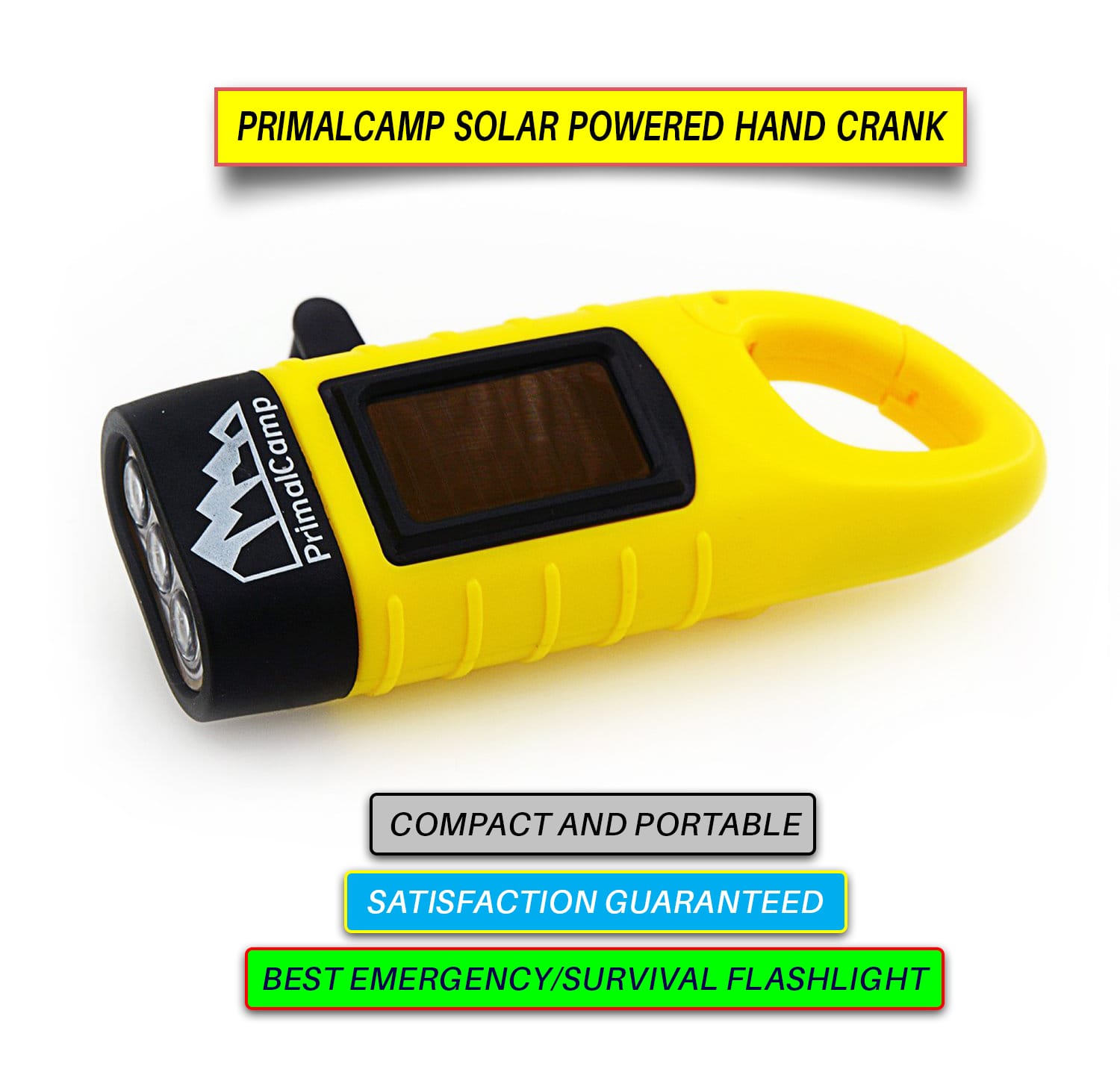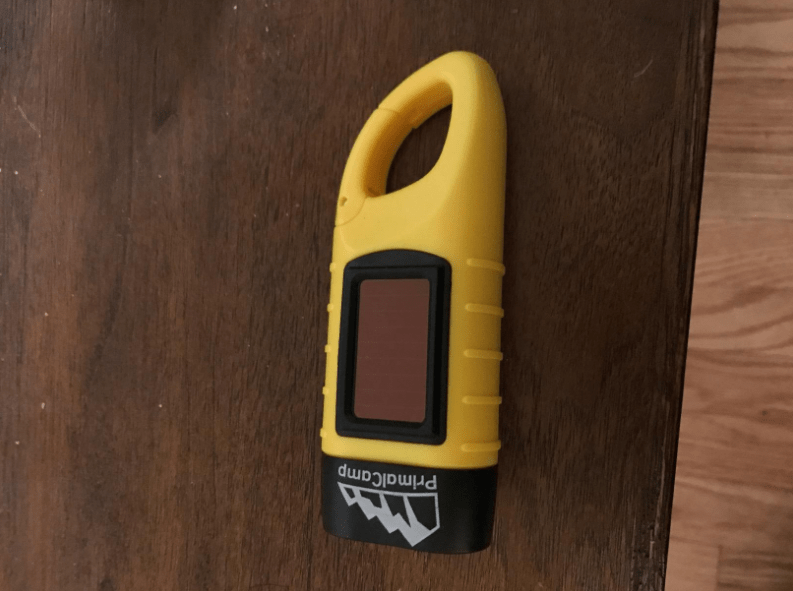 Best Heavy Duty Flashlight - Rayovac Indestructible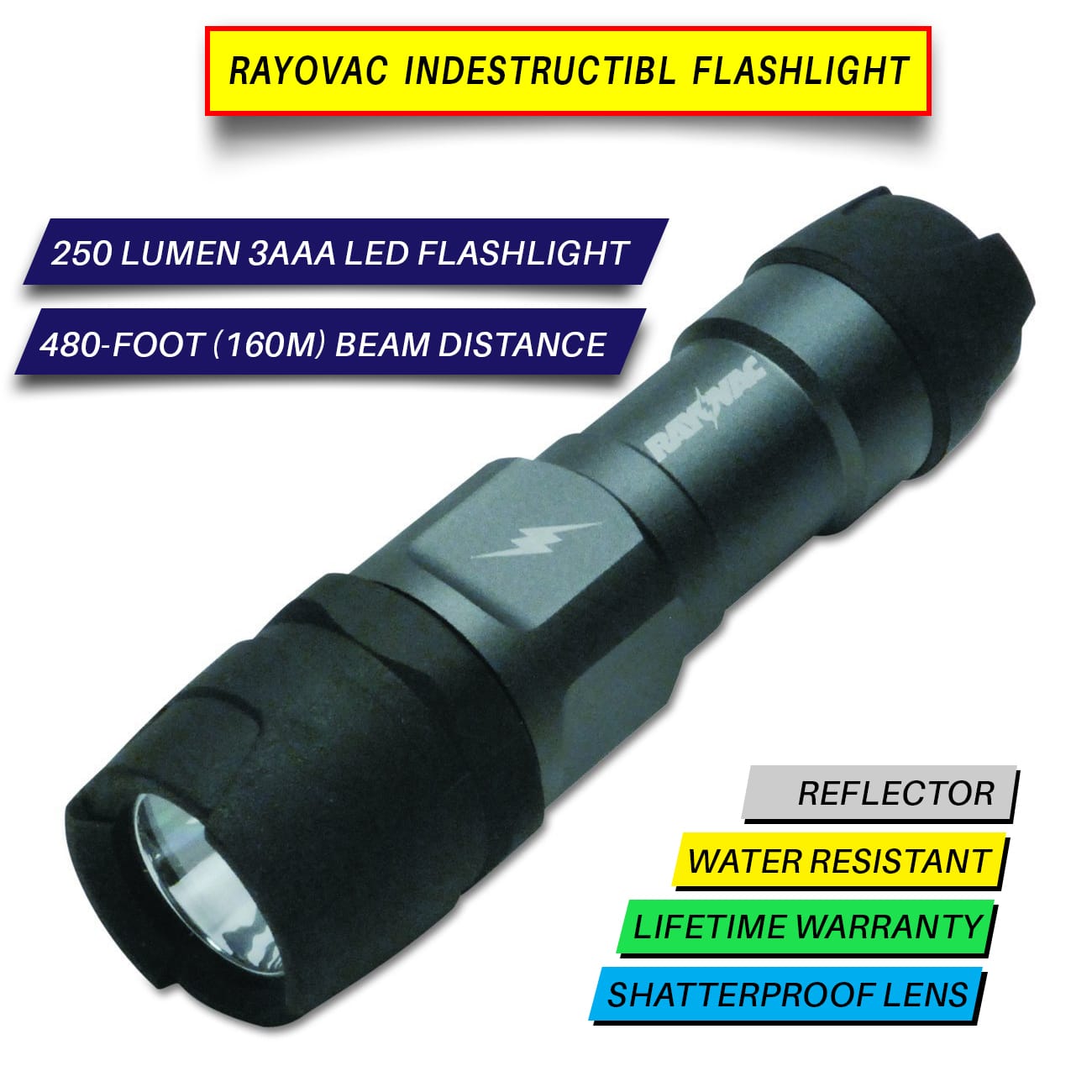 The Rayovac is an imposing flashlight, built like a tank and jam packed with some truly badass features.
Features:
Run time: 30hrs full brightness or 160hrs at 75 lumens
Beam distance: 925ft
20ft drop distance
Brightness: 320 lumens
Shatterproof lens and reflector
Lifetime warranty
Water resistant
The Rayovac has very little downside, it does not compromise on quality, performance or durability. The only thing is its size is larger than other flashlights and it is heavier. In the context of its durability, these are completely reasonable and what you would expect for such a camera.
Buyer's Guide To The Best Flashlights
Getting the best flashlight for under $20 is not only about finding the best quality item, but also understanding your own needs of the light and its intended application. Once you find where you're going to be using the flashlight, you'll better be able to find the perfect one.
Flashlights really come in a few different varieties. Tactical, camping, emergency and survival just to name a few.
Batteries
Depending on your circumstances, choosing the right battery can be an important factor in the decision process. There are primarily four main battery chemistries used today:
Alkaline (primary cell)
Lithium (primary cell)
Ni-MH (rechargeable)
Li-ion (rechargeable)
Aside from the chemistry, we also get batteries in all sorts of sizes: from AAA, AA, D and C. But what does this all mean in the context of our flashlights?
I'll break it down like this:
For Storage Or Irregular Use Go Non-Rechargeable Lithium
Non-Rechargeable Lithium batteries have the lowest self-discharge rate of any other battery, they are easily available and can be good to use even after years being stored. Rechargeable batteries have a high self-discharge rate which would leave you with a weak battery making them a poor option for storage.
For Camping Or Everyday Use Go Rechargeable Batteries
It's really a no-brainer. Getting rechargeable batteries mean you will be saving money over the long term. Not only that but many of the rechargeable batteries have excellent performance.
For Emergency Apocalyptic Scenarios Go Uncommon Batteries
The first thing to sell out at your local store are the batteries that everyone else uses. If you're partially planned for a doomsday event, find an uncommon battery type like CR123a that won't sell out fast. Beyond this opt for a hand crank flashlight that will allow you to charge the battery on demand. Just take note that some of these types of lights require regular cranking in order to maintain a healthy battery and allow it to hold charge.
For Tactical Use Go Primary Lithium Cells Like The CR123
Primary cells have the best energy capacity than other batteries on the market and due to the nature of tactical flashlights which draw a lot of power, you need to match that with a large capacity.
As a recommendation, you should always try to get namebrand batteries - Duracell, Panasonic, Energizer, Rayovac or Surefire. Anything else should be treated with suspicion.
Focusable
Certain flashlights allow you to focus the light and change the area of light that it gives off essentially changing it from a spotlight to a floodlight or vice-versa. Having the spotlight effect will allow you to illuminate an object far away as the power of the light is concentrated across a small cross-section, whereas a floodlight will help you to illuminate a larger area.
In hunting, spotlights are usually preferred as these allow people to identify their target from 1000ft away or more. During camping, it's preferred to have a floodlight arrangement which will illuminate a larger area on a walking track making it easier to navigate through a forest or woods.
This can be an important feature when taking trying to find your best flashlight for under $20. All manufacturers will list whether their flashlight comes with a focus feature or not, sometimes it is denoted by an 'F' in the model name.
Operating Time
For the longest operating time, it becomes a balance between brightness and battery capacity. If the intention is to maximise the operating time of a flashlight, then the choice used to be a flashlight that uses D alkaline cells. These were once (and some still are) unbeatable in terms of continuous operation. However, they can tend to be quite expensive.
On the cheaper end of the spectrum, there are some flashlights like the Zebralight which take AA batteries are reported to last for 4 months on their lowest setting. Impressive stuff.
Brightness
If you want the brightest, then you can get something like a police tactical flashlight that has a dizzying 5000 lumens. It's a little outside of the $20 price range, but definitely worth it if you're looking for a the brightest flashlight around that price.
Weight
Weight can play an important role under certain circumstances. If you're an avid hiker and want a backpack as lightweight as possible, then you're going to need a lightweight flashlight. For emergency, tactical or survival contexts it's less of an issue.
Types Of Rechargeable
There's a few options when it comes to the method of recharging the battery of your flashlight:
Handcrank
Solar
USB
Power outlet
Campfire (Biolite)
For survival, the hand crank and solar powered options are crucial. The key difference being that the hand crank option gives you full control over charging your battery, whereas solar recharging leaves you at the mercy of the weather and sunlight. Solar recharging can also be slow comparative to the hand crank option, but it is entirely passive so you need to weigh up how much use and cranking you feel like doing.
Special Features
Are you a rugged outdoorsman, into hardcore sports or just generally rough/careless with the way you treat your possessions? Consider that several flashlights now come with cool features to keep them functioning time and time again. A waterproof housing and 30ft shockproof sound good to you? Then take that in mind when having a look, the Rayovac is a prime example of something that embodies these features in a quality outfit.
Goodluck with your hunt for the best flashlight under $20. May the lumens smile upon you.