Best Beginner Tattoo Kits - A Complete Buyer's Guide And Reviews
Filed under: tools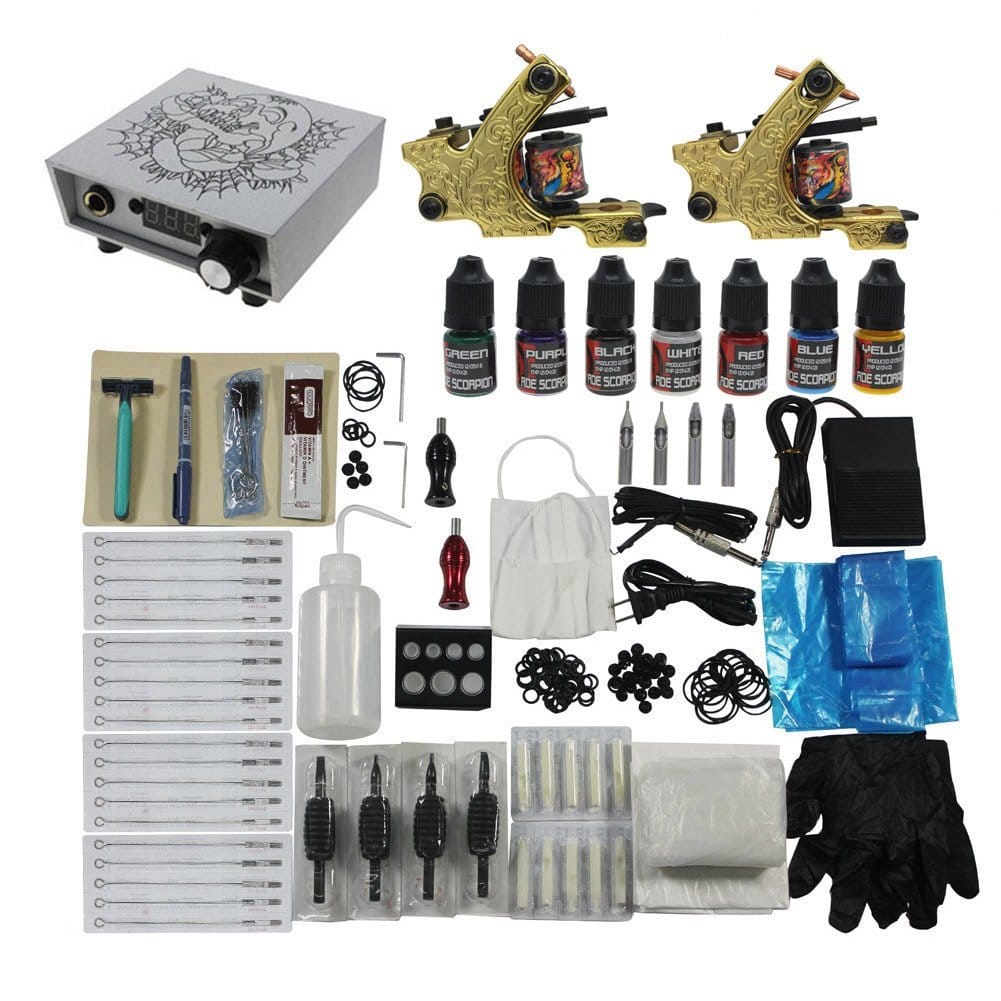 A tattoo isn't just a permanent mark on the skin. It's a piece of art and an expression of the person to which it belongs. It can be a statement, or a memory, or a reminder of why that drunken night out wasn't a great idea. Either way, tattoos have been around for thousands of years, and continue to be a traditional form of expression.
For artists, beginning a career in tattooing can be a satisfying and profitable experience. With tattoos continually gaining popularity, people are regularly seeking a talented artist to provide them with unique and original ink. If you're interested in pursuing a career, or just want to take up a hobby, then a beginner tattoo kit will provide you with invaluable tools to practice.
There are many different beginner tattoo kits to choose from, and in this guide, we'll provide an extensive review of various products. Understanding which equipment suits your needs will allow you to concentrate on becoming a legendary tattoo artist.
What To Look For In A Tattoo Starter Kit
There are many different beginner tattoo kits available, but each should have these essential items.
Power Supply
If a kit doesn't have a power supply included, then don't buy it. It's a vital component, and each one will be compatible with a specific power supply. The supply plugs into the mains, and in tattoo starter kits the controls are operated by using the foot pedal.
Foot Pedal and Clip Cord
Tattoo artists often need to use both their hands and work on their design uninterrupted. The foot pedal allows them to operate the device conveniently. To create different effects on the skin the power of the gun needs to be altered. The foot pedal is used to adjust the power and acts as the primary control in the kit.
The power supply is connected to the machine by the clip cord. It's as essential as the power supply itself, and each tattoo starter kit should include one. You should also check the length of the cord is suitable for your needs.
Tattoo Guns
The tattoo gun is the most crucial part of any kit. It's the device that transports the image to the skin, and it can be thought of like a paintbrush.
Ink
The ink is transferred to the skin when the needle punctures it. It's another essential part of a tattoo kit, and there is a vast range of colors available. Tattoo starter kits usually contain a variety of the most common colors used.
Ink Holders
Ink holders store each color so that they can be used comfortably while the artist is tattooing. The keep the ink fixed in positions, and make the process a lot easier. The holders are usually open-topped, and the needle is dipped into the ink.
Needles And Tips
Each kit should contain a lot of needles, in packaging. If needles are loose, then they shouldn't be used. They're usually pre-sterilised in their packaging, and each should be disposed of with every session. Rubber bands are wrapped around the machine to create the right amount of tension against the needle. They should also be included in the kit.
Aftercare Cream
Tattooing can often cause minor skin problems, including redness, itching and scabbing. Aftercare cream helps to alleviate the symptoms and eradicate the risks of long-term damage to the skin, which can affect the tattoo.
Extra Items
Some beginner tattoo kits include extra useful items. Some of the things you might expect to find include transfer paper, gloves, skin-marking pens, instruction manuals, Allan keys, and stencils.
Things To Consider
The first thing to think about is safety, for yourself and others you practice on. A high-quality device will safely work on the person receiving the tattoo, and low priced machines may seem beneficial in the short run but may cause long-term issues.
The other thing to consider is if the kit includes a bio-hazard container. If you're practicing on other people, then needles should be disposed of safely, and not just thrown in with the trash. Needles can transfer HIV and other conditions, and bin bags aren't sufficient to contain the needles safely.
When starting out, you want to ensure you have a quality tattoo gun. It should be made of iron, steel or aluminum. These are all durable metals and protect from rust and damage.
Medical supplies should be purchased, and all tools should be sterilized. It's essential to ensure the machine is a good quality and material. It might be tempting to buy less costing second-hand machines, but with a new product, you know exactly what you're getting.
Which Is Right For You?
Tattoo starter kits come in all shapes and sizes. The basic kits contain fewer extras but are often less expensive. However, if you want to save money in the long run, it might be better to buy a kit that includes gloves, stencils, and other added extras. There are a lot of different kits available, all suitable for beginning your career as a tattoo artist.
Coil Or Rotary Machines?
There are two types of machines used to operate the needles: Coil and Rotary. A coil machine uses a pair of coils to utilize the electromagnetic current. The armature bar is released and drives the needle.The voltage is determined by how many wraps it has. A rotary machine works differently and uses an electric motor to operate the needle.
Both machines work well and are popular. Coil machines make the most noise, but they're extremely popular and still used by most professional tattoo artists. They're also less expensive and have the appeal of being a traditional machine. However, coil machines are quite heavy and each machine can only shade or line, so you often need two.
Rotary machines have a low noise output, and a single machine can be used for both lining and shading techniques. The small amount of vibration means artists can work longer in one sitting.The Rotary also has an even impact on the skin due to its smooth operation of the needle. The rotary does have some cons though. It's more expensive, and often spare parts are only available for their own brands of machine. It can result in costly replacements, and parts can be difficult to source.
Ultimately it depends on the preferences of each artist, but most beginner kits come with a standard coil machine.
Redscorpion Beginner Tattoo Kit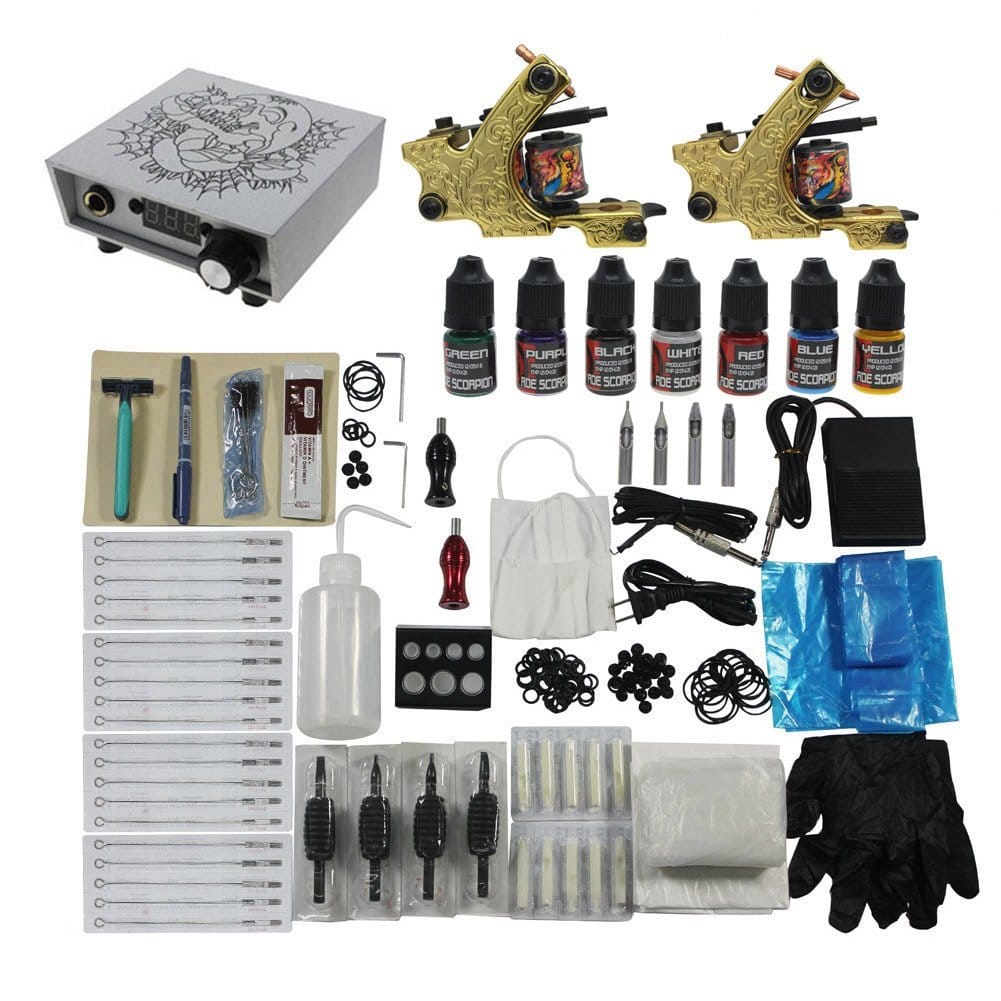 Redscorpion provides buyers with a comprehensive beginner tattoo kit including all the components you need. The tattoo machine is a coil version that comes with a shader, and a liner enabling you to practice both techniques. It also includes everything needed to power the kit and has 90 ink cups in a variety of sizes.
Tattoo tips, grips, and needles also come In a wide range of sizes and the kit also includes ointment, a tattoo mask, disposable razors and pens, and gloves.
The machine gun is fully adjustable, using the tools provided and the needles included are pre-sterilized. There's also fake skin to practice on and a set of cleaning brushes.
The only thing Redscorpion haven't included is a travel bag. It's a minor downside, but the well-performing machine more than makes up for that.
The pedal is easy to use, and sensitive to the touch, so it gives the user full control. The colors provided with the kit are vibrant and include traditional shades. The machines are perfect for beginners because they're easy to operate.
If you're a novice looking for a kit that'll guide you gently through the process of tattoo art, then this one won't let you down.
Rehab Ink Complete Tattoo Kit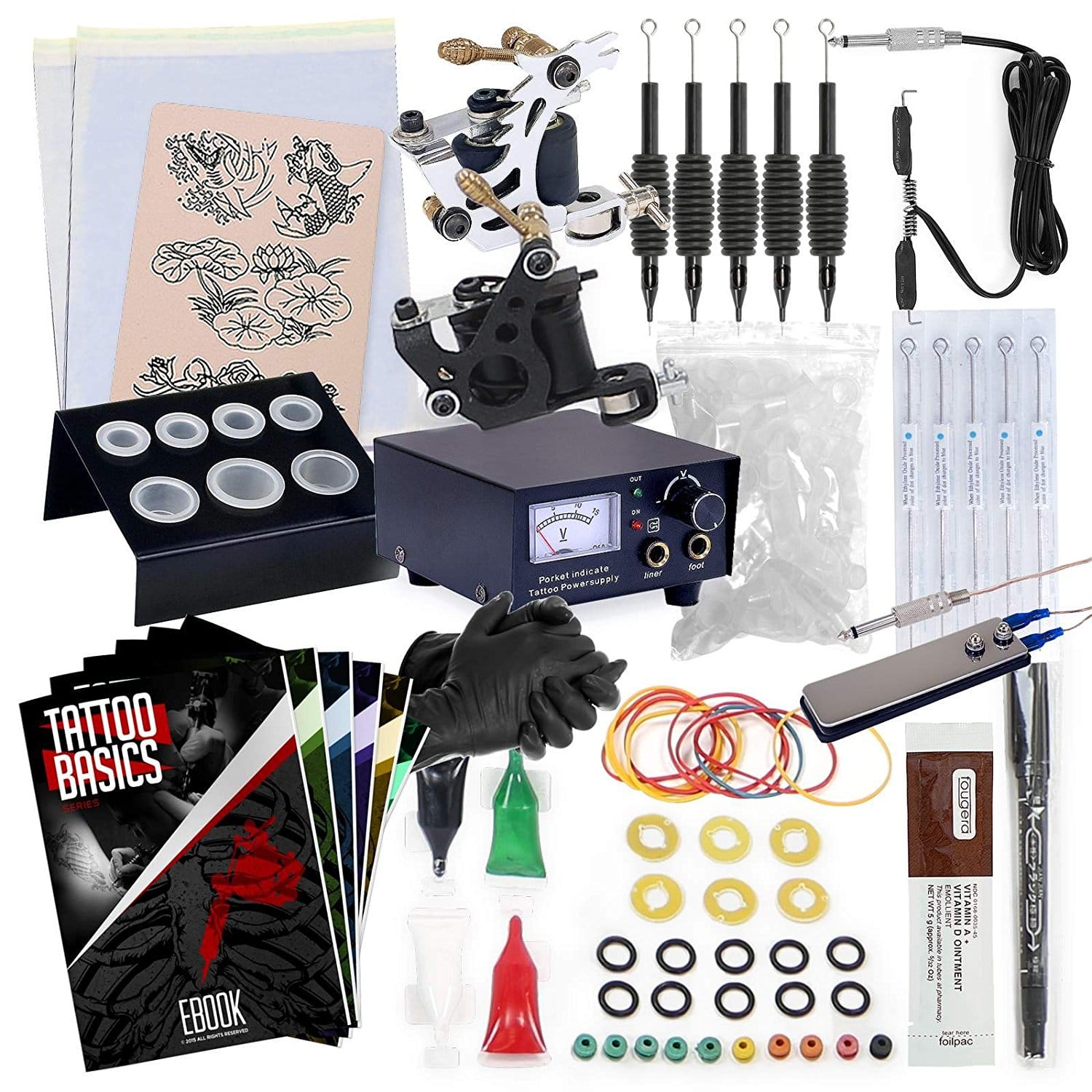 The Rehab is a low priced tattoo kit that has a lot of enticing features on offer. For starters, it has two coil machines providing options for shading and lining. The foot pedal is made of durable stainless steel, and everything you need to power the machine is included. The machines have low -vibration frames, meaning there's not a lot of off-putting noise.
There's an assortment of needles provided, and all are in pre-sterilized blister packs. The beginner tattoo kit includes four different colors to practice with and has two pieces of fake skin. A skin-marking pen, rubber bands, grommets, and aftercare ointment all come as part of this amazing deal.
The best thing about the kit is it also comes with an instructional e-book, ensuring novices get to know how the machine works and how to utilize it. The only negative aspect of the kit is that the instructions are a bit complicated and putting it together takes some time. The color range is quite basic and includes Black, grey, red and green.
For the price its ideal for novices to get some practice with, and overall it's a reliable tool. The sheer amount of extras the kit includes, makes up for its lack of colors.
Hildbrandt Tattoo Machine
For those who don't just want to practice tattoo art but learn it too, then this kit goes beyond expectations. Hildbrandt describes this machine as a training system, and it contains a training DVD and a novices tattooing textbook. It also allows learners to access online support from the Teach Me to Tattoo website for free, with exclusive membership. It's an incredible extra because learners will get advice, videos, and tutorials from other tattoo artists along the way.
The Hilbrandt beginner tattoo machine also includes all the necessary components. It has a rotary liner and shader and even a silencer liner to eradicate that annoying noise. All the required parts to power the machine are included, as are latex gloves, rubber bands, and practice skin and paper.
There are 50 needles, in 10 different sizes and sterilized disposal tubes. The vibrant colors come in a variety of shades, and the power unit has a range of added features including a session timer and a touchscreen.
The power supply means you can use two guns at once, instead of having to switch between liners and shaders. There's also a convenient carry case to store and transport the kit, that comes with a lock and key to keep your kit safe. If you're looking for an extensive learning experience and a kit that provides you with everything you need to master your art, then we can't fault the Hildbrandt.
Solong Tattoo Kit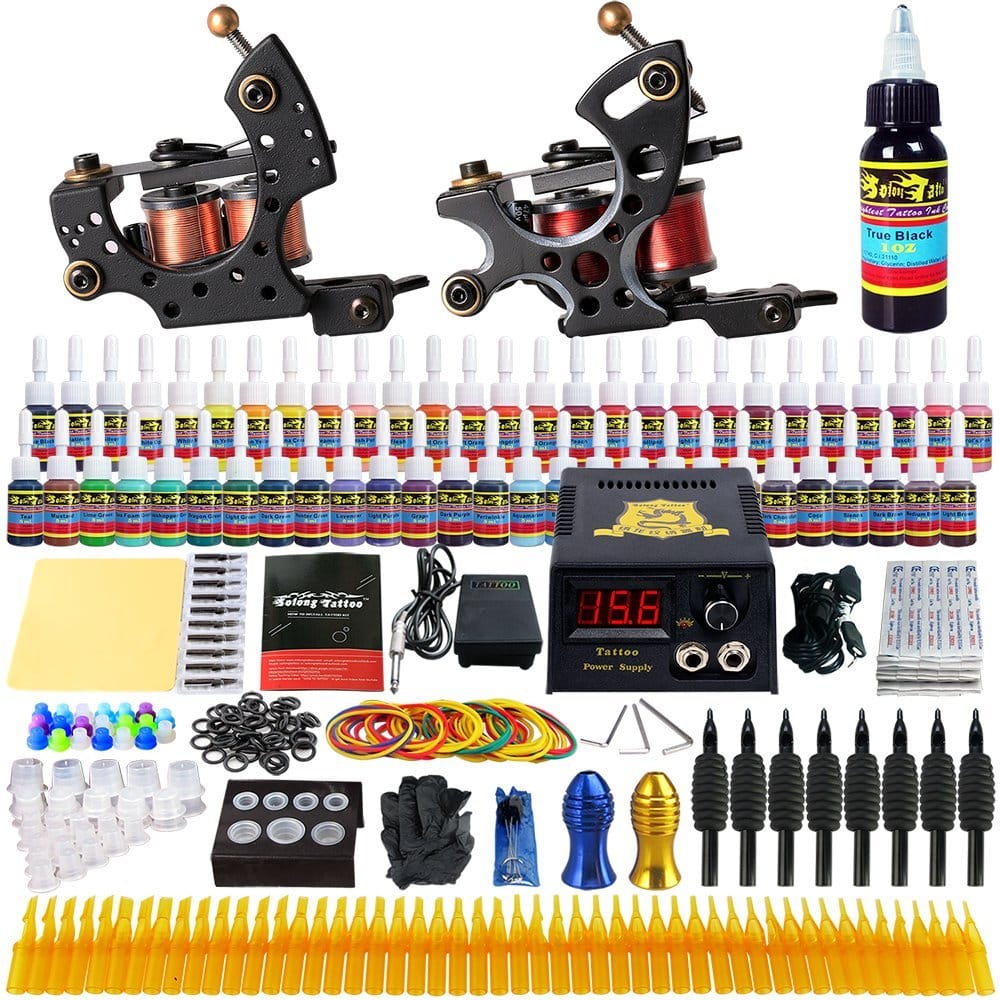 This tattoo kit is suitable for professional use as well an for beginners, so you know it's good quality. It comes with an abundance of extras including four coil guns for lining and shading, an LCD power supply and pedal, and all the grips and rubber bands you could need.
If you're looking for a vast color choice, then the Solong comes with 54 colors for you to practice. The needles are different sizes, and all arrive pre-sterilized for safe use. There's also a two-sided practice skin and several pairs of disposable gloves.
The disadvantage of this product is the instructions. Beginners may struggle to understand how to use the machine, and the parts aren't labeled making set up more difficult than it needs to be. It's a slight oversight by the manufacturers, but it's easily solvable with a little perseverance and patience.
The color range and the carry case with a lock and key are probably the best features of this tattoo kit. It works well and provides beginners with some much-needed practice. However, you may take some time figuring out which gun is for labeling and which is for shading.
Overall, the kit seems a little thrown together, with more of an emphasis on quantity rather than quality. It's great having such a variety of colors, but clear instructions on how to use them would have been a benefit.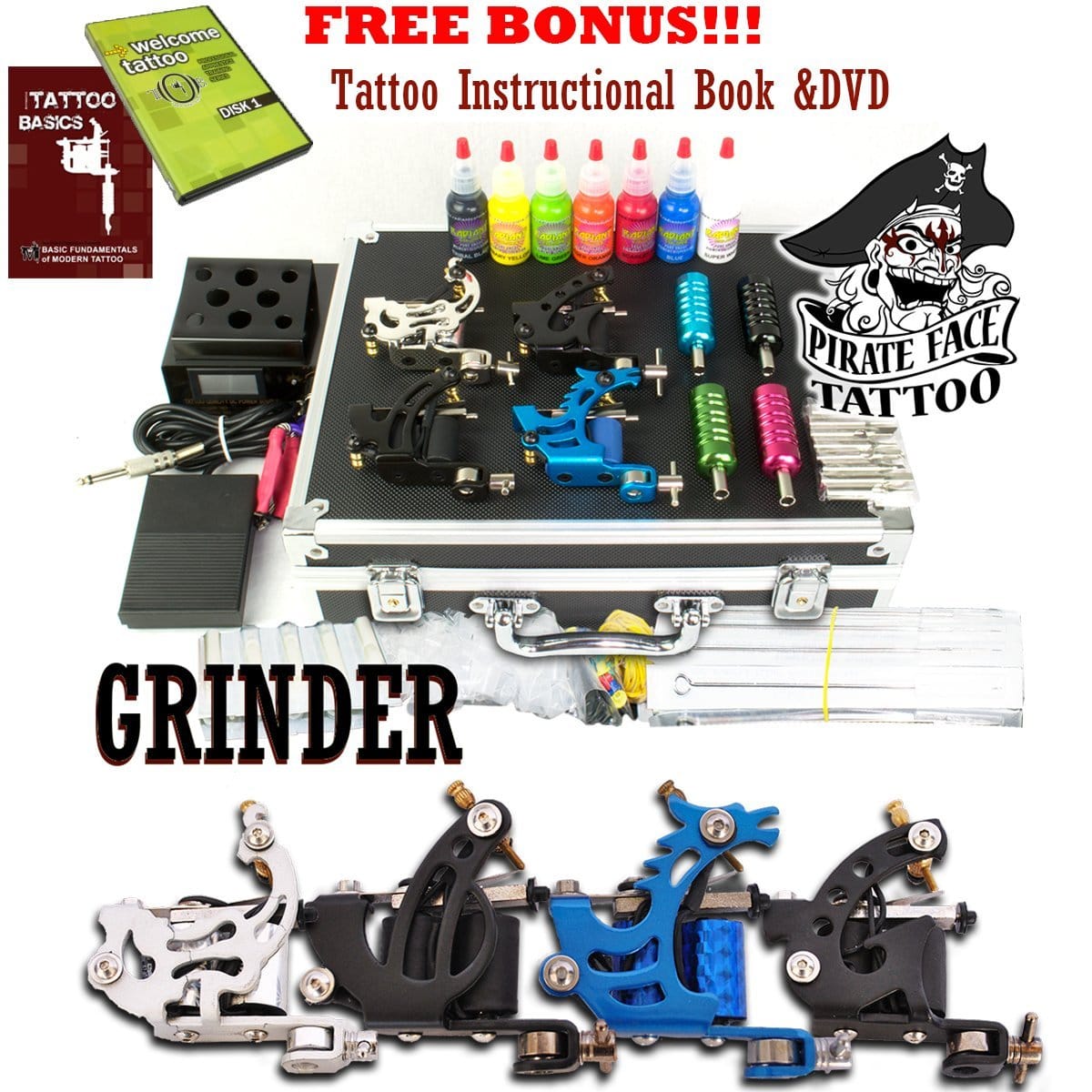 This beginner tattoo kit provides everything novices need, as well as informative instructions and a training DVD. It comes with four coil machine guns, with grips and includes a power supply. There are 50 sterile needles, in a variety of sizes and seven tattoo inks, all safe to use.
The kit also comes with a carry case, and all of the other accessories needed. The only thing you'll have to purchase separately is some ointment. The machines need a lot of tuning, and for beginners, this can be quite tricky, but the manual and DVD do provide useful information.
The downsides of the Grinder, is the quality of the ink. It's quite thin, and most people decide to purchase a different brand of ink. The practice skin included isn't very easy to work on either and has quite a rubbery texture instead of being more lifelike.
Overall it's a good product, but not the best out there. The information book and DVD are very welcome extras, but the power supply can fade in and out. It's only a beginners model, and should be used for practice but nothing more. Those looking to work on human skin should probably seek a more reliable product.
As you'll have seen with many of these beginner tattoo kits, they come with fake skin to practice on.
Why You Should Use Fake Skin
The last thing you or anybody you're practicing on wants is a poorly inked tattoo. It marks their skin for life, and it also leaves a significant dent in your reputation. Fake skin enables you to  perfect your art.
Fake tattoo skin has come a long way in the recent years. It used to be made of plastic and wasn't realistic. Now products are as close to real skin as possible making it an excellent platform for you to practice on. It also builds your confidence as an artist and allows you to try out new designs and techniques without worrying about mistakes.
There are a lot of fake skin products on the market, and some are extremely expensive. In reality, you don't need a state of the art product. They're all made of similar materials, and for beginners, using sheets is probably the best option, as it allows a broad focus on all areas of the body.
Wormhole Tattoo Practice Sheets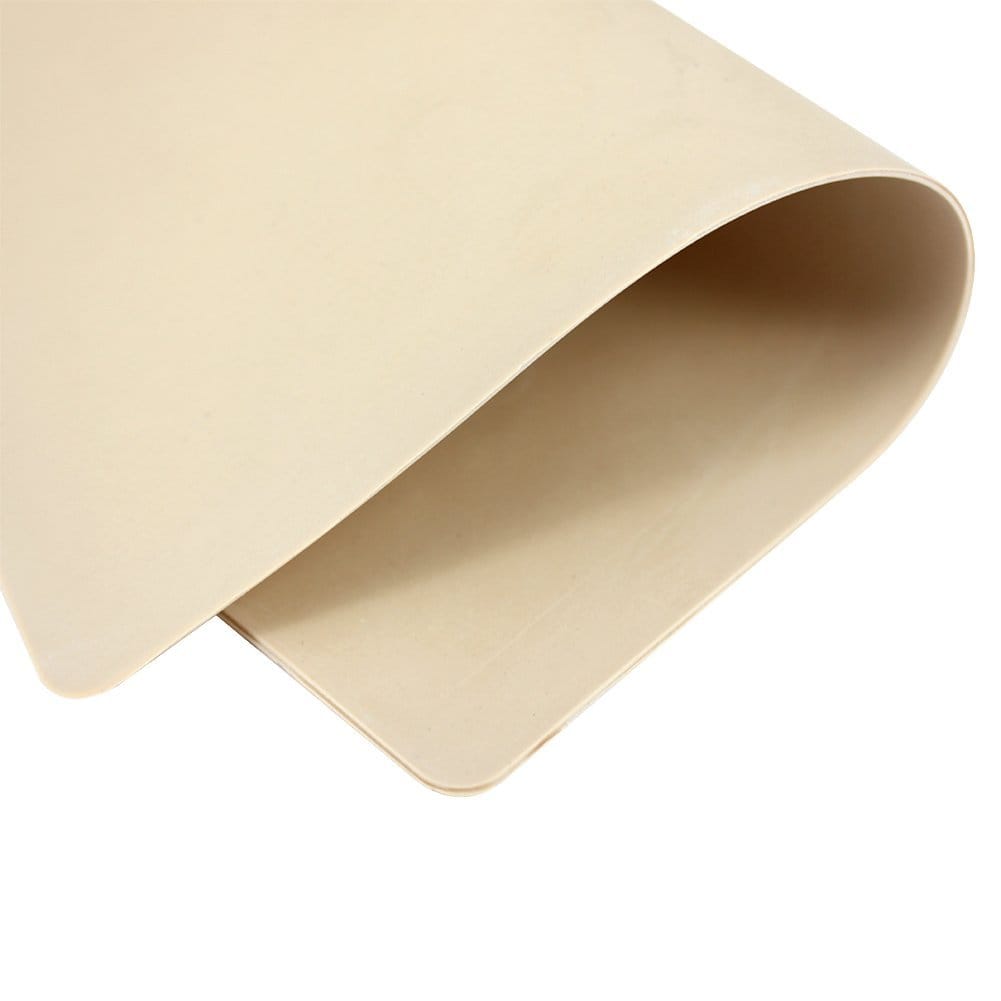 Wormhole has created affordable practice sheets, which have a similar feel to human skin. They're amply sized, allowing lots of room for different designs, and there are ten sheets included in a pack. They're also double sided and can be wrapped around the arms and legs for a more authentic experience.
Each sheet is individually wrapped and can be washed with water to remove excess ink.  The sheets are ideal for honing your lining and shading technique. The texture is quite realistic but can feel a bit rubbery. However, for beginners, they provide a low-cost method of learning how to use needles correctly and develop a style.
Overall they're not the best fake skin product available, but they allow novices to test their progress before moving onto more expensive products. The price is very reasonable, and overall it's an exceptional product for those that aren't ready to practice on real skin.