When talking about home entertainment, we cannot avoid mentioning home cinema. Movie nights have always been a thing. For this reason, with the advance of technologies, a new wave of retractable projector screens has flooded the online market. Now, you can effortlessly spend quality time with your significant other, your family or friends while taking advantage of the convenience these projector screens have to offer.
Actually, the best part about retractable or pull-down projector screens is that they are almost completely hidden and can practically take up no space at all. This means they're quite portable and can be placed outside. What's more, you can even use it at your workplace, in the conference room or at school.
Investing in such an appliance will definitely improve your leisure time. Therefore, we have compiled a list of some of the best retractable projector screens on Amazon along with a brief buyer's guide to help you pick the one that fits your needs best.
A Brief Buyer's Guide
Gain and Aspect Ratio
First of all, aspect ratio refers to the shape of the projected image and in most cases, it is 16:9 or 4:3. If the movies or any media you want to watch are at 16:9, of course, you would want your screen to match the ration in order to maximize the experience. Gain is the measurement of light reflected off the screen to the optimal viewing angle. This means that a screen with a gain ratio of 1.0 will reflect 100% of the light shone on it and 1.2 will reflect 120%. But don't be too quick with your choice because higher gain ration doesn't necessarily mean that the projector is better because the higher the gain ratio, the lower the viewing angle.
Basically, a room with lots of seats might require a screen with a slightly lower gain ratio. If you have just a few seats placed right in front of the screen, then you can easily pick a projector display with a higher gain.
Space
Of course, even when looking for a retractable projector screen, its size and the space that it would take up are to be considered first. Some manufacturers give just a plain measurement of height and width while leaving the more complex figures to customers. This might be a little annoying as you will have to figure everything out by yourself. However, most companies are helpful enough to state the usable area of the projector screen.
Type
As stated, we'll be reviewing retractable or roll-away projector screens. However, it's important to know the difference between a wall-mounted projector screen and a retractable one. The former is always on display and, of course, you'll be happy to have one in your specially-dedicated cinema room. Nevertheless, roll-away and pull-down projector screens will always have the advantage of being hidden inside a tube-like casing when not in use.
Additional Features
Although it might seem obvious, you should be aware that most projector screens don't come with a projector. However, some manufacturers do include bundled packages of a projector and a screen to go with it which might be a good time-saving advantage.
What's more, some retractable projector screens are motorized which makes things really simple. Let's not forget the HD features that many manufacturers advertise. If your screen supports 3D or 4K projected images, why not use it? And last but not least, let's not forget remote controls which always make our lives much easier.
Furthermore, you should pay attention to the installation accessories and the stability features as they may affect your overall experience. Being unable to install your projector screen wherever you want right away is certainly annoying but the real struggle will come if you can't keep it stable and in-place. Luckily, most projector screens come in with auto-lock and self-standing features that provide the needed static positioning. In addition, some manufacturers include the required screws, brackets, etc. necessary for mounting the projector screen.
Other
Last but not least, there are some additional specifications and conditions that may also affect your experience. View angle is an important feature to consider as it may determine the angle from which you can watch your favorite movie. If the projector screen has a 180-degree view angle, then you will be easily able to see a clear picture from everywhere facing the display. Basically, the lower the degree of the view angle, the more directly you will have to be seated in order to see a clearer picture.
In addition, things like tension and screen fabric, color and acoustic transparency are also to be considered when purchasing a retractable projector screen. The color of the display may affect your experience a lot and since white color reflects light and black does the opposite, you might as well consider carefully the color of your screen and the place where you want it in the room. Also, don't forget to look for projector screens made of higher quality fabrics as well as tensioned ones.
Usually, tensioned screens have wires running along the outlines which keep the screen flatted out and thus elongates its life.
The 6 Best Retractable Projector Screens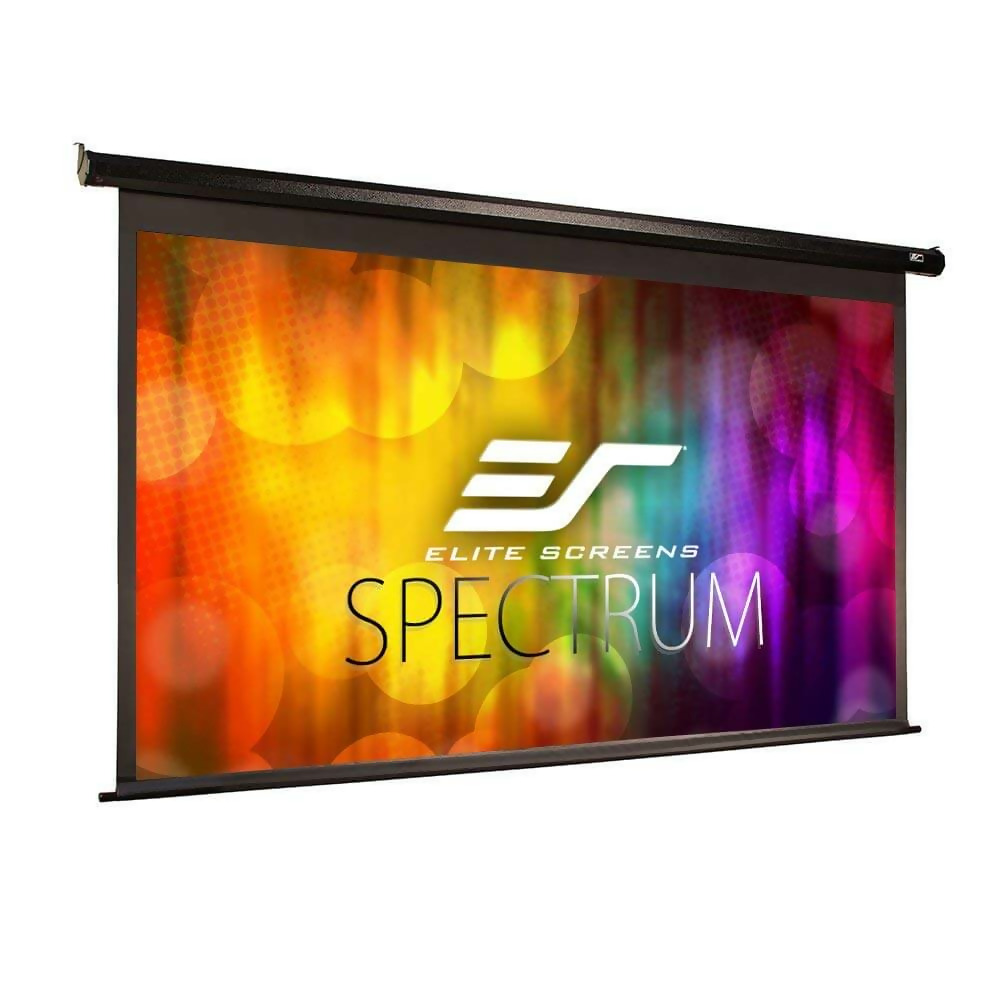 Pros:
Includes infrared remote
Ships fully assembled
180-degree viewing angle
Sturdy construction and tensioning
Affordable price
Easy to operate
Adjustable motorized screen height
Cons:
The screen fabric is cheap
Issues with folds and curls on the screen outlines
Complaints about the short lifespan
Poor customer service
Customer complaints about poor remote control quality
Not compatible with short throw projectors
Short power cord
Review:
To begin with, Elite Screens are definitely among the quality projector screen manufacturers. What's more, the Elite Screens ELECTRIC100H Spectrum Electric Motorized Projector Screen is easily one of the best retractable projector screens. And for a reason, the unit offers the so-needed features like motorized retractable function and an excellent picture reproduction at a 1.1 gain ratio.
In addition, the construction and screen fabric are of sturdy and durable materials. Another advantage is the 2-year warranty for home use and the 3-year one for educational, government and other official institutions use. All in all, the Spectrum is a well-rounded high-quality projector screen at a fairly reasonable price.
Homegear 110" HD Motorized 16:9 Projector Screen
Pros:
Easy to install
Operates quietly
Motor system
Durable steel casing
RF remote control included
Cons:
Somehow heavier than other units in the category
Complaints about defective items upon delivery
Some customers complain about issues with the motor system
Might emit a slight paint-like odor for a few days after its first use
The power cord is not long enough
Review:
Talking about retractable projector screens, the Homegear 100" HD Motorized 16:9 Projector Screen definitely classifies in the top tier. In addition, this product's price is really attractive and you won't have to spend a bulk of money for a few more extras. The product comes with a neat standard remote control which you can easily use to hide the screen when not in use. On top of that, this projector screen is compatible with most projectors, including 3D and HD.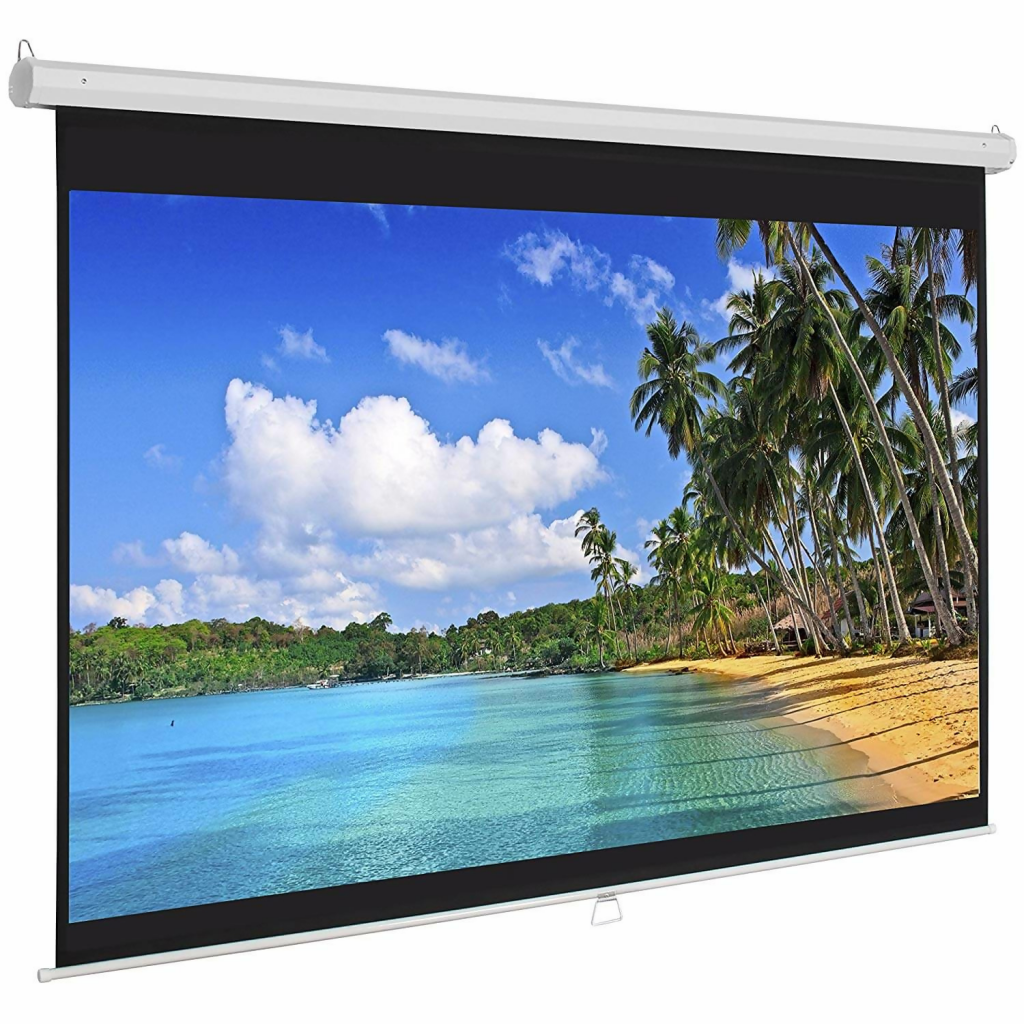 Pros:
Lightweight and easy to maneuver
Easy installation and functionality
Pretty affordable
Bigger than most units in the same category
Cons:
May fold or curl on the sides
Complaints about nasty plastic smell for a few days after its first use
Doesn't have a motor system
Some customers complain about dented casing upon delivery
Review:
If you're looking for a budget screen, the Best Choice Products' 119" Manual Projector Screen has a straightforward yet effective functionality. The only disadvantage that this projector screen might really have is that its shape is not rectangular but square. In fact, this is not really a disadvantage and if you manage to get over it, you'll actually get a pretty good value for the money spent.  With its 84" x 84" dimensions and 1:1 aspect ratio, you get the perfect niche product for a bargain price.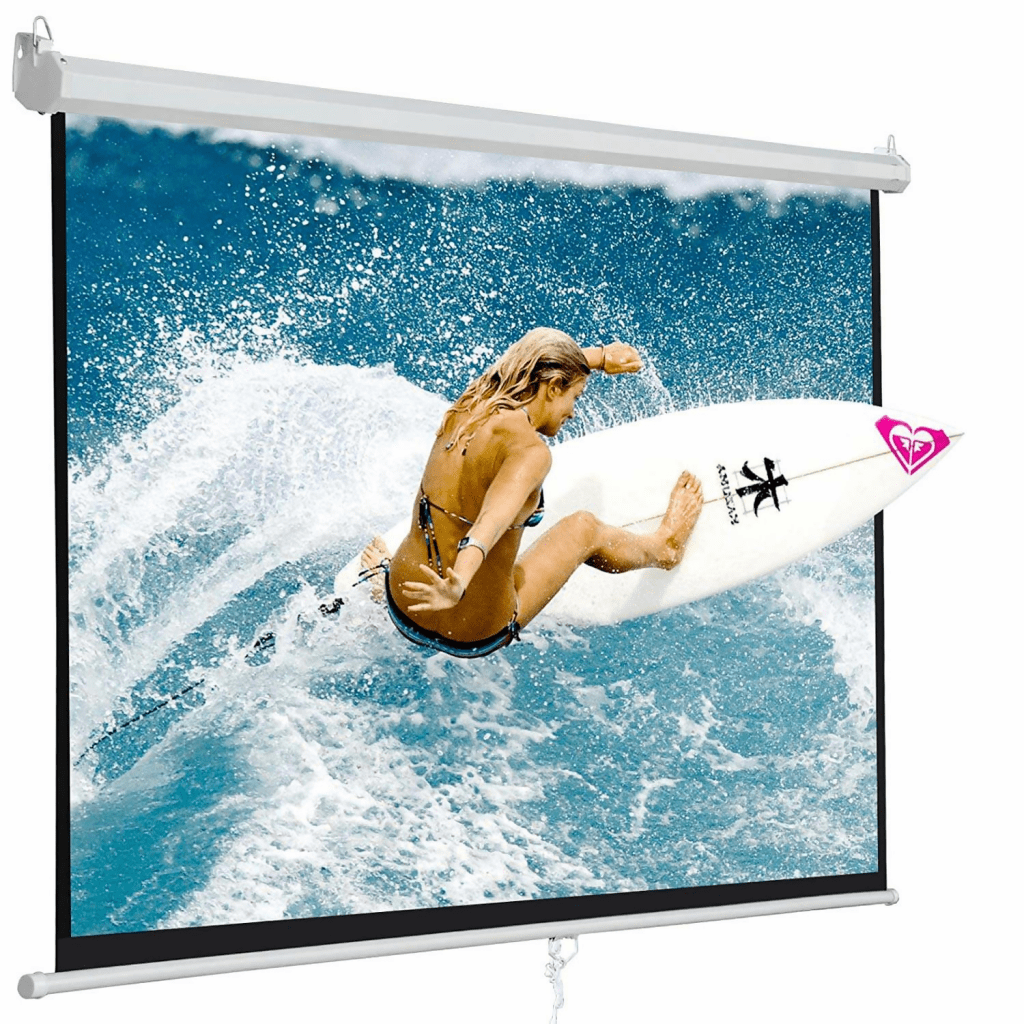 Pros:
Easy to clean surface
1:1 gain
Affordable price
A black-backed screen which ensures that no light passes through
Matte white viewing surface
Cons:
Needs to be aired out after unpacking because of the vinyl smell
Doesn't come with any mounting or screws
Advertised as 120" screen but the actual viewing area is 84"
Doesn't have a motor system
Review:
Despite its low popularity, this 120-inch projector screen has received a well-deserved positive score from its reviews. The SUPER DEAL 120" Projector Screen definitely hints at a super deal as it is both affordable and effective. For its price, the screen delivers the expected standard value – black masking border, anti-dust and acid material of premium white matte fabric that is fully tensioned and black-backed as well as an auto-locking system.
According to the manufacturer, the screen's viewing size measures at 84" x 84" which is quite impressive for the price and the quality.  On top of that, the projector screen is advertised as a 4K Ultra HD and Active 3D ready. The 1:1 gain ratio ensures brighter images. Apart from that, the 160-degree viewing angle allows the display of clear images for all audience members throughout the room.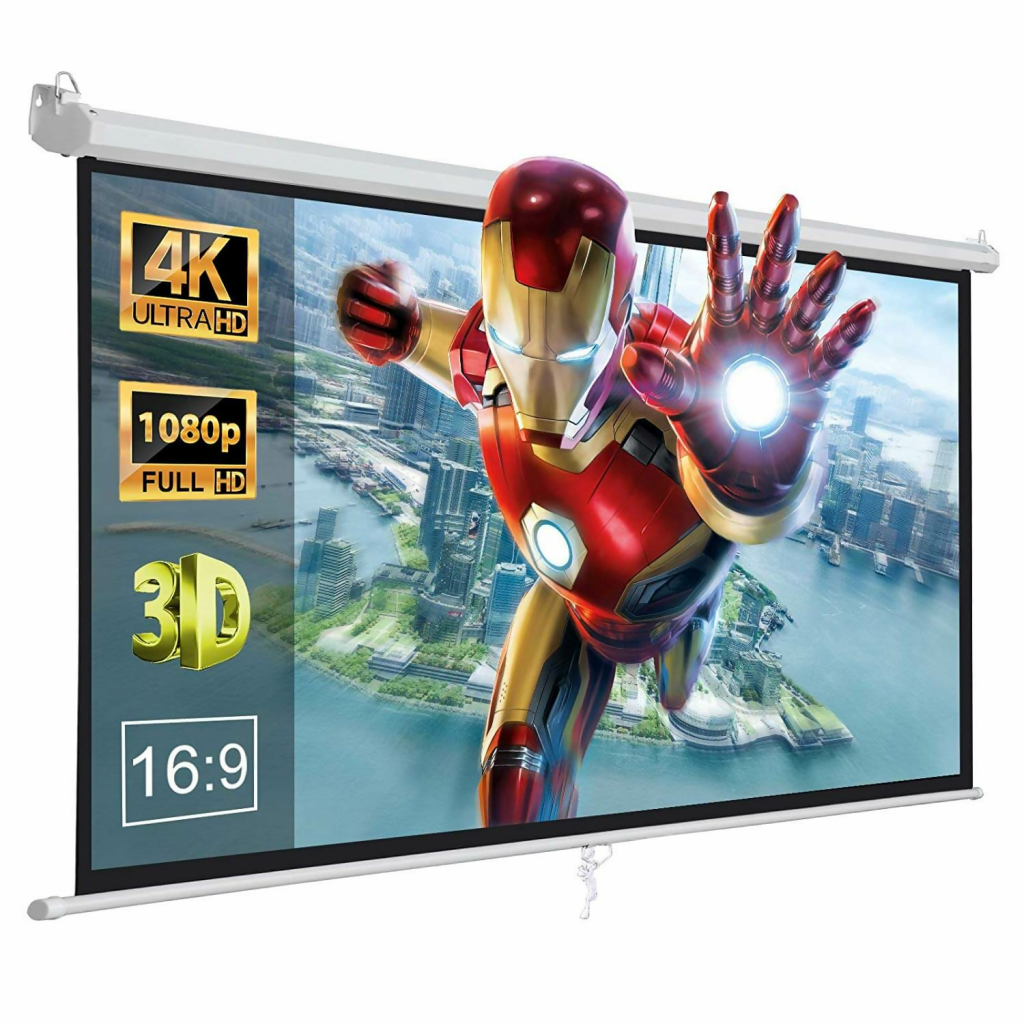 Pros:
Built-in mounting
Easy setup
Auto-lock mechanism for various height settings
Easy to clean
Durable steel casing
Standard backed screen
Matte white viewing surface
Cons:
Complaints about defective products
Folds and wrinkles may start to appear
The manufacturer inaccurately states that the screen is 55" while it's really 48" in length
Review:
Though this projector screen's price might not be the lowest, it definitely ranks among the most affordable ones. The ZENY 100-inch projector screen is a classic projector screen for home theaters and office presentations. It offers pretty much all standard features, including a self-lock mechanism, a lightweight case and black-backed screen made from white matte fabric.
However, the best part of it all is that you get 88" x 48" viewing area which is actually pretty cool for such low-priced projector screen. The built-in L brackets will allow you to mount the screen easily on any wall or ceiling. Moreover, the easy height adjuster gives you the freedom to pull down the projector screen whenever you want and then hide it right away without any effort. Apart from that, the 16:9 gain ratio provides a clear and bright image and the 160-degree viewing angle allows you to watch your favorite movies from nearly every angle.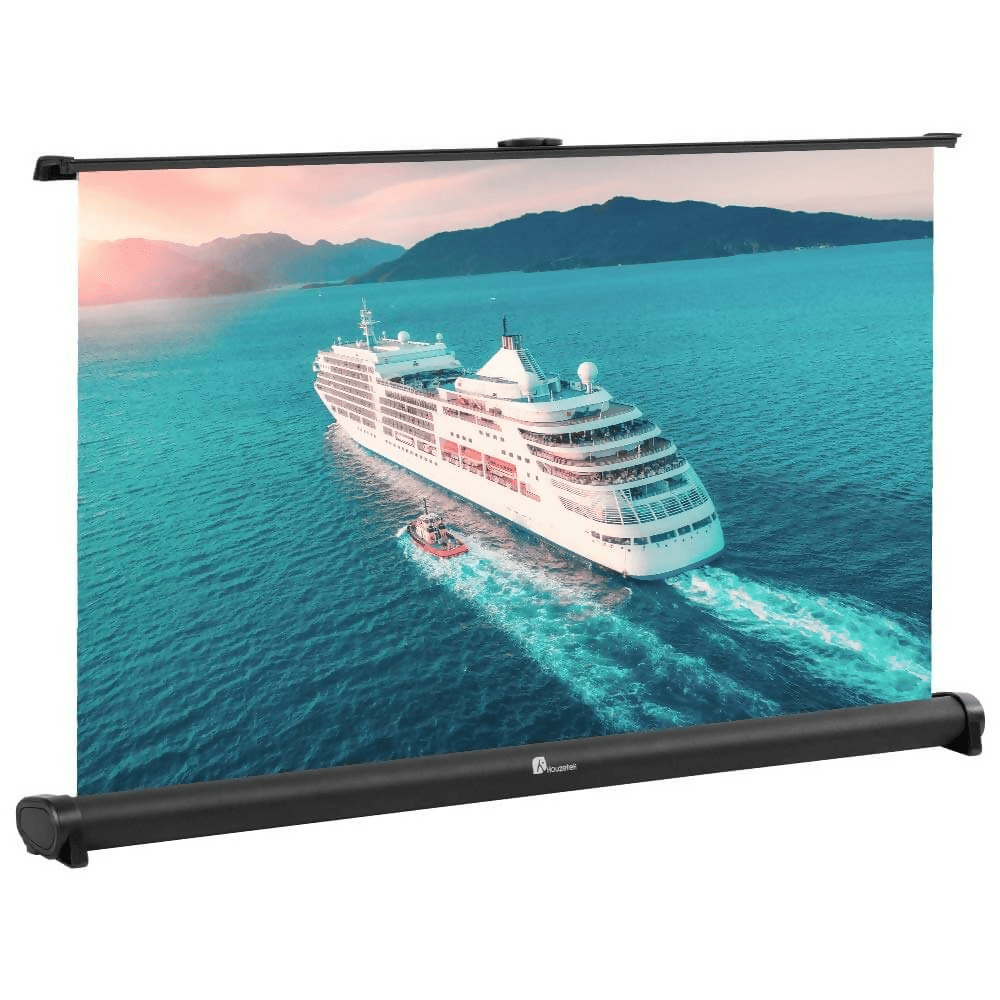 Pros:
Really cheap
Easy to install and use
Portable and lightweight
Has an auto-lock stand
Black-backed screen material
White matte fabric
Cons:
Cheap material quality
Too flimsy
Review:
At first, you would be amazed how cheap this projector screen is. But when you try it, you'll see that there's much more to it. The Houzetek 32-inch Portable Movie and Projector Screen is a straightforward and simple-to-use projector screen. It doesn't have a motor system and a remote control but its main advantage is its portability. It's pretty travel-friendly and it comes with a bright orange carry bag where you can easily pack it.
Apart from that, the self-standing one-piece design makes for fast and easy setup and able to stand on any flat floor surface or even table. Otherwise, you can hang the screen by tying both sides with the included string. There's a self-lock mechanism which additionally stabilizes the screen. All in all, with its 28" x 16" viewing area, the Houzetek projector screen offers a standard product at a bargain price.
Final Thoughts
To conclude, owning such an appliance at home will no doubt prove to be a worthy purchase. With a retractable projector screen, you will be able to create your own improvised home cinema. For this reason, you shouldn't shy away from taking quality care of your leisure time options. All in all, some of the best retractable projector screens are on this list and you'll definitely spend some relaxing time with friends or family in front of one of these gems!