6 Best Whole House Deodorizers and Air Purifiers
Filed under: hvac
Contemporary air purifiers and deodorizers have been extensively gaining buzz in recent years. Particularly the best whole house deodorizers and air purifiers. With the increase of unwanted allergens, toxins and other contaminants in the air, the demand for a fast and effective way to deal with the problem rises correspondingly. Luckily, air purifiers are now available for your home and can do the job effortlessly as it will keep the air at your home clean and safe.
Read Next: The best portable AC units to keep you cool in summer.
Even though not everyone lives in urban areas, for the most part people spend their time indoors. It is a well-known fact that indoor air can be very polluted and that's certainly adding to the mass of breathing issues. Dust, allergens, cigarette smoke and many other harmful contaminants reduce the quality of the air at home.
However, there's a pretty easy solution to all this and it's no secret that with the advance of technologies, there are devices that can completely change the air at your home. The so-called air purifiers and deodorizers can really improve your air quality and your well-being as well. What's more, you can supply your whole house a whole house air purifier and deodorizer.
The only problem is that there are plenty of contestants on the market and all of them have their advantages and disadvantages. To ease you, we have compiled a list with some of the best whole house air purifiers and deodorizers.
Last but not least, there are a few things to bear in mind when choosing the best product for your house. Therefore, check out the brief buyer's guide for whole house air purifiers and deodorizers before going to the actual list.
A Brief Buyer's Guide
What are air purifiers and why do we need them
Obviously, air purifiers' aim is to clean and deodorize the air at your home, office or any other room that you can possibly have. Basically, the process is conducted through multiple stages (usually 2 or 3) of filtration with different filters. The result is as expected, fresh and clean air, free from dust, pollen, bacteria and other harmful and unwanted particles.
To put it simply, the lesser of these particles in the air, the lesser the health problems. However, you should also take into consideration the reason for your purchase. Apart from the desire to breathe clean air, you might also need an air purifier if you suffer from respiratory illnesses such as asthma or allergies. If you only need to eliminate the bad smoke and its odor, you can pick a suitable air deodorizer to do the job.
Mind that this will dictate the specifications you are going to look for to a great extent. Therefore, be exact with your reasons as it may affect your further opinion.
Types of air purifiers
As said above, air purifiers consist of multiple filters in order to provide the cleanest air possible. The three most commonly used filters are the activated carbon one, the ionic one and the True HEPA filter. Of course, all are designed to remove different-sized particles and this is the main reason they are often integrated together to provide maximum efficiency.
With the advance of technology in the field, a new wave of smart purifiers has been introduced. They have systems that monitor the air quality and are able to adjust themselves automatically to combine energy efficiency with greater air quality awareness. Furthermore, some of these sensors can even show the exact harmful particles that pollute your air.
ACH and CADR
ACR stands for Air Changes per Hour and CADR stands for Clean Air Delivery Rate. This is pretty self-explanatory and there's no need for additional interpretation. Some products have at least one of those ratings in their description, which is quite helpful. Bear in mind that those ratings are directly connected to the maximum area a purifier can cover. Also, the CADR has a similar logical meaning as the higher the CADR, the more effective the air purifier is at removing certain harmful air contaminants.
Size and Place
Contrary to the popular belief, air purifiers are not the "one size fits all" type of appliances. Therefore, you would have to consider how much space you can spare for such a device. As there is a wide variety of models, you will definitely be able to pick the one that fits your room size.
What's more, you should pay close attention to whether the coverage capacity of the product corresponds to your needs. Not doing it can cause additional and unwanted problems. Basically, all you need to do is look for the square feet (or meter) capacity listed in the products' specification descriptions. If it's equal or greater than the intended room size, then you can go for the purifier.
However, choosing the right purifier for your room won't matter if there is no proper placement of the product. What you need to know is that purifiers with HEPA and carbon filters function by pulling the dirty air into the unit and pushing the clean back into the room. Therefore, it won't be a good idea to place the device under a table or against the wall because it simply won't work as intended. A better way to do it is to place it 2 or 3 feet away from the wall so that it has enough space to do its job properly. Ionic purifiers have a similar placement don't use fans, but they emit ions in a 360-degree circle which means it would be a better idea to put them somewhere in the center of the room.
Features
When it comes down to the features, there are tons of them and for various reasons. Some of the most common ones are the adjustable fan speeds as well as the filter replacement indicators. Actually, they are a must for any well-rounded air purifier. Let's not forget the casters and carrying handles which are essential for the portability of such devices.
Some of the more luxurious features are the remote control and the Wi-Fi connection. Being able to control your device just by clicking a few buttons on your phone app really makes things enjoyable and easy.
Other
There are also other things to consider when looking for a good air purifier. Don't forget to check for the warranty period in order to avoid any trouble with the manufacturer. As a matter of fact, checking the company's reputation will certainly help with the purchase. It would also be good to look out for a lower maintenance cost and higher energy efficiency. After all, what you are looking for is value, not an expensive and useless device.
Our Top 6 List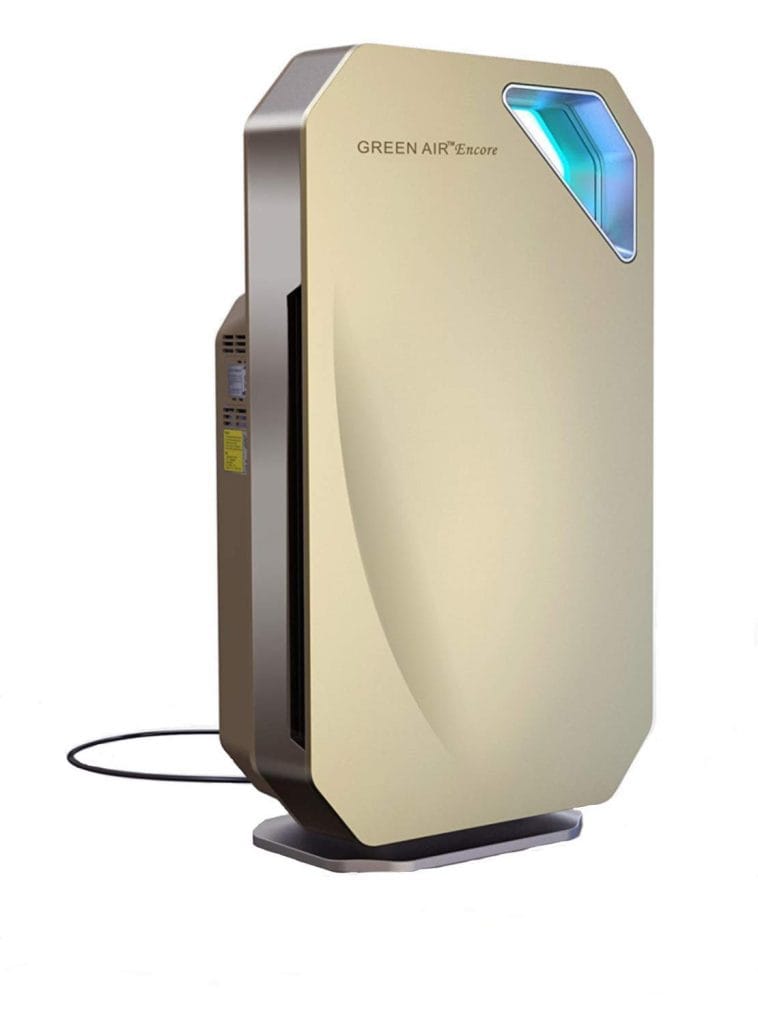 Specifications
Coverage: Up to 1000 sq. ft. / 92 m2
Number of filters: 3
Filter technology: True HEPA filter, activated carbon filter, mesh pre-filter
Minimum noise level: 23 dB
Dimensions: 25" x 14" x 7.5"
Warranty: 1 year
Pros:
Really wide coverage
4 different operation modes
3 filters
Integrated sensor and indicator to monitor air quality
Filter change indicator
Light and portable
Cons:
Quite expensive
Expensive replacement filters
Short warranty
No remote control
Pretty bright LED lights
This purifier is the typical air cleaner for large-sized rooms. With its 1000 sq. ft. coverage capacity, it's clearly standing out from other products in the category.
What's more, it offers three different stages of filtration, including True HEPA filter that removes up to 99.97% of unwanted particles as small as 0.3 microns. However, probably the biggest advantage is the low noise output. At only 23 dB minimum noise output, this purifier exceeds all expectations.
Apart from its performance qualities, the KH-H201 Air Purifier has some additional features to comfort the customers. There are 4 different operation modes, as well as air quality sensors to control its fan speed while Auto Mode is active. The air quality indicator helps to monitor air quality. Last but not least, there's an automatic filter change indicator which reminds you when it's time for filter replacement.
Specifications
Coverage: 360 sq. ft. / 33 m2
Number of filters: 3
Filter technology: activated carbon pre-filter, True HEPA filter and Winix PlasmaWave
Maximum noise level: 58 dB
Dimensions: 15" x 8.2" x 23.6"
Warranty: 1 year
Pros:
3 filters with innovative technology introduced
Easy assembly and cleaning
Effortless maintenance
Extremely quiet
Has a remote control
Quality filtration
Cons:
Very expensive replacement filters
Bad smell
According to customers, the PlasmaWave might actually pollute the air
Malfunction issues
The remote may be a bit unreliable
Sleep mode only allows you to run the product on Low
The Winix 5500-2 Air Purifier comes from a manufacturer with over 40 years of experience in the air purifying products field. The construction is well-designed, at least better than its predecessors. The more important quality of this product is the quality of the filtration. With its 3-stage filtration, this air purifier has everything you need to have clean air at your home – activated carbon filter, True HEPA filter and an innovative Winix PlasmaWave technology.
The inventive PlasmaWave technology operates by forming hydroxyl radicals which then attack airborne radicals such as bacteria, viruses, and other undesirable organic compounds. After they are pulverized, they are turned into plain water molecules.
As for the features, this purifier has a remote control which makes things easier than ever. Additionally, there are two handles on the sides that make moving the 5500-2 really effortless. The model also has a LED life indicator that reminds you when filter replacement is due. A typical Smart Sensor helps detect the change in the quality of the air and you can easily adjust the fan speed according to it. These features make it one of the best whole air deodorizers and air purifiers.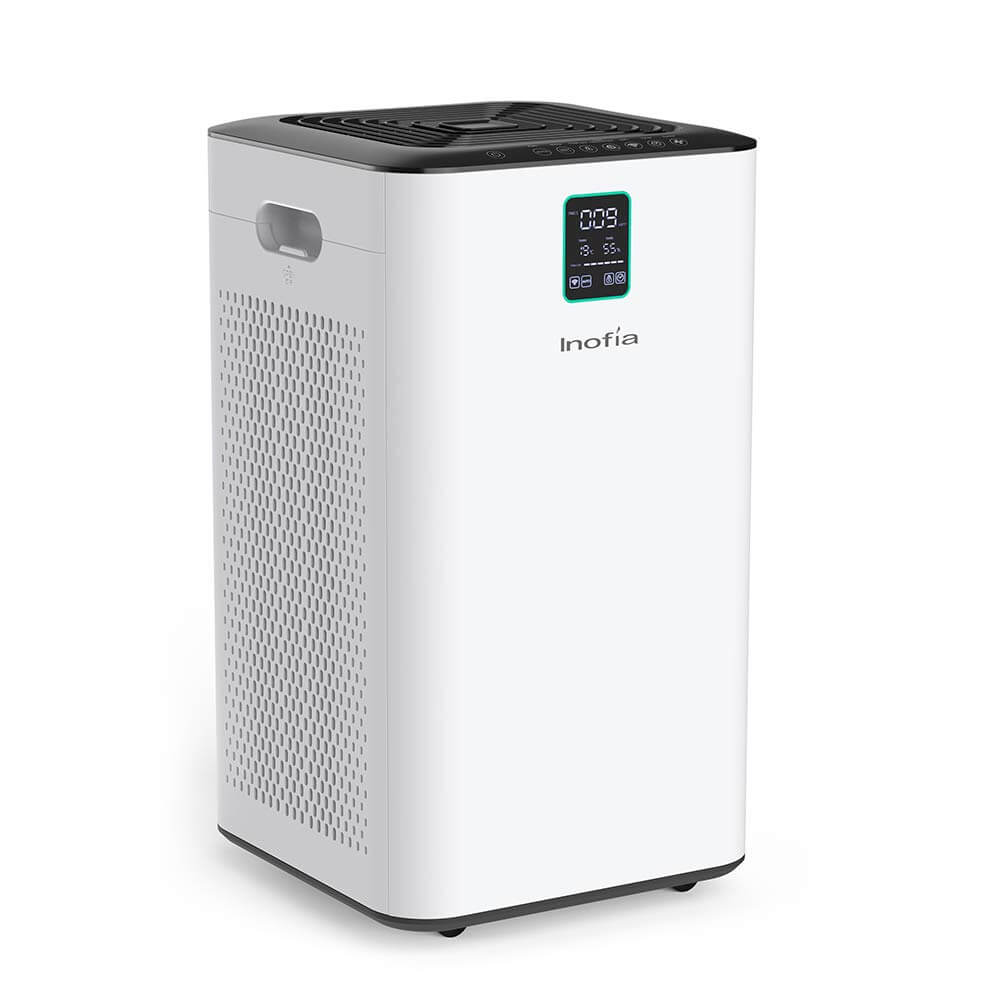 Specifications
Coverage: Up to 1056 sq. ft. / 100 m2
Number of filters: 2
Filter technology: activated carbon filter and HEPA filter
Maximum noise level: 67 dB
Dimensions: 13" x 13" x 23.8"
Warranty: 2 years
Pros:
Wi-Fi remote control
Smart Air Monitoring System
Extremely wide area coverage
Sturdy and durable construction
Efficient work
Easy to move
Has a lot of features
Cons:
Too bright night mode LED light
May not be as effective as 3-filtered purifiers
A stand-out feature for this list, PM1539 by Inofia has Wi-Fi connectivity. Actually, it's not a very common feature, especially among products of this price range. One thing for sure is that it certainly serves a good job as you can control the entire process of the purifier via your mobile phone.
Even though this air purifier consists of only 2 filters, it, in fact, excels at cleaning the air. What's more, it can cover an area of up to 1056 square feet, which is quite impressive. Along with the easy Wi-Fi remote control, the Smart Air Monitoring System helps you in controlling the fan speed for even more efficient work.
If you're looking for an effective and affordable air purifier, the PM1539 is the perfect choice for large areas.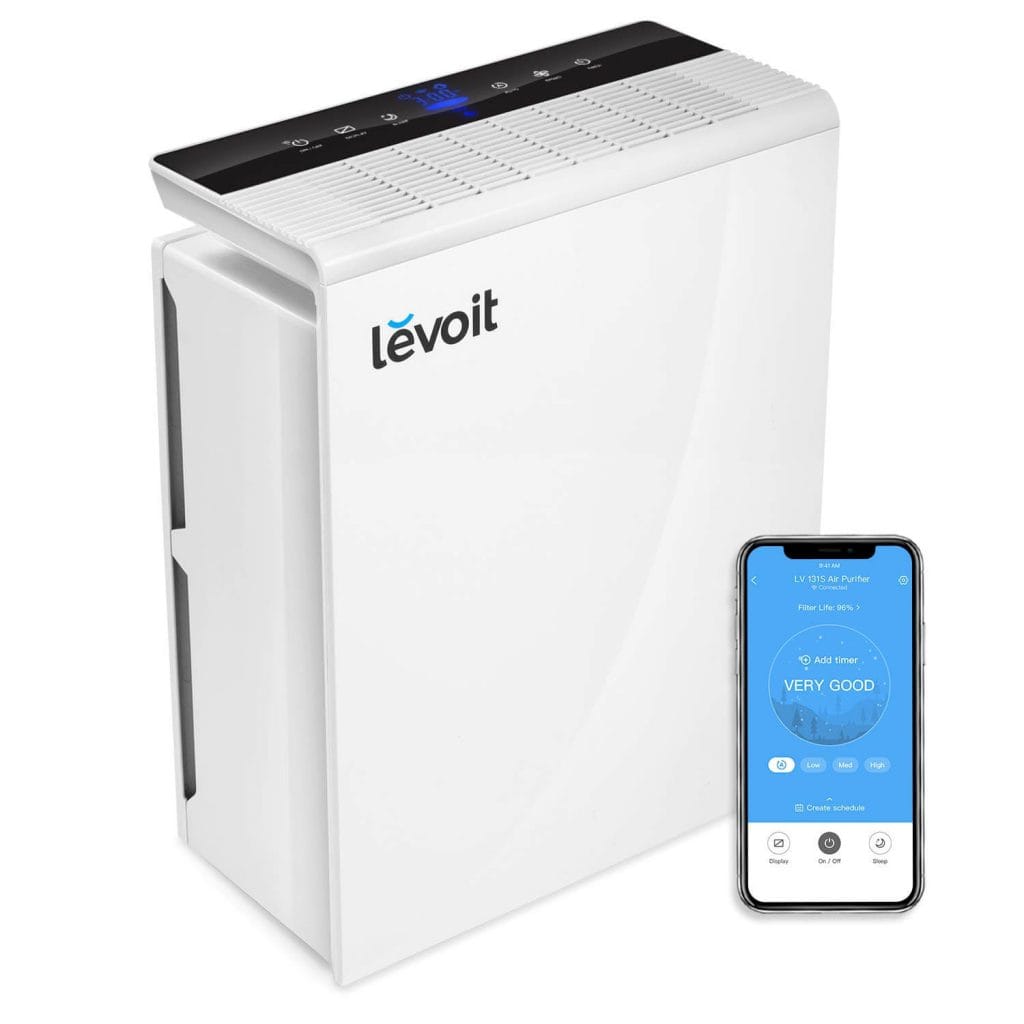 Specifications
Coverage: 322 sq. ft. / 30 m2
Number of filters: 3
Filter technology: pre-filter, activated carbon filter, True HEPA filter
Maximum noise level: 27 dB
Dimensions: 14.5" x 18.5" x 7.2"
Warranty: 1 year
Pros:
Wi-Fi remote control
Voice control compatible with Alexa, Google Assistant and IFTTT
Smart filter life
Integrated timer and schedule feature
Has an air quality indicator
Extremely quiet
Easy and simple operation
Cons:
Some customers complain about issues with the packaging
Complains about defective products
Somehow low durability
To begin with, this is arguably one of the best budget air purifiers. On top of it, it has Wi-Fi remote control availability which makes it even better. The Levoit LV-PUR131S Air Purifier cleans up to 99.97% of the harmful air contaminants which includes everything from dust to VOCs (Volatile Organic Compounds).
This is all thanks to the three-stage filtration system. It consists of a pre-filter, an activated carbon filter and a True HEPA filter. The Smart filter life feature helps you change the filters on time for constant and quality air purification. What's even more valuable is the low noise output which is better than most contestants in the same price range.
Additionally, the Wi-Fi connectivity and the filter life indicator are not the only features this product has to offer. The LV-PUR131S has an Air Quality Indicator to help determine the quality of the air. To top it off, there are 4 different modes and adjustable fan speed for maximum comfort to make this air purifier one of the best on the list.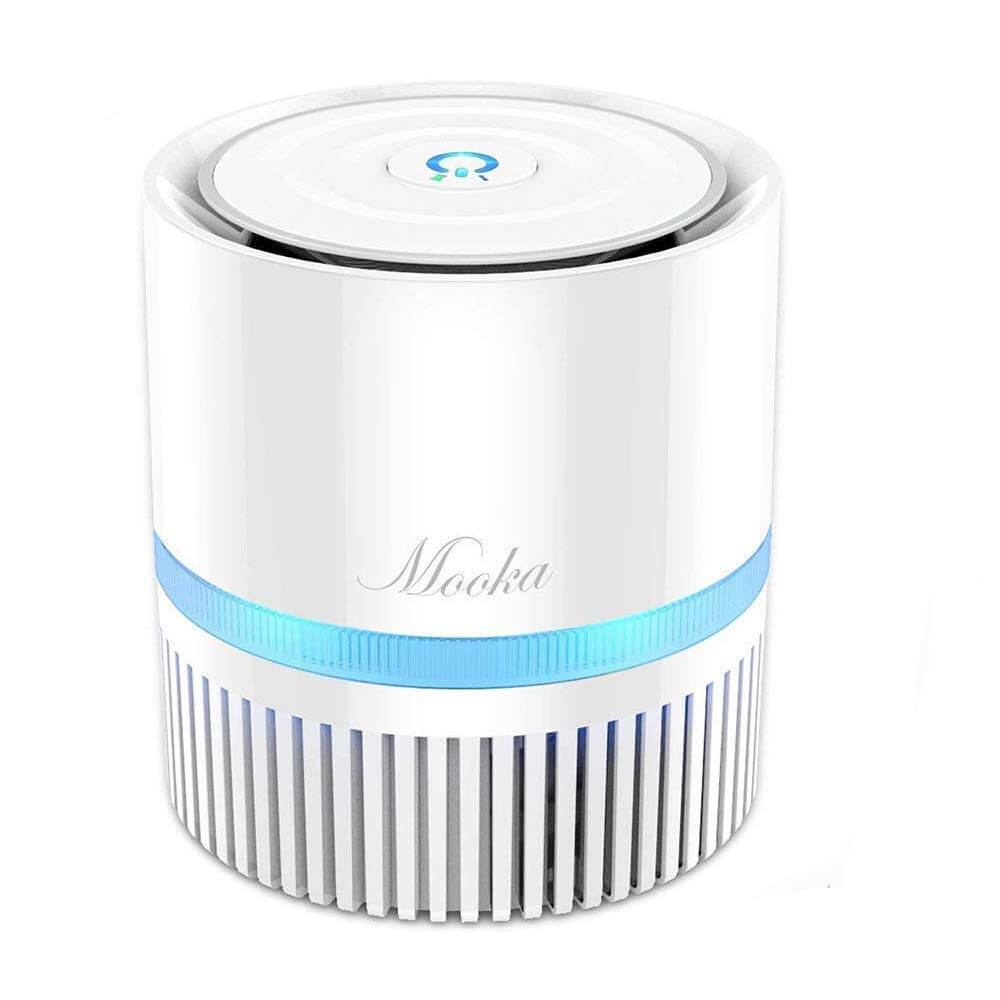 Specifications
Coverage: less than 150 sq. ft. / 15 m2
Number of filters: 3
Filter technology: finepre-filter, activated carbon filter, True HEPA filter
Maximum noise level: less than 50 dB
Dimensions: 7.5" x 6.9" x 6.9"
Warranty: 3 years
Pros:
Compact design
Quiet
Easy to operate
Cons:
Too bright night light
No filter replacements available
Weak fan power
Somehow cheap construction
With its extremely compact design, the Mooka HA1108 is probably the quietest of them all on the list. This miniature air purifier is more of a cleaner than a purifier. Because of its rather small size and weak fan power, you shouldn't expect that much of an effect.
However, this portable air cleaner is really suitable for small spaces. It has a three-stage filtration system which is still effective when put to work. Furthermore, it has a simple design and operation which makes it straightforward and reasonable for its price.
Specifications
Coverage: 161 sq. ft. / 15 m2
Number of filters: 3
Filter technology: pre-filter, activated carbon filter, True HEPA filter
Maximum noise level: 54 dB
Dimensions: 10.5" x 6.8" x 7.9"
Warranty: 2 years
Pros:
Really low price
Compact and portable design
Easy to use
3 speed levels
Filter reminder wheel
Cons:
No extra features
Weak fan power
May be ineffective for larger spaces
Somehow cheap construction
Actually loud when turned on Level 3
When it comes to prices, the LV-H126 is the leader on the list. Levoit's compact and portable air purifier is really cheap which makes it perfect for small rooms, your workspace or office. It is actually a simplified air purifier designed for its purpose.
With its 3-stage filtration and 3 speed levels, this product provides everything that you need from a small air purifier. What's more, the silent workflow really soothes the customer's ear. For extra comfort, there's a simple wheel that's designed as a filter reminder.
Conclusion
Finally, you should always bear in mind that there are tons of other air purifiers and deodorizers out there on the market. Although there are products specifically designed to be connected to your air conditioning or ventilation systems, the air purifiers on this list are arguably some of the best whole house deodorizers and air purifiers available. Whether you want to clean a smaller or larger area at your home, breathing fresh and clean air prevents and alleviates lots of health problems such as allergies, asthma and etc.