Best Electronic Gold Testers
Filed under: tools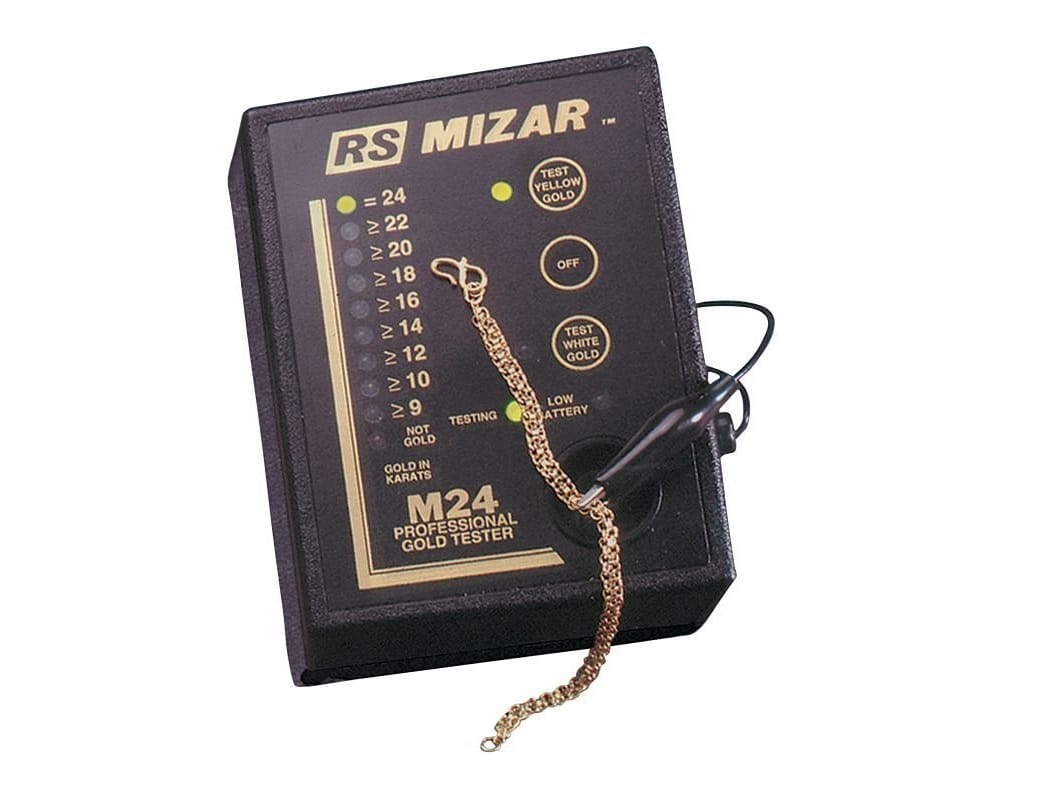 Update: The AuRACLE AGT – 1 Tester is currently the best electronic gold tester on the market. Several other options appear to have systemic issues in their build quality and reliability. You can check it out by clicking here.
Electronic gold testing is an effective method to evaluate whether an item is a genuine gold or not. It's an invaluable tool, preventing costly spends on items that don't live up to what they claim to be. In this guide, we'll look at how electronic gold testers work, the advantages of using them and we'll also review the best electronic gold tester for sale.
How The Best Electronic Gold Testers Work
An electronic gold tester provides vital information on the validity of an item, by testing the piece of gold based on its electrical conductivity. Different aspects are measured to determine whether the gold is genuine.
Fineness testing measures the ratio of gold as the primary metal, against impurities or alloys. The electronic gold tester defines the karat level of the gold item (9k etc.)
The measurement of the gold has to be 6K and above. If it's below the 6K level, it's not considered a karat gold alloy. The tester will also decide whether the item is genuine gold or not.
The electronic tester applies an electrical charge to the item and measures its level of resistance with an advanced sensor. The computerized system displays the resistance level to known gold alloy signature. The result is presented for the user to evaluate.
Gold-based alloys are a combination of silver, copper, and gold. White gold has the added element of nickel, copper or sometimes palladium. The best electronic gold testers include manual adjustments to compensate for different components.
Electronic gold testers can conclude which type of gold alloy fitness the measurements closely equate to, but they can't give an exact karat level.
Advantages Of Electronic Gold Testers
Electronic testing is a lot safer than acid testing. While the acid method may be less expensive, nitric acid is a dangerous substance.  High exposure can cause severe burns and throat, eye and skin problems occur frequently.
Electronic devices test the gold thoroughly, factoring in the mass of the item instead of just the surface, enabling it to provide an extremely reliable estimate. It can't give a definitive conclusion on whether the sample is gold, but it can recognize a gold type alloy.
Some metals resemble gold conductivity, and sellers often try to pass them off as genuine gold. The best electronic testers minimise the chance of questionable validity and reduce the risk of purchasers making a costly mistake.
With results in 2 - 15 seconds, they also offer a quicker evaluation than acid testing. The measurements are easy to read and displayed on an LDC screen. The testers are also portable, with most able to run on batteries.
Things To Consider When Buying An Electronic Gold Tester
Many manufacturers sell the testers, and customers need to be sure that the product they buy will provide accurate results.
For people planning to sell gold items, the validity of the gold is critical. Low-cost testers may seem like an appealing option, but a short-term saving could result in long-term difficulties.
Deciding the best electronic gold tester for your needs can seem like a bewildering process. With a wide range of devices on the market, it's essential to choose an accurate and reliable product.
The Best Electronic Gold Tester - AuRACLE AGT – 1 Tester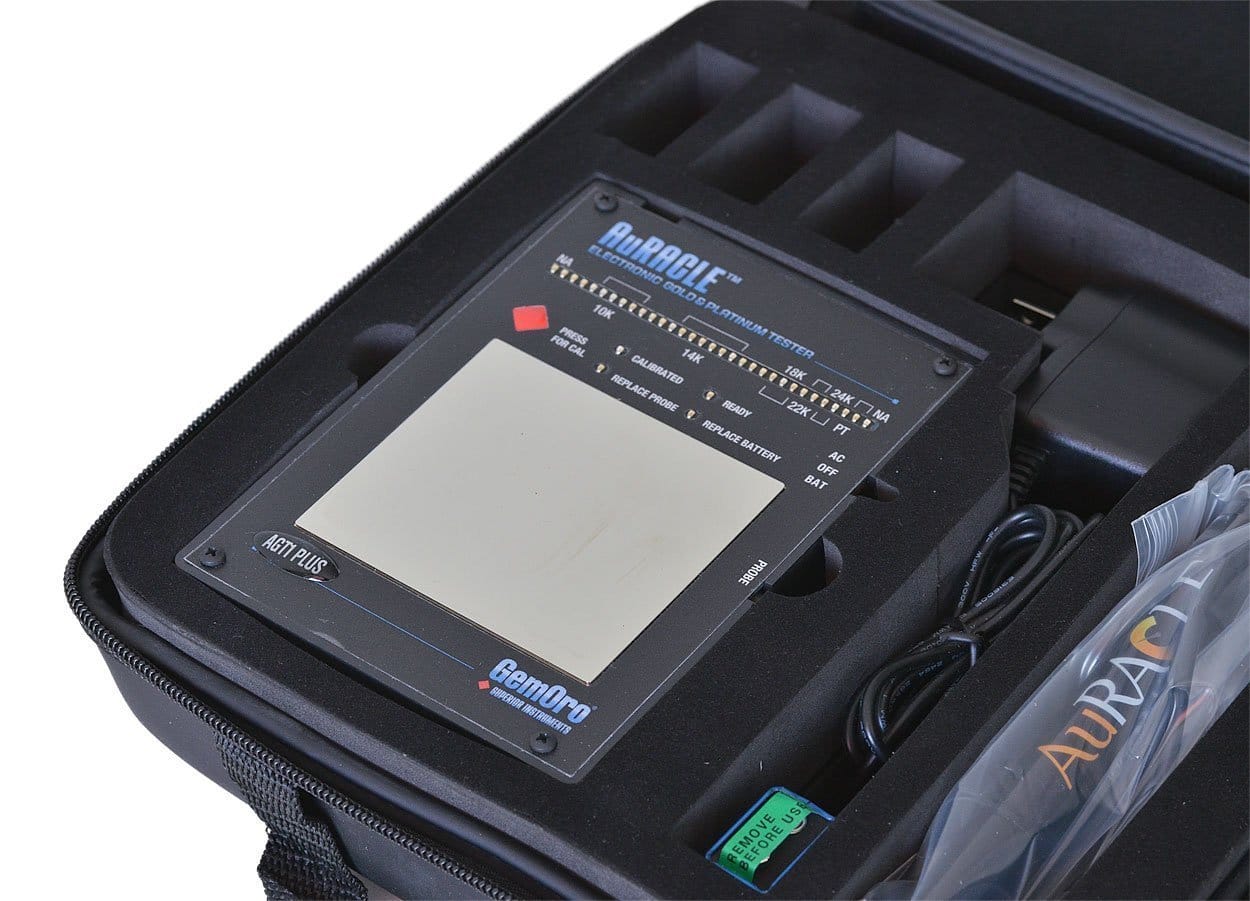 The AuRACLE AGT has proclaimed itself the "best tester in the world." It certainly seems promising on paper. For those who don't like working with gels, this machine has none. It operates by using a pen probe filled with salt water. The probe lasts for 5000 tests, and once it dries up, you just replace it with a new one.
It's designed to be user-friendly, but for some, configuring the tester proved to be on the more complicated side. There's no waiting between tests because the device shows immediate results. The AuRACLE tests all colors from 6K to 24K and evaluates platinum too. An ABS frame and a stainless steel plate assure long-term durability.
The reception to the AGT has been quite mixed. The device can be complicated to use for those who aren't professionals, but it does include a detailed manual. The AuRACLE comes with a 1-year warranty and is reasonably priced. The device offers many advantages and would suit people looking for accurate results when identifying gold grades.
Kee Gold Tester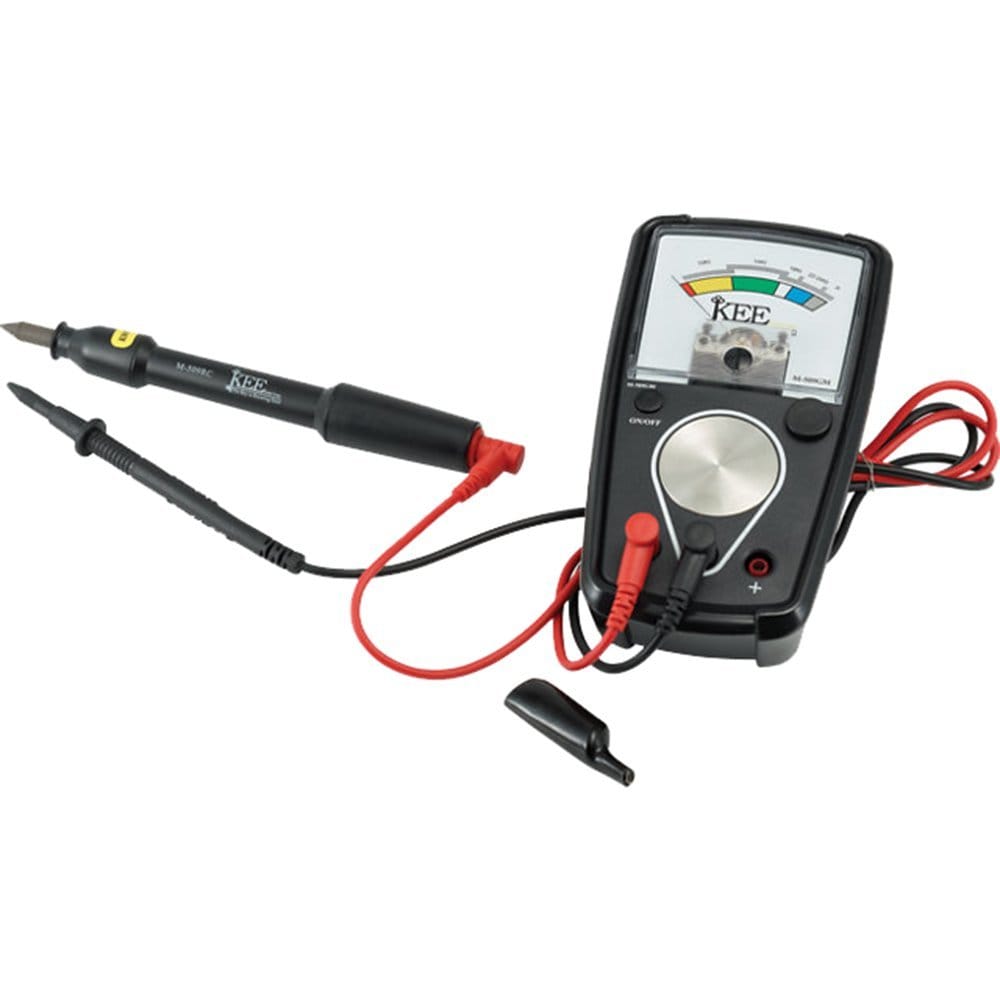 The Kee Gold Tester is a battery operated portable device that tests gold and platinum. It measures gold alloys from 10K to 24K and provides accurate results. For people used to measuring with acid devices, this reliable and user-friendly tool makes it easy for anyone to use. There are no liquids needed, and it's a cleaner efficient way to test for purity. There's no need to push a color button, and it's chemical-free offering an added element of safety. The Kee comes with a 6-month warranty from the date of purchase.
Some testing devices can be complicated to use, but the Kee Gold Tester is easy to calibrate, and the meter shows clear and readable results. Many professionals are choosing the unique model, and trust it for it's near perfect readings. Regarding evaluating the best electronic gold tester for sale, the Kee deserves its place on the list. The battery life is 170 hours and above, and only one AA battery is required. The Kee Gold Tester offers high-quality aspects, for a low cost. It's an investment worth making.
Tri Electronics G-24 Gold Tester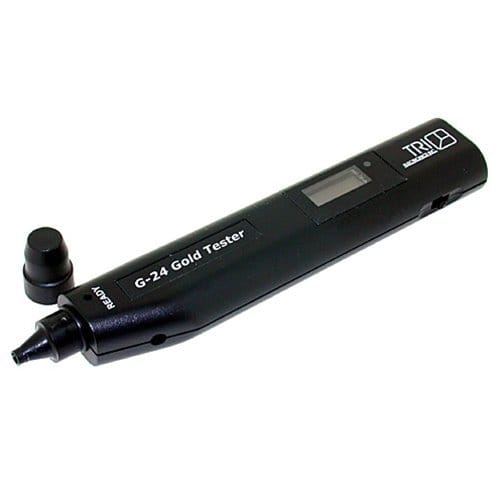 If you're looking for a convenient tester, then The G-24 won't disappoint. Its compact size makes it easily transportable. The accurate device tests for plated gold, gold wash, flash, and platinum. It can test white gold up to 18 karats, and yellow gold from 6 karats up to 24 karats. The machine is easy to use, and it's perfect for those who are inexperienced in gold testing. An easy to read digital display shows clear results. If the karat level is under 6K, the machine will simply say 'Not Gold.' The G-24 takes away the complexity of testing and provides clear instructions. There are no complicated cables, and the device is battery operated with the choice of using an A/C adapter.
Potential injury and exposure to hazardous materials are prevented by an ecologically safe testing liquid. The G-24 is efficient in every way, from its setup to presenting an accurate reading. The prominent advantage of this tester is its size. It may be small, but it offers a lot of unique features and near to conclusive results.
Tri Electronics GT-Express Mini Tester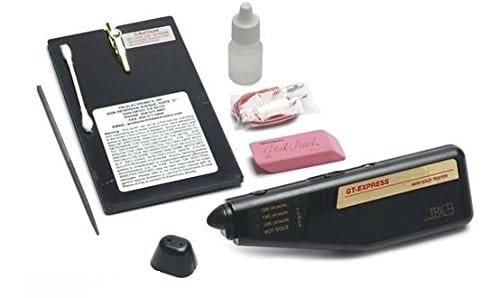 For those searching for a simple, no-frills device The GT-Express Mini fits the bill. It's a smaller more basic version of G-24 but still, has some productive functions. A disadvantage of the tester is it only recognizes higher karats starting at 10K. A series of lights are used to show the karat level of the gold. It doesn't measure exact karats and instead indicates the measurement as being in the region of 10k to 13k.
The advantages of the mini are the non-toxic liquid and its low price. It's a reasonable choice for those who want to test large items. However, it's not guaranteed to give an accurate result and doesn't have a strong level of durability. The GT-Express includes a 1-year warranty, but with its questionable sustainability, it's not guaranteed to last that long. When it comes down to product price, if low cost is an essential aspect of your purchase, then this is the tester for you. For those looking for accuracy, reliability, and durability they won't find it with the GT-express.
Et18 RS Mizar Electric Gold Tester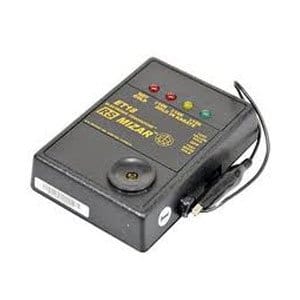 If you appreciate high-quality for low price items, you'll be impressed with the Mizar Tester. Its small size makes it extra portable, and it comes with a 1-year warranty. The tester is efficient and accurately can determine gold values from 10K to 18K. It's also able to measure the levels of red, green and white gold. The results appear on the LCD screen, and measurement takes as little as 2 seconds.
It's simple to use the tester, with a clear instruction manual. In general, the measurements are accurate, but there have been some cases of false readings. Mizar claims a 1-year warranty, yet also say when the item has been used it's non-returnable. There are also some problems with clips coming loose from the wire, but they are easily replaceable.
There are positives and negatives with this tester. The variety of gold colors it measures will provide users with a detailed reading, and the size of the Et18 makes it suitable to carry around. However, with its questionable consistency, it's debatable whether the price makes up for its flaws. If you want the best electronic gold tester, this isn't the product for you.
PuriTEST Professional Gold/Silver Tester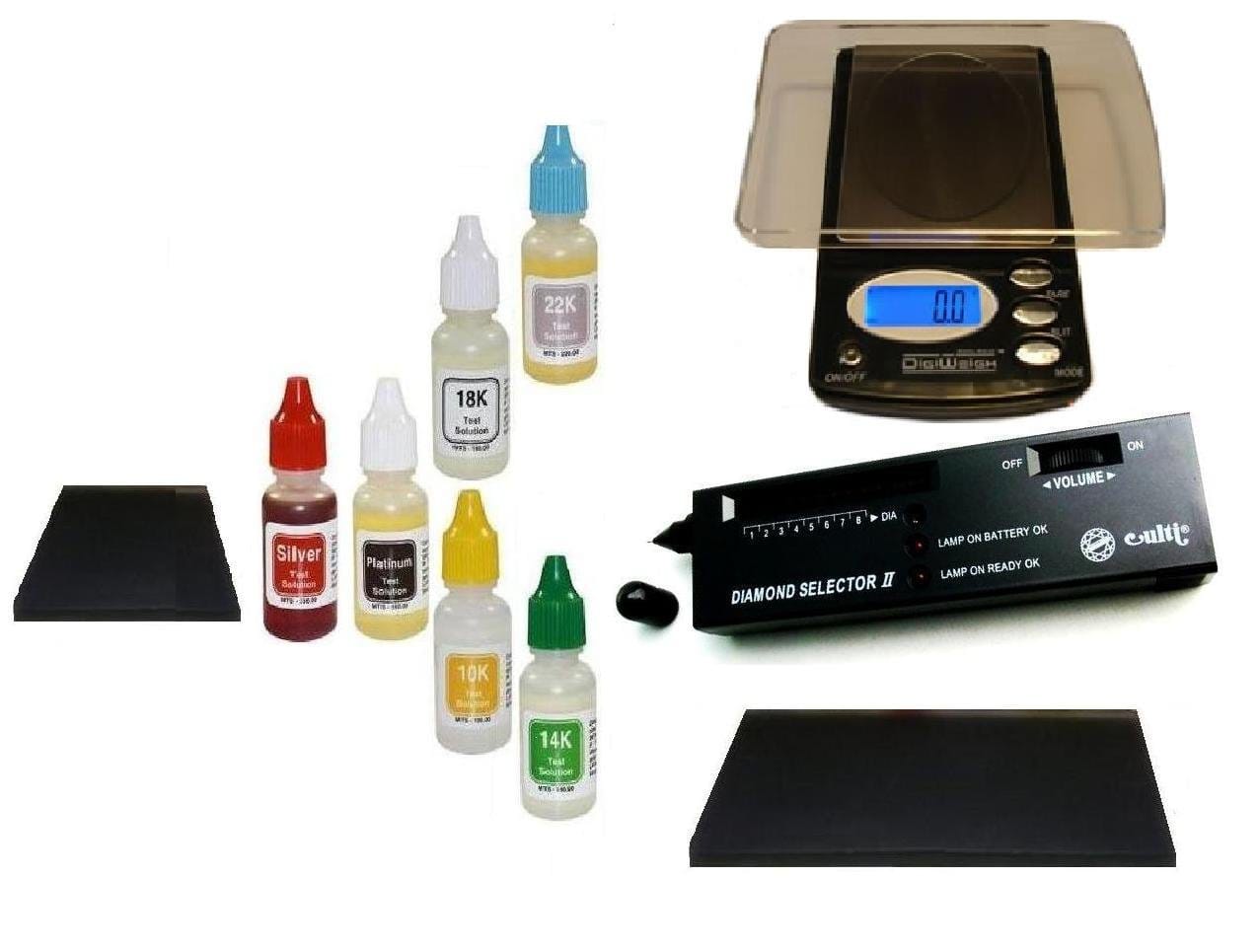 For beginners, this is the ideal tester, for a shockingly low price. Featuring a digital weighing scale, it measures a wide range of jewelry and includes a protective cover, expansion tray and instructions. The scale is designed to measure in different modes including, Grams (g), Ounces (oz), Troy Ounces (ozt) and Carats (ct). The tester measures between 10k to 22k and evaluates a wide range of elements including, gold, silver, platinum, and gemstones. It's a diverse machine, but a downside is the acid test bottles which cause potential hazards.
The instructions aren't very clear, and there can be problems configuring the tester. It measures diamond accurately, but there are some issues with metals. What makes this product stand out, is it's Lifetime Warranty. Not only does it give peace of mind for users it also shows PuriTEST are confident in the durability of their product. It's ideal for home use, students and small businesses.
RS Mizar M24 Gold Tester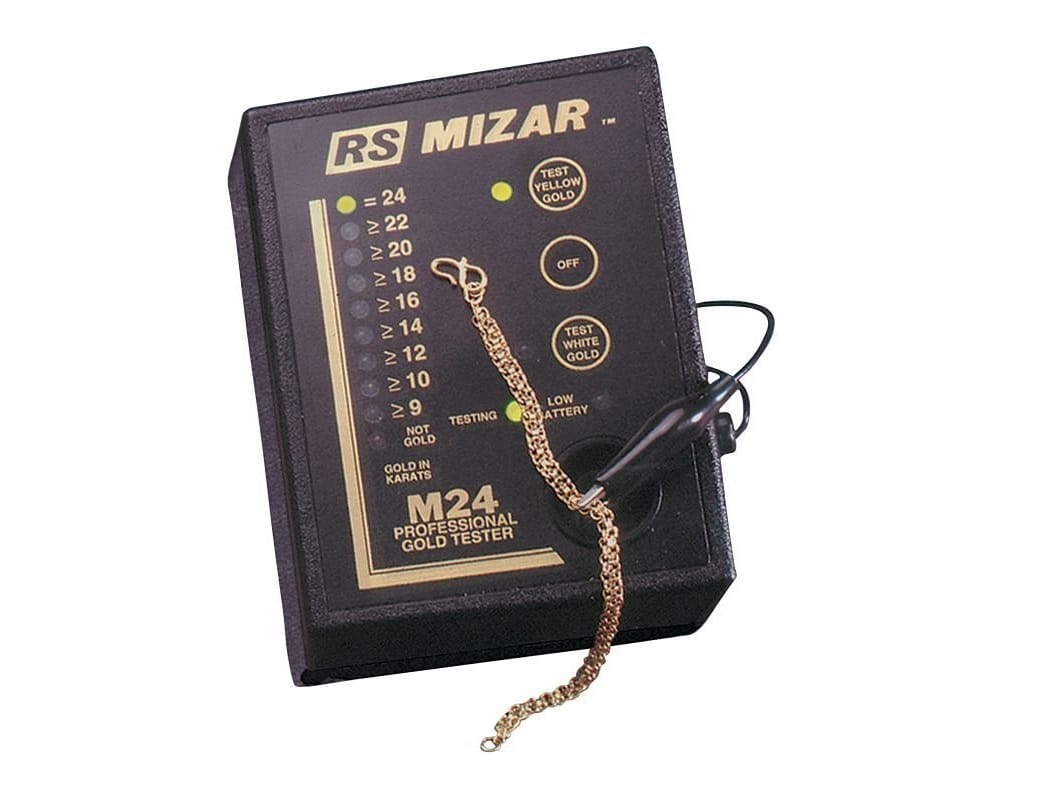 Mizars M24 model advertises a non-destructive testing experience and can determine platinum. It tests from 9k to 24k and can also tell the difference between gold plate and gold flash from solid gold in seconds. The battery life is protected by the automatic shut off feature, and there's a low battery indicator. The instructions for setup and configuration are confusing and require thorough reading. It's not an ideal product for beginners due to its complexity, but for professionals, it offers many positive features.
Mizar claims their product is one of the most advanced in the world, but mixed reviews suggest that might be an overstatement. It seems the most significant problem with the tester is its reliability. Many of the M24 models have stopped working or didn't even turn on. As with the M18, Mizar claims there's 2-years warranty, yet say the products not returnable. It's reasonably priced, but its predecessor seems to be the favorite among the two Mizar models.
GemOro Auracle AGT1 Plus Tester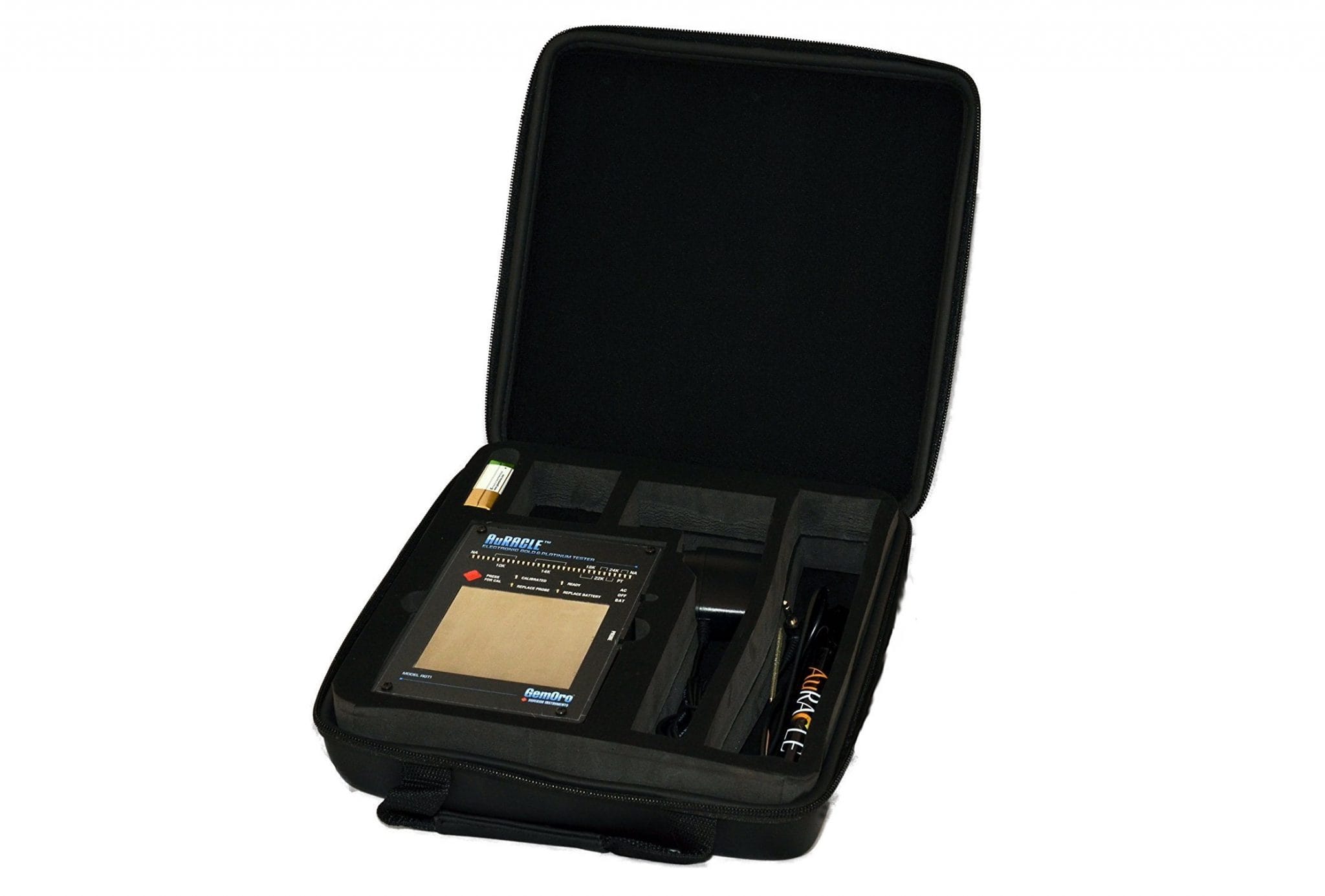 If you're looking for the best electronic gold tester, then the Auracle Plus is a strong contender. It's the updated version of the Auracle AGT1 and offers three new features.
It now tests all colors of gold and platinum from 6K to 24K and efficiently determines gold plate, non-plate, and gold filled items. Nickel and stainless steel have been combined to make a testing plate that offers a lot more durability.
One of the most significant problems with the AGT1 was its finicky configuration process. GemOro has resolved the issues by changing to a one-step configuration process. It makes the tester easier to use, and considerably more user-friendly. GemOro has also upgraded the software, to create a more detailed evaluation of elements. The new model still includes the dynamic features of its predecessor, including the long-lasting probe pen and LED screen.
The AGT1 in itself was an impressive model, but the added features of the AGT1 Plus, make it challenging to find any negatives. At a reduced price and with a 1-year warranty the AGT1 Plus is setting the bar for other models.