Best Portable Garages For Snow Load: 6 Heavy Duty Designs For Winter
Filed under: garage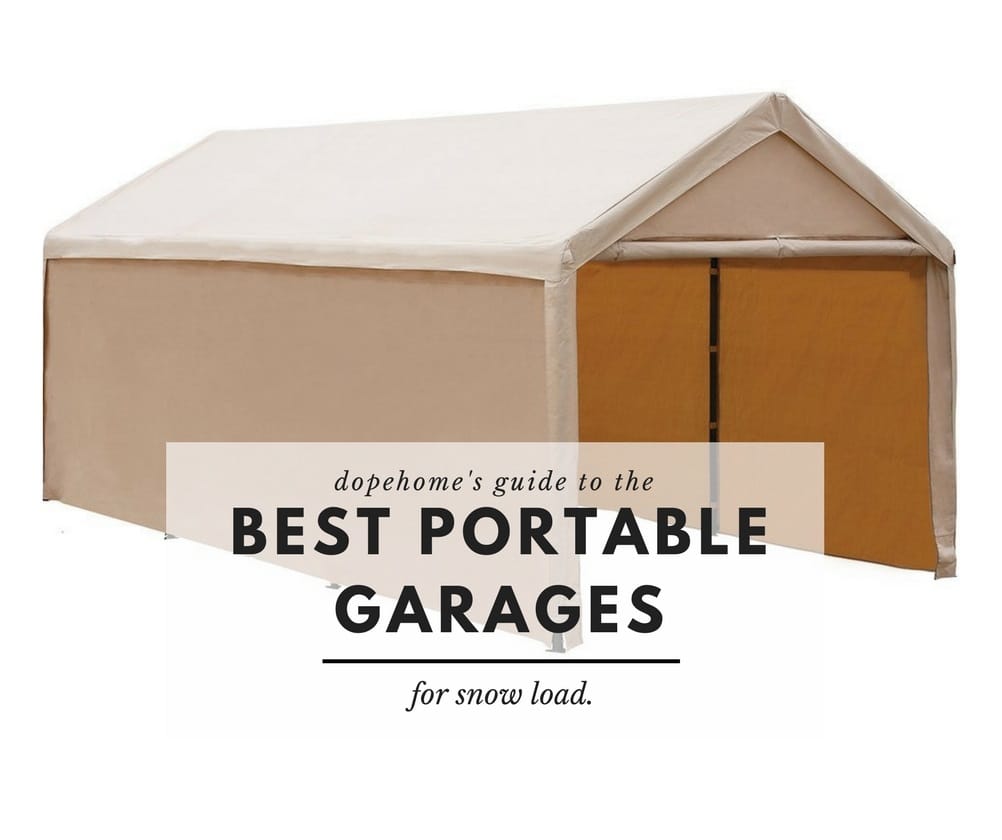 Last Updated: November 23rd 2019
Update: The Abba Patio 10 x 20ft portable garage canopy is now the top rated portable garage and even for a snow loads. You can click here to check it out.
There's no denying that vehicles are exposed to a fair share of damages and risks once the temperature starts to drop. Considering the ice accumulating around the tires and windows to water pooling, cracks from UV rays, dry rot and even mildew - among a strew of other potential issues, several car owners choose to invest in a portable garage for snow load.
Most of these garages can be easily set up, but it's important to know that considering the different types of materials used, settling for one particular model is something of a tough choice.
If you're short on time, here's our roundup of the best portable garages for snow load on the market today.
Abba Patio 10 x 20-Feet Heavy Dute Canopy
ShelterLogic Model 62680
Abba Patio 10 x 20-Feet Heavy Duty
Abba Patio 12 x 20-Feet Heavy Duty
Quictent 20 x 11-Feet Heavy Duty
King Canopy HC1020PCSL
Here's a quick buying guide to help you find the very best portable garage for snow load.
What to look out for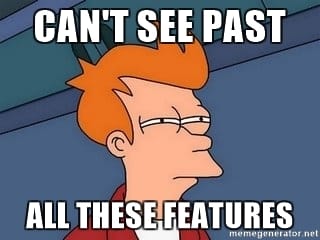 Consider your local weather
It is quite important to consider the 'type' of winter that's more common to your region. While some regions only have a light sprinkling of snowfall, others - especially the Northeastern states - are known for their stormy blizzards that normally result in several feet of dense snow.
So what does this mean for me?
You may need to opt for tougher materials when it comes to selecting your portable garage.
Determining the correct size
Before settling on the proper size, you first have to determine how much space you're willing to allocate to your carport. Don't forget to ensure that you have enough space to comfortably move around and open the vehicle doors as well as the boot.
On the other hand, an overly large garage will not only bring a 'cramped' look to your yard, so make sure to get a balance between the two.
Construction and material
The garage's construction directly influences its price as well as its weight and strength. The majority of models are made of steel because of its anti-rust properties and superior durability.
Be sure to pay attention to the overall pole diameter and thickness since this is what will directly influence the frame stability. If you live in an area prone to violent winters and storms, it's important to go thicker poles that provide a sturdier shelter.
If you're looking for all-around coverage, you can also go for PVC or polyethylene covers that can withstand rot, mildew, mold, snow and the likes.
Accessories
Some portable garages come with additional accessories such as cement, concrete, hook or auger-style anchors. These anchors are designed for different types of landscapes and can provide a much sturdier hold. Such accessories are best used in stormier climates.
While hook anchors aren't really reusable, auger ones can easily be removed and re-installed at will.
Sidewalls
Some portable garages can be accessorized with sidewalls in order to provide both additional protection against the snow as well as privacy. Because not every portable garage is compatible with sidewalls, it is important to check with the manufacturer prior to your purchase.
Custom Add-ons
If you're handy on the tools you might even consider a couple custom additions you can make to ensure the garage is as sturdy as possible. If you live in a fairly windy area the first thing I would do is either bolt down my garage to an existing concrete slab or pour some footings to bolt the garage down to. If you've got a driveway to attach to - all the hard work is done already, you would just need a masonry bit, hammer drill and either dynabolts or threaded rod with some chemset or hilti hit. These can be attached to the driveway with a piece of angle steel.
If there isn't any existing concrete to attach to, well then you've got your work cut out for yourself. I'd start by digging holes for concrete footings for each of the legs - around a foot deep by a foot wide and pouring premix concrete in. Give it 7-12 days to cure in order to reach sufficient strength, then attach your portable garage to the footings as above.
Now that you know what to keep an eye out for, here are some of the best portable garage for snow loads:
1. The Best Portable Garage For Snow Load - Abba Patio Heavy Duty Canopy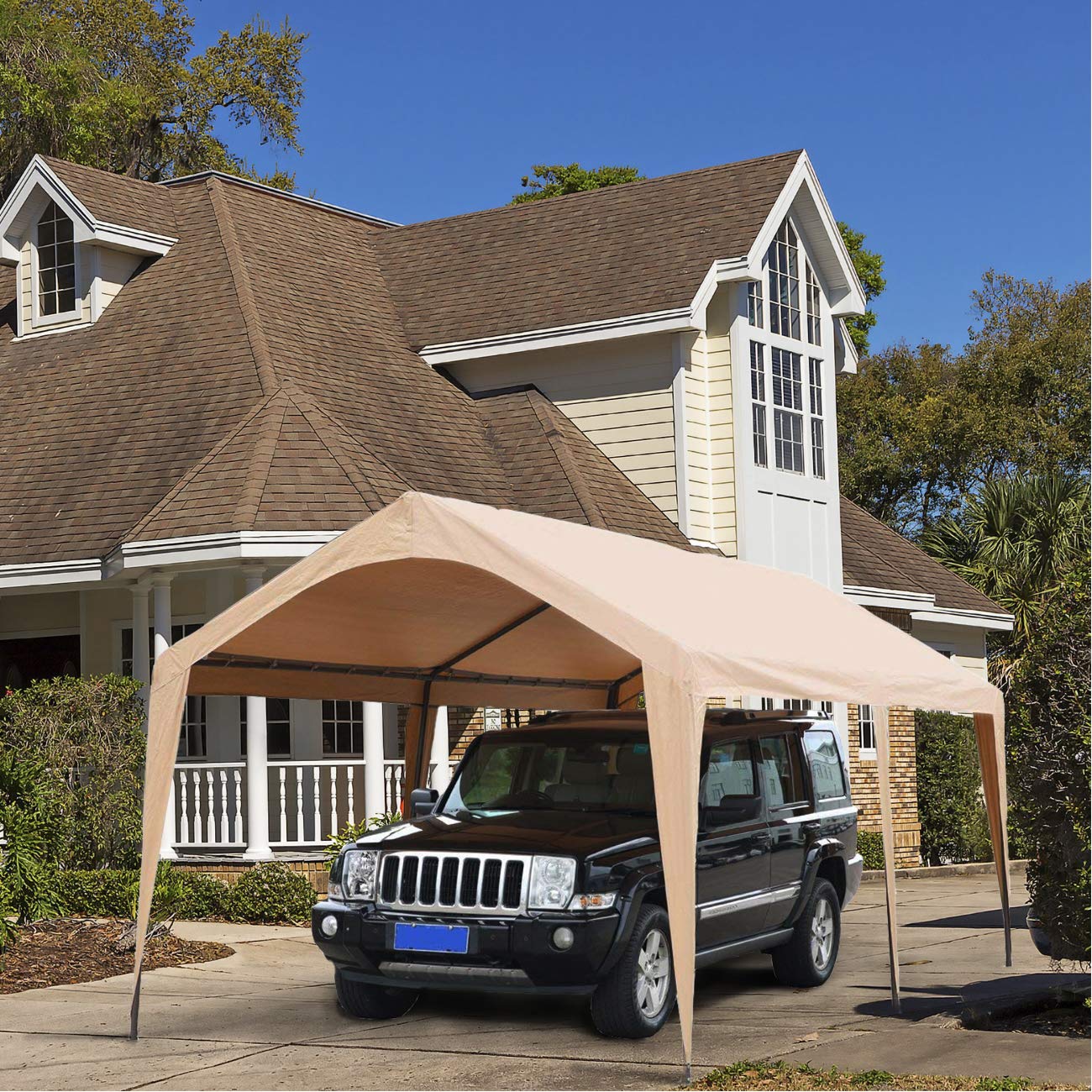 Ideal for vehicles, parties, storages or even commercial fairs, the Abba Patio Heavy Duty canopy is known as one of the largest - and the best portable garage for snow load.
Boasting UV resistant and water resistant cover, this particular carport received quite a lot of positive feedback from customers who liked the polyethylene cover that helped protect their vehicles from the snow, rain and wind.
Moreover, customers also liked the leg design that helped deliver quite a lot of stability. It allows for bolting down to the ground if on concrete, or staking if on grass.
While the majority of portable garages are notoriously hard to install, customers found that this particular model was rather straightforward to setup.
The model has lasted through 50mph winds and several inches of snow fall. One hack you might like to do if you're looking to really sturdy it up is to put some screws through each of the pole-to-pole, or pole-to-joint sections.
2. ShelterLogic Model 62680 Instant Garage AutoShelter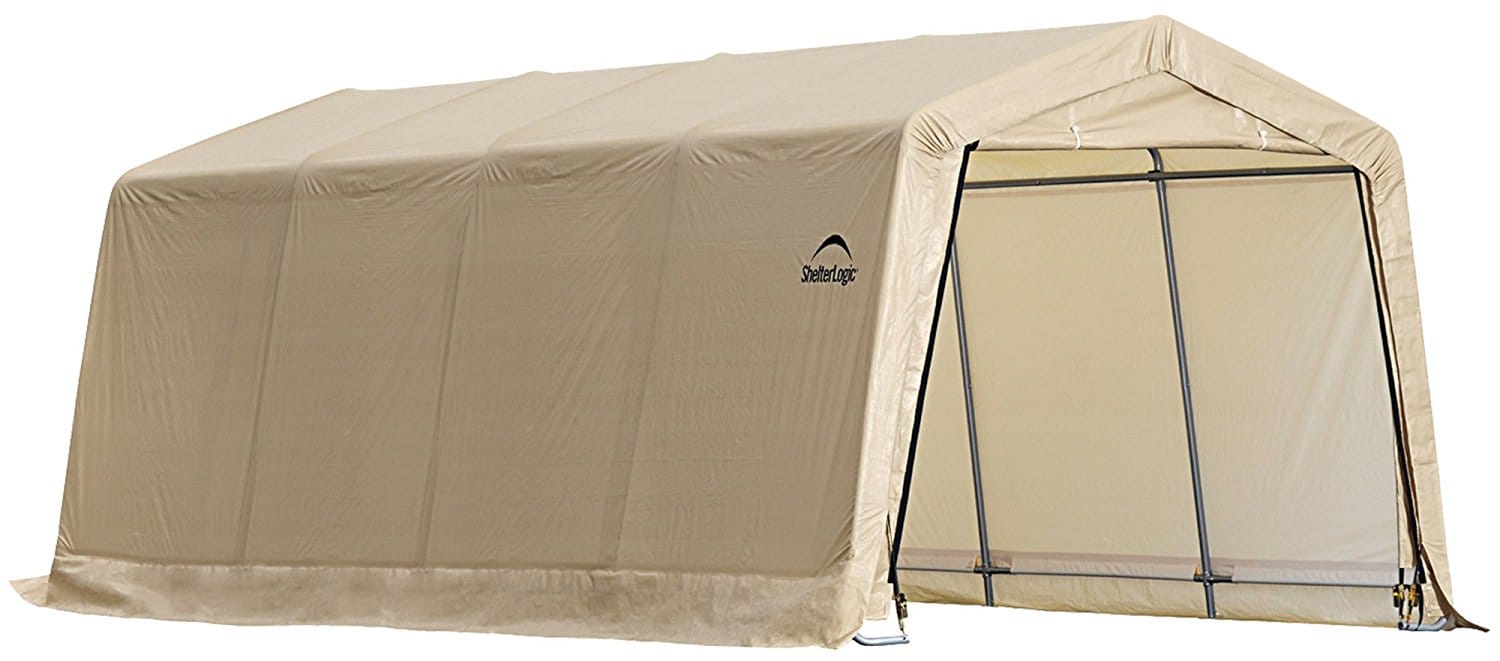 Boasting a Ratchet Tite cover tensioning system, the ShelterLogic Model 62680 ensures a door-panel connection as well as a drum tight cover.
The main thing that most customers liked with this particular model was the UV-treatment that spread across both the inner and outer layer, as well as the advanced engineered waterproof triple-layer ripstop polyethylene.
Customers also liked the anti-fungal, anti-aging as well as the fade blocker agents.
Additionally, it comes with patented stabilizes that provide stability and durability, even during the worst of storms. Users claim that they were also extremely appreciative of the 1-3/8"/ 31cm steel frame that was bonded with a premium powdered-coated finish in order to avoid potential issues such as corrosion, rust, peeling and chipping.
One of the best portable garage for snow load on the market, this product is ideal for snow mobiles, tractors, garden and lawn equipment, trailers, cars, jet skis and even ATV's.
A few drawbacks were reported about this item: for examples, some users did complain about the time-consuming and fairly complicated set-up process. Still, this auto-shelter was extremely well-received on the market.
3. Abba Patio 10 x 20-Feet Heavy Duty Domain Carport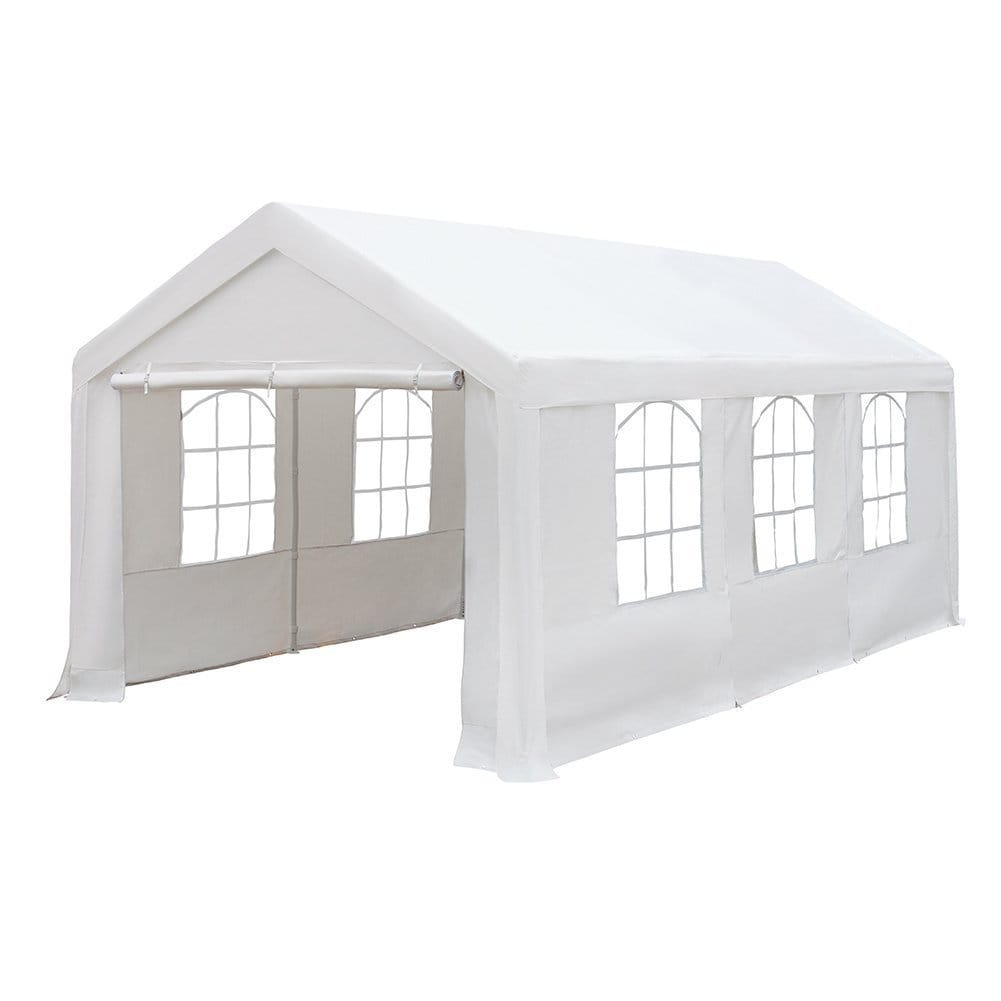 Measuring 10 x 20ft, the Abba Patio  10 x 20-Feet Heavy Duty Domain Carport is known as one of the best portable garages for snow load. Enhanced by 2 easy-to-open/close zippered doors for easy ventilation, even on warmer days, this particular product was extremely well-received by the majority of customers.
Indeed, users appreciated the 1.5 corrosion and rust-resistant steel frame that provided extra stability, thanks to the base plate as well as the corner joint. Best of all, this carport is even enhanced by a UV protection cover that will protect your vehicle from harmful sun rays.
Because it is water-resistant, this garage can even double for a cover for various types of social events such as birthdays or picnics. Customers quite liked the fact that the carport could be used on various types of terrains including semi-hard and concrete lawns as well as lawns.
Because of its easy assembly process and excellent stability, practically no drawback was reported about this carport. Quite on the contrary, most people liked the elastic ball straps as well as spring pin frame that made it extremely easy for them to set up.
4. Abba Patio 12 x 20-Feet Heavy Duty Domain Carport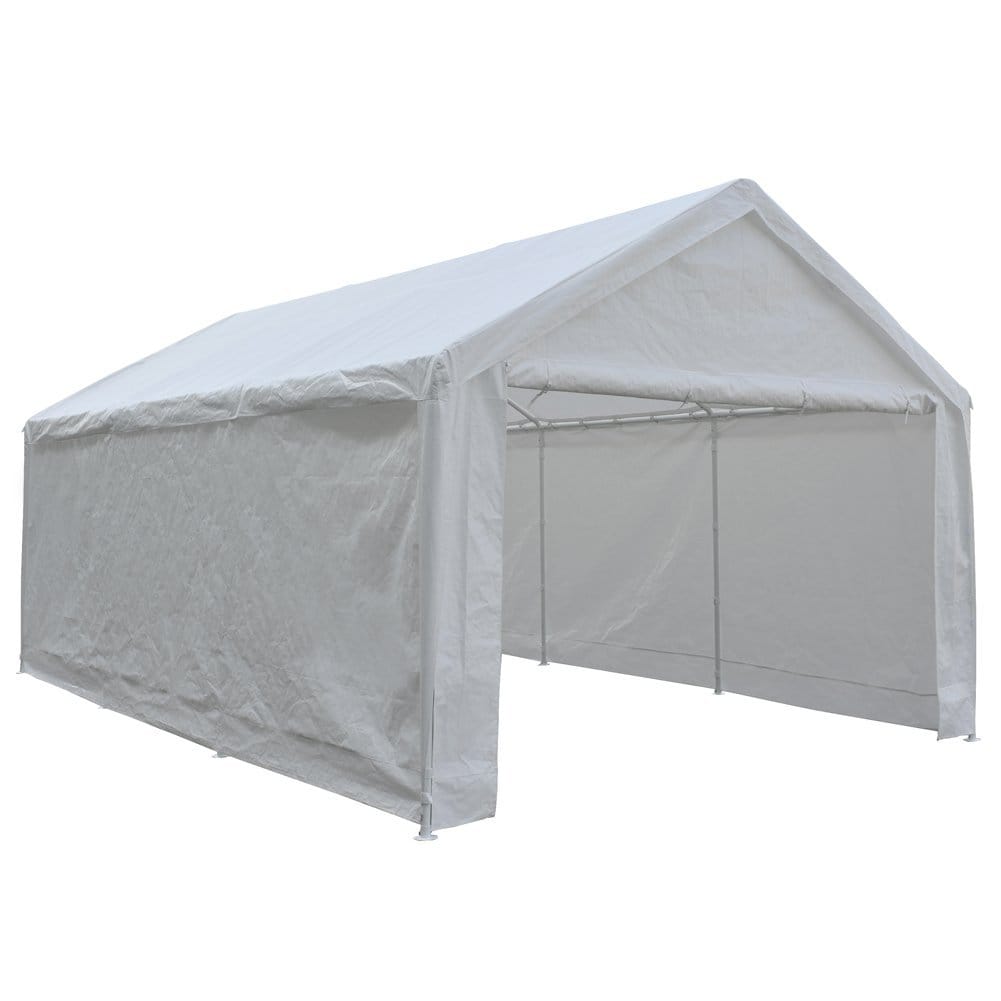 If you're looking for the best portable garage for snow load, you might want to check out the Abba Patio 12 x 20-Feet Heavy Duty Domain Carport comes with a heavy-duty white-powder coated steel frame that measures around 1-1/2" thick. This provides added stability while preventing issues such as corrosion, rust, peeling and even chipping.
Ideal for snowy weathers, this carport additionally comes with a detachable zipper door, which was quite well received by customers since it enabled them to quickly get in and out of the garage.
Another feature that people quite liked was the foot pads that was attached to the legs of the canopy: this made it easier for users to secure the anchor points while providing even more stability.
On the other hand, some users weren't fond of the assembly process, which they claimed was quite complicated for one individual. Another user claimed that he received defective welds but this was a lone complaint. On the whole, this particular garage for snow load was actually very well-received by the majority of people.
5. Snow Shed suitable for Bad Weather, Quictent 20'X11' Heavy Duty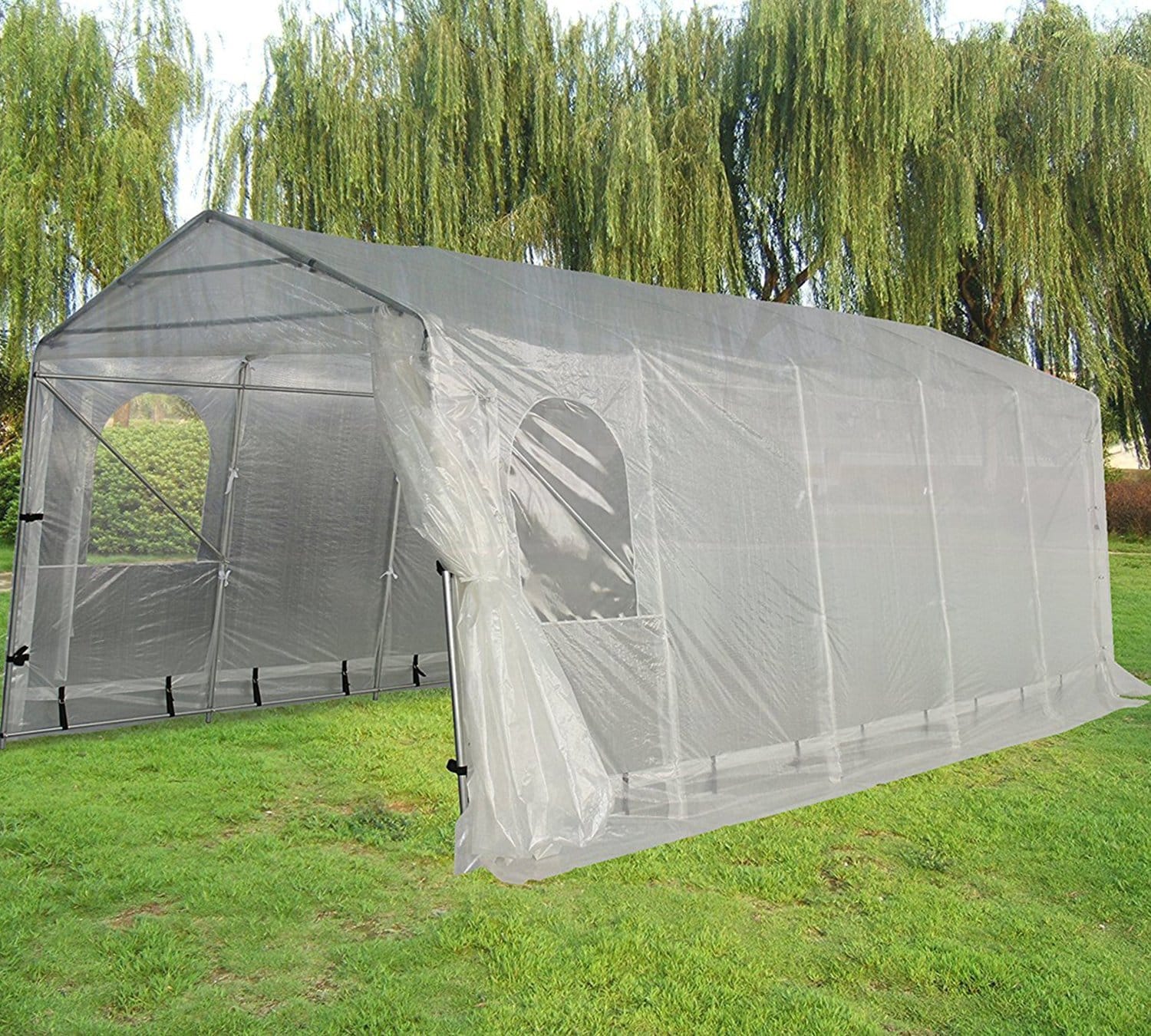 Hailed among the best portable garages for snow load, the Quictent 20'X11' Heavy Duty is extremely suited to regions prone to heavy snowfall and storms. This ISO-certified product is enhanced by a heavy-duty reinforced Ground bar that has been shaped to deliver added stability across the entire frame.
According to the majority of customers, this product also includes a corner support beam that keeps the carport upright and stable even during extremely windy conditions. In addition, users liked the durable 160g cover that can sustain quite a lot of snow weight.
The cover also includes an observation window, which can come in handy for customers who are also planning on using the portable garage for social events.
As far as the drawbacks are concerned, a few people reported that it was hard to take down the portable garage, but this will not be an issue for customers who plan on leaving it up permanently.
6. King Canopy HC1020PCSL 10-Feet by 20-Feet Snow load Hercules 8-Leg Canopy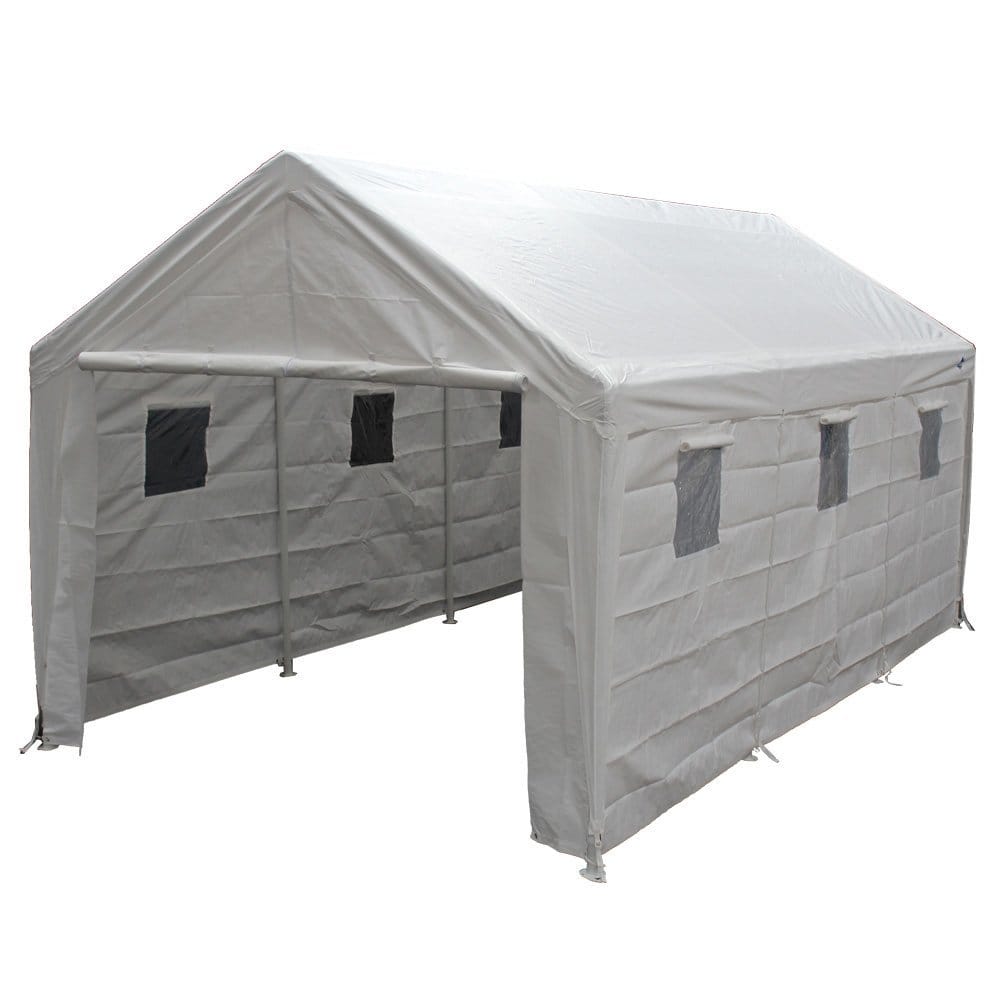 Made from heavy-duty tarp material, the King Canopy HC1020PCSL can be described as one of best portable garages for snow load.
Boasting numerous positive reviews, this particular canopy delivers added safety thanks to its water resistant and fire retardant features. Because snow can be quite reflective, the canopy has also been coated with UV inhibitors, hence protecting your vehicle from an overexposure to the sun.
Moreover, customers were satisfied with the 2-inch white powder-coated frame that was made out of steel and delivered optimal stability. In fact, the frame is also rust-proof, hence guaranteeing longevity.
According to the majority of users, the fitted cover with attached leg skirts largely facilitated the installation process. As a result, virtually no drawback was reported as far as this particular canopy is concerned.
READ NEXT:
So What's The Real Story?
Finding the best portable garage in winter all depends on your location and circumstances. Despite this, one option stands out from the rest and that's the heavy duty Abba Patio 10 x 20ft portable garage. With a powder coated heavy duty frame and polyethelyne cover, this thing is built to last.
Click Here To See What Other Customers Thought About The Abba Patio