Best Fire Pits: 20 Awesome Designs You Need For Your Backyard
Filed under: garden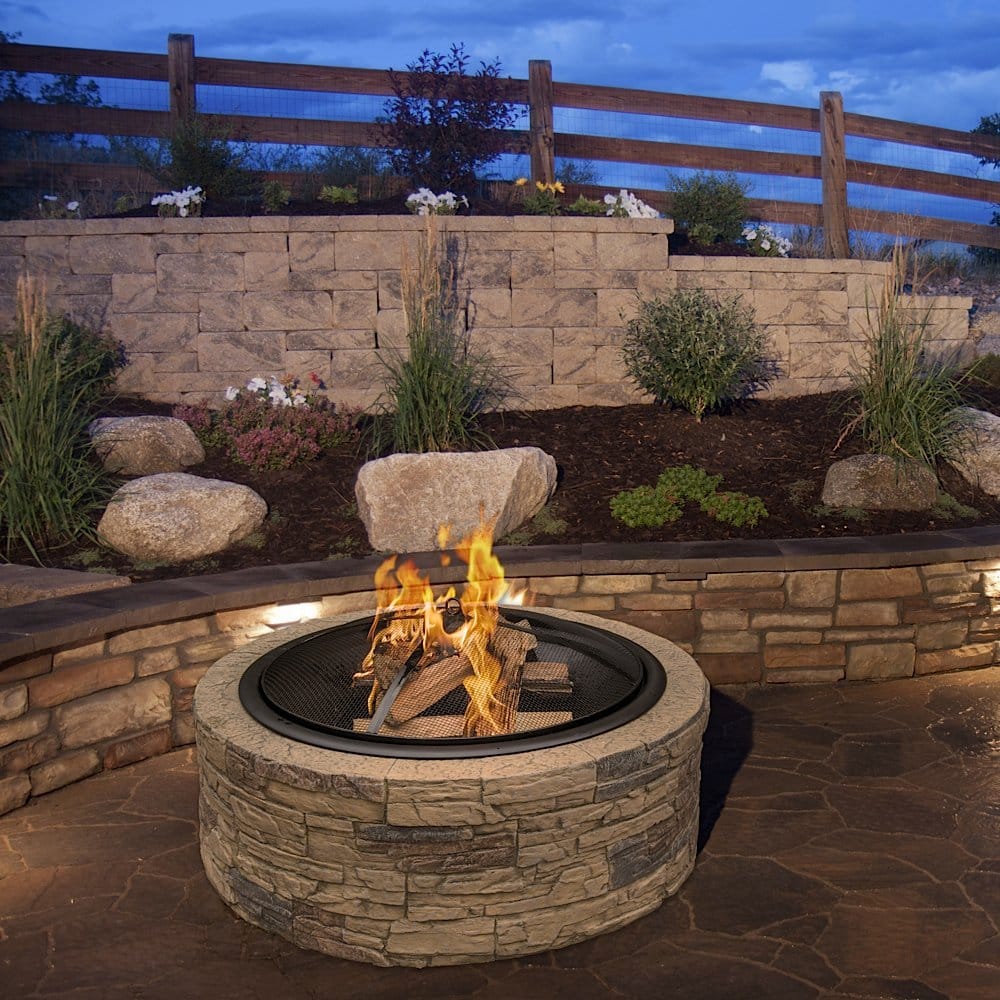 Do you enjoy a view of the starry night? There's nothing nicer than having a bonfire with friends and family on a cool summer eve. There's countless variations of fire pits on the market today, so which will be the best fire pit for your next get-together?
The Best Fire Pits on the Market
Following is list of the most popular fire pits offered on the market today. They range in materials, shapes, sizes and fuels as well as cost.
1. Solo Stove Bonfire - Super Efficient Backyard & Patio Fire Pit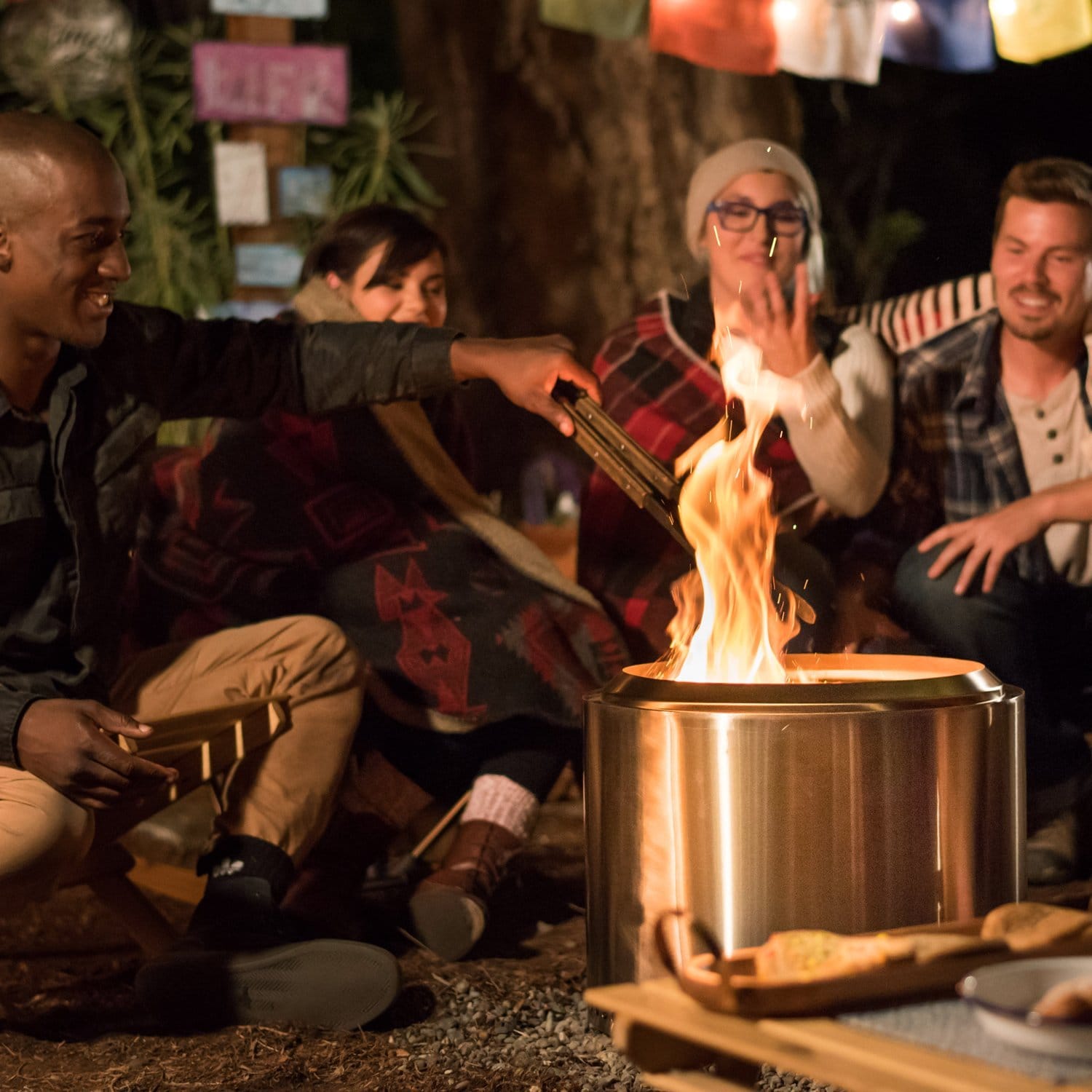 Features:
Unique patented design
Secondary combustion
Efficiency burner with low smoke output
14" high, 19.5" diameter
Easy to use and no setup
Lightweight portable design
Rust, weather and crack proof
20 lb. weight
The Solo Stove is a revolutionary with a cutting edge and contemporary design. It's double-walled design maximizes airflow with a wholly new patented design. Made of sturdy stainless steel it's unique construction allows for cool air to be pulled down and up through channels at the bottom of the fire while simultaneously pushing warm air up through the sides of the pit walls. This makes for an incredibly efficient burn and decreases smoke output. This efficiency also conserves wood with less wasteful burning.
2. Sunnydaze 34 Inch Large Steel Cauldron Fire Pit with Spark Screen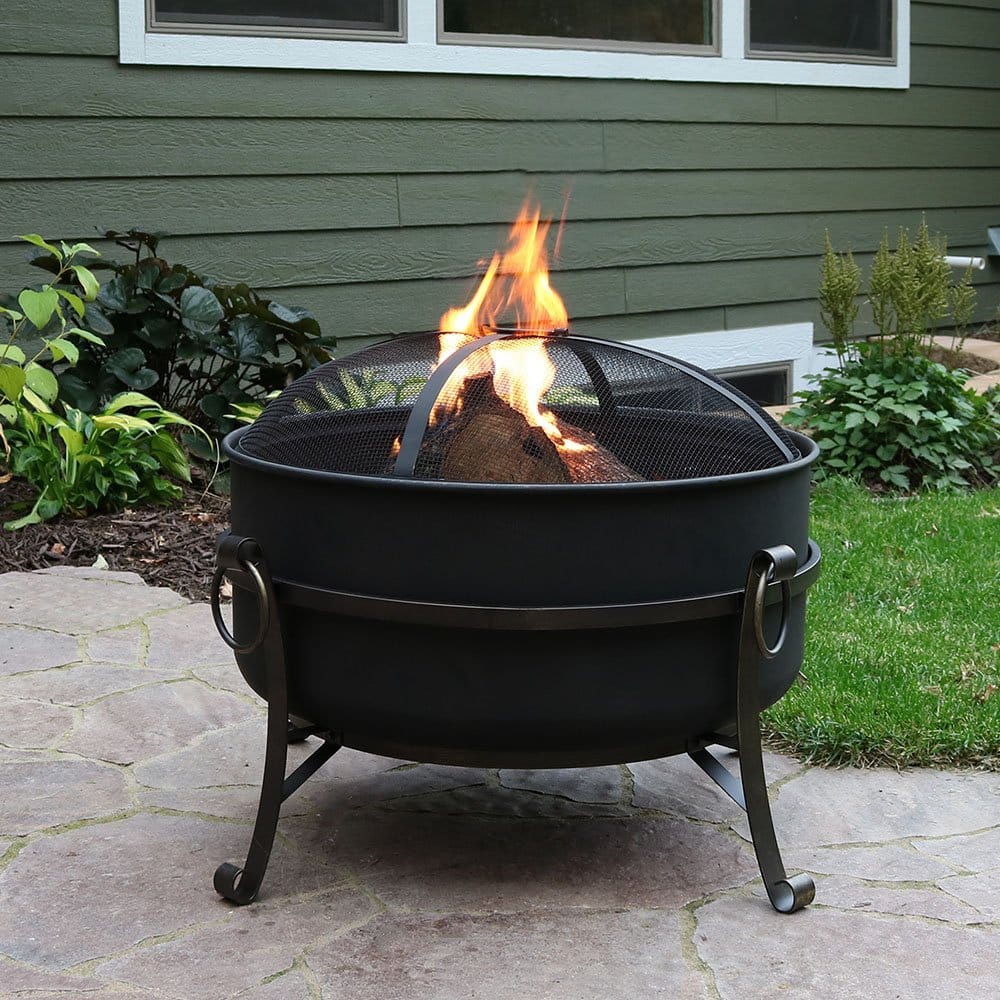 Features:
Made from thick 0.7 mm steel
Features a high temperature black finish
Includes spark screen, wood grate & poker
23" high, 34" diameter
Decorative cauldronstyle w/handles
1 yr. Manufacturer warranty
Tip proof design
28 lbs. weight
Sunnydaze Décor brings you a stunning wood burning cauldron style fire pit sure to delight your whole family! It's gorgeous design and added features will not disappoint. Made of durable steel it has a dual colored high temperature paint finish on the bowl and dark bronze on the legs. A matching screen tops the piece of making it a beautiful centerpiece for your outdoor area.
3. AmazonBasics 26-Inch Portable Folding Fire Pit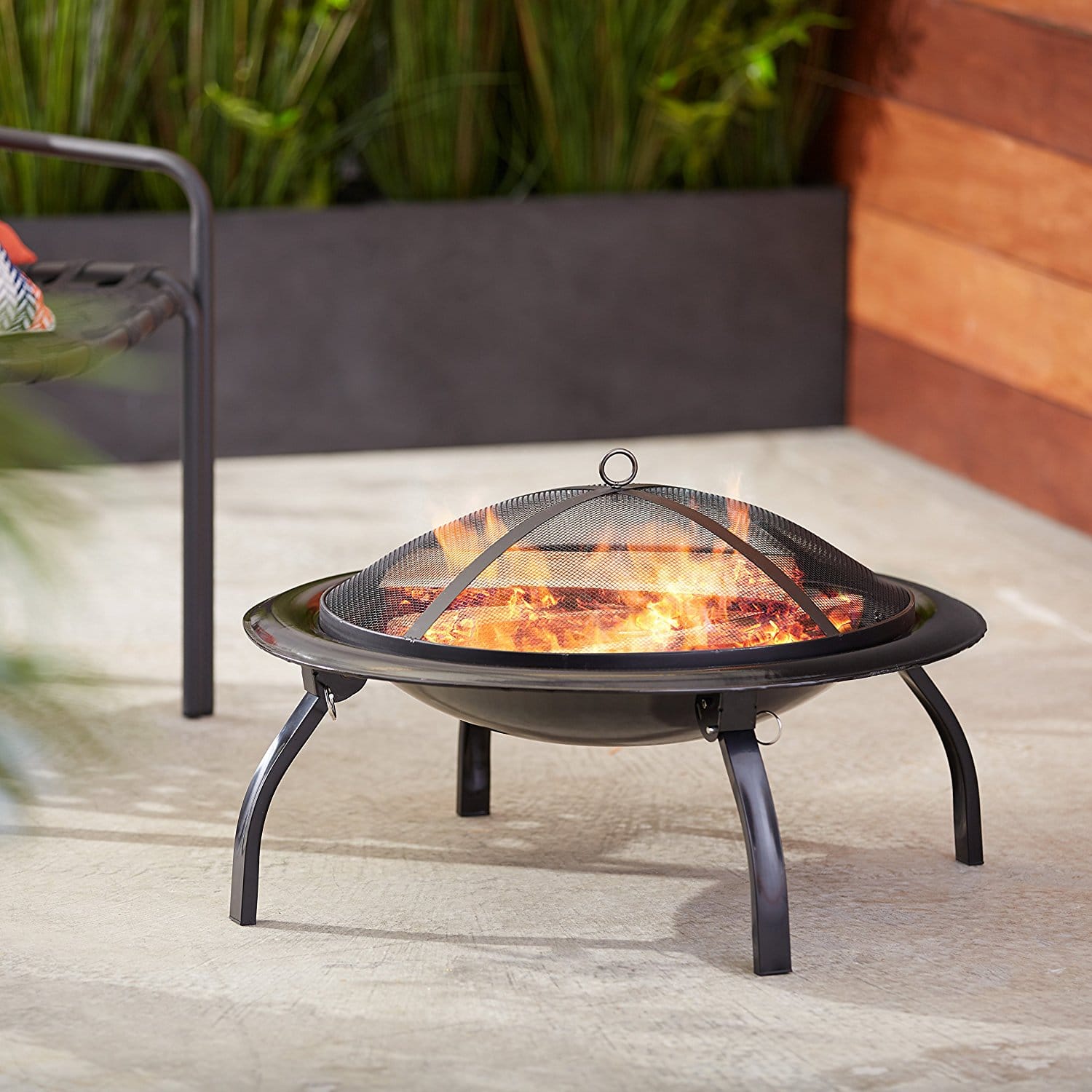 Features:
Portable and lightweight
Weighs 18 pounds
Includes wood grate, cooking grate, spark shield & travel case
No tools required for assembly
Heat resistant, high temperature finish
26" in diameter & 18" high
This fire pit is sure to be a favorite of every on-the-go outdoors lovers. This 26" bowl style wood burning fire pit is foldable and completely portable! Just fold this gem up and take it with you with no assembly required. It is made with sturdy steel covered in a high temperature heat resistant black finish. Two grates are also included, a wood grate and a cooking grate, giving you the ability to cook by fire as well. As an added handy feature, the cooking grate has a trap door, allowing you to add more wood to the bottom of the bowl without disturbing your food.
4. Landmann 25282 Barrone Fire Pit with Cover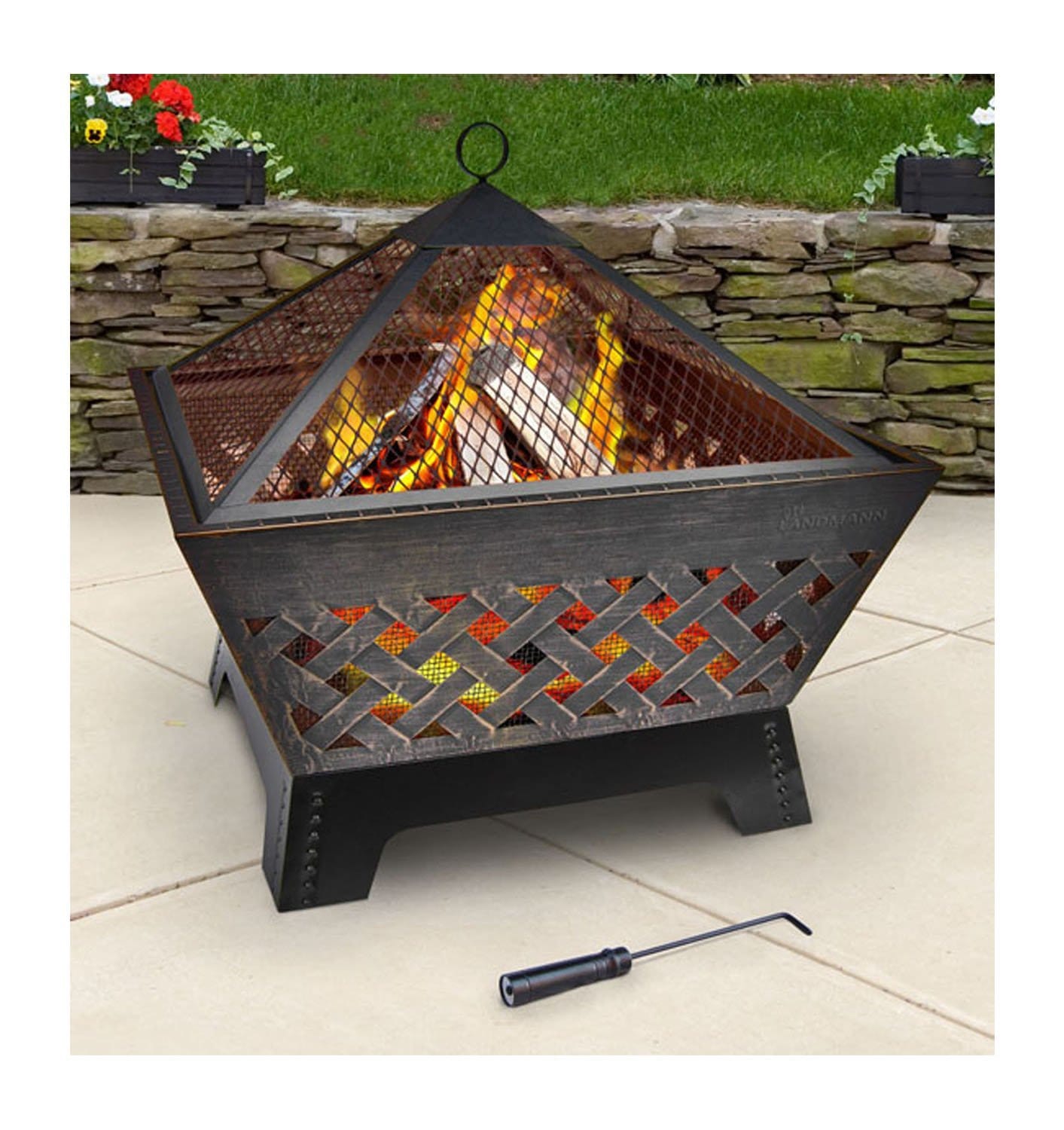 Features:
Large 26" square tapered box design
Crosshatch detailing
25" high, 26.3" diameter
Spark guard, grate, poker & cover included
Sturdy steel construction
05 lbs. weight
This gorgeous fire pit is a square steel pit with an antique bronze finish. It is beautifully designed with a lot of attention to detail. It features a crosshatch design mounted on four super sturdy legs. It has a high temperature heat resistant finish and would be a beautiful addition to any outdoor living space.
5. Landmann 26364 23-1/2-Inch Savannah Garden Light Fire Pit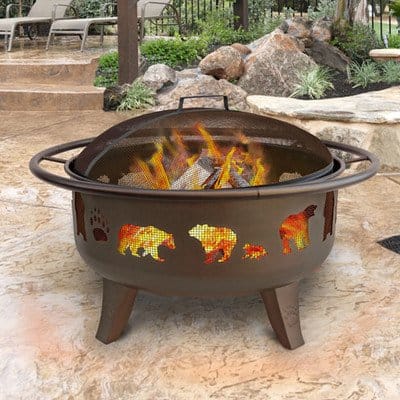 Features:
Deep 12.5" fire bowl
Detailed cut-out designs
Mounted on 4 sturdy legs & 2 handles
5" high, 23.5" diameter
Easy to assemble
Includes spark guard & poker
Sturdy steel construction
Cauldron design
Featuring a round bowl design, the Savannah fire pit is a beautifully designed fire pit. With its diamond cut-out detailing this pit adds ambience to any get-together. The Savannah is made from heavy duty steel with a heat resistant high temperature black finish. It has a 12.5" deep fire bowl with elegant detailing throughout.
6. Endless Summer, Hex Shaped Outdoor Fire Bowl w/ Lattice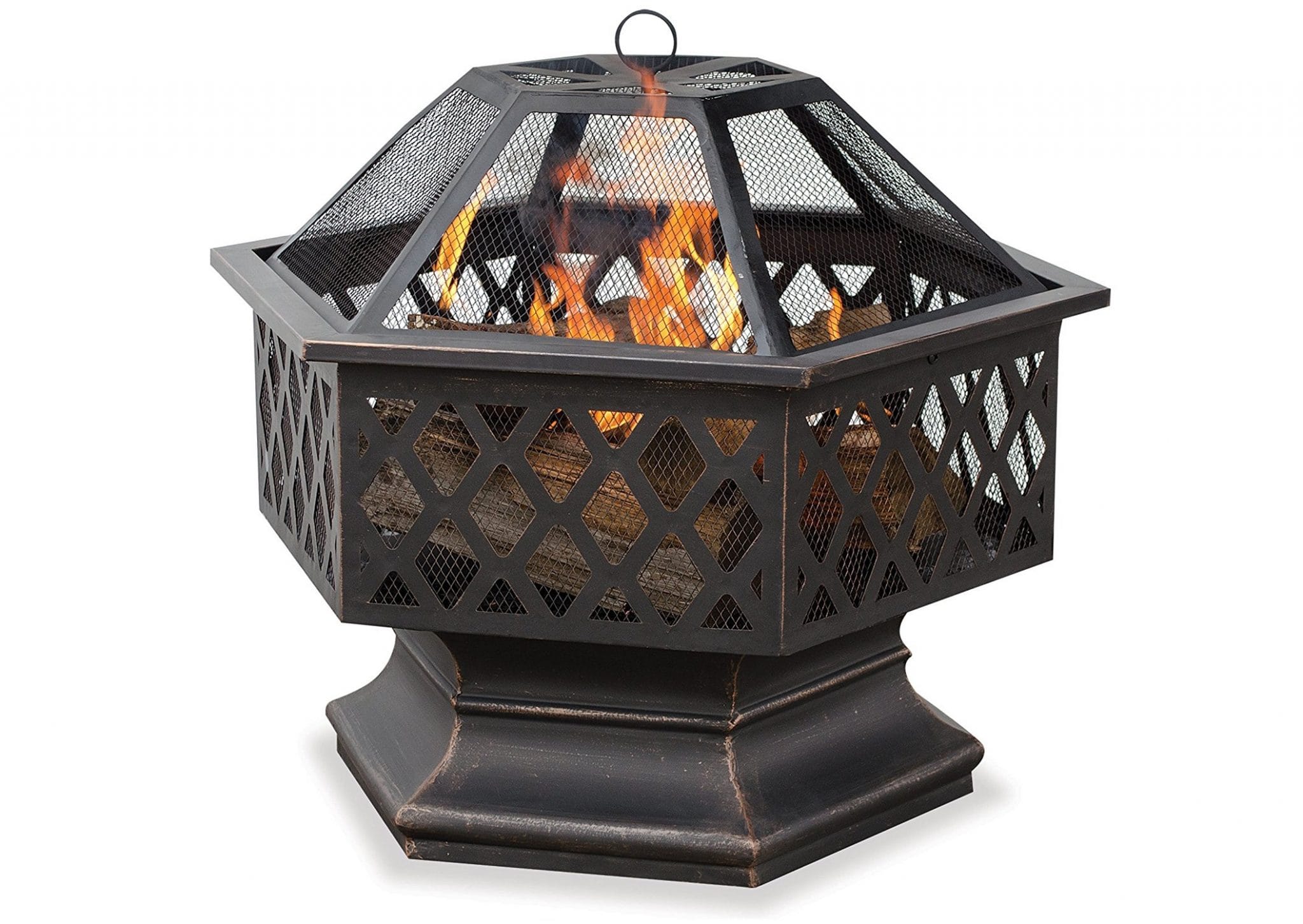 Features:
1 Year Limited Warranty
Detailed cut-out designs
Very lightweight
8" high, 24" diameter
Roomy fire pit bowl
Oil Rubbed Bronze Finish
Spark Guard included
Light at 16.3 lbs. weight
Made by Blue Rhino, this fire pit is a study in outdoor elegance. Endless Summer fire pit features a hexagon shape mounted on a stylish detailed hexagon base. Geometric lattice style cut-outs grace the walls of the bowl, allowing for added firelight. It is made of sturdy steel with a rust resistant Powder-Coated frame in an oil rubbed bronze finish. This pit has a roomy bowl that is wood burning, making this pit cost-effective.
7. Landmann USA 28347 Big Sky Fire Pit, Wildlife, Black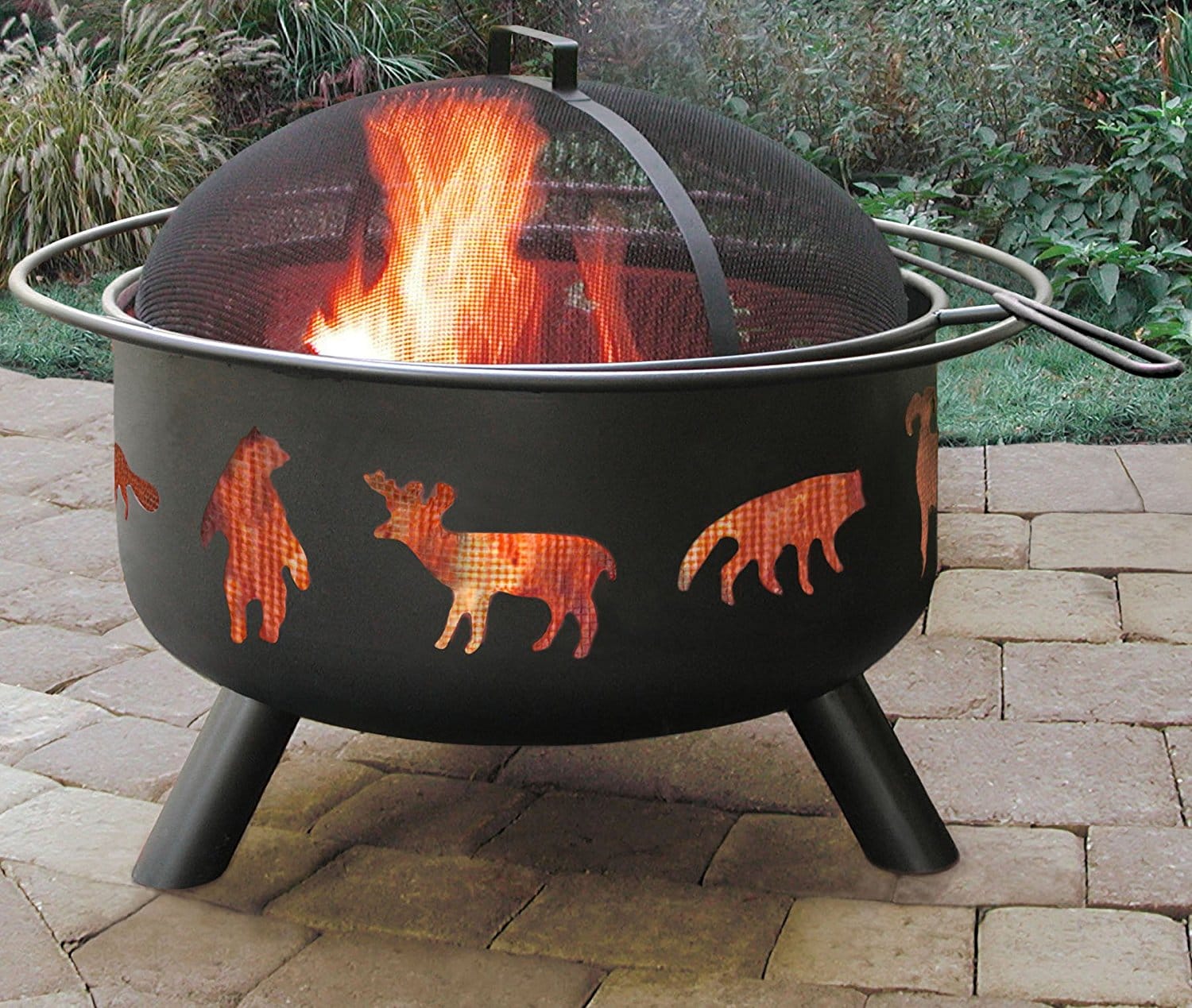 Features:
Large 12.5" deep fire bowl
Cooking grate, spark screen included
Steel construction
17" high, 29.5" diameter
32 lbs. weight
Wildlife cut-out details
Landmann brings you another beautiful fire pit. In a deep round cauldron style fire pit in durable steel and graced with wildlife cut-out designs, this fire pit will not disappoint. Made of steel and finished with a heat resistant and weatherproof black finish it has a super deep fire bowl. This pit includes a full-size cooking grate, with full-diameter handle and spark shield included.
8. Sunjoy L-FT629PST Squaw Valley 35" Steel Fire Pit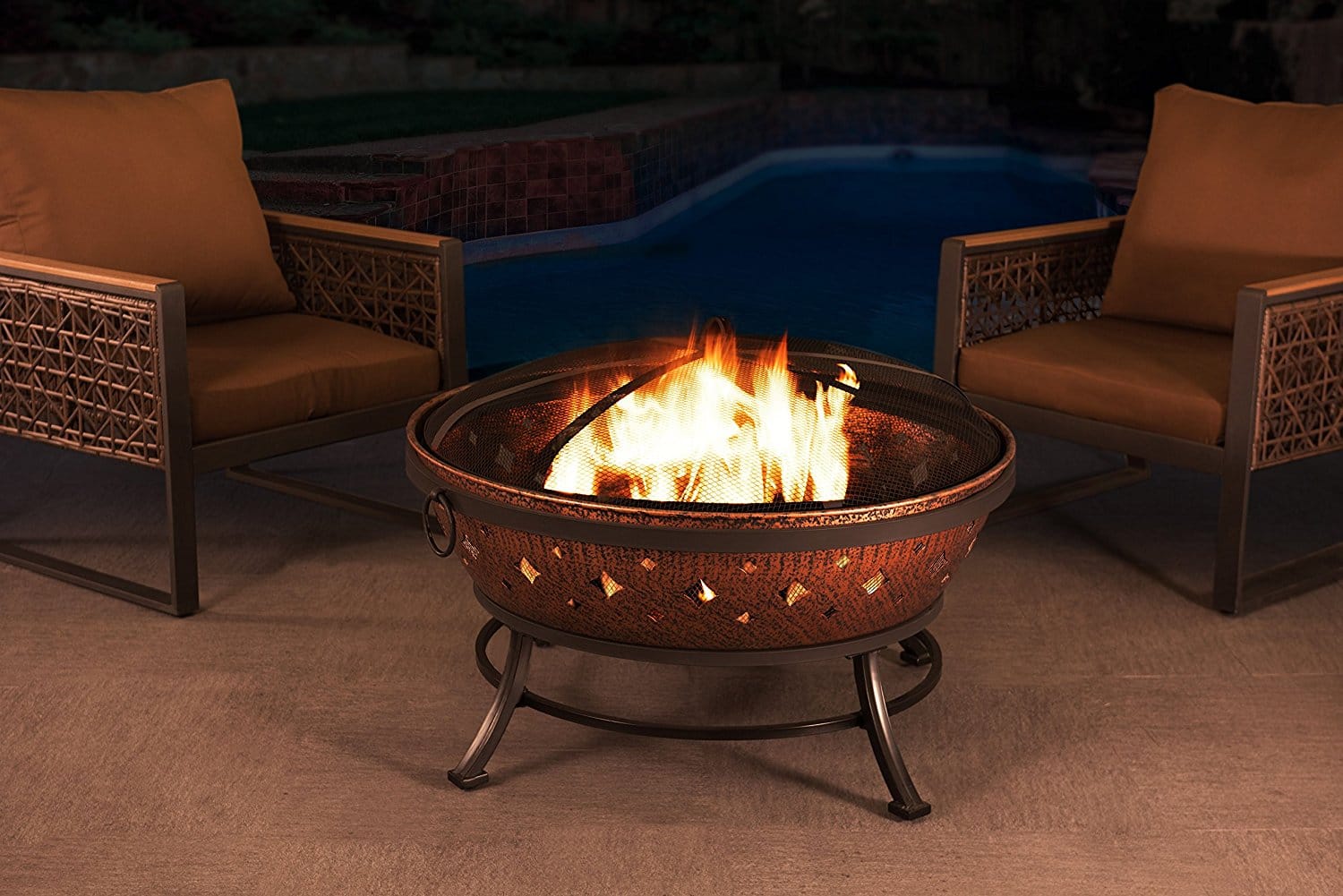 Features:
Steel construction w/copper finish
Extra large fire bowl
6 lbs. weight
4" height, 35.8" diameter
6 month warranty
Spark screen, poker & wood grate
This large round bowl style fire pit is an added piece of art to your outdoor living space! Sunjoy brings you a large steel fire bowl finished in a beautiful faux copper finish and detailed with cut-out diamond designs. This pit is mounted and encircled with black finished steel and mounted upon four sturdy legs. Sunjoy includes a spark screen, log rack and poker tool. Finish it off with a six month warranty for guaranteed satisfaction.
9. Endless Summer WAD15121MT Brushed Copper Wood Burning Outdoor Firebowl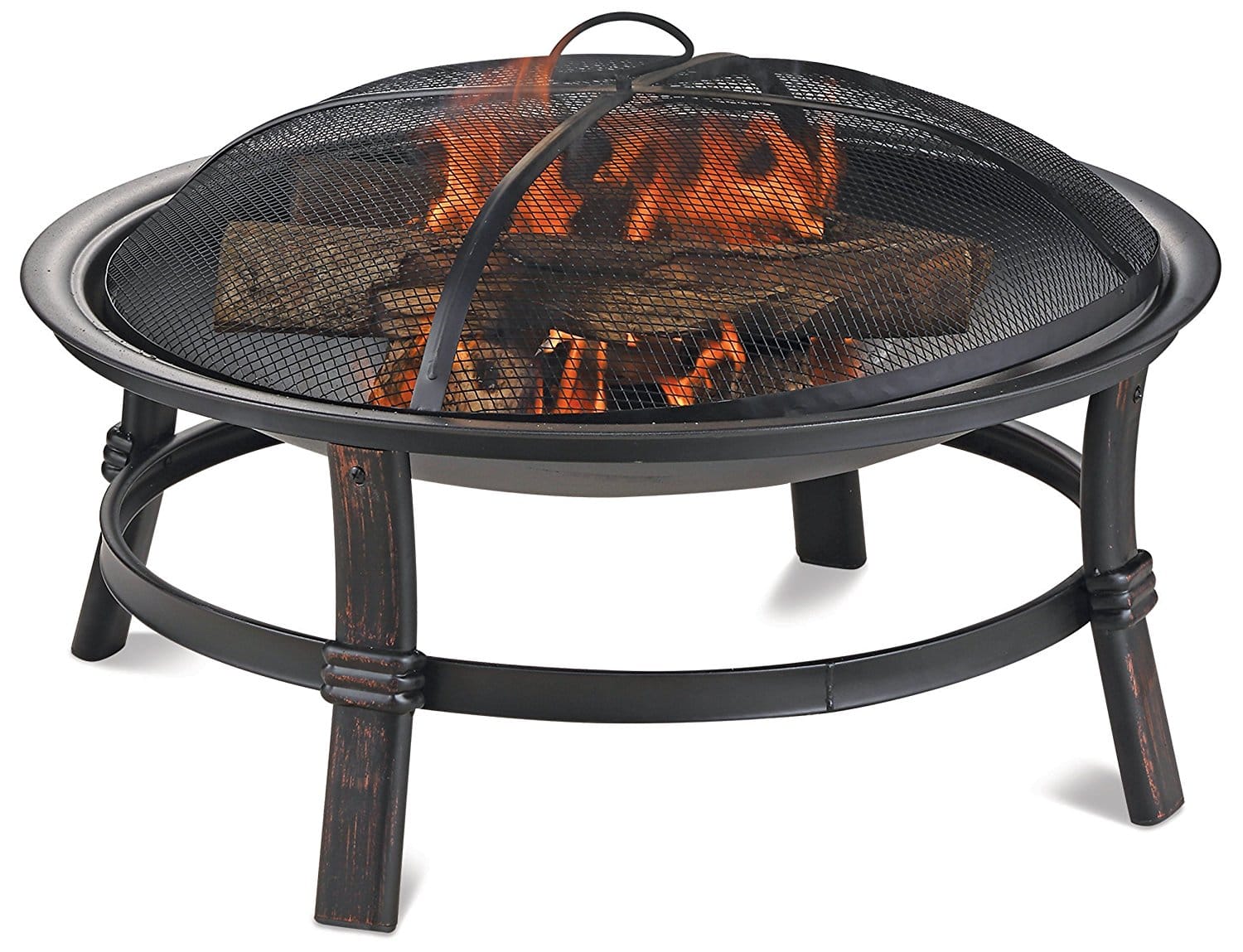 Features:
Brushed copper finish
17" high, 29.3" diameter
77 lbs. weight
Spark screen and integrated wood grate
This round bowl style stainless steel fire pit brings your outdoor living to a whole new level! It's large bowl design burns wood effortlessly and with style. Detailing on the four sturdy legs runs throughout and is finished in a brushed copper finish that is weather resistant. The fire bowl and mesh spark screen are finished in a heat resistant black paint. It comes with the spark screen and has an integrated wood grate included.
10. Sun Joe SJFP35-STN Cast Stone Fire Pit, 35-Inch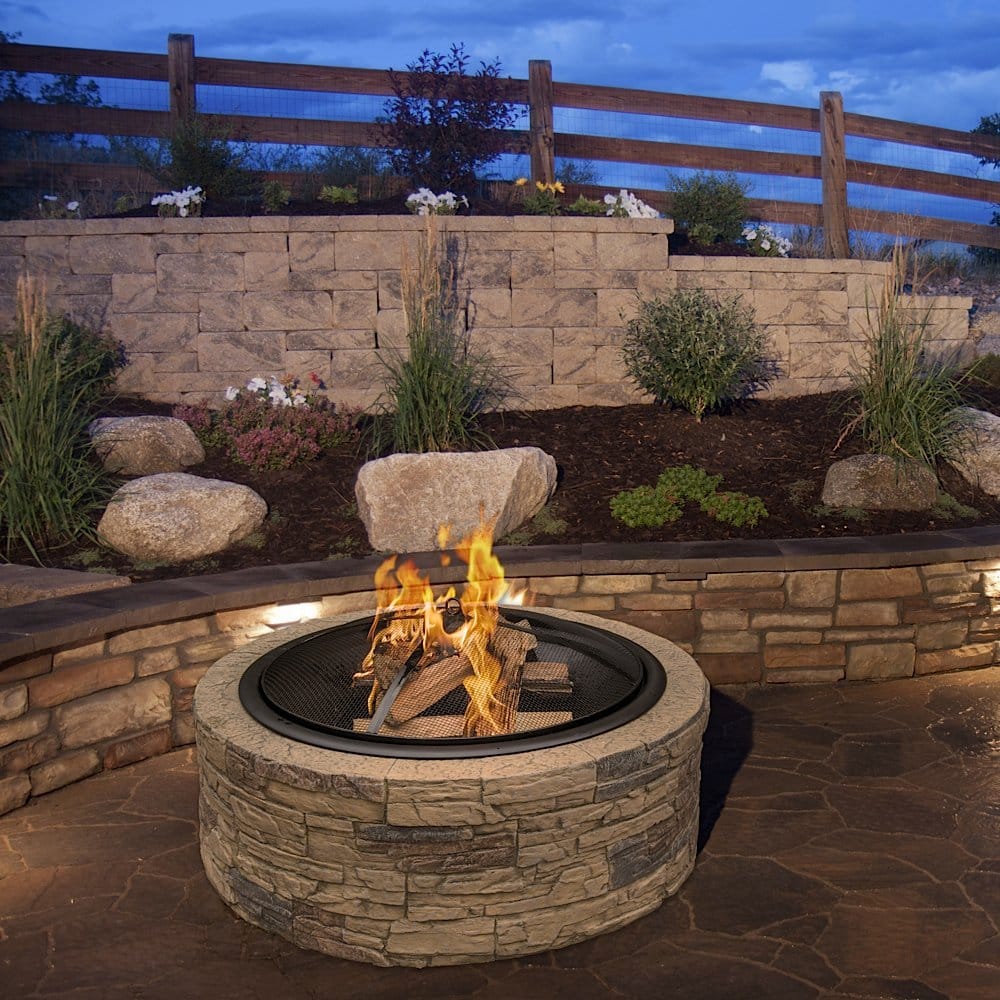 Features:
Cast stone base
Available in 3 base choices
Fire bowl, grate, spark shield & screen hook included
4" high, 29" fire bowl
57 lbs. weight
Heat resistant Powder-Coat finish
Sun Joe bring you an absolutely beautiful steel and poly-resin cast stone wood burning fire pit. A large 29 inch fire bowl is covered by a mesh spark screen and screen lifter while you enjoy the ultimate bonfire experience. This piece will not only warm you and your family but add a decorative element to your outdoor living area.
11. Best Choice Products BCP Hex Shaped Outdoor Home Garden Backyard Fireplace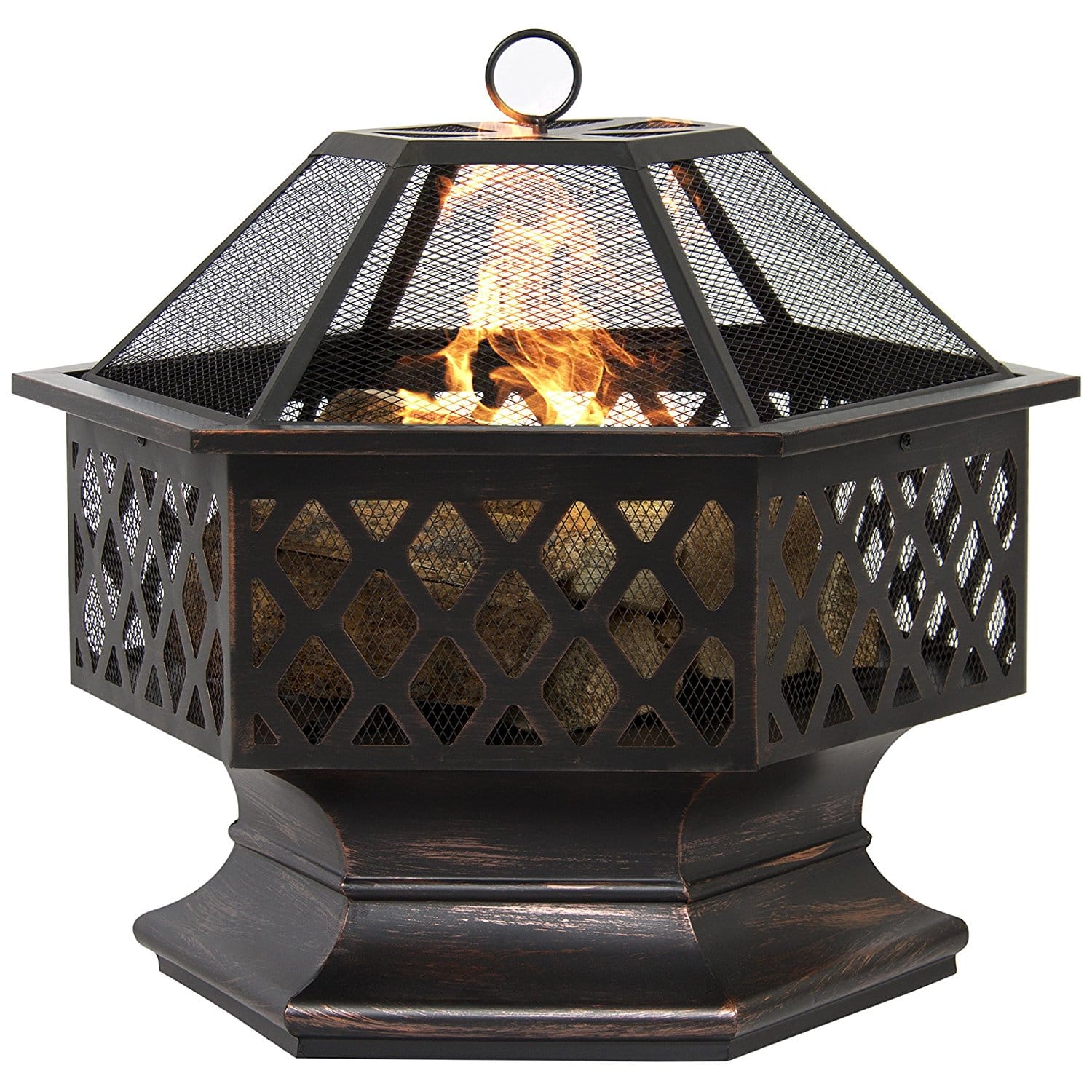 Features:
Lattice detail cut-outs, hexagon shape
25" high, 24" width & 24" height
Heat resistant spark screen included
Super lightweight design, 15.8 lbs.weight
Powder-coated distressed bronze finish
Durable steel construction
This gorgeous fire pit features a hexagonal bowl shape with a distressed bronze finish. Detailed cut-out lattice designs grace the fire pit walls allowing for added ambiance. This pit is made with sturdy steel and is mounted on top a sturdy hexagonal base as well. The whole piece is powder coated with a rust resistant bronze finish and is deceptively lightweight for easy placement. In addition is a hexagon shaped spark shield with matching ribbing.
12. ZENY Fire Pit 32" Outdoor Square Metal Firepit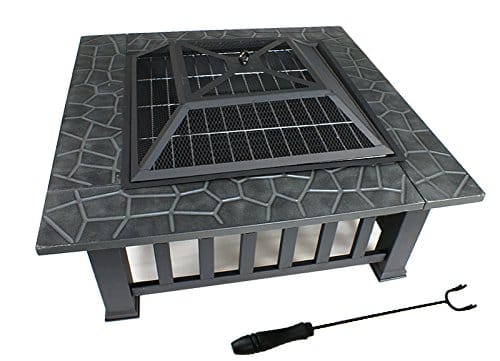 Features:
Large square table design with tile detail
Spark shield, fire bowl,cover, 2 grills & poker
74" high, 28.35" wide
Wood burning& Charcoal enabled
76 lbs. weight
Cooking grill grate included
Made with a sturdy steel wire mesh base this square table style fire pit will excite you. This fire pit can serve as a bonfire, a cook fire or even a cooler! With faux tile detailing on table surface of the grill, Zeny also adds anti-corrosive powder-coating paint throughout in a black finish. In addition to being able to burn wood a charcoal grill is also included.
13. AmazonBasics 34-Inch Natural Stone Fire Pit with Copper Accents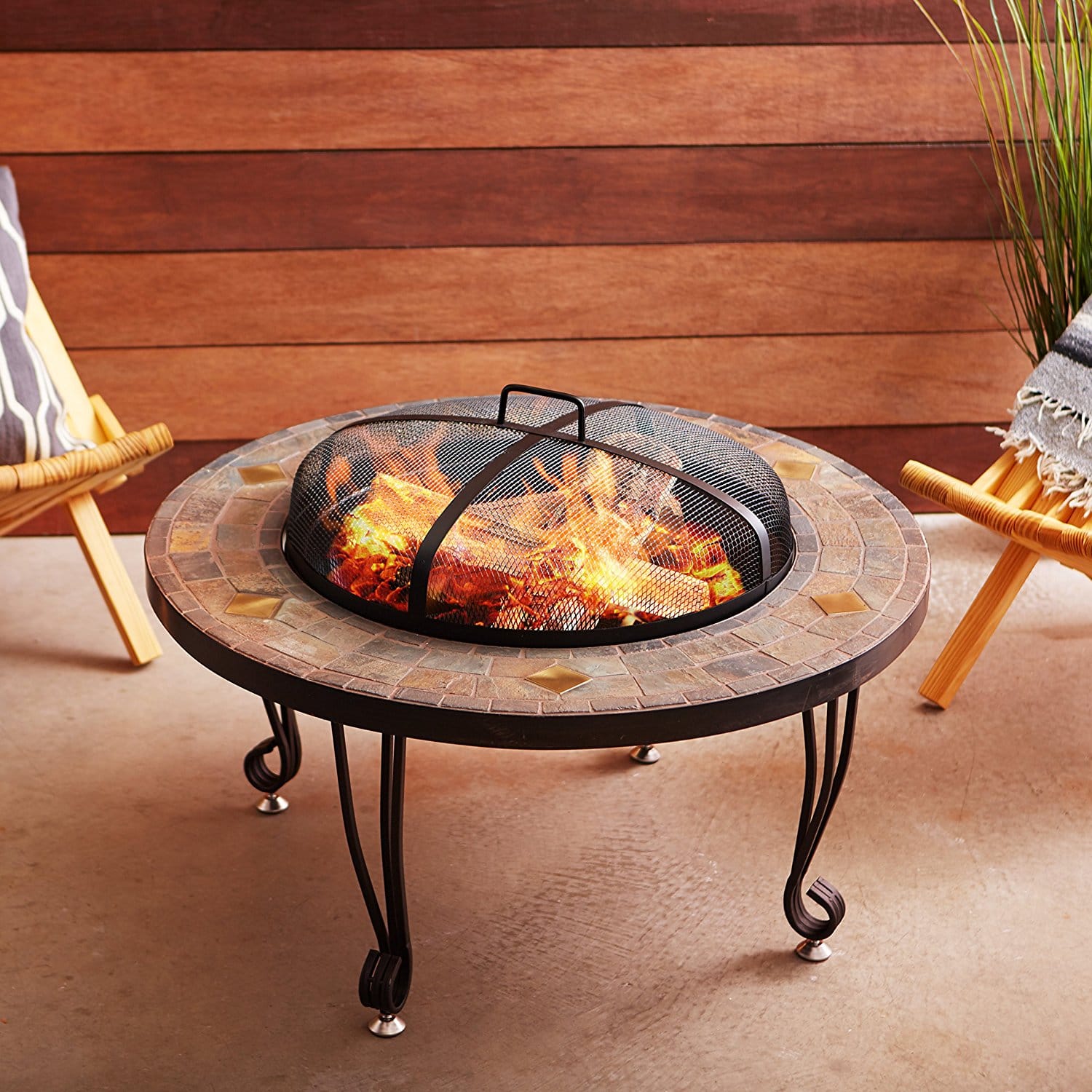 Features:
22" wide fire bowl
Natural stone accenting
64 lbs. weight
5" height, 34" diameter
This beautiful round table style wood burning fire pit brings you elegance. A round bowl sits in the middle of a round natural tile detailed table mounted on four sturdy legs. Made from sturdy steel and finished with a black heat resistant finish with copper detailing. A matching spark screen is included along with the fire grate and poker.
14. Sorbus Fire Pit Large, 30" Outdoor Fireplace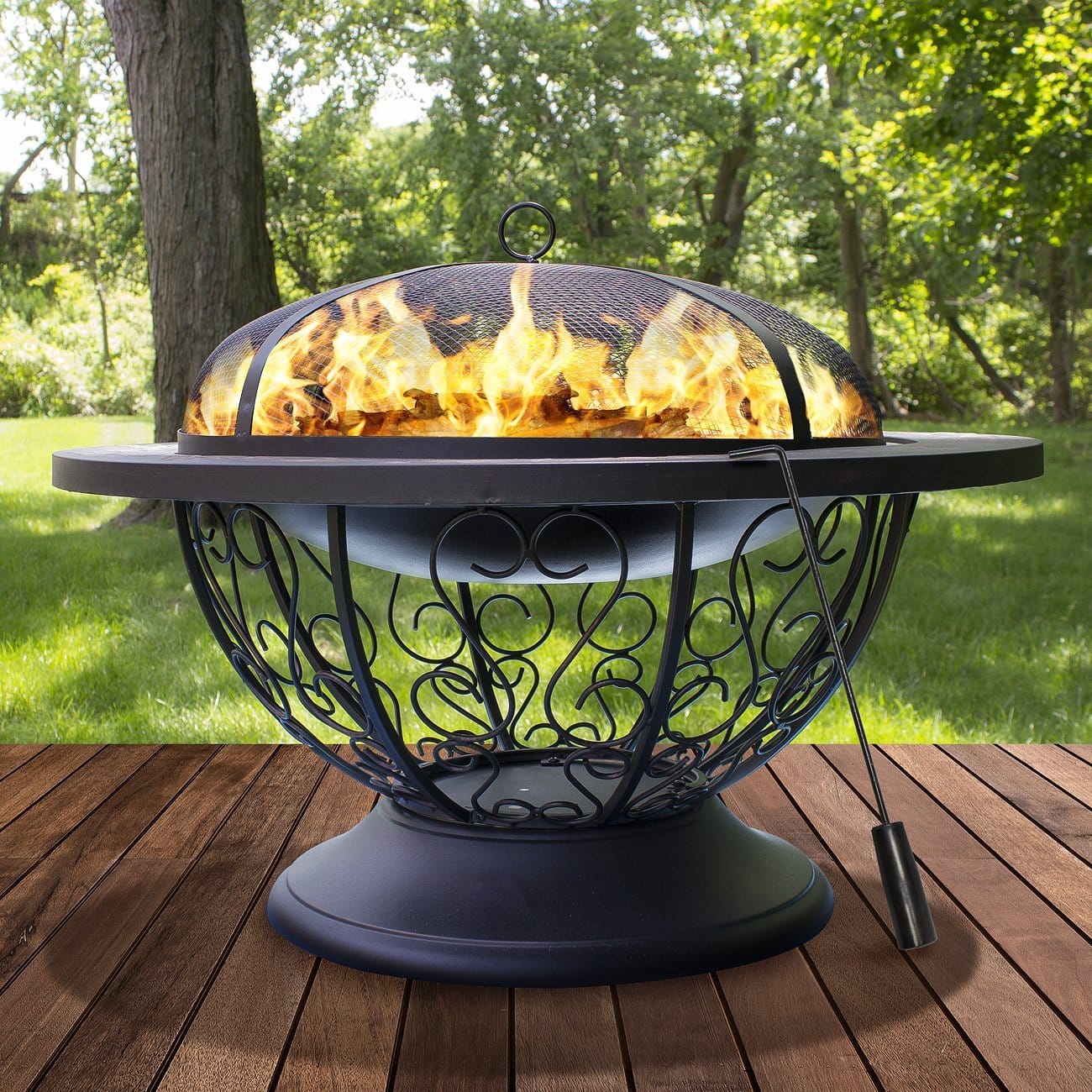 Features:
22" height, 30" diameter
Elegant scroll detailing
Spark screen, wood grate & poker included
9 lbs. weight
Sorbus brings you an elegant and sturdy fire pit guaranteed to amaze. Featuring a large round bowl design with detailed scrolling and design features throughout sitting upon a matching decorative base. This pit is finished with a black heat-resistant powder-coating. This pit can be used for both wood and charcoal and is easy to assemble and comes with several accessories.
15. AZ Patio Heaters Fire Pit with Square Table, Wood Burning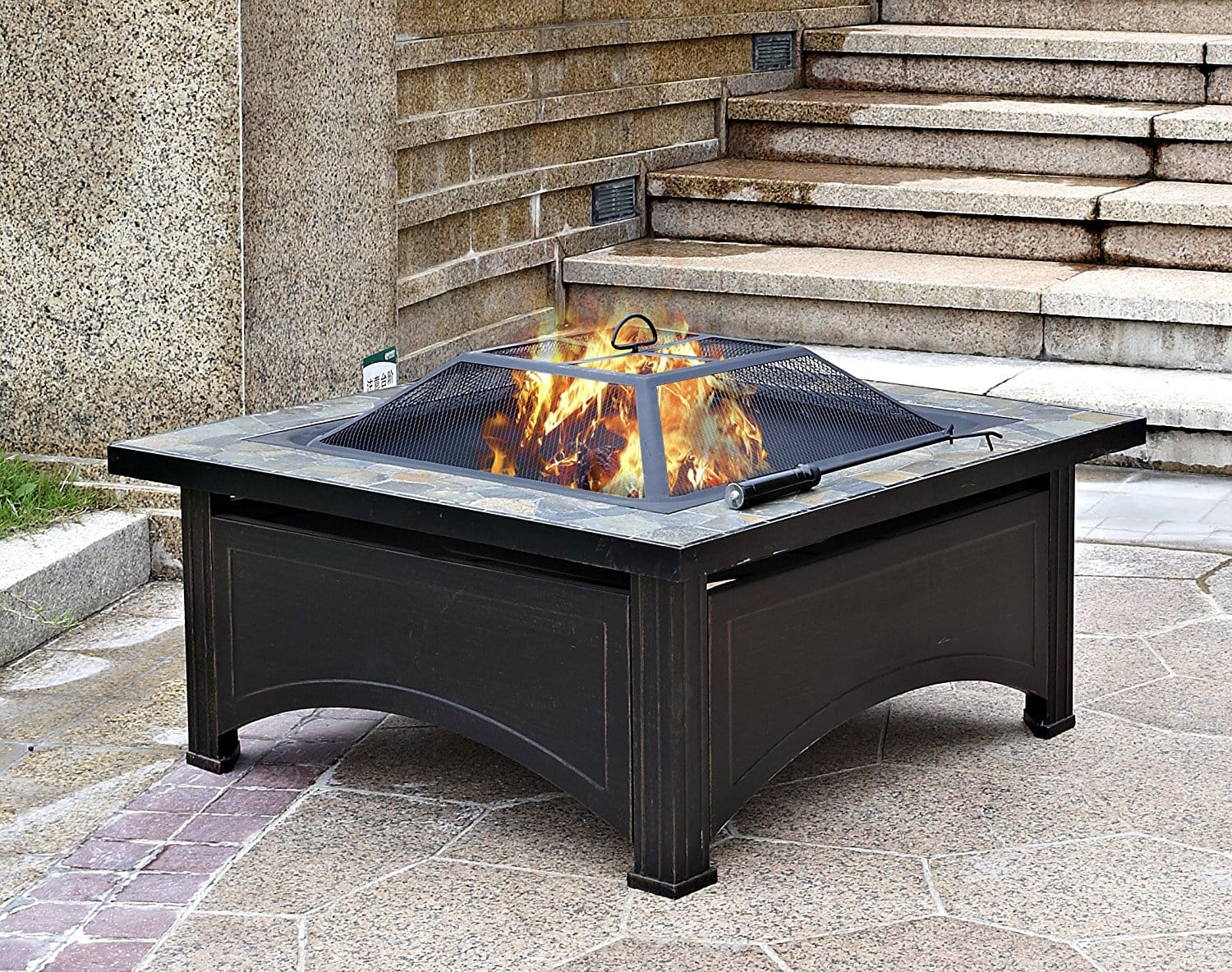 Features:
Slate tile table detail
66 lbs. weight
Fire bowl, wood grate, spark screen & poker
1 year limited warranty
This beautiful square table style makes this one of the best fire pits as it brings you function as well as beauty. Made of steel with slate stone table detailing, this pit has a heat resistant antique black finish. A matching steel spark screen is included along with poker. It has an extra large fire bowl and wood grate for larger fires. Relax with your family with this stylish and functional piece.
16. Catalina Creations Crossfire Fire Pit with Quick Removable Grill
Features:
22 lbs. weight
23" high, 29.5" diameter
Spark screen, cooking grate & poker
Large lattice cut-out design
Steel construction
Safety ring for easy transport
Catalina Creations brings you a multi-functional wood burning fire pit that you will fall in love with. This pit features a round bowl design with large lattice style cut-outs gracing the fire bowl for added light. Made of heavy duty steel it is mounted on top of sturdy legs. A black heat-resistant finish and an additional removable and adjustable cooking grate is included for the perfect campfire experience. The piece is topped off with a safety bowl ring to help for transport.
Features:
25" high, 24" width & length
Lightweight at 75 lbs. weight
Lattice cut-out detailing
Spark Screen included
Oil rubbed Bronze finish
Heat resistant and weatherproof
Zeny brings you a stylish hexagon shaped wood burning fire pit that will impress. A cut-out lattice design graces the fire pit walls, allowing firelight to shine through. Placed upon a sturdy hexagonal base this piece is made from sturdy steel and finished in an oil rubbed bronze finish that is heat resistant and weather proof. It's super lightweight construction makes for easy movement. A matching steel spark screen completes the piece.
18. Sunnydaze Large Rustic Cast Iron Wood-Burning Fire Pit Bowl, 34 Inch Diameter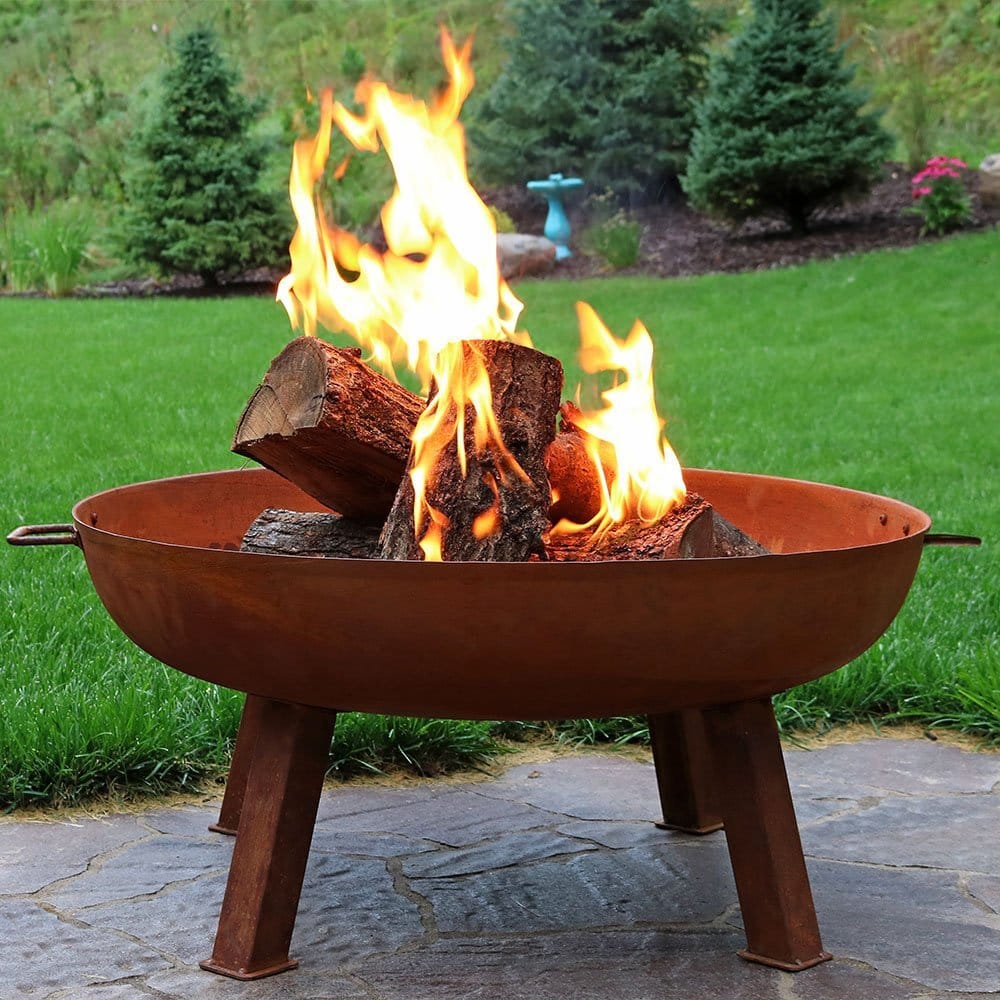 Features:
35 lbs. weight
15" high
Choose from 24", 30" or 34" diameter
Rustic aged Cast Iron construction
Sunnydaze brings you an amazing round bowl rustic style fire pit unlike any other! Made from cast iron and aged through an oxidation process this pit is sure to impress. This pit has side handles for easy transport and comes in three different sizes to choose from. It stands on four sturdy legs and is perfect for heavy duty usage.
19. Patio Watcher Fire Pit Fire Table, 30-inch Square Natural Slate Top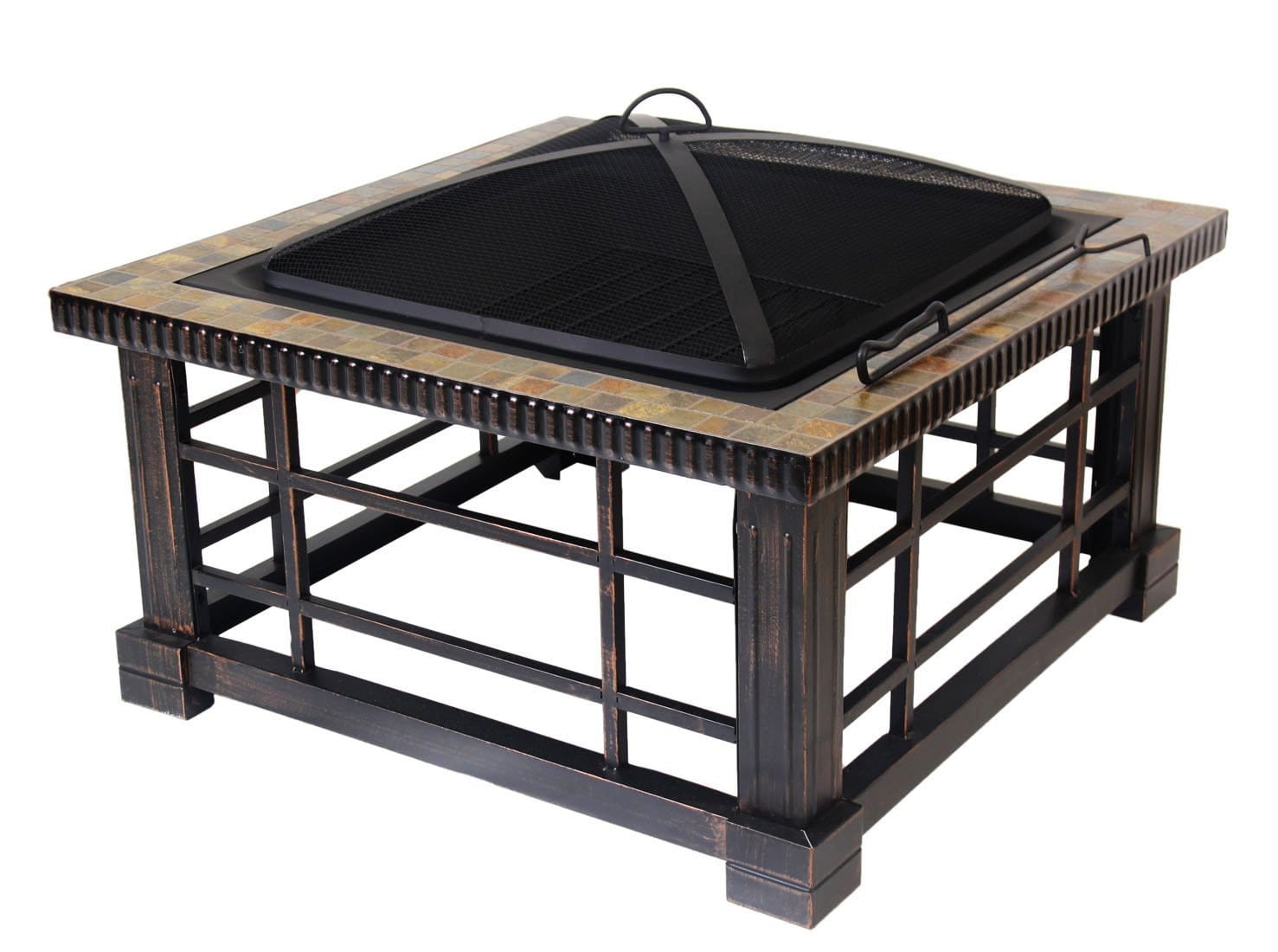 Features:
22" high, 30" length & width
5" deep fire bowl, w/ash catcher & drainage
Sturdy steel construction
Slate tile table detailing
Rubbed Bronze Finish
Spark screen, wood grate & 17" poker
This elegant square table style fire pit is made from sturdy steel with slate tiling gracing the table-top. It is mounted on four sturdy steel legs with contemporary details and a rubbed bronze finish. The roomy square fire bowl is mounted in the middle of the table and is finished with a heat resistant black paint. Inside fire bowl sits a wood grate. In addition, there is an ash catcher and holes in the fire bowl to help with drainage. A matching heat resistant mesh spark screen and fire poker is included.
Features:
60 lbs. weight
69" high, 29.53" diameter
Extra large fire bowl
Cast iron bowl on steel base
Celestial detailing and scroll legs
Spark screen, screen tool, wood grate & cover
This is a celestial inspired cauldron style fire pit made from durable cast iron. It features an extra large fire bowl. It is mounted on a steel base with four sturdy and decorative legs. It has celestial inspired design cut-outs on the side of the fire bowl for added ambiance. This is without a doubt one of the best fire pits as it makes for an impressive centerpiece for any outdoor living spaces.