The Best Electronic Pet Doors On The Market
Filed under: pets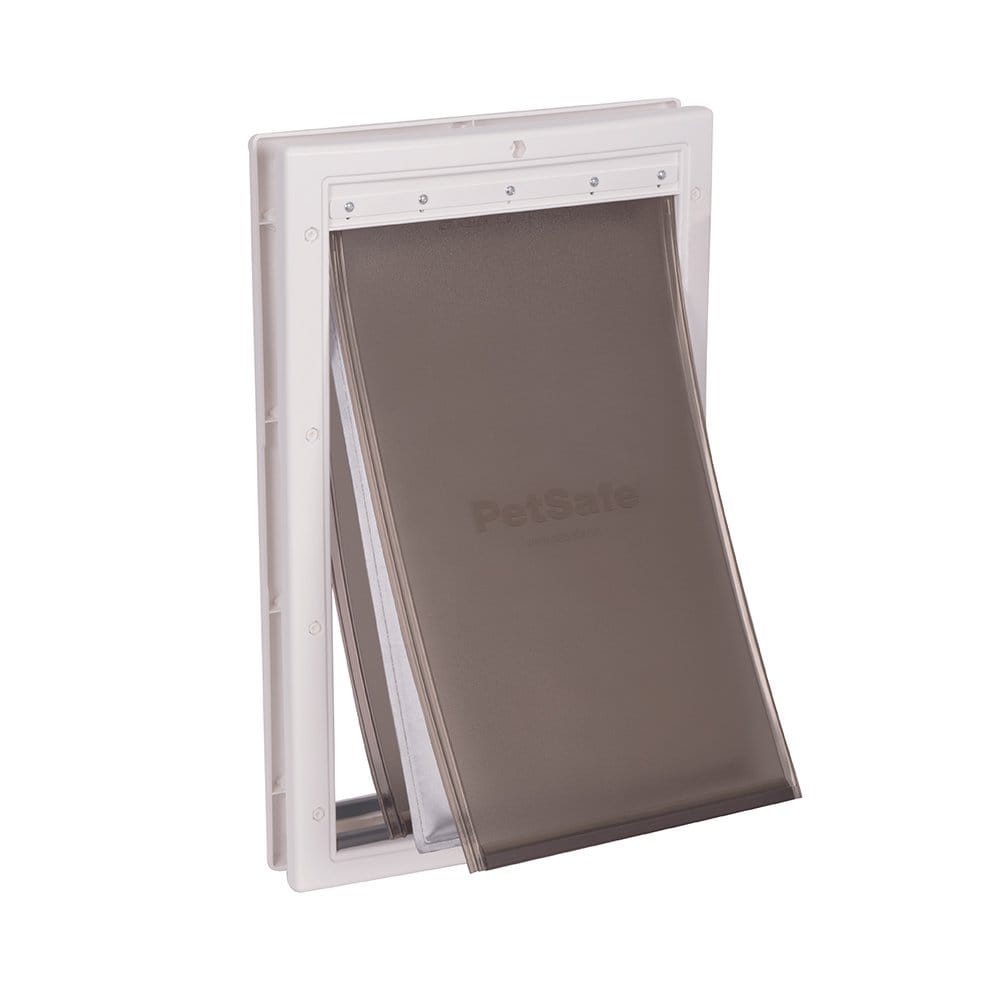 Our animals aren't just pets but a member of the family. We want the best for our pampered pets including allowing them to access the garden when they wish to. In this guide, we'll talk you through pet doors, their advantages and review the best electronic pet doors.
What Are Electronic Dog Doors?
Electronic pet doors allow your pet to go outside without you having to get up to open the door for them. The doors are motor-driven and automatic which means your dog can access the garden whenever they wish to.
Pet doors have been around for a long time but comprised a swinging flap. It's a simple idea, but it brings about many issues. Manual doors cause a draft through your house resulting in rising heating bills. Other animals could also access the home which isn't what most pet owners want. To prevent this happening the dog door would need to be locked manually meaning owners would still need to get up to allow their dog to go outside.
The modern electric doors solve keeping your home warm and secure while also letting your pet have free and unrestricted access to the garden whenever they wish to.
How Do They Work?
There are different electronic pet doors, but most of them work in a similar way. The door opens by either a magnetic electronic frequency transmission or by infrared.  Your dog's collar will trigger it, ensuring only they have access to the door. It locks automatically and will only open once your dog returns.
The doors are powered by plugs or batteries and costs can vary depending on the manufacturer. Some of the best electronic pet doors also have a handy curfew feature. It allows you to control when your pet goes outside without having to get up. The lock modes allow you to decide if you want your dog to remain outside, inside or give them unrestricted access.
Smart devices are everywhere now and some electronic pet doors have apps included. It means owners can control their pets access to the door using their phone. It's great if your dog wants to be let out in the morning or you'll be late home.
The Advantages Of Electronic Pet Doors
Manual dog doors come with a lot of problems and added effort. Electronic doors are higher quality and spending a little extra money can make life a lot easier for you. They allow you to be in control of when your dog goes outside and don't restrict you to have to remain in the house.
Energy bills are rising and the last thing anyone wants is a draft in their house. Most electronic dog doors come with insulated flaps which prevent air from entering through the opening. Doors with the best insulation often have gasket seals.
Electronic doors also make your home safer and deter criminals. Manual doors are accessible and can cause problems especially if you have a large dog. People can easily enter through the door and they simply aren't safe. The electronic doors will only open for your dog, so you can be assured that nobody will enter your home.
The Types Of Electronic Pet Doors
There are three main types of electronic door doors available and each works in a similar way to others.
Ultrasonic pet doors have a sensor which receives a signal from the dog's collar. It's so high pitched that humans can't hear it but pets sometimes can. The door is released when the dog is close enough for the sensor to pick up the signal which makes it convenient for your dog to get used to how the doors work. The only problem with ultra-sonic dog doors is they can open even when your dog isn't intending to go outside and won't close until your dog moves away from the door.
Infra-Red doors react by picking up a beam from the collar of your pet. The sensor then reacts by opening the door. Infra-Red doors are very popular and work well, however, there are some potential issues to consider. If the attachment on the dog's collar is twisted, then the sensor may not pick up the beam and it won't open the door. Some insects are attracted to infra-red which can cause problems for households. The good thing about infra-red doors is the pet has to be close for the sensor to pick up the beam, meaning their safe.
Magnetic doors have sensors which react to the magnet around the collar. They're the most basic of the electronic doors but they can sometimes therapeutically influence dogs and they work well.
Things To Consider
Before purchasing your electronic pet door there are some vital aspects you need to consider. By doing this you'll ensure you spend money on the most appropriate door for your pet.
First, consider the breed of your pet, especially if you buying a door when it's a puppy or kitten. You must find a door your pet will fit through with ease, so do some research into how likely your dog will be when fully grown. Some doors are built for small or large dogs as well and buying the wrong door may impact your pets ability to use it.
Location is important for two reasons. The first is to place the door in an area where your dog will have safe access to the outside. It's a no-brainer that having a dog door leading to the front garden is not a good idea and your pets safety and maintaining boundaries with neighbours should be a priority. Some pet doors are designed for specific locations in the home. The patio dog door is compatible with patio doors only and would not be suitable in other places.
Check the size of the opening by measuring the dimensions and making sure it's a good fit for your pet. Doors come in all shapes and sizes so think about what would make your dog most comfortable.
The Best Electronic Pet Doors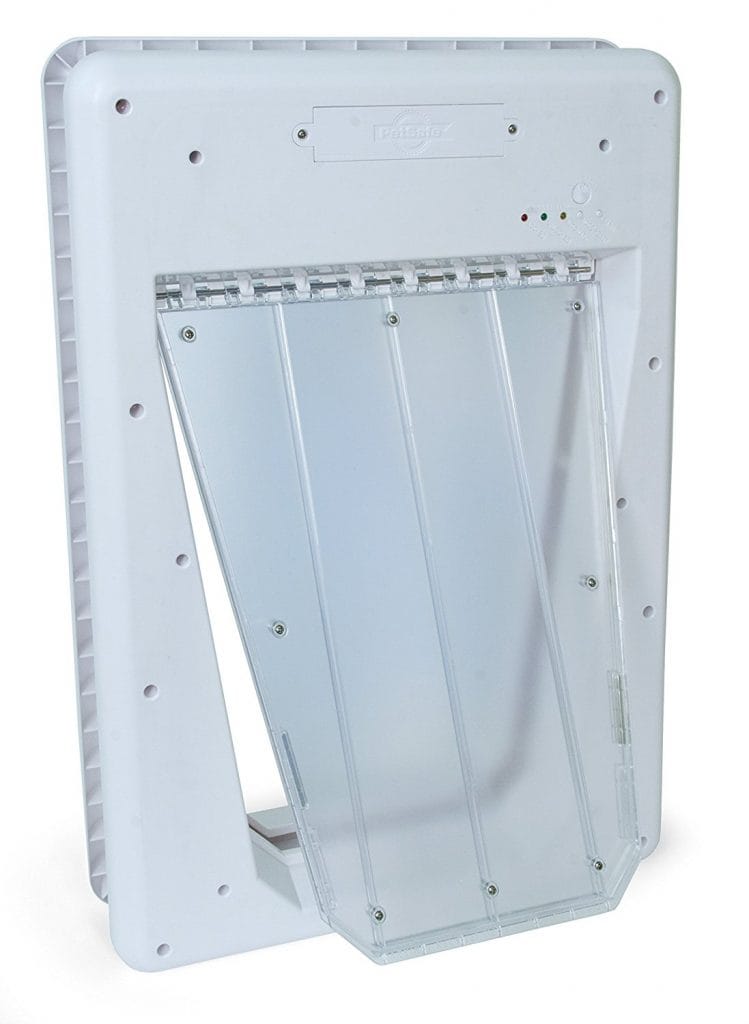 This electronic dog door has a battery operated smart key which fits onto the collar of your pet. It's a great idea, and it's also waterproof, meaning you don't have to worry about rain damaging the key. You can allow up to five pets to use the door, each with a smart key which is useful for households with multiple pets. If one of your pets isn't allowed outside, then the smart key is removable. PetSafe have also included features which allow you to control when your pet is allowed outside and has an auto-lock extra. It's a versatile product and can be installed indoors and walls with a wall extension kit.
The older PetSafe model had some problems and mixed reviews, but the newer model works well and does everything it says. The battery life is good and you'll easily get away with changing the batteries every few months. The only problem with the door is it can be a bit drafty, and it does let some air in. Other than that it's a great option for households with multiple pets and one of the best electronic pet doors on the market.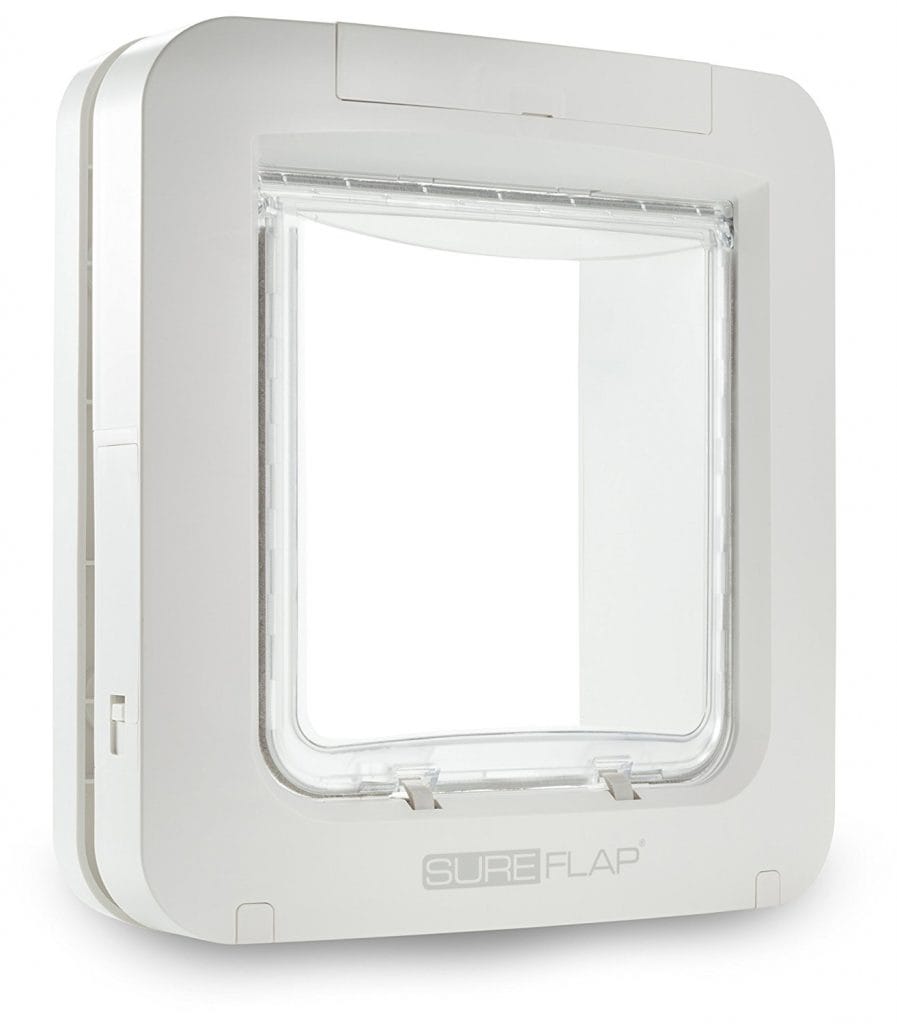 This innovative electronic dog door uses your pets existing microchip to activate the door. It means only your pet will access the door and no unwelcome intruders will go into your home. It's great for households with lots of pets, as it can store up to 32 identities in its memory. Batteries power the door and it's easy to install and programme. You can also programme the door to let your pets in and out of the house at certain times.
PetSafe use tunnel extenders to identify the microchip and the dog has to push its head into the tunnel for the door to activate. It can be a tricky process trying to get your dog used to the door and some dogs are startled by the sound of the opening mechanism. The biggest problem with this electronic dog door is its opening system. It will open to let any animal outside, but only the animal with the microchip can go back in. It's not the worst electronic pet door, but it lacks features which would make it more user-friendly.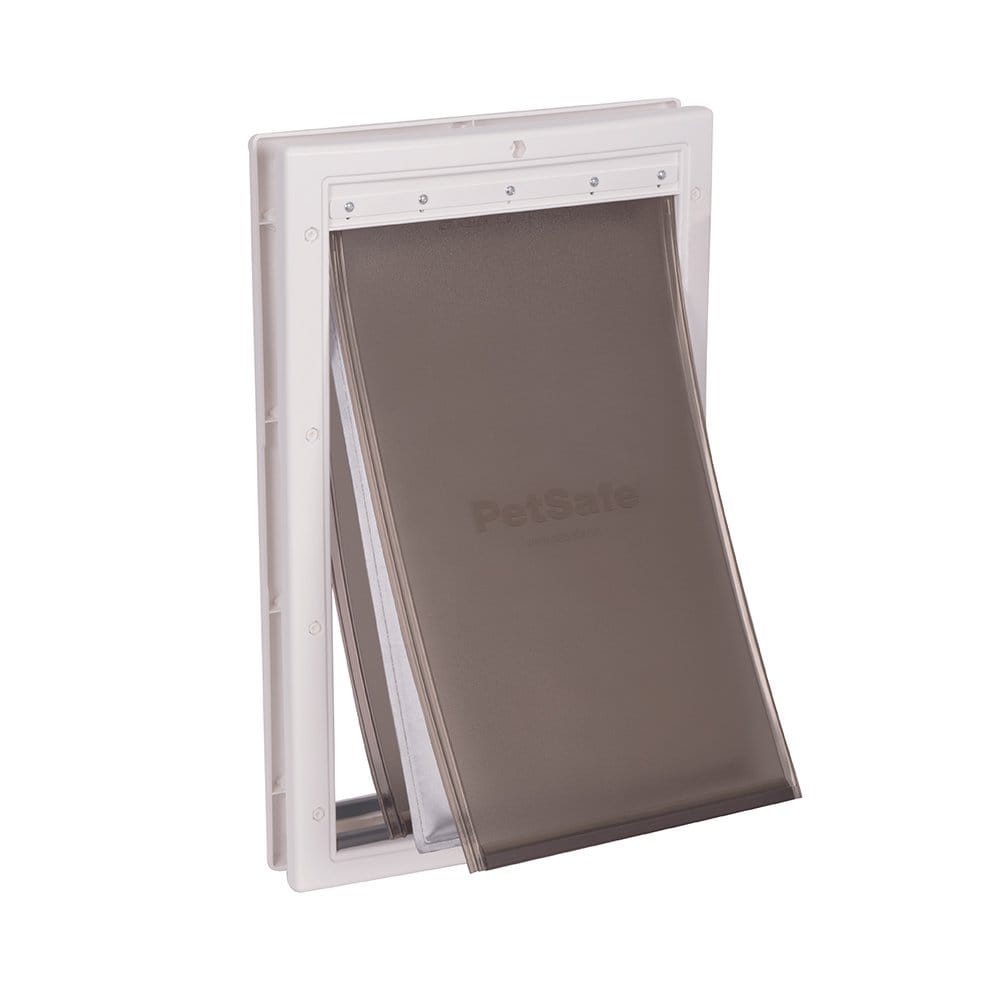 If energy efficiency is important to you then this pet flap will perform well. It has a unique 3-flap design which is 3.5 times more energy efficient than a lot of other electronic doors. The center flap is insulated and keeps both cold and warm air out. Instructions for installation are included and there's a snap-on closing panel to keep your pets inside.
A problem with this dog door is the screws it comes with are plastic. Not only does it give the door a cheap effect, it also makes it harder to install. For people that aren't DIY masters, they might find it more hassle than it's worth. The snap-on door isn't always stable and larger animals might break through it. There are some positives with PetSafes extreme weather door but they seem to be around saving costs on household bills. The other features the pet door offers can't compete with superior versions available.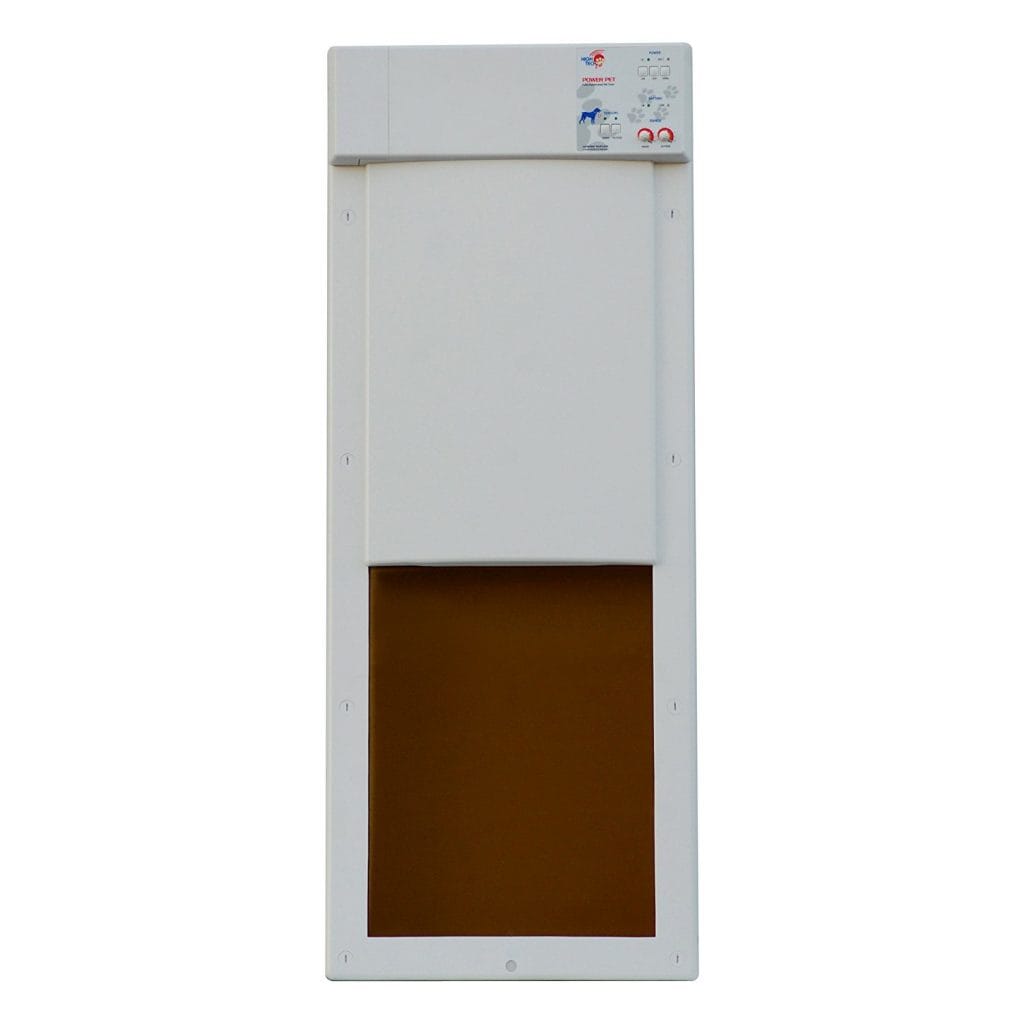 If you don't want to spend on batteries then this high tech dog door will save you a lot of money. It's driven by its own motor and opens under its own power. The door is durable and is made from military-grade resin. It won't discolour and it's effective for all seasons. A waterproof collar activates the door and it opens upwards instead of using an unlock mechanism. For owners of skittish dogs, it's an ideal feature because there's no noise. Using the collar signal ensures no passing pets will enter the house.
Doors come in two sizes and install in walls and doors. There's also a patio door option available too. The collars are designed so people can only buy high tech batteries which can be quite expensive and they don't last long. The best part of the door is its adjustable sensitivity. It allows you to control where your dog has to be for it to open. It's a great concept for an electronic dog door, but what it makes up for in innovation it lacks in design. There are flaws with the door in winter, and it often only opens halfway. The extra cost of collar batteries and the uncertainty of how long it will last don't make it a competitor for the best electronic pet doors on the market.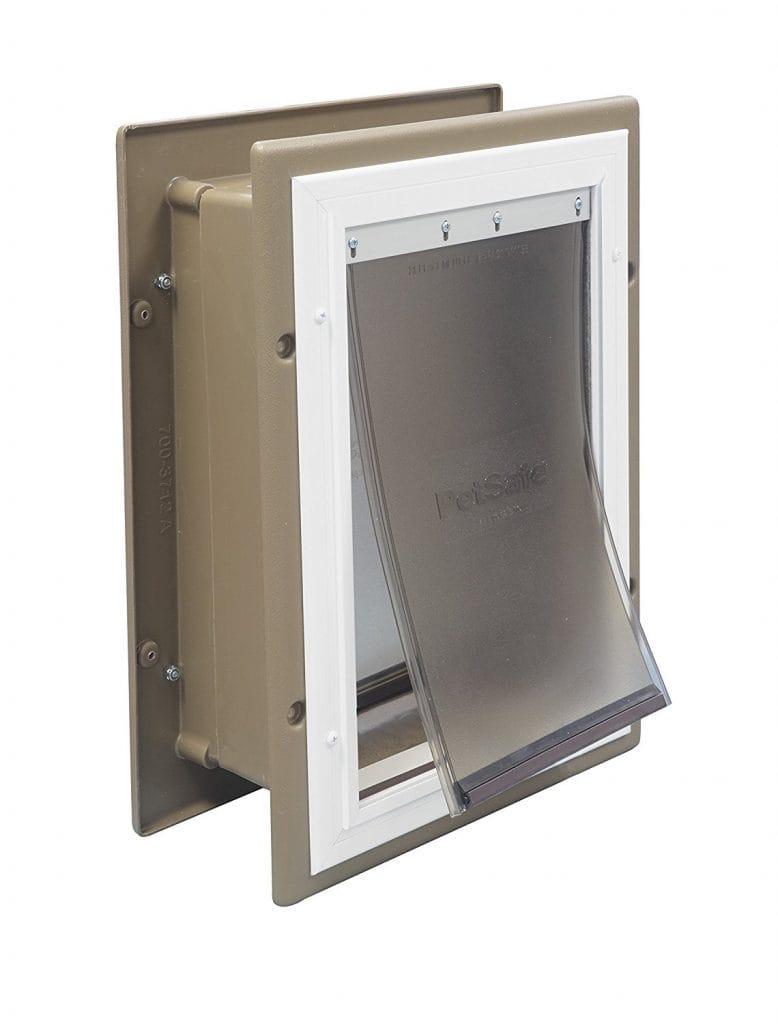 You can install this door into both interior and exterior walls, which is great for people who don't want to use their doors. A telescopic tunnel enables you to adjust the door to fit different widths too. If you want to keep your pet in the house, there's a sliding panel to stop your dog from using the door. It also comes with a cutter tool and installation and instruction manual.
For novices, this door is ideal because the instructions are easy to read and installation is a speedy process. The wall tunnel works well and overall it's a good quality door. The only issue is how durable it is. Many of the doors wear out after a few months and its high performance doesn't necessarily outweigh the money it takes to maintain and replace.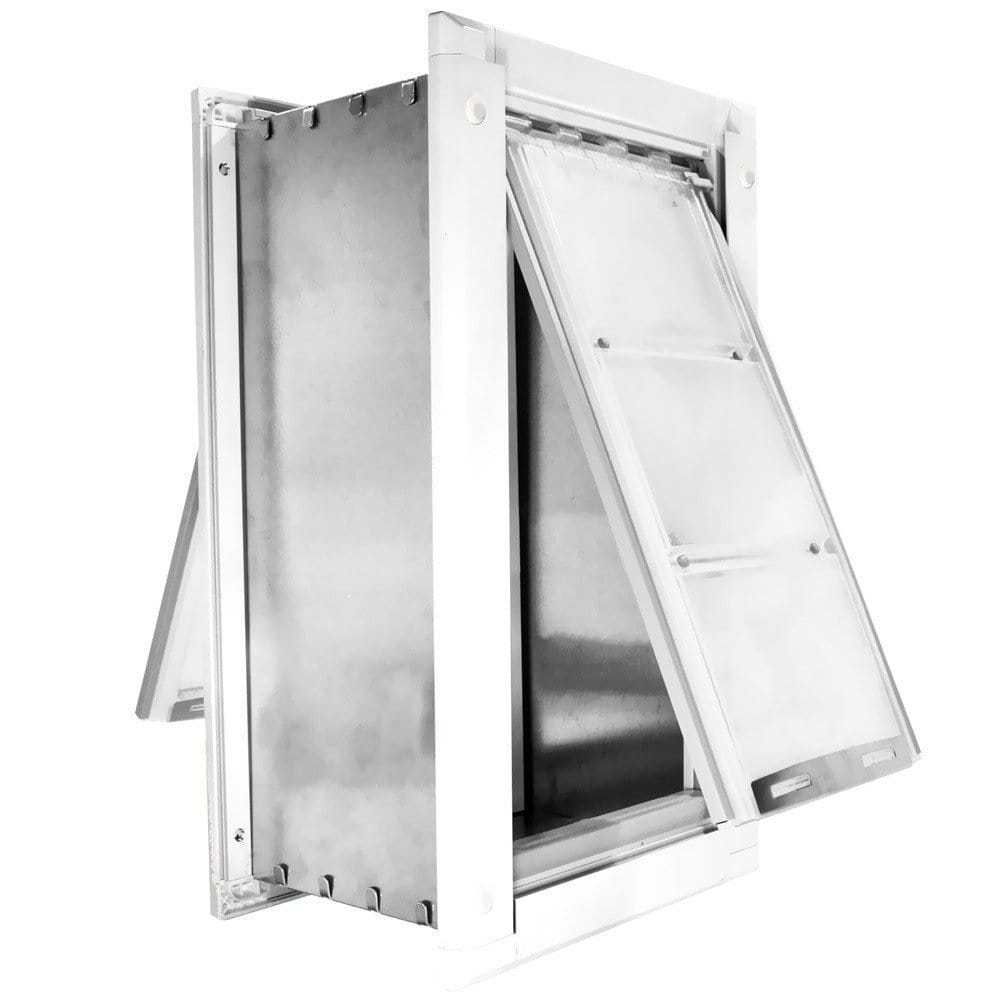 The first thing you'll notice about Enduras pet door is its unique design. It's energy efficient and insulated to keep warm and cold air from entering your home. Enduras confidence in the durability of their product is shown from the 10-year warranty it comes with. The double flap design allows easy entry for pets of all sizes. The door uses magnets to ensure it remains stable and they work well in all climates. For people living in windy areas, this door will perform well and last a long time.
The best part about the door is it works well for training your dog. The magnets are adjustable so you can help your pet access the door while it learns how to use it properly. The instructions are easy to read and installation is simple. It's a well designed, high performing product and definitely one of the best electronic pet doors on the market.