The Best Folding Tonneau Covers On The Market
Filed under: garage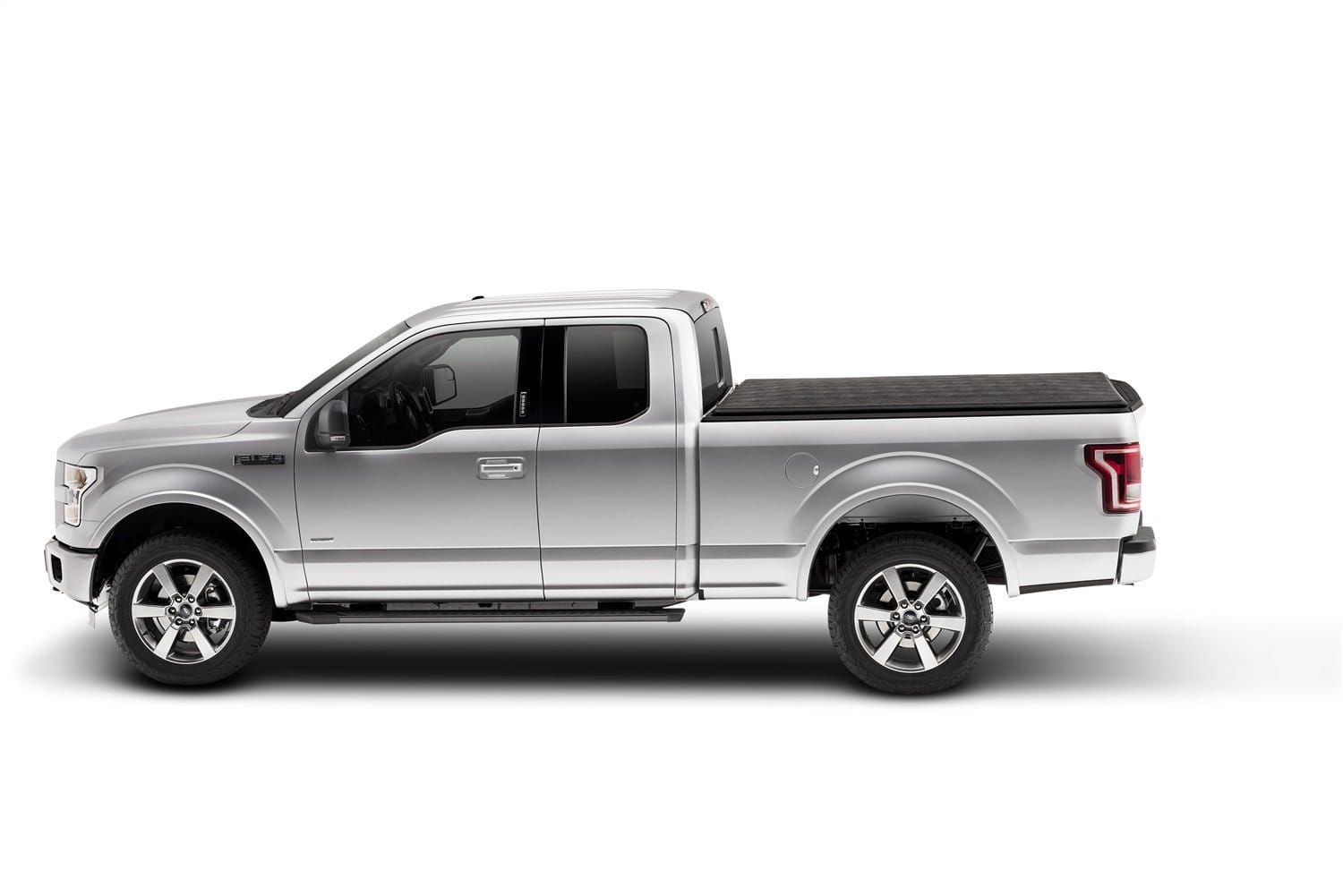 For most truck owners on the road, tonneau covers are a necessity. Specifically built for truck beds, they provide safety and security for owners. If you're considering whether a tonneau cover is right for you, then we're here to give you a break down of what they are, why they're important and look at the best folding tonneau covers on the market.
What Do Tonneau Covers Do?
Primarily, tonneau covers provide weather protection and security for truck owners. They cover your truck bed and ensure items stored in the truck are out of the way from prying eyes. For truck owners who regularly travel on long trips, or with expensive cargo, the covers protect them from potential theft, as well as storing the items safely.
Depending on the type of cover you purchase, some even have locks on them for added security. There are many types of covers available, and each serves a purpose. Buying a tonneau cover is a good investment and can save you money in the long run.
The Advantages Of Tonneau Covers
Tonneau covers aren't just for professionals, and you can use them in your everyday life too. They can be utilized to store groceries and luggage, protecting your food and materials. There is a range of covers on offer, with some more suited to everyday use.
Weather can be detrimental to items. Snow, wind, and rain can damage some of your materials and the covers ensure they're shielded from the elements. For people delivering goods, they can make their deliveries with the items remaining in excellent condition. Groceries can also be saved from the rain, and products like ice cream won't melt in the sun. They also protect the bed of your truck from becoming waterlogged.
Instead of continuously moving items into your truck when it's left unattended, you can use a locking tonneau cover to ensure your things are safe when out of your sight. It saves time, and tonneaus with locks are a good investment for people traveling on vacations or storing work materials.
Fuel economy can also be increased with the covers. Gas mileage efficiency can be heightened due to the better aerodynamics the tonneau covers provide. The reason for this is that the wind flow improves because the tonneau prevents the airflow causing drag when it hits the back tailgate. Some of the best folding tonneau covers can boost savings on gas by up to 10%. This means that people can save up to $276 per year, just by purchasing a tonneau cover. If you keep your truck for 3-4 years, your tonneau cover pays for itself, as well as giving further savings.
Types Of Tonneau Truck Covers
There are many types of Tonneau truck covers, but some are better than others. Ultimately it comes to personal choice, but convenience and durability need to be taken into consideration.
Hinged Hard Tonneau Covers
Hinged covers use hinges that attach to the frame rail. The materials used are usually composite material and fiberglass, which means these covers are some of the most expensive. They have their benefits, but the style of the cover restricts the height of the goods you carry in your truck.
Once the cover is installed, it cannot be removed from the truck bed causing it to take up space regularly. For people that need to access their items regularly, hinged tonneau covers can be difficult to maneuver. They don't open all the way due to the fiberglass above the rails, and to transport big or awkwardly shaped items the cover will have to be entirely removed. It's time-consuming, and not ideal when other covers provide more ease of use.
Roller Shutter Tonneau Covers
These types of covers are usually made of ABS or aluminum. They retract into a canister when not in use, and can be useful for increasing fuel efficiency. They also secure your valuable items and keep them safe while out of sight. These types of tonneau covers are better than hard covers, but they do have their drawbacks.
Firstly, roller shutter tonneau covers are the most expensive on the market. The main problem with these designs is they're unsuitable for cold weather conditions. They can freeze, and if there's a dust and dirt build up the covers can struggle to retract. There are companies offering cleaning services for the covers, at a fee.
For people who want a reliable and efficient cover, then roller shutters may not be an optimum solution. Their durability is questionable, and at a high initial cost, they need a lot of maintenance throughout the years.
Folding Tonneau Covers
There's no doubt that folding tonneau covers are the more versatile on the market. The tri-fold design of the covers allows you to choose whether you want to keep your truck bed fully covered, open or partially open. The covers are also lockable and offer an exceptional level of security. Items can be easily transported and due to the different functions awkwardly shaped items can easily be carried.
Tri-folding tonneau covers have gained popularity in recent years, and are now the fastest growing type of cover available on the market. They arrive fully assembled, making installation a quick and painless process. When they're completely closed, they can increase your fuel efficiency by up to 10%.
With no tools required for installation, folding tonneau covers are great for professionals and families. They offer convenience, and maximum security for luggage, groceries and professional tools. They're also easily removed, and most are suitable for all weather conditions. Folding tonneau covers are reasonably priced and with all their advantages are the best option for people looking for a functional and durable cover.
Choosing The Right Folding Tonneau Cover
The most important decision you need to make is whether to buy a hard cover or soft cover. Folding tonneau covers come in both designs, and each has their advantages and functions. The use of materials, long term-durability and the main purpose of your folding truck cover are all things to consider and both hard and soft covers have a variety of styles and sizes.
Folding Tonneau Hard Covers
These covers are ideal for professionals because they can withstand a lot of weight. They're made from a variety of materials and offer sustainability and durability. For people in areas where weather conditions are changeable, the hard covers protect from the snow and wind.
The design of the cover allows it to fold up against the bed, meaning you don't have to remove it to gain access to your items. It's an upgrade on other hard covers, and it does offer more durability than soft covers.
Soft Folding Tonneau Covers
Soft folding tonneau covers are made from vinyl material, but there are stronger canvases available. They're usually assembled on a frame, and are easy to install. The soft covers offer a reasonable level of protection from all weather conditions and the stronger canvas designs ensure complete shelter.
The covers offer an excellent level of security for owners, and can only be opened if the tailgate is also open. It means the beds never left exposed and ensures safety for your items being stored in the bed. They're very light to maneuver and operate, making them perfect for families.
The most prominent advantage of folding soft covers is their price. They're a low cost, yet high-quality option and also come in stylish designs.
The Best Folding Tonneau Covers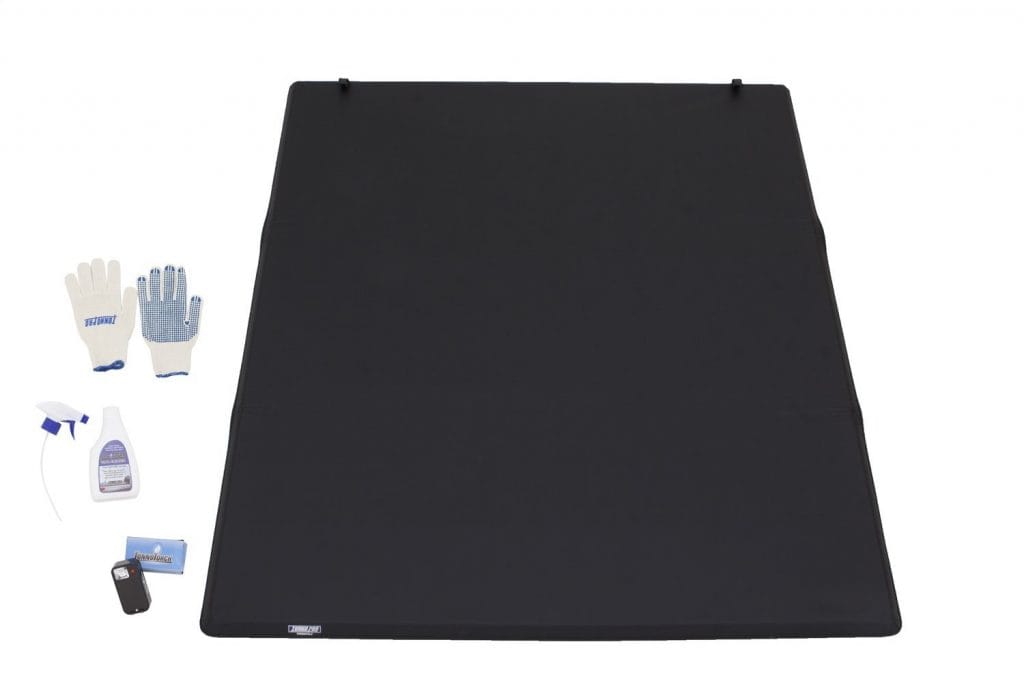 If installing a truck cover seems like a daunting process, you'll be pleased to know the Tonno Pro comes completely assembled. There's no drilling required, and installation is incredibly simple. Its design ensures it folds into a compact unit, and it can be removed in just seconds. It has an aluminum frame and vinyl-polyester fabric. It can also be locked in place using a snap clip fastening system. It's also designed to fit most truck bed sizes, although it's worthwhile checking before you buy.
The fabric is tear-resistant and made to endure all weather conditions. The Tonno Pro includes a Weather-tite Q seal and coated stitching per inch. The unique and intricate design ensures it will protect your cargo from all weather conditions. It can withstand heavy rain and even go through a car wash while keeping your items completely dry. It's also proven to increase fuel efficiency.
The only disadvantage of the Tonno Pro is the durability of the frame. It can be quite flimsy and might not last for a long time. However, regarding everything else the tri-folding cover offers it's ideal for families and people looking to transport daily items. It's reasonably priced and easy to operate.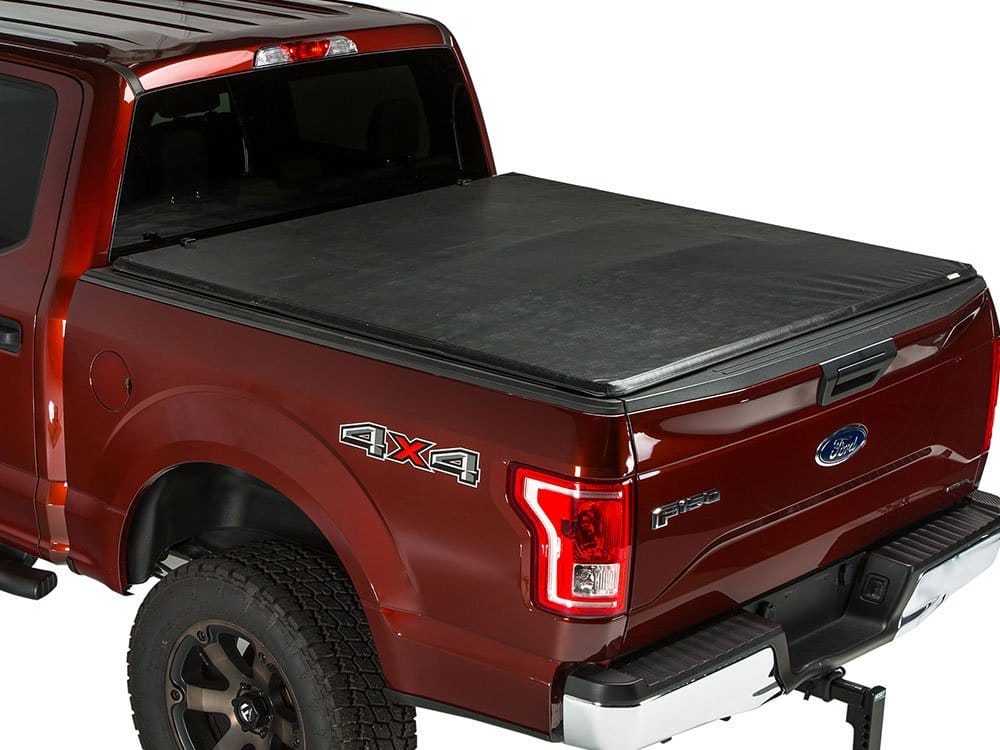 This cover is designed to fit a 5.5ft truck bed and arrives fully assembled with no extra parts or tools required. The soft cover is made from tear resistant vinyl and is attached to anodized aluminum bows. They ensure the truck bed is kept secure and safe from weather conditions. The tailgate has a lock to keep items out of reach, and the cover unlocks from underneath.
The Gator has a water seal, and in general, works well to prevent water reaching the truck bed. However, in extreme conditions, such as going through a car wash, there can be a small amount of leakage. Installation is easy, and all you have to do is line the cover up and use the clamps to attach it. In a few minutes, your cover will be in place and ready to use.
The plastic connectors are questionable and might be susceptible to breaking. The Gator is a stylish and versatile cover, offering users an accessible and secure solution for storing items. Although it's long-term durability is questionable, it's a good option for keeping your things safe from normal weather conditions and accessing your truck bed easily.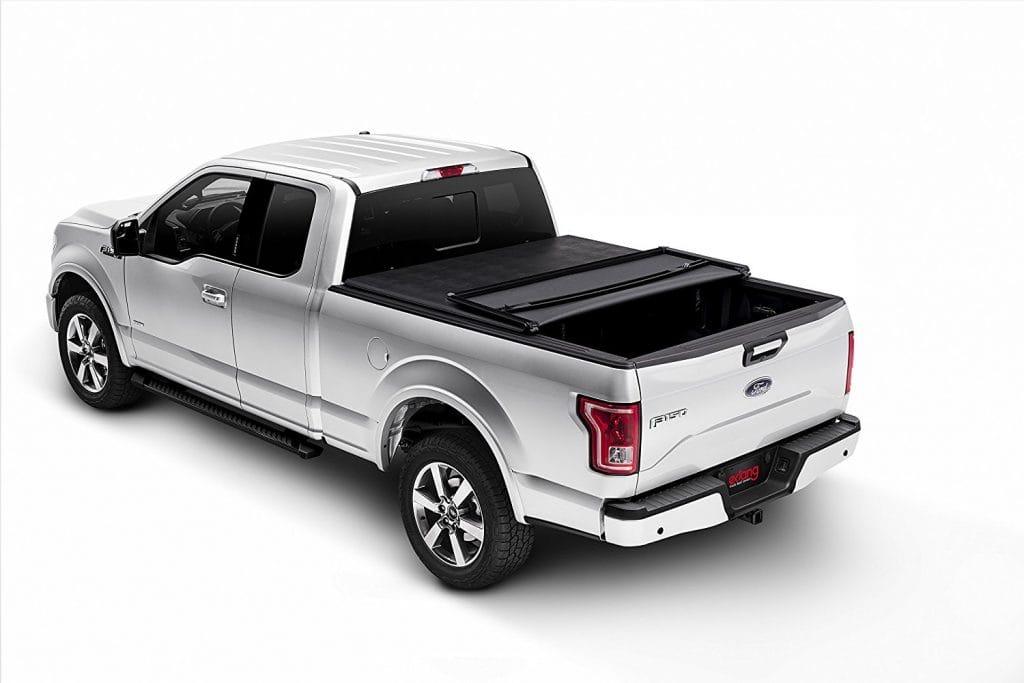 Extang claims their folding tonneau cover is the strongest available, using high-grade vinyl materials. It's an improvement on the original Extang folding cover and offers some new features. The frame has been redesigned and is made out of aircraft grade aluminum. The MAX hinges are double pivoted, and the snap on seals ensure full weather protection without the use of adhesive.
A significant aspect of the Trifecta 2.0 is the front Jaw Clamp, which tightens horizontally. It protects your truck from bed flange damage and over tightening. The rear automatically locks with an EZ-lock clamp meaning there's less effort for the user. It's stylish and sleek design looks fantastic with your truck, and has been contoured with softer curves.
It's made for 5.5ft truck beds and is easy to install and remove. The brackets are also very sturdy, and there's no doubt it's a robust design. In fact, Extang is so confident in the durability of their cover they offer a lifetime warranty. With all of its features and functions, there's no doubt that the Extang Trifecta 2.0 is one of the best folding tonneau covers available.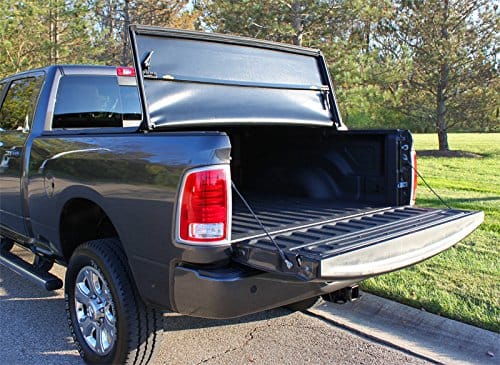 The use of quality marine grade vinyl makes this product immediately stand out. It also has an aluminum powder coated frame, giving it a lightweight yet sturdy design. A weather tight seal works alongside a patented clamping system to protect from most weather conditions. It also comes pre-assembled, and the installation process is quick and easy with the aid of instructions.
The front clamps offer good security, and the rear latches make it easy to access the truck bed. There are also safety buckles to keep your cover safe when it's open. The design is stylish and unique and fits a 6.5ft truck bed. Tyger has also included a lifetime warranty on the cover.
In some cases, the clamps don't function as well as they could, and there can be slight leakage in heavy rain. Overall it's a well-designed cover, and with its low price, it's certainly a competitor for one of the best folding tonneau covers. It even comes with a bag to store the cover when it's not in use.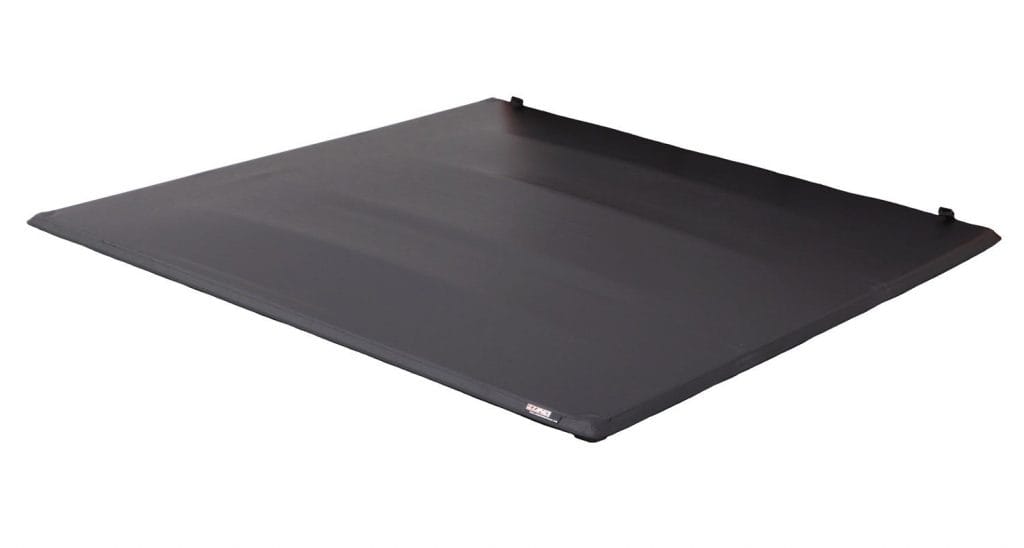 This folding cover is easy to install and can be added to your truck in under 5 minutes. It's designed to fit a 6.5ft truck bed, and four latches enable you to snap the cover on and off. The aluminum bows and rails are black powder coated and offer a level of durability.
The Lund Genesis has a stylish look and uses a durable material with a leather style finish. The cover also works to improve fuel efficiency and uses a weather seal to protect against weather conditions. It's especially useful in winter and keeps your items safe and dry.
The most prominent disadvantage is the lack of a tailgate lock. It means it would be easier to access items and steal them and seems to be an essential but forgotten feature. The latching mechanisms are also quite weak, and in some cases cease to work, leaving the cover unattached.
The makers do offer a lifetime warranty, and if you want a cheap and easy to install the cover, it's worth a try. The lack of tailgate lock when most covers include this vital feature means it's not the best folding tonneau cover available.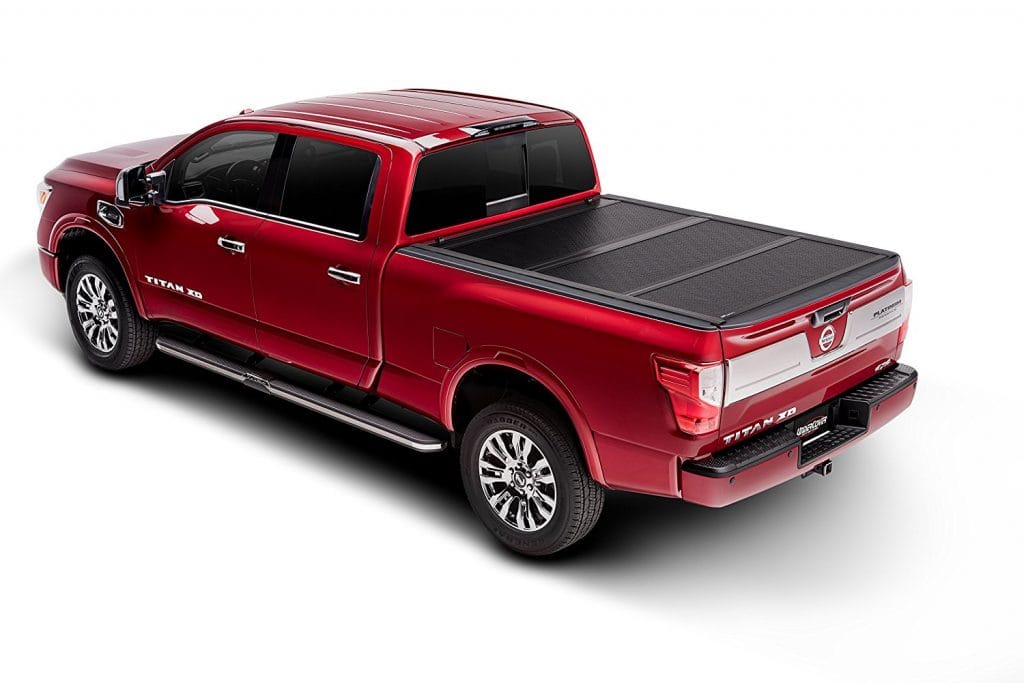 This hard locking cover is made from sturdy materials and gives a high level of security. Instead of using aluminum, FRP Composite Panels are utilized. They're a stronger material yet a lot lighter, and the panels are a lot more resistant to dents and damage. The covers weather resistant and uses rubber seals and drain tubes to direct the water away from the truck bed.
The covers easy to remove and can be done by turning the two knobs and lifting it off. The rails stay attached to the truck, so there's nothing needed for reinstallation. The cover can also endure extreme temperatures, making it effective to transport groceries and perishable items. It also has built-in prop rods, to hold the cover up while driving if you want it completely open.
The cover protects from most weather conditions but does leak slightly when going through a car wash. Another disadvantage is the installation process. It can take up to 20 minutes, and a wrench is needed to secure the cover. It's not a huge issue, but those with no DIY experience might struggle to install the cover correctly. The rubber sometimes doesn't lie completely flat, and there's no long-term solution for this problem.
Overall it's a decent product, but ultimately it doesn't offer the best level of convenience. The cover requires some maintenance, and the complicated installation process can be frustrating. If it's not installed securely with a wrench, the rails are at risk of coming loose. The cover comes with a three-year warranty. For professionals looking for an alternative to soft covers, this product may provide them with the functions they require. For others, it's probably not the best folding tonneau cover to choose.