7 Best Wine Cellar Cooling Units On The Market (2019)
Filed under: kitchen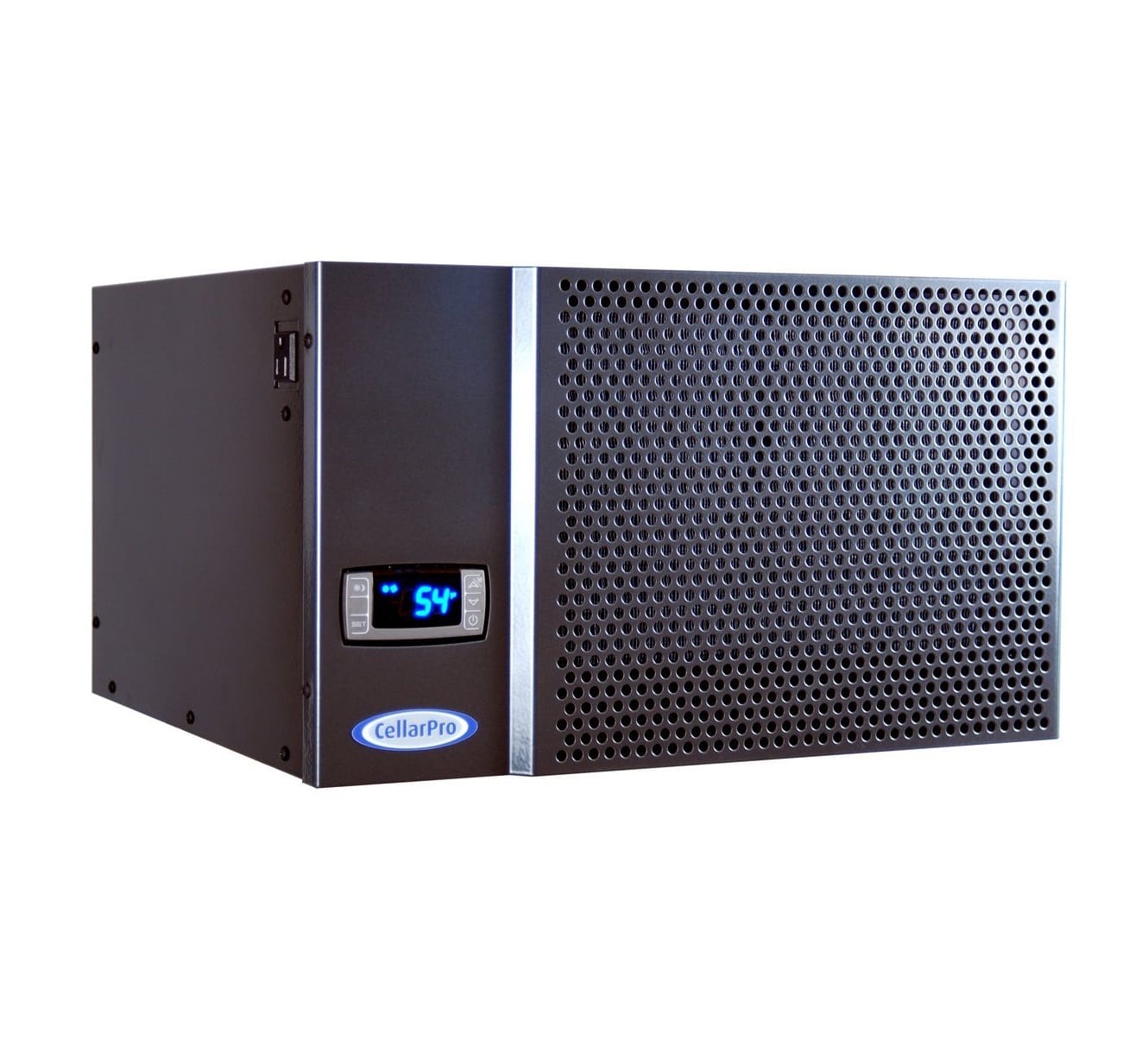 Last Updated: June 15th 2019 The WhisperKOOL is the top rated wine cellar cooling unit. It has better results across the board compared to other manufacturers - value for money, customer service, performance & quality.
For such an expensive item, there appears to be little information in the way of company reputation and what exactly are the best wine cellar cooling units. You hear stories about refrigeration professionals recommending certain brands, only to have them burn out after 5 years.
And even worse is, that you hear about fantastic seller support, but terrible company support - unwilling to admit fault in their products with unfair return and repair conditions in their warranties.
Some praise WhisperKool, while others have pledged their allegiance for Cellarpro.
And when you're spending tens of thousands of dollars on a purpose built wine cellar with the best R-value you can afford, and perhaps spending even more money on your wine, then understanding which unit is going to service your wine cellar the best.
In this guide I've presented my research into each of the wine cellar cooler unit companies, their reputation, warranty and the quality of the items. I've also written a buyer's guide to share what I've learnt about the units needed to keep a wine cellar cooled.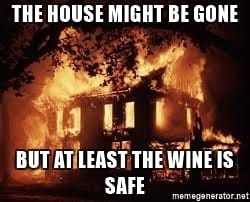 The largest wine cellar cooler unit manufacturers are:
WhisperKool
CellarPro
CellarCool
Breezaire
Vinotemp
Wine Guardian
WhisperKool
Warranty
WhisperKool offer a limited 2-year / 5-year compressor warranty for all self-contained cooling units at their date of purchase. They also offer a limited 2-year warranty for all their split systems. Warranty is not activated until the installation documentation has been returned and approved by them.
You are protected if the product has been damaged during shipment. You must file a freight damage claim within 30 days of the date of delivery.
Return Policy
WhisperKOOL has a fairly stiff return policy. If you don't like the item, you only have 30 days begin the return process. The worst part is that any returns are subject to a 25% restocking fee and the purchaser is responsible for all return shipping costs (which are non-refundable).
In saying that their products have the best reputation in the industry. Take for example the WhisperKOOL 300i: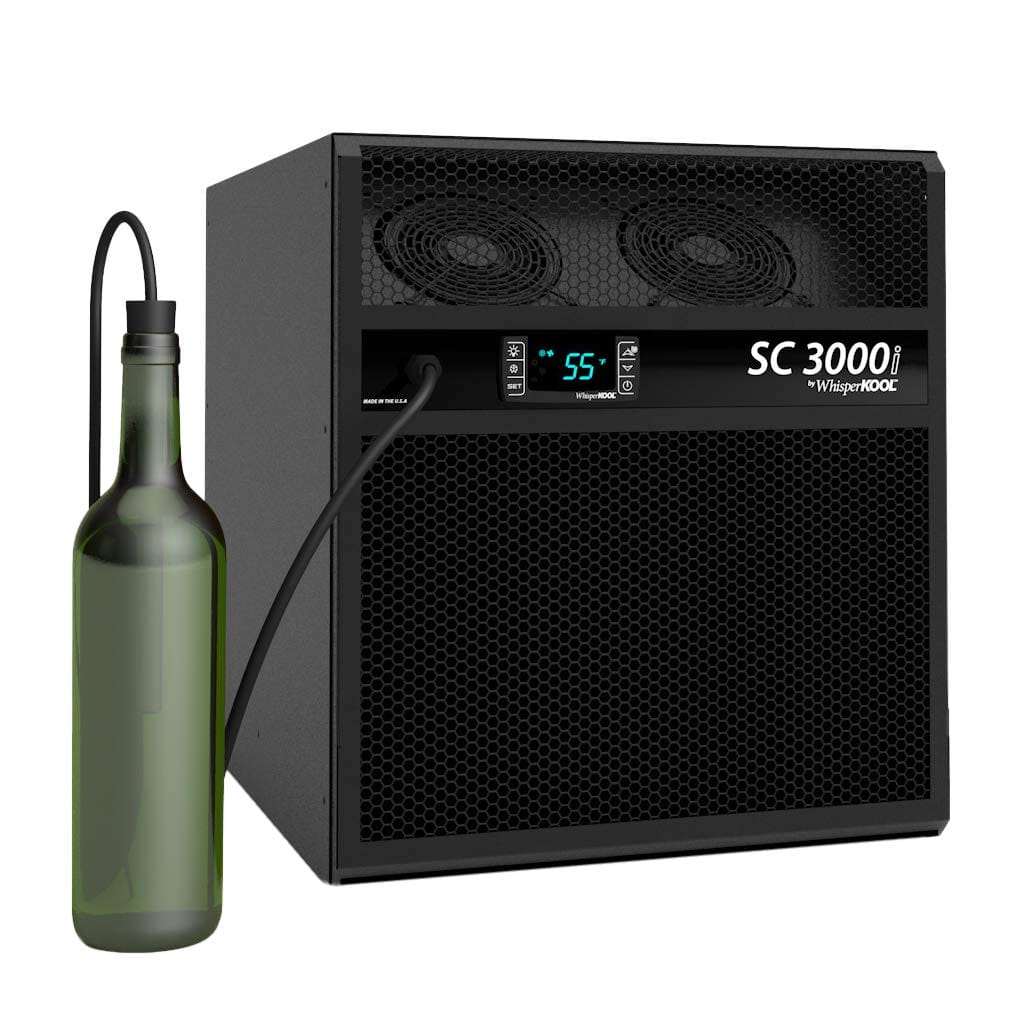 This through the wall installation has made improvements on the previous XLT models. You'll notice that while there have been a couple of concerns with the WhisperKOOL models, these have been isolated to the older XLT models. Aside from the quality and longevity improvements, they have added a digital thermostat and bottle temperature probe for more accurate temperature measurements.
One thing to be aware of is that the unit has a maximum 30 degree temperature differential. If you want to keep your wine cellar at 55 degrees, the external temperature where the unit's exhaust runs should not exceed 85 degrees. This makes the SC models ideal for interior installation.
Finally, the noise level of these models is fairly low at around 60dB. This can be an important consideration when determining your wine cellar cooler.
CellarPro
Warranty
CellarPro offers a full cancellation policy - if you cancel the order before it has shipped you will receive a full refund.
Depending on the type of unit you purchase you might receive 2 years or 5 years warranty. Most units come with a 2-year full repair or replacement warranty, with a 5-year warranty on the internal compressor if it proves to be defective in materials or workmanship.
CellarPro has a vaguer policy surrounded damages during shipping. Their website states that you must inspect the wine cooling unit upon delivery and in the event it is damaged, you must make contact with them immediately. Failing to make immediate contact may result in a denied insurance claim. I've emailed them for clarification on this to see if they can put a number of days one has to get in touch with a freight damage claim.
Update: I just heard back from CellarPro and they have stated that any freight damage must be reported to them within 24 hours in order for them to make a claim with FedEx.
So in light of that, CellarPro actually have the worst shipping warranty conditions due to the very short timeframe.
Return Policy
CellarPro offer the same industry standard return policy. You must ship the item at your own expense and pay for a 25% restocking fee. You have 30 days in order to complete this.
CellarCool
Warranty
Freight damages are covered by a 30-day insurance policy. Get in touch by phoning customer service in order to file a freight damages claim.
Return Policy
CellarCool offer a 30-day return policy from the date of purchase. This is subject to a 25% restocking fee and the shipping costs are paid by the purchaser.
Breezaire
Breezaire have been manufacturing wine cellar cooling units for over 30 years so one would think they might have their act together. From first impressions it looks like they do, they offer the best warranty of any wine cellar cooling unit manufacturer. This is not a point to be overlooked.
Warranty
Breezaire offer a full 5-year comprehensive warranty for all products and all parts used in each of the products. For the first 12 months after purchase, they provide free labor and material to repair the unit as well as full reimbursement for shipping costs to and from the factory. During the remaining 4 years of the warranty they will still pay for any materials required to repair units at their factory, but the purchaser must pay for shipping and labor fees.
Return Policy
Breezaire don't seem to have any return policy listed on their site. I've emailed them for clarification and will update as I hear back from them. Most other sites that stock their products offer a 30 day return period so it's likely very similar to the other manufacturers.
VinoTemp
Warranty
Self-contained wine cellar cooling units have a 5 year warranty on parts and a 1 year warranty on labor. Split and ducted systems (or any other installed units) have a 1 year warranty on parts with no cover for labor.
Furthermore, removal and reinstallation are not covered under warranty, VinoTemp really only offer a repair or replacement of the faulty parts. You will also be responsible for paying shipping fees to a designated repair warehouse while the unit is still under warranty - VinoTemp will cover the return shipping.
Return Policy
If an order has been placed and production started, but the item has not yet shipped, you can cancel an order and incur a 15% charge of the total cost.
VinoTemp have a very poor return policy - basically all sales are final and you aren't given any grace period. It sounds as though under special circumstances VinoTemp will accept returns, but you will be charged a 35% restocking fee and will be liable for payment of shipping both ways.
Wine Guardian
Warranty
For Through The Wall (TTW) units, Wine Guardian offers a 2-year warranty with cover for a replacement unit or for a full repair with return shipping paid for. Removal of defective units and installation of repaired or replaced units is not covered under their warranty.
For ducted or split systems, Wine Guardian offers the same 2-year warranty with cover for a replacement unit or for a full repair with return shipping all paid for. The key difference here is that the purchaser must pay for any transportation costs.
Return Policy
Wine Guardian don't seem to have a listed return policy in the case of a change of mind. I've contacted them to clarify what their return policy is under these circumstances and will update as I hear back from them.
Buyer's Guide To Wine Cellar Cooling Units
Different Types of Units
There are three main types of wine cellar cooling units:
Duct System
Self-contained
Split-system
Through the wall (this falls under the self-contained I think?)
Through The Wall
Through the wall units tend to be noisier than their other wine cellar cooling counterparts. If you're wondering what is the normal operating noise level of the unit through the wall - it's around high 50 decibels. If you duct the unit, then you're looking at around mid 40 decibels. These values also differ depending on the model you are using and the thermal load you need to deal with, but be aware that through the wall units do tend to be louder.
You Need To Know Your Thermal Load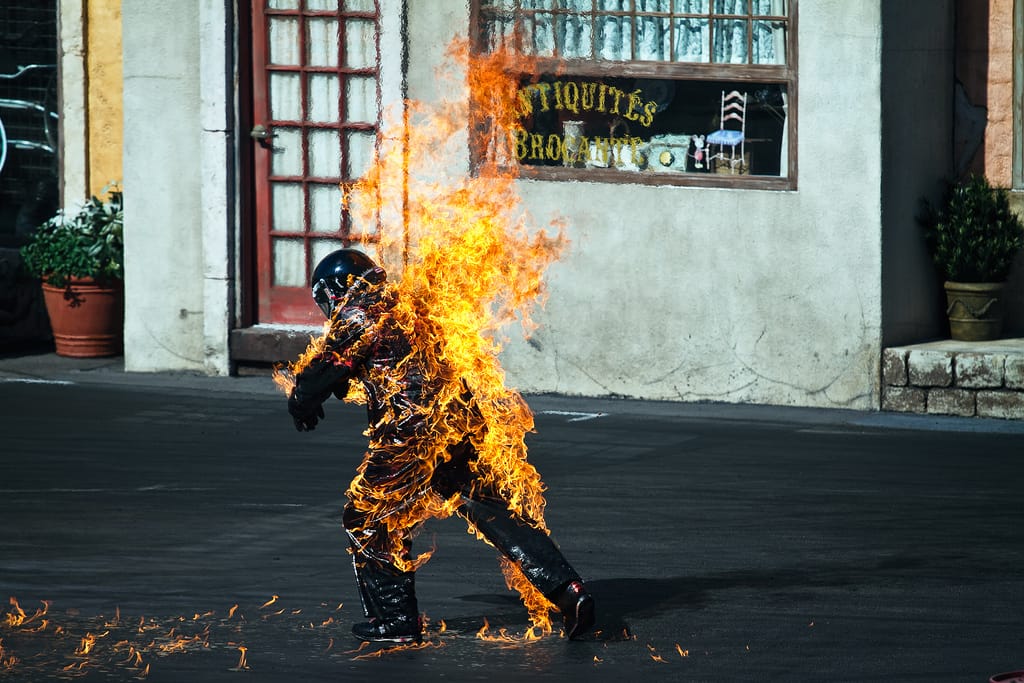 Thermal load in your wine cellar is simply the amount of heat energy that needs to be removed via your HVAC system over a period of time in order to keep your wine at a predetermined temperature. Thermal load is affected by things like the size of the
Thermal load is affected by things like the size of the wine cellar, daytime termperature fluctuations, R value of the space which is related to the thermal conductivity properties of your walls, ceiling and flooring (how much insulation you have or haven't used). It can also be affected by the use of heating or cooling in the living areas of your home.
You will see the acronym BTUH getting around a lot. This stands for British Thermal Unit of Heat. Most wine cellar cooling units' performance are defined by this standard of measurement.
When doing the calculation for your wine cellar cooling unit requirements, there's a great tool over at Wine Guardian which lets you input your wine cellar specifications and it tells you the size and type of cooling unit you should get.