The Best Handheld Airless Paint Sprayers
Filed under: tools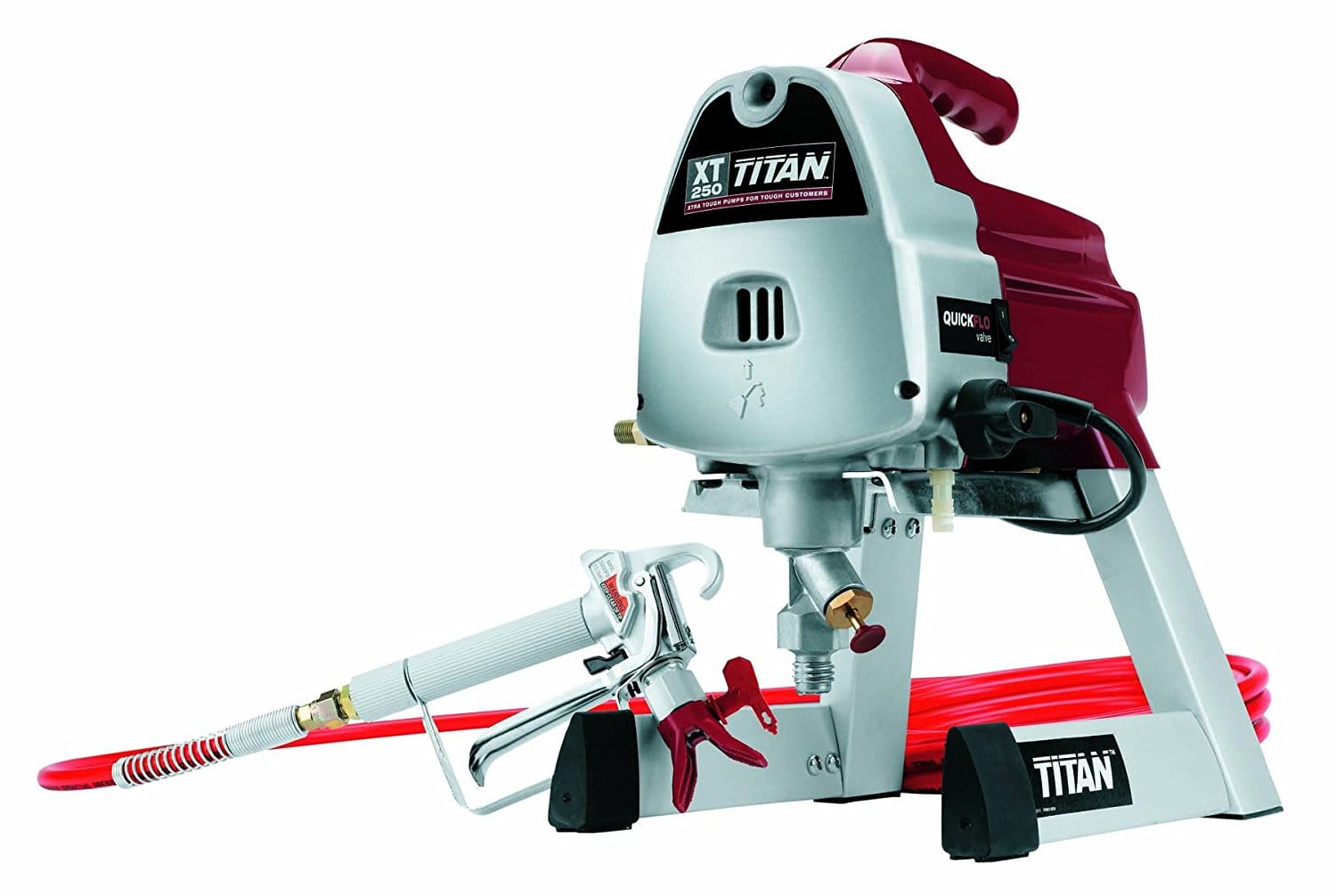 Rolling and brushing on paint can be a time consuming and tedious process. If you want to paint an area evenly, then airless paint sprayers are a great option. Not only do they save time, they also achieve a great finish. In this guide, we'll talk about airless paint sprayers, their benefits, and review the best handheld airless paint sprayers on the market.
How Do Airless Paint Sprayers Work?
Airless paint sprayers are gas or electric powered and use hydraulic pumps. A small vent allows the paint to be pressurized and the sprayer pumps paint. The best airless paint sprayers can apply two gallons of paint to a surface. Users also need not thin the paint, so they're a great option. Sprayers don't cover a surface completely with one spray, and you usually must complete the job a few times, but it's such a quick process it doesn't take long to complete a job.
The Advantages Of Airless Paint Sprayers
There are other sprayers available on the market, but they can't quite compare to the airless innovations. Compressed sprayers work well on furniture, but they use a lot of paint and it can be a messy process with lots of over-spray.
HLVP sprayers are effective and better than compressed but they're also expensive. They work well on doorways and cabinets, but for bigger jobs, they don't quite make the cut.
Airless sprayers are a cost-effective solution for paint solutions and have high pressure. They cover larger areas and handle thick paints well. Airless sprayers are a great choice for outdoor projects and have a level of versatility.
Choosing Your Airless Paint Sprayer
Airless paint sprayers have certain specifications and aspects which determine their suitability for each user. Considering each of these will ensure you pick the right sprayer for you.
Horsepower
The more horsepower a sprayer has, the quicker it will pump paint out. This is important for larger jobs, so you need to consider how much you plan on painting and if you need a larger horsepower.
Project Size
Professionals use larger sprayers because the jobs are bigger. However, if you plan to use a sprayer at home, then a handheld sprayer is a more convenient option. They're easier to maneuver and take up less space. It's also worth thinking about how much paint you'll need for your project, so you can ensure the sprayer fits your requirements.
Coating
It's essential you consider what type of coatings you'll be using before you purchase an airless paint sprayer. Thicker coatings need a sprayer with a large tip and using a small tip can clog up the machine.
Tips
The tips are an overlooked but a vital part of the sprayer. Not only do they control the speed the paint is released at, they also determine the paint pattern and how wide it is. For hard to reach projects, tip extensions are available.
Guns
Small jobs will only require one gun, but for larger jobs, you must purchase a few. Make sure you know how big the job will be, but if it's a home project, you're unlikely to use over one.
Gas or Electric?
Airless paint sprayers are powered by gas or electric, and they're both effective power sources. It depends on what fits your needs most and which source you have access to. The best handheld airless paint sprayers can also convert electric to gas.
Filters
Filters get rid of paint debris and stop the tips from clogging. Clogged tips will not give an even finish. You can also prolong the life of your sprayer by using special conditioners and cleaners.
The Best Handheld Airless Paint Sprayers
Handheld air sprayers are convenient to use and perfect for smaller jobs. There are many sprayers available and each offers its own benefits.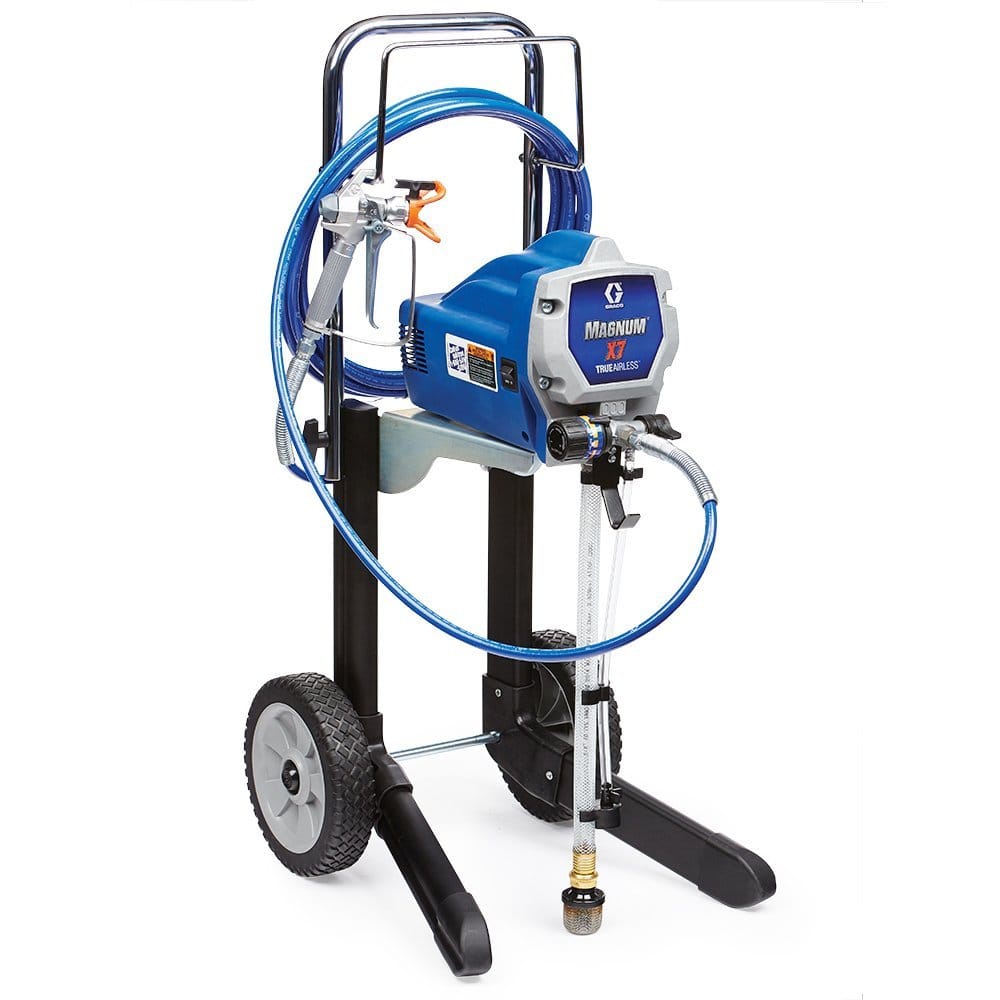 This airless paint sprayer offers an efficient service and gives users control of the flow by having fully adjustable pressure. The suction tube works with one to five gallons of paint and it enables fast cleaning by connecting to a water hose. If the tip gets clogged while spraying there is an RAC IV Switch tip to reverse the tip. Gracos come in many sizes, so you can choose the appropriate one for the jobs you're planning to complete.
The sprayer handles heavy paints well, and professionals use Graco regularly. There's a video for new users to gain some invaluable tips and techniques and it's easy to carry. The only issue with this sprayer is the hose can sometimes curl up and it can be awkward to navigate for indoor jobs. Overall Graco has made a strong competitor and is no doubt one of the best handheld airless paint sprayers.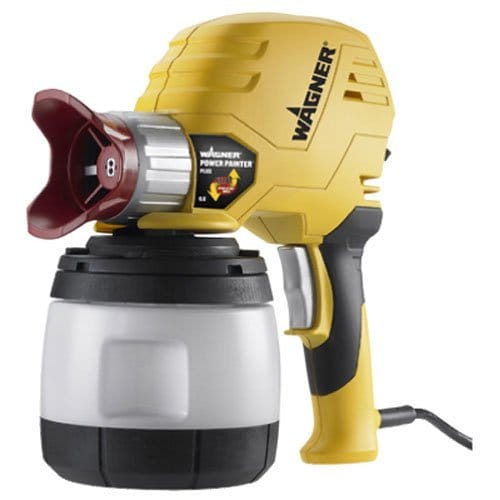 Wagner has created a sprayer which works on most home projects and is convenient to maneuver. It has a twist and lock cup which provides easy attachment and removal and it's easy to control. The defining feature of the Wagner is the flexible suction tube. It releases paint from all directions whether it be up to the ceiling or the floor. It goes straight to the paint in the cup, and Wagner claims their product is the only one available to do this. There are also dual tips instead of single tips, which offer a more even paint job.
The sprayer comes with a set of instructions and can complete a paint job in 30 minutes, instead of the hours it would take to do the job manually. The main disadvantage of the sprayer is the tricky cleaning process. Not only is it time consuming, but if not cleaned properly the sprayer doesn't perform well. While Wagner claims their product is one of the best handheld airless paint sprayers, the paint splatter is a huge issue and the flexible suction tube has caused problems for some.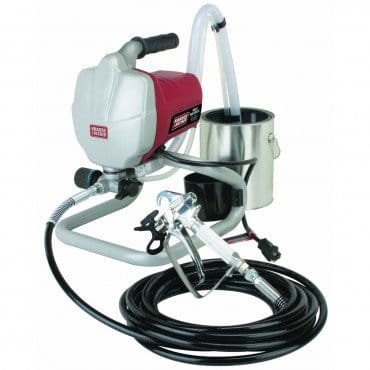 If you're planning on tackling some big weekend jobs, then the PSI airless sprayer is a good option to use. It has an adjustable pressure range, and pumps from one to five gallons of paint. If you're looking for durability, then the PSI will be ideal for you. It protects from rust and damage and can last a long time. It's also light and easy to carry with a trigger-lock for cleaning and flushing.
The hose can be quite stiff and the flexibility is an issue. It's not ideal for large jobs, but for home DIY it's easy to operate, clean and can be used many times. The tips can be a problem and some purchase tips from different brands. Overall it's not the best handheld airless paint sprayer, but it offers an element of convenience and for people on a budget it will do the job and not break the bank.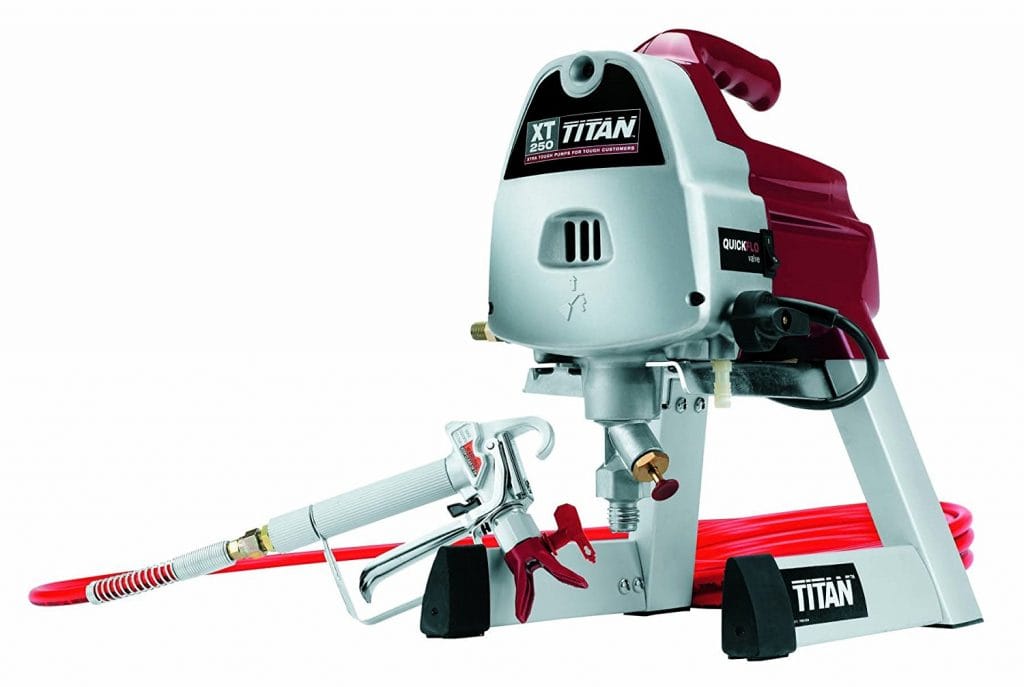 This durable airless spray painter has a polyurethane cover which makes it resistant to abrasion. It has a long life, and it will perform well on multiple jobs. A rugged mount and carry handle makes it easy to operate and handle and it can pump between one to five gallons of paint. Titans sprayer is suitable for big DIY jobs and professionals and many enjoy its versatility.
The clear instructions and easy set up make it ideal for the first time users. The sprayer also comes with two buckets and is easy to clean. The biggest advantage of this no-frills painter is how easy it is to operate. It seems the basic elements enable users to complete a paint job quickly. It's a great product for all, and there's nothing negative to say about it. At a low price it performs and many expensive painters and offers an even finish. Titan has created one of the best handheld airless paint sprayers and its results are excellent.