8 Best Outdoor Deep Fryers For Food Lovers
Filed under: kitchen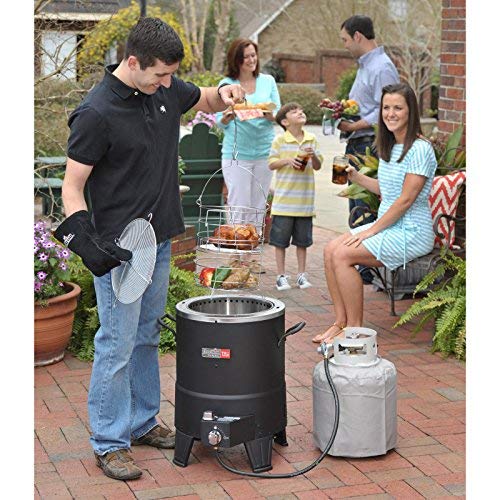 Fried foods have been dominant in our eating menu for quite a while and what better way to combine these than with the best outdoor deep fryers? Because, not everyone likes cooking indoors in a pan and the sizzling oil that always splatters all over you and your cooktop.
Similarly, the outdoor experience has never been fun without food. Cooking is an essential outdoor leisure activity and you will definitely want to have some good time with your friends and family.
For this reason, the outdoor equipment you use to cook your edibles should meet the demand for quality. Deep fryers are on top of the list of outdoor appliances and they aren't going to fall off soon because frankly, all of us love French fries, corn dogs, fried cheeses, meats, bread and many other.
We have reviewed the cream of the crop for you. But before we get stuck into individual products, you should follow a few steps in order to find the best outdoor deep fryer for your home, cabin or RV.
How To Pick The Best Fryer For You
Food Capacity
This is probably the first thing you should look for when choosing the right deep fryer for outdoor use. In general, the size of the fryer depends on the size of your family or group of friends. It's simple logic and of course, you won't be buying a small electric fryer for a family of 6, for example. There is a variety of many different sizes and the best choice is to buy a deep fryer that will let you cook the food and then be able to serve everybody all at once. However, take into consideration that outdoor deep fryers might be a little more expensive than the small, home versions.
Power Source
You should be aware of the different types of deep fryers. In general, you can choose between electric, propane and air fryers.
Electric deep fryers are probably the most common fryers of this kind. They are pretty easy to use and come in different sizes as well. They are perfect for home use but are somewhat unsuitable for outdoor use because of the cables and the need for a constant electricity source.
Propane fryers require a little more skills than the electric ones. For this reason, you will get great results but you should as well be able to use it safely and effectively. Mind that propane is the perfect power source for outdoor deep fryers so most of the outdoor appliances in the outdoor category are propane-powered. As such, these fryers can be considerably bigger than the electric ones.
Air fryers do everything that electric and propane fryers do but with little to no oil at all. Basically, the technology is based on hot air circulating in convection. It certainly makes them way healthier and low-cost but the foods cooked do not always taste like the ones cooked in a traditional fryer.
Features
The features a deep fryer has do not really affect the cooking process and it is safe to say that they are not a must for a product to be considered good. On the other hand, there are some extras like auto shut-off timer, adjustable propane regulator, thermometers and etc. that can help a lot during the very same process and you shouldn't write off any of them when looking for the best outdoor deep fryer.
Design and Format
These two depend entirely on your cooking preferences as the design and format can determine the types of foods you can cook in the deep fryer.
Pot fryers work by boiling oil in a pot. Then you insert either a fryer basket or a rack if you're about to cook a larger piece of meat. You can also use pot fryers to brew beer and other liquids such as maple syrup.
A basket fryer is basically a container that has a basket inside. When the food is fried, you just remove the basket and you are ready to serve it. Those type of fryers might do a better job than pot fryers since they are bigger.
Air fryers are relatively new on the market as they all use new and innovative technologies. They are considerably healthier because they use way less amount of oil. In this way, they also become way safer. Some manufacturers manage to achieve the same good taste as with traditional fryers.
Here Are The Best Outdoor Deep Fryers
Bayou Classic 700-701 4-Gallon Bayou Fryer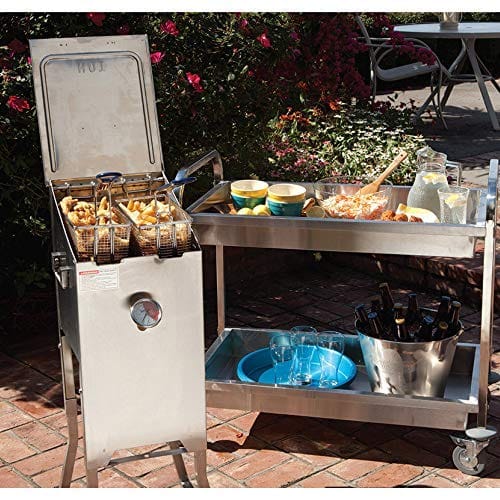 If there was a list for classic-looking outdoor deep fryers, this one would probably top the ranking. The Bayou Classic 700-701 4-Gallon Bayou Fryer looks really old school but it's actually much more practical than anyone can expect. You can easily insert and remove the baskets which make up for easy cleanup. There is also a temperature gauge which allows the user to control the propane flow. This fryer is the definition of classic and its name is self-explanatory. It is easy and simple to use, it's effective and cooks evenly without any problems. What more can you wish for?
Pros:
Quick assembly
Stainless steel
Maintains constant temperature level
Simple design
Drain valve makes for easy cleanup
Relatively energy efficient
Cons:
A little noisy
The thermometer is delicate and may break easily
Somewhat poor construction quality
May have leaks around welds after using it for some time
Somewhat more expensive than other outdoor fryers
Char-Broil The Big Easy TRU-Infrared Oil-Less Turkey Fryer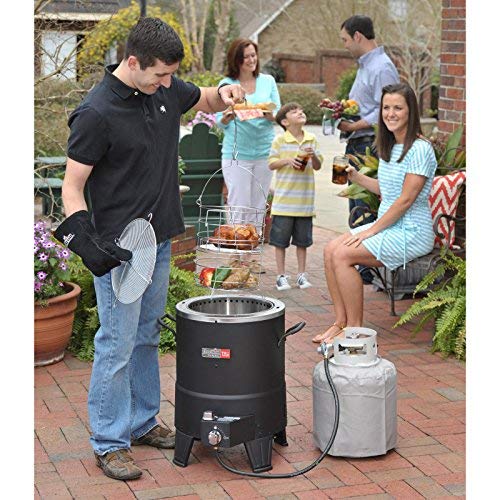 The innovative technology that Char-Broil have implemented into this fryer eliminates all hot and cold spots. The result is juicy and tasty fried food. You can literally cook any type of meat or other fryable food. The best thing about The Big Easy Tru-Infrared Oil-Less Turkey Fryer is that it uses no oil at all. Of course, you can always sauce your meat up with a little oil, but this will certainly save you a ton of money. What's better than eating healthy and tasty food and saving money at the same time? This air fryer cooks some of the best crispy and delicious fried food you'll ever have.
Pros:
Quick assembly
No oil needed
Simple design
Patented infrared cooking technology
Includes meat thermometer
Cons:
You may have to pay attention to the size and shape of what you're cooking
May show problems with undercooking on the bottom or inner side of the meat
King Kooker Portable Propane Outdoor Deep Fryer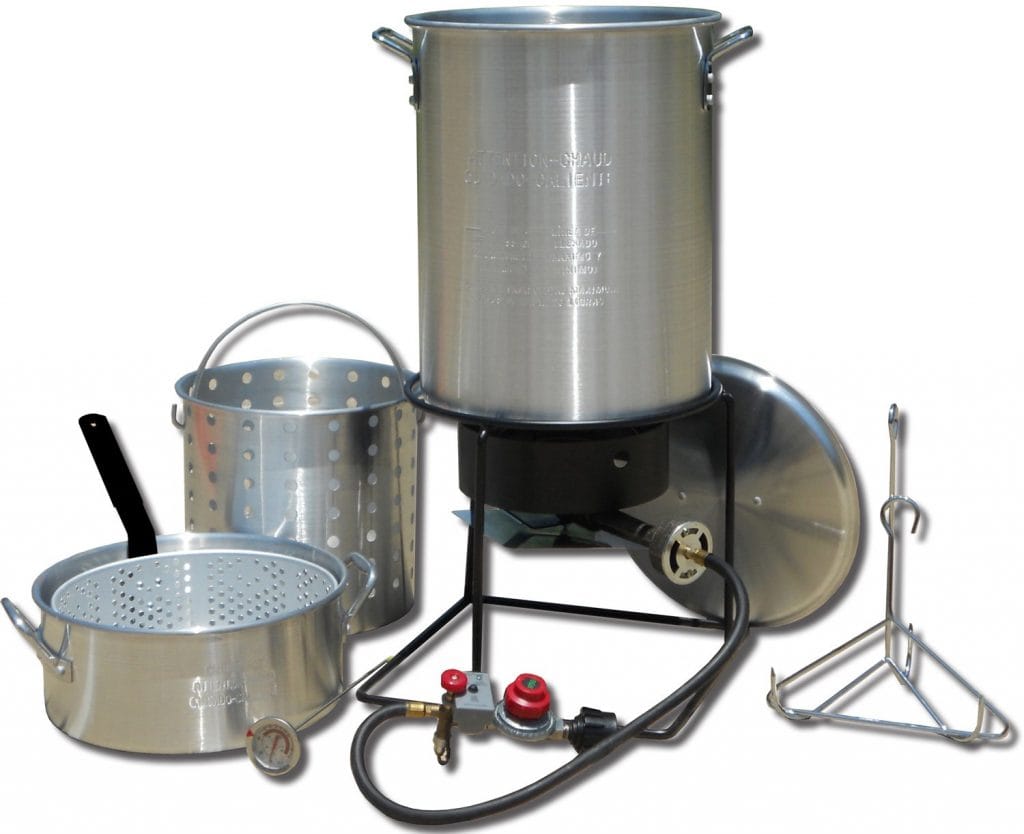 This fryer is basically a general cooking pan which can also be used for boiling. The aluminum construction is stable and minimizes any oil spill or heat loss. You can cook tasty turkeys in it but beware of the strainer basket because it's half the size of the pot and so the bottom is always left empty. Of course, you can always use another one that fits better so that's not that big of an issue.
With its 33, 000 BTU, the King Kooker 1265BF3 shows average heating abilities. A small downside is the annoying safety timer which turns off the burner every 30 minutes if not reset on time. Anyways, this surely won't affect the great time you'll have with the fryer as its portability and 5-piece set of different removable pieces will make up for a tasty outdoor experience.
Pros:
Easy to assemble
Adjustable regulator to adjust the flame
Has different size baskets
Portable
Cons:
Issues with the safety timer shutting off the flame
The battery pack doesn't tell the positive and negative
Somehow cheap construction
King Kooker 1618 16-Inch Propane Outdoor Cooker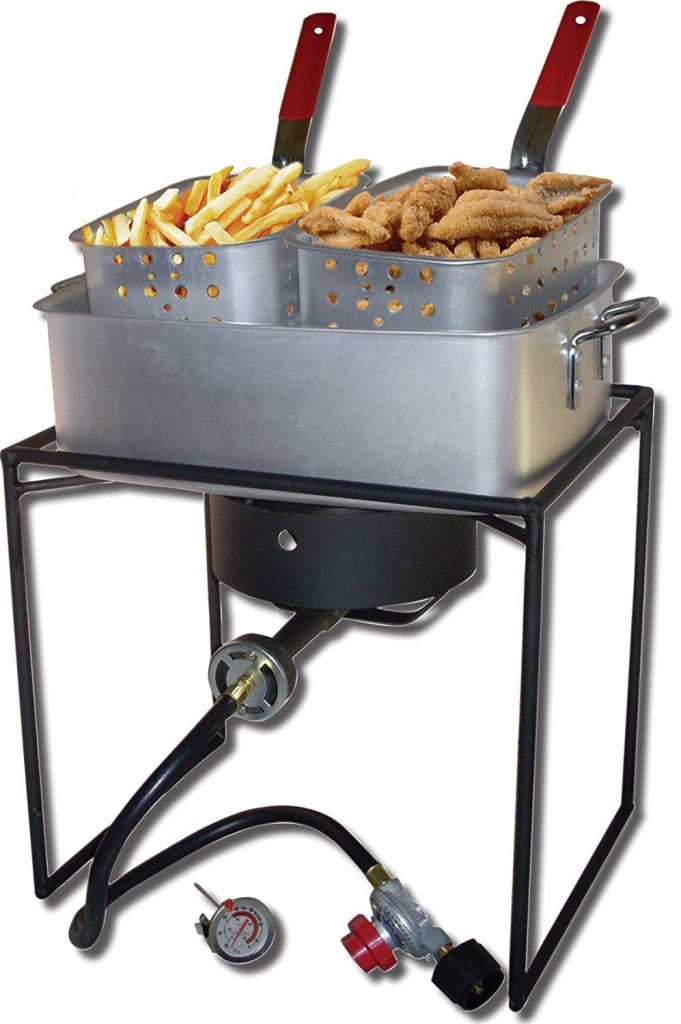 The 16-Inch Propane King Kooker 1618 Outdoor Cooker is the real deal when it comes to medium and large-sized outdoor fryers. With its 54, 000 BTU burner, you can easily prepare fried food for the whole family. The set comes in with a large aluminum pan and two frying baskets. The good thing about is that the fryer is easy to transport and you can carry it to your cabin in the woods, to a camping site, to a picnic and etc.
Pros:
Simple assembly
Comes in with a thermometer
Small and easy to transport
Cons:
Issues with the safety timer shutting off the flame
Somehow cheap construction
No temperature adjuster
Masterbuilt 20100809 Butterball Oil-Free Electric Turkey Fryer and Roaster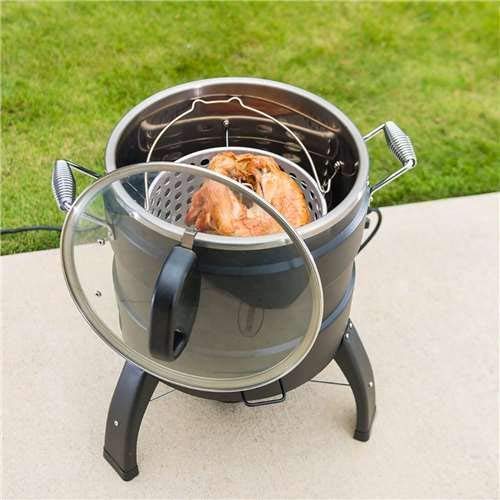 The Masterbuilt 20100809 Butterball Oil-Free Electric Turkey Fryer and Roaster includes everything it does in its name. This a somewhat unusual combination of power source and purpose. Although connecting it to the power grid may be a little annoying, this fryer can do an awesome job in frying and roasting as well. You don't need any oil in order to cook tasty meat edibles and the glass lid allows you to check on your food.
Pros:
Easy to assemble
Heats up very quickly
Easy cleanup
Includes a thermometer
No oil needed
Cons:
No temperature gauge
Too small drip pan
Somehow cheap construction
Char-Broil Big Easy Oil-Less Turkey Fryer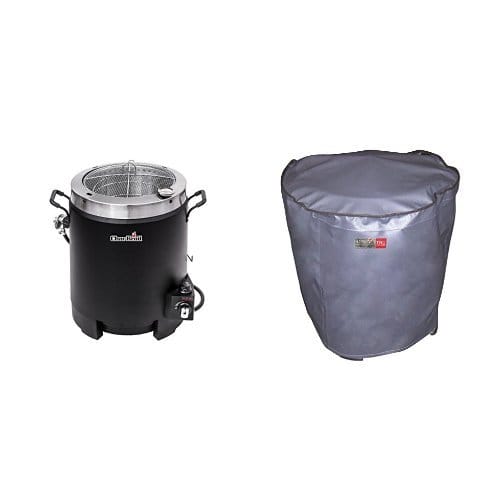 This small guy has only 16,000 BTU but will surely beat most of the fryers because of its efficiency qualities. Char-Broil's Big Easy Oil-Less Turkey Fryer uses the manufacturer's patented infrared cooking technology which eliminates the need for oil. For this reason, this product is way healthier and efficient than the traditional fryers. You won't have to deal with awful liquid spills anymore which is yet another advantage. Additionally, the low price of this fryer is even more tempting. As a bonus, the packet includes a cover.
Pros:
Easy to assemble
Adjustable regulator to adjust the flame
Patented infrared cooking technology
Comes in with a cover
Doesn't use oil
Cons:
Too small drip pan
Should have better assembly instructions
Brinkmann 815-4001-S Turkey Fryer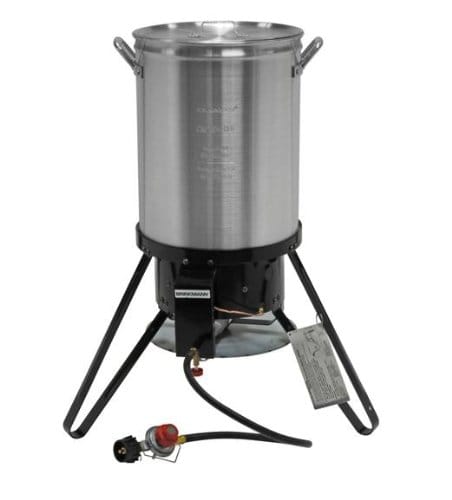 This item is the definition of a medium-sized outdoor fryer. Its 45, 000 BTU does not make it among the best performers but it's better than most. The fryer is easy to operate and its lightweight construction allows its user to move it wherever one wishes. You can cook almost anything with this fryer unless it's too big to fit in.
What's more, the Brinkmann 815-4001-S Turkey Fryer is ideal for brewing beer or maple syrup. As an extra safety feature, there is a temperature sensor that automatically shuts off the gas flow with the intent to prevent overheating.
Pros:
Easy to assemble
Adjustable regulator to adjust the flame
Lightweight construction
Can be used for brewing
Cons:
Somewhat badly manufactured
Running at lower levels, the flame often fails and the propane shuts off
The black paint may start peeling off after some time
The safety mechanism may start preventing the fire from staying on
Bayou Classic 2212 Fish Cooker Set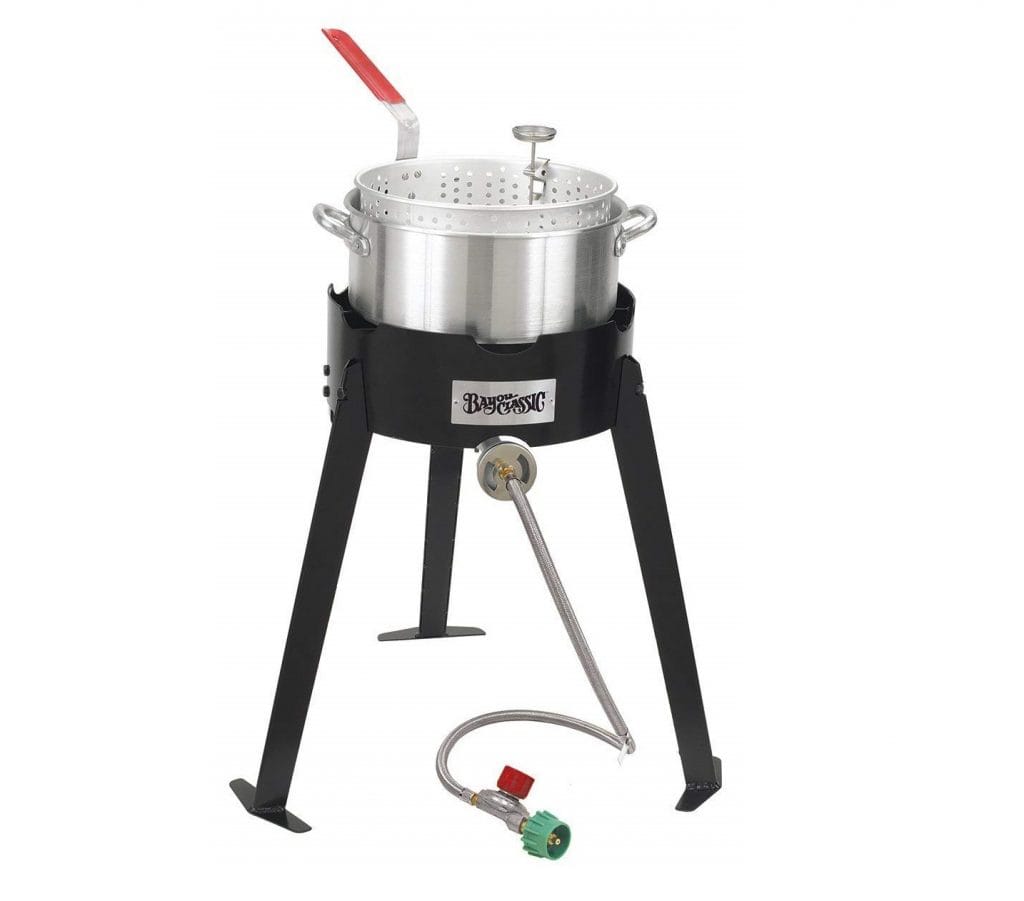 If you love cooking and eating fish, this fish cooker set will do a perfect job for a relaxing outdoor cooking session. The Bayou Classic 2212 Fish Cooker Set is very easy to use, lightweight and portable. Its high-grade aluminum construction gives the needed resistance for long-term use. With this fryer, you'll be able to cook the best fish recipes anywhere effortlessly. The tripod stand adds comfort as it improves the reach and the stability of the cooker.
Pros:
Easy to install and use
Easy to clean up
Very cheap
Lightweight and portable construction
Cons:
Low propane flow and weak flame power
May come with missing parts
The paint may burn off after some time
In Conclusion
Cooking outside has never been more enjoyable ever since there is such a competition for quality deep fryers on the market. For this reason, choosing the best outdoor deep fryer might be a little difficult for those who are not knowledgeable in the field. However, going by the abovementioned guide will surely clear up your preferences.
Whether you want to be healthy or you just care about the food being delicious, there are plenty of fryers out there and picking out the best one for you is a piece of pie. All deep fryers have their advantages and disadvantages but remember that enjoying yourself is priceless and at the end of the day, it's all that matters.