6 Best MIG Welders Under $1000 On The Market
Filed under: tools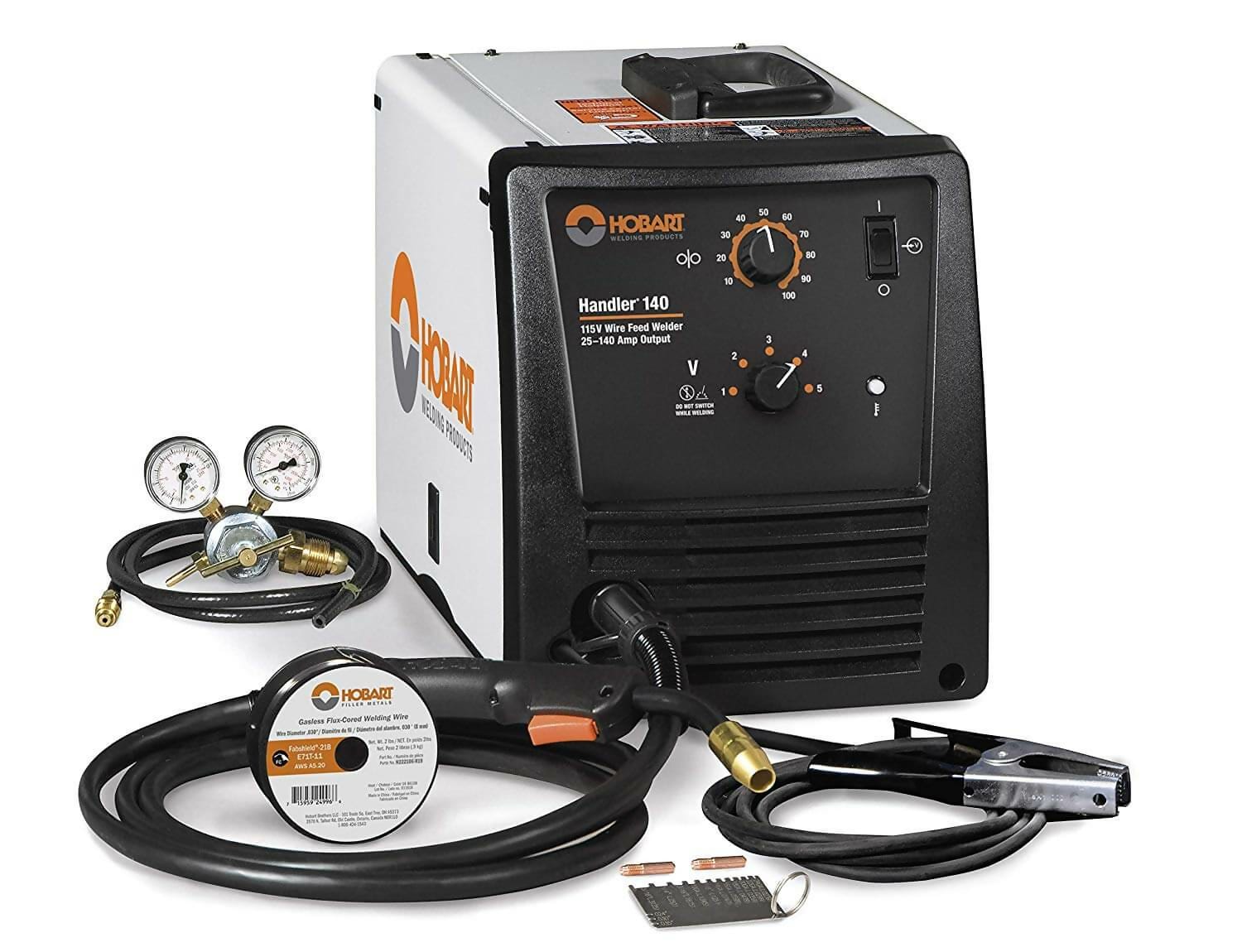 To begin with, the MIG welder has been around for decades and is an essential part of the equipment of every DIY hobbyist and industrialist. One of the main reasons for this is its widely applicable and versatile attributes.
What's more, it's fairly easy to understand and use it, thus making it a perfect servant for both professionals and beginners. You can easily weld steel, aluminum, nickel alloys or copper just by pointing your MIG welder at the spot you wish to weld and pressing one button.
Throughout the years, the semi-automatic process of MIG welding has gained such popularity that it has also affected the MIG welder manufacturing industry. Since there are tons of models and brands on the market, it might be hard for some to pick the unit that best suits their needs, especially if you're inexperienced in the field.
Luckily, you don't have to pay a fortune to get your hands on a quality product. For this reason, we have reviewed 6 of the best MIG welders under $1000 on Amazon. In addition, you will be provided with a shortlist of criteria to go by when looking for the best welder.
A Brief Buyer's Guide
What is MIG Welder?
Metal inert gas, also known as MIG, is one of the subtypes of Gas metal arc welding (GMAW). It was initially used for arc shielding but later on, became more versatile in its use.
In short, the process of metal inert gas welding is conducted by a MIG welding gun and a continuously-fed spool of wire or a stick electrode. The aim is to heat up and melt the wire which then is used as an adhesive.
Then, the inert gas is integrated into the metal liquid in order to protect the latter from other substances in the atmosphere. With the melted electrode, you can easily join two pieces of metal.
What to look for?
Input and Output Power Requirements
When looking for a welder, the power requirements are probably the first thing to consider. Usually, there's a spec sheet which will guide you through each unit's requirements. The circuit size recommendation suggests maximum output.  Talking about output, it all depends on your skill level and purpose.  After all, you won't be needing a welder with higher than 140 amps if you're planning on using it for small DIY projects.
Duty Cycle
Secondly, after power requirements, duty cycle is another key factor that has to be taken into consideration when shopping for a MIG welder. To put it simply, duty cycle is the amount of time that the welder can operate safely in a 10-minute period. With this in mind, you can easily decide whether a particular unit is suitable for longer, more professional welding or for DIY projects. Usually, the lighter-task models have a 40% duty cycle at 300 amps at most.
Power
In addition to the previous 2, the power of the unit is also an essential part of the deal. Basically, the higher the amperage, the better the machine is at welding a particular metal. In this case, it's good to know the thickness of the material you're looking to weld. As a general rule of thumb, it's better to buy a MIG welder with a higher amperage so as to be more practical.
Accessories
As a part of the deal, some manufacturers offer different accessories with their welders. And it's obvious – you'll surely need a few accessories like a welding mask and a spool gun. Having such accessories packed along with the MIG welder might ease you a lot and you should look into the prospect of buying an all-packed product. However, sometimes the quality of the accessories is not as expected, so beware.
Affordability
First and foremost, if you're a novice, then you should be looking for an easy-to-use welder. The easier to operate, the more it will make you look like a professional. After all, we always have to start from somewhere. In the least, buying one of the best MIG welders under $1000 will help you gain experience.
Most of the reviewed welders in the list are in the range between $500 and $1000. However, if you don't plan on using your MIG welder frequently or for professional use, consider purchasing a unit in the lower price range. Of course, the ones in the higher range are more durable and provide better quality.
Other things to consider
Last but not least, you should look for the unit that has the best warranty terms for you. Also, you might need some customer service, so make sure the manufacturer has a service center close to your town. Moreover, it's good to buy a MIG welder with a few extra features like thermal overload protection. This will definitely increase your welder's lifespan.
The 6 Best MIG Welders under $1000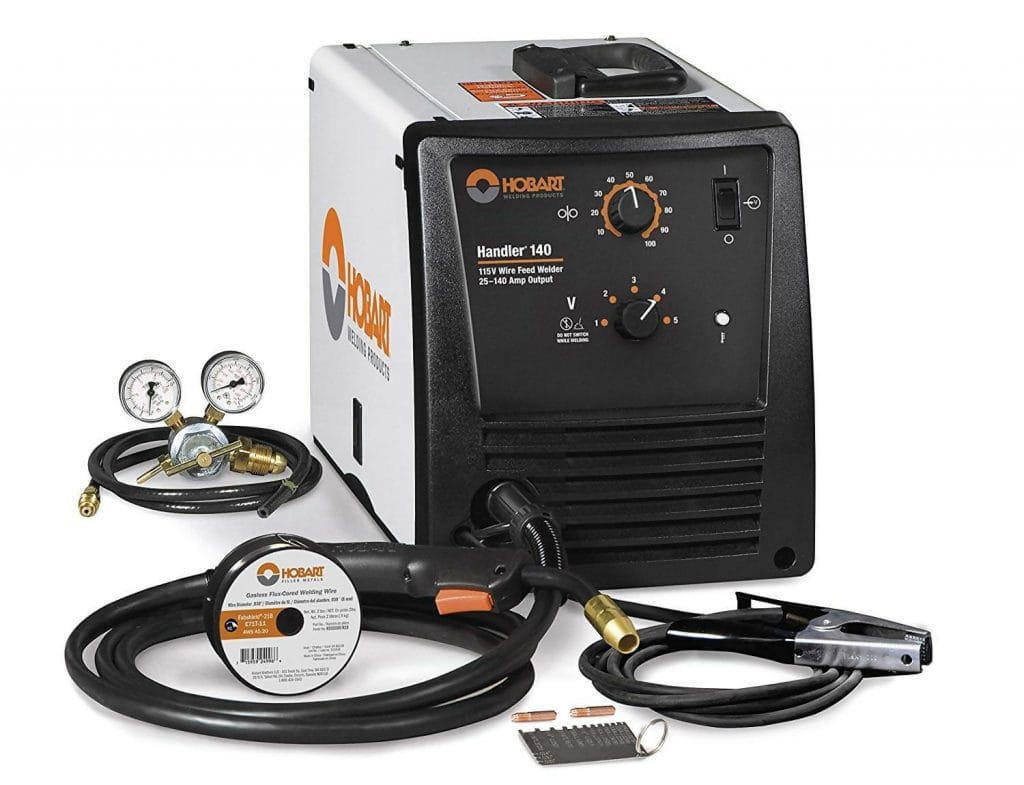 Pros:
Easy to setup
Versatile
Thermal overload protection
Has a built-in storage
Has lots of extra features
Solidly constructed
Cons:
Not portable enough
Doesn't come with safety gear
Some customers complain about defective and damaged units
Review:
As a starter, this welder fits perfectly in the lower-price units in the list. With its 20% duty cycle at 90 amps, the Hobart 500559 Handler 140 MIG is a pretty functional and versatile small-scale welder. It's easy to set up and has built-in storage along with other extra features. However, this doesn't mean that the quality of the unit itself is neglected. With this welder, you can easily weld ¼ "-thick metal. The 500559 can also weld cast iron, brass and titanium. Moreover, the 110V outlet can also weld ¼"-thick stainless steel in no time. What's more, it has a 5-year warranty period and if you ever happen to have issues with it, you can easily contact the Hobart customer service.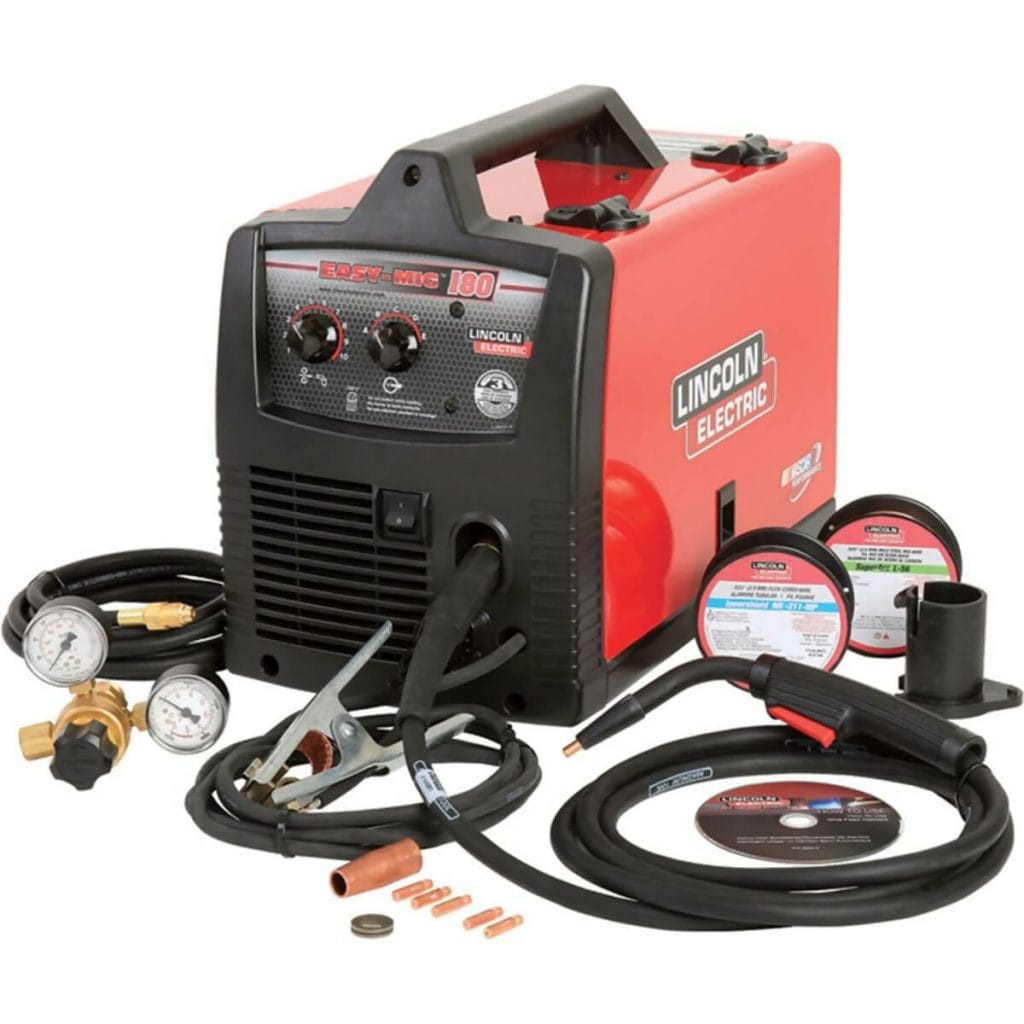 Pros:
Easy set-up
Easy to use
Sturdy and resistant to shock and vibration
Neat and problem-free construction
Cons:
Heavier than most welders in the category
Somehow weaker than its counterparts when working with thicker materials
Low maximum output
Review:
Although this might not be among the lightest units, the Lincoln Electric Easy MIG 180 Flux-Core/MIG Welder is definitely tailored for beginners and hobbyists. In addition, you get a flexible MIG and flux-core welder which can weld through anything you can think of. With its 180 amps, you can weld aluminum and steel.
Moreover, the 50-to-500 wire speed control allows you to regulate the wire feed speed at any time. The good-quality parts made of plastic and metal are topped by the brass-to-brass connectivity for the gun which greatly improves the conduction.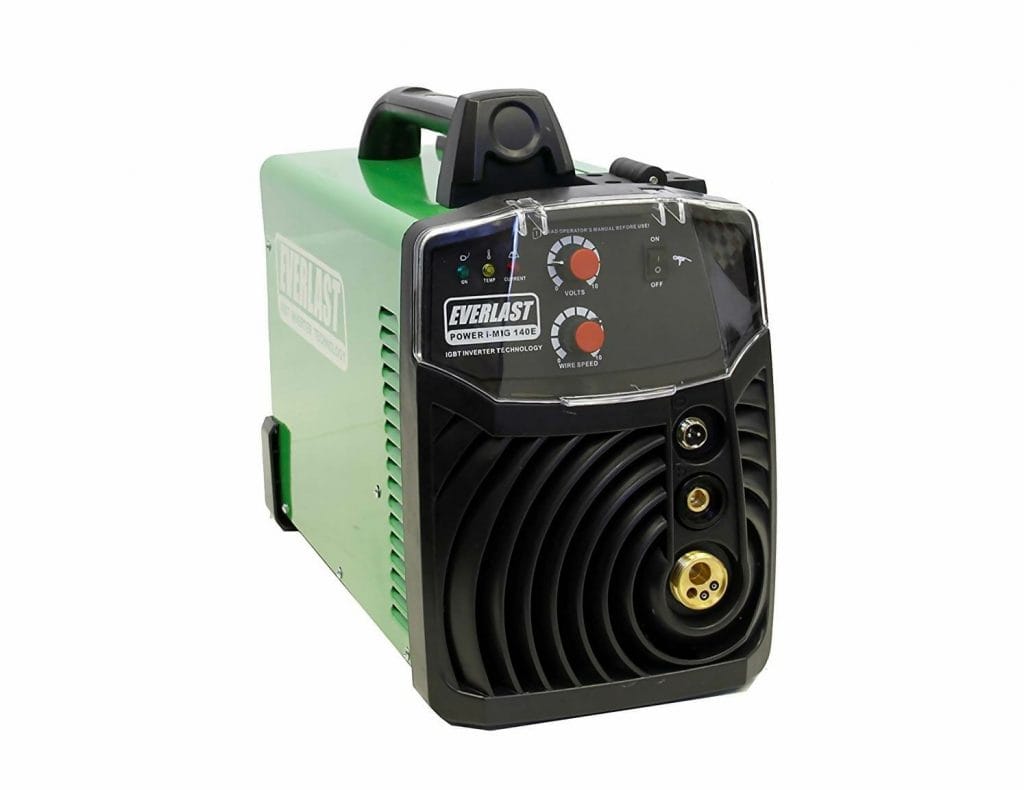 Pros:
Lightweight and portable
IGBT Inverter design which ensures excellent duty cycle and performance
Adjustable voltage and wire speed
Has a high-speed fan which prevents temperature overload
Easy setup
Easy to use
Good construction quality
Cons:
Doesn't include a manual for the inexperienced welders
Requires a separate drive roll in order to run the Flux Core
The ground clamp makes very minimal contact with the grounding surface
Some customers report about poor customer service
The included accessories are somehow cheap
Review:
Hands down, this is easily among the lightest MIG welders on the list. With its 25 pounds, the Everlast MIG140 110/120V Flux 140AMP MIG Welder is a champion when it comes to efficiency and duty cycle. To prove a point, the unit has an impressive 60% at 90 amps duty cycle rate which means continuous work with only 4 minutes of cool-down period.
Moreover, the IGBT technology enables the user to switch between rates easily and fast. Although the unit doesn't provide flux-core welding, you can effortlessly weld mild and stainless steel with a thickness of 3/16". Another advantage the Everlast MIG140 has is its infinite control on the voltage and wire speed. This is great for advanced and professional welders as it gives freedom and allows the user to execute perfect welding.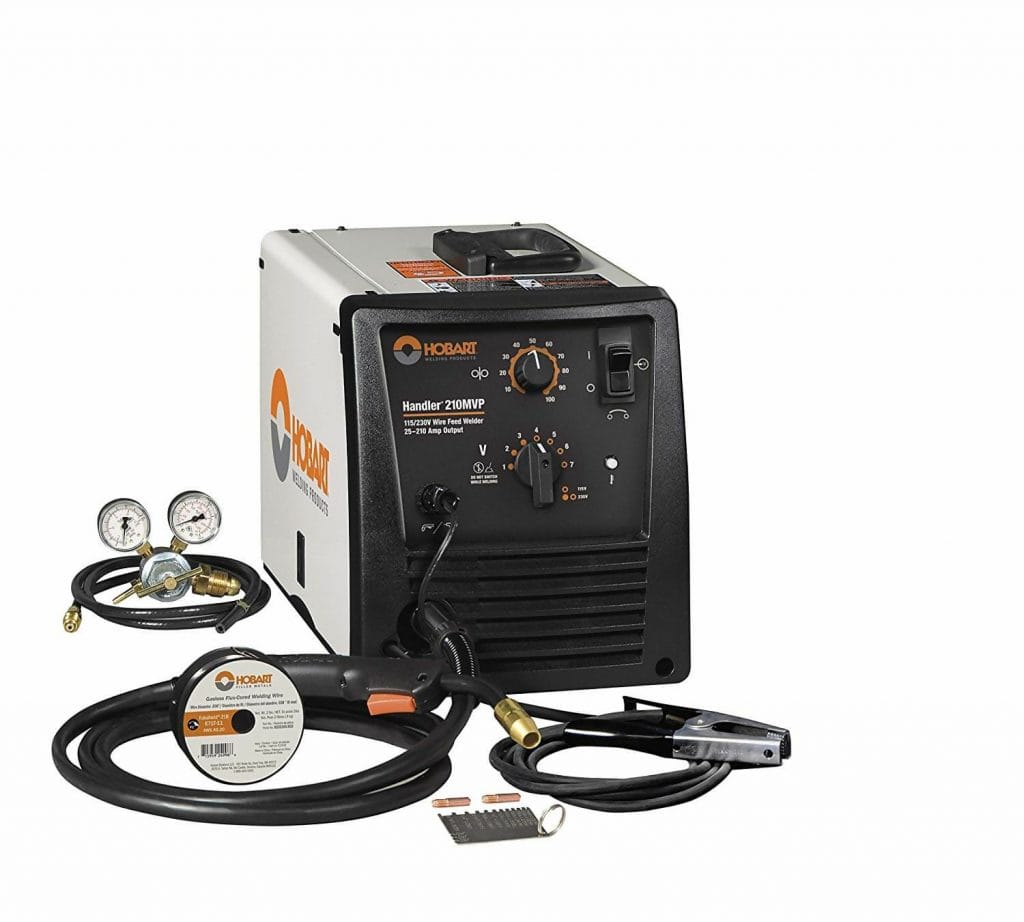 Pros:
Versatile
Simple setup
Durable and sturdy construction
Easy to operate
Long-lasting and reliable
Solid metal drive roller system
Easy to change the spool gun and the drive rollers between sizes and types of wire
Has a 3-year limited warranty
Cons:
Extremely heavy and flimsy
No spool gun included
Stiff ground wire
The wire feeder and the door hinges are somehow cheaply-made
The on/off buttons and the gas regulator are not smooth enough
Review:
Are you looking for a MIG welder that can be used for anything? The Hobart Handler 210 MVP MIG Welder is just that and it's clear why it's one of the best MIG Welders under $1000. The unit has a dual voltage of 120V and 240V. You can easily weld at 24 gauge of steel or even 3/8"-thick mild stainless steel.
What's more, the welder includes flux-core arc welding and you don't need a gas tank to use it. However, if you wish to use a gas tank, the 210 MVP comes with a regulator and a hose which are pretty handy. The duty cycle, when used at 115V, is 20% at 90 amps while the 230V is 30% at 150 amps.
Last but not least, the unit comes with tons of accessories like a 10 ft. spool gun, power cord, flux-core wire and etc. Whether you use it for MIG or flux-core welding, the Hobart Handler 210 MVP MIG Welder is one of the most reliable and versatile units in the list.
Pros:
Has a two-step trigger
Durable and heavy-duty
More affordable than other welders in the same category
Easy to use
Easy to set-up
Good welder for beginners and hobbyists
Cons:
Not portable due to its heavyweight
The drive motor is a little louder than normal
Thin cables
Might get slightly hot
Some report poor quality control experiences
Cheaply-made welding mask
Review:
If you're looking for a welder that's a little above the average, LOTOS MIG175 will impress you with its effectiveness. The 175 amps of power are quite enough for harder tasks. At the same time, it's also not too much which makes it really suitable for beginners.
Apart from that, you get a pretty easy-to-use, durable, long-lasting and heavy-duty welder. On top of that, the MIG175 comes with a 10 ft. 4" lightweight spool gun which is very easy to use. Last but not least, the price tag on this unit is probably the most attractive of all features – it may fall in the $500-and-above category by a few dollars but purchasing this MIG welder would definitely be a big bargain.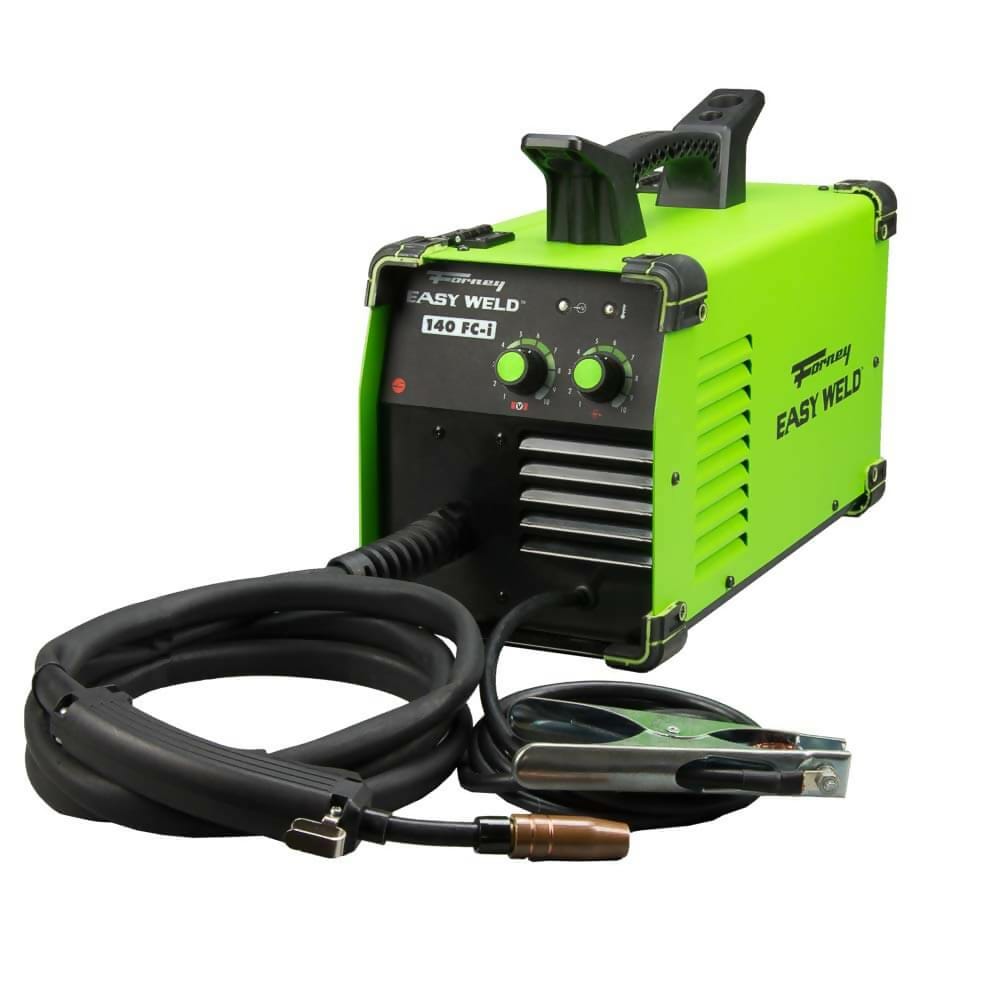 Pros:
Lightweight and portable
Good for hobbyists and beginners
Good customer service
Easy setup and instructions
Easy to use
Cons:
Doesn't have a steady and fast wire feed
The cord might come a little short
Review:
Perfect for beginners, the Forney Easy Weld 261 is affordable, yet a very worthwhile MIG welder. The unit can use 0.30" and 0.35" flux-core wire along with an infinite voltage and wire feed speed control. What's more, the Forney Easy Weld 261 weighs only 19 pounds which makes it pretty easy to carry so you can weld up to ¼ "-thick mild steel wherever without any problem. As for the accessories, this unit has it all – an 8' MIG gun, 8' ground clamp, an integrated handle with torch wrap and a 20A-15A adapter, all backed by a 12-month warranty.
Final Thoughts
Unsurprisingly, the MIG welders under $1000 are much more than the expensive ones. This surely will give you a hard time when choosing the best option for your needs. However, being precise in your preferences is bound to make your choice as easy as pie. No matter a beginner or a professional, the list of best MIG welders under $1000 we have compiled for you will serve well enough to find you a perfectly suitable long-lasting and high-quality product.