7 Quietest Portable Air Conditioners On The Market 2019
Filed under: hvac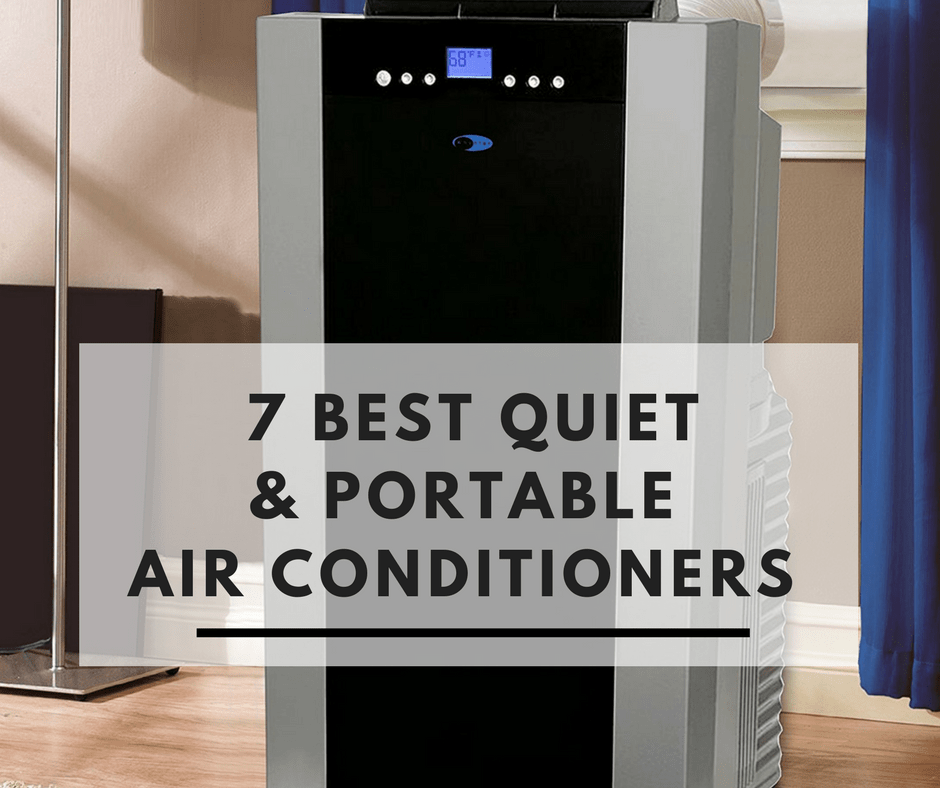 Update June 2019: The Whynter Elite is currently discounted with 30% off and presents an excellent deal. This is the quietest portable air conditioner we found with a decibel rating of 52dB.
There's nothing like stepping into a gloriously cool house in the height of summer, courtesy of the quietest portable air conditioner on the market.
Designed to provide comfort, air conditioners are available in a wide range of models, with different functions such as combined heating and cooling.
Still, there's no denying that central air conditioning can eventually get quite expensive. For this reason, several people choose to go with portable air conditioners.
Before you can make an educated choice among the quietest portable air conditioners available on the home appliance market, it is important to take a few things into consideration- especially if you're a complete novice to these apparatuses.
In fact, choosing the right unit can actually help you cut back on energy bills.
See our table below for a quick summary:
Quietest Portable Air Conditioner Buying Guide
Before you invest, there are a few things to consider in order to ensure that you make the perfect choice according to your budget and personal needs. These include:
Noise Levels
While most of these air conditioners can be categorised as quiet, the noise levels do still vary between each model. Here's a simple bar chart that lets you quickly identify the quietest of the models.
As you can tell the Whynter Elite is the quietest of all the portable air conditioning units. If keeping noise to a minimum is your top priority then this model is the best for you.
Measure Your Room
To ensure proper cooling/heating and energy consumption, it is crucial to compare  your room's measurements to the apparatus' BUT (British Thermal Unit):
Sq Ft of up to 200: 8,000 BTU unit
Sq Ft of up to 300: 10,000 BTU unit
Sq Ft of up to 400: 12,000 BTU unit
Sq Ft of up to 450: 13,000 BTU unit
Intelligent Cooling
In this day and age, it shouldn't cost you so much more to opt for a unit with an intelligent cooling system. These are designed to help you adjust and control your air conditioner directly from your smartphone and is quite a handy option to have around.
Pay Close Attention To The Features
Nowadays, air conditioners come with a wide range of additional features that will enhance both ease of use as well as the machine's operation. For example, you might want to look into a unit that's enhanced with a dehumidifier that will clear the air of any excess moisture without necessarily cooling the air.
It also pays off to opt for a unit with a fan function that circulates air in the room, providing a natural breeze. To derive more value for money, you can also choose an air conditioner that presents both a cooling as well as a heating feature.
Best Quiet Portable Air Conditioners On The Market
If you would like to invest in a quiet portable air conditioner, here are some of the highest-rated models on the market: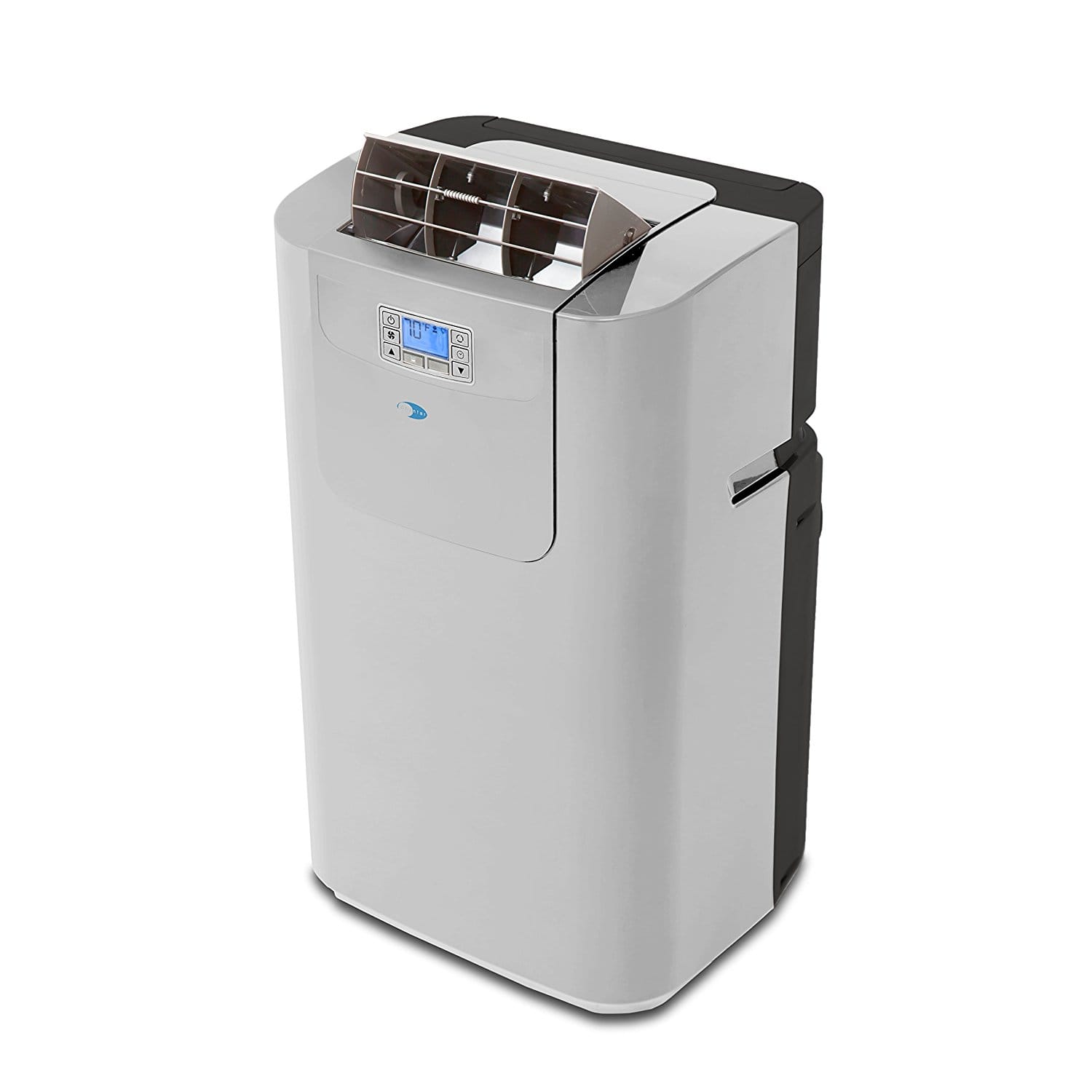 Best Portable Air Conditioner - The Whynter
The quietest portable air conditioner on the market, Whynter ARC-122DS Elite is ideal for any light sleeper. Boasting a patented auto-drain function, this model has a near perfect rating and has been hailed by users as being as one of the best portable air conditioners on the market.
Thanks to its auto-drain function, this air-con easily exhausts condensation in the majority of environments. Users can choose between three different modes: Fan, Dehumidify and Cool. With a dehumidifying capacity of 76Pts per day, the unit has a power consumption of 1000W/9.0 Amps and comes with a washable pre-filter as well as a carbon air filter.
With the boxed packaging, users also receive an exhaust hose as well as a window kit. Casters are also included for ease of use as well as mobility. A long-range remote control has also been included to help you operate the air conditioning unit from a distance. In spite of its smooth operation, this apparatus boasts a compact size which makes it ideal for small apartments, offices and other space-restricted areas. It measures 17" x 29.5" x 16 inches, which makes it fully portable.
Thanks to the adjustable thermostat, you will be able to choose from different temperatures ranging from 61° - 89°F. The Whynter ARC-122DS also sports a fully-programmable 24-hour timer as well as an auto-restart feature after any type of power outage.
So what's the real story?
Users were extremely satisfied with its quiet operation in particular, with the majority of them claiming that the unit was so quiet that it did not disrupt their sleep when left to run at night. The only drawback reported with this apparatus was that some customers found it difficult to assemble the hoses.
The fans will also stay on 24/7. They don't take a break when the room reaches the desired temperature. In addition to this, there is not a display on the unit of the current room temperature. Adding these options would see this become a perfect unit.
Whynter 14,000 BTU Portable Air Conditioner with Storage Bag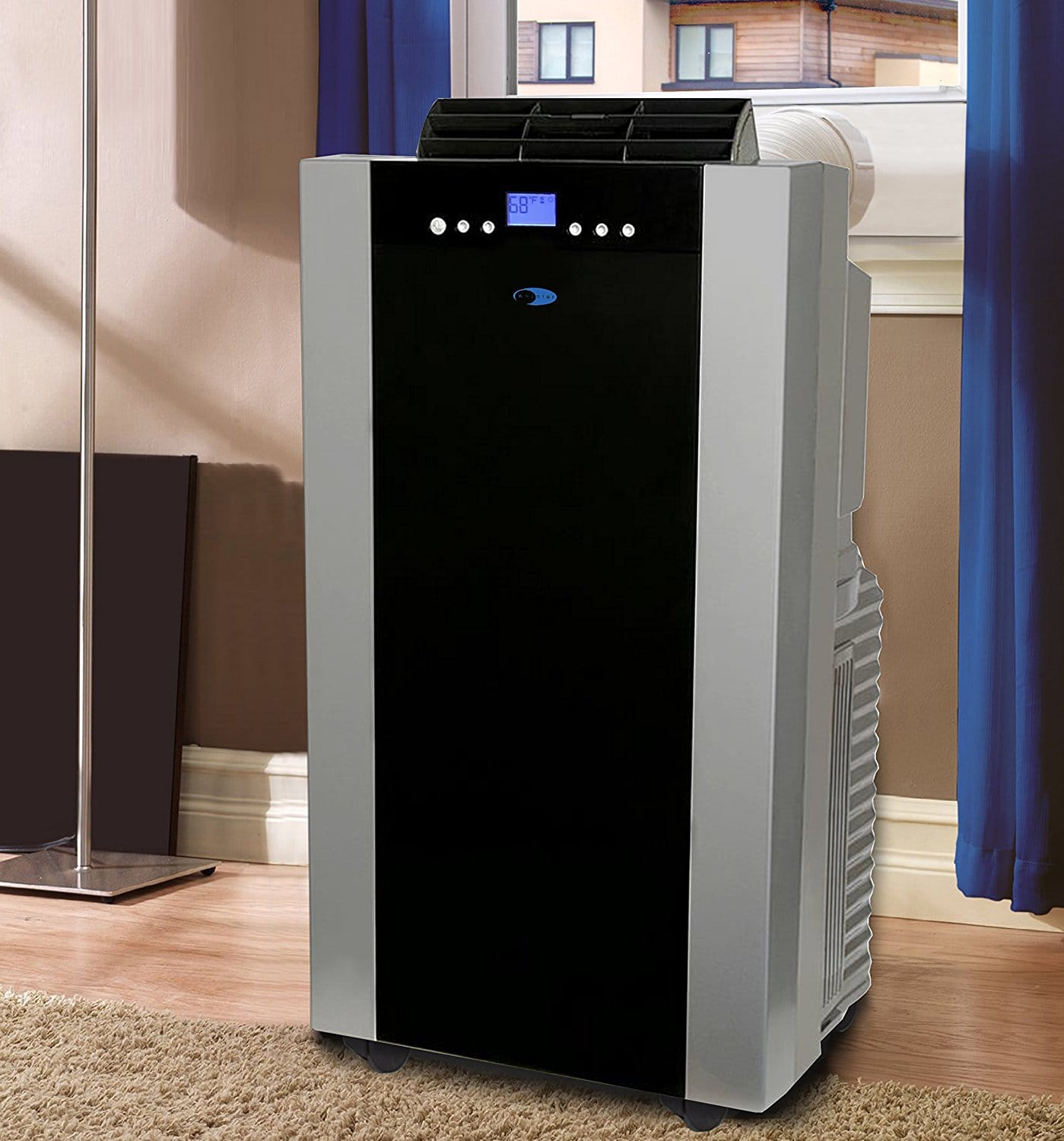 If you're browsing for the best portable air conditioner on the market, you might want to check out the best-selling Whynter 14,000 BTU. Three different modes are includes: Fan, Air Conditioner and Dehumidifier. Most users appreciated the 24 hour programmable timer as well as the thermostatic control that ranges between 61°F - 89°F. According to the customers, the boxed packaging also includes an inside exhaust hose, washable pre-filter, carbon air filter as well as a remote control for ease of use.
Featuring a dehumidifying capacity of no less than 101 pints per day, this unit enables you to choose from 3 different fan speeds. Customers especially liked the addition of a window kit as well as an intake hose. With a maximum power consumption of 1250 W/ 10.8A, this air conditioner boasts both a lower and upper drain option, consequently preventing any excess condensation.
Customers additionally liked the protective cover that came with the apparatus: according to them, this helped prevent a build-up of dust, which made maintenance and cleaning much easier. Because it boasts a compact size, this machine can be used in smaller spaces such as offices and apartments.
What does all this mean for me?
The majority of customers claiming to be satisfied with its quiet operation and low noise levels. However, some customers claimed to have been disappointed with the lack of a heating feature. Consequently, this air conditioner can only be used during the summer.
Costway 10,000 BTU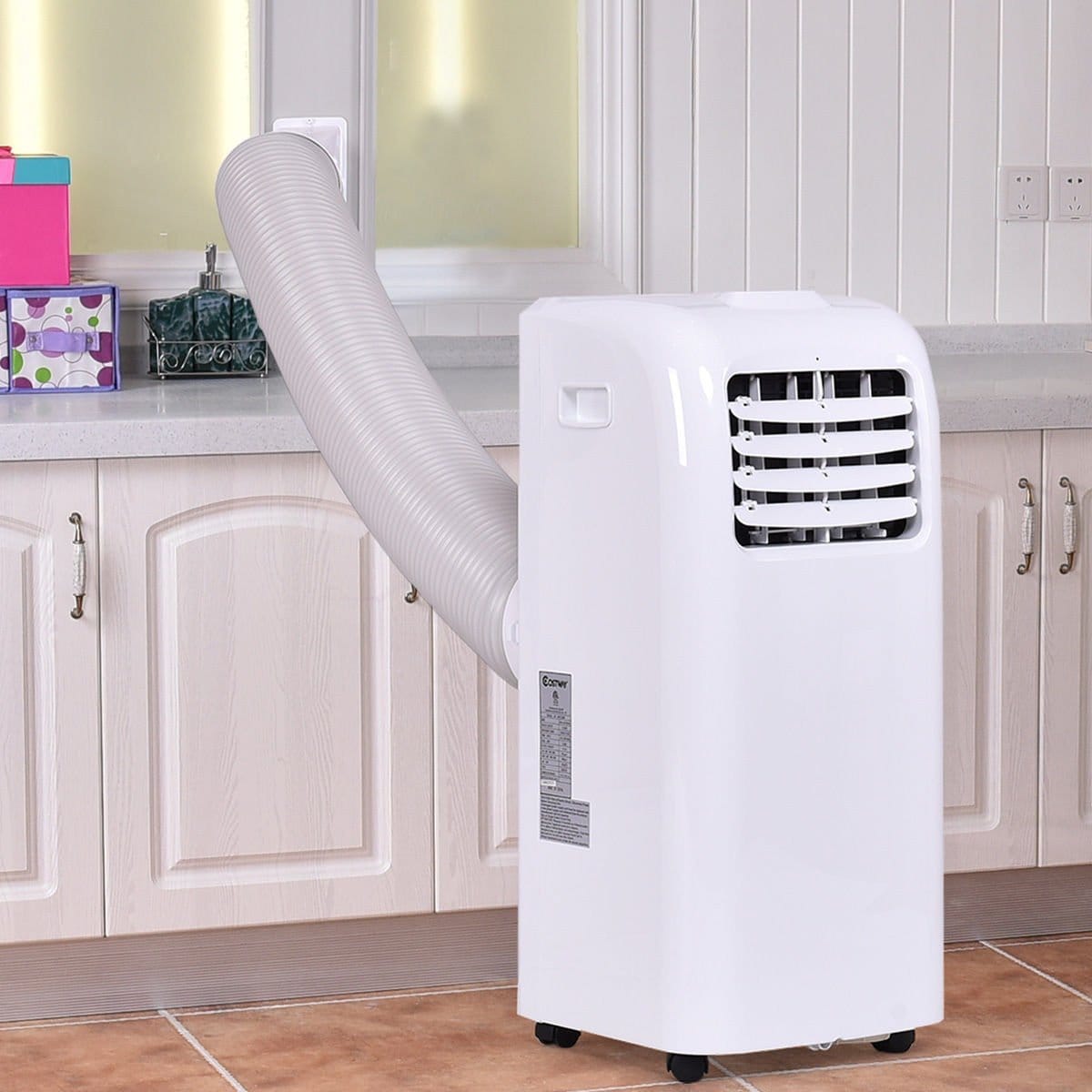 According to most customers, the Costway 10,000 BTU provides excellent value for money thanks to its plethora of features and ease of use. One of the best quiet and portable air conditioners, this model only costs between $200 and $300 but does not compromise on quality. With a variety of features, this unit is ideal for both office and home use since it is on the more compact size.
Indeed, the Costway 10,000 BTU only measures 12" x 28.1" x 13.3" and can easily fit in space-restricted areas. Best of all, it provides an extremely smooth and quiet operation with a noise range not exceeding 55Db. Customers can shuffle between different temperature ranges from 62.6℉ To 86 ℉. The remote control offers ease of use while the four casters enable quick cooling and easy movements.
What do you need to know?
Most customers liked the addition of the Quick-Install Window kit that came with the boxed packaging: According to them, this kit can be used to exhaust the unit through both vertical and horizontal openings alike. Customers also liked the dual Up/Down air deflection feature which helped eliminate any hot spot. An auto condensate circle as well as a water-full control is also included. On the flip side, some customers bemoaned the lack of a drain hose, which meant additional installation issues for them.
BLACK+DECKER 12,000 BTU Cooling, 10,000 BTU Heating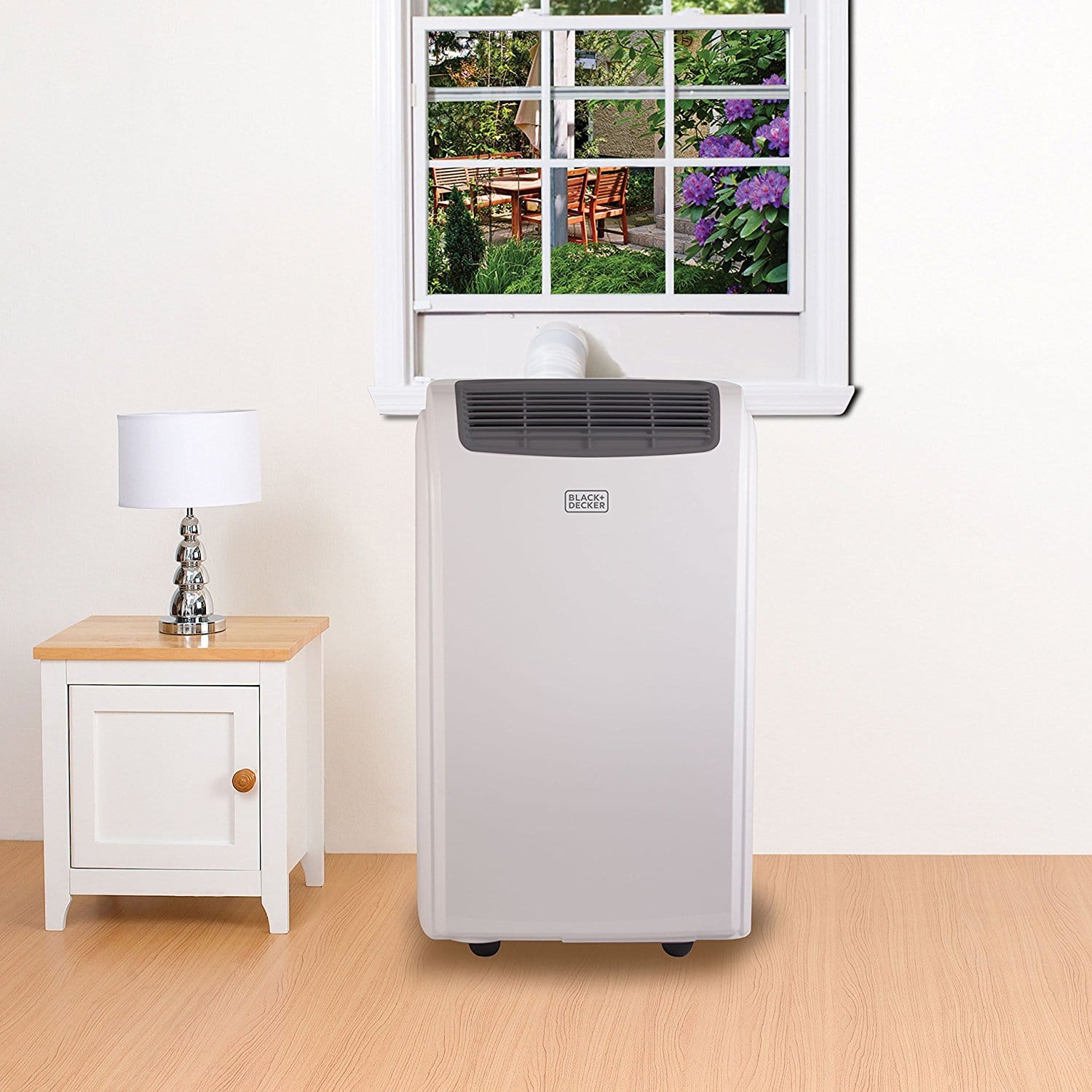 The Black and Decker BPACT12HWT costs between $300 and $400, but in spite of its fairly affordable price tag, this unit is packed full of features designed for an entirely smooth operation. This unit is designed to heat a room of approximately 10' x 20' and cool a room of 20' x 25'. Most customers were extremely satisfied with the unit's operation, especially because of the vertical motion which ensured a consistent temperature as well as an extremely powerful airflow and whisper quiet operation.
Click Here For More Information On The BLACK+DECKER Model
With this air conditioner, users can also benefit from a sleep mode that will ensure you walk in a pleasantly cool house every day. According to reviews, the great majority of customers also enjoyed the 24 hour on/off timer and the simple, precise electronic controls which did enhance ease of use.
This bucket-less unit easily combines dehumidification, fan and cooling modes, while ensuring an extremely quiet operation. As far as the best portable air conditioners go, you really can't go wrong with this model considering its lack of negative reviews. In fact, the only reported drawback about this unit was a lengthy installation process.
NewAir Portable Evaporative Air Cooler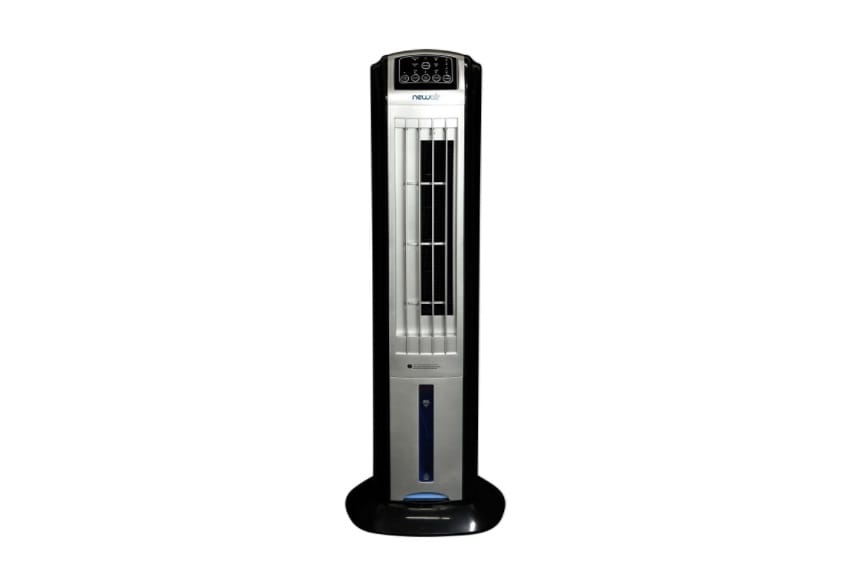 Update: We no longer recommend the NewAir AF-310. NewAir have dropped the ball by shipping out faulty and damaged versions of this product. Give more thought to other budget models.
Priced between $100 and $200, the NewAir AF-310 is a highly compact and mobile air conditioner that can easily be used in just about any room of the house. Also ideal for offices and smaller apartments, this product delivers a surprisingly smooth operation in spite of its affordable price tag.
Users quite appreciated the 7.5 hour timer and remote control which made it easier for them to use. Boasting a multi-functional design, this air conditioner features an oscillating airflow. In spite of its compact size, customers were pleased to note that it can easily cool an area of 100 square feet in a mere few minutes.
Best of all, the NewAir AF-310 only costs a fraction of regular air conditioning, which is ideal for anyone who's on a budget. With a 60 degree oscillation, this compact air conditioner can also be set on Natural Mode, which is designed to replicate a natural breeze. The cooling system additionally features cloth curtain materials as well as a bacteria-free water pump circle unit which ensures that the produced cool air is adequately moisturized.
When cheapest is the best…
Because of its affordable price and wide range of features, this air conditioner received virtually no negative feedback. Quite on the contrary, it has an impressive 4.7 star rating on most review sites.
Other Contenders
Honeywell 10,000 BTU Portable Air Conditioner with Remote Control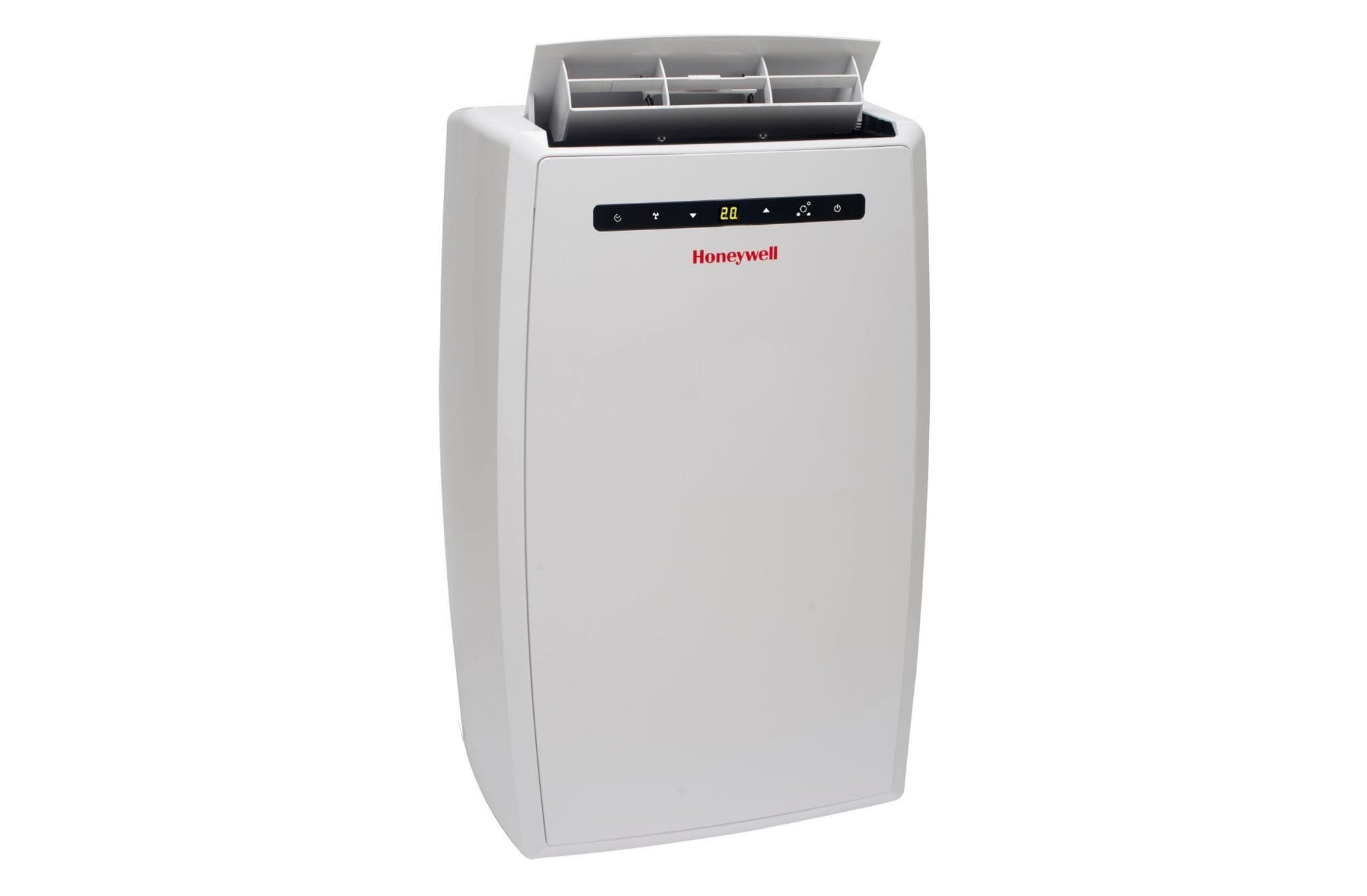 The second quietest portable air conditioner is the Honeywell MN10CESWW 10,000 BTU which offers quite an impressive list of features for this price range. Available in white, black or black and silver, this unit boasts a sleek, contemporary design which can both dehumidify and cool areas up to 350 square feet. According to reviews, most customers were satisfied with the 3-in-1 technology as well as the electrostatic filter. Best of all, it also has a fan-only function as well as a remote control that will help you control the unit from just about any angle.
Contrary to a fixed air conditioner, this particular product isn't fixed to one room of the house or office, but thanks to its four caster wheels, it can be wheeled just about anywhere you want. Customers also liked the auto-evaporation system that ensured as many hours of continuous use as they wanted, without having to drain water. With the boxed packaging, customers additionally receive an easy-to-use install window venting kit as well as a highly flexible exhaust hose. In fact, the window vent can easily be removed when you're not using the unit.
But there's a catch…
While this apparatus has been ranked among the best portable air conditioners on the market, a few dissatisfied customers did complain about its warranty coverage. A couple of people also claimed they would have preferred a quieter operation, but this was not a widespread complaint.
EdgeStar 14,000 BTU Portable Air Conditioner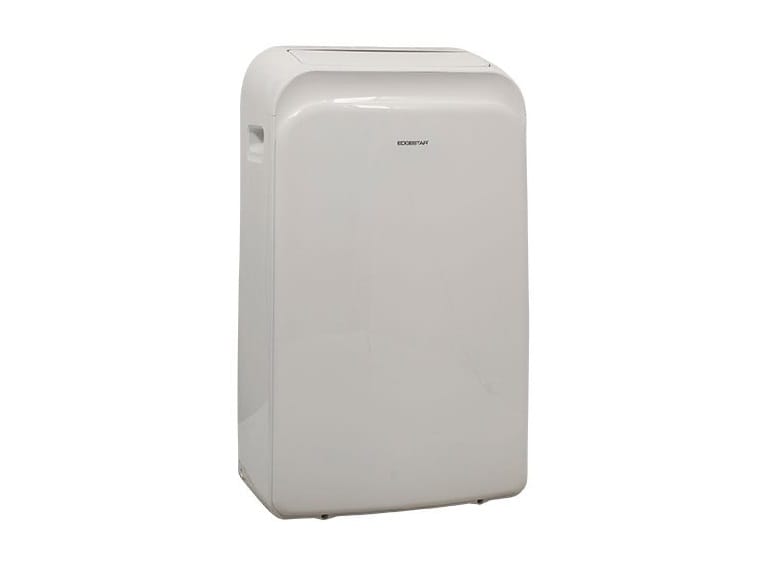 The EdgeStar 14,000 BTU is quite compact with dimensions of 35" x 18.75" x 15.75". Depending on the heat load, this air conditioner can cool up to 500 square feet and has an impressive dehumidification capacity of approximately 71 pints per day. Extremely quiet, this unit includes options designed to facilitate ease of use such as a remote control, casters as well as a window vent kit.
According to reviews, the majority of customers appreciated its intelligent auto mode as well as its three fan speeds and 24-hour timer. Users also liked the electronic controls as well as the self-evaporative technology which saves you the pain of having to drain the unit since it automatically exhausts any liquid that has been formed by condensation.
So what's the catch?
While this apparatus received mainly positive reviews, some people did complain about the rather complicated window assembly. Other than this minor setback, most customers did rank this model as being quiet and among the best portable air conditioners available for household and office use.
Now you have you're deliciously cool quiet portable air conditioner, you should find ways in order to reduce the cost of air conditioning. Check out the following Youtube clip which will show you exactly how to do that!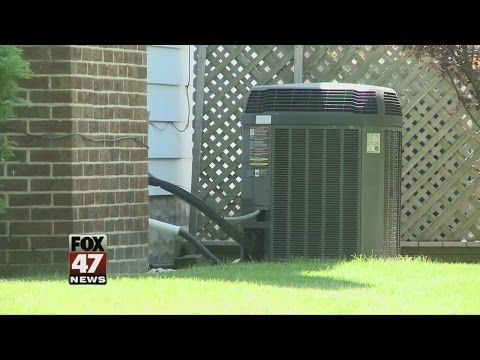 How To Get The Most Out Of An AC Unit And Reduce Electricity Consumption
There is hardly a home without some sort of an AC unit. Whether it is a small, portable one, or perhaps a larger unit, every home, especially in places with warmer climates, has one. Now, these devices as we all know spend electricity and not only that - they have a bunch of other stuff that you need to keep an eye on, such as filters, cables, and other parts.
If you have bought an AC unit and immediately regretted it after your first electricity bill came in, you are not the only one. But, there are some tip and tricks you can utilize in order to keep the costs down to reasonable amounts, but still have the benefits of cooling down.
There are numerous ways you can help affect the performance of your AC unit to keep it from spending too much power, but also work better and longer. There are certain things you need to pay particular attention on when purchasing, maintaining, positioning, and using your unit.
Here are some of the things you will need to know, keep an eye on, or install in order to achieve that:
Programmable thermostat
Clean filters
Closed vents
Regular maintenance
Energy-efficient unit
AC temperature increase
Don't go under 25°C
Ceiling fans
Keep the AC unit away from direct Sunlight
Insulation of the room
Programmable thermostat
Having a programmable thermostat utilized in your cooling system is mandatory. It is estimated that this will save up to 15% on your electricity costs because the thermostat will only engage the AC when it is needed, as your programming demands.
Clean filters
You should clean your filters or replace them at the beginning of every heat season, and keep checking them every month. Also, make sure the ducts are free of leaks, because even the smallest holes can cause you to lose up to 25% of the cool air flow.
Closed vents
Shut the ventilation shafts in rooms you rarely use so you do not cool them unnecessarily.
Regular maintenance
You must maintain your AC units regularly. Having an annual maintenance, just before the heat season begins, is an excellent way to secure it will work properly and efficiently. An efficient AC unit will work better at less energy consumption, keeping your costs down. Another useful tip is to ask your energy provider has a peak-demand rebate system or other energy-efficient rebates. Ac units lose about 5% on efficiency yearly, if you don't have them serviced.
Energy efficient unit
When purchasing an AC unit, you should get one with a seasonal energy efficient ratio (SEER) of 13 or higher. It should also have a thermal expansion valve, which allows the unit to be much more efficient during very hot weather.
Night fan
If you have a portable fan, or a fan only option on your AC system, make sure you take advantage of cool summer nights.
AC temperature increase
The temperature setting is the main thing affecting the energy consumption of the AC unit. The higher the setting is, the lower the energy consumption, naturally. It is estimated that the 25°C temperature is the ideal temperature for having cool comfort and minimal energy consumption.
You can easily calculate the electricity saving percentage too. Let's say that the outside temperature is 45°C, and your AC is set for 20°C. If you set it to 25°C, the energy saving will be about 20%.
Here's how it works:    x 100 = 20% savings
It is estimated that every degree under 25°C will increase electricity consumption by 3%. This naturally goes for rooms that have good insulation.
Ceiling fans
You can use fans together with larger AC units in order to achieve energy savings and efficient work. But, if your roof is directly exposed to Sunlight, and the room with the fan is directly under that roof, do not use the ceiling fan there because it will only transfer the heat down and actually heat up your room. The AC units will have to work longer and harder to cool off your room, and you will actually increase your expenses, so keep an eye on that.
Placement of the AC unit
Whether you have an outdoor unit, a window unit, or a portable AC unit, you must take care where you place it. Never place your AC unit in a place where it will be exposed to direct sunlight, or get a lot of heat from it. If you have a window unit, place it in a window that is ideally turned to the North, or at least South. Also, do not place your AC units in cluttered spaces with limited air flow, because this will obviously make it less efficient.
Insulation of the room
This plays a very important role in cooling your room and the efficiency of your AC unit. AC units are meant for cooling rooms that are closed, or the heat entering the room is minimal. You can leave your window open during summer nights, and in a way even help out your AC system, but you should close all heat pathways during the day.
You can also take other steps for reducing the heating of your home, like: white painting the roof, putting thermal insulation on the ceiling, and using thermal insulating wallpaper for the walls. You should also keep the doors and windows close, and use curtains to repel direct Sunlight entering your home.
At the end of the day, most of us are just interested in what the quietest portable air conditioner is and that is the Whynter Elite.