Best Portable Sawmills
Filed under: tools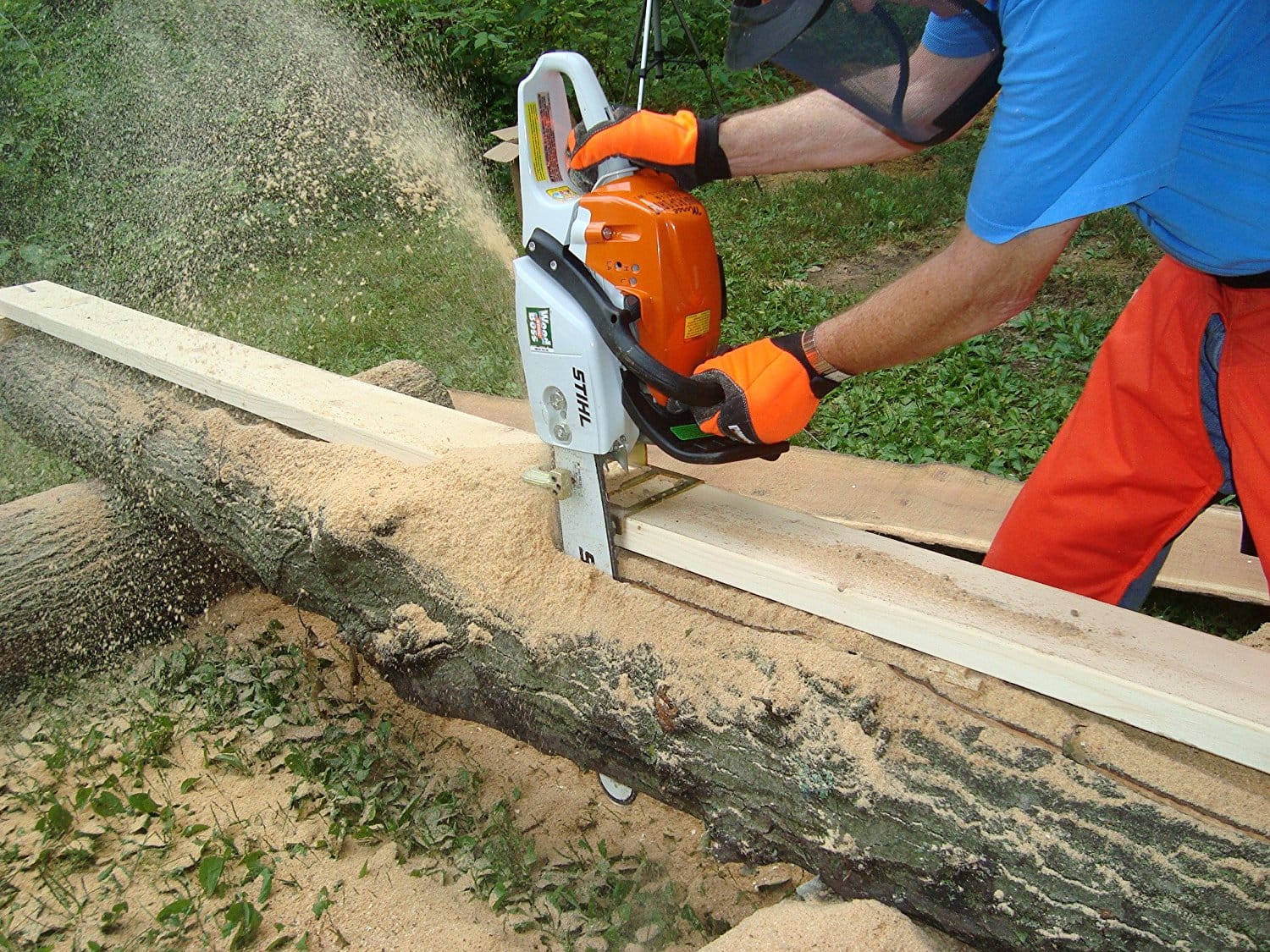 The main question everyone asks when thinking about purchasing a portable saw mill is does it provide enough functionality for commercial use. While the buyer's guide we constructed is made with this in mind, it will also point out the details which help with other things, like the smooth cut, the log waste during cutting, and similar stuff.
The things we will first consider are:
Chainsaw Mills vs. Sawmills
Is it worth buying for personal projects?
Is it a good business investment?
---
A Buyer's Guide
---
Portable Sawmills vs. Portable Chainsaw Mills
The main differences here concern of course the pricing and functionality.
Portable sawmills are many times more expensive than chainsaw mills, but you get your motor and butting mechanism included, while chainsaw mills only give you the basis while you still need your own chainsaw to work with it, naturally.
Probable sawmills can do faster cuts and are more reliable in terms of safety, cut smoothness, handling during the cut, etc… Chainsaw mills are a bit harder to cut with. It is generally more risky to make a mistake in the cut, and the safety is not that high as with sawmills, but chainsaw mills are easy to carry around and to set up.
Setting up the sawmill takes time, even if it is a portable trailer type. You need to set it up and balance it first, which can take up huge amounts of time. Also, you need to mount each individual log on to the main bed and secure it, before you start to saw. Keeping track with measurements of the board cuts can also be tricky, but some models dealt with this question nicely.
Chainsaw mills are easy to set up because they actually mount on the log, not the other way around. The chainsaw mill slides over a board, which is placed on the log, but this brings up many questions. How well balanced is it while rested on the log? Is the log held firmly in place?
Portable sawmills have their own engines and many mechanisms, but they are generally not hard to maintain or fix. Most of the parts used can be found in all general stores. The blade sometimes demands sharpening very often, depending on the tree hardness.
Chainsaw mills have an incomparable smaller number of parts. It practically cannot be broken, so no fixing and low maintenance. The guarantee most manufacturers offer is lifetime.
Profitability
Neither chainsaw mills nor basic sawmills are not meant for much commercial use. If you want to really make it a full time job cutting logs, you will need a sawmill with some highly advanced features, like with helping methods of mounting the log on to the bed, goo mobility for the entire mill, durability, blade sharpness, and stuff like that. Basic sawmills are meant for your personal use, and possibly for some seasonal commercial work, but nothing regular. It can however come in nicely if you are in to carpentry. If you do not have the need to move it around very much, you can probably get the most out of it.
Chainsaw mills are much easier to carry around, and you can do some commercial work with it, but again not much because there isn't much you can do. You can maybe help somebody cut boards out of their logs, but that's it. Again, it may be utilized for some seasonal work, like in the autumn, but nothing much.
Some points to consider
A good sawmill is not that easy to come by. You must consider all the work and potential problems that may occur and see how a specific manufacturer has dealt with them.
For instance, the first thing that comes to mind is mobility. If you plan on moving your sawmill around often, you should probably get one that comes as a trailer, often referred to as the 'trailer package'.
But, this can have a potential drawback. If the sawmill is on wheels it means you will have to lift your log that much higher.
What you should do is to look for sawmills that use a combination of wheels and resting legs. Also, check thoroughly on the method of log loading offered. Some mills have a cable toe rotation system, while others simply provide you with a cant hook.
Also, check the power of the motor and especially the quality of the blade. Some blades dull quite easily and waste even more of your time for sharpening. Safety is also an issue, so check for all the protection shields and stuff like that. Blade lubrication system is a must, but you should also ask to try out the handling method just to see how it feels and if you are comfortable using it.
Take special care to not the board thickness measuring method. A good sawmill has an engraved numerical system, that will let you easily lower the blade to get the exact thickness you need.
The rails upon which the main sawmill head slides on also need to be without any blank spaces. Some models have skipovers on the rails, meaning you will have a bump –like effect when going over them, which can compromise your smooth cut. You can weld this yourself, but keep it in mind.
And, lastly, check for the thickness of the blade itself. A too wide blade wastes too much lumber.
What to look for on a good Chainsaw Mill
First of all, a good chainsaw mill is a simple tool, built with functionality in mind. Never ever go for fancy looks, before you've checked the durability and handling feel. Look for the models which have some safety shields and stuff like that.
Check out if it runs smoothly on the board it slides on and see if it will be heavy for you to handle for extended periods of time.
The best chainsaw mills can fit any chainsaws and adapt to any thickness, which is important if you plan on using it in commercial purposes.
The build needs to be good and the material stainless. IF everything is in order, these tools can last you a lifetime. They are incredibly more affordable than sawmills, but have less versatility and usage, and less potential for commercial use.
Conclusion
So, ask yourself - what do you want it for? If you simply want to cut boards out of some trees on your property, chainsaw mills are a good choice for you, providing you have a chainsaw.
IF you do not have a chain saw, or want a quick way to make boards, or you are even thinking about commercial usage, than sawmills are right for you.
---
Our Top 3 Sawmills
---
Wood-Mizer LT10 Portable Sawmill
The Wood-Mizer LT10 portable sawmill is an entry level unit, ideal for people who are looking to minimize their investment and obtain an independent method for doing lumber projects. If you like to do things yourself, this model is one of the most basic sawmill sets out there, minimizing maintenance, investment, and expertise level needed to operate it.
It comes with enough power to cut hardwoods and softwoods alike, with a capacity to handle logs 24 inches in diameter by 11 feet long. It has a low bed profile and requires you to manually roll your logs on to it. You get a cant hook included in your purchase for rolling the logs, and the main bed has 4 adjustable side hooks to keep them in place.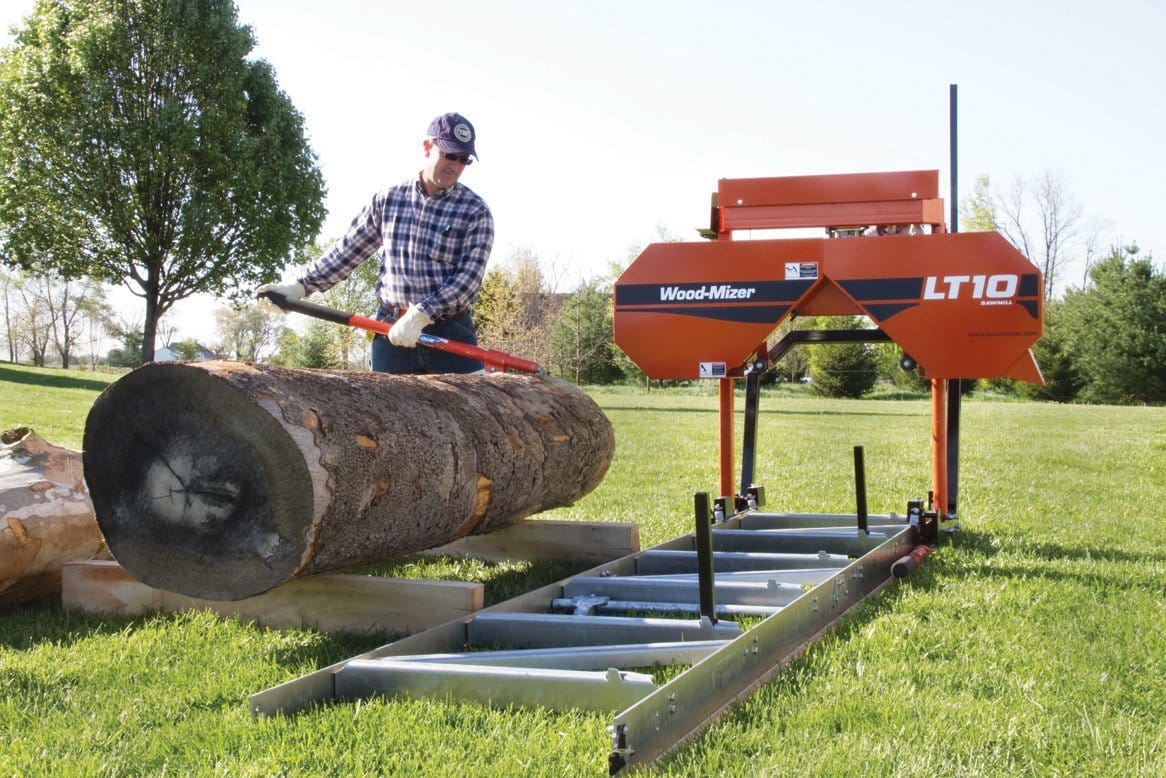 Lifting and lowering the main saw head is controlled by a lock handle and the number scale. The blade is engaged manually and you push the head along the log to move the saw, as with most of these sawmills. The lubrication system is also available on handle activation, preventing pitch build-up.
The diagonal bracing is a quarter inch thick zinc coated steel frame, making it strong and rust resistant. You can add additional bed extensions for longer logs, but they are optional and not included in the standard purchase.
LT10 comes with all of the Wood-Mizer customer support and quality, together with a 30 day money back guarantee and a two year sawmill warranty.
Pros:
Basic functionality assured and easy to handle
The bed is placed on the ground making it easy to roll logs on to it
Cant hook included
Lubrication system
Most parts are easy to replace and you can find them in any hardware store
Cons:
This is an entry level sawmill, no advanced functionality for perhaps professional use
Logs need to be rolled on the bed manually
No helping additions for rolling the log while already on the bed
A somewhat unsure measuring system
Norwood LumberMate LM29 Portable Sawmill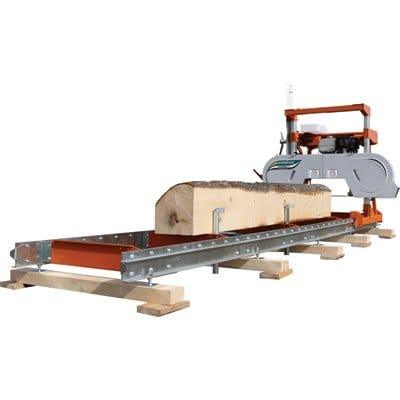 This Norwood LumberMate LM29 is a nicely rounded up model with basic and advanced features, capable of handling your own private and even professional needs.
It can handle logs up to 29 inches in diameter and can mill boards and beams up to 22 inches in width. Standard lumber length is up to 12 feet, but you can add optional extensions to the bed.
It has a patented self-locking saw head, and a controller with a single action operation handle. The milling accuracy is supported by a blade guide that is set up easily. Board thickness is controlled by a graduated scale with a build-in curve allowance that enables you to seamlessly saw boards continuously, without calculation and with easy switch. There is no faster measurement method anywhere and you even have a lumber production table as a reference. You can easily calculate lumber yield with the calculations indicated.
The main operating station has a two had design and can be adjusted to fit individual comfort. The main station bed has 10 adjustable support legs, all adjustable individually. You can use the optional trailer package, with wheels and only 8 support legs, if you are planning on transporting your sawmill station often. The trailer package can easily be transformed into a stationary model, by removing some of the parts and adding the stationary lockdowns.
The log loading and rotating system is available, allowing a single person to load logs on to the bed by simply rotating the handle which controls a single cable, tied to the log. There are additional accessories for log positioning and speedy board handling, all quite precise and in high quality. You get a cant dog for clamping squared cants and boards, and log rests can have a multiple purpose- as log rests, stand offs, and log rotation.
The standard engine is a 13 hp Honda engine, though you can optionally get a 14hp Kohler or a 16 hp Vanguard. You can even get a 240W electric motor, if you prefer to operate your mill on electricity.
The head rolls alone the bed smoothly and absolutely precisely, with extra stability features. You also have a standard blade lubrication system, to keep the blade pitch free. This model features a dual precision blade guide rollers, which support the blade all the way through the cut.
Pros:
Simple and easy to use design
Plenty of advanced features makes it usable for business purposes
Various helping accessories for stability, log loading, and blade precision
The graduated scale enables incredibly precise and fast sawing
Various convenient optional additions can be included
Good customer support
Cons:
The log loading and rotating wind up method uses a single cable, which sometimes is hard to balance
The trailer package (2 wheels and 8 legs) is an obviously better choice than the standard stationary (10 legs)
Timber Tuff TMW-2020SMBS Portable Sawmill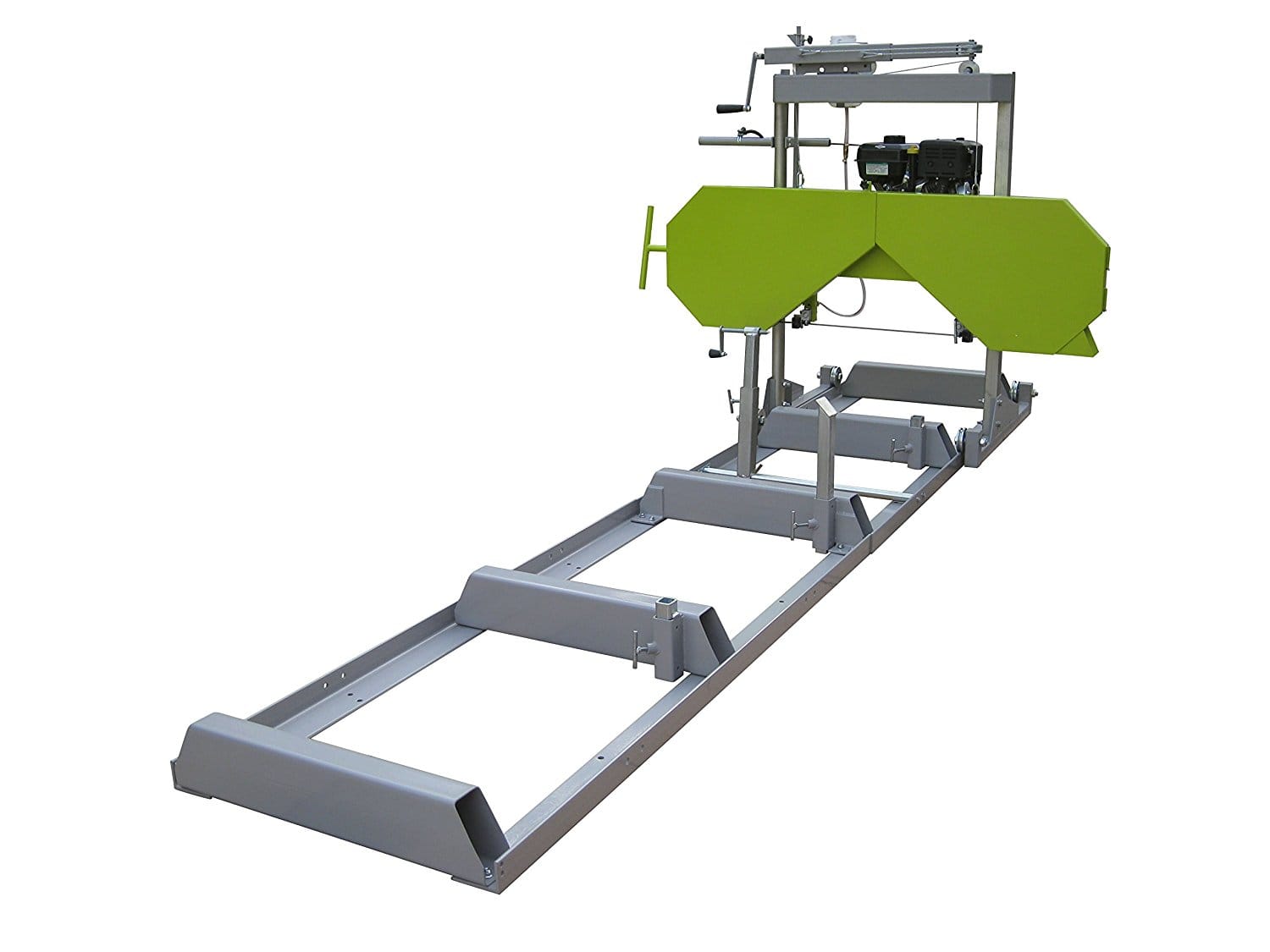 Timber Tuff TMW 2020MBS portable sawmill is another basic model with some advanced potential in case you perhaps plan on using it for semi-professional or maybe even professional projects.
The 306cc Briggs & Stratton engine is quite reliable and powerful, giving you a nice strong rotation enabling a clean cut. This is further enhanced by U.S. Lennox blade which is 144″ x 1.25″ x 0.35″, which means the wood loss will be minimal.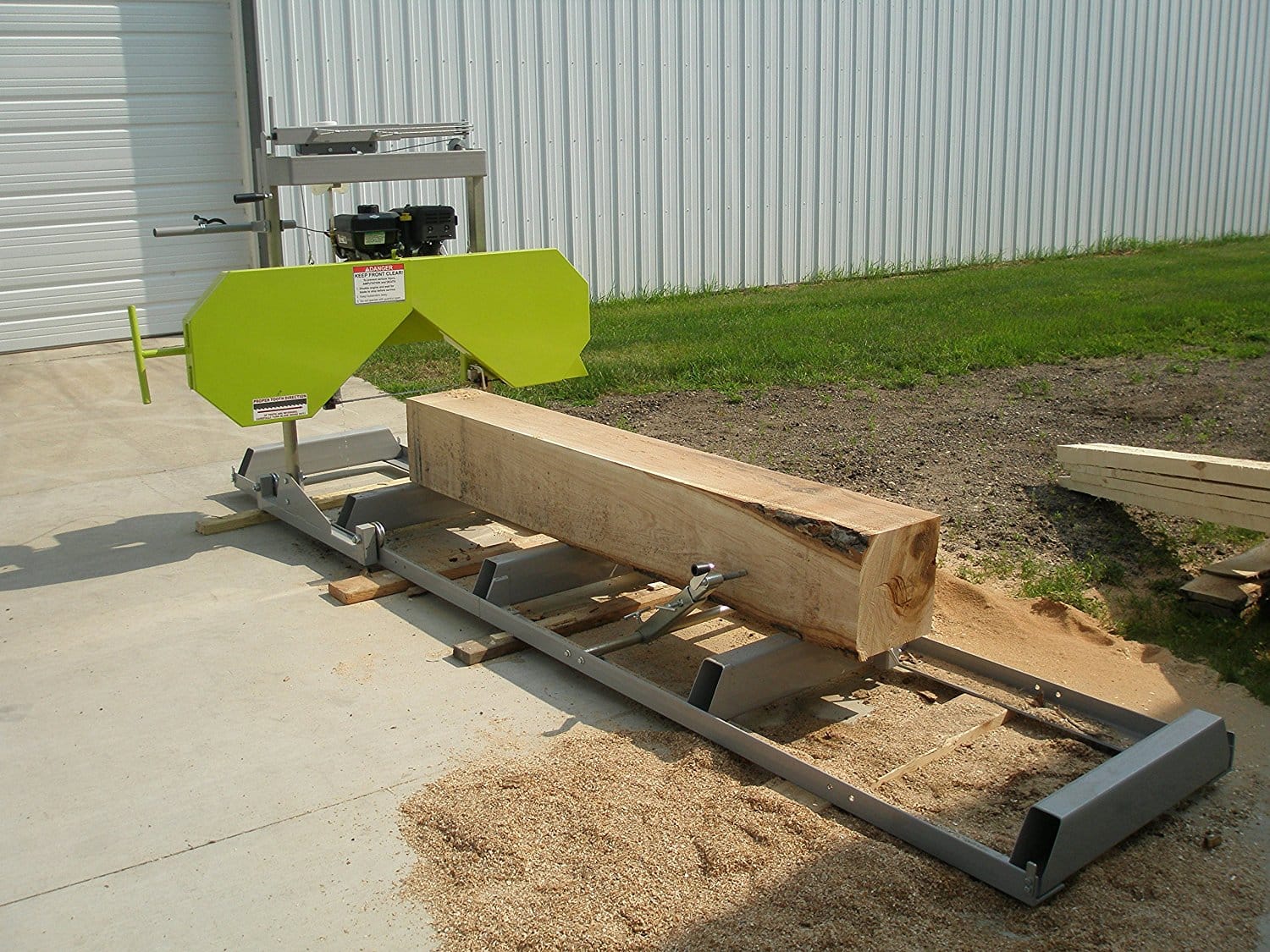 Sawmill is easily portable and highly adjustable. It can take logs up to 20″ in diameter, meaning that a max board width is 20″, which is highly sought after and can be very valuable.
The maximum board thickness is 4.5″, while a maximum cutting length is up to 110″.
The body is build out of durable steel which feels really durable and promises a reliable operation for a long time. The mill's measures are 153″x70.87″x66.15″ in total.
The standard warranty if 1 year, but all the parts are easy to find in any hardware store, and the mill is quite easy to maintain.
Pros
Portable and reliable
Compact and sturdy build
Very nice Lenox cutting blade 144″ x 1.25″ x 0.35″
Powerful 306cc Briggs & Stratton engine
Can cup boards up to 20″ width
Maximum log length is 110″
Maximum board thickness is 4.5″
Cons
No extensions for the basic bed
The trays upon which the head rests and moves on has a bump you will probably have to weld yourself
---
Our Top 3 Chainsaw Mills
---
Granberg Chain Saw Mill G777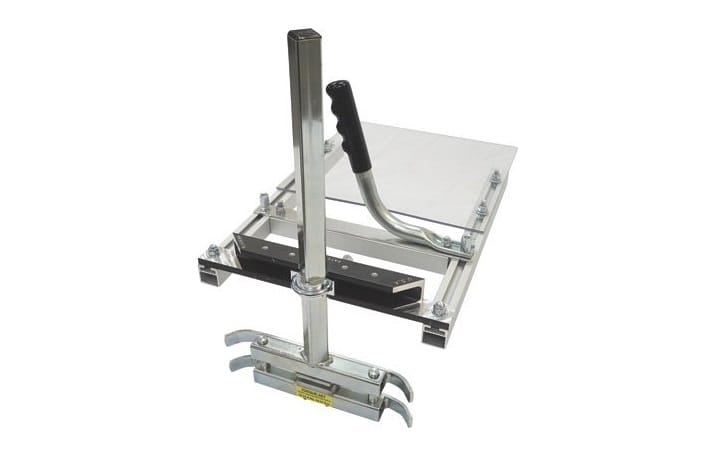 Granberg Chain Saw Mill G777 is a nice looking and easy to handle chain saw holder with some very impressive features. Besides being very affordable for the level of quality this model offers, it looks quite high class and offers much for its price.
The mill is lightweight making it easy to handle and it can access nearly all timber used in board making and carpentry. It can cut beams or boards alike, ranging from 0.5″ to 13″ thick, and a maximum of 17 inches wide.
The saw is attached without the drilling bar, making handling incredibly easy and quick to set up. It is designed to fit chain saws with 20″ or less bars.
The best thing is its beautiful design. The stainless steel looks and feels very sturdy, promising a long lasting life. During operation, you are protected by a thick glass surface, and your body position is on the other side of the mill, away from the blade. The sliding is also seamless, giving a smooth movement during the cut.
Pros
Very affordable
Durable build
High quality design
Maximum protection during sawing
A wide range of board and beam thickness
Cons
May not be the best item out there for semi-professional or professional uses
Haddon Lumbermaker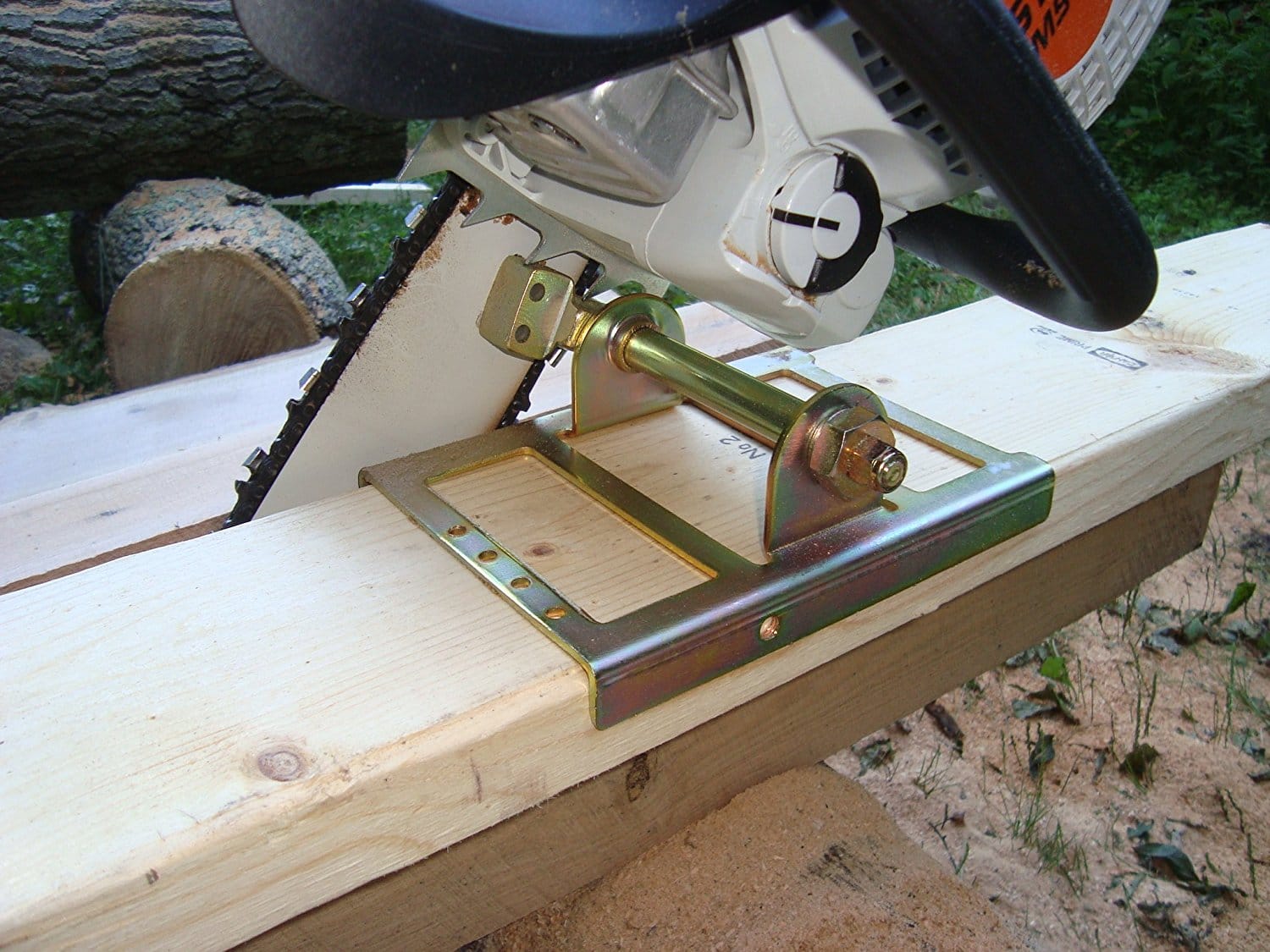 The Haddon Lumbermaker is a very positively reviewed model amongst all other sawmills and similar tools. Many online users have shown real satisfaction with this product, but the best thing is that it is even used in professional purposes in some cases. However, its best quality must be its price, because it is well below the standard models of this class, even half price against some.
The design is nothing flashy. This Haddon model looks like a plain lumber cutting and carpentry tool, but the build feels sturdy and inspires confidence. This must be here the price went down so much, because it was obviously build with functionality in mind, while they left out aesthetic details. Being a tool for very delicate and potentially dangerous operations, functionality and safety are naturally priorities.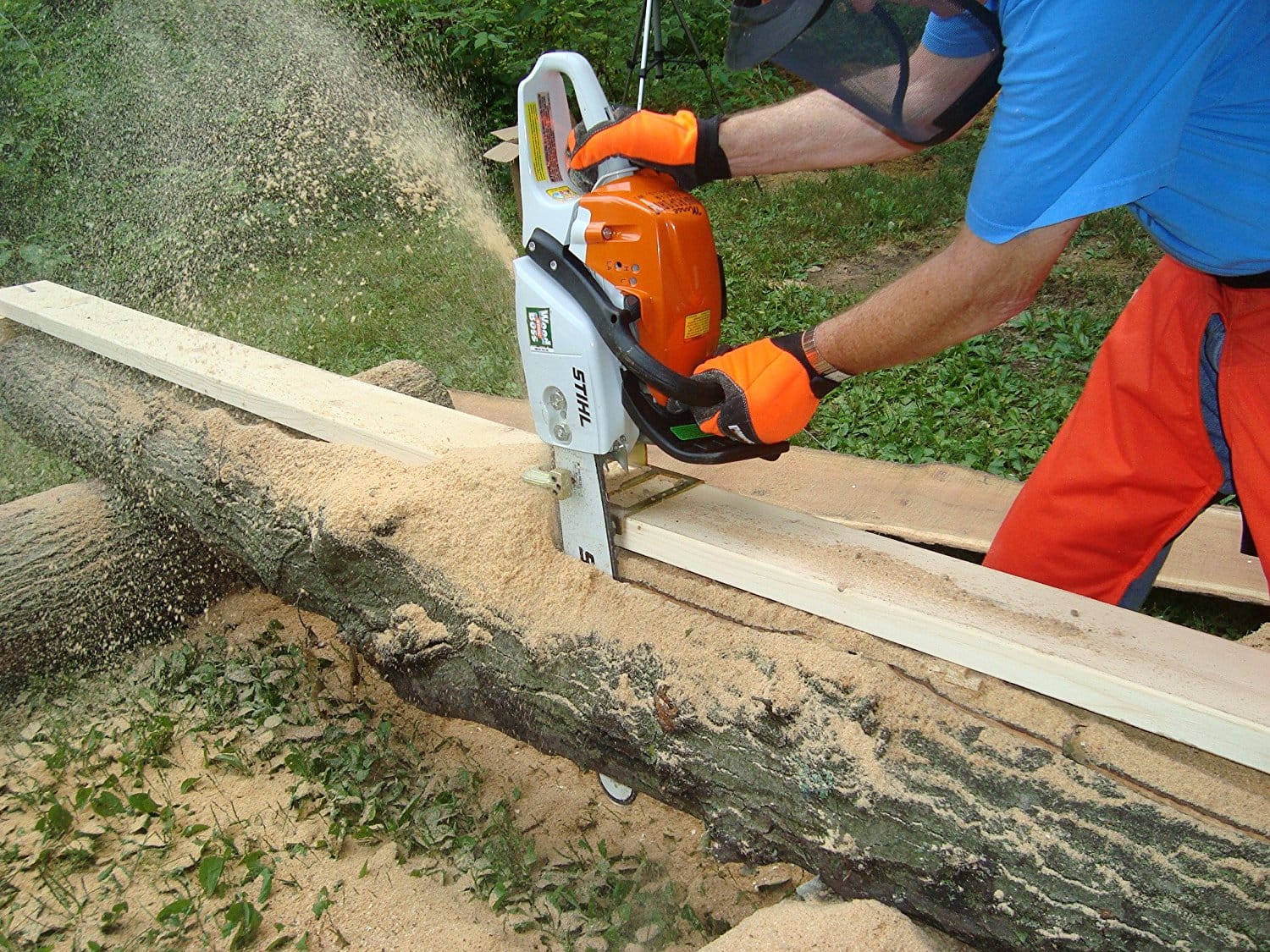 Since it is small and compact, it is light weight and easy to carry around with you. Wherever a tree falls, you can set this tool up and begin sawing. Also, one of its best advantages is that it can fit all types of chainsaws, attaching within seconds. Very easy to handle and it runs smoothly. The sliding bed fits 2x4 or 2x6 boards, and it works excellent with all regular chains. It can swivel for Plung cuts.
The best thing about it is that you get a lifetime guarantee from Haddon, which is testimony enough about its durability.
Pros:
Inredibly low priced
Durable build
Attaches fast
Can fit all chainsaws
Cons:
Protection during sawing is not maximized
Not much to look at
GRANBERG Mini Mill Attachment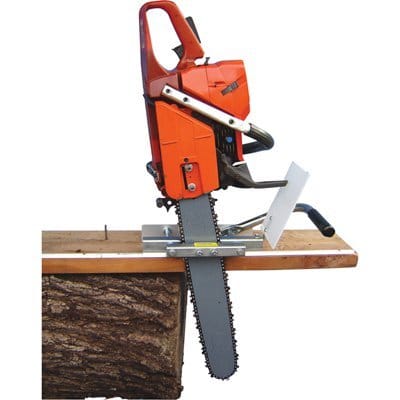 Another simple mini chainsaw mill, made with functionality and affordability in mind. This Granberg model is, besides being very cheap, a very useful tool for everyone who wants to do their own lumber cutting, or for carpentry also.
The best thing about these mini mills is that they can be used on any lengths and any types of logs. The slide is pretty stable and gives you a smooth run, allowing for an even smoother cut.
It is quickly set up and can fit 16 to 32 inch bars for the slide. It comes with a 12ft V rail cutting guide.
The design is pretty much basic and this model looks plain, but it feels and is very durable. The feeling when operating it tells us that this is something that is built to last.
Pros:
Extremely affordable
Smooth slide and cut
Comes with 12ft V rail cutting guide
Durable
Cons
Not much protection during the cut