9 Best Cigar Ashtrays To Have A Smoke And Dust Off Those Stogies
Filed under: cigar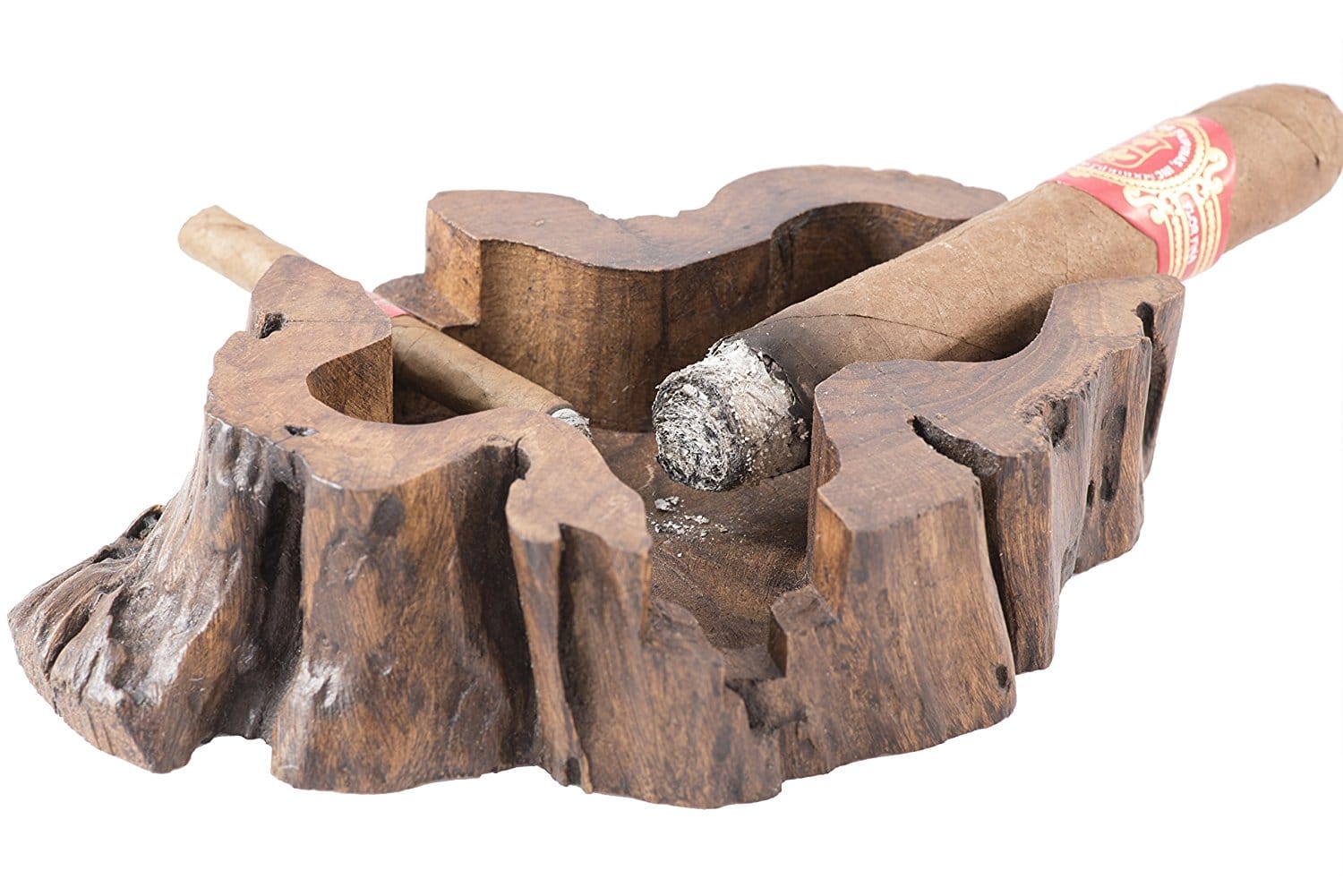 The best cigar ashtray is not just that little object where you throw away tobacco ashes, or maybe a piece of paper; it should be held in high esteem as the resting place of a once great cigar. Kings and Queens aren't buried in cheap unmarked tombstones, are they? So why should your cigar.
Below are some of the best cigar ashtrays reviewed so that you can determine which one is the right tombstone for your stogies.
Mantello Deep Ceramic Cigar Ashtray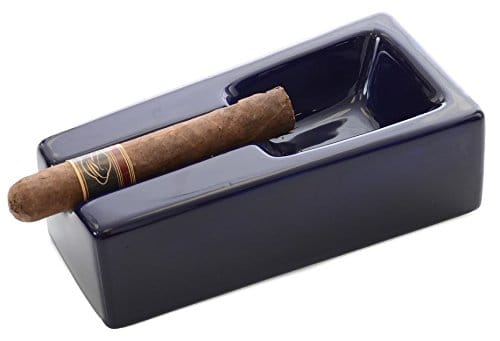 It is a simple, yet elegant ashtray that goes well in any living room. It's made of a solid blue high quality ceramic. It is not to very big, approximately 8" X 4", but it's specifically shaped to hold large cigars. It is durable and, of course, fire resistant. The only issue it has is that the plugs used as feet are in the center of the ashtray allowing it to rock side to side ever so slightly. Easily fixed putting extra grip pads on the corners and then it's perfect.
Price: Under $20
Titanium Alloy Cigar Ashtray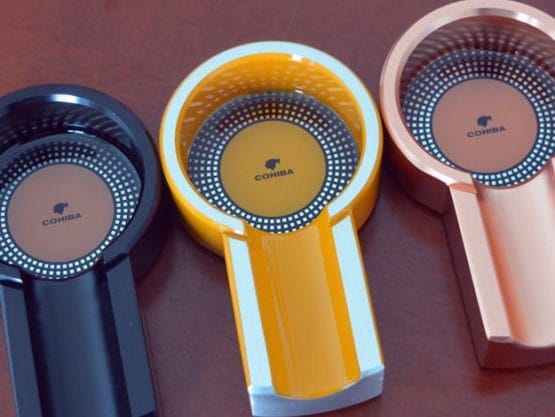 These titanium alloy cigar ashtrays give an air of simplicity and sophistication with different colors ranging from rose gold, black and yellow. The style is a throwback to the classic cigar ashtrays, nothing more and nothing less.
Price: Under $30
Prestige Import Group Maple Lacquer Cigar Triangular Ashtray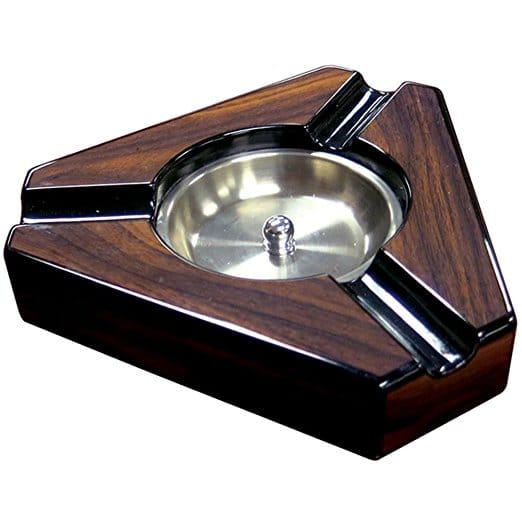 With a functional design this compact ashtray contains 3 black grooved cigar beds. It is ideal for the bar, pool room or use on dominos tables. It is solid, resistant and durable as its ash reservoir is made of stainless steel. Color: lacquered dark maple wood with black sides. It's easy to clean. As a customer said: It's a great investment for the "gentleman's room".
Price: Under $20
Stinky Stainless Cigar Ashtray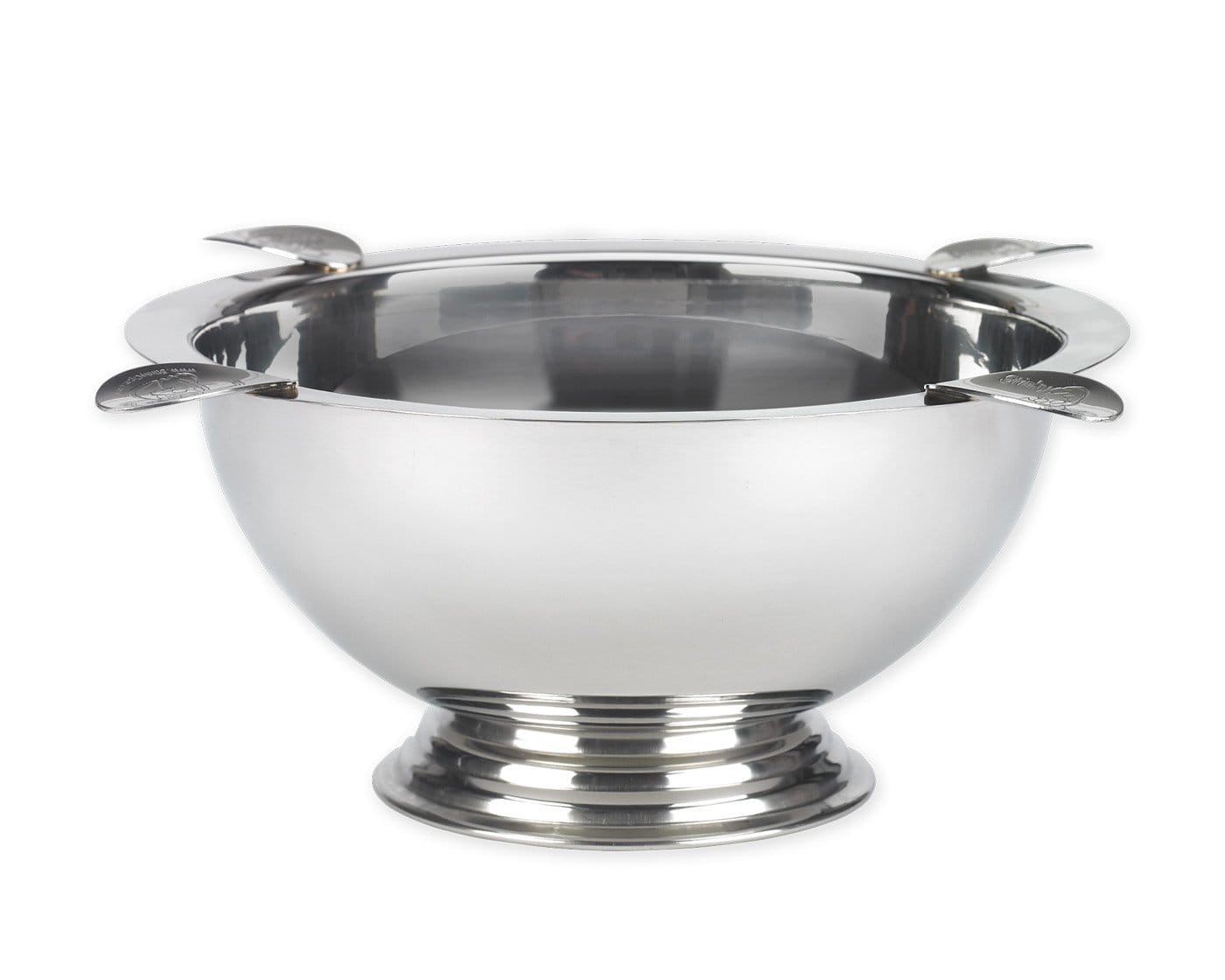 With a neat classy appearance this ashtray has polish stainless steel stirrups to bed 4 cigars. It's light and fire resistant made completely of a polished stainless steel. It is windproof and floats in pools or spas. It is ideal to keep together with your serving ware for entertainments.
Price: Under $30
Want a bit of a laugh? We find out what are some unique uses for the stinky cigar ashtray below: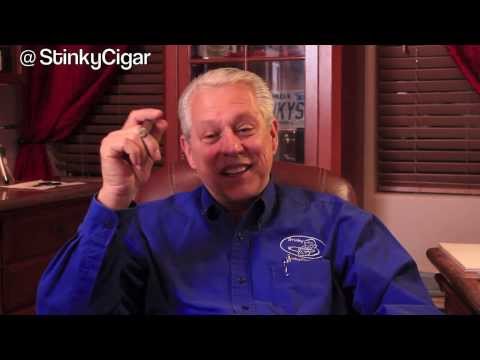 The Most Unique Cigar Ashtray - Hand Antique Ashtray of Cast Iron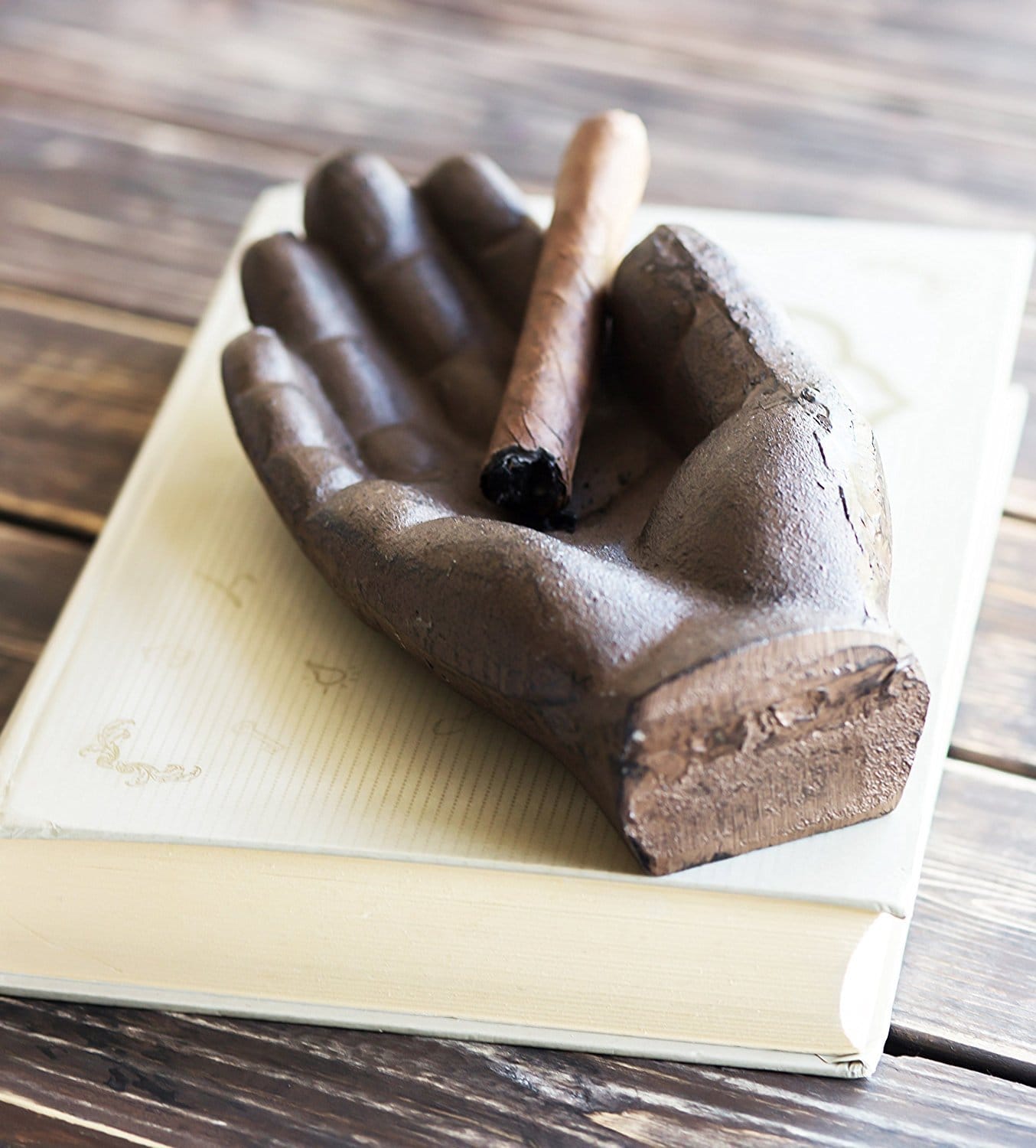 Perhaps the most striking design of them all and easily one of the best cigar ashtrays. This is the perfect classic vintage cigar ashtray for smoking that can be used as a decorative item, or anywhere you need a cool décor item that appears well designed and pretty functional. It could be used also as paperweight, doorstop or key holder.
It is made of classic cast iron with antique patina and it possess an authentic rough textured finish; strong, masculine hand looks elegant and firm holding your cigar. Its sturdy heavy duty design and quality cast iron material makes this a perfect outdoor ashtray, able to withstand sunlight, weather and frequent use. It is the amazing gift idea for any smoker.
Price: Under $20
The Coolest Cigar Ashtray - Crystal Ashtray for 4 Cigar With A Leaf Print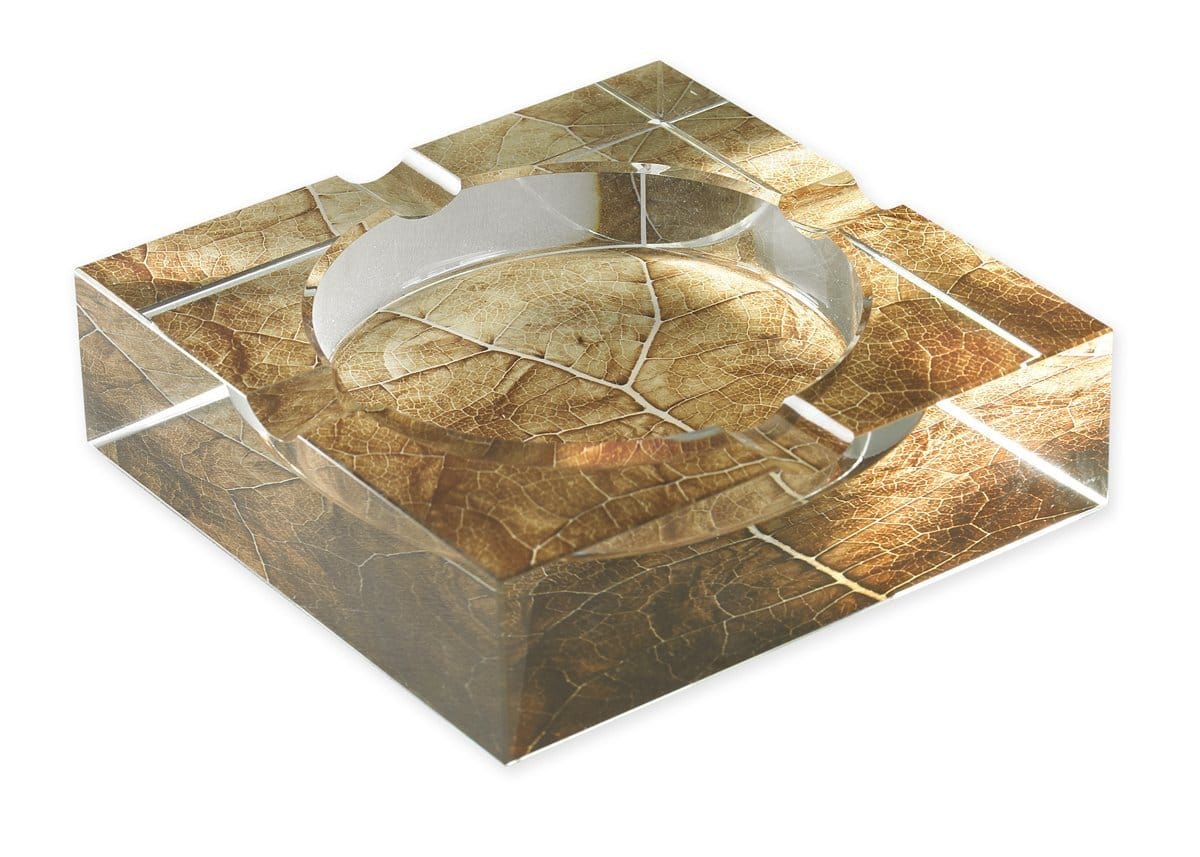 This is an artistic ashtray with a beautiful leaf print, heavy, well build that is worth the price. It is made from clear k9 crystal with tobacco leaf art applied to the base that reflects throughout this entire piece in 3D. It holds 4 cigars. It can be used anywhere however, it is not recommended to be used outside since the print may decay after a couple of weeks. They do have a glass only version.
Price: Under $50
Cast Iron Round Ashtray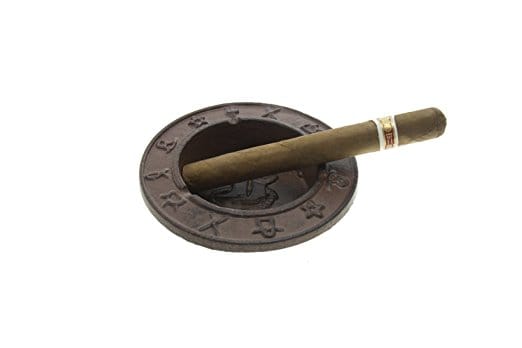 It's not just a metal ashtray; this is a décor piece with a western rustic country design for a great price. It has good size for 1 or 2 smokers that can be used indoor or outdoor. Consider it for holding down table cloths, a spoon rest just as a decorative piece in your office, living room, cabin, or near a fire place or a wood stove. This great decorative piece of cast iron makes your home look more beautiful. It is finished with rust brown color coating. This ashtray will not be damaged by cigarettes and cigars and will last you for generations. Easy washing and durable for outside is perfect as a gift for anyone.
Price: Under $10
The Big Easy Tobacco Accessories 7" Square Grid Cigar Ashtray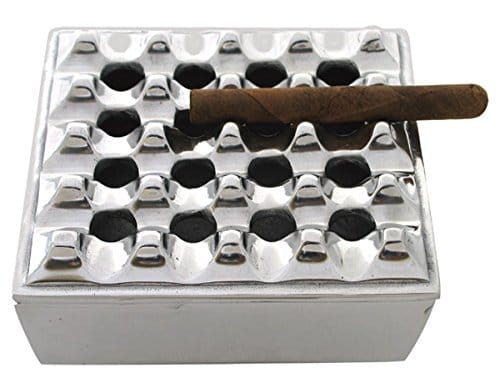 This seven inch squared grid ashtray is made of polished pewter originating from India. Its simple and eye-catching design makes it ideal for the perfect gift for any cigar enthusiast. It can be used anywhere in the house, it is fire resistant and easy to clean. The best cigar ashtray for those who need more room to store more cigars while smoking.
Price: Under $50
Handmade Wooden Vintage Cuban Cigar, Elephant Tobacco Ashtray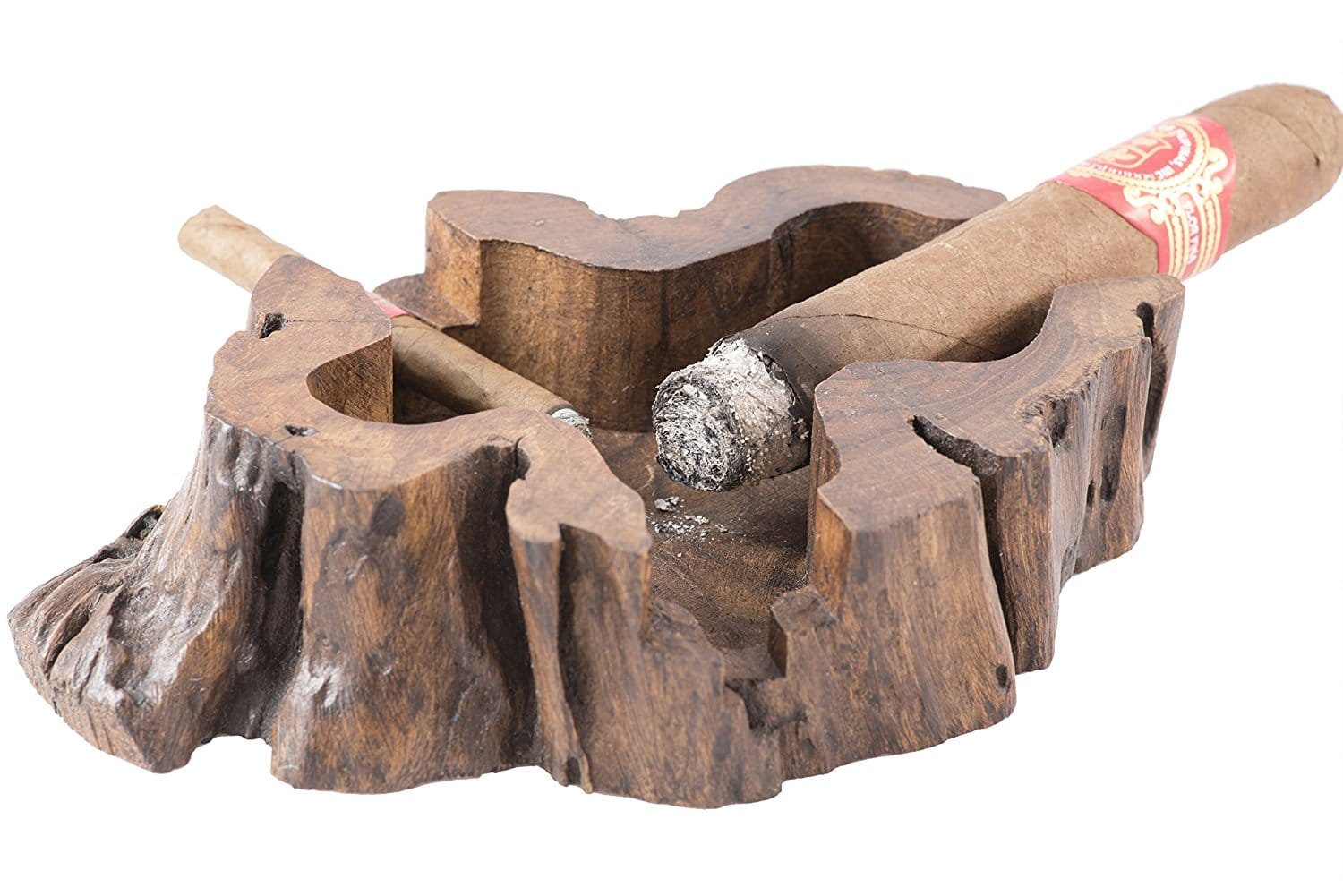 This ashtray from Thailand is handcrafted from100% unique, antique teak wood. None of the Elephant Tobacco ashtrays are alike and they are all limited editions. As the most durable of all hardwoods, teak ashtrays are ideal for use anywhere, indoors or outdoors, in rain, hail or shine. However, it is not very functional: works better for holding cigarettes than cigars. Beyond simply being a sturdy, all-purpose ashtray, Elephant Tobacco ashtray is simply gorgeous, versatile, unique and durable. They will perfectly fit in any place and adorn any home, any bench or table.
Price: Under $70
The Best Cigar Ashtray - Craftsman Bench Boca Grande Maduro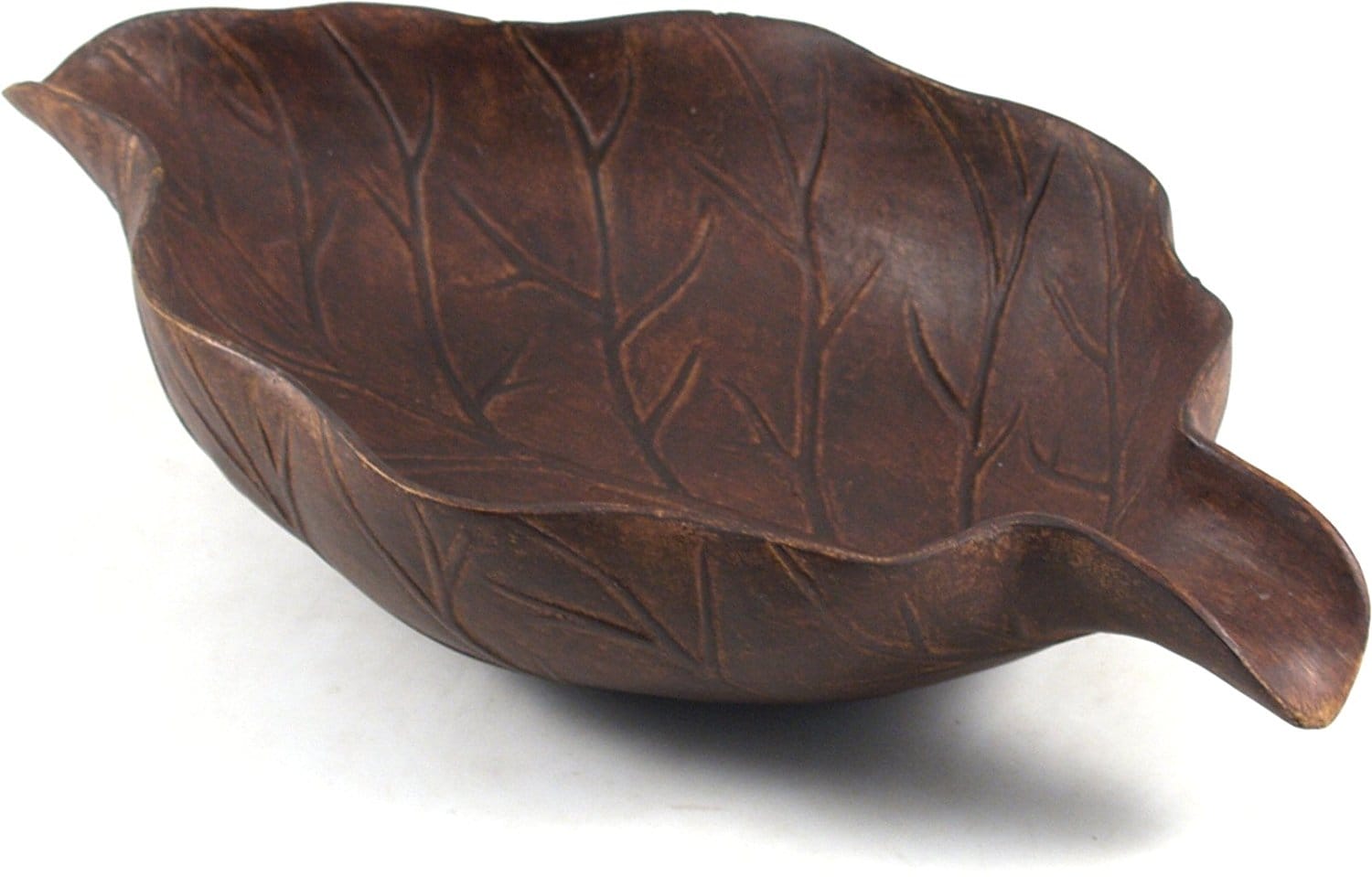 This ashtray with a leaf design provides a stylish twist on a typical ashtray. It has a double cigar beds on opposite ends. Nice heavy resin weatherproof and a price that you won't worry about. This unique ashtray is perfect for the den, the office, the patio or any outdoor setting, rain or shine.
Price: Under $20
In conclusion, ashtrays are made from a range of materials and they can possess diverse conditions of functionality and design. They can be used in a range of different environments and the prices will always vary a lot. So, the best cigar ashtray will always depends on your own personal requirements.
Feel like getting crafty? Maybe you can build or make your own cigar ashtray. Check out one guy's below: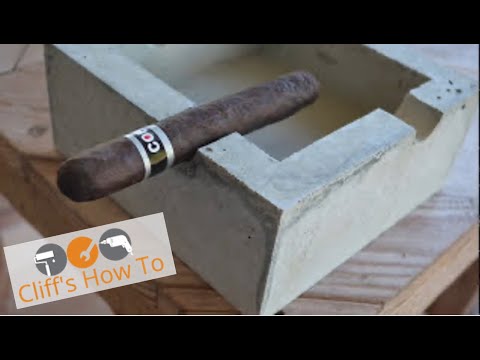 Read Next: The Best Electronic Cigar Humidifiers.