8 Best Propane Tankless Water Heaters
Filed under: hvac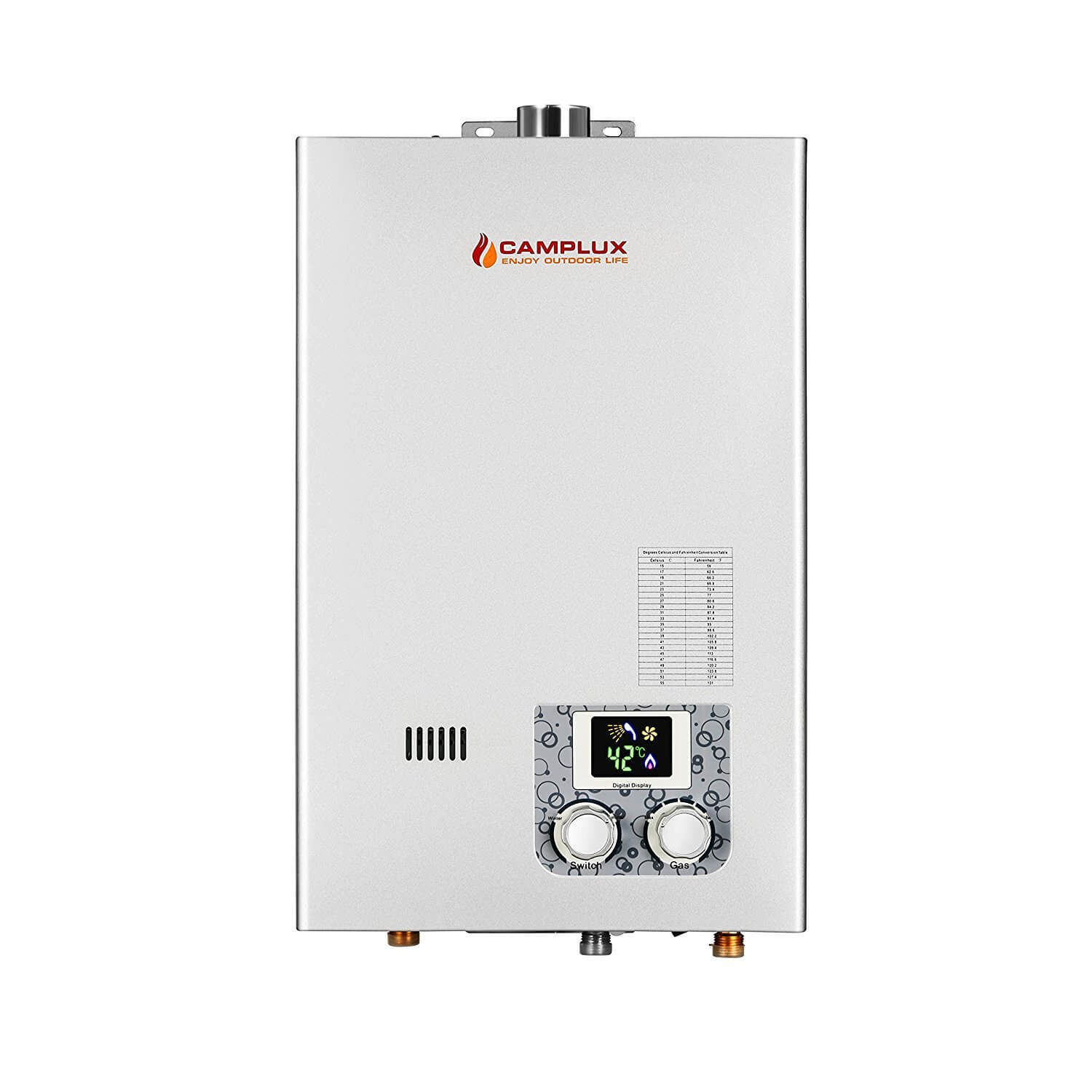 Nowadays, saving energy and money is of top priority to every family. For this reason, owning a propane tankless water heater might be the best of both worlds. While it's a great way to throw out the old-fashioned, flimsy and costly tank water heater, tankless water heaters, especially the outdoor ones, save up space and, in most cases, are lightweight.
What's more, with the technological advancements in the field, using such an appliance at home offers convenience at minimal costs. You are provided with instant, on-demand hot water anywhere you want. Depending on your needs and preferences, you can easily supply your apartment, house, cottage, cabin or even trailer and RV.
Of course, no one likes having to wait for the water to heat up just to take a shower. Therefore, it is imperative that you consider some of the benefits of owning such a water heater at home. Additionally, we have compiled a list of the best propane tankless water heaters on Amazon.
Why a Propane Tankless Water Heater?
Frankly, there are lots of benefits that a propane tankless water heater can offer. Apart from the obvious facts that they operate at way lower costs and save tons of energy, this type of units has a much longer life expectancy. Of course, standard tank water heaters are no match but it'd be reasonable to list the benefits of having such a system at home.
On-demand heating without having to wait
Multiple appliances can be supplied with one tankless water heater
Longer life – warranties vary from 5 to 15 years
Eco-friendly – most tankless water heaters are made from recycled materials
Space saving – compact and lightweight designs save up a lot of space
Money saving – the energy efficiency features and the propane lower the cost-to-operate significantly 
Cleaner water – no upscale and rust
A Brief Buyer's Guide
When going for a propane tankless water heater, make sure you are aware of what you are looking for. The variety of products on the market is ample and there are a couple of factors you should take into consideration in order to be satisfied with your purchase. However, there are 3 main factors that should be taken more seriously.
Firstly, temperature is importantnot only because it's in the essence of the product, but also because you need to figure out the average temperature of the water in your area. This must be done so as to easily find a water heater for the specific temperature. Obviously, a lower average temperature may require a stronger propane water heater for your needs.
Secondly, the size of the propane tankless water heater should be carefully chosen if you're going to install the unit inside. Outdoor tankless water heaters won't have such a problem. No matter what type of propane water heater you choose, make sure you have some small space for the purpose. Bear in mind that size often corresponds to power and flow rate capacity.
Of course, you cannot enjoy the fruits of the water heater's labor if its flow rate is not enough to supply all your appliances. For this reason, you have to make sure the maximum GPM surpasses the demand.
Last but not least, safety is quite important, so make sure your tankless water heater provides all the protection features like sensors, automatic mechanisms and such. If you're going for an outdoor propane tankless water heater, make sure it has solid anti-freezing protection.
The Best Propane Tankless Water Heaters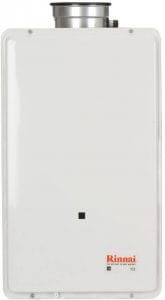 Pros:
Easy to install
The high efficiency and flow volume make up for the price
Lightweight and compact
Suitable for rural and residential homes and buildings
Cons:
Somehow expensive
No temperature indicator
Review:
Firstly, the model's construction is as discrete as possible. It's completely clean and free of unnecessary buttons and adjusters. The only thing that's visible is the inlet and outlet pipes on the bottom as well as the exhaust pipe. You should bear in mind that the latter should lead outside or to a chimney since the water heater is for indoor use.
As for the specifications, the V65IP meets the requirements for an above-the-average tankless water heater. With a maximum of 150 PSI, the manufacturer provides a good amount of flow pressure at hand. However, the recommended is 80 PSI which is still good enough. The 150, 000 BTU heating capability and the 6.6 GPM flow rate make up for a 0.82 energy efficiency.
Since this is a propane-powered water heater, it can be used not only in your home but also in a lodge or a cabin in a rural area. Another thing that's great about this water heater is that it's completely suitable for new and old homes as well. The standard valves can easily fit and supply a medium sized building. On top of that, you get a 5-year warranty and an excellent customer service from Rinnai.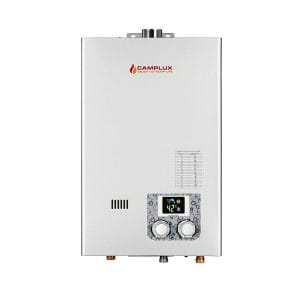 Pros:
Has a color digital temperature display
Integrated flame-out protection, anti-freezing protection, over-heating protection and air flow pressure protection
Summer and winter gas switch for higher efficiency
Can be used as a portable appliance
Cons:
The indoor installation is somehow a bit more complex
Even a slight pressure drop can trigger the flame to be cut off
Review:
First of all, the Camplux CM264 is one of the smaller-scale tankless water heaters on the list. Therefore, it can be safely said that it is portable enough to be used in residential homes. It is comfy and easy to use. It even has an integrated summer/winter switch to regulate the water temperature. In addition, the output water temperature is shown on a LED display.
In addition, the 2.64 GPM flow rate is enough to supply a single faucet and a bathroom which is not that bad for a small water heater. Also, the max power output stated by Camplux is 68, 000 BTUs. What's more, the product has to offer tons of features to pile up an 88.5% energy efficiency.
As an overall, the CM264 goes in the list of the best portable indoor or outdoor propane tankless water heaters for cabins, trailers and other residential homes.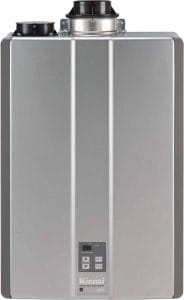 Pros:
Very high energy efficiency
Space-saving design
Extremely low NOx emissions
Very powerful heater
Simple controls
Cons:
Review:
If you ever run out of hot water, go and buy this propane tankless water heater. With its 9.8 GPM flow rate, the Rinnai RUC98iP will deliver an endless supply of hot water no matter how many faucets or showers are simultaneously running. What's more, Rinnai are the only ones to offer twin-pipe PVC and concentric venting and you won't need any adaptors because the solution is right there.
Even better, you will love the powerful heater. The 199,000 max BTU can easily supply a large home with hot water. What's more, the compact design allows you to install the product almost anywhere. To some, this water heater might be pricy, but sometimes it's better to pay a little more in order to avoid unwanted payments later. The RUC98iP has an energy factor of 0.98 and is bound to save you a pile of money in the long run.
Last but not least, make sure you register your product to get an extra 4 years of warranty to make it 5 as a total. After all, anything can happen and you don't want to miss out the excellent tech support Rinnai provides.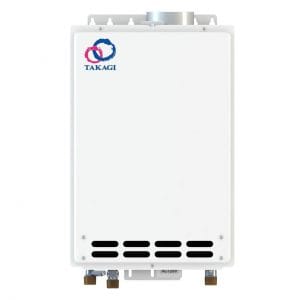 Pros:
Has a remote control
Compact and lightweight design
Can be used in high altitudes
Supports direct venting
Cons:
Installation may be pricy
Not suitable for larger homes
Review:
By far, T-KJr2-IN-LP is the smallest and most compact tankless water heater by Takagi. Nevertheless, it doesn't lack power at all and it can effortlessly supply multiple rooms.
Probably the best thing about this product is that it has a remote control. With a cap of 6 meters, this makes its use easy and enjoyable. Moreover, the adjustable settings for water temperature and flow are even better. The product can reach a maximum of 150 degrees Fahrenheit and 6.6 GPM flow rate.
In addition, the water heater provides you with a maximum of 140,000 BTU and a 0.83 energy efficiency factor which is good enough for a small or medium-sized home. Another good thing about it is its ability to support radiant floor applications.
With its reasonable and affordable price tag, the T-KJr2-IN-LP makes for a decent all-around propane tankless water heater for small homes or apartments.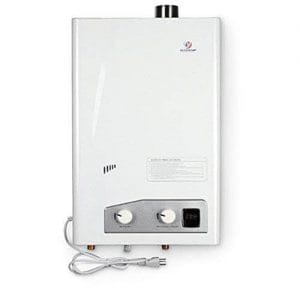 Pros:
Pretty affordable
Portable and easy to install
Compact size
Has tons of advanced features
Cons:
May not be suitable for  colder climates
Somehow cheap construction
Installation might be troublesome as the product needs an exhaust vent
Lower-than-average GPM output
Review:
To begin with, Eccotemp i12-LP is a futuristic-looking tankless water heater that's suitable for small and medium-sized homes. With its compact size and portability, it may as well be ideal for your cabin.
Even though the 4.8 maximum GPM of this water heater is below the average, its sleek design and the numerous advanced features compensate for everything. Of course, the system is propane-powered but it requires no pilot light. It has an electronic ignition system and automatic temperature controls, along with an energy saving mode. There's even a child lock feature to keep children away from the water heater. What's more, the LED panel is easy to operate with and it's so beautiful that you might not want to conceal it just to show off.
As for the tech specifications, the temperature range corresponds to the flow rate, so when it operates at 3 GPM, i12-LP's temperature rises between 35 and 40 degrees Fahrenheit. In addition, the 80,000 BTU are just enough to supply one bathroom and a kitchen.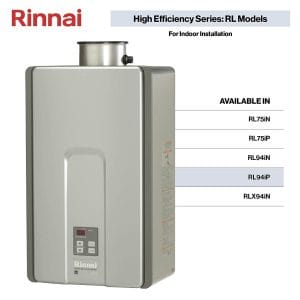 Pros:
Very high flow rate
Has an integrated digital controller with Error Code Indicator
Extremely energy efficient
Circ-Logic technology which allows on-demand hot water
1-year labor service coverage, 5-year warranty on the parts and a 10-year warranty for the heat exchanger.
Cons:
Quite pricy
May require professional installation
Some customers experience issues with the ignition
Complaints about bad customer service
Review:
Firstly, Rinnai RL94iP is the counterpart of the RL94iN. The former is powered by propane while the latter by natural gas. One thing that both models share is the 9.4 GPM flow rate. This means that such a water heater can easily supply enough hot water for 3 to 5 bathrooms in a home.
Despite its price tag, this model is completely realistic when it comes to what it has to offer. The water heater has a maximum input of 190,000 BTU which is good enough for such a big supply of hot water.
On top of that, the RL94iP is safe for mobile home use and even though it's purposed for indoor use, it still has a freeze protection system and may also be tried outdoors. According to the product's description, there are protective heating elements that are built into the unit and prevent the water heater from freezing even if outdoor temperatures are below -22 degrees Fahrenheit.
All in all, this is definitely one of the best propane tankless water heaters for larger homes. The compact design, durable construction and powerful heater, this product is surely top notch.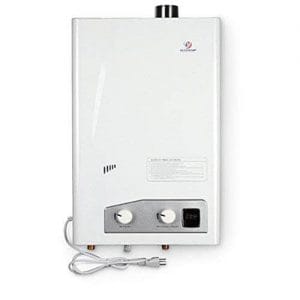 Pros:
Very low price
Small and compact size
High energy efficiency
Portable
Cons:
Low GPM flow rate
Additional venting system required
Non-lifetime warranty
Issues with temperature adjustment
Really recommended for only a single faucet
Complaints about bad customer support
Review:
If you are looking for a unit that is portable, the Eccotemp FVI12-LP can solve all your problems. It weighs only 20 pounds and combined with its small size, this product can participate in the competition for best propane tankless water heater for cabin or RV use. Basically, you can install the FVI12-LP absolutely anywhere.
While it's not as solid as its bigger rivals in the category, this product performs well enough for a single faucet. The product description states that it's designed for whole home use but the 3.6 GPM flow rate means it's really suitable for a single room. For this reason, you might consider purchasing it for your cabin or residential house.
Other than that, the water heater has an easy-to-read digital temperature display with minimal noise input. What's more, the 74,500 BTUs which the manufacturer has to offer are just enough for a warm bath.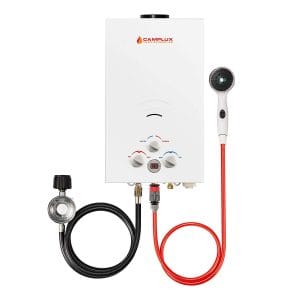 Pros:
Compact and lightweight
Easy to install
Portable
Eco/Full function which saves more gas in the summertime
Flame failure device, anti-freezing protection and overheating protection
Cons:
Heats up slowly
Issues with the flame ignition system and/or low heating temperature
Review:
According to the manufacturer, this tankless water heater is designed for small to medium-sized indoor and outdoor use, especially for cottages, cabins, small homes and even horse stables. The 2.64 max GPM is enough to supply a single unit with hot water. What's more, the system can be combined with the manufacturer's 12V 1.6 GPM water pump or with a showerhead.
Apart from that, the BW264 has a bunch of common features like flameout cut off protection, overheating protection and an air flow pressure switch protection. The new thing here is the innovative dry combustion protection technology. With its 68,000 BTUs, this water heater is certainly designed for smaller scale use.
Even though the product description states that it is not recommended to use the water heater above 2000 ft, it just might serve you well in your cottage or cabin. After all, if it's the portability you're looking for, the Camplux BW264 will satisfy your needs.
Conclusion
To conclude, it's safe to say that propane tankless water heaters are bound to save you tons of money while you enjoy the conveniences of having such an appliance at your home. It won't take you long to see the benefits of using a propane water heater and it is far ahead from the traditional water heater.