Best Quesadilla Makers For Gooey Deliciousness
Filed under: kitchen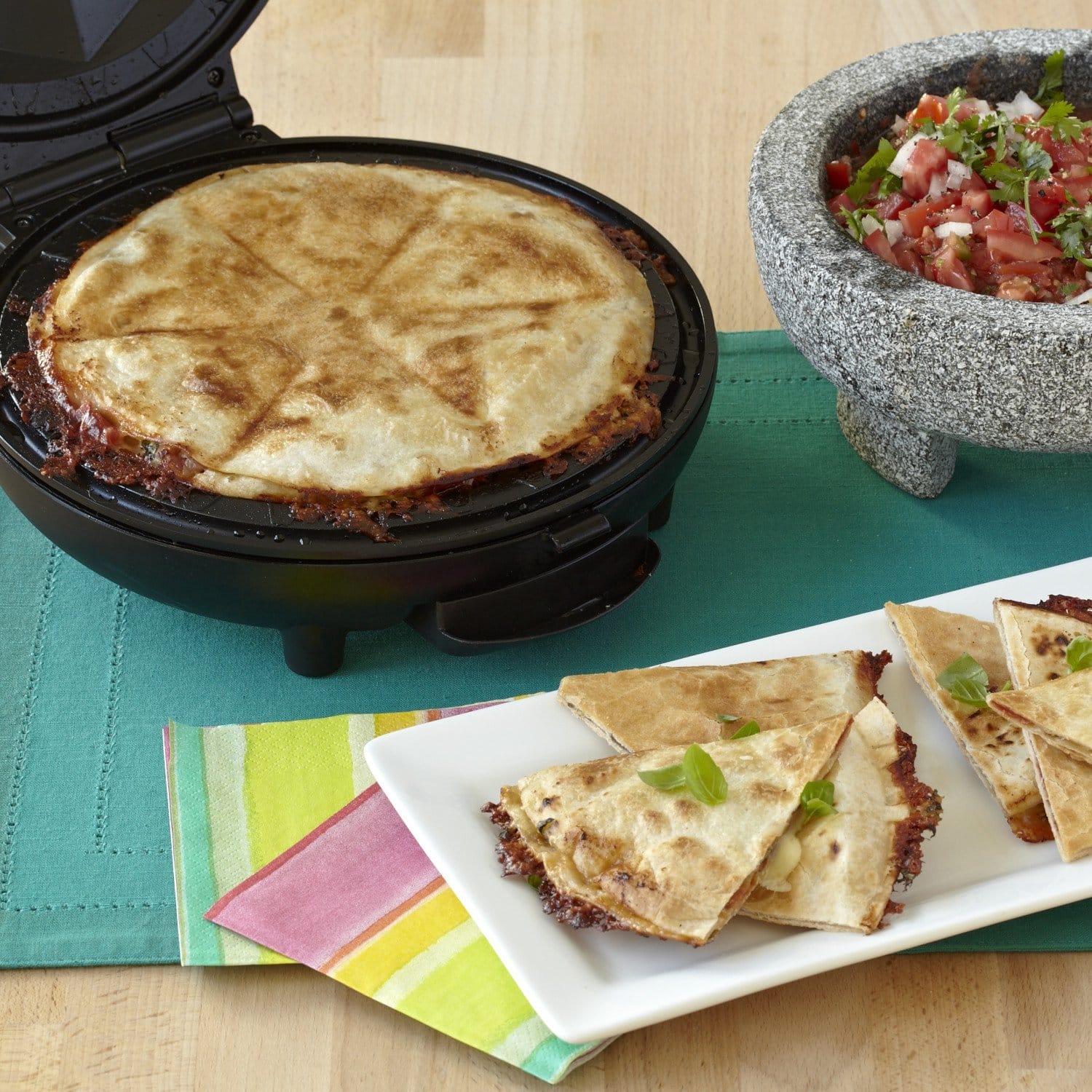 You'll need the best quesadilla maker to create a warm gooey quesadilla on a cold winter's night. Ideal for using leftovers - especially for breakfast the following day - quesadillas have quickly become a staple in most household from all over the world. The good news is that it's no longer necessary to head over to your local Mexican place to curb your cravings: with just a few ingredients and a quesadilla maker, you can quickly prepare these treats in your own home.
Making the best choice
If you've never used a quesadilla maker before, there's no denying that opting for the best model can be something of a struggle- especially considering the sheer number of models that can now be found on the home appliance market. Here are a few tips to help you find the best quesadilla maker:
Nonstick plates: This is an extremely important feature that will actually determine whether you can actually get your food out of the appliance or not. Without a proper non-stick surface, you'll need to brush on plenty of oil or butter, resulting in overly greasy quesadillas.
Size: This feature is particularly important if you've got limited counter space. If that's the case, try to look out for appliances that have a stand-up feature, hence ensuring that you can prop the quesadilla maker up when not in use.
Materials and construction: For optimal heat distribution and a shorter cooking time, it's best to go for a quesadilla maker that's made of steel. Be careful to go for one that has a heat proof latch: older models normally have steel latches that warm up during cooking and this may result in burn injuries. Make sure that the grip is solid and durable as well because, in spite of its small size, this tiny gadget ensures that the tortillas are properly pressed together.
Cleanup and performance: If you can afford to splurge, don't hesitate to go for an appliance that comes with multiple plates, enabling you to prepare several batches in one go. Avoid textured surfaces in favor of smooth ones that can easily be cleaned with a quick wipe down. Appliances that come with drip trays will also largely facilitate cleanup.
Best Quesadilla Maker - Hamilton Beach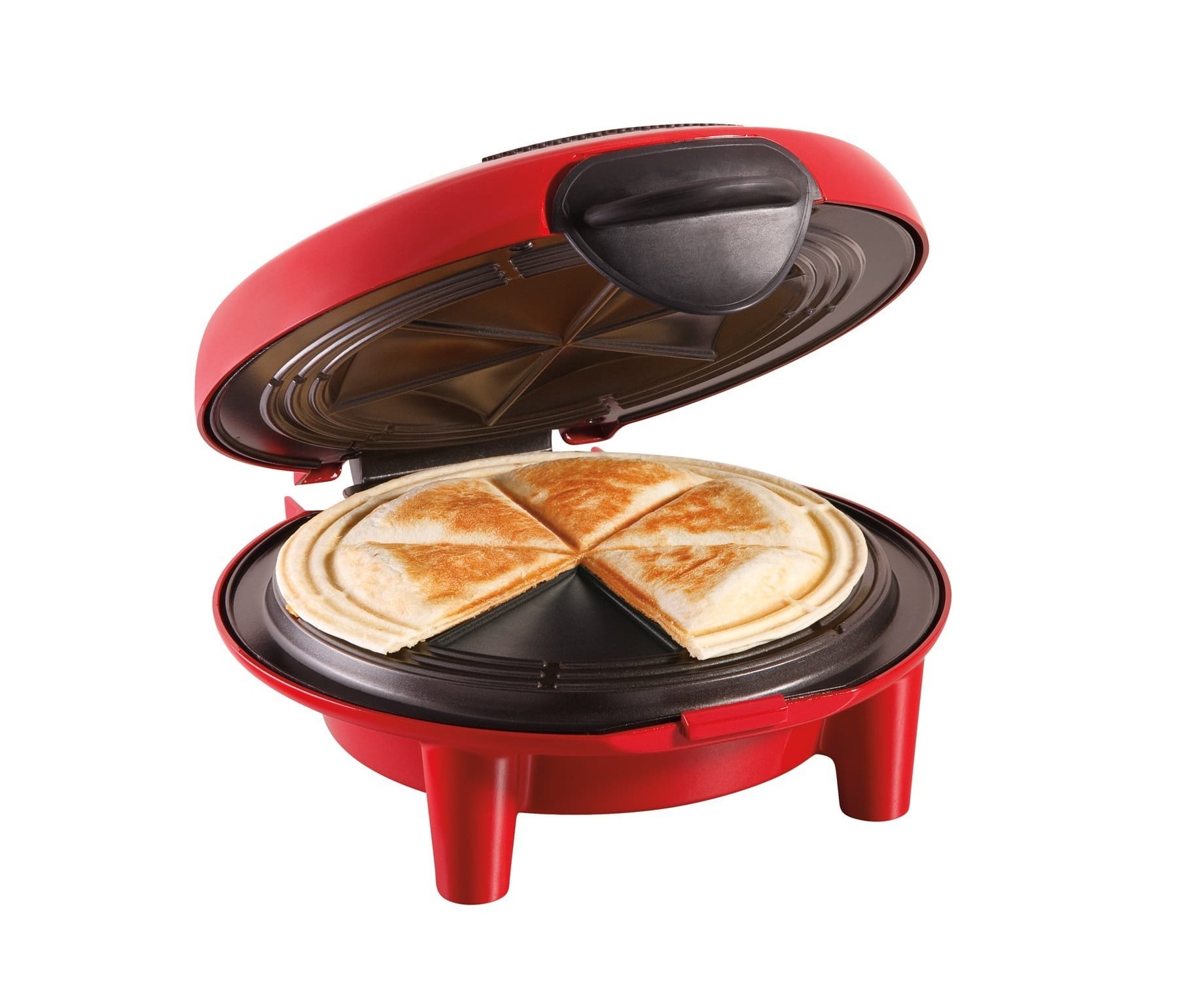 Designed for ease of use and practicality, the Hamilton Beach Quesadilla Maker is equipped with a handy locking lid that will minimize any spillage and mess while cooking. Its compact and ergonomic shape ensures that it claims as little counter space as possible since you can even stand it upright for storing. One of the best quesadilla maker on the market, this model measures 10.88x 5.5 x 11.75" and only weighs 4.6 pounds, which makes it extremely easy to carry around.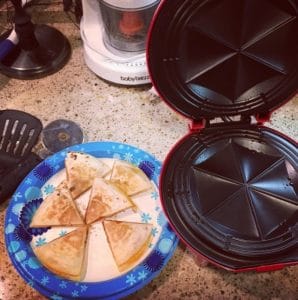 With this apparatus, you can have dinner on the table in a mere 5 minutes. This appliance even comes with a non-stick surface which makes cleanup quite easy: all you need to do is wipe it down with a damp cloth. Conceived to prepare six wedges at the same time, this quesadilla maker also features preheat and power lights to help you know when your food is cooked without having to repeatedly open the lid and consequently lose heat.
Extremely versatile, it can even be used to make Dessert Appledillas, stuffed pizza pockets or even sandwiches. Most customers did appreciate this appliance's handy multipurpose function along with its non-stick surface which saved them the time and effort to reach for a greasing agent. The one downside that a few customers reported was that the cooking surface could have been bigger.
Nostalgia Fiesta Series 6-Wedge Electric Quesadilla Maker
Available in red and black, the Nostalgia Fiesta Series measures 11 x 10 x 4.5 inches for 3.8 pounds. Because of its compact and lightweight size, this particular appliance can easily be carried around and stowed away. In fact, customers were extremely appreciative of its stand-up feature, which according to them, helped them save up on counter space. Customers also praised its rapid-heating feature: according to them, the Nostalgia EQM200 can make up to 6 wedges in a mere three to seven minutes. As a result, most customers were able to get dinner on the table in just a few minutes, even on weekdays.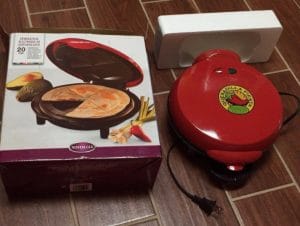 Another feature that users seemed to like was the Two Position Lock: indeed, they stated that they were able to stuff their quesadillas as thickly as they wanted to because the dual lock ensured that the appliance stayed properly shut, regardless of how stuffed the wraps was. This particular feature can also come in quite handy with sandwiches made from thicker slices of bread. Another popular positive feedback received with this apparatus was the non-stick surface, which ensured that no additional oil or butter had to be used while cooking. The quesadilla maker also includes a drip tray to facilitate cleaning up. Because it is such a versatile and easy-to-use piece of kitchen equipment, virtually no negative feedback was received and this appliance was hailed as one of the best quesadilla makers out there.
George Foreman Electric Quesadilla Maker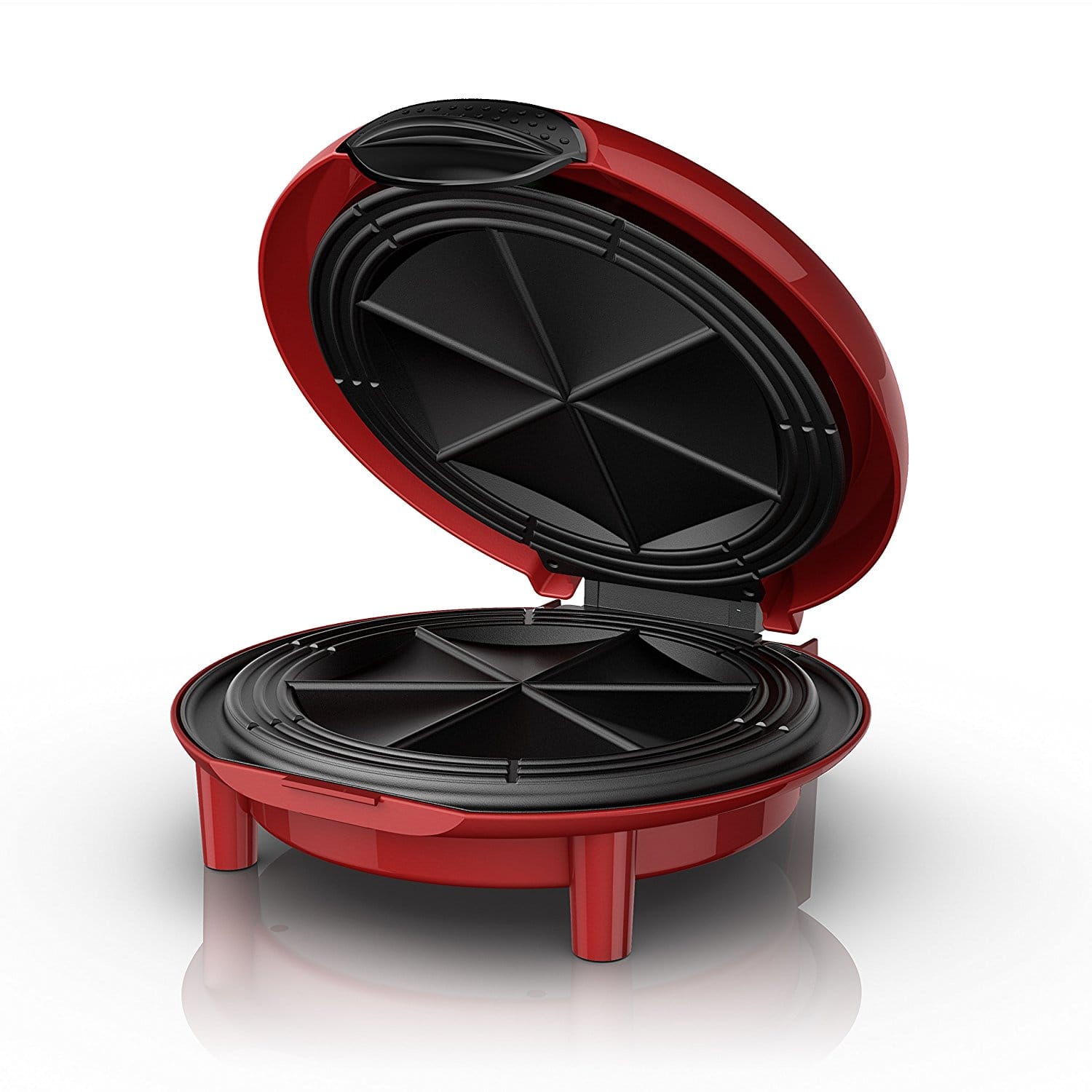 Boasting a red, glossy design, the George Foreman is ideal for 10 inch quesadillas as well as different types of snacks and sandwiches. In fact, its versatility is one of the main features that the majority of customers appreciated when it came to this appliance.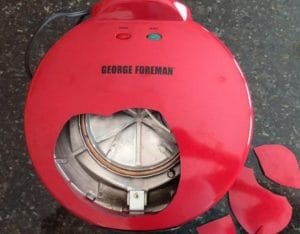 While quesadillas are notoriously gooey, this machine comes with a non-stick surface, which made it much easier for customers to clean up any cheese or stuffing that might have escaped the interior. Users also claimed that the apparatus had a shorter heating time, hence providing rapid meals on the go. With this particular quesadilla maker, users can benefit from no less than 6 deep-dish pockets, hence ensuring that every slice is properly flavored.
On the flip side, a few customers did complain about the size, which according to them, was on the smaller side. This was particularly applicable to customers who wanted to make larger batches in one go. Another drawback reported about this quesadilla maker was that its surface was prone to scratches. Other than these two issues, this kitchen appliance was quite well received, with some customers even stating that this was the best quesadilla makers they've ever used.
BELLA 8-inch Quesadilla Maker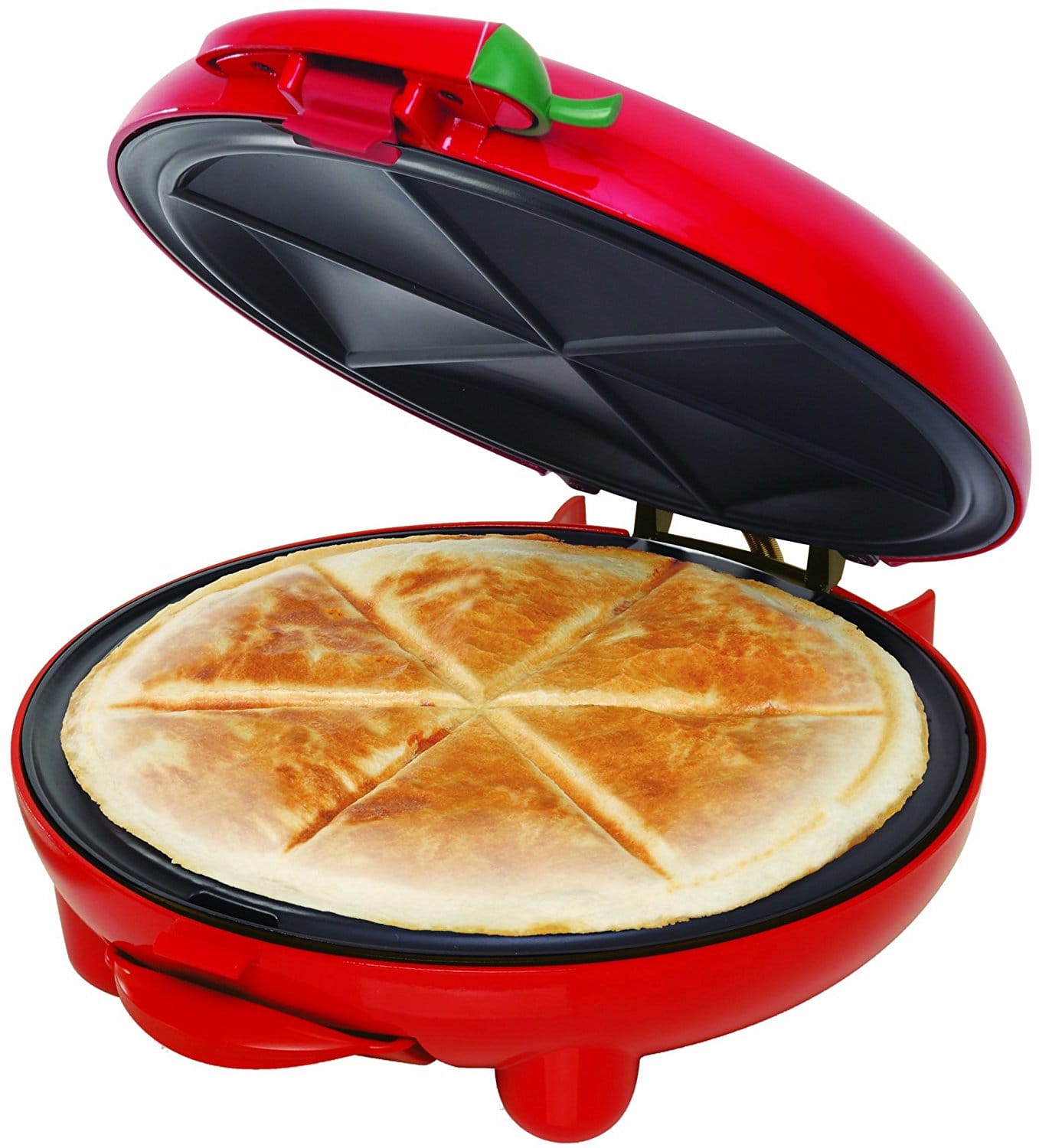 If you're looking for one of the best quesadilla makers on the market, you might want to check out the BELLA. Known for its portability, this particular apparatus was well-received by the majority of customers, most of whom praised its versatility. According to the users, this quesadilla maker was just the right size for different types of treats along with quesadillas, such as sandwiches, wraps, paninis, pizza pockets and even apple turnovers. Because it has non-stick plates, users found that they were able to skip the olive oil or butter, hence saving up on calories. The non-stick plates also made it easy for them to clean up afterwards. This is rendered even simpler by the addition of a built-in reservoir to collect any spillage.
Because it has non-stick plates, users found that they were able to skip the olive oil or butter, hence saving up on calories. The non-stick plates also made it easy for them to clean up afterwards. This is rendered even simpler by the addition of a built-in reservoir to collect any spillage.
Customers also appreciated the on/off ready as well as the power light which made it easier to know when the quesadillas were done, without having to open and close the lid every minute. Another plus that was chalked up by users was the appliance's rapid heat-up: most people claimed that the BELLA 13506 only required around three to five minutes for six slices. As far as the downsides are concerned, some people did state that the built felt fragile.
Black & Decker Quesadilla Maker
Boasting press and seal lines, the Black & Decker Quesadilla Maker only weighs 4.6 pounds and measures 14 x 5 x 11 inches, which makes it easy to store even if you have a small kitchen. Among the best quesadilla makers on the market, this particular appliance is designed for quesadillas measuring around 8 inches. While this can be quite practical for some, a few users did complain about the limited size which meant that they couldn't make larger batches of quesadilla triangles at the same time.
On a more positive note, the majority of people found that this quesadilla maker had deep pockets, which helped them stuff the tortillas as thickly as they wanted to. The deeper pockets additionally ensured proper flavor distribution. This appliance can yield six triangles per batch. Thanks to the press and seal lines, you'll be able to easily press your tortillas together with as much stuffing as you'd like between them.
Another features that was very well received by most customers was the removable drip tray which ensured that their countertop remained clean even after preparing their quesadillas. With the boxed packaging, you will receive eight grilling plates as well as a book of recipes to help you prepare different types of treats.
MUSA Quesadilla Maker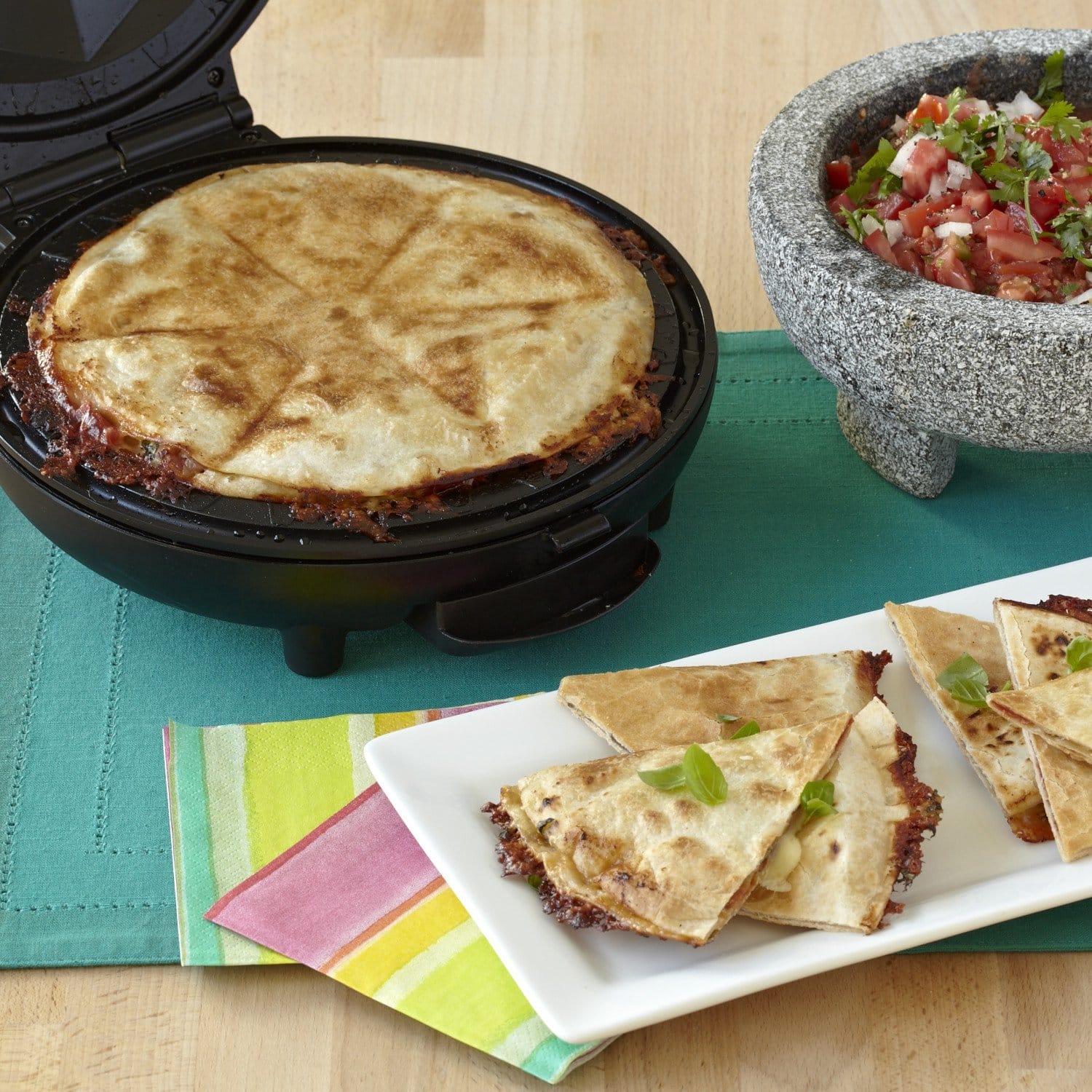 With a sleek, contemporary design, the IMUSA can easily fit in just about any kitchen, regardless of how small your counter is. Ideal for quick weekday meals, this home appliance was quite well-received by the majority of customers with just a few minor drawbacks reported about it. In fact, customers quite liked the non-stick coating, thanks to which they didn't have to repeatedly scrape at the plate to remove their quesadillas as is often the case with poorer-quality appliances.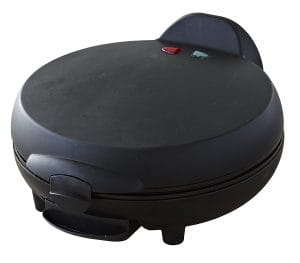 Moreover, users are satisfied with the sectioned plates that neatly sliced their quesadillas for them. With a removable drip tray to gather excess grease, this appliance can also be stood upright for easy storage. A few customers did state that they liked the gift box that came with the quesadilla maker, which made for sophisticated-looking presents.
On a less positive note, a few customers complained that the outer shell felt flimsy and was easily prone to scratches. However, it's good to know that this was not a widespread complaint and the overwhelming majority of people were satisfied with the product.
That rounds out the list of the best quesadilla makers on the market.
Keep toasting!