Best LED Grow Lights For Growing Indoors
Filed under: garden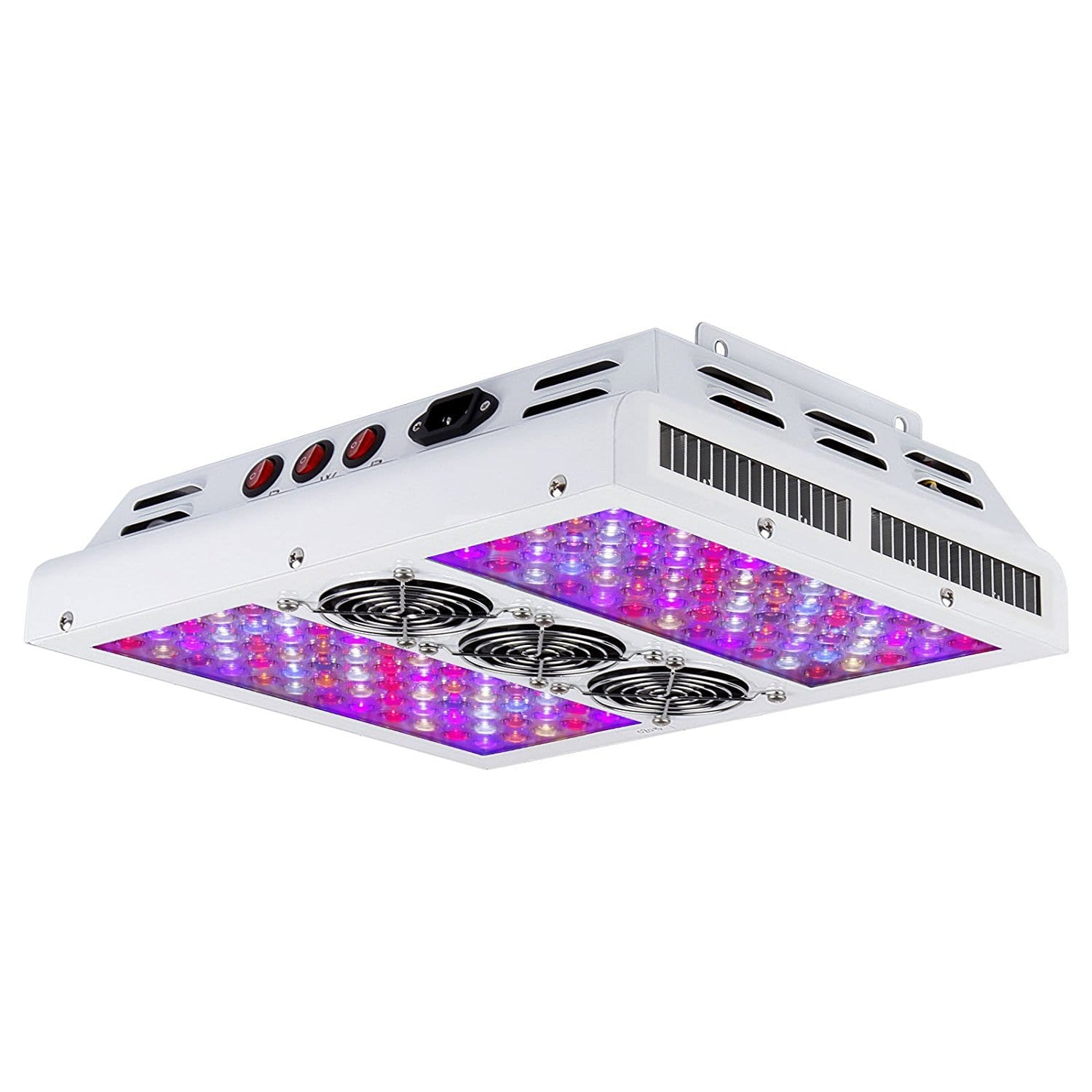 Whether you're an amateur or avid gardener, there's no denying the fact that getting the best LED grow lights is extremely beneficial to indoor gardens: not only do they allow plants to thrive in just about any season but some of these lights have also been known to prevent certain types of plant diseases by killing bacteria. Often used in hydroponics, these lights are available in different price ranges, which may make it harder for beginners to make the best choice.
So, if you're planning on investing in a grow light for your indoor garden, read on for few tips as well as an overview of 9 of the best LED grow lights on the market.
How To Find The Best LED Grow Light For Your Setup
Before buying your grow light, it is extremely important to properly measure your indoor garden. While this step is often ignored by amateur gardeners, indoor lights come in different dimensions, which may be a problem if your garden is larger than usual. Another thing to look out for is the noise level: gain, different grow lights have different grow levels and more often than not, this largely depends on the price. More expensive grow lights tend to be quieter so it might be worth the splurge if you're planning on running the light at night.
More importantly, you should watch out for the different hues of the spectrum. The blend of white, red, warm white and blue has been known to closely mimic the colors of the sun which can be more beneficial to your plants. Some grow lights even come with a UV feature which largely enhances plant growth. If you're interested in aquaponics, be sure to contact the manufacturer to inquire whether the grow light is waterproof since the majority of models are not water-resistant. Potential buyers should also keep an eye out for the warrant as well as the light's lifespan. Most models offer between 50,000 to 100,000 hours of use.
Here are some of the top rated LED grow lights on the market:
iTimo Full Spectrum LED Grow Light Bulb
Priced between $30 and $40, the iTimo Full Spectrum LED Grow Light Bulb is ideal for indoor growing since it is can be for the various stages of the plant's development and growth. With a full spectrum (78Red + 24Blue + 6White + 6IR + 6UV), the iTimo grow light has been known to completely replace any need for natural light, which enables you to grow your plants without having to worry about the weather. Alternatively, it can also be used as a supplementary light during the colder months. It has a lifespan of 50000 hours and is best used on fruiting or flowering plants.
The majority of customers were pleased with this grow light, with one person noting a significant improvement in the speed and development of his plants after installing it above sprouting trays. In fact, this product received mainly positive reviews from customers, with some people even successfully using it to grow fodder for chicken. This LED grow light can additionally be used to decrease growth circle, increase yield while boosting germination. Because of its low power consumption, this bulb has an impressively long life expectancy. It would make the best LED grow light for beginners or those wanting to nurture smaller plant varieties.
VIPARSPECTRA Reflector-Series 300W LED Grow Light
While this LED grow light is undoubtedly on the more expensive side, it's certainly worth the price: indeed, with a 4.6-star review on most online sites, this grow light received an overwhelming number of positive reviews. Specifically conceived to maintain the balance between PAR/Lumen output and coverage, this particular grow light boasts large aluminium cooling heat sinks as well as 4.72" fans which are ideal for heat dissipation. With a maximum coverage of 3 x 3, this light is ideal for growing areas measuring 24" high. Suitable for all stages of growth, the Reflector Series 300W has a lifespan of 100,000 hours. The package includes a 6 feet power cord and hanging kits.
The majority of customers liked the even mix of Blue and Red lights which, according to them, really boosted the plants' growth and development. Most people also appreciated the quiet operation which made it easier for them to leave the light on at night. On the flip side, some customers did complain about the small size: in fact, according to them, they needed two to three lights to cover a growing area of around 4 x 4ft. A couple of people also claimed that their lights stopped working after a week, but this was not a widespread issue with most customers.
Galaxyhydro LED Grow Light 300W
With a price tag that ranges between $70 and $80, the Galaxyhydro LED Grow Light is an excellent solution for indoor growing since it has a spectrum of light which combines all the hues plants need to prevent stunted development and growth. Measuring 12.1 x 8.2 x 2.4 inches, this grow light consists of Epileds Chips and has a frequency of 50/60 HZ as well as a noise level of 55±5% dB. With a high power cooling system, it also boasts an impressive lifespan of 50,000 hours. Users can benefit from a warranty of 2 years with 30 days money back.
As far as its reviews are concerned, the Galaxyhydro has a 4.6-star review on the majority of review sites. The great majority of users were extremely satisfied with this product's performance as well as its two cooling fans and Sunflower radiator system which provided an excellent heat dissipation. Additionally, customers also appreciated its low noise level which made it far easier for them to run the light at night. In fact, a few people found that the light's cooling system extended the lifespan. A couple of customers did complain that their light bulbs broke within four weeks, but this was not a widespread issue.
BESTVA 1000W LED Grow Light
Designed for indoor use only, the BESTVA 1000W Double Chips LED Grow Light costs between $140 and $160. With a lifespan of 100,000 hours, this particular product has a working temperature that ranges between -68~104℉. It has a frequency of 50-60Hz as well and LEDs angle of 120°. Because of its full spectrum, this grow light is ideal for every stage and development of plant growth.
This low heat, high yields and high lumens light is best suited to indoor fruits and vegetables since it has a spectrum of 380-780nm. It provides the same efficiency as a 600-watt HPS but only consumes 185 watts, which will eventually help you save up on energy bills. Perfect for growing area measuring 51' x 4.7', this grow light was extremely well-received by most customers who appreciated its dual cooling fans and quiet operation. Customers also liked the grow light's low wattage.
A few drawbacks have been reported with this grow light: for instance, some people complained that this product was overly bright to the point where they had to equip themselves with UV protective glasses when checking up on their plants.
King Plus 1000w LED Grow Light
Designed for experienced gardeners, the King Plus 1000 w Double Chips light cost between $100 and $150. Featuring new technology, this light has been known to be far more efficient than 5W and 3W LEDs. In spite of its excellent performance, this product is energy-saving and only consumes around 185w. It boasts a full spectrum of lights designed to mimic the sunlight with IR and UV as well as white, yellow, blue and red hues. Its infrared function has been known to promote seed germination as well as stem elongation. The UV feature can also drastically reduce the risks of plant diseases while eliminating bacteria.
In terms of reviews, customers were quite appreciative of the grow light's cooling system which stems from two different fans. Because it can be used for all stages of plant growth, customers used it for pipeline and greenhouse cultivation, as well as water-soluble breeding, pot culture, sowing and house gardens, among others. In terms of drawbacks, a few people did complain that the grow lights were on the noisier side. One or two customers also found that the lights were far too bright for easy handling. This product is covered by a 3-year warranty.
Roleadro Panel 45W LED Grow Light
Extremely affordable, the Roleadro Panel Grow Light Series only costs between $20 and $40, but does not compromise on performance. Boasting the latest panel design, it combines blue and red light to mimic the effect of photosynthesis on plant growth. Indeed, this light series has 52pcs of blue LEDs and 117pcs of red LEDs, providing the ideal light spectrum for plant development and sprouts. According to the manufacturers, this light series can actually encourage the growth of more leaves within less than 2 weeks of daily use. Depending on the cycle of your plants, this light can be hung at round 18" – 48" and is best used for areas measuring up to 8 square feet.
In terms of feedback, this product was generally well-received by the majority of customers who appreciated its efficiency on larger plants. According to one customer, this light can even be used on harder-to-grow plants such as spinach, kale and lettuce. Another customer was able to refresh and bring back to life damaged herbs such as basil, chives, mint, thyme, rosemary and parsley with this grow light.
Still, in spite of its many positive feedbacks, a few buyers reported that they had absolutely no success using this light on plants in seedling stages.
VIPARSPECTRA 600W 12-band LED Grow Light
Aimed at larger indoor gardens, the VIPARSPECTRA PAR600 costs between $200 and $300. While it is undoubtedly much more expensive than average, this set of grow light has been specifically designed to enhance the balance of the PAR/Lumen coverage and output. Engineered to promote development and growth at all stages, this product can easily be compared to a traditional 600-watt lamp but it only consumes 285 watts, hence enabling you to save up when it comes to energy bills. The front fans measure 3.2" and perfectly complement the aluminium cooling heat sinks for proper heat propagation.
While most customers were pleased with the product's 3-year warranty, some people thought that it was far too expensive since it can only cover a growing area of 3 x 3 ft.
Gianor 2000W LED Grow Light Full Spectrum
A high-end piece of equipment, the Gianor 2000W LED Grow Light costs between $200 and $300 and does provide excellent value for money. Engineered to expand the light performance to the maximum, this product is enhanced with distinctive diodes to guarantee its protection. While its illuminating power can be compared to 2000w bulbs, this grow light has a low consumption of 450-480 watt making it easily one of the best LED grow lights available today.
It boasts full spectrum lighting with 8pcs warm white, 8pcs white, 32pcs blue and 144pcs red. In addition, this product also features UV as well as IR LED bulbs in order to promote seed germination and stem elongation. These are features which the majority of customers did seem to appreciate. On the other hand, a few users complained that the light was too bright for their plants, which caused them to wither.
Advanced Platinum Series 450w 12-band LED Grow Light
One of the most professional growing lights on the market, the Advanced Platinum Series P450 450w will cost you more than $500, but it's an excellent investment considering its wide range of features. 2-3 times more intense than other grow lights, this product also features a 12 band full spectrum of light combined with IR and UV. This produces the same effect as photosynthesis, allowing your plants to grow and flourish. Users can switch between flower and vegetable mode, depending on the type of plant they're growing. As the old saying goes, you usually get what you pay for and this holds true in the instance of this 450W model which takes the stake as the best LED grow light.
While it was extremely well-received by most customers, some people did find it to be overly expensive, considering its range of features. On a more positive note, users did appreciate the quiet fan which made it easier for them to keep the grow light on at any hour of the night or day.