7 Best Raclette Grills For When You Need To Host A Party
Filed under: kitchen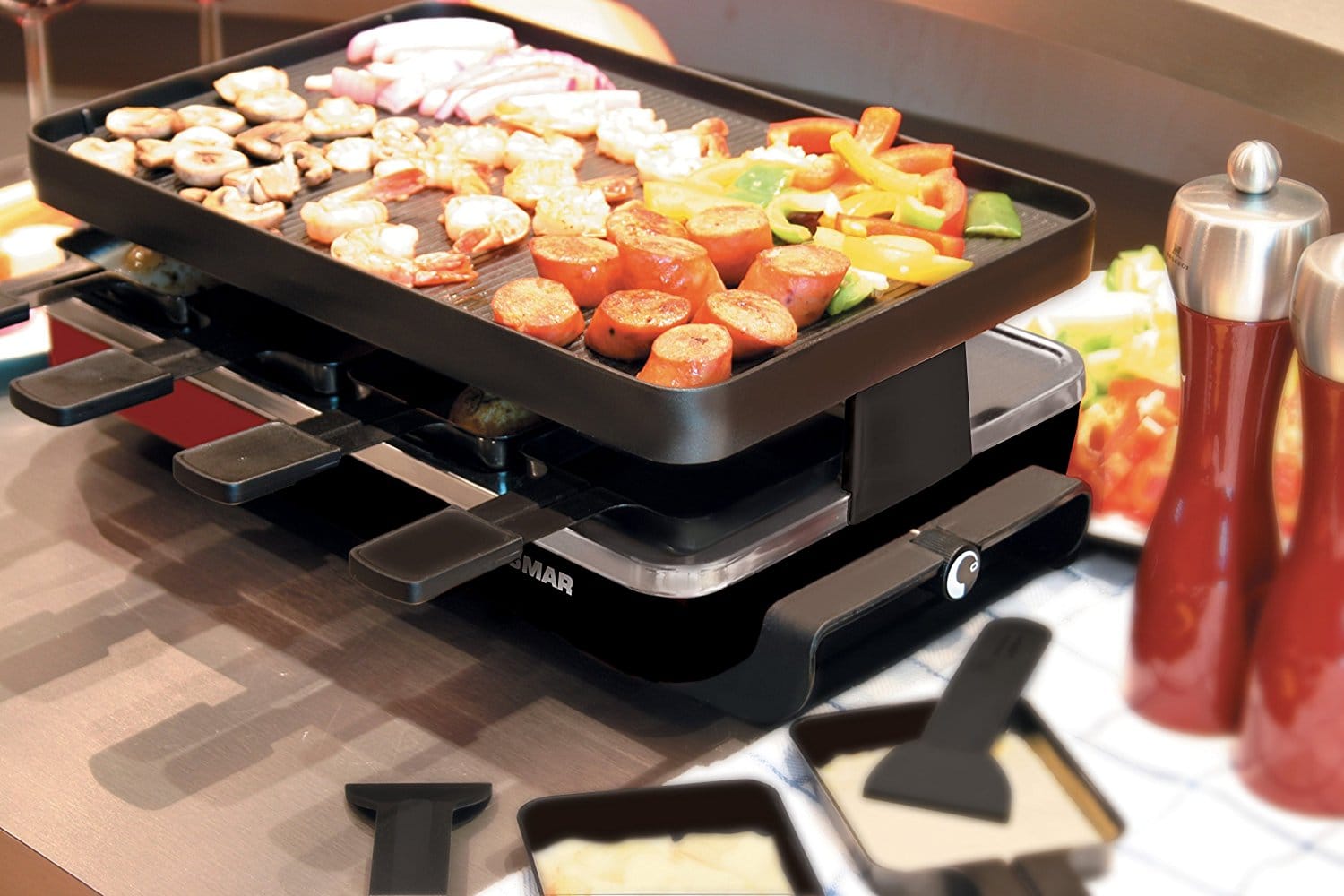 Update May 2019: The top-rated Swissmar 8-person raclette grill is currently on sale. You can click here to see the deal.
An excellent addition to any contemporary kitchens, the best raclette grills are not only safe and entertaining but they're also designed to help you add healthy twists to your food: indeed, since the majority of grills come with non-stick surfaces, you won't even need to reach for any greasing agent.
So, if you're thinking of purchasing one of these handy gadgets, here are a few features to look out for:
What to look out for
Maintenance: While this is often overlooked, you should also consider how much cleaning work will be involved before you purchase a raclette machine. For ease of use, do consider an appliance that comes with dishwasher-safe parts.
Add-ons: The majority of raclette sets do come with additional accessories to make it easier for you to grill. You might want to opt for models that come with heatproof spatulas, raclette dishes, and forks. Advanced appliances also include a temperature control option which can come in handy if you're planning on using your raclette to cook meat.
Materials: The material directly impacts your raclette's durability, which is why it's worth investing in a solid, good-quality one. If you can afford it, don't hesitate to splurge on an appliance that comes with a cooking stone which does not only add some nice sear marks to your meat, but also adds extra flavor to your food. You might also want to go for models with a granite cooking surface since these provide safe and quick grilling.
Size: Raclette grills are mainly used for dinner parties and gatherings so it's not worth going for smaller ones unless you plan on using them for individual use. Ideally, your appliance should accommodate between six to eight people. If you're short on counter space, you can opt for a tiered one that stacks two grills on top of each other. Some models also include a fondue area at the bottom of the grill.
Read on for some of the best raclette grill models on the market.
The Best Raclette Grill - Swissmar Stelvio 8-Person Raclette Party Grill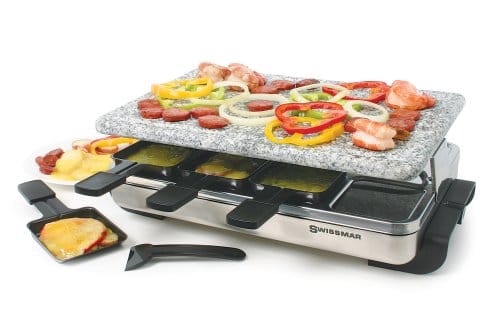 Boasting an elegant finish, the Swissmar measures 16.5 inches x 9.5 inches x 5.75 inches and makes for memorable dinner parties. Designed for eight people, this 1200-watt raclette grill is enhanced with variable heat control to make it easier for you to cook your crepes, eggs, pancakes, vegetables, chickens and meats to perfection. Described by customers as one of the best raclette grills, it has stay-cool handles which make it much easier for you to work with the appliance.
Most users liked the fact that the Swissmar comes with dishwasher-safe parts, largely facilitating cleanup. In addition, the item arrives in a gift box that also contains the raclette dishes and no less than eight spatulas. With an easy-to-wipe base, the party grill comes with dual layers, enabling you to melt your cheese in the individual dishes below the grill, while the top surface can be used to grill vegetables, seafood, meat and the likes.
Customers were also quite appreciative of the handy dishes which, according to them, can easily be used to prepare individual meals. On the other hand, a few drawbacks have been reported about this item, namely the fact that customers could not use cooking sprays on the raclette dishes or grill top. A few users additionally bemoaned the fact that they were not able to use souring detergents, wire brushes or steel wool with the Swissmar KF-77081.
Salton 6-Person Nonstick Party Grill and Raclette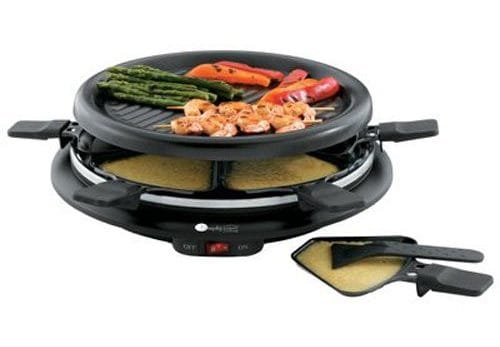 Ideal for larger groups of people, the Salton 6-Person Nonstick Party Grill and Raclette provides a unique dining experience. Designed for no less than 6 people, this raclette can be used to prepare small pieces of vegetables, seafood, meat, chicken and much more. The majority of users complimented the appliance's ease of use- even beginners had no trouble finding their way around the various dial knobs and settings. One of the best raclette grills on the market, this particular model is round-shaped and measures around 13 x 13 x 5 inches. Best of all, it only weighs around a pound, which means that you can easily carry it to parties.
According to the majority of customers, the top is easy enough to detach, which largely facilitates cleaning. Additionally, most users also appreciated the additional features such as its non-stick surface, immersible grill plate as well as the on and off indicator light to let you know when your food is ready. In the boxed packaging, customers also receive a set of six spatulas as well as the 6 raclette pans. A handy recipe book is also included. On the flip side, some customers weren't overly pleased with the item's limited warranty. A couple of people also claimed that the raclette was more suited to four people rather than six as the manufacturer claims, but this was not a widespread complaint.
Swissmar Classic 8-Person Raclette Party Grill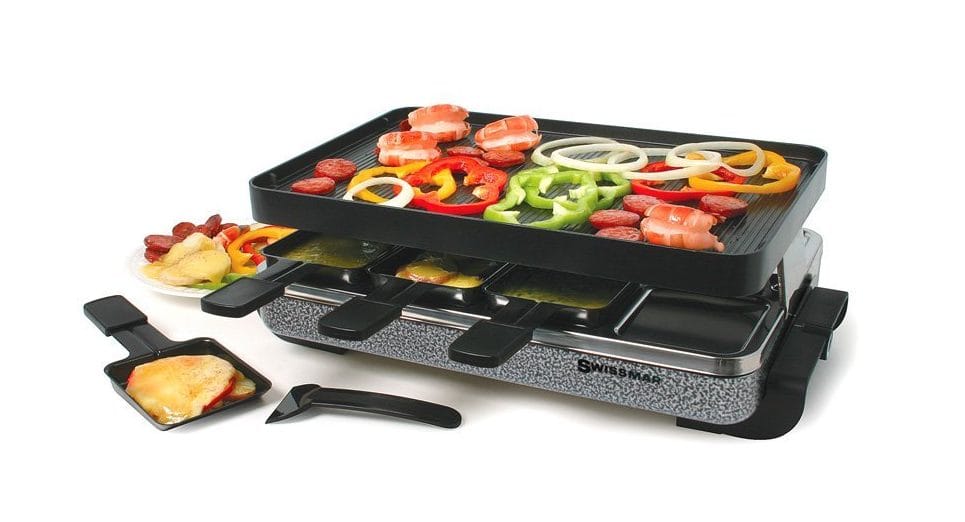 Extremely lightweight at only nine pounds, the Swissmar can easily serve eight people, which enables you to quickly whip up food for small gatherings and dinner parties. Customers appreciated the variable heat control that made it easier for them to cook items such as meat and the likes. In fact, users will also receive eight heat-resistant spatulas for ease of use. Measuring 4.5" x 3.50" x 17.50", customers also appreciated how ease it was to carry it around. More importantly, this raclette can even be used for quesadillas, fajitas, pancakes, crepes and many more. In fact, some users were also able to use the Swissmar KF-77041 for various types of leftovers such as corn on the cob, shiitake mushrooms and thinly sliced potatoes.
The handles stay cool to the touch, guaranteeing safety and efficiency. Customers also receive a recipe book to help them get started. Additionally, the majority of users quite liked the reversible grill and granite stone top they received with this particular model. On the other hand, a few drawbacks were reported about this appliance. For example, some customers complained about the pancake indentations on the grill surface when they would have preferred a completely flat grill.
NutriChef Raclette Grill, Two-Tier Party Cooktop, Stone Plate & Metal Grill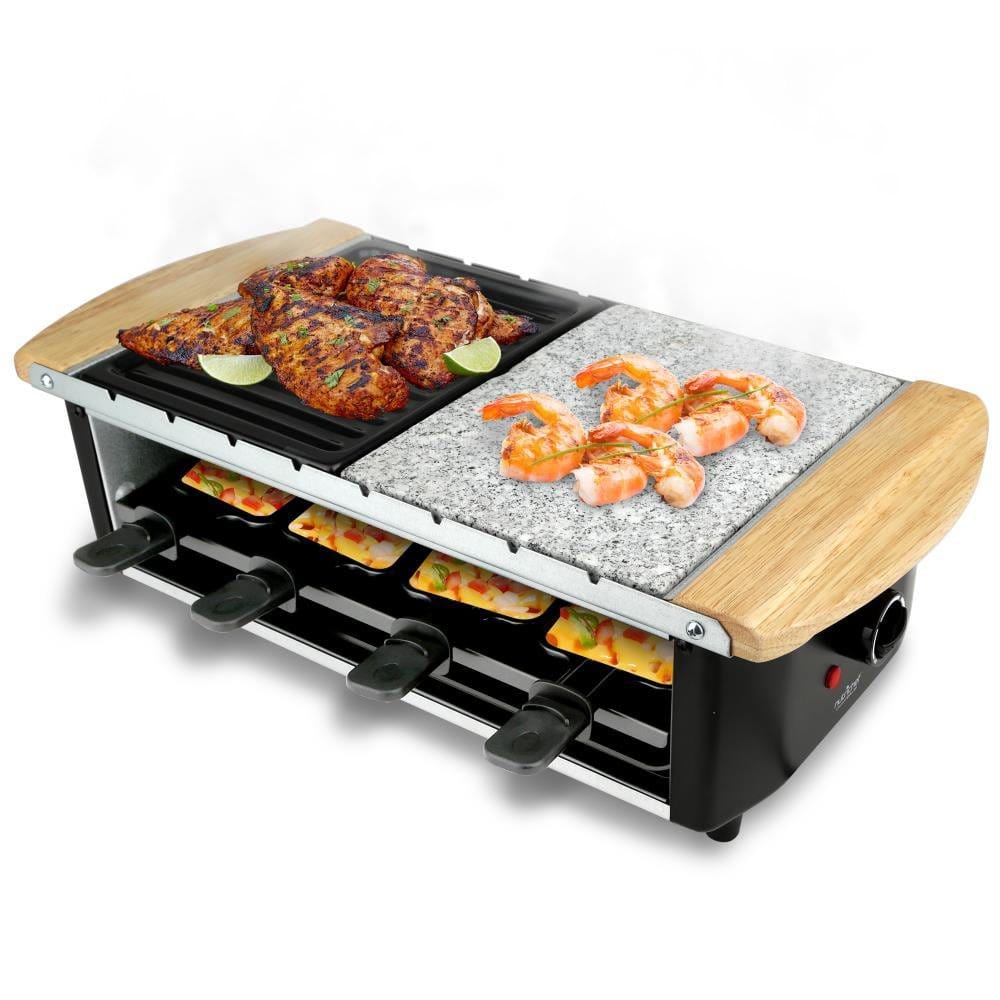 If you want to buy one of the best raclette grills, you can check out this NutriChef model. This 1200 watt raclette grill is perfect for small gatherings and can be used for seafood, vegetables, meats, cheese, chocolate and much more. Extremely easy to use- even for complete beginners- this appliance boasts a plethora of features such as a fully adjustable temperature dial knob as well as a hassle-free plugin operation.
Customers who bought the NutriChef raclette grill were also extremely appreciative of the tiered upper and lower cooking zones that made it easier for them to cook larger batches at a time. Best of all, this appliance comes with dual cooking surfaces with both metal and stone grill trays.
Designed to help you prepare your food Swiss-style, this grill even comes with the NutriChef Fondue Maker, another feature that won quite a few customers over. With the boxed packaging, customers also receive fondue forks with different colored tips to avoid confusion while helping your guest easily remember which one belongs to them.
The raclette grill measures 9.8" x 21.3" x 6.4" and only weighs around 10 pounds, making it easier for you to carry it over to parties. Very few drawbacks have been reported about this appliance, with just a couple of customers complaining that it was initially hard for them to find their way around the tiered grills.
Swissmar KF-77070 Eiger 8-Person Raclette Party Grill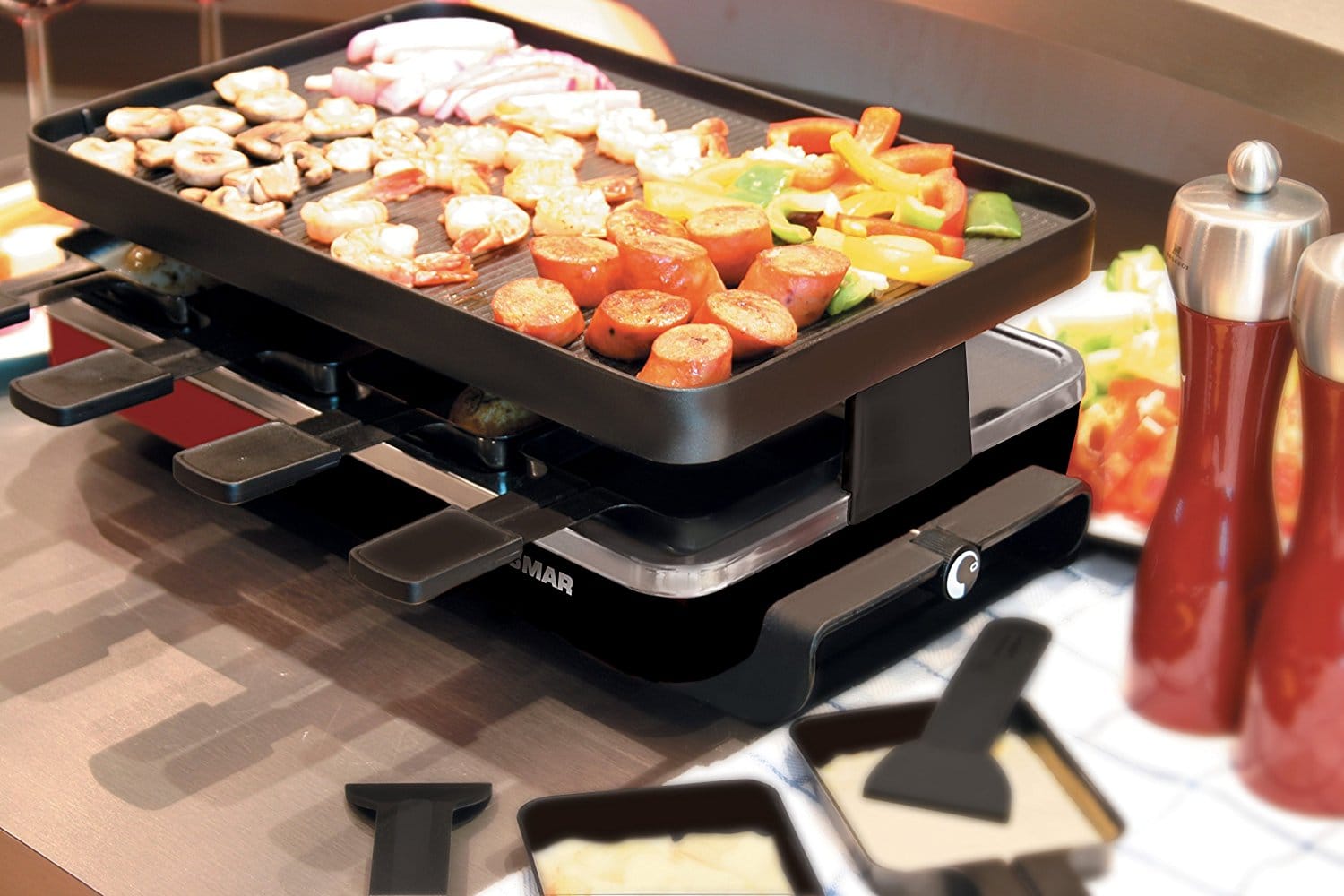 Perfect for entertaining, the Swissmar raclette grill is equipped with a variable heat control to help you reach the perfect level of doneness, especially if you're cooking meat. Ideal for eight people, this grill is enhanced with a non-stick reversible crepe/grill surface that measures 9 x 14 inches. Most customers were happy with the additional accessories that came with the boxed packaging, such as the 8 raclette dishes and 8 heart-resistant spatulas. Because you can cook right at the table, it's an excellent product for entertaining. The non-stick surface makes it easier for you to avoid adding any unnecessary fat or greasing agent to your food prior to cooking.
Because the parts are dishwasher-safe, most customers found that it was much easier for them to clean up after their dinner party. According to users, this appliance also adds some nice sear-marks on the food, enhancing its appeal. Customers were also appreciative of the appliance's weight which meant it easily held heat. Virtually no drawback was reported for this product which easily finds its way on the list of best raclette grills.
King of Raclette 2 IN 1 ROUND Party BBQ Grill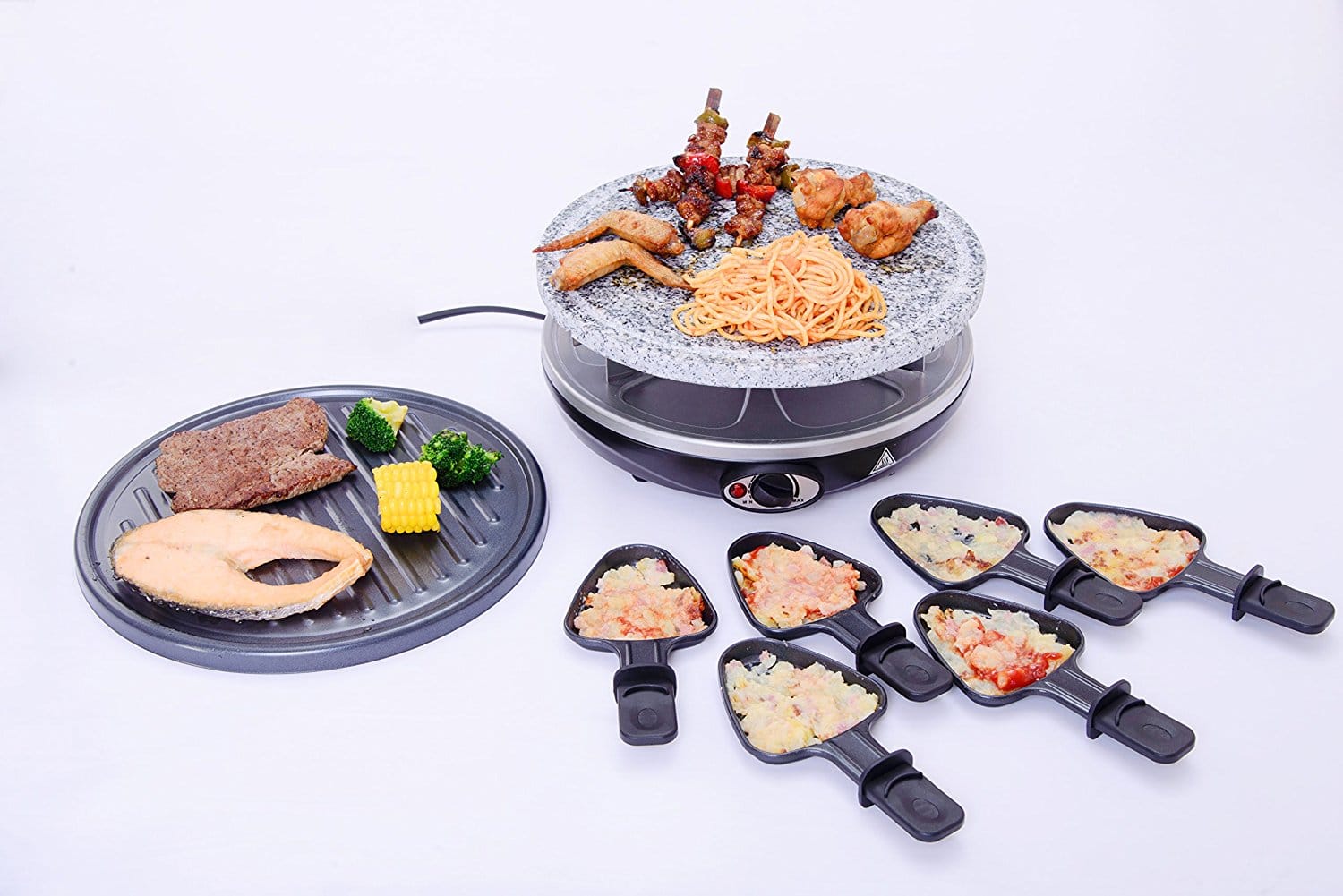 Extremely versatile, the King of Raclette 2 IN 1 can serve a variety of purposes including melting cheese, pancakes, eggs, preparing fondue as well as grilling vegetables, seafood, meat and much more. Customers were extremely fond of the removable grilling metal as well as raclette mini pans and stones that are all quite easy to clean and maintain.
Thanks to the non-slip grill, this appliance protects your hands from burning while preventing your meat and seafood from sliding off. In fact, some customers even claimed that the appliance is kid-proof, thanks to its extensive safety features. For example, this raclette has a knob control that goes from minimum to maximum heat, as well as an automatic safety shut off feature.
Additionally, it even comes with a light indicator as well as a thermal fuse designed for overheating protection. The majority of users had no trouble operating this appliance, even if they've never used it before. A handful of customers did complain that it was a bit on the heavier side but this didn't seem to be a problem for most people.
Hamilton Beach Raclette 8-Person Party Grill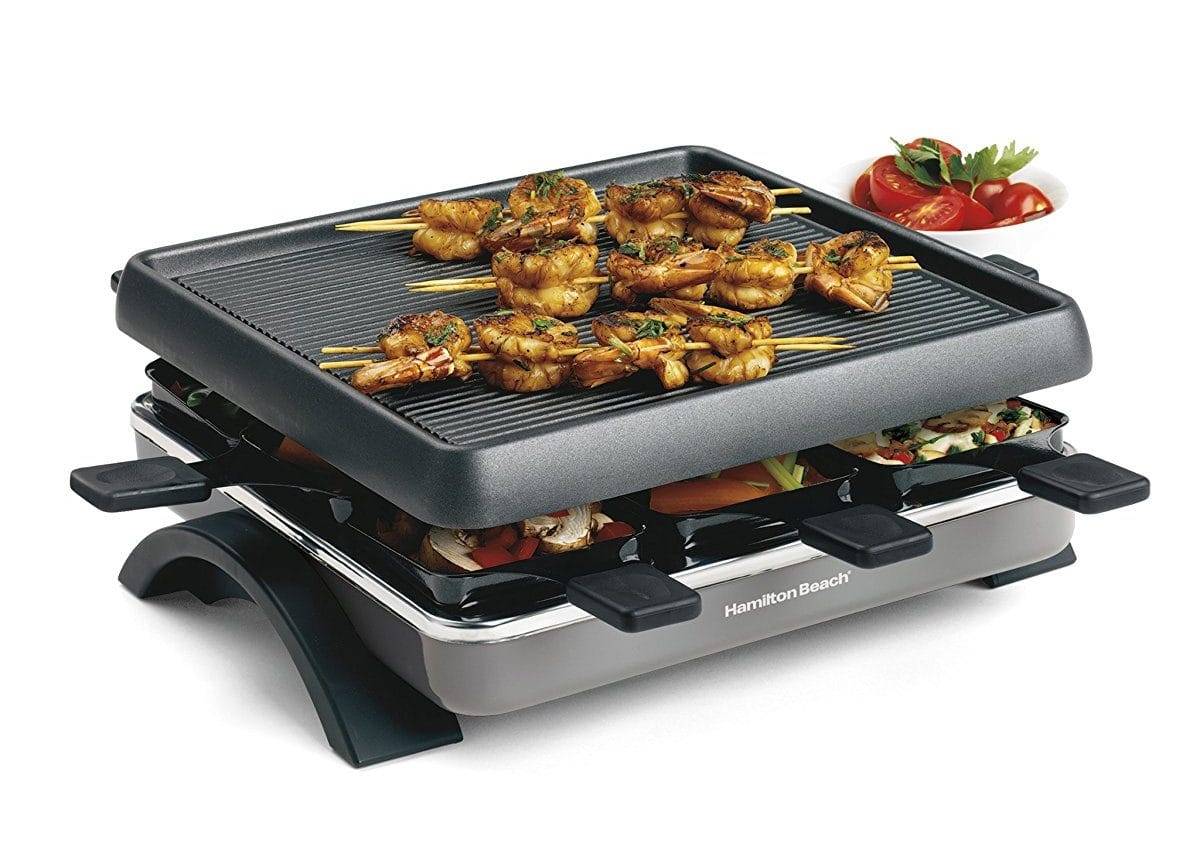 Measuring 16.1" x 7.8" x 5.5", the Hamilton Beach Raclette 8-Person Party Grill is equipped with dishwasher-safe parts to facilitate cleaning up. Upon delivery, customers receive additional accessories such as 8 heat-resistant cooking paddles as well as a handy recipe booklet. Perfect for preparing smaller pieces of vegetables, seafood and meat, this raclette is designed to provide a unique dining experience to eight people.
The one downside that was reported by customers was the 1-year warranty, which most people thought was on the short side. Other than that, the overwhelming majority of users were extremely pleased with their purchase. In fact, it's even ranked among the best raclette grills on the home appliance market.