The Best Under Counter Wine Coolers
Filed under: kitchen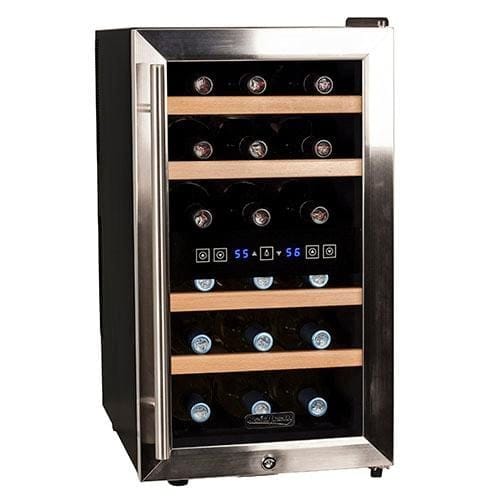 Last Updated: June 14th 2019. The Kalamera has been moved to the top of the list as the best under counter wine cooler. This item has better results across the board - quality, performance, functionality and customer service.
If you're a white wine enthusiast, then, you'll know important it is to keep your wine chilled. For regular wine drinkers, a cooler can store your collection. In this guide, we'll look at why you need a wine cooler, things to consider and review the best under counter wine coolers for your needs.
Are Wine Coolers Necessary?
You might think purchasing a wine cooler is an unnecessary purchase as wine can be stored in the refrigerator. It can, but wine coolers are designed to keep wine at the optimum serving temperature. You can get the best-tasting wine if you store and serve it correctly, so wine coolers have a purpose.
Wine coolers can be used for small businesses too, enabling customers to sample perfect glasses of wine. If you're thinking about purchasing one for personal use, then it's likely you enjoy sampling a variety of wines. Wine coolers retain the aroma, body, and taste of the wine, allowing you to get an accurate evaluation of each type of wine.
Businesses benefit more from wine cabinets, which store the beverage for longer periods of time at a temperature of 13℃. They are superior to wine coolers, but cost a lot more and often take up a lot of space. Wine coolers are more cost-effective and are perfect for short-term storage.
Different types of wine are best served at varying temperatures. White wines usually range from 7 to 11℃ and red wines between 12-19℃. The best thing about the coolers is they usually have dual or triple temperature controls, meaning a wide range of wines can be stored at their optimum temperatures. Red, white wines, and champagne can all be stored in one convenient location.
Things To Consider
How many bottles are you planning to store? Countertop coolers usually store between 6-12 bottles of wine, but under counter coolers have a larger capacity. They sit underneath worktops and can store as much as 52 bottles, depending on the model. The types of wine you store should also be taken into consideration. If you want to add Champagne to your collection, then you may need a larger cooler as it takes more space.
If you only drink white wine, then you need not purchase a dual temperature cooler. However, to enjoy both red and white varieties then you'll need dual temperature control to ensure each wine is stored at the correct temperature.
Where you place your cooler is also important. It should be placed in a location where the surrounded temperature doesn't fluctuate much. Under counter wine coolers should be measured before purchasing to ensure they fit.
The more basic wine coolers have fixed shelves, but newer versions have removable shelves. This is an important feature if you will store Champagne. There are also different materials used for the shelves, including wood, chrome, and stainless steel.
It's easy to get excited about the style of your wine cooler, but don't forget to check the energy rating. A low rating means it'll cost more to run, but many coolers are graded at an A.
Features To Look For
To get the most of your wine cooler, look out for these features. However, remember that the more features a cooler has, the more expensive it's likely to be.
UV-Resistant Glass
UV Rays can affect the taste and quality of your wine. Finding a cooler with doors made from UV resistant glass or solid doors will protect your wine from direct sunlight.
Humidity Controls
You need to manage the amount of moisture in the cooler to ensure the cork doesn't dry out. This directly affects the quality of the wine and the controls help to maintain the moisture levels.
Displays and Functions
If you're looking for a high-tech wine cooler, then some come with smartphone compatibility. Others have digital controls and sleek designs. These are the more expensive models, so if these features aren't important to you, then it's probably not worth the extra expense. You should look for cooler with a locking door to ensure your wine is kept secure and away from children.
Sliding and Wooden Shelves
Metal shelves can scratch and tear the labels of your bottles if not handled correctly. Wooden shelving is safer and better for serious collectors. Sliding shelves also enable you to move the bottles easier, reducing the risk of damage.
Upright Storage Space
It's a rare feature to find in wine coolers, but a welcome one. Upright storage space enables you to store opened bottles of wine at the back of the cooler. It's not an essential aspect and few coolers have upright space but they can be useful.
The Best Under Counter Wine Coolers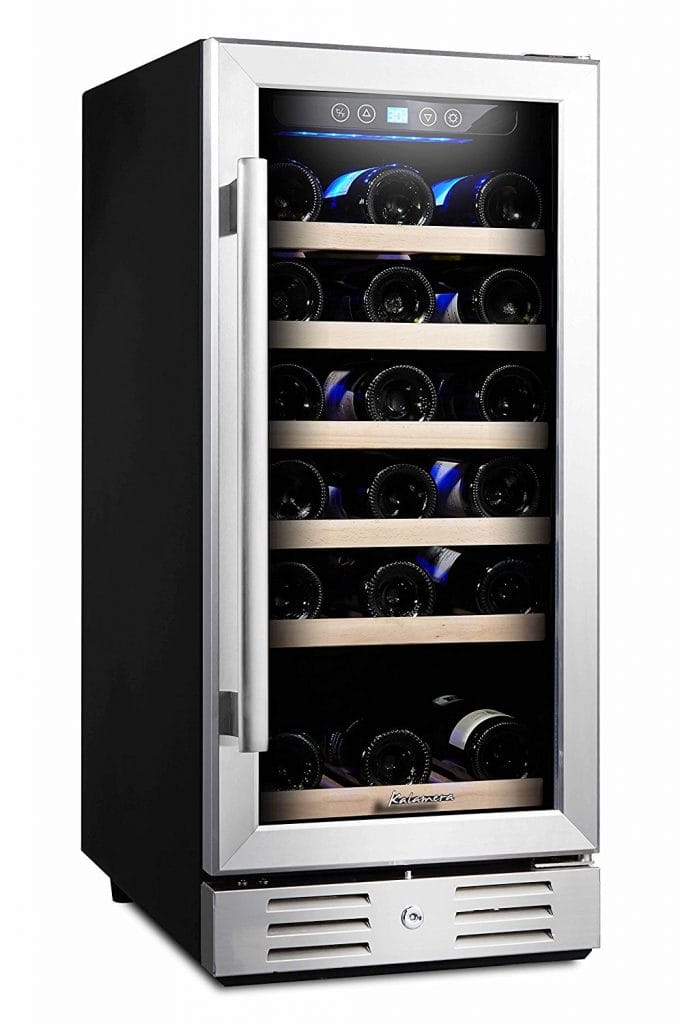 With a 30-bottle capacity, Kalameras 15" wine cooler offers wine enthusiasts plenty of space to store a variety of wines. Champagne can also be stored, but it does take up more space. The glass is kept from fogging by two layers of glass, which also stabilize the temperature inside the cooler. There are also LCD controls, which give the cooler a modern look, as well as making it more convenient to use. There are also wooden sliding shelves, which add to the superior design elements.
Overall Kalameras wine cooler is impressive. It functions well and doesn't make much noise. The design, functionality, and ease of installation cannot be faulted at all. The storage size is suitable for personal use and small businesses. With so many features the Kalamera is one of the best under counter wine coolers on the market.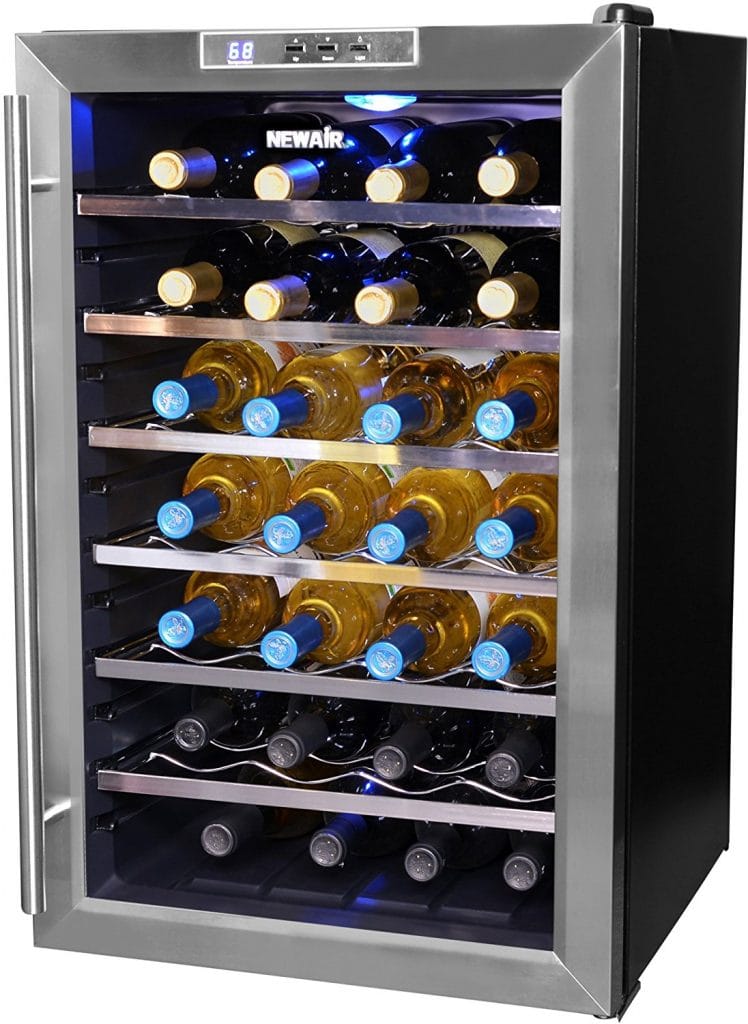 You'll be able to store 28 bottles in this thermoelectric wine cooler, which is quiet to run and vibration free. The double-paned door stabilizes the temperature inside the cooler, and there are sliding chrome shelves to make it easier to reach bottles of wine. It's also easy to use with a digital display which has push buttons on the cooler. The main disadvantage of the cooler is it doesn't reach low enough temperatures for sweeter wines and some other types.
while the company state their cooler holds 28 bottles, it seems to be a slight overestimation. In reality, if you had 28 small bottles of wine then it would be possible, but for those that want to store a lot of larger bottles then the NewAir may not be one of the best wine coolers on the market.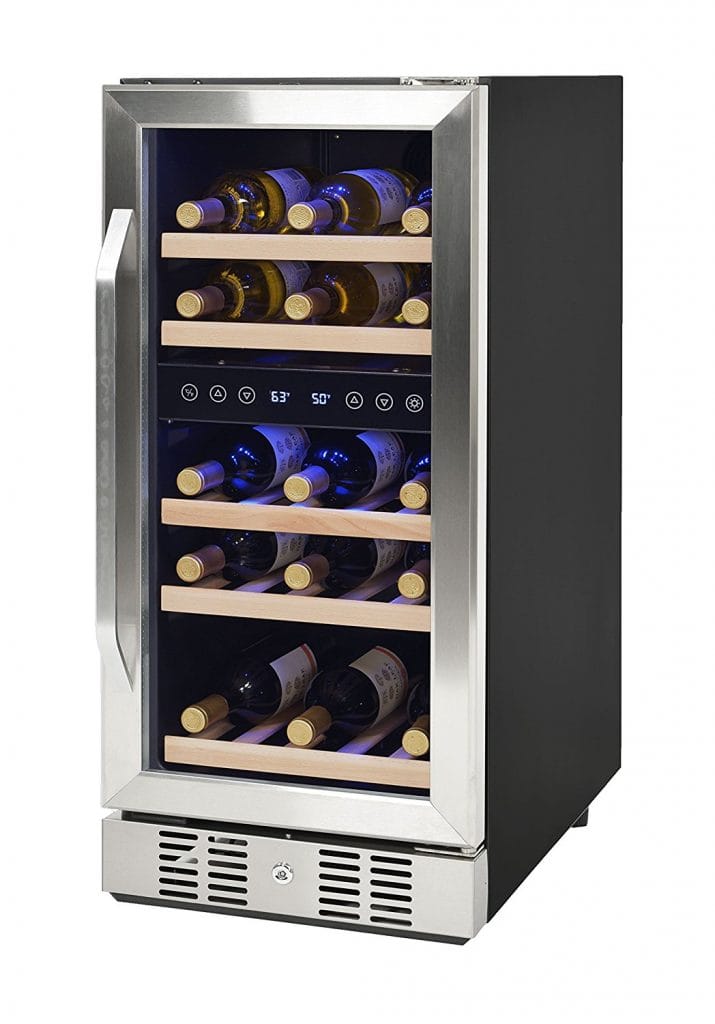 NewAir's second offering to the list is a stylish, compact cooler with attractive blue lighting inside. It adds a modern element to the cooler and gives it a classier feel. There are dual temperature controls to store both red and white wine, and the shelves slide to enable easy access. It also has a locking door to keep the wine secure at all times.
It seems yet again NewAir have overestimated the wine coolers capacity. They claim 29 bottles can be stored, but unless their mini samples it's unlikely. In reality, you'll be able to fit 16 standard size bottles, which is still an adequate amount. The cooler is quiet, and won't disturb you, but can be quite loud when placed in some places. The temperature initially holds well, but it can lose its effectiveness over time. If you're looking for a simple wine cooler that looks good then NewAirs compact model is one of the best wine coolers on the market.
This stylish cooler can be either freestanding or built-in to your counter. It has a sleek stainless steel design and a lock for each door. The shelves slide to enable users to access their wine easily. There is also an LCD unit and defrost function as well as rubber bushing to reduce noise and vibration. The best thing about the cooler is the sleek design. It's French-themed and looks amazing in any kitchen. There's also tinted glass to protect wine from damaging UV rays.
The cooler isn't excessively loud, but if noise is an issue for you, then it's worth looking at thermoelectric models. There are conflicting accounts about how noisy the cooler is, but it seems to depend on where it's stored more than anything. The main problem is the durability of the cooler. It's not going to last you years and you'll need to replace it after a couple of years. It's not ideal and there are better models available. However, the design and aesthetic appeal of the cooler are unquestionable.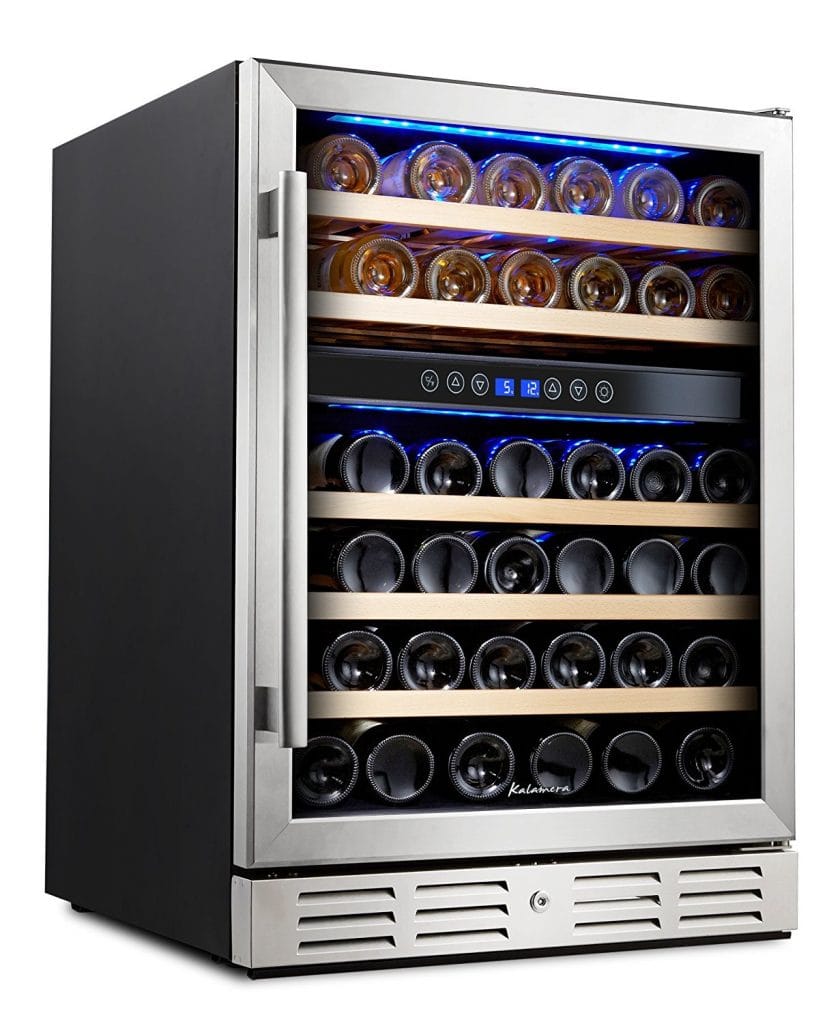 This Kalamera wine refrigerator is similar to its predecessor but claims it can hold 46 bottles of wine. The glass is triple layered to ensure maximum UV protection and there is also dual temperature control. The design is sleek and modern, with wooden shelves, offering a high-quality model with little risk of scratching the labels. There's also a security lock and a blue interior LED light. The compressor unit is of a high quality and reduces vibration and excess noise.
Kalamera are known for their quality coolers, and this one doesn't disappoint. It retains a stable temperature and is durable. It's not one of the most high-tech models available, but in terms of cost and quality Kalamera's refrigerator is one of the best wine coolers on the market.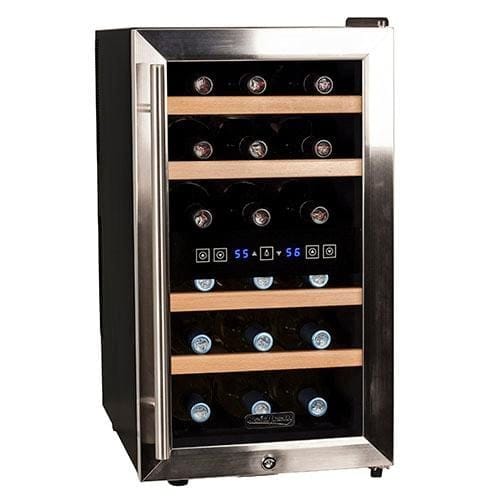 With a thermoelectric design and dual temperature control, Koldfronts wine cooler ensures you'll get the best tasting wine possible. The cooler is well designed and has wooden shelves to increase the aesthetic appeal and prevent labels from being scratched. It also has LCD temperature display and interior lighting, which is tasteful and non-intrusive. The temperature is controlled by gauges, which are easy to use and the temperature remains stable.
If you want to store large bottles of wine, then you're best finding another cooler. Standard bottles will fit easily, but some are too long for the shelves. The cooler is marketed as having minimal noise and vibration, but this isn't the case. Depending on where it's placed it can be noisy and disruptive. It's not the best under counter wine coolers around, but the nice design and wooden shelves make it a great option for personal use.