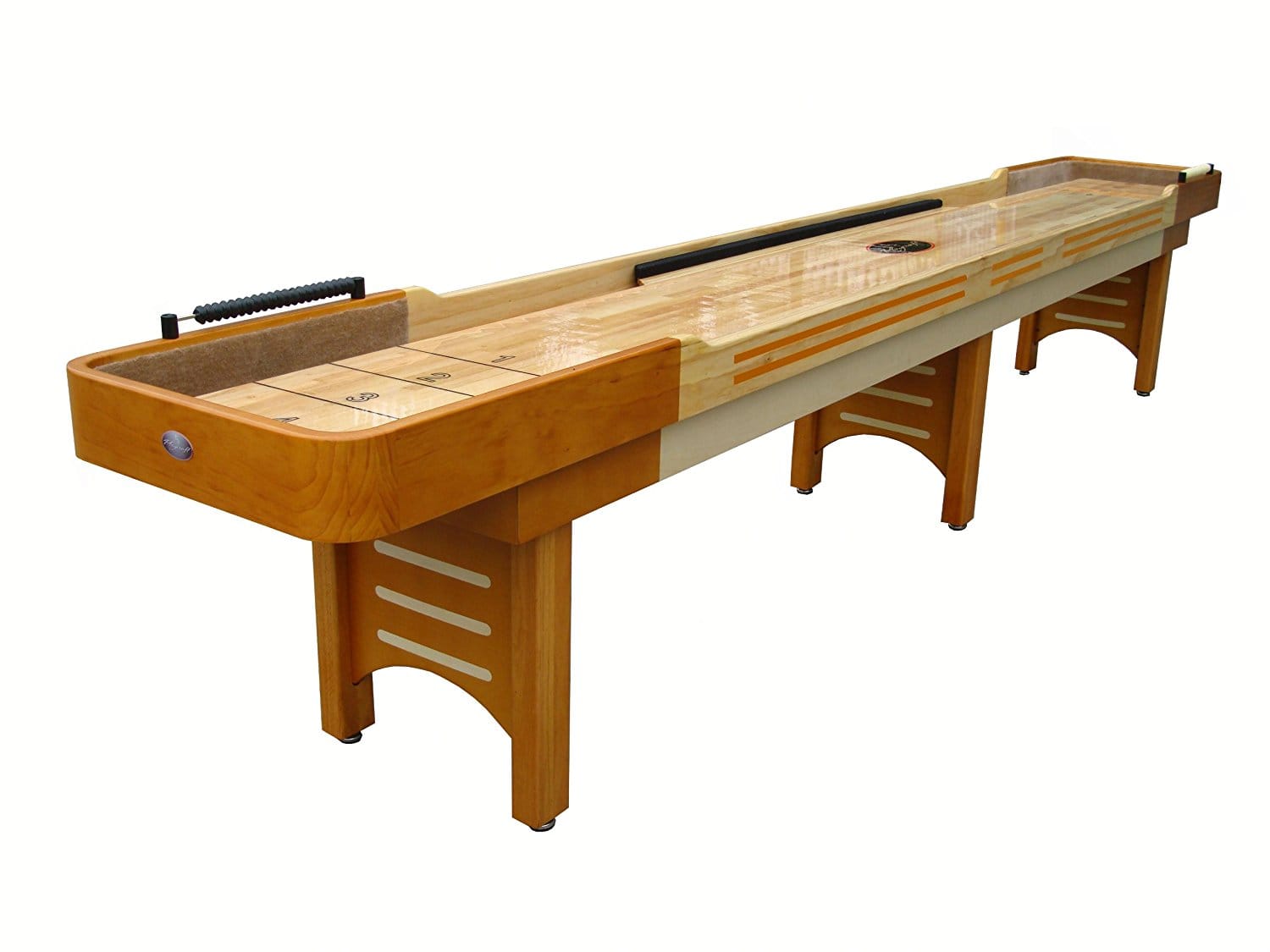 Last Updated: June 29th 2019.
While the shuffleboard is thought to originate from 15th century Britain, this game quickly became famous all over the world and remains quite popular today. While it can be played on the ground, most players choose to invest in the best shuffleboard table for ease of use.
If you've never bought a shuffleboard table, however, it can be a bit daunting to settle for a particular model, considering the number of brands that are available out there.
Here's a summary of our top rated tables:
Playcraft Georgetown
Playcraft Woodbridge
Atomic 9ft Platinum
Playcraft Coventry
Hathaway Challenger
Blue Wave Shuffleboard
Playcraft Telluride Pro-style
Here's a quick buying guide to help you find the best shuffleboard tables.
Things to look out for
Size
This is undoubtedly the most important feature to look out for when you're buying your shuffleboard table. Fitting through the door shouldn't really be a problem for the majority of tables since most shuffleboards tend to be quite narrow.
However, they are also on the lengthier side so it does pay off to measure your room beforehand. While most models range between 16" and 20"long, professional tables measure 22 feet long and 20" wide. When measuring the room, do factor in the fact that players will need ample space to stand and move around the table as well. A rule of the thumb is to leave at least three feet of playing space at either end of the shuffleboard table.
Do remember that wider tables tend to be on the more expensive side, so you might want to go for a narrower one to save up on space.
Design
The majority of shuffleboard tables are lightly curved in order to prevent the puck from sliding off in the middle of a game. The curvature can change according to various external factors such as excessive humidity. Therefore, if you live in a humid region, you might want to look into tables that come with climatic adjusters, which are basically adjustable metal braces that lie on the underside of the board, enabling you to adjust it at will. These designs are more suited to expert players who plan on using the board on a daily basis or at least several times per week.
Similarly, do pay attention to the scoring grid when you choose your model since this also influences the price. Amateur tables normally have three-level grids but professional- and more expensive- models tend to sport a triangular grid which is separated into six different sections.
Surface finish
When it comes to shuffleboard tables, paying attention to the surface finish is for more than just aesthetic reasons. Indeed, the finish quality actually influences the quality of your game. If you're a beginner, it's important to know that the surface is made from different layers of wood that have been laminated together - not unlike butcher's blocks. So, be sure that your board features vertical layers instead of horizontal.
The best boards are coated in Polymer in order to help the puck glide better. Professional tables normally come with a lifetime warrantee on the coating but if you're on a limited budget, rest assured that you can buy an amateur table and simply have it coated again every couple of years. If you can afford it, try to buy a table that has a coating of resin for added protection.
With all these points in mind, let's take a look at some of the best shuffleboard tables on the market:
Playcraft Georgetown Shuffleboard Table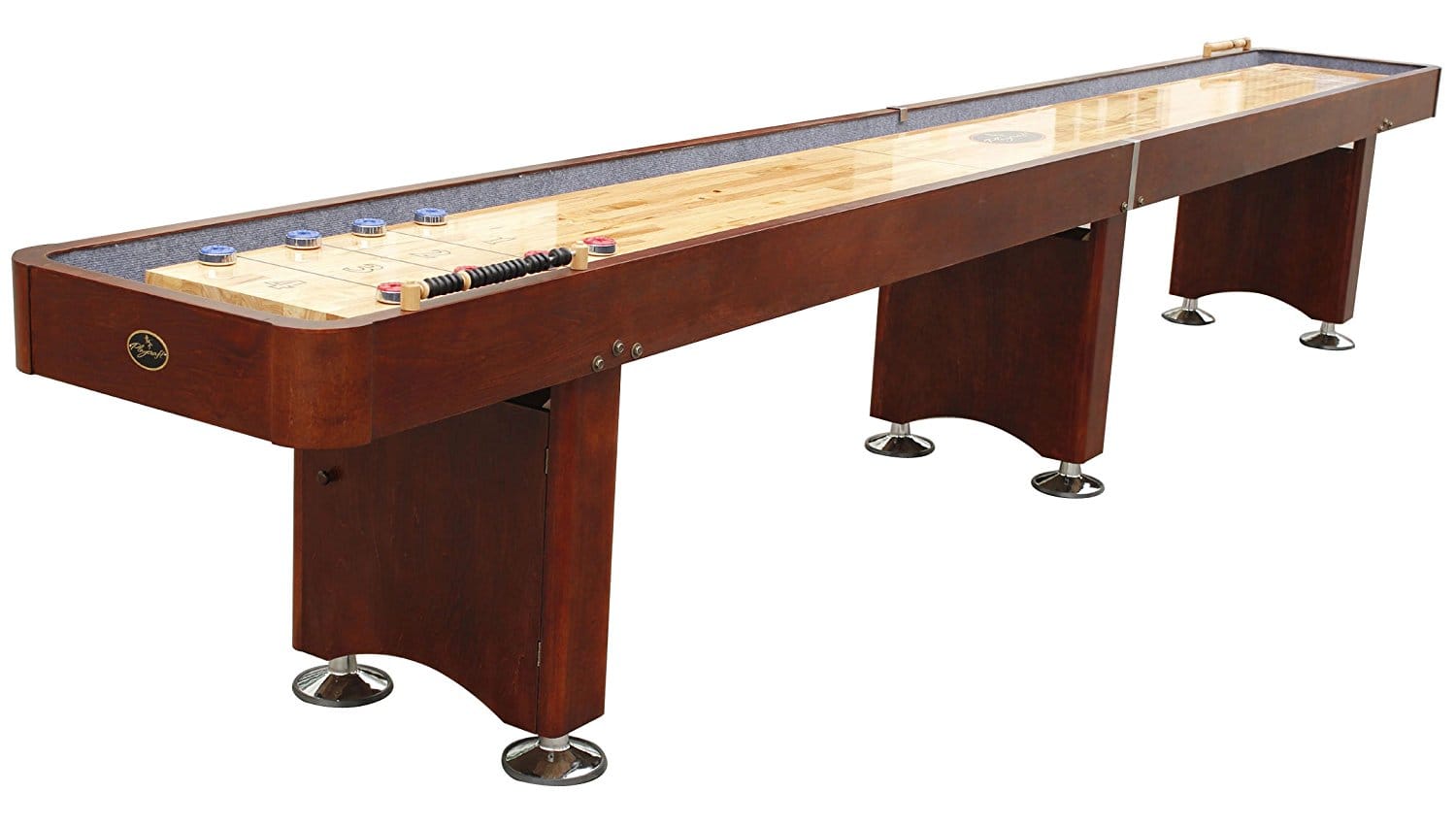 Available in Cherry,  the Playcraft Georgetown is easily one of the best shuffleboard tables on the market. Upon purchase, customers receive different playing equipment including speed wax as well as four red and four blue deluxe playing weights. This hard-stained table also features a burnished hardwood veneer, rail caps as well as solid and durable hardwood corners. With this table, you'll also benefit from additional features designed to enhance longevity such as carpeted gutters- a feature that was extremely well received by most customers.
10 coats of polyurethane have been applied to create a glossy surface and according to customers, this made it easier for them to play. This shuffleboard table additionally includes a climate adjuster system that will help users easily shape the playfield profile.
In terms of drawback, one customer did complain that the puck seemed to bounce on the board but this was an isolated issue.
Best Shuffleboard Table For The Money - Playcraft Woodbridge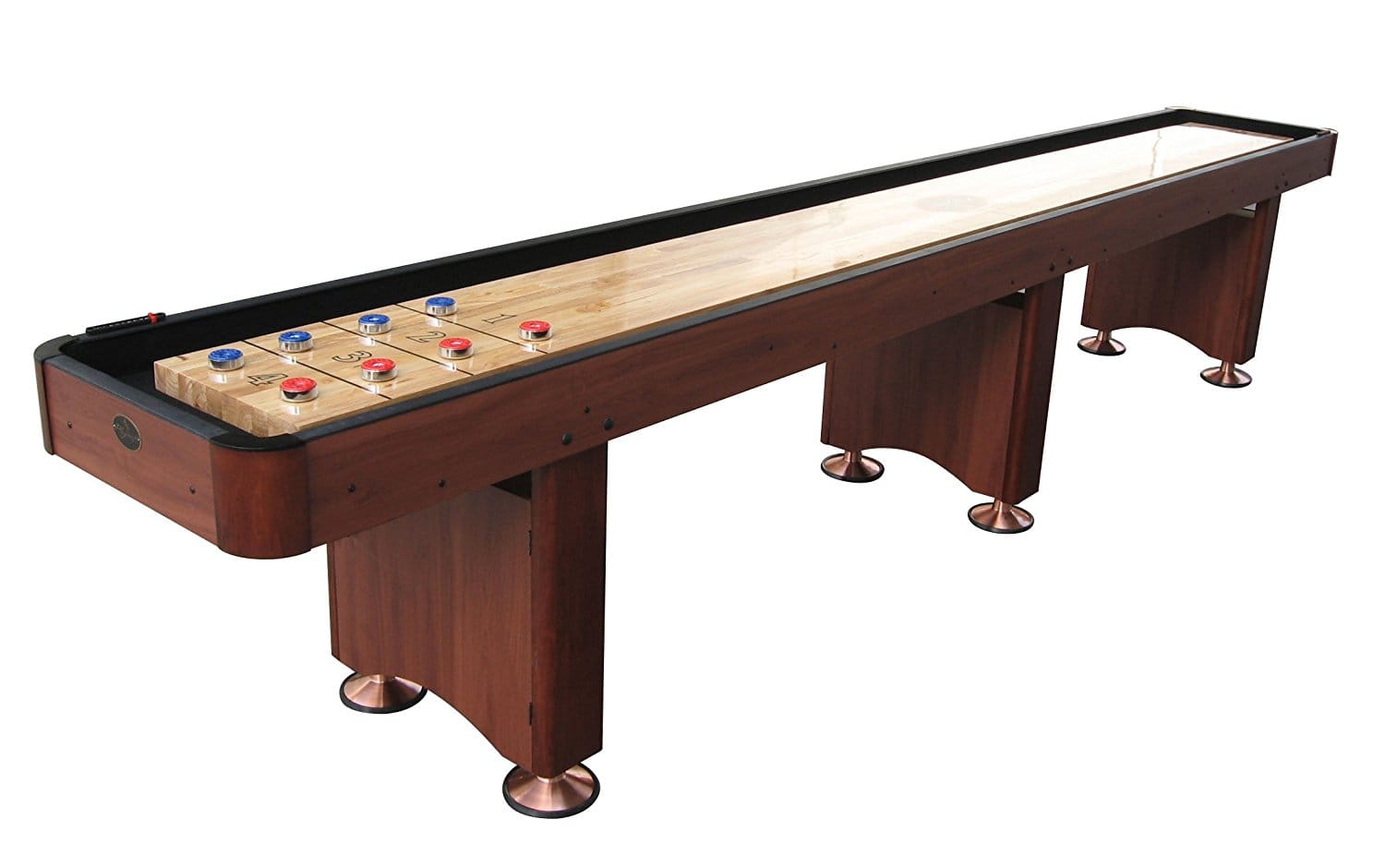 The Playcraft Woodbridge has been described by customers as one of the best shuffleboard tables on the market, and for good reason. While it is an entry-level table, this product offers an excellent performance which makes for a more pleasant performance. Most users liked the fact that the table comes with an edge-glued vertical stave butcher block: according to them, this particular feature facilitated ease of use, making it easier for them to play in groups.
Another feature that was quite well-received by the majority of people was the leg cabinet storage that made it easier for them to stow the game accessories afterwards. In fact, all the playing equipment was included. There have been a few negative feedback about this product: some users found that the assembly process was quite time-consuming. This table is available in cherry.
Playcraft Georgetown Shuffleboard Table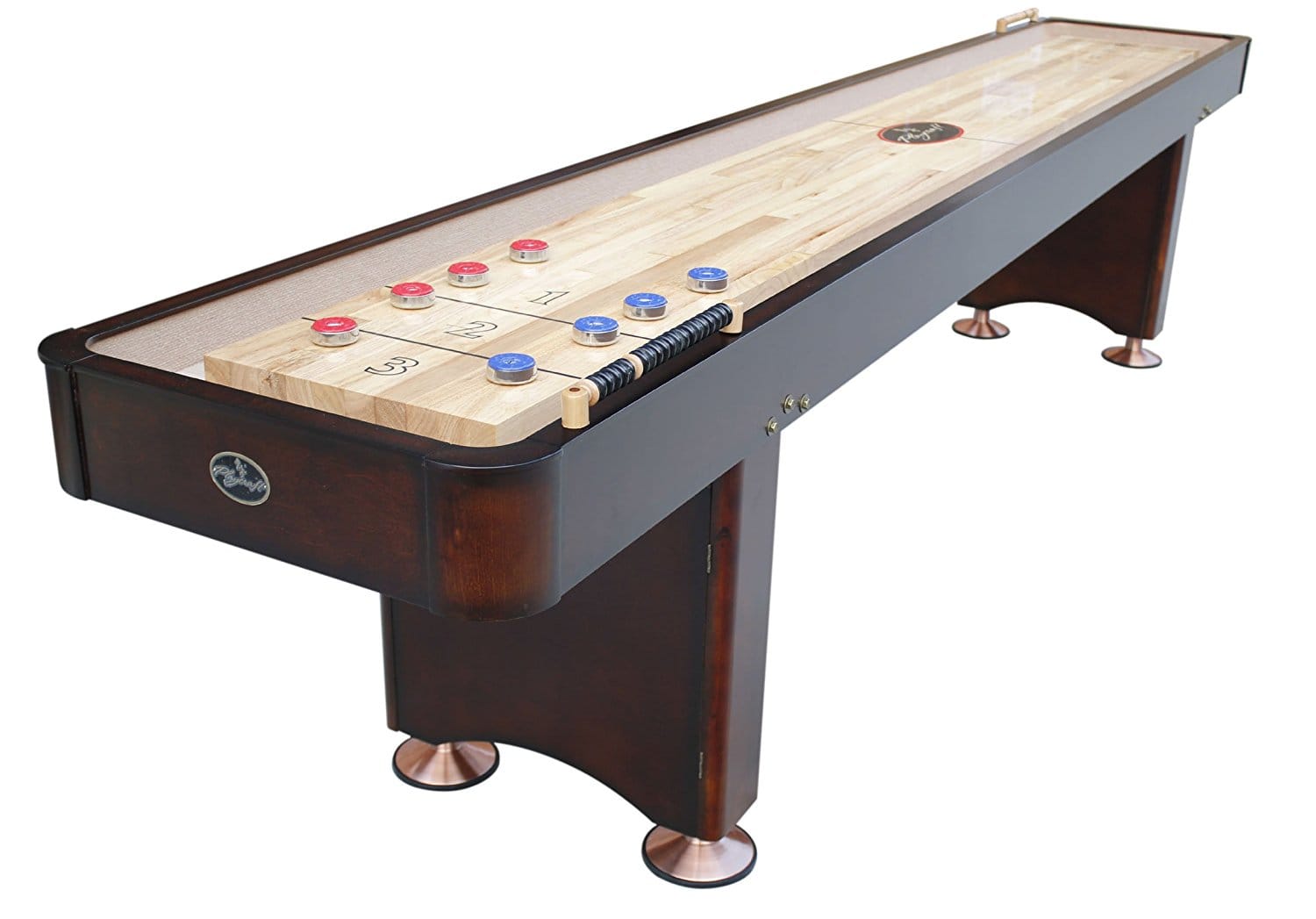 Available in Espresso, the Playcraft Georgetown is ideal for anyone who wants to invest in one of the best shuffleboard tables. Designed for both amateur and experienced players alike, this particular table was quite well-received by the majority of customers. Some assembly is required but the great majority of people found it easy to put the table together, even if they've never set up such a product before.
In terms of feedback, quite a few people praised the fact that they received a plethora of playing equipment including- but not limited to- deluxe playing weights in two different colors. Because the curvature on these tables tend to change according to weather conditions, it also comes with a climate adjuster system that can be used to shape the playfield profile. Virtually no drawback was reported for this table.
Atomic 9 ft. Platinum Shuffleboard Table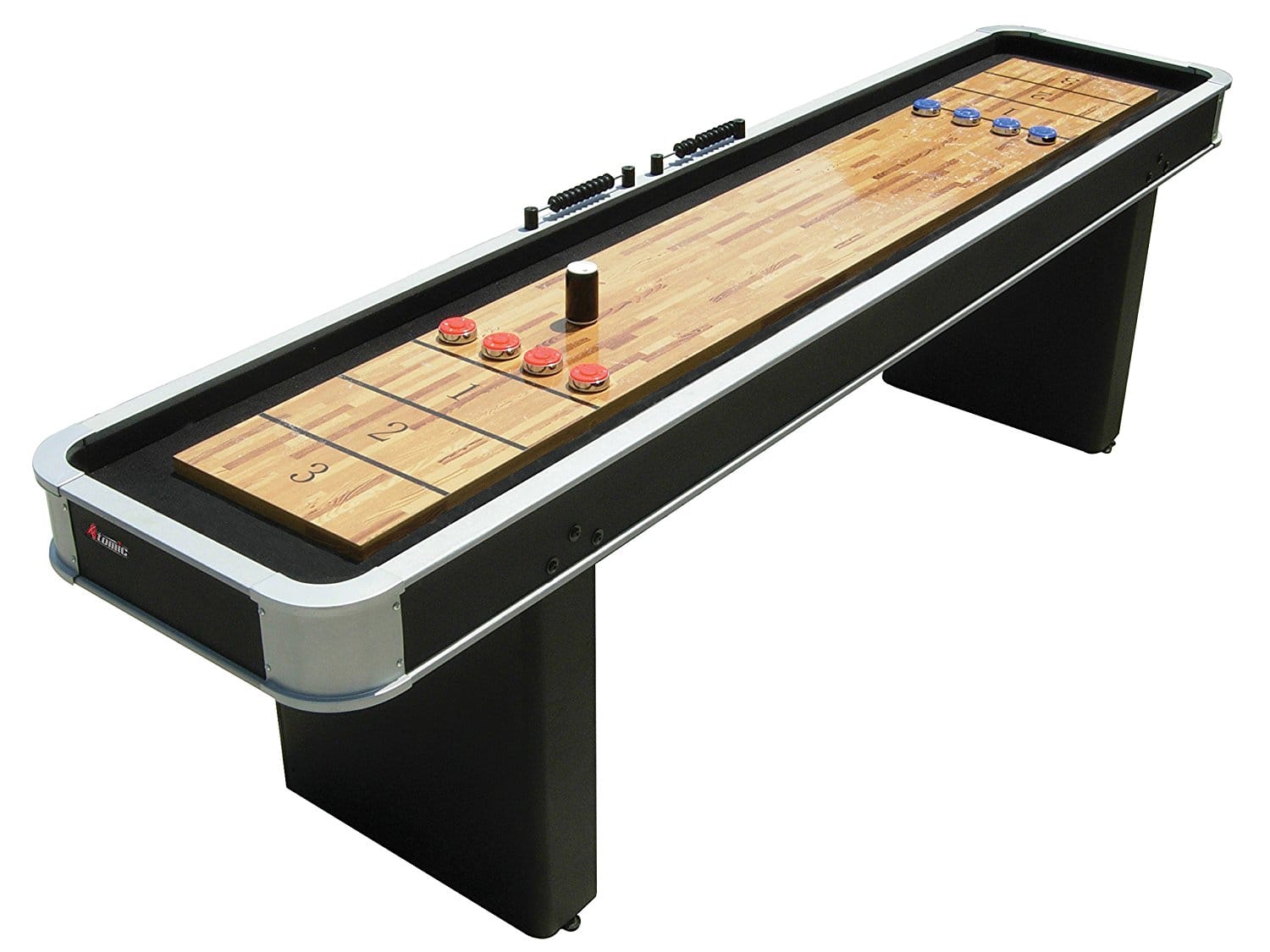 Perfect for more experienced users, the Atomic 9 ft. Platinum Shuffleboard Table measures 9 inches long and is designed to fit any space. According to most customers, this is one of the best shuffleboard tables on the market since it comes with pedestal legs that are enhanced by lev
ers that provide both a smooth playing experience as well as optimal stability.
Users also liked the Abacus-style scoring as well as the included accessories such as a canister of shuffleboard wax and 8 Blue and Red pucks. Because of its sleek, modern design, users actually positioned the table in a visible area of their house since it made for quite an interesting centerpiece.
In terms of drawbacks, a customer claimed that the table arrived with a missing part, but this was a unique situation.
Playcraft Coventry Shuffleboard Table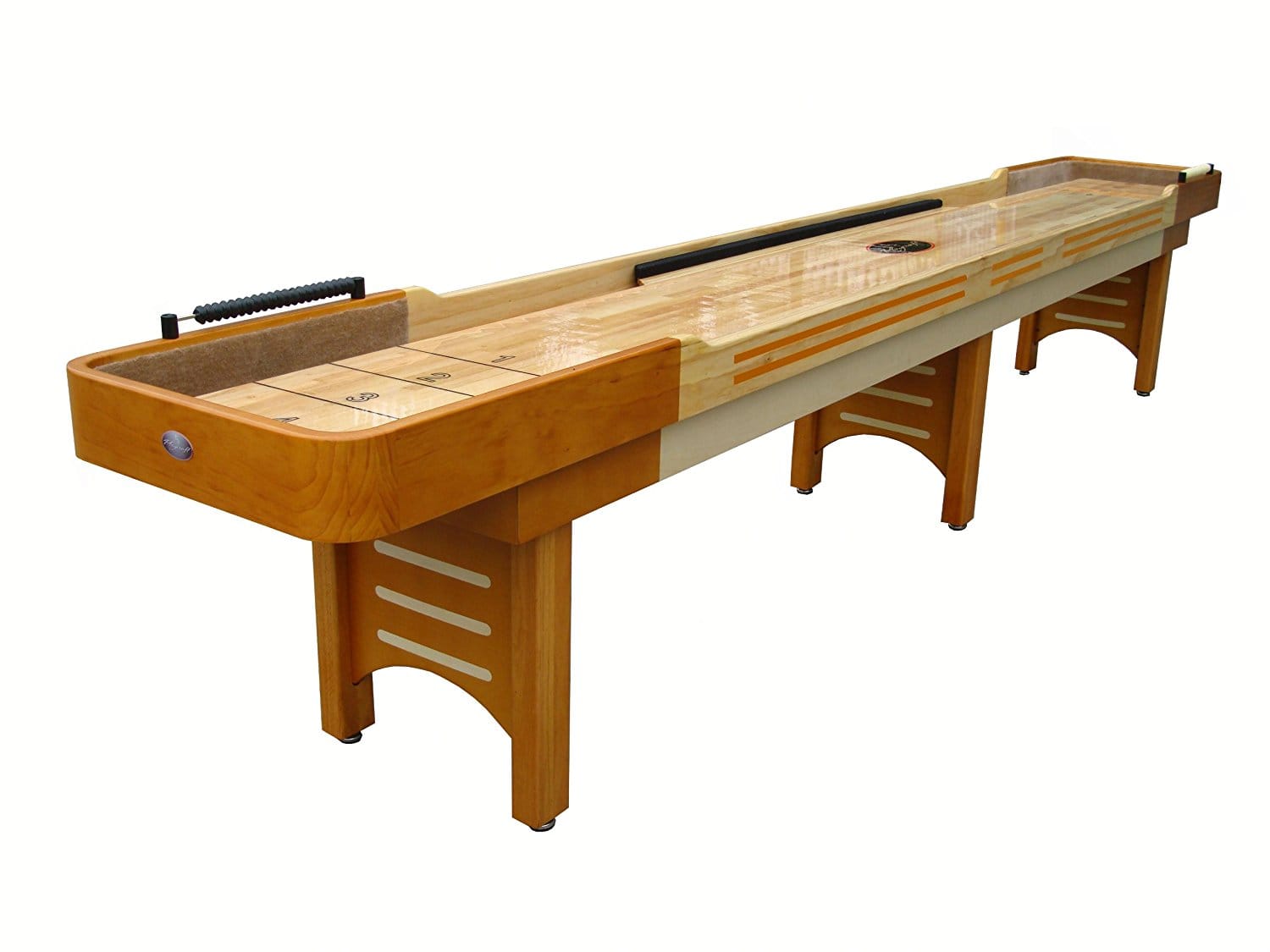 With a honey-colored surface, the Playcraft Coventry Shuffleboard Table requires some assembly, but it has been hailed as one of the best shuffleboard tables on the market. All the playing equipment are included- something that most customers quite appreciated. Because this table has quite an attractive design, with a lower cradle, customers found that they could place it anywhere in the room to enhance its overall aspect.
Additionally, users also liked the edge glued vertical stave butcher's block which made for an easier and fuss-free playing experience. The cradle is made from solid hardwood with attractive applique detailing. A few drawbacks have been reported: some customers found that the surface wasn't glossy and slippery enough while a few people also complained about the weight, which they found to be on the lighter side.
Hathaway Challenger Shuffleboard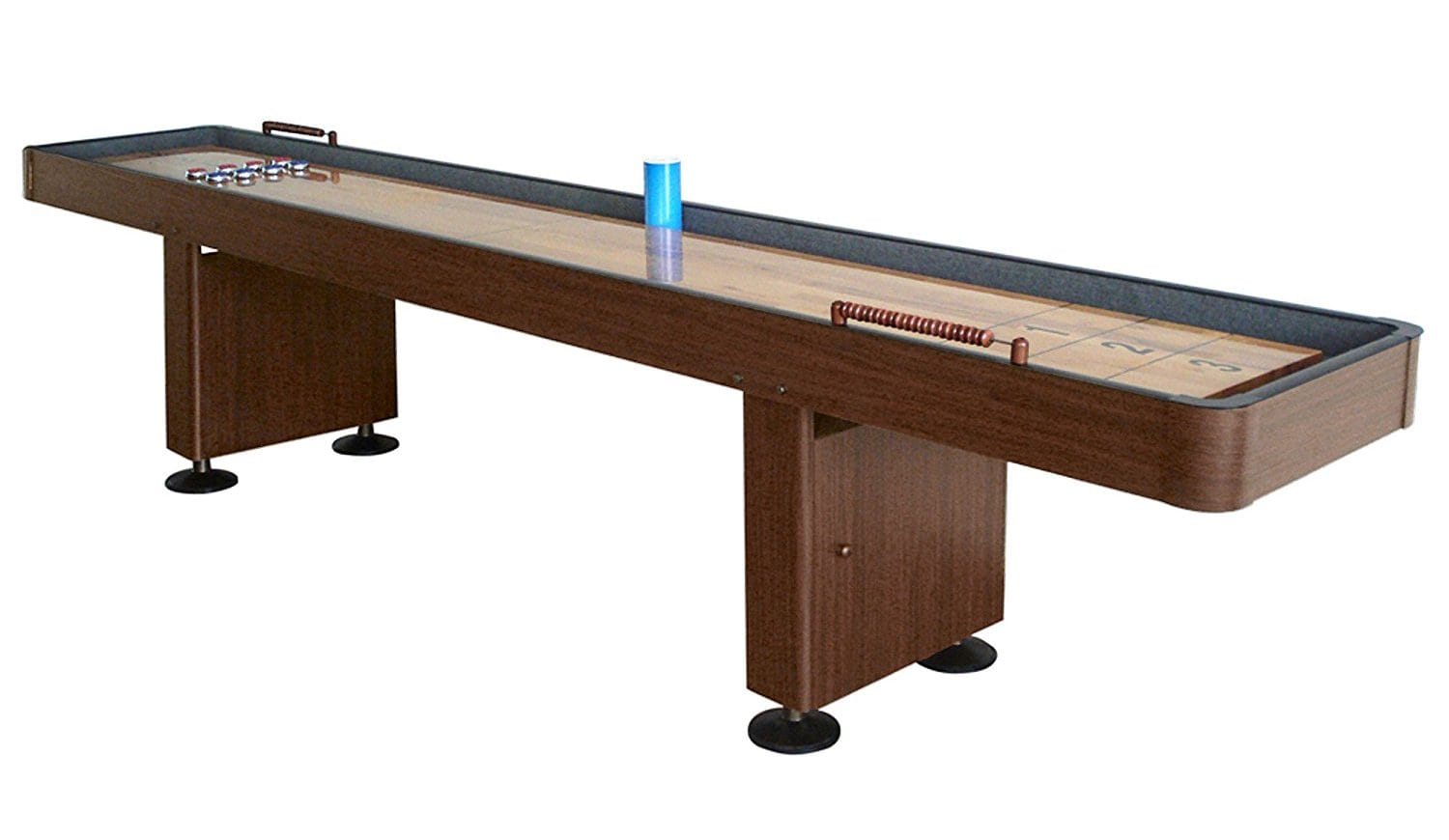 Measuring 98" x 15" x 31", the Hathaway Challenger weighs 262 pounds, providing a stability and longevity. Among the best shuffleboard tables on the market, this particular model boasts cabinet-grade and perfectly molded plywood corners that boosted its aesthetic allure.
Customers quite liked the end and side aprons which made it easier for them to play as well as clean up afterwards. With this table, they could also make the most out of the integral climate adjusters as well as independent leg levelers for added stability.
No drawback has been reported about this shuffleboard table.
Shuffleboard Table 12 Ft Set Hardwood Block Surface Home Game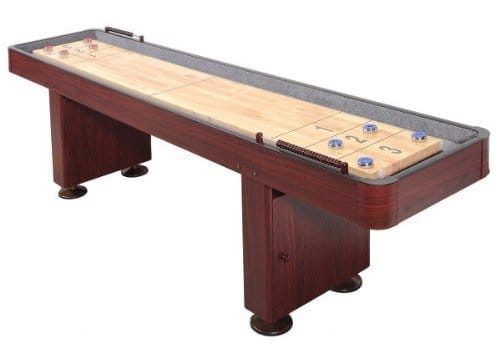 Because this shuffleboard table by Blue Wave weighs 259 pounds, it is extremely stable, which makes it ideal for group play without any unnecessary wobbling. Boasting a dark cherry finish, this particular table is designed for experienced users and comes with various types of accessories to render the game more interesting and challenging- something that customers quite appreciated.
One of the best shuffleboard tables on the market, it also comes with a brush for cleaning, a box of table dust as well as two sets of pucks. As far as its negative reviews are concerned, some customers did say that they needed several people for the assembly process because of the table's size.
Luxury Option - Playcraft Telluride Pro-Style with Electronic Scorer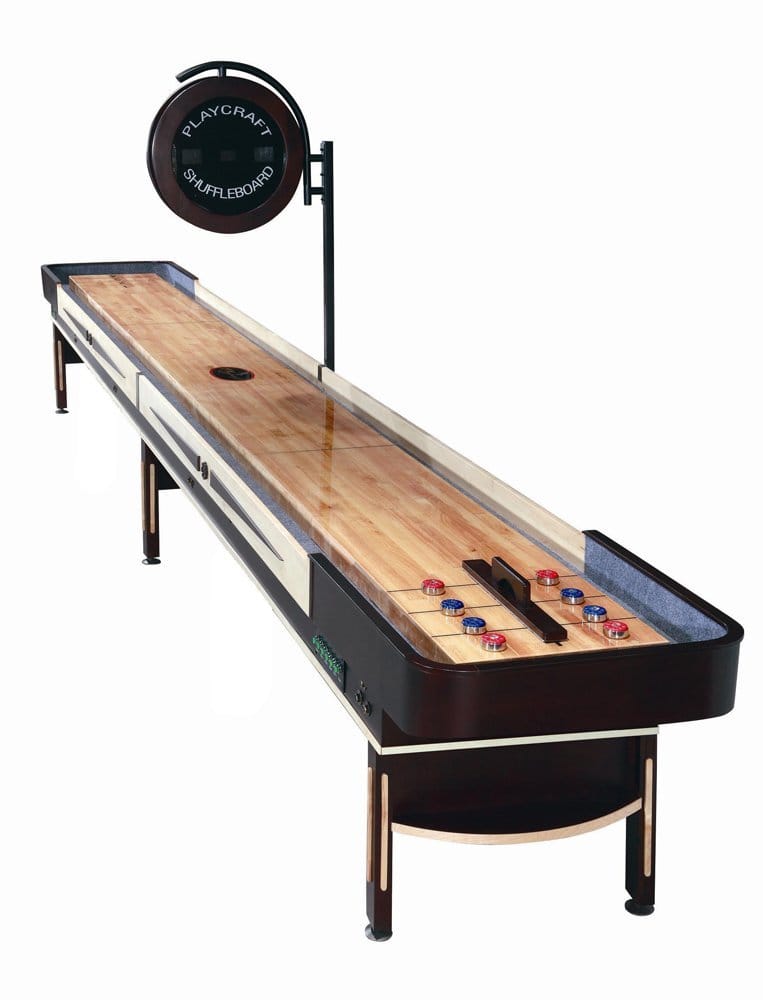 With an elegant furniture-quality finish, the Playcraft Telluride Pro-Style is known as one of the best shuffleboard tables on the market and includes various types of playing equipment. Boasting a Canada Maple Edge Vertical butcher block, this table was a hit among users, especially because of its electronic scorer.
Ideal for group play, the table does require some assembly, which was actually the only drawback reported by customers: indeed, they found the assembly process to be quite tedious, given the table's weight.
Other than this particular drawback, however, the shuffleboard table was extremely well-received.