Best Indoor Meat Smoker Buyer's Guide And Reviews 2019
Filed under: kitchen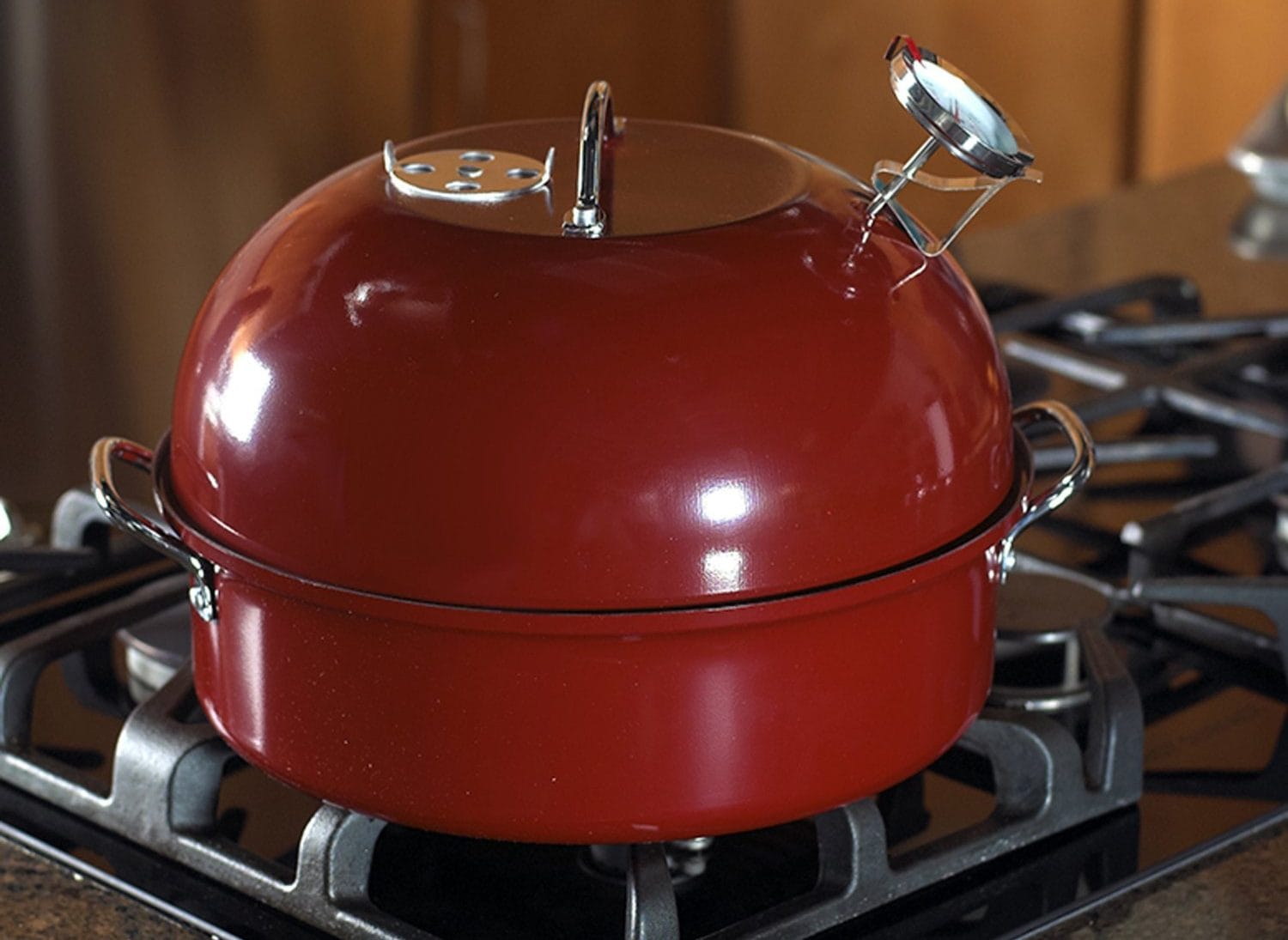 Update May 2019: There's three options when you want to cook food indoors and get a smokey flavor: smoker bags (try the Hickory by Cameron's Products), grilling papers (try the cedar by TrueFire) and stove top smokers (the Nordicware is the most recommended) or small electric smokers (the best is the Oster).
You have three options when looking to get smoked flavors in your foods when cooking indoors - grilling papers, smoker bags or small kitchen smokers. We'll go through each of these products individually.
First off, when looking at smoking food indoors, make sure you buy the right product! It's highly recommended against using full size electric smokers indoors and even in the garage. There's a plethora of reasons why - control is the biggest issue. When you open the door, smoke is going to billow out and unless you love the idea of smokey meat scents permeating every single fibre in your house, it's not a good idea. Perhaps even more critical than this is the fact that dangerous gases can be released into your household and you may cause harm to yourself or loved ones. There's also the fire danger.
Read Next:
What you can do and can't do when smoking food indoors
Smoking meat indoors isn't quite the same as using an outdoor smoker. You are going to be restricted by the amount of food you can smoke and you're not going to get the same smokey flavor imparted on your foods.
That being said, as long as your expectations are in check, you will get good results from using either a stovetop indoor smoker or an electric indoor smoker (just make sure it is made for indoors, most electric smokers are built for outdoor use only).
Best Indoor Meat Smoker (Stovetop) - Nordic Ware Stovetop Smoker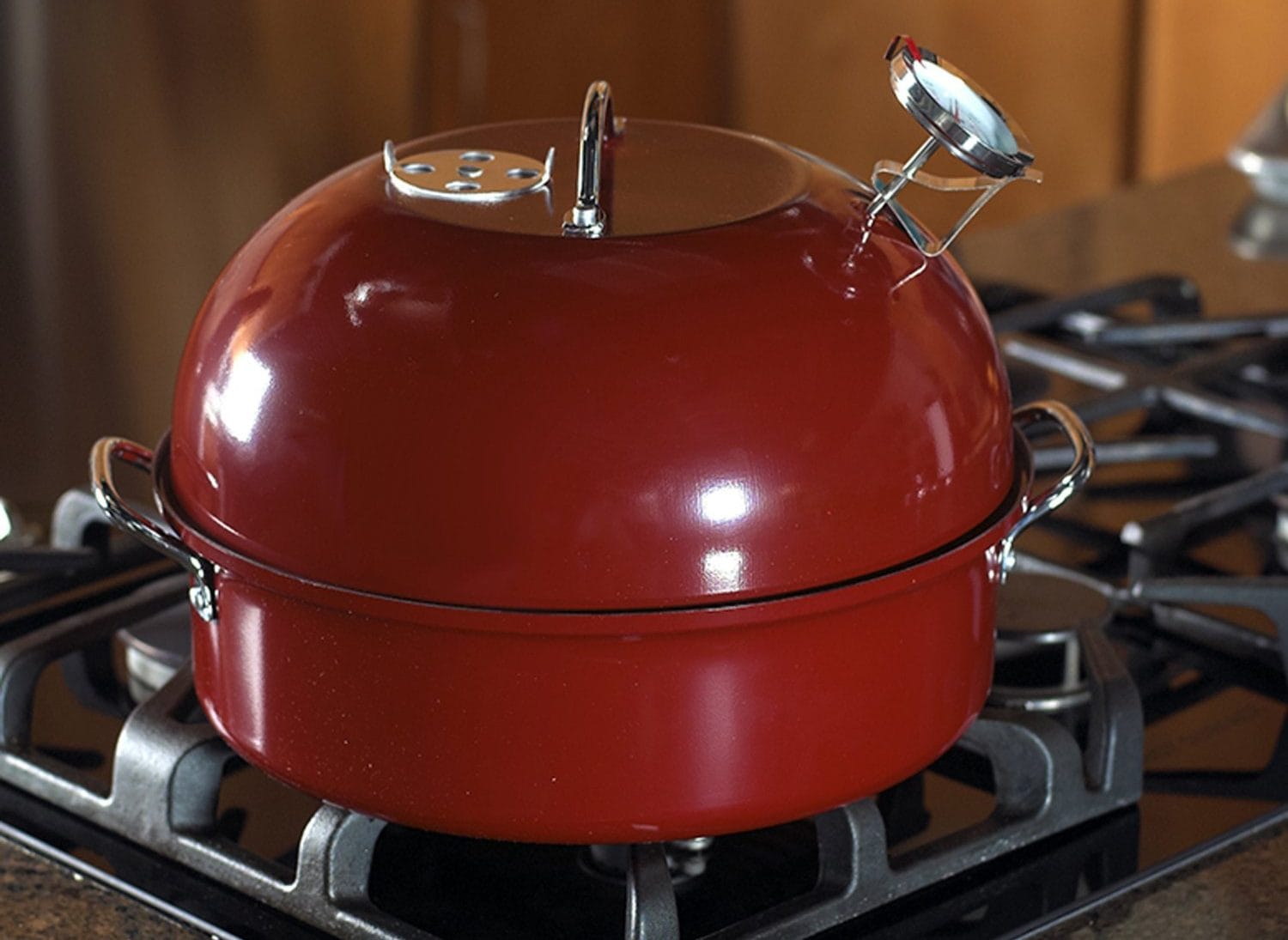 Made in the USA, you're supporting local business when you buy from Nordic Ware, but that's not the only reason why we gave this the best indoor meat smoker title.
The smoker is extremely versatile, easy to work with and reliable, read onto the following dot points to find out more:
Works on most stovetops (gas, induction, ceramic, electric)
Large capacity - you'll be able to fit 9lb pork shoulders
Thermometer helps to maintain consistent cooking temperature
Manufactured in the USA
A simple hack to fit in more items (if you want to say, smoke two racks of ribs or meat and vegetables), is to pick up these steamer racks, bend the legs slightly so they just fit in and drop them inside. Both will fit and you've just doubled the area you can smoke food.
The one drawback is that some have reported the exterior paint job can become brittle and easily chip off after several uses.
Click For More About The Nordicware
Runner Up - Oster (Indoor Electric Smoker)
Update: The Oster is currently selling at a decent discount to its RRP. The sale may end at any time - take a look here.
Boy it was a close second for the best indoor meat smoker title and if you are more inclined to electric products and don't want the gas stovetop running, then this is your product by all means. The Oster electric indoor smoker has a very large capacity (17.7 x 24 inches with a 10 inch depth - that's enough to smoke a 20lb turkey).
The main issue is that it is recommended to smoke outdoors, the Oster can give off a bit of smoke and if you don't have a range hood in the kitchen where you can cook under, it could very well set off fire alarms with too much ease.
To give you an indication of its popularity, people are buying second items just in case their original version breaks down and the product is discontinued.
Click For More About The Oster
Best Budget Indoor Stovetop Smoker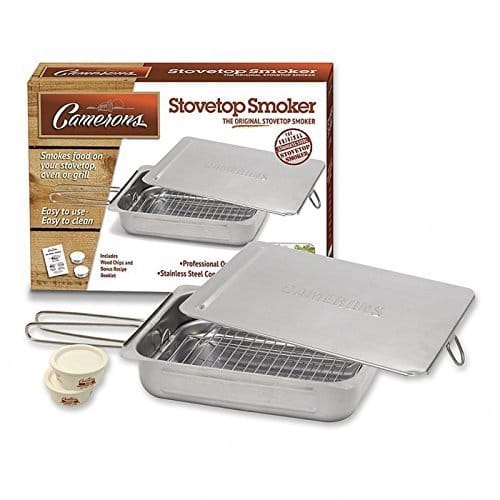 A great entry-level low-cost indoor smoker is that manufactured by Camersons. The major benefits of this unit are the rugged design which allows you to use it on almost any heat source - you can take it camping, use it in the oven and even on glass stoves (read manufacturers warning first though as there can be issues).
The main drawbacks of this unit are it's size - it's a great indoor meat smoker if you plan on smoking thin items, the shallow dish means you're not going to fit a whole bird in there unlike the previous options. However, if you're sticking to chicken wings or salmon steaks you're good to go!
Click For More About The Camersons
Stylish Stovetop Smoker - Donabe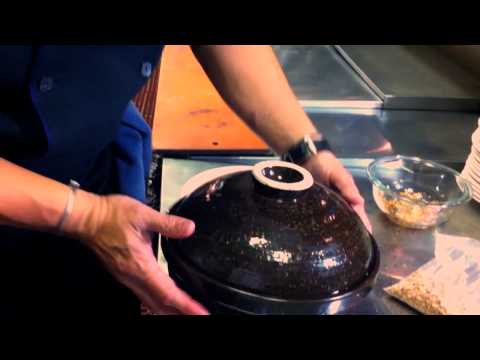 Donabe are beautiful and traditional handmade Japanese smoker instruments. With their unique design they are able to perfectly seal in smoke by forming a tight seal with the lid and then having water poured around the perimeter to completely seal it off.
The special interior glaze creates a Far Infrared Radiation (FIR) when heated which gives perfectly smoked dishes in about 30 minutes.
Even though it is a beautiful piece of work, donabe as meat smokers are not without their limitations. They are not dishwasher safe and can only be used on gas stovetops (badluck those with induction or electric stoves).
Still, the unique design and charming aesthetic is enough to make plenty people look beyond their shortcomings and use them to entertain guests when with some indoor meat smoking. They usually cost above $200.
You can read more about the donabe at Food52.
Click For More About The Donabe
Grilling Papers - I Know What You're Thinking.. Am I Serious?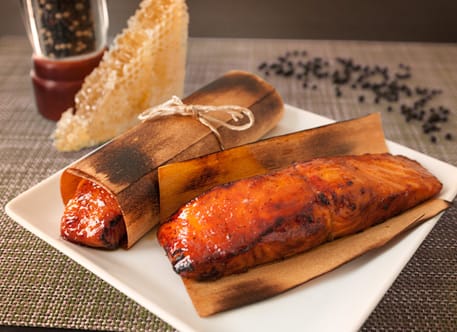 Yes. Cedar serious.
The cedar papers are a simple and cheap option which makes them extremely popular. They are better suited for smoking chicken, fish or vegetables. They are most suitable when cooking small portions of food as you can't fit big slabs of meat or vegetables in there.
TrueFire are the popular go to brand for cedar wraps while All-State Forest Products respectably round out the budget section.
How Do Grilling Papers Work?
You need to soak the papers in water for about 3 or 4 hours before wrapping your food in them and tying off with the string supplied. Then place on your grill and cook away according to their instructions. If you're cheap enough the papers can also be reused a second time, just make sure to give them another soak in water before using again.
So What Are They Like?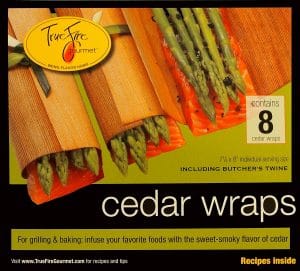 There is generally good success with them and with salmon excellent success. The cedar wraps impart a subtle and very complimenting flavor, they are most popularly used with salmon.
The biggest limitation is that grilling papers are mostly only offered in cedar flavor. We weren't able to find any others (if you do please let us know in the comments so we can research them). Another issue is the tendency of the cedar paper to split when tying with the string or serving.
Cedar Boards Are A Good Alternative When Cooking In Bulk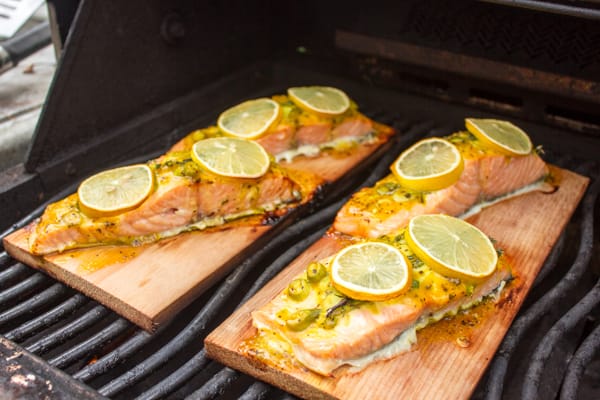 If you plan on making plenty of cedar salmon, there's a cheaper and better option out there. Cedar boards are simple and easy to use, you sit the salmon on the board and place it on the grill or in the oven.
With a size of 11 inches x 5.5 inches you can place several pieces of salmon on the one plank and still get the same delicious smokey cedar flavor. It also lets you cook large pieces of salmon fillets at once, something you definitely cannot do with the cedar paper wraps.
When using cedar planks it's important to ALWAYS cook over indirect heat. The amount of complaints and people that have placed the boards over direct heat and then complained because the boards have burned up is dumbfounding. It's wood, if it is over a direct flame it will burn.
What Are The Best Smoker Bags?
There's really only two smoker bag manufacturers you want to look at when thinking of buying a smoker bag. These are Good Cooking and Cameron's Products.
Each of them offer a range of flavors such as Hickory, Mesquite and Alder.
How Do Smoker Bags Work?
They are dead simple and work can work with a variety of heat sources, whether it be an oven, grill or campfire. The bags come pre-loaded with wood chip flavoring. You load the bag up with your fish, meat, chicken, or vegetables, whatever you want really, add your extra seasonings and fold the opening of the bag closed three or four times until there is a good enough seal. Place the bag in your oven and let cook for the recommended times before removing and cutting open. You've now got that delicious smokey flavor without the hassle of cleaning up - you just throw the bag away.
So What Are They Like?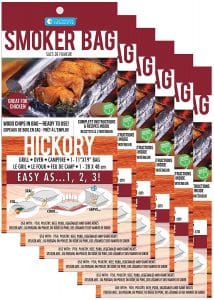 It may surprise you that smoker bags receive rave reviews. Many former sceptics have become smoker bag enthusiasts claiming that the result by far exceeds expectations and when it's too cold outside to fire up the traditional wood chip smoker, these are a handy substitute.
Smoker bags are a good option if you plan on smoking only seldom or enjoy low fuss cooking, otherwise their costs will start to stack up. To start with we recommend trying the hickory smoker bags.
More About Hickory Smoker Bags
Want To Save Your Money? How To Build Your Own Indoor Smoker For Cheap
Don't quite have the cash to go any of the above options? We got you. Keep reading to find out how to build an indoor smoker for cheap.
Things you'll need:
A deep baking dish or tray
A rack that fits in the baking dish
Smoking chips
Aluminium foil
Give a generous portion of smoking chips on the bottom of the tray or dish then place the rack above the chips. Sit your meat or vegetables of choice on the rack and cover tightly with the aluminium foil (if you something with a lid that closes tightly, this is also a good option).
There are no general cooking directions here as the times and temperatures will vary depending on how well sealed it is and the size of your food. You'll need to use some intuition and keep checking up on the dish to make sure it's not being cooked to a crisp. For a bit more info check this out.
Curtis Stone will show you how it's done.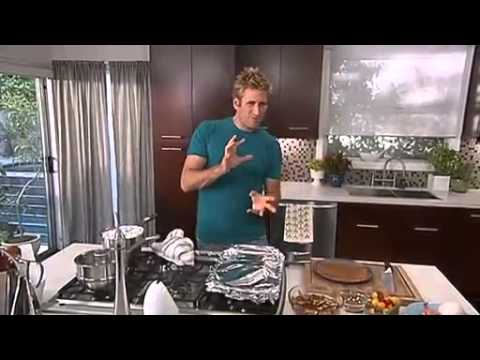 Read Next:
To Summarize…
The best indoor smoker options are:
Nordicware stovetop smoker
Oster electric smoker
Camersons stovetop smoker
Japanese Donabe smoker
Grilling papers
Smoker bags
Thanks for reading our buyer's guide and reviews on the best indoor smokers for meat and vegetables. Share your thoughts in the comments below :)