9 Best Vertical Gas Smokers On The Market Today
Filed under: kitchen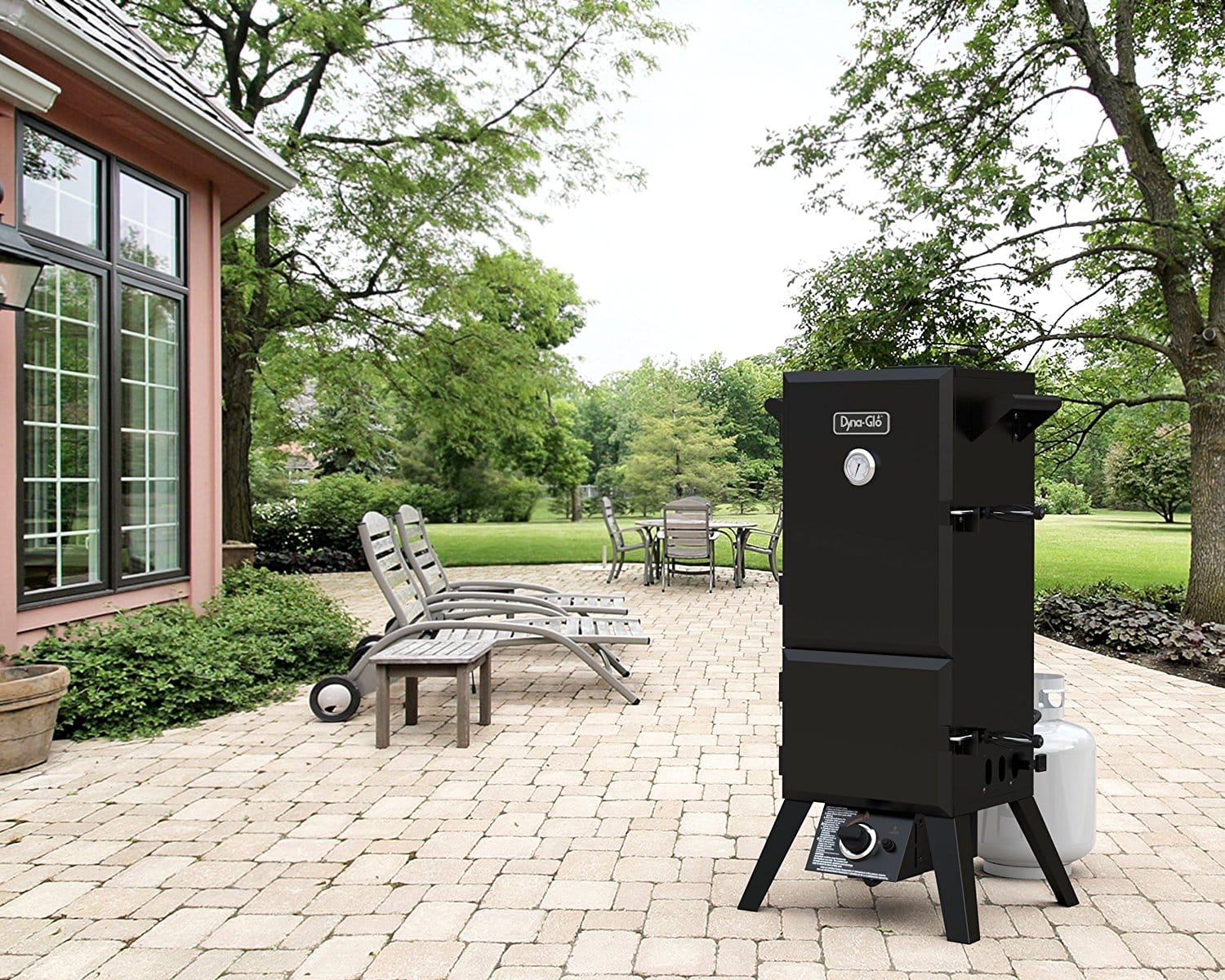 Contrary to popular belief, the best vertical gas smokers are extremely practical and easy to operate. Indeed, very few kitchen appliances can effortlessly replicate the authentic BBQ flavor which smokers seem to bring to just about any cut of meat, chicken or even fish.
But more importantly, food smokers have the added advantage of being extremely healthy, without compromising on flavor. From gloriously sticky ribs to thick, juicy cuts of delectable tender meat, there's no denying that smokers do add a luscious aroma to food.
Because they are so versatile, they can even be used to cook vegetables (but that's not why you're here today is it).
READ:
How to make the best choice on a vertical gas smoker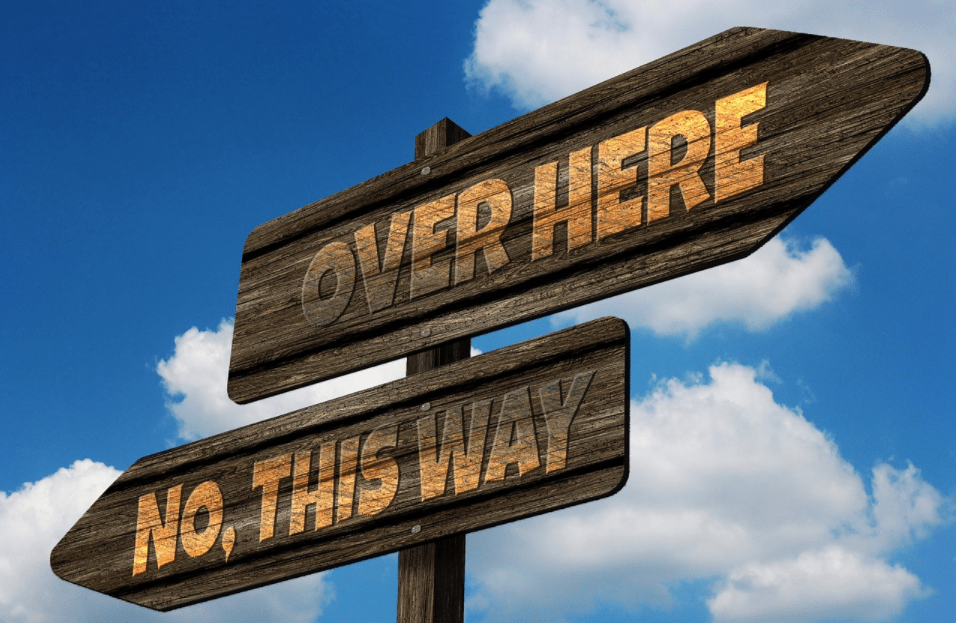 Considering the extensive number of models on the market, there's no denying that finding an adequate model which matches one's budget and expectations can be hard - especially for novice users.
This is why it does pay off to carefully compare different models and carefully analyze your needs before investing in a model.
Smokers designed for home and commercial uses are often powered by gas, charcoal or electric.
Gas is quite a popular choice among homeowners since these tend to be on the least expensive side. Unlike charcoal, gas models maintain a consistent temperature, hence guaranteeing even cooking.
When buying your smoker, it is also important to consider the size, weight and portability of the model. Most gas smokers tend to be on the heavier side but vertical ones do claim less space than their horizontal counterparts
Thinking of an electric smoker? Check out our Electric Smoker Buyer's Guide. There's also stovetop options if you want to keep smoking through winter.
Types of smokers & how they operate
Another element to consider is the type of appliance you want to invest in.
Smokers can either be vertical or horizontal. Homeowners who are short on outdoor space would be better off with a vertical appliance since this has a smaller footprint.
In vertical smokers, both the smoke and the heat source right from underneath the cooking area. Because both the food and the heat source are in the same chamber, the food tends to cook more quickly.
Horizontal smokers, on the other hand, feature smoke chambers that have been mounted on both sides of the cooking space. In most models, the smoke chamber - also known as an offset smoke chamber, is found several inches below the primary cooking space.
While most vertical models are powered by gas, horizontal models are only available as hardwood or charcoal.
What to look out for?
Size & Budget
If you're on a limited budget, you really can't go wrong with a vertical gas smoker. These can be quite inexpensive, but most cheap models do have limited space, which means that they can only be used to cook smaller batches at a time.
Temperature Control
Inexpensive models don't normally sport temperature controls, but this option can be found in higher-end gas smokers. If you can afford to splurge, it is recommended to opt for a model with is equipped with a temperature control option since this provides greater control over the cooking process.
Capacity
This is another important but often overlooked feature that most beginners tend to ignore when buying their first gas smoker. Most standard models can easily accommodate a 25 pound turkey, for example, but if you plan on using the apparatus for regular entertaining, you might want to invest in a larger model to avoid cooking in batches. Some models even come with adjustable shelves for more flexibility.
Quality of construction
Some gas smokers can be as cheap as $100 or less, but these may sport flaws in the construction unit. Flimsy and thin metals have a tendency to warp when exposed to overly high temperatures, hence resulting in a rather poor insulation.
Pay close attention to the seams as well: poorly assembled or sealed seams will result in heat loss which means that your food will take far longer to cook. Heavy steel is always better than flimsy metals because it provides better insulation.
Drip tray
While these trays are essential for safety, cheaper models are not normally fitted with drip trays. The absence of a drip tray may actually result in a grease fire.
Best Vertical Gas Smoker - The Smoke Hollow 44-Inch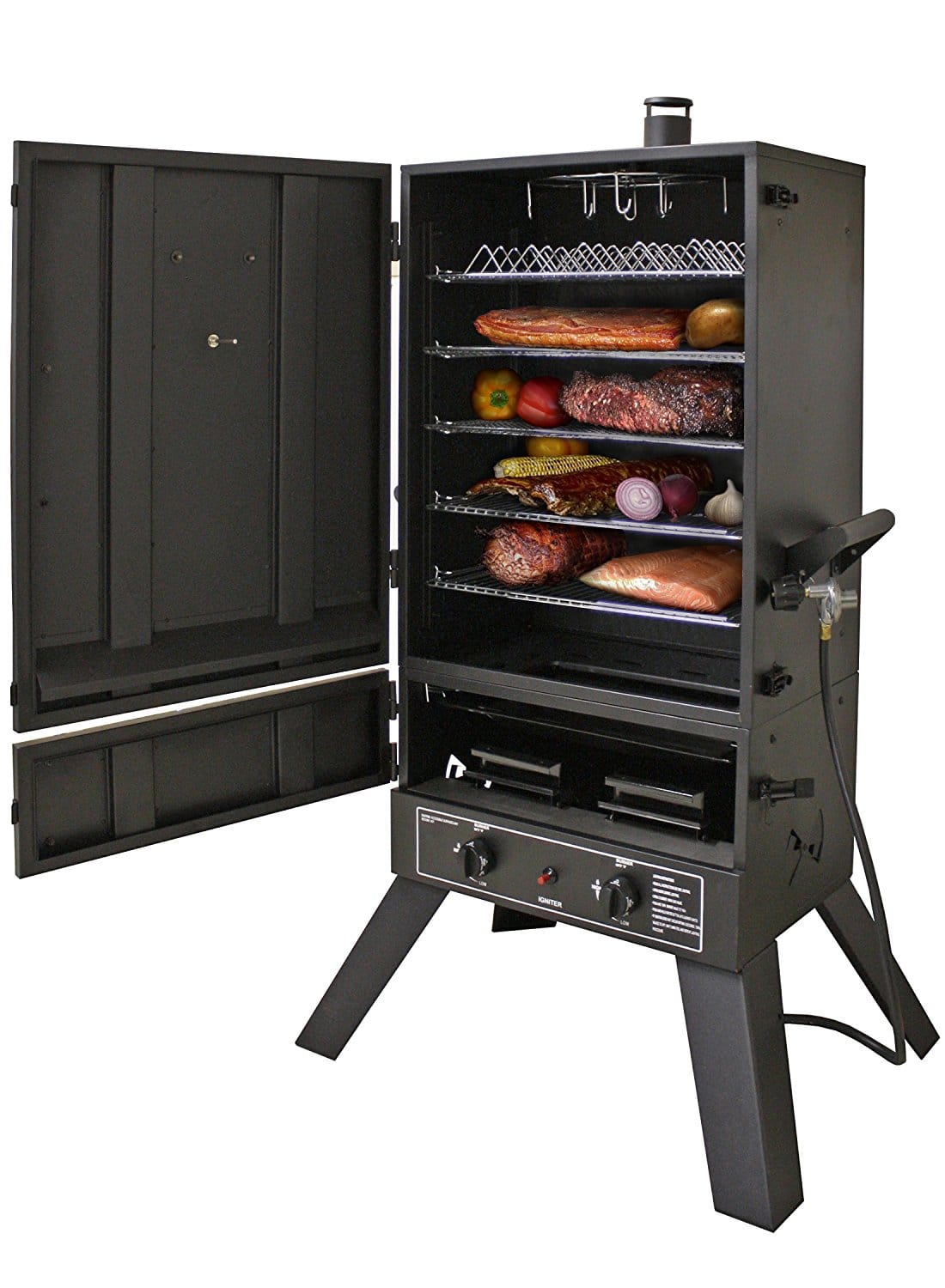 Without a doubt the best vertical gas smoker. Measuring 24.5"L x 60"H x 33"W, the Smoke Hollow gas smoker delivers quite an impressive performance for a moderately-priced appliance. This smoker includes three standard cooking grates along with one rib rack and two jerky trays, hence enabling you to dehydrate your meats and sausages at home. This machine features a double-door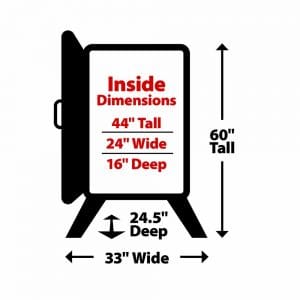 system and is particularly known for its two independently controlled steel burners. A pair of porcelain-coated wood chip pans are additionally included.
In terms of performance, the Smoke Hollow gas burner can be used on a regular basis without displaying signs of wear and tear. A few issues were raised by customers, mainly in terms of its components: some users claimed that the water tray and chip boxes were on the flimsy side while other customers complained about the legs, which according to them lacked sturdiness.
Find Out More About The Smoke Hollow 44" Here
Runner Up - Smoke Hollow 38-Inch 2-Door Propane Gas Smoker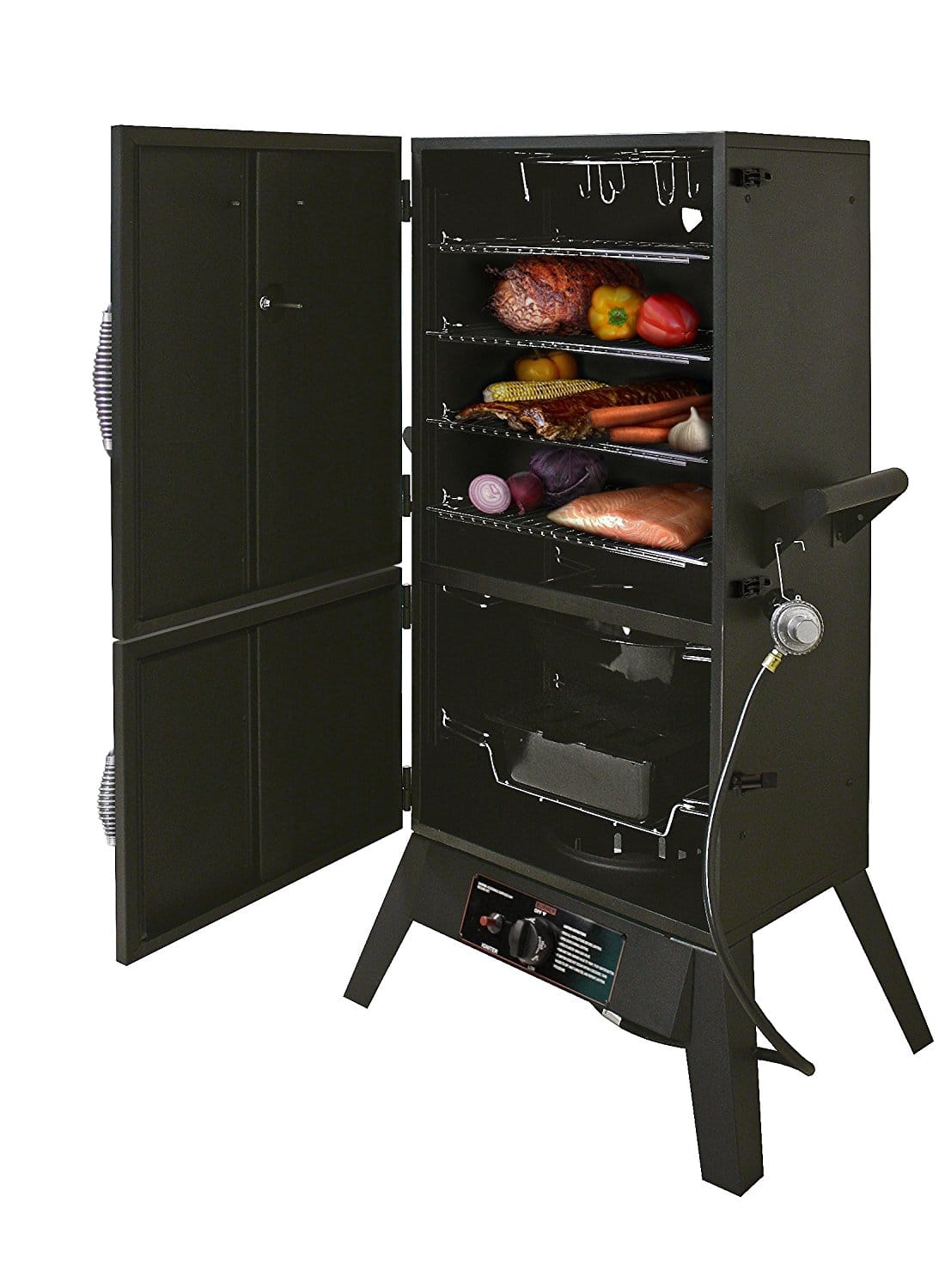 Looking for a cheaper price ranger and more compact space? Then the 38" Smoke Hollow 38202G option is easily a second best vertical gas smoker. Measuring 47" x 19" x 28", this appliance is lighter than most gas smokers and doesn't cover a lot of counter space. Because of its two door system, users will be able to feed both the wood pans and the water pans without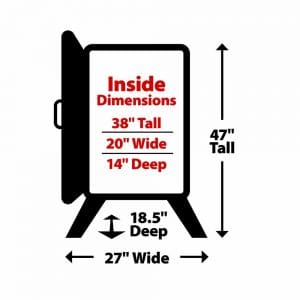 releasing smoke or heat. The steel cabinet is firmly welded to conserve maximum heat. The lower and upper vent controls provide quite a great deal of accuracy, even if you've never used a gas smoker before.
As far as its drawbacks are concerned, some customers reported that the water pan was prone to indentations. The enamel coating also tends to chip with time. However, in spite of these few issues, this appliance does provide an excellent performance for its price.
Best Budget Vertical Gas Smoker: Dyna-Glo 36" Vertical LP Gas Smoker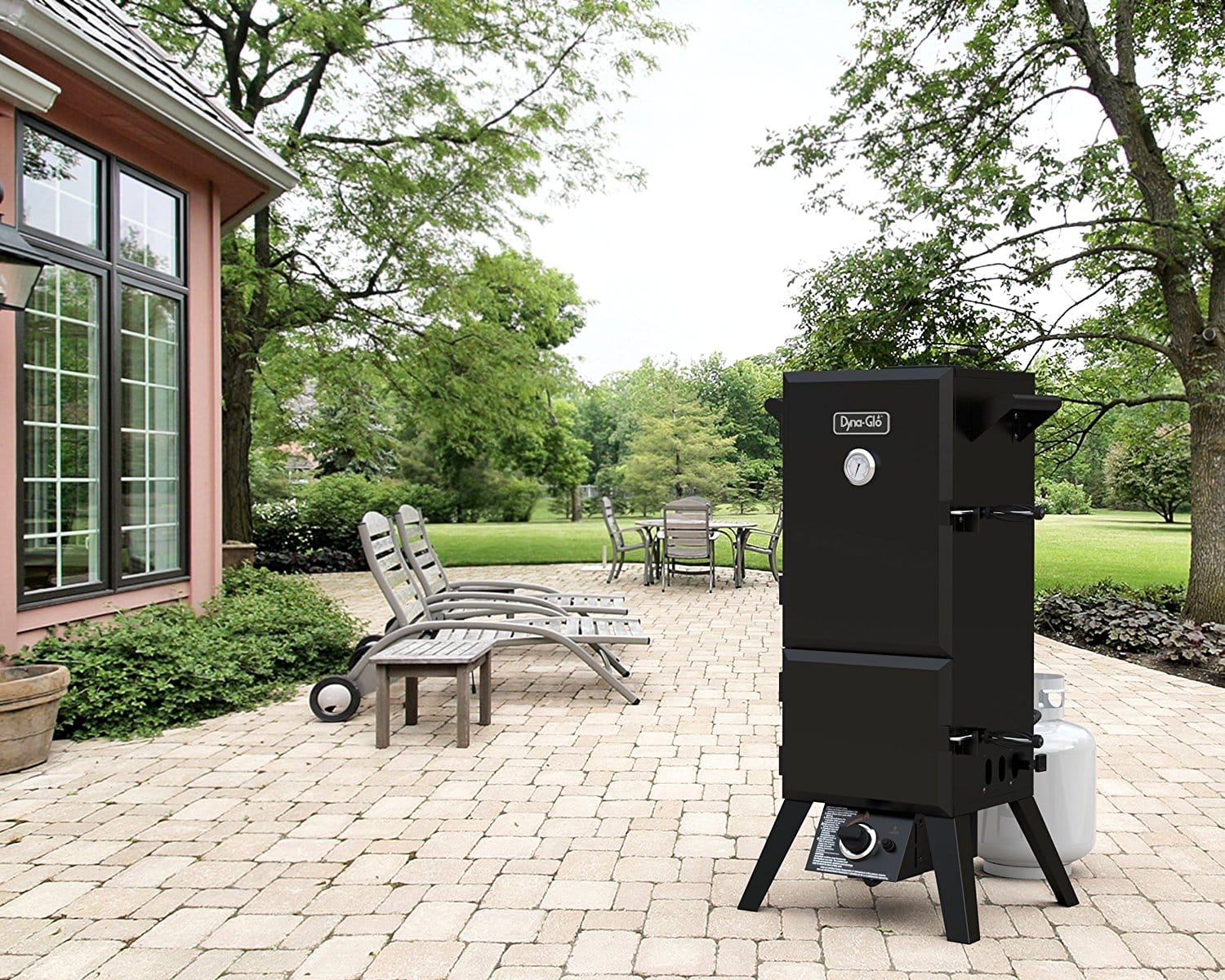 If you're looking on the cheaper end of the spectrum, then the Dyna-Glo is the best vertical gas smoker in the budget category, it's a highly affordable appliance that comes in much below the average price. Boasting 784 square inch of cooking space, this appliance comes with 4 adjustable steel wire racks which is ideal for moderate use.
Featuring a larger-than-average control dial for ease of use, this appliance also includes a push button along with a 15,000 btu cast iron burner. The porcelain enameled steel water bowl complements the enameled steel wood chip box which has been fitted with handles. Thanks to the double-door design, you will be able to get food in and out of the oven without heat escaping from the appliance.
As far as its drawbacks are concerned, some users have reported that the metal surface is prone to scratches. A couple of customers also claimed their smoker boxes showed indentations after a while.
Budget Vertical Smoker - Masterbuilt GS30D 2-Door Propane Smoker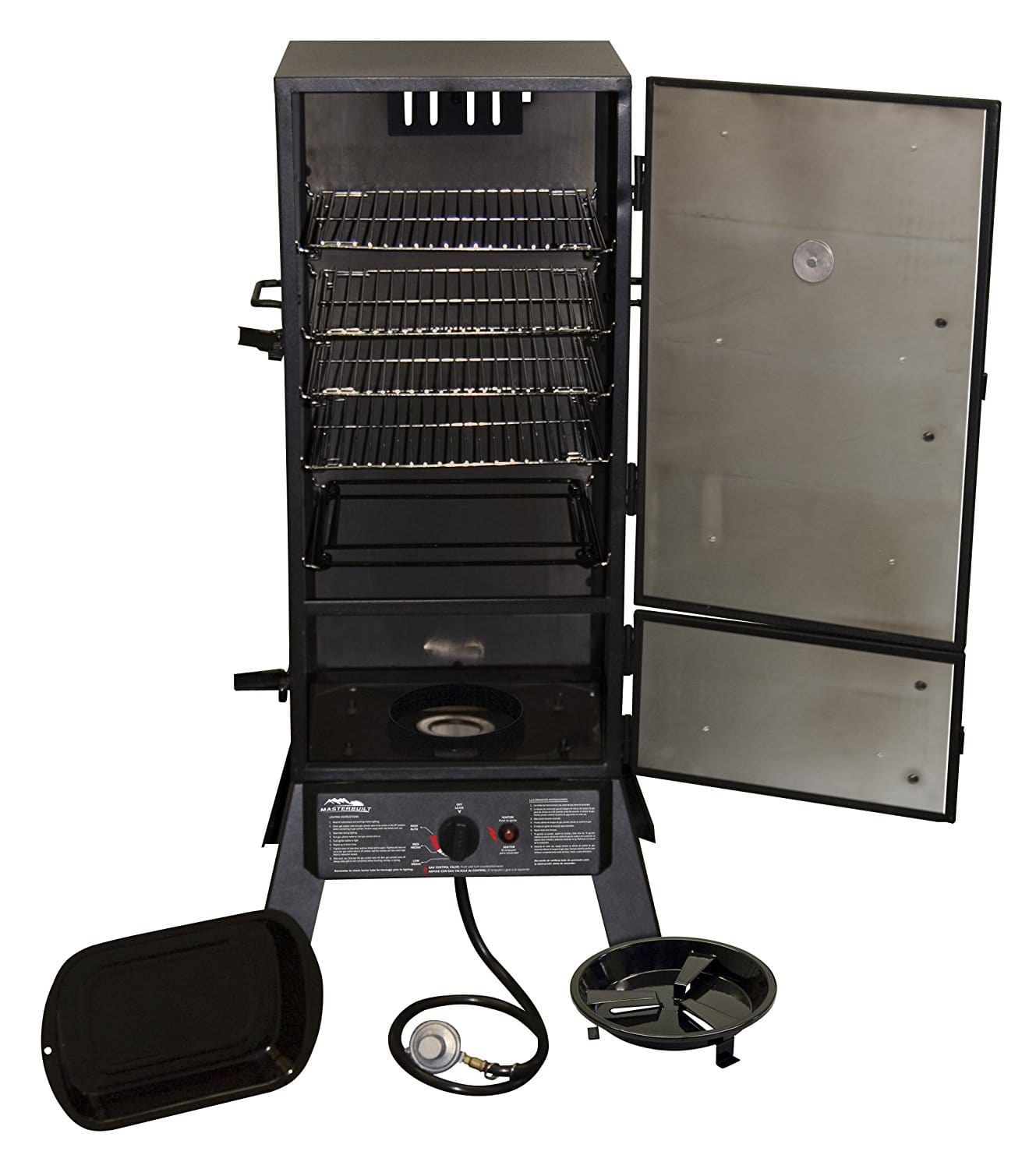 Featuring a 717 square inch of cooking space, the Masterbuilt is very reasonably priced.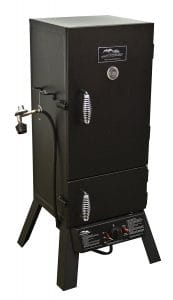 Designed for moderate use, this appliance is equipped with a push-button ignition as well as four chrome smoking racks. Both the water pan and the wood chip tray are porcelain-coated for both practical and aesthetic purposes. In addition, the smoker includes a stainless steel burner along with a hose and type 1 regulator. Boasting a cool touch wire handle, the smoker also comes with a built-in temperature gauge as well as a locking door to maintain a smoky flavor, regardless of whether you're cooking seafood, beef, chicken or pork.
As far as its drawbacks are concerned, some users reported that the door leaked quite a lot of smoke. However, the door latch is fully adjustable so it is possible to tighten or loosen it as required.
AZ Patio Heaters Propane Vertical Smoker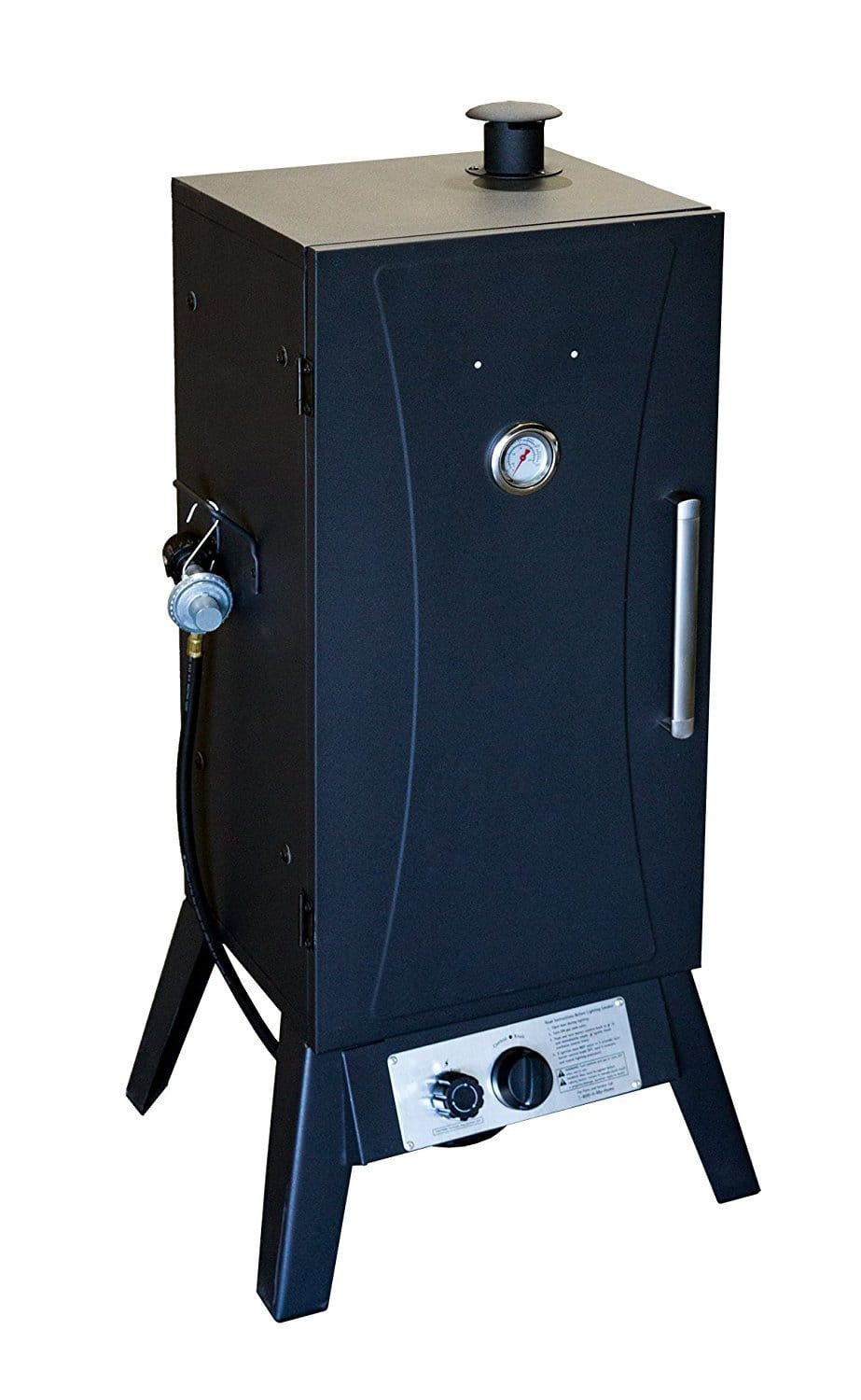 If you're on a limited budget, you might want to check out the AZ Patio Heaters vertical smoker. This appliance offers 624 square inches of cooking surface and is made of powder coated metal. Because it only measures 20" x 18" x 41", it is also fairly lightweight and doesn't claim a lot of counter space.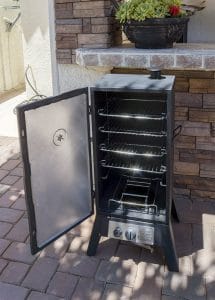 This smoker is also quite mobile and can be brought along on camping trips or picnics. With the appliance, users additionally benefit from a fully adjustable side air vent along with an adjustable height wood chip grade. A thermometer is included to help you keep an eye on the temperature, ensuring that your meat doesn't dry out.
On the flip side, this smoker doesn't deliver in terms of built: a few users did complain of its less-than-sturdy construction. Because it is made of powder-coated metal and not steal, the smoker may also display some issues in regards to its insulation and heat-trapping capacity. It is best suited to smaller cuts of meats, thinner slices of turkey and burgers.
Palm Springs 42 Inch Vertical LP Gas Smoker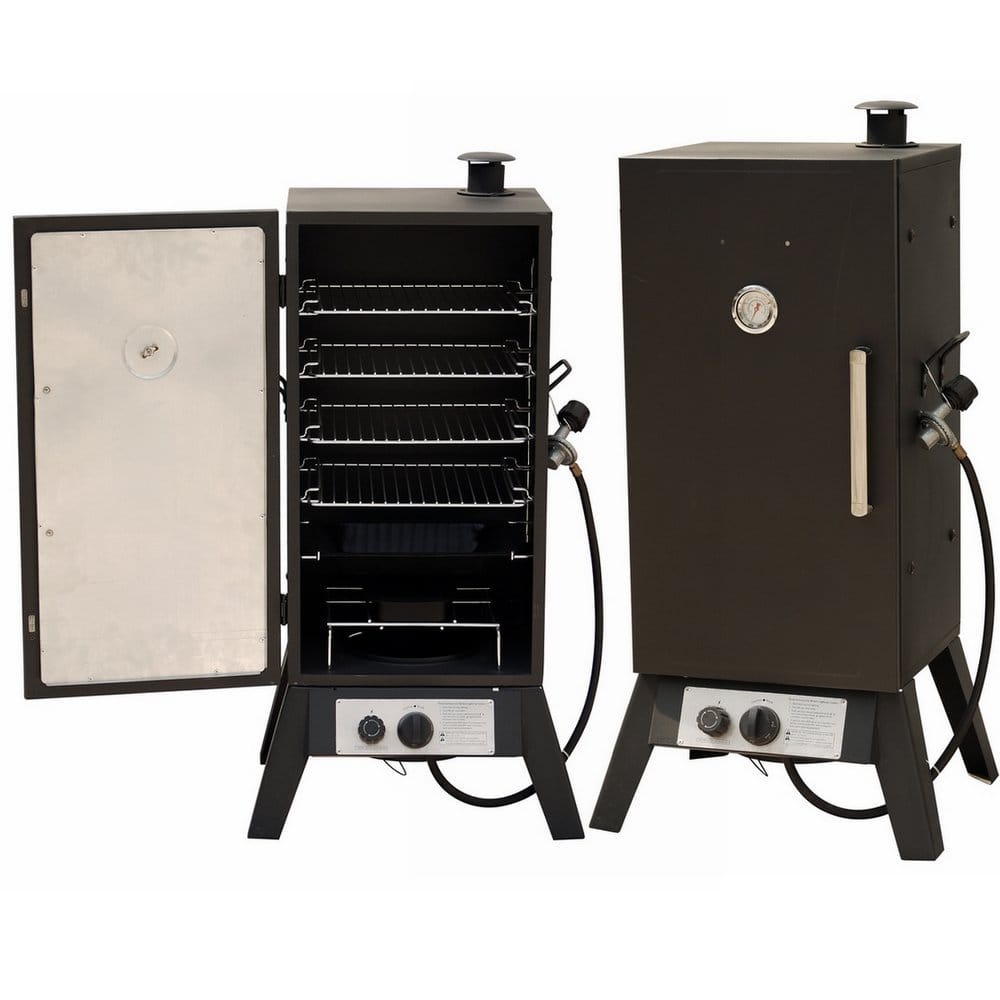 The Palm Springs gas smoker is another budget-friendly appliance that gets the job done at a fairly affordable cost. In fact, contrary to most affordable models, this appliance does have a sturdy steel built with powder coating. In spite of its budget-friendly price tag, it also comes with four standard grills and four smoking racks, which is ideal for users who want to cook larger batches at a time. Each rack can accommodate up to 110 pounds. With four layers of cooking surface, the appliance also sports a wood box, a damper as well as a lid-mounted temperature gauge. Thanks to the steel construction, the walls are insulated, guaranteeing an even cooking time.
Some customers did complain about the size of the wood chip tray, which they claimed was on the smaller side.
Landmann Smoky Mountain Vertical Gas Smoker, 38-Inch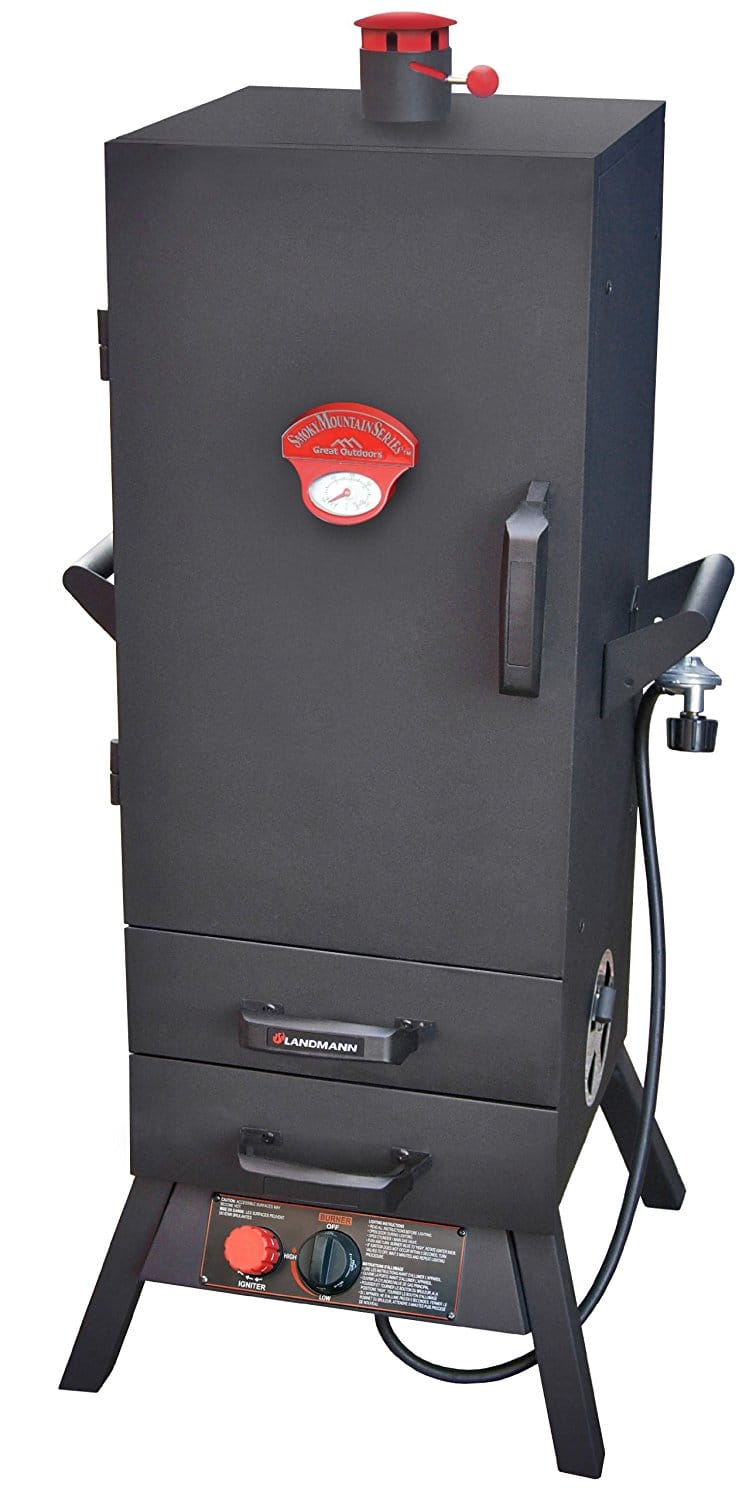 The Landmann Smoky Mountain gas smoker is ideal for heavy-duty use and parties. Indeed, it has a cooking area of 1008 square inch which is ideal for large quantities of meats, fish and fowls. It features a 21" wide chamber and fully adjustable heat control to ensure that your meat is done exactly the way you like it. This appliance also includes side damper vents enhanced by plastic tab guards, as well as a front door temperature gauge.
With this machine, users also benefit from heat saving and easy access drawers. A handle enables you to access both the water pan and a wood chip box without having the open the main chamber door, consequently allowing you the appliance to retain heat. A meat hanger, along with 5 adjustable cooking grates coated in chrome are included. The heavy duty steel built delivers optimal heat-circulating capacity. The large stance legs additionally provide stability. However, some customers did find that the appliance was overly bulky and claimed quite a lot of space.
Char-Broil Vertical Gas Smoker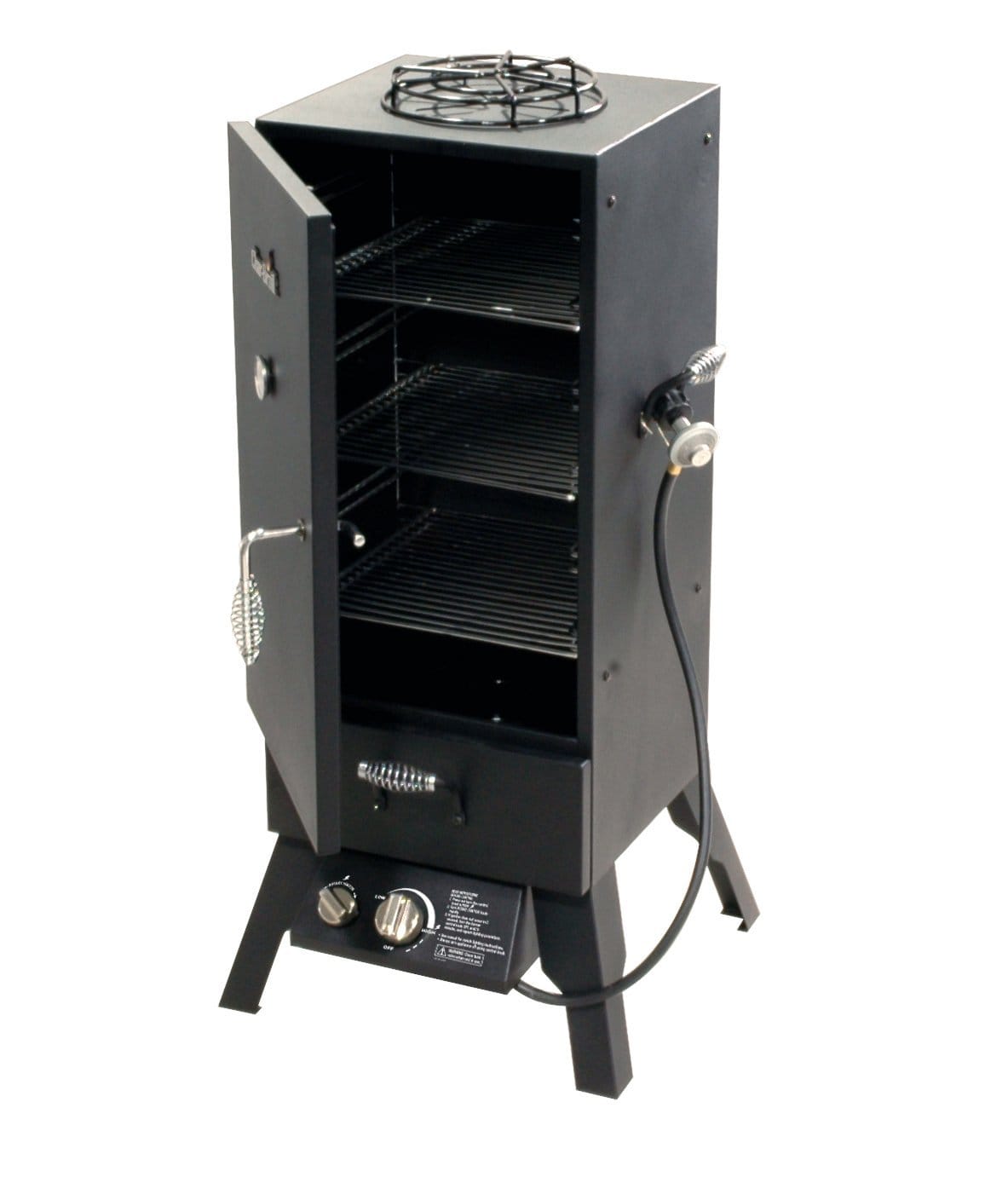 The Char-Broil Vertical Gas Smoker boasts 595 square inch of cooking surface. This appliance comes with 3 chrome plated cooking grates along with a porcelain water pain and wood chip tray. Thanks to the gas feature, users will be able to enjoy a consistent heat distribution across all three cooking grates.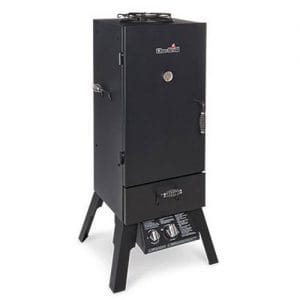 A warming rack has also been installed at the very top of the smoker chamber. The top grate can even be used to warm marinades or other types of sauces while the meat is being smoked.
While it delivers a fairly good performance, this smoker does has a few downsides. For instance, one customer claimed that he was unable to get the temperature up to 225 degrees until all the water had evaporated from the wooden tray. As a result, the cuts of meat and chicken emerged more steamed than smoked.
Weston 48-Inch Outdoor Propane Vertical Smoker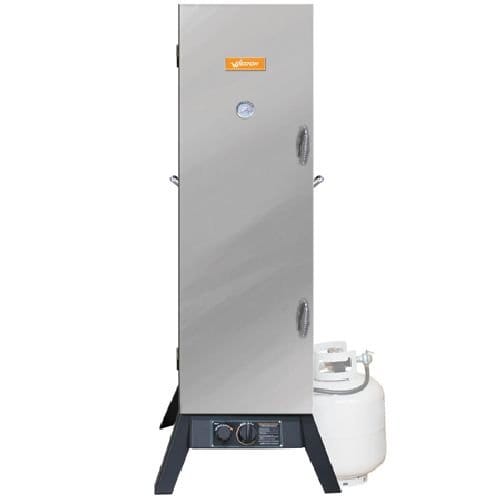 The Weston Propane Vertical smoker is ideal for heavy-duty use. While it may not be the cheapest model available on the market, this appliance delivers an exceptional performance, thanks to the heavy gauge and fully welded steel cooking chamber. With no less than two sausage hangers, this smoker additionally features a rotary igniter which promises an effortless start-up. Thanks to the external temperature gauge, users will be able to keep an eye on the smoker's internal temperature.
Ideal for heavier cuts of meat and poultry, this appliance also has the advantage of being extremely easy to use. Its impressive capacity makes it ideal for parties since the appliance can accommodate quite a lot of food at a time. However, some users reported that they were less than pleased with the Weston's flimsy legs which made it hard for them to quickly get their food in and out of the smoker.
Best of luck on your quest for finding the best vertical gas smoker! Just think of that delicious brisket.
In short, the best vertical gas smokers are:
Smoke Hollow 44"
Smoke Hollow 38"
Dyna-Glo 36"
Masterbuilt GS30D 2 Door
AZ Patio Heaters
Palm Springs 42"
Landmann 38"
Char-broil vertical has smoker
Weston 48" Outdoor
Not familiar with using propane vertical smokers? Then check out this video.