Best Budget Humidors
Filed under: cigar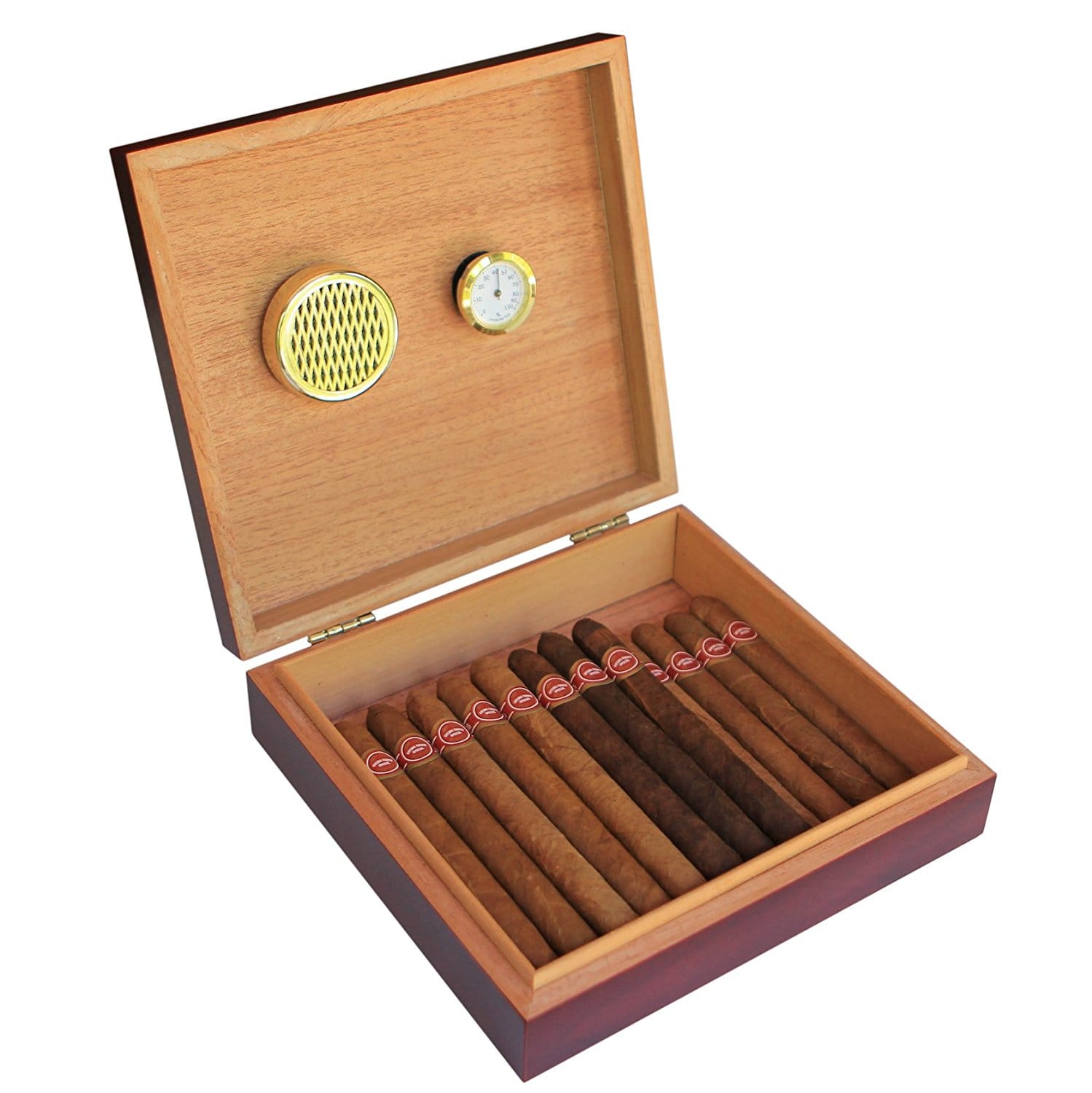 Are you a smoker? Is your friend a smoker? Is that guy that lives down the end of the street, around the corner a couple of blocks on the second storey of the apartment building a smoker?
If you have answered "yes" on any of these questions, than this is the article for you! Sit comfortably in your chair, don't move an inch and keep your eyes peeled, because you will be thrown into the world of best budget humidors.
As a matter of fact, this article has loads of information that will even make you (if you don't smoke) curious about how it all tastes.
So, why did I ask those questions in the beginning? Well, if you need a gift for that special someone and you still don't know what to get them, humidors might be a great solution. I will help you with that decision.
First of all, you must understand what makes smokers smoke.
Why Do People Smoke?
So, maybe you are wondering what makes smoking so special. Everyone knows that it is a silent killer, so the question remains – What makes people forget about the fact that they are ruining their health and still go buy their cigarettes? And this is an excellent question. When you get to know the reason, the meaning of this gift to both you and its receiver will be that much higher.
Well, like with any other addicting bad habit – it is a feeling that you get when you do it.
What is the main ingredient of tobacco? It's nicotine, right. Well, the science is right there. Nicotine gets absorbed into the bloodstream extremely quickly. That way, it travels to your brain and cause a mixture of emotions.
The nicotine can "hit" you pretty hard if you haven't smoked a single cigar. As a matter of fact, some people even fainted when they tried their first. That shows you just how powerful it is.
So that's the essence of it. What makes people addicted to smoking is the affect nicotine has to their brains. Nicotine raises the heartbeat and kicks off your nervous system, however, people claim that smoking actually calms them down and helps them concentrate.
What Is a Humidor?
You want to know more about best budget humidors and you don't even know what a humidor is? No worries dummy! I will rescue you!
A humidor is pretty much a container for cigarettes. However it isn't just any type of container. In order to keep your cigarettes "fresh" and still good, you must provide good conditions for their well being, right?
Well, humidors do just that. They successfully maintain humidity at 70 to 75 percent, and temperature at 68 to 70 degrees Fahrenheit. If you didn't know, those are the best conditions to keep your cigars.
So, now that you know how important it may be for your friend to own a nice, sweet humidor, let's check those best budget humidors!
Read Next: The Best Humidors Under $100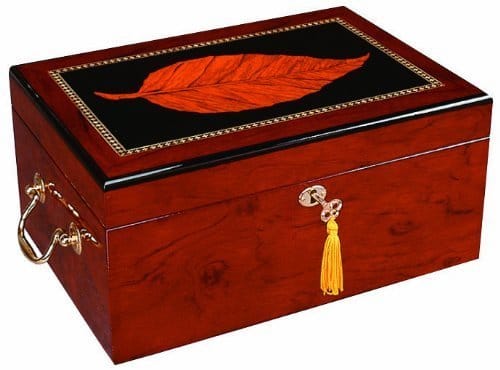 If you need a humidor that can hold up a big number of cigarettes, look no more! This humidor is the best thing out there when it comes to quantity.
Its design is unique and authentic – a high gloss leaf inlay. This humidor can store up to 150 cigars. Yes, you have read that right – 150! That's the biggest number you will read in this list when it comes to cigar storage.
Deauville 100 cigar humidor has a design that will definitely be appealing to those who love old timer stuff. This one carries that feeling with it.
This humidor has sureseal technology that will make sure that the lid closes properly. Made out of high gloss maple wood, this humidor screams with quality.
With it you will get a rectangle humidifier and a glass hygrometer with brass frame.
Scorch Torch Travel 10 Cigar Humidor Humidifier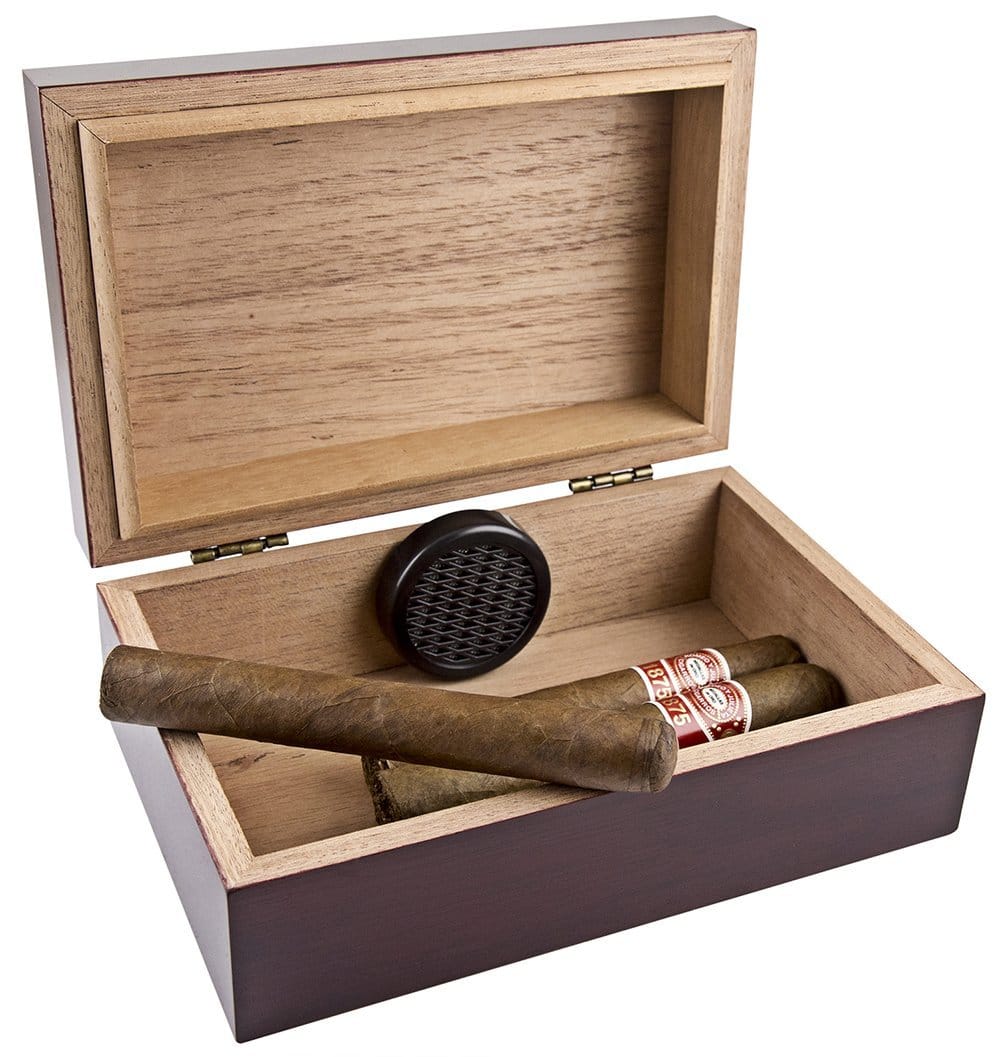 Treat your cigarettes like they are royalty with this one! Just one glance at the looks of this humidor made me fall in love with it. Just as elegant as they get with excellent quality.
If you order Scorch Torch Travel humidor you will get Velcro tape and an instruction manual with it.
Mantello 25-50 Cigar Desktop Humidor Humidifier Glasstop with Tray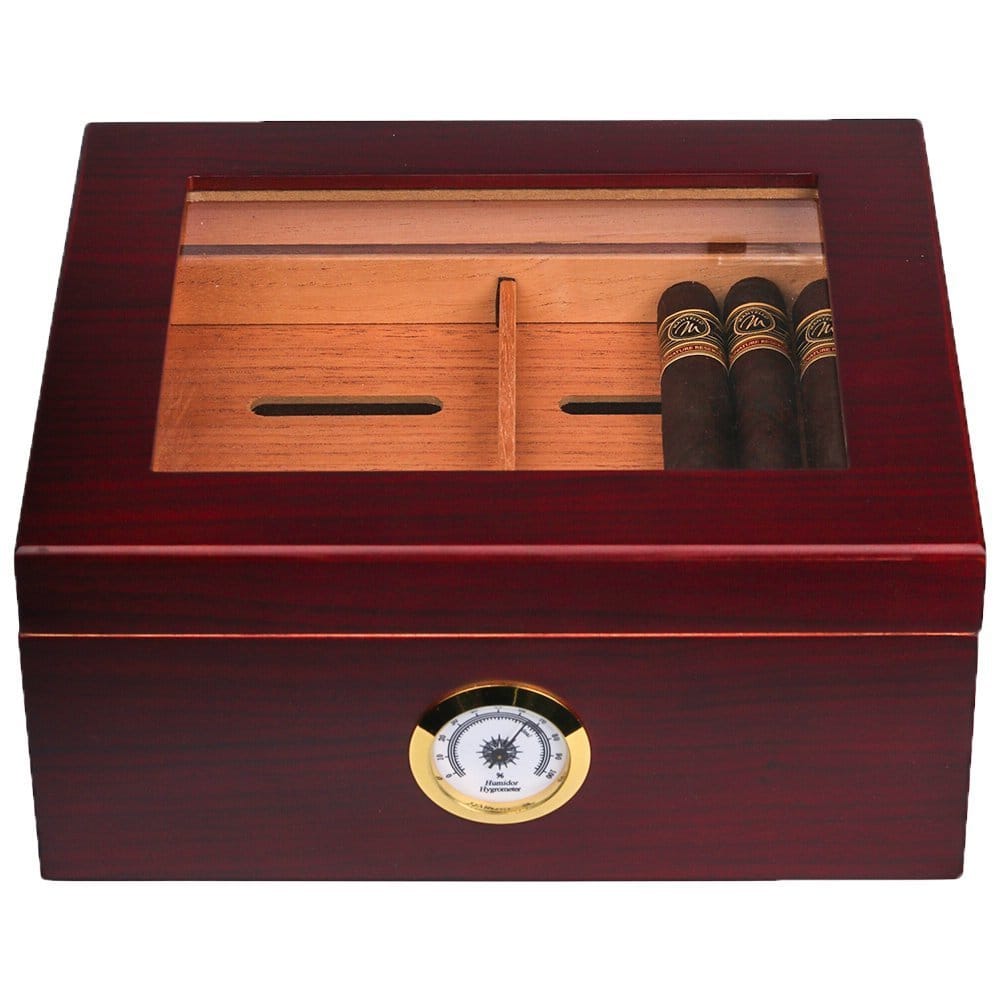 This medium desktop humidor can hold up to 50 cigars. It looks pretty innovative and functional, and that's because it is. It has a Spanish cedar and a removable tray and divider. Its lid is secured which will ensure proper humidity inside of the humidor.
The price for this humidor is pretty good, all things considered.
Cherry Finish Spanish Cedar Humidor with Embedded Magnetic Seal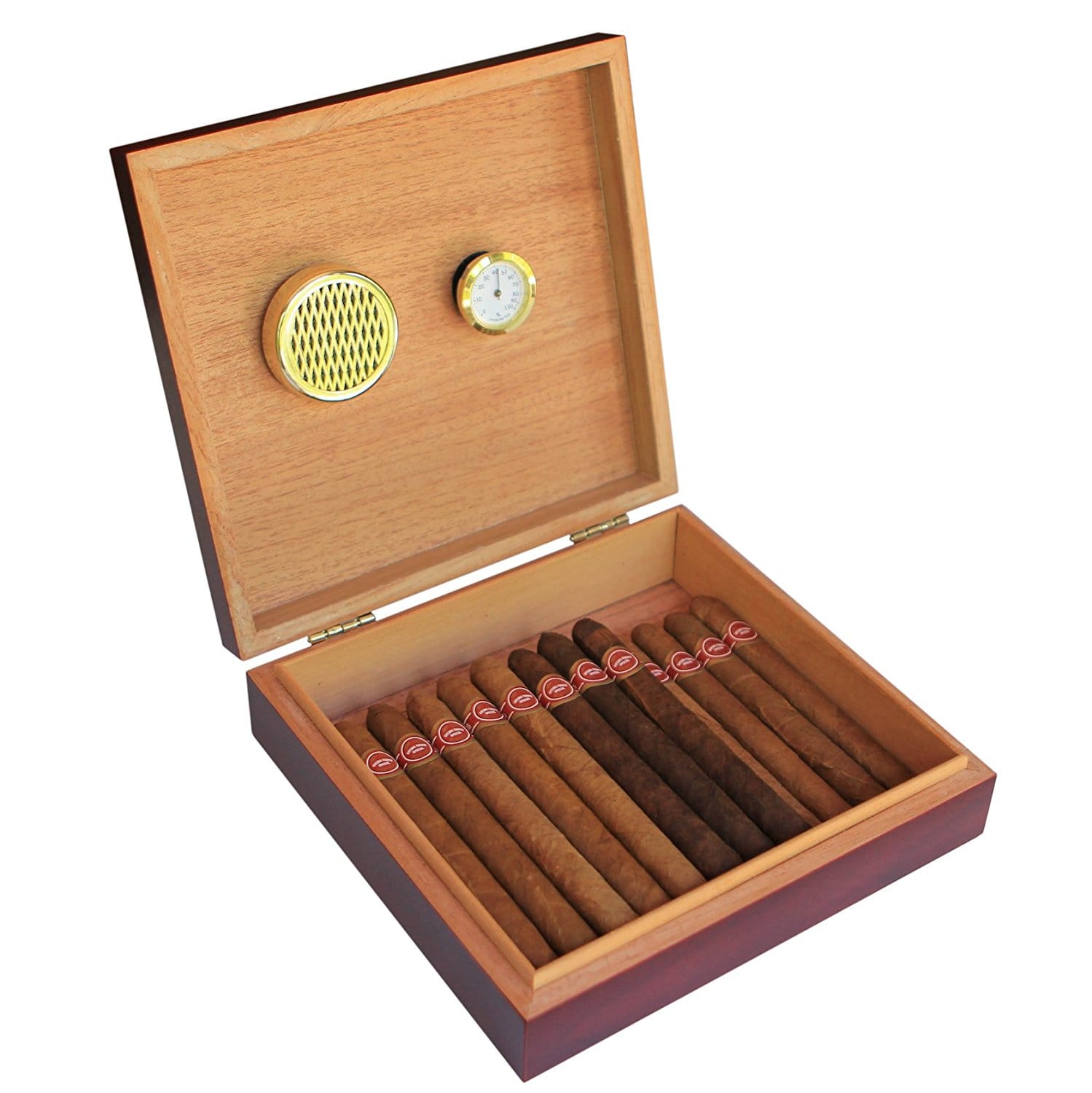 It is clear why this particular humidor has made it to this best budget humidor list. This humidor has a pretty simple design, however, it doesn't lack elegancy, not one single bit! That's the beauty of this one, it isn't complex, it isn't huge, but it as elegant as they come.
Although it looks pretty simple but charming, this humidor has a characteristic that separates it from the other bunch. It has an interesting sealing method – using magnets. This will ensure excellent moisture and humidity that will keep your cigars fresh.
It can hold up to 25 cigars.
This package includes a hygrometer and humidifier.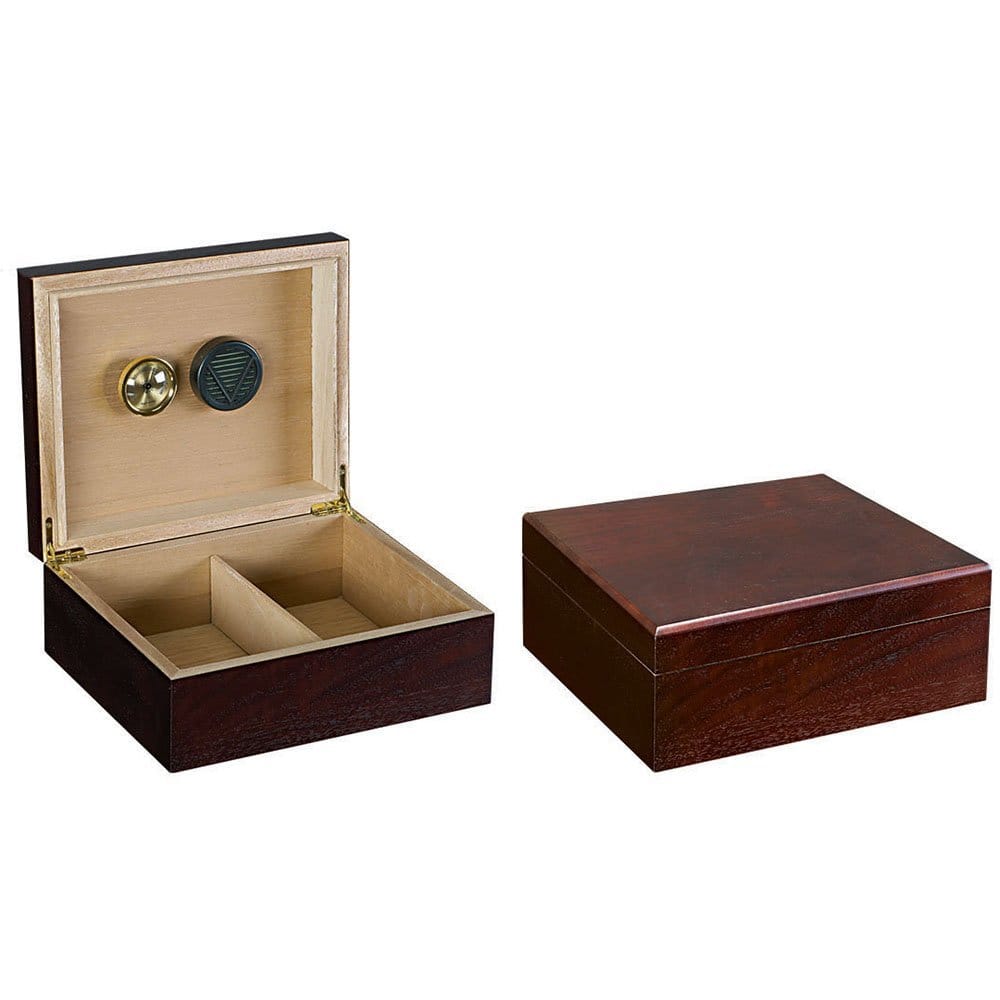 What you can see here is a clever design. This humidor is beautiful and simple. As you can see, its divider is adjustable.
It can hold from 25 to 50 cigars and, just like previous humidors, it comes with a hygrometer and a humidifier.
When you think of how functional and good looking this humidor is for the price, you just can't beat it. If you chose this one to be your gift, or if you are buying it for yourself, you definitely won't be making a mistake.
Quality Importers Desktop HUM-25EL Humidor, Capri-Elegant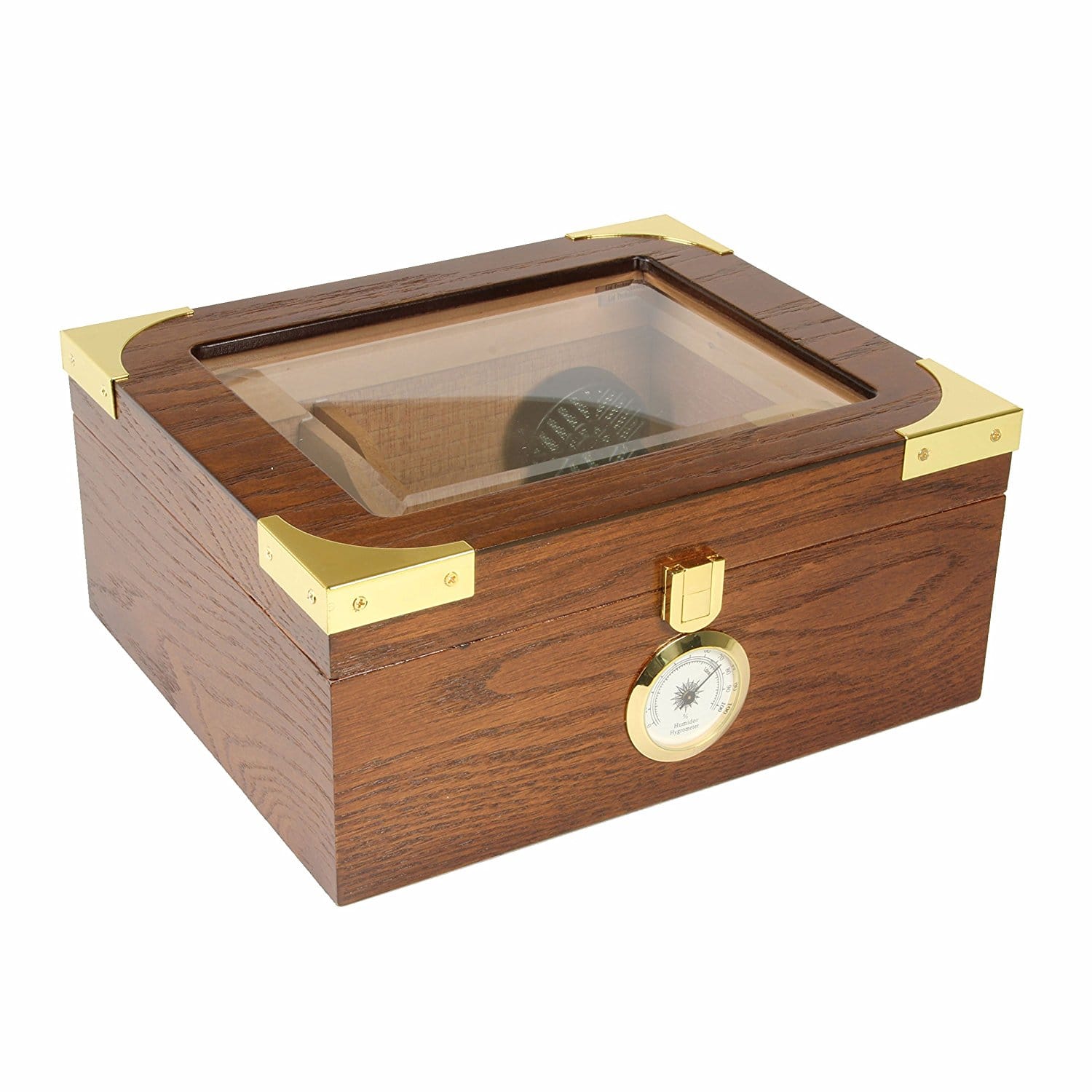 Another great humidor lined with Spanish cedar that will ensure your cigars with excellent aroma. This humidor can hold 25 to 50 cigars. Its corners are gold-plated and the humidor is scratch resistant.
When we talk about weight characteristic to humidors, this one falls in the "heavier" category. It doesn't mean that you will have a hard time lifting this humidor up and putting it back to its place, it just means that compared to others, it is slightly heavier.
Quality Importers Milano 75-100 Cigar Humidor, Rosewood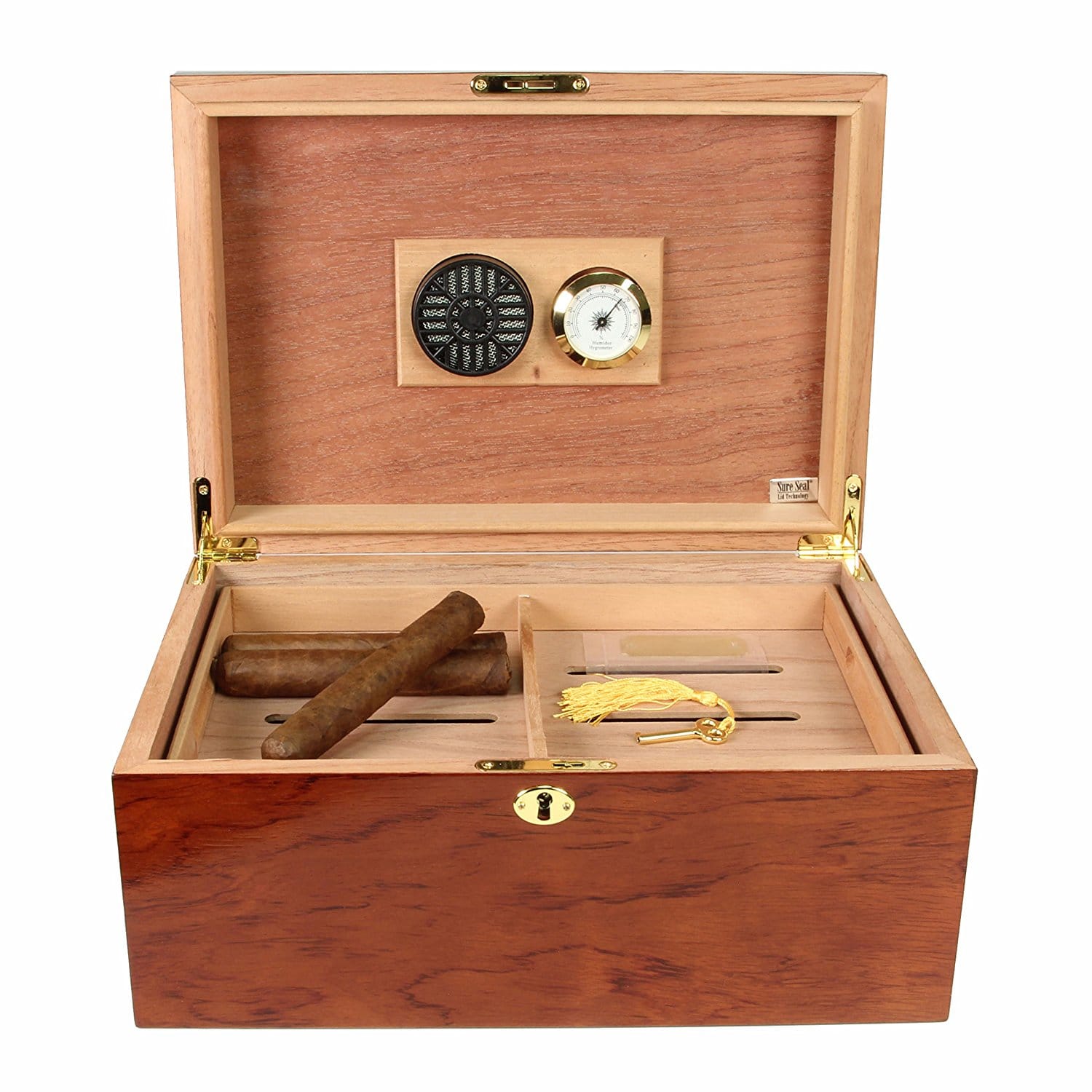 This is a pretty basic but pretty elegant humidor that can store up to 100 cigars. After the first one from the list, this one can contain the most cigars.
Milano 75-100 cigar humidor has a unique design, however, you won't notice that fact if you don't have a sharp eye. The lock is gold plated, as well as the key. It has a Spanish cedar tray with dividers.
It also comes with one round humidifier and a hygrometer.
In Closing..
That was the best budget humidors list that you will most definitely help you when choosing. Not only are the prices fair and correct, but the humidors are actually one of the best on the market. In some cases the price is lower than it should be.
Either way, you will most certainly find a humidor that suits you best as this list has one for everybody.
Like I have already said, if you are looking for a gift and don't quite know what to buy, trust me, buying a humidor is not only going to be of good use to your smoker friend, but it is going to be special and unique. Hey, that's the way how to separate yourself from the rest, right?
If you don't know what kind of humidor your friend would like, just pick one from the list that caught your eye most. It is hard not to like them when you get them, plus the ones on this list are really good looking, elegant, and pretty darn beautiful.
If you ask me, the Cherry Finish Spanish Cedar Humidor with Embedded Magnetic Seal is the way to go as it represents a good mix of value, price and design, or in other words, this one has everything that a good humidor needs.
All in all I think you won't be making a mistake with whatever choice you make. One thing is certain though, if you buy a humidor as a gift you will be that unique crafty friend with excellent gift ideas. However, being recognized like that has its good and bad sides.
You see, if your gift separates itself from the rest by creativity, which it will, you will raise the bar for yourself pretty darn high such that people will start to expect more and more.
Be careful!