Best Electronic Boost Controllers
Filed under: garage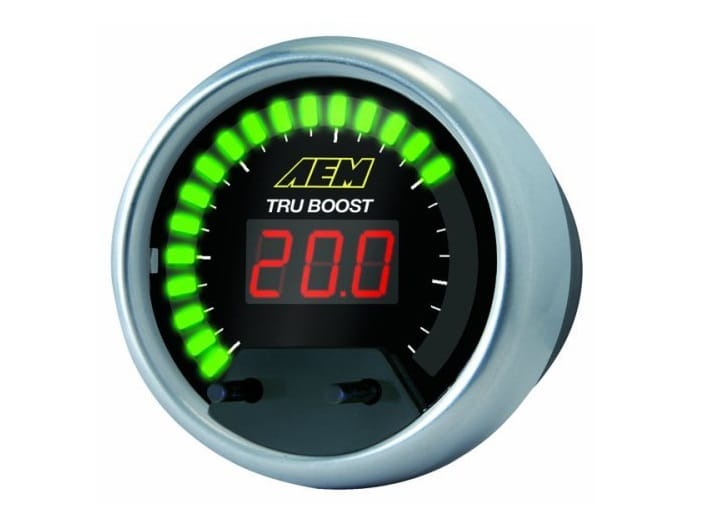 Do you love the extra boost your turbocharger has, but need a good way to control your power? Electronic Boost Controllers are a great way to control how much pressure your manifold is seeing, giving you the ability to get more performance and control. Previously, the ability to control your turbocharger left you manually adjusting and switching valves and springs in mid-drive, but today technology gives you the ability to adjust without breaking out the tool kit.
There are two types of boost controllers, manual and electronic. Manual controllers are very basic and require constant adjustment and are not good for finetuning. The new electronic boost controllers provide state of the art finetuning capabilities that were previously unavailable. There are many features that these units provide that will help you create a high-performance vehicle. Once these controllers are properly installed you can use these features all from the convenience of your drivers seat.
Following we have provided you with a breakdown of how these controllers work, types of controllers, features available and some of the top products on the market today. They vary in price range and it's important to research which products will be a perfect fit for your driving needs.
What is a Boost Controller?
Having a turbocharger can bring you that extra power that you've been looking for in your racer, but controlling that boost is another story. A turbocharger will give your engine more power, but even that shiny new turbocharger isn't living up to its potential and with some adjustments can be made more powerful. Boost controllers control how much air pressure is presented to your wastegate actuator resulting in either opening or closing the actuator. To control boost you must control the spring rate on the wastegate. In the case of an electronic boost controller this is done with the addition of an air control solenoid, stepper motor and an electronic control unit(ECU). When there is less pressure on the wastegate actuator you will increase boost onset and decrease lag. The resulting effect is increased boost performance.
Types of Boost Controllers
There are two types of boost controllers, manual and electronic. Manual boost controllers are easy to install, but don't give you the finetuning abilities and features that the new electronic boost controllers can offer.
Manual Boost Controller
Manual Boost Controllers are usually simple bleed-type pneumatic fittings. They can be cheap T-fittings installed on the boost control line near the actuator. Use of a small bleeder screw allows for adjustment. Other popular styles include ball and spring variations, that are far more preferable than "bleeder" styles, and allow for faster spooling times and less bleed out.
These controllers are generally mounted within the engine compartment and don't allow for presets, changes(without opening engine compartment and adjustment), or data logging. Some units can be used in conjunction with electronic boost controllers.
Electronic Boost Controller
Electronic Boost Controllers are fast becoming the standard when it comes to turbocharger technology. These controllers use solenoid and/or stepper motors and ECUs to control the air pressure to the actuator. These powerful control modules use software that control the solenoid with high precision aimed at top performance. These units are mountable inside the cabin with assessible displays and controls. With a variety of options, features and abilities electronic boost controllers gives you the ultimate control over your performance needs.
Electronic Boost Controller Features
The electronic boost controllers on the market today have various designs, styles and features. Whether you are a recreational racer or a professional drag racer there's a controller that can dial your vehicle into maximum performance. Check out the following common features the controllers feature on the market today:
Data Logging
To finetune your vehicles performance data logging is a must have feature for your boost controller. The majority of controllers on the market do not have contained data logging and require a separate engine management system or auxiliary data logging unit. A boost controller with data logging will enable you to setup various stages and to view boost vs. time, speed and gear. With the various data logging features of the new electronic boost controllers you will be able to setup your vehicle for the maximum performance, speed and boost.
Gear Based Boost
This feature is a wonderful ability of the new units to be able to get maximum performance for each gear. You will be able to vary the boost from gear to gear, creating a wholly unique overall boost parameter. There are some units that also allow two separate presets for gears, depending on whether you are racing or daily driving.
Speed Based Boost
Speed Based Boost is found on AEM EMS systems and is generally the most difficult boost to get dialed in. Technicalities are based in the fact that wheel spins will lend to higher, yet incorrect, speeds make the correct ratios difficult to ascertain. When the correct ratios are determined and excessive wheel spin is solved Speed Base Boost can increase gear boost with engine RPM and can lead to better traction than gear based boost.
Time Based Boost
Thisn type of boost is almost exclusively for drag racing. With the amount of variables in other driving applications like stop/go, shifting up/down and varying throttle ranges; time based boost can only be used during a situation where all the variables have already been dialed in.
Multiple Boost Levels
Many units come with multiple boost levels, allowing you to choose presets based on your current situation. Whether you are daily driving, or drag racing, you can set a preset based on the variables you have already determined is the due course. There are also options allowing you to choose between time, speed or gear boosts.
Boost Ramp Rate Control
Primarily found on the drag racing circuit, this feature allows you to increase boost with a target amount per second. This feature is found in the gear or time based boost options and allows you to specify the amount of boost applied over a certain amount of time.
Boost Override
Boost override allows you to override the current settings for a lower boost. For example if you are having excessive wheel spinning this feature will help you control the spinning.
Top Electronic Boost Controllers
It's clear that when choosing a boost controller the best choice is to go with an electronic boost controller. But, with so many on the market, which product is going to fulfill all the needs you have? Following is a list of the top electronic boost controllers on the market:
GFB G-FORCE II Electronic Boost Controller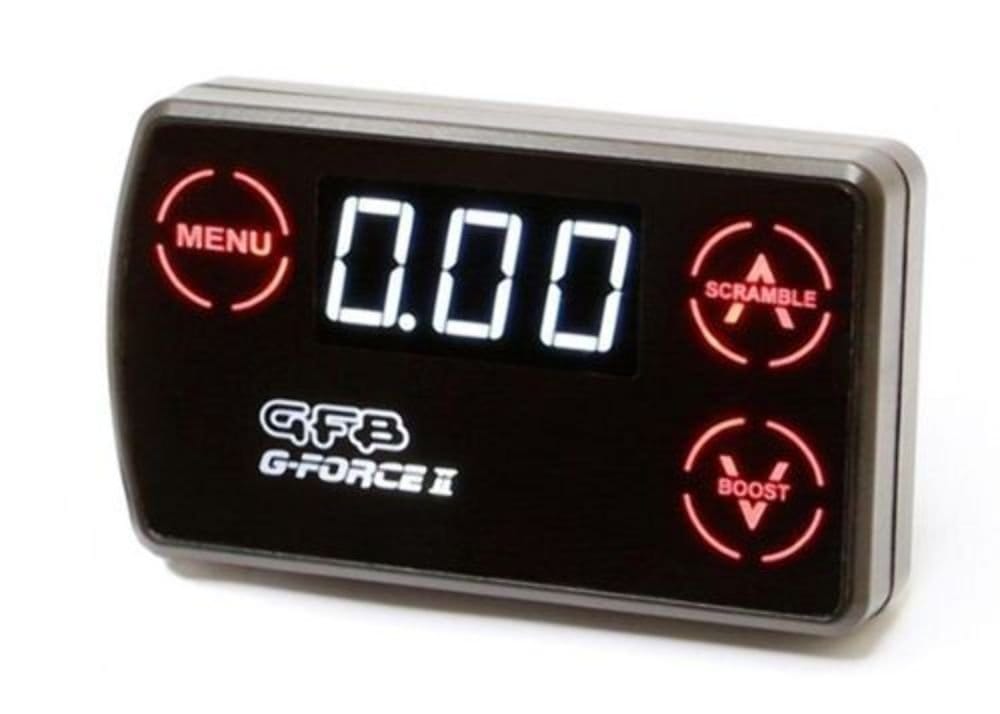 Hailed as the "best value for money" the GFB G-Force II is the new upgraded and revamped version of the popular G-Force I. This controller is ready for both recreational street use and serious track racing. This controller has great new features such as expanded menu color customization and navigation, improved scramble boost feature with remote switching capabilities and a dedicated boost preset, six boost preset capabilities and more! GFB delivers leading class performance and affordability!
Capacitive touch screen with menu button
Menu color customization
New closed-loop boost control strategy
Internal MAP sensor handles boost pressure up to 50psi
Improved scramble boost feature with remote switching capability
6 boost presets individually programmable
For more information on GFB Technologies visit their website.
AEM 30-4350 Tru-Boost Controller Gauge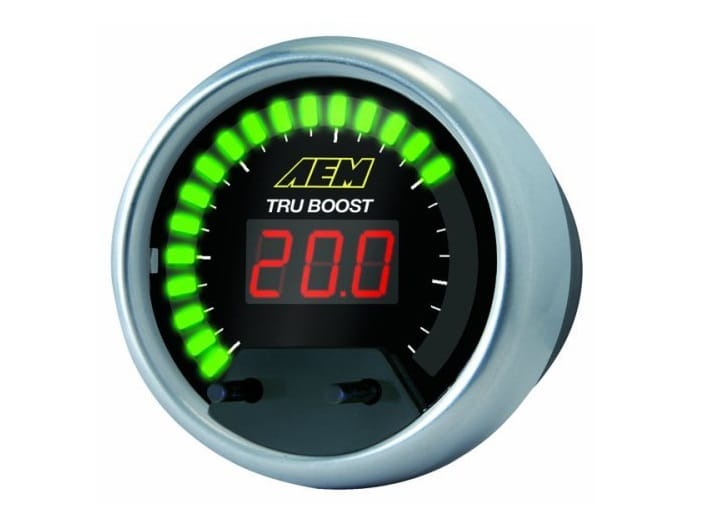 AEM has brought you a powerful, yet user friendly electronic booster that delivers great performance! With it's easy to use gauge interface you can easily choose your boost level with a press of a button. This controller gives you great features such as: on board pressure sensor, over-boost protection, scramble boost setting and a warning light.
Complete system includes harness, boost hose, on-board pressure sensor, boost solenoid, gauge display and all necessary fittings
Two user selectable boost settings with peak boost memory
Over-boost alarm includes two timed shutdown levels
No external interface required for programming!
Customizable gauge interface options
For more information on AEM Electronics go to their site.
Turbosmart TS-0302-1002 e-Boost 40 PSI STREET Boost Controller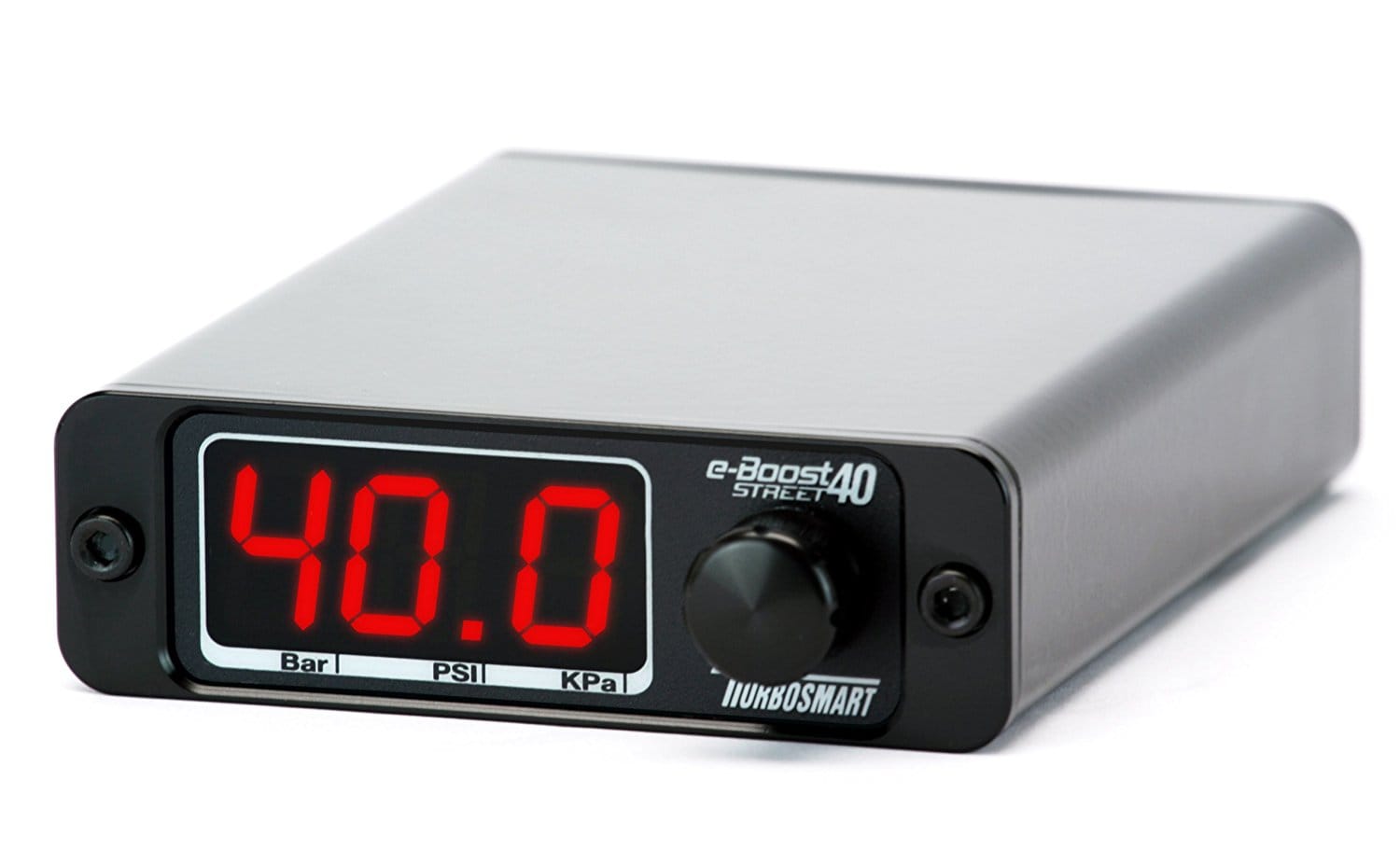 Geared towards the street performance market the e-Boost provides great features found in its brother product, the e-Boost 2. It features straightforward functions and affordability. New features include an aux output and 40 psi max boost operating pressure.
Features many boost control capabilities found on the e-Boost2
Two boost settings easily selected via the turn-and-push button
Control unit, wiring loom, solenoid with mounting bracket and vacuum fittings, vacuum hose and hose clamps included
Boost Correction factor: eliminates boost drop off at high RPM
3 Segment Display: adjustable brightness can be configured for PSI, KPa, or BAR and will flash when warning of over boost shutdown or rev limit, allowing the unit to be used as a boost gauge, tachometer, or a shift light.
Maximum Boost Level: 40PSI / 2.72BAR.
Learn more about the e-Boost at their website here.
GReddy (15500214) Profec Electronic Boost Controller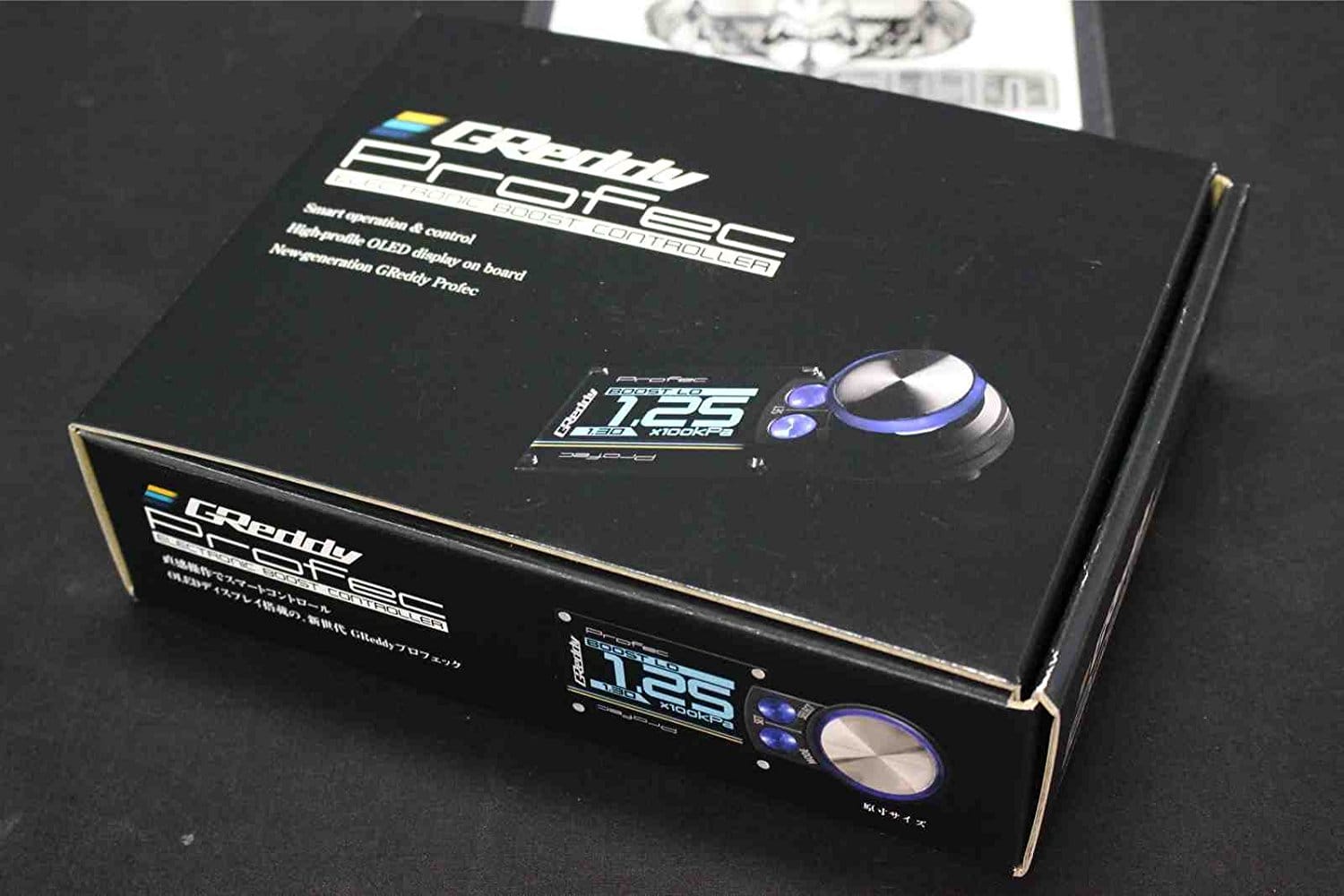 GReddy does not disappoint when bringing their Profec electronic boost controller. The new compact Profec features a large OLED display and super slim design. Made for performance this controller features a new 43.5 psi integrated pressure sensor, a compact solenoid valve and a super-fast ECU processor. This electronic boost controller will not disappoint whether you are street driving or track racing.
Built in boost gauge for kPA or PSI
Separated Sensor Unit
Lo, Hi & Scramble Presets
Large OLED Display with intuitive rotary dial operation
180 degree adjustable or flush mount included
Bar-Graph, Digital or graphical display functions
Warning alert and Safety limiter
Compatible with both actuator style or external wastegate style turbo systems
For more information on GReddy products see their site
Innovate Motorsports (3882) SCG-1 Solenoid Boost Controller and Air/Fuel Ratio Gauge Kit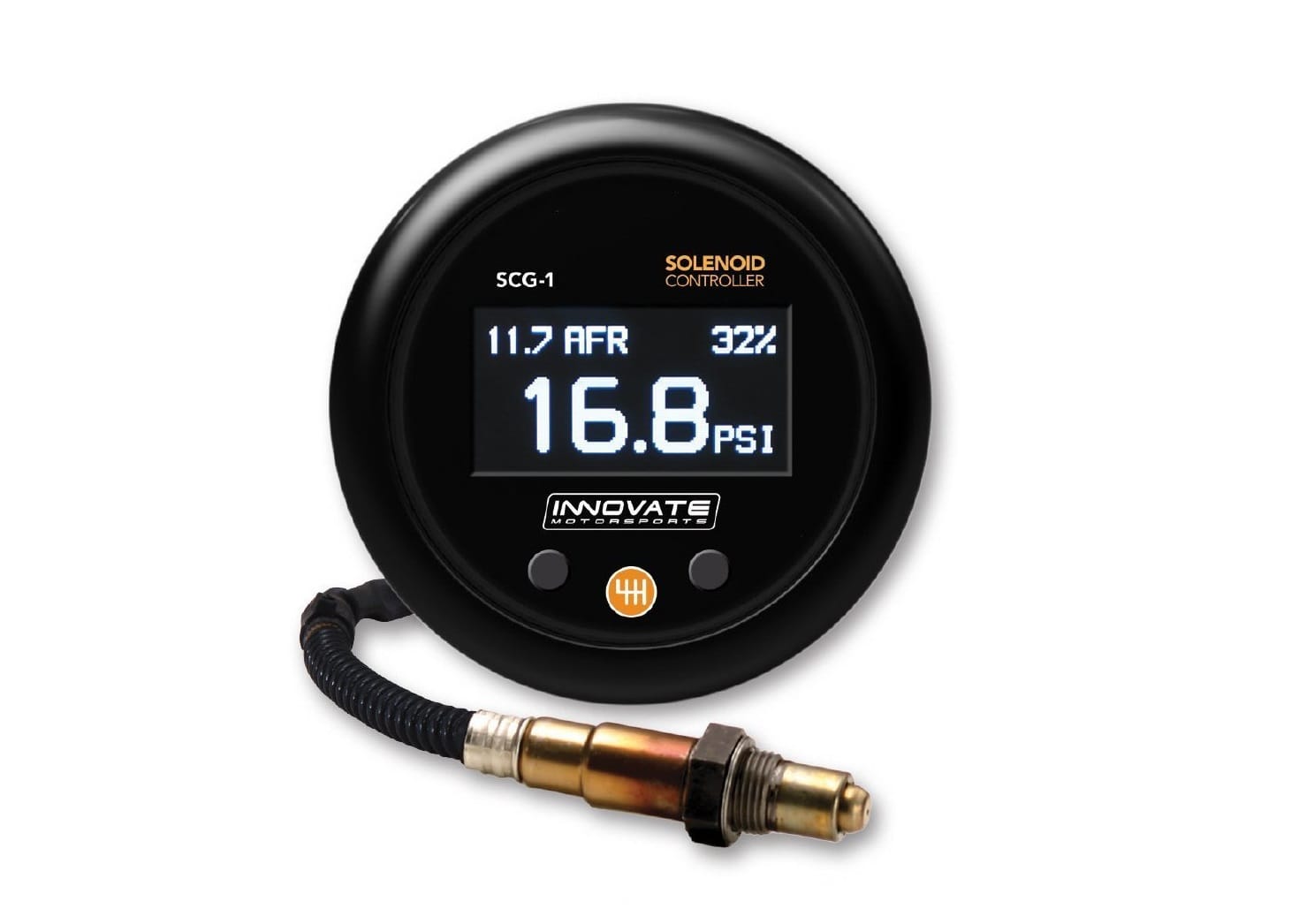 Innovate Motorsport has brought you a revolutionary product combining an advanced boost controller and their trademark DirectDigital wideband air fuel ratio technology for a whole new electronic boost controller. Innovate decided to create a whole new level to controllers instead of adding to the current market product by adding their O sensor control technology, providing the best boost control on the market! In addition, Innovate added a ton of new functions and abilities such as a programmable shift shift light, instant air/fuel ratio feedback, manifold pressure status and wastegate duty status. This powerful product is packaged in a gauge style unit with a large and customizable OLD display and has a fully programmable analog output for connection to outside ECUs and data loggers. Combine with Innovates free Logworks PC software to dial in the perfect boost curve.
All in one boost control and wideband air/fuel ratio gauge
User programmable boost cut safety using Air/Fuel and Pressure
Programmable waste gate reference pressure threshold
Programmable solenoid duty cycle with separate gain control function
Programmable shift light & OLED user configurable display
Interchangeable bezel and faceplates included. Solenoid and all applicable parts included
Analog output ability for PC and data logging and configuration
Peak hold function
Read more about Innovate Motorsports here.
Turbosmart e-Boost2 Electronic Boost Controller - 60mm, black face, black ring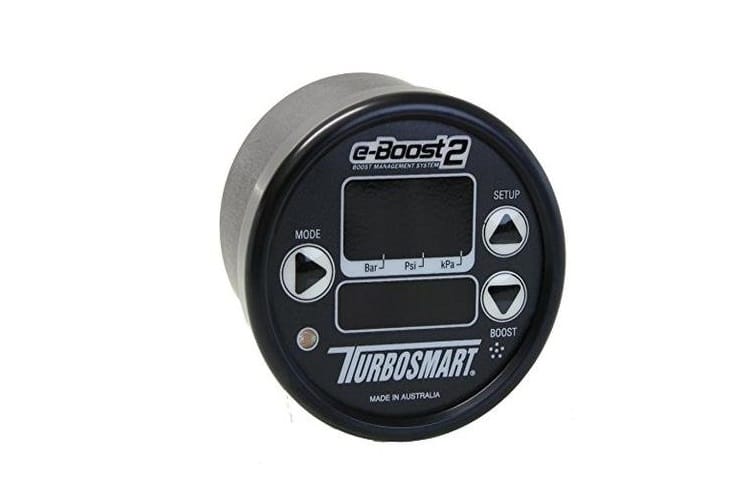 Turbosmart brings you a state of the art electronic boost controller that allows you complete control of your turbocharger. The perfect unit for both street performance and track performance this updated e-Boost2 controller features state of the art software and features like Gear based Boost mapping, programmable auxiliary outputs and warning lights.
Boost On-Demand feature allows the user to select a boost group for a preset amount of time.
Redesigned User Interface
Factory Preset Mode for beginners
Advanced User Mode unlocking 6 alternate boost mapping functions.
Bezel and face design featuring larger, easier to use function buttons.
60mm, black face, with black ring
Learn more about Turbosmart products here.
There are numerous Electronic Boost Controllers on the market today to choose from. From data logging to presets there are amazing new functions and abilities available that old manual boost controllers couldn't provide. The new products on the market are affordable and user friendly, allowing even beginners to enter the exciting world of motorsport technologies. Those who don't drag race can learn how to finetune their daily drivers for the best performance possible. Now that you've done your research, which Electronic Boost Controller will you purchase?