Best Electronic Cigar Humidifiers in 2019
Filed under: cigar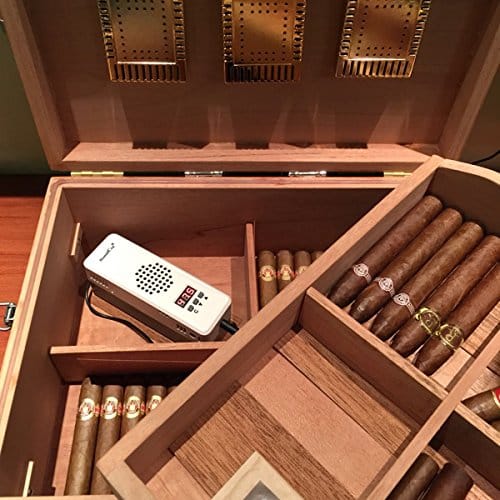 Update May 2019: The Cigar Oasis Excel is currently selling at a discount to its RRP making it a very attractive buy. The sale may end at any time - click here to check it out.
So you're looking at aging or just storing some of those divine stogies and you need the best electronic cigar humidifier? There are a few options out there and what you need to get really boils down to two things: the number of cigars you plan on storing and the size of your storage space.
Read Next:
Why Get One?
You should get the best electronic cigar humidifier if you already have a humidor but are perhaps looking at improving the storage conditions of your cigars or looking for a longer term storage solution. If this is the case then ensuring the highest quality conditions for your cigars is of the utmost importance. Top rated electronic cigar humidifiers are extremely accurate and create a very stable environment allowing your cigars to age with consistency.
Remember that the quality of an electronic humidifier is only part of the equation and cannot be expected to do everything, the humidor you use must also have good insulation and seals to ensure the electronic humidifier can be used to its full potential.
If you are increasing your collection, it might also be worthwhile taking a look at some cigar cooler options. These aren't too much more expensive than some of the electronic humidification systems and the build qualities are unparalleled.
How Do They Work?
Electronic humidification systems work by maintaining consistent levels of humidity in your humidor or storage unit. They can have either reservoirs or water cartridges, though more modern devices usually employ cartridges.
It's important to pair the size of your humidifier with the size of your collection and storage space. If the humidifier is too small, you will find that it is unable to maintain proper humidity in the unit. Likewise, if the humidifier is too large, it might produce too much humidity and with too much moisture in the air, you might find yourself with overly moist cigars.
Best Electronic Cigar Humidifier Brand - Cigar Oasis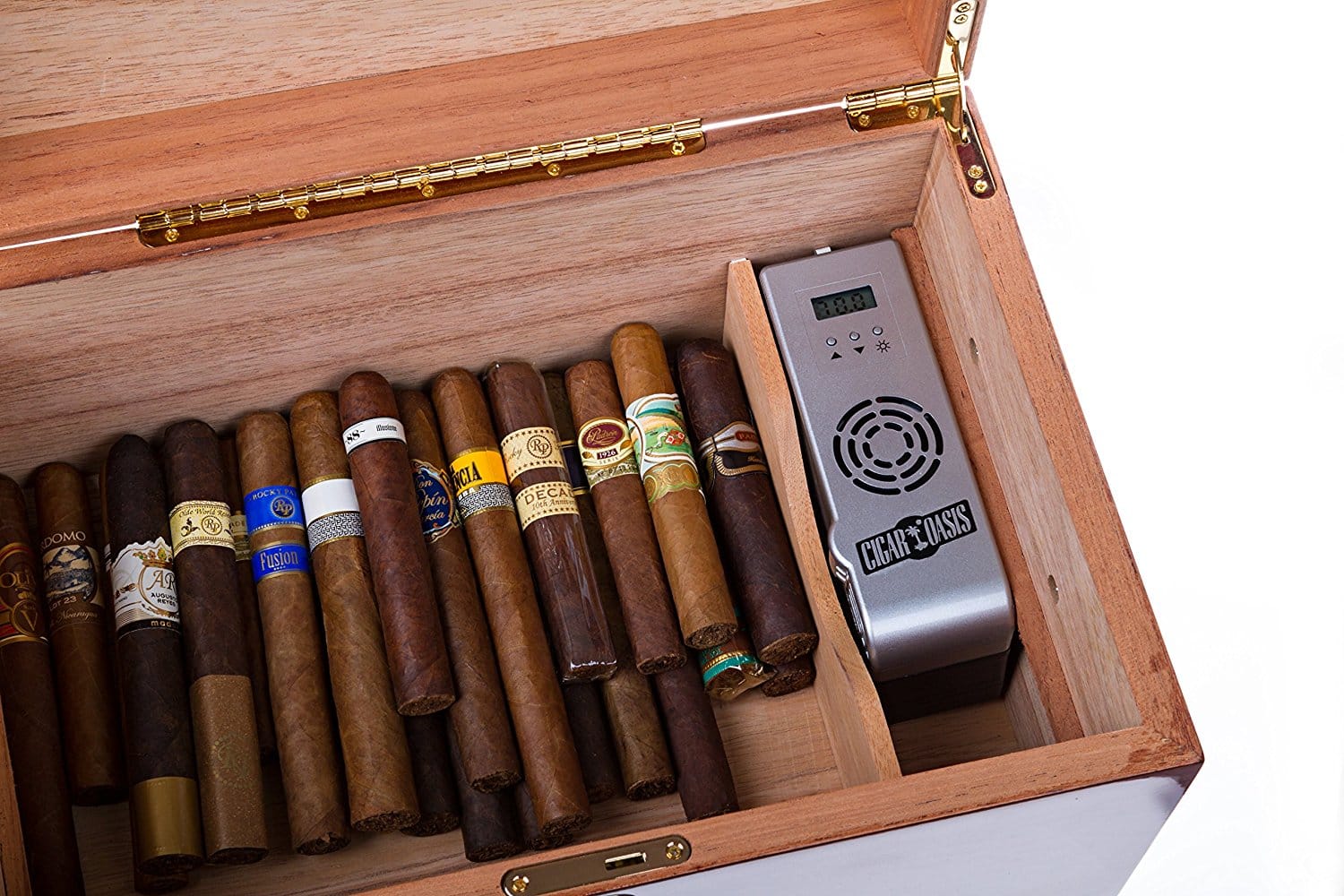 Cigar Oasis probably make a range of the best electronic cigar humidification systems that meet a wide variety of uses and requirements. Look in any forum or chat room and most people will agree that Cigar Oasis are the go-to manufacturers of the best quality and longest lasting humidifiers.
Usually, you want to try and match the size of your collection and storage environment to the output of the humidifier. If your cigar collection has:
There's plenty of benefits of the line of Cigar Oasis items that should be realised. First and foremost, they are extremely quiet. This is a big bonus if you have your humidor in an office or quiet space where maintaining a low noise level is of importance. If the unit is unplugged or loses power for any reason, all of the settings are retained so it does not need to be reprogrammed after booting back up again. Not like it should be considered too much of an issue however as the Cigar Oasis units are quick and simple to dial in the correct relative humidity as compared to other brands.
Click For More Reviews On Cigar Oasis
Hydra-LG Humidifier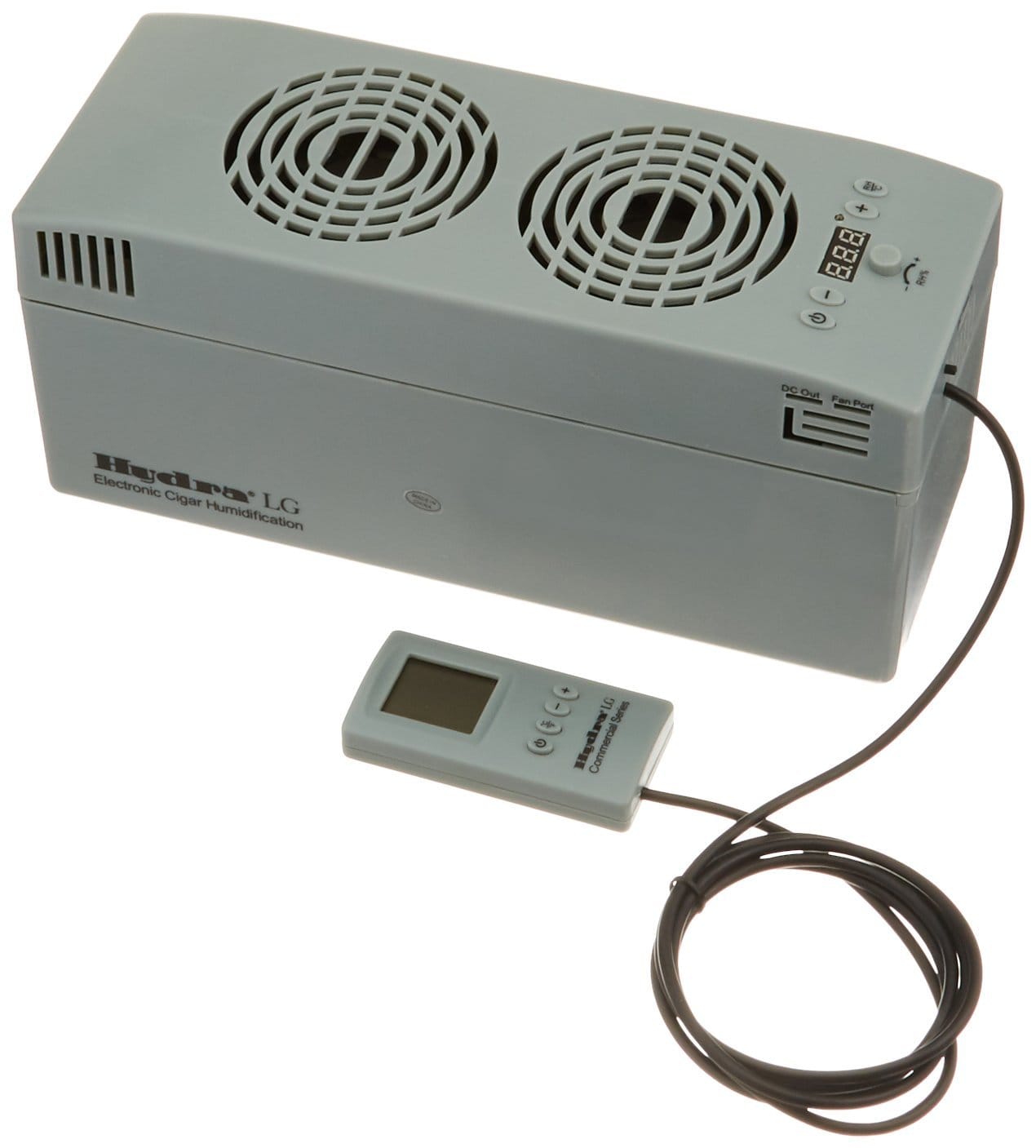 We came in strong with our love for the Cigar Oasis line of cigar humidifiers, but don't discount the Hydra LG Cigar Humidifier. It is a well deserved second place although it comes with its flaws.
For storage up to 8 cubic feet get the personal
For storage up to 16 cubic feet get the commercial
First, the benefits of the Hydra units in comparison the the Cigar Oasis. The Hydra allows you to calibrate the unit. This can be a big selling point for some, especially those who suffer a little OCD. Secondly, the Hydra have additional fan packs to help move air around your storage unit.
Now the downsides - Hydra have a somewhat bad rep for the reliability of their products. Read these reviews and you will see that many people have had issues with the units quickly going dry, fans burning out and even when a replacement unit is sent out the DC port is damaged. Around 1 in 5 people seem to have a negative experience associated with their Hydra, so something to be aware. They partially make up for some of this with astounding customer support, but buyer beware.
Click For More Reviews On Hydra Units
HumidiCup Cigar Humidifier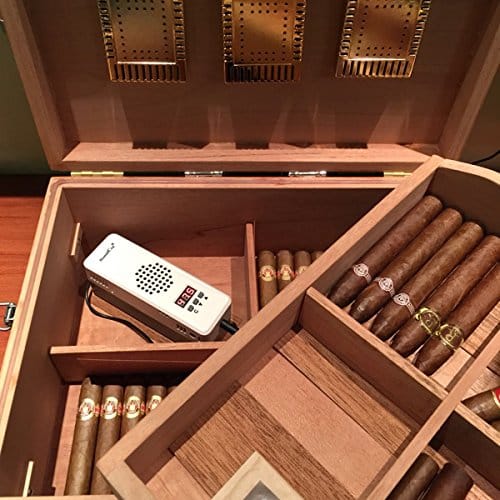 With the industry favorites out of the way it's time to shine some light on a little-known newcomer to the cigar humidor scene - the Humidicup.
For cigar collections up to 300 or 5 cubit feet - HumidiCup
The HumidiCup uses a water cartridge system to move moist air around a humidor with a factory setting of 70% RH. It can be programmed to any user value between 60% and 80%. While still seemingly in its infancy the HumidiCup could with a little more time be a challenger to the title for best electronic cigar humdifier - the unit has exceptional online reviews with several customers referencing the accuracy of the unit and quality of the build.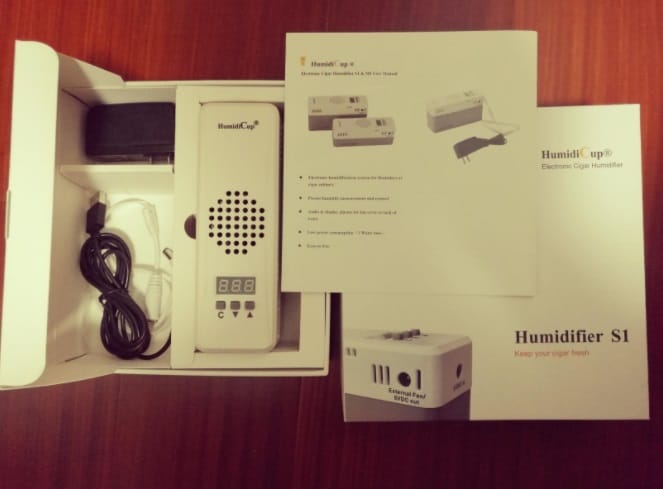 Still, it has a bit to go as the loudness of the fan has been reported as an issue. For an entry level cigar enthusiast, it probably can't be beaten as it's only a little over half price of a Cigar Oasis making it a very affordable option with reliable functionality.
Click For More Reviews On The HumidiCup
In Summary
Finding the best electronic cigar humidifier is about understanding your storage requirements firstly before setting out to make a purchase. The Cigar Oasis units come with the highest recommendation and are associated with the greatest user content. Be wary when looking into Hydra as they are known to have systemic manufacturing issues. The newest kid on the block the HumidiCup brings the greatest value for money to the table and is a fantastic option for those looking to dip their toes into long-term storage at an affordable price.