Best Whiskey Decanters: 10 Unique Designs To Savour That Scotch
Filed under: whiskey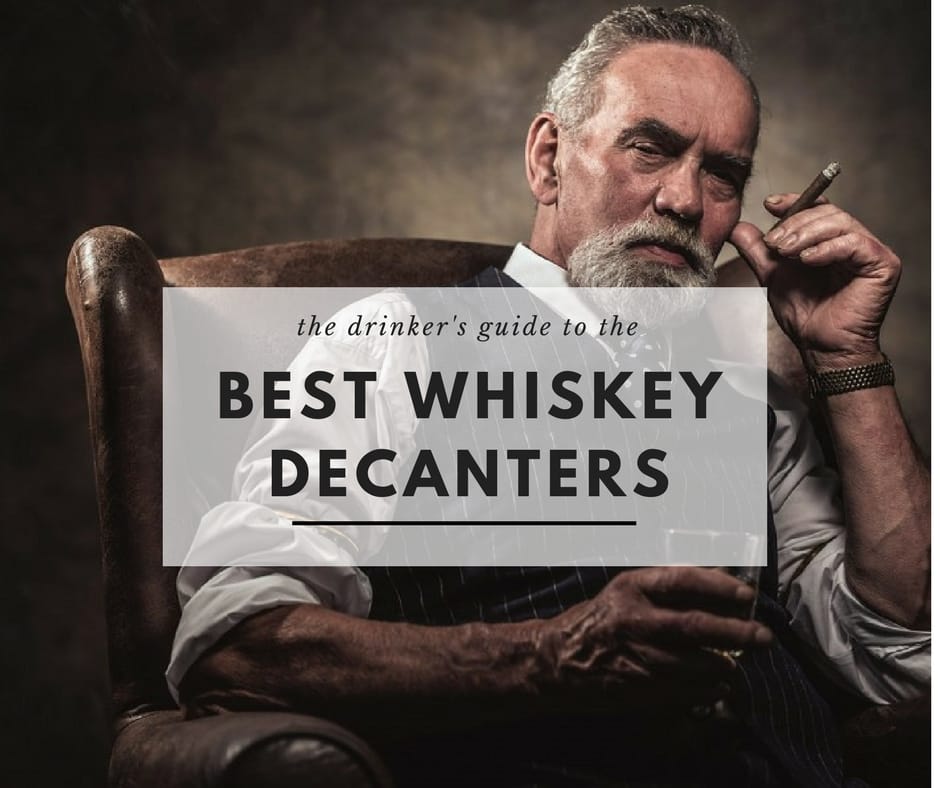 Last Updated: June 2019
The best whiskey decanters should be a fusion of quality craftsmanship with unforgettable and timeless designs. They should be unique and make you look for longer than just a quick cast of the eyes. We think we've found a few that fall into this category, take a look and tell us what you think.
Read Next:
The Best Whiskey Decanter - Ashcroft 5 Piece Twist
The Ashcroft whiskey decanter features an unforgettable twist design throughout. The elegant design makes for entertaining or storing your favorite single malt a breeze as your guests weaken at the knees with the overpowering sophistication. Features include:
Capacity: 27oz
Build: Crystal (lead free)
Bright polished finish
Price: Under $130
Find Out More About The Ashcroft Here.
The Classic Skull Decanter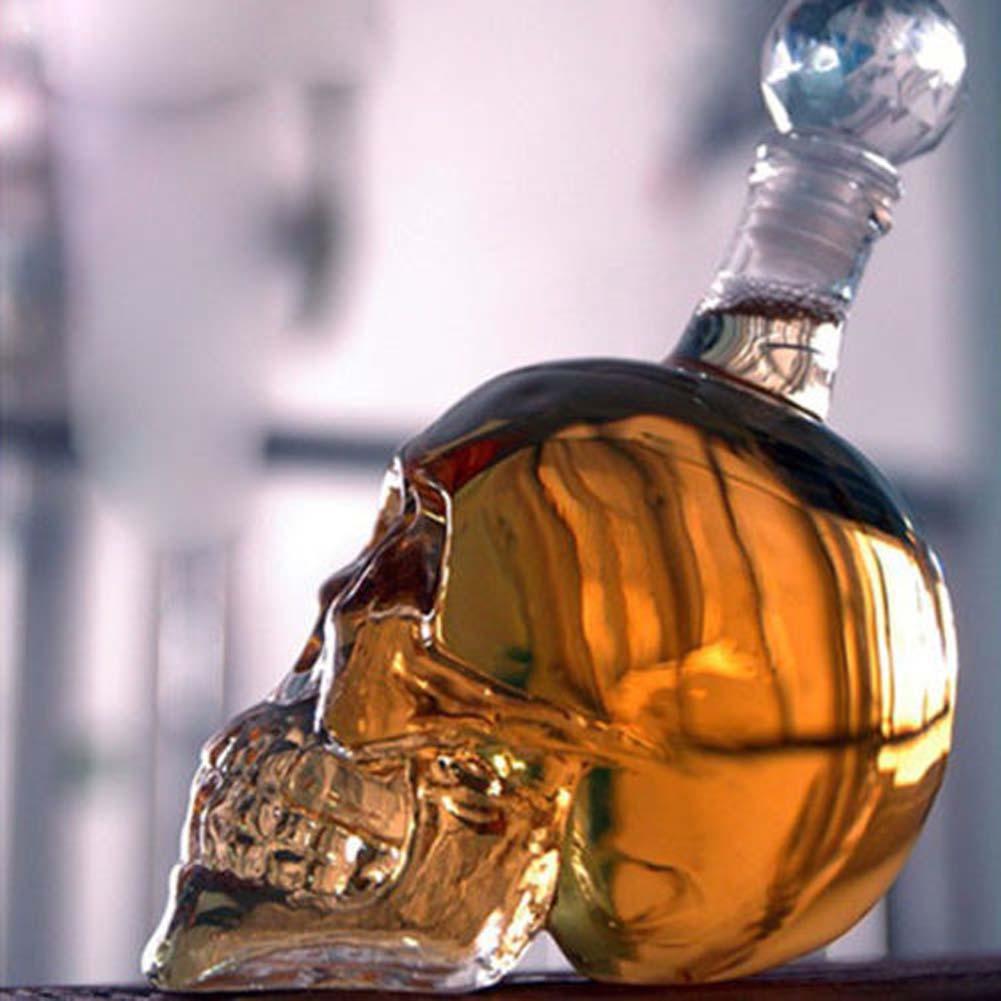 Feel a like something a little edgier? A little more risque? Or just fancy the human anatomy? Then the skull whiskey decanter is the pick for you. Many should be able to appreciate the irony of drinking a poison from the form that has come to symbolize death and danger - the human skull. It has a capacity of 1000mL so you will be getting every last drop of your bottle in there.
Price: Under $50
Sailing Ship In A Whiskey Decanter
This unique whiskey decanter with a stainless steel spigot is handmade with the glass hand-blown by local skilled artisans. Their glass shaping prowess is on full display with the intricate details of a ship created in the center of the decanter and the wooden base handmade by master craftsman in Kentucky USA.
The decanter has rave reviews and currently sits at a 4.4 / 5 star rating.
Features:
Storage volume: 1150mL
Ground glass stopper for lifetime seal
100% lead free thick, durable glass
Full refund for any reason within 60 days of purchase
Price: Under $130
Most Unique Whiskey Decanter Design - Horse Decanter by Derby Decanter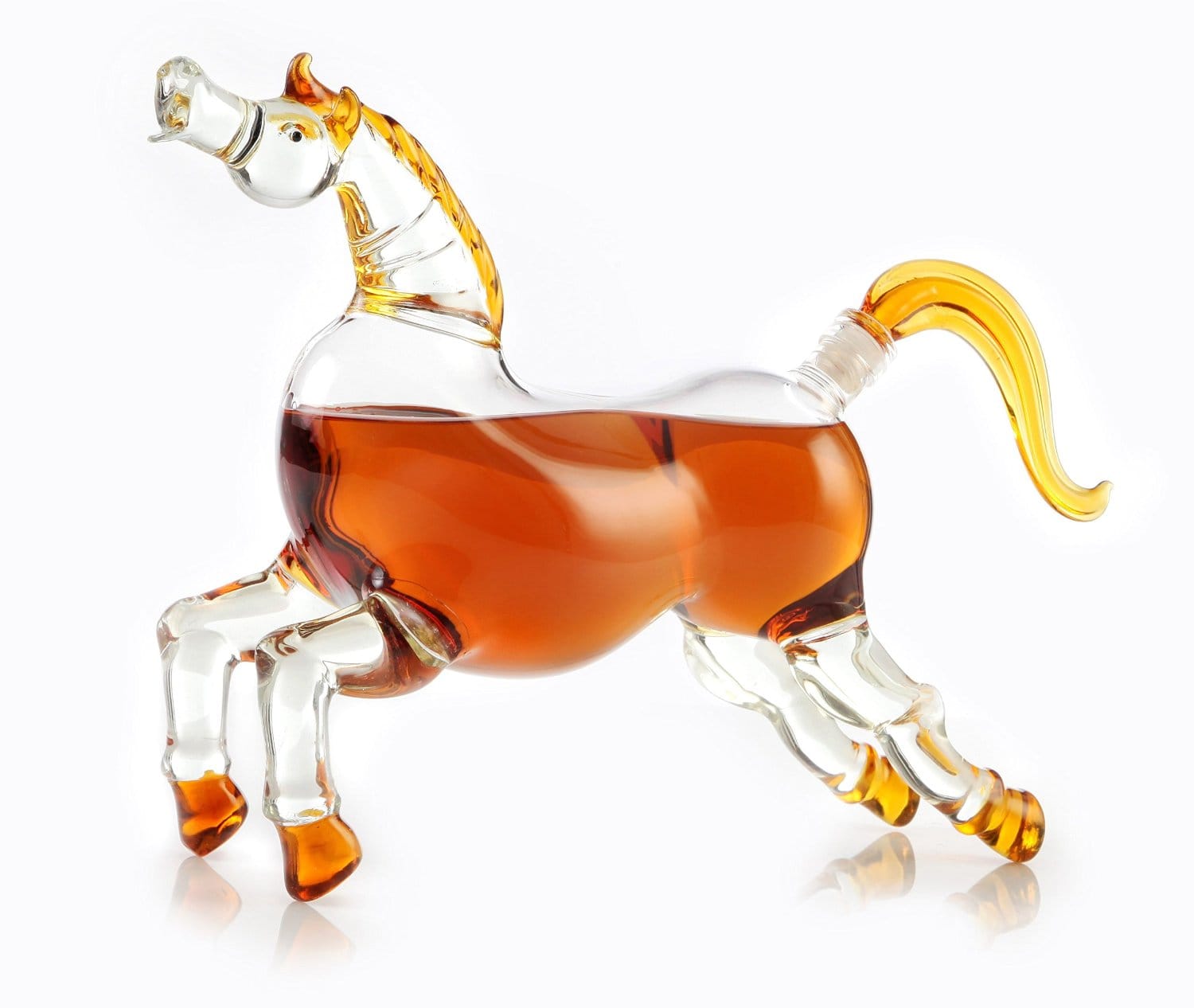 This is the Ferrari of whiskey decanters. The galloping horse balanced on four hooves with it's body as the storage for your delicious single malts. The incredibly unique design easily puts it up there with the best whiskey decanters.
Features:
1000mL storage
Completely handmade
Colored glass accents
Lead free glass
60 day returns no questions
Price: Under $60
Raging Bull Decanter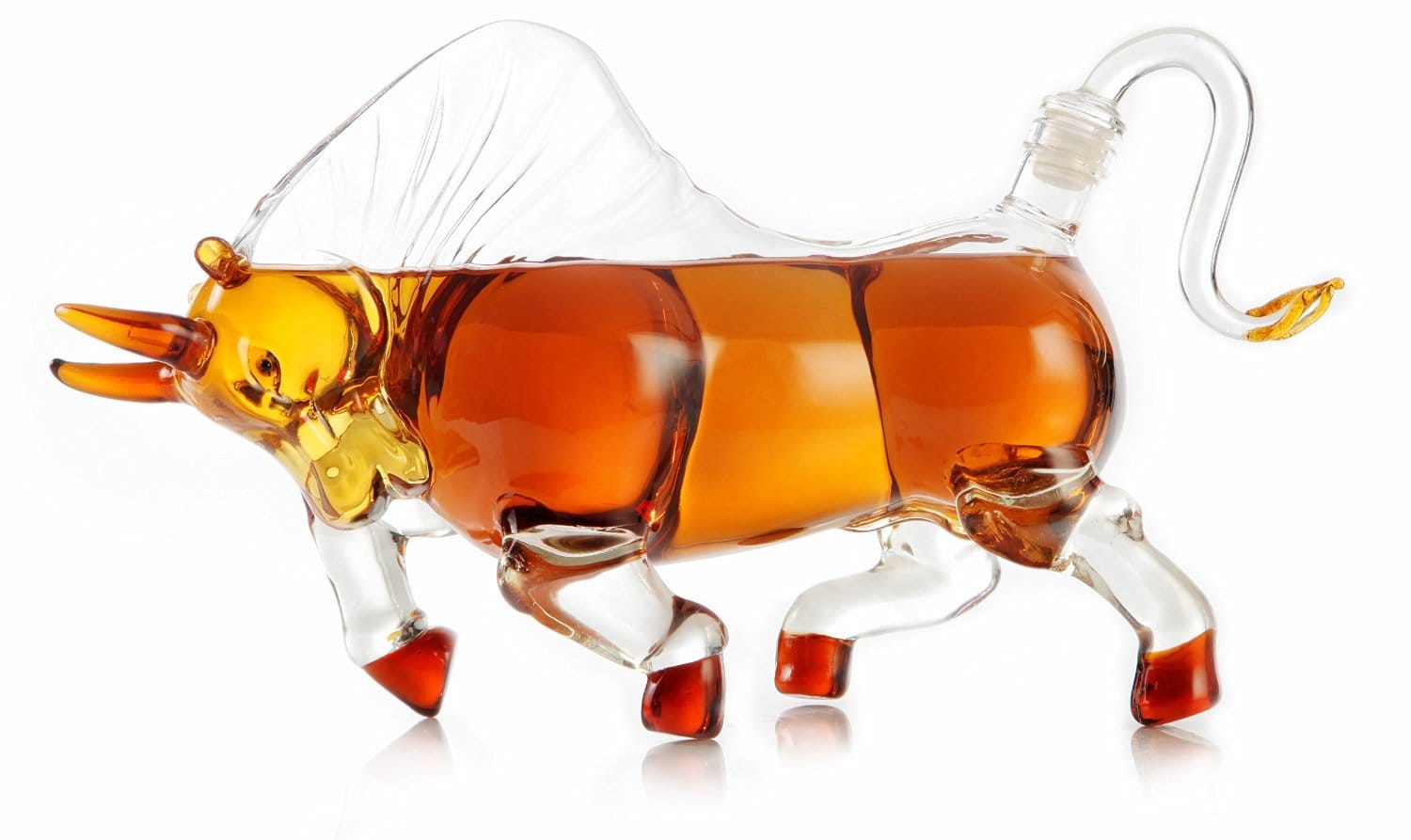 If the horse was the Ferrari of decanters then this is surely the Lamborghini - the raging bull with head dipped and horns reared. The colored glass accents top off the tail and hooves with classy sophistication and make for a stunning piece when entertaining guests or kicking back in the leather chair and savouring your single malts.
Features:
1000mL storage
Completely handmade
Colored glass accents
Lead free glass
60 day returns no questions
Price: Under $60
Star Wars Fan? Check Out The Stormtrooper Whiskey Decanter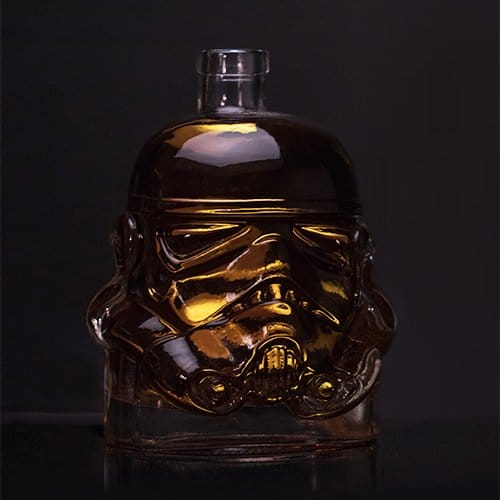 There's only one problem with it - every time you pour it misses ;)
Made from high quality borosilicate glass and with a volume of 650mL, it's enough to make you feel the force of alcohol.
Decorative Etched Glass Globe Decanter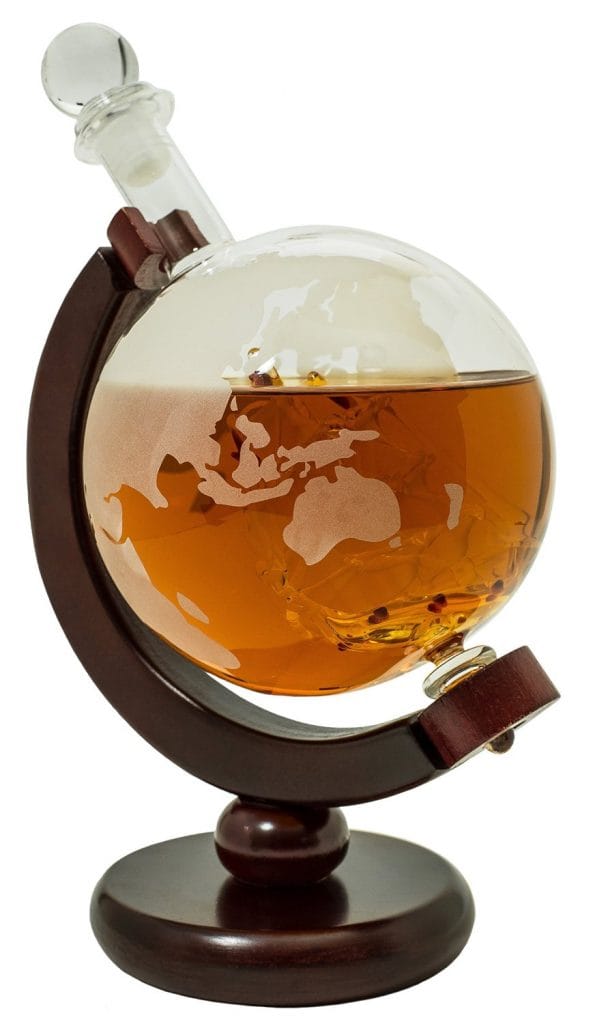 As a #1 best seller in liquor decanters and sporting a 4.5/5 the decorative etched glass globe decanter seamlessly blends the charming tones of wood with the global appeal of the glass. Although it's difficult to see, it features a glass hand-blown sailing ship in the centre of the globe adding another layer to an already exquisite piece.
Features:
Capacity: 850 mL
Includes bar funnel for filling
Handmade
Price: Under $70
The Coolest Whiskey Decanter - The Diamond Design by Prestige Decanters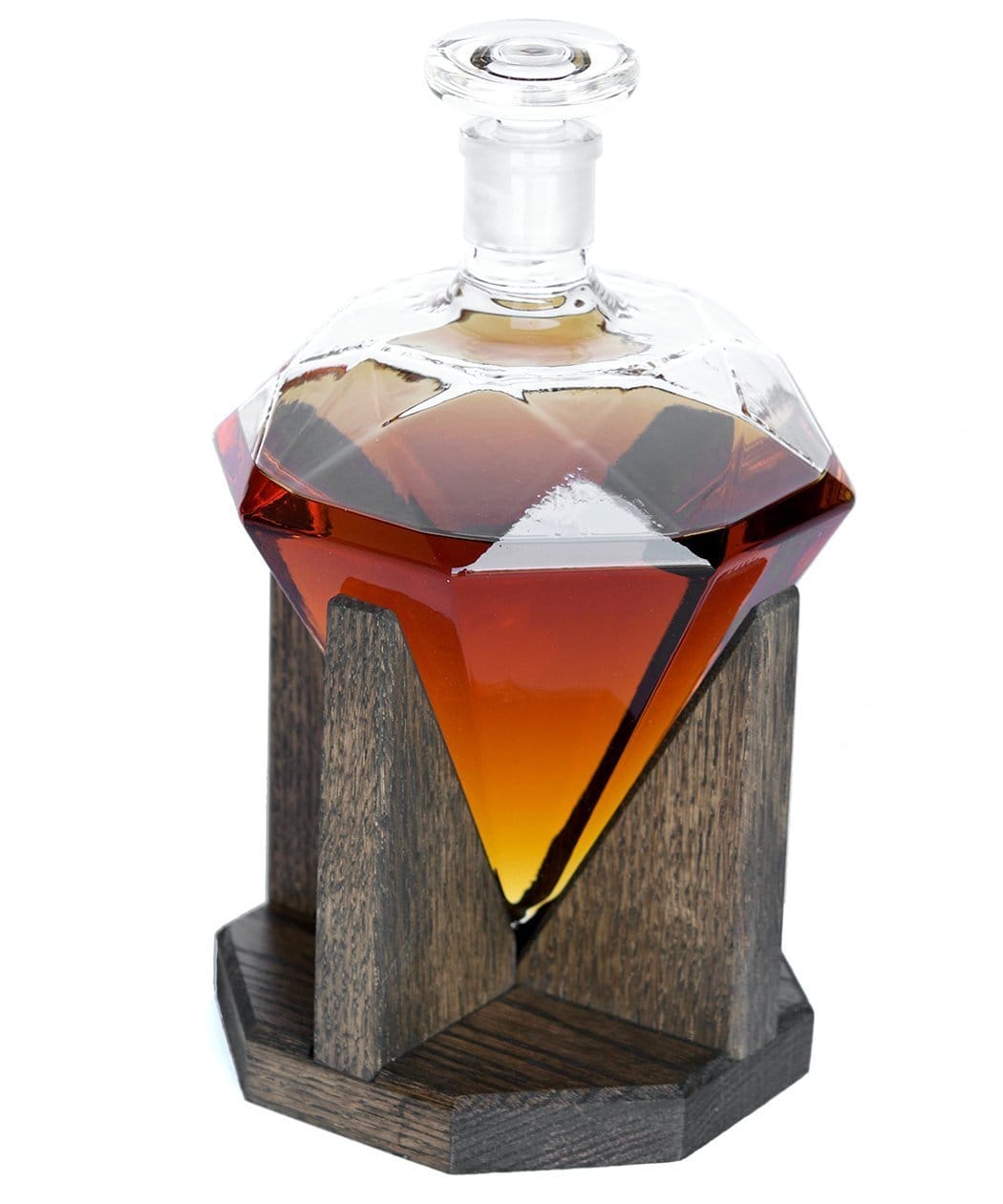 What really sets the diamond whiskey decanter apart from the rest is that it is made from borosilicate glass which is a stronger and more resilient glass than most other decanters. Add to that the fresh diamond design and it makes for one deliciously appealing decanter.
Features:
Capacity: 1000 mL
Hand-blown in Kentucky
Ground glass stopper for a tight seal
Price: Under $120
That rounds out our list of the best whiskey decanters. We've dug up a few unique designs that cater to a broad range of tastes. Looking for more advice on and reviews? Then check out the video below.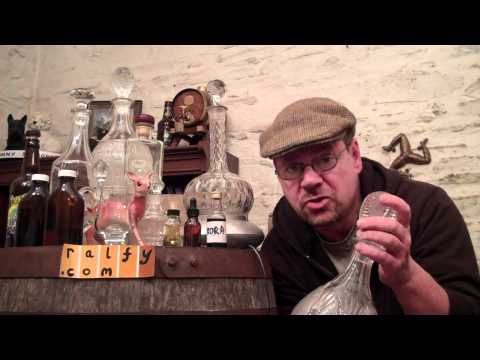 Whiskey Decanter Buying Guide
1. Why Should I Use A Whiskey Decanter Set?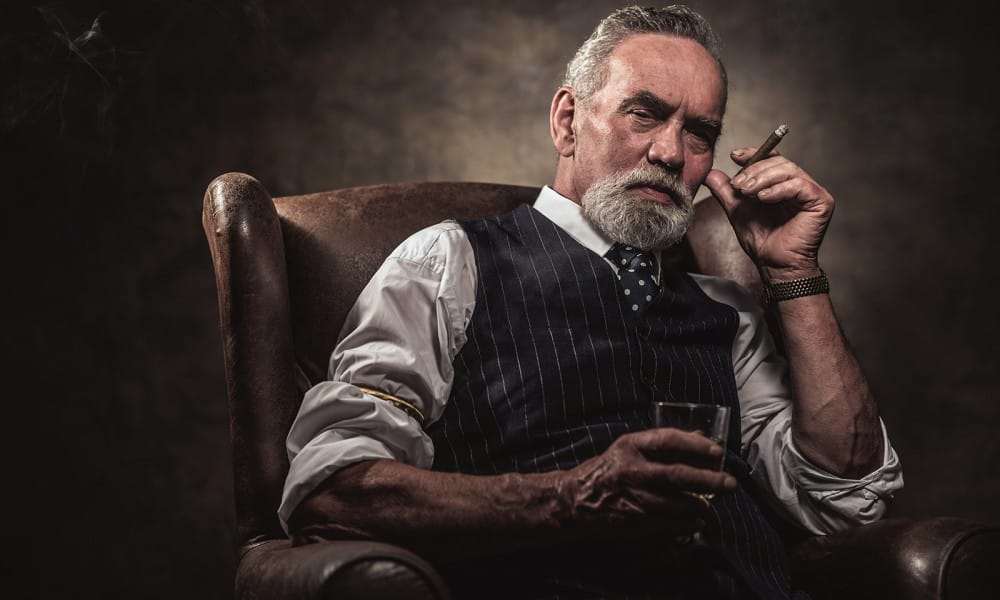 Because you're a god damned classy gentleman!
And gentlemen drink whiskey only from the best whiskey decanters! You thought it was only wines that need to be decanted and allowed to breathe?
Well, you'd be right about that!
Decanters were primarily created for the purpose of decanting wine; they allow the sediments to separate and oxygen to infuse with the wine presenting a bolder and more apparent flavor.
Whiskey decanter sets serve an aesthetic purpose.
Whiskey doesn't have sediment like wines and doesn't need to breathe. The exposure to oxygen may actually negatively impact the flavor of your whiskey.
It has also been suggested that the use of whiskey decanters is a form of subtlety and humility. Similar to how it is rude to leave a cigar ring while smoking in the presence of others as it is akin to showing off, leaving your whiskey in an expensive bottle can make others envious.
Whiskey sets are eye-catching.
They add an air of sophistication and ooze style, they look infinitely better than the bottle of whiskey that came from the shop and if you drink cheap ass liquor then it's a great way of hiding that shameful fact (tsk tsk).
2. What Is All This Talk About Lead?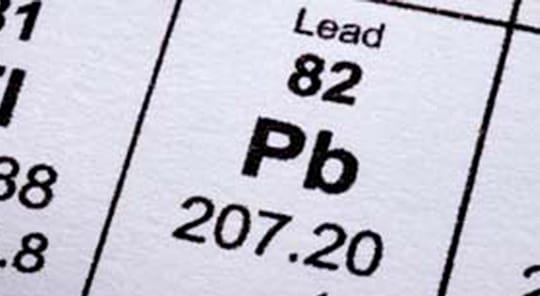 Cheap whiskey decanters that are made from crystal can potentially contain small trace amounts of lead.
Lead is a big nasty no-no.
If the crystal whiskey decanter is cheap and doesn't list that it contains no lead, well it probably contains lead - scratch that one off the list.
According to recent studies performed with port wines in some of the cheaper crystal decanters, they found that after 2 days 89 micrograms of lead was discovered per litre of port. After four months, there was 3,000 - 5,000 micrograms detected.
The safe consumption limit is 15 micrograms per litre.
Surprising right?
If you leave your whiskey in there for four months you could potentially be drinking over 200 times the safe limit and heading into dangerous territories ending up like a mad hatter.
Those cheap nasty crystal whiskey bottles can end up costing more than an expensive bottle if you end up with some health problems.
It pays to either go with glass or make sure the manufacturer states there's no lead.
3. What Makes A Good Whiskey Decanter?
The Stopper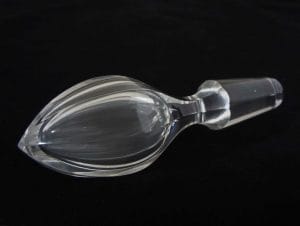 Aside from the material the decanter is built from, the stopper is another important component. We want to prevent too much oxygen entering the vessel as over time it can end up negatively affecting the whiskey by altering its quality and flavor.
You can get stoppers that have a small amount of rubber around the exterior - this provides a very reliable seal.
You might notice on the more expensive sets and higher quality decanters that they won't have rubber around the stopper. These are likely fashioned with good enough precision that the glass - glass or crystal - crystal contact forms a barrier.
At the end of the day, a little bit of oxygen isn't a problem and a rubber seal can detract from the elegance of the decanter.
Capacity
You want something you can empty a full bottle of whiskey into, so make sure you go at least 700mL. Most whiskey decanter sizes with be above this so you should be fine, still something to note.
Design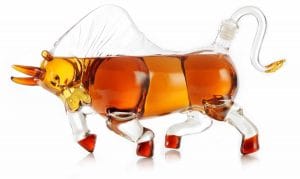 Are you a classic kind of guy or go for the more memorable and unique styles? This will determine the design of the whiskey decanter you go for.
There are more shapes, sizes and appearances than you can poke a stick at. The square crystal decanters are all time classics and will never date, so if you want to be safe go with one of them.
If you're feeling more adventurous go something like the diamond or raging bull whiskey decanter. Choose carefully, design separates the mediocre from the best whiskey decanters.
In Summary
Most whiskey decanters have a decent build quality nowadays. A lot of the decision about which one to get for yourself probably comes down to design and that's exactly where things start to provide greater opportunity for individual expression.
If you're still stuck on making a decision, try checking out the Picasso decanter. It's one of the few that has perfect reviews all round.
More: Fancy Yourself A DIY Guy? Check Out These Affordable MIG Welders.