The Best Marble Sealers On The Market
Filed under: diy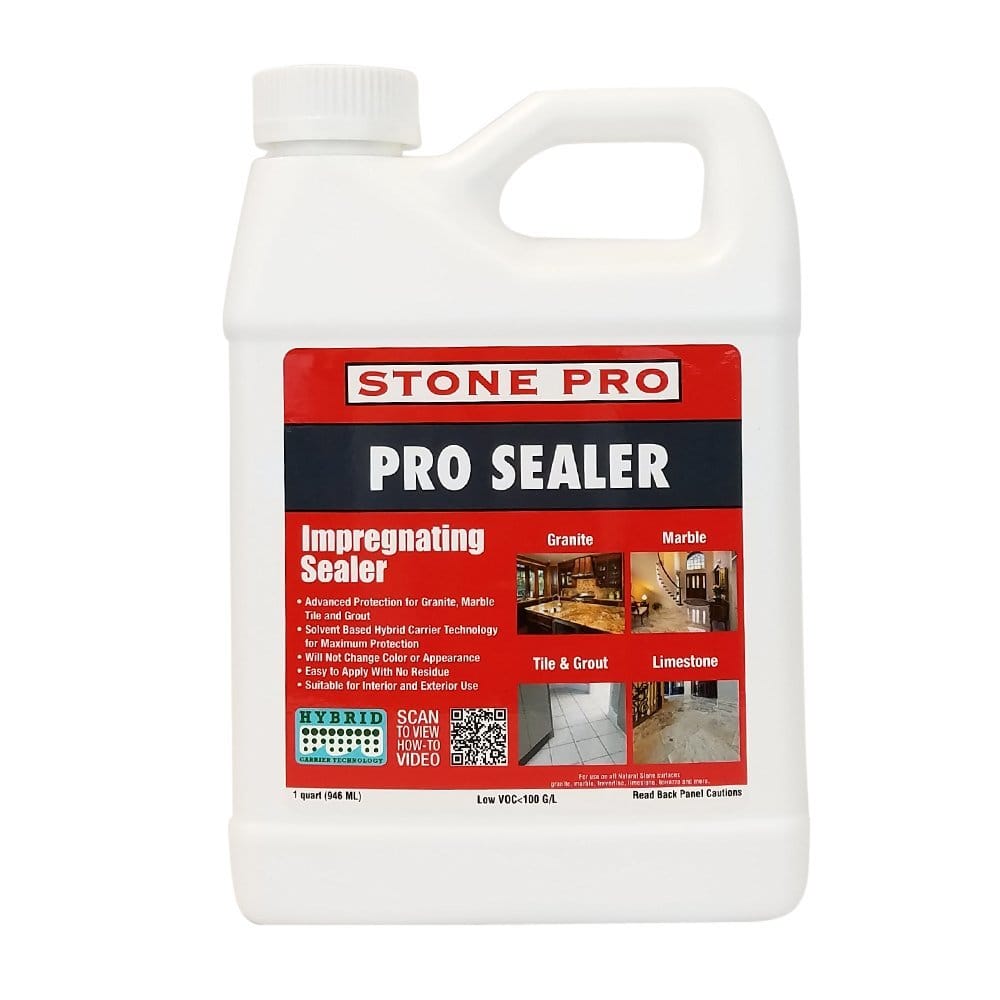 Update 2019: The Miracle 511 is now rated as the best marble sealer on the market. We found it to be the best quality solution and you'll find that many agree with us on this. The Miracle 511 has exceptional reviews and a flawless reputation. Check it out for yourself.
If you have marble flooring and want to know how to protect it, then we're here to give you some tips. Marble sealer ensures your floor lasts longer and is less prone to damage. In this guide, we'll talk about why you need marble sealer, the sealers available and review the best marble sealers on the market.
What Is Marble Sealer?
Marble is a beautiful stone and many people choose it for their floors and countertops due to its aesthetic appeal. However, marble is prone to moisture and can stain easily. Marble sealer protects it from absorbing too much moisture and ensures your floors or counters stay looking new for longer.
Do I Need A Marble Sealer?
If you've just bought a new house and you're not sure whether the floor is sealed, then there is a water test you can conduct to determine whether or not to purchase sealer.
Putting water on the surface will help you determine whether there is a sealer protecting the floor. If the stone darkens, then there's no sealer, but if it stays the same colour, then it's being protected from moisture. If the floor darkens quickly, then you'll know there's no sealer. Surfaces that darken after five minutes show there is a sealer but a second coat should be applied.
Water will darken the stone, but other fluids such as coffee and wine will leave a stain. If you have a busy household with children and pets, then it's worth taking some time to seal your surfaces. It works by sealing the pores in the marble surface, protecting fluids from penetrating the marble. Most importantly, marble sealer is a good investment as in ensures you won't need to spend lots of money in future repairing and replacing your floor.
The Types Of Marble Sealers
There are two main types of marble sealer: topical and impregnator. Each has their own uses and benefits. It also depends on the type of marble you wish to seal.
Topical sealer usually comes in the form of a wax type material, made from different components. It acts like a protective coating for the marble and protects it from stains. It's not a popular choice of sealer but it's used in offices and commercial buildings a lot.
Impregnator sealer is the more popular choice for households and is easier to maintain. A water or oil based substance is applied to the surface. It works by forming a layer to protect the surface from stains. Impregnator sealers are recommended for households.
Things To Consider
When buying marble sealer it's important to think about the properties of the marble. Polished marble absorbs less water than unfinished stones so less sealer is required. Honed marble also absorbs less water. The reason for this is when the polish is applied it removed a lot of the pores from the surface of the marble. If you have unfinished marble, then you'll need a stronger sealer because the surface is vulnerable to stains.
Sealers go a long way to protect your floor from stains, but they act as a shield and stains still need to be cleaned. Fluids such as coffee and wine will leave a stain so cleaning it as soon as you spot it will ensure your surface is undamaged.
You also need to think about which surfaces are likely to encounter stains. Marble showers are unlikely to stain as only water comes into contact with them. If you have white Carrara marble, then you should use a sealer. White marble has metallic elements which will rust over time is too much water is absorbed. Kitchen counters are the areas most likely to stain and they should be protected.
Sealers protect marble from staining but they don't protect from acidic elements or general wear and tear. However, the best marble sealers on the market are an excellent way to make your surface last longer while enjoying the aesthetic qualities of the unique stone.
The Best Marble Sealers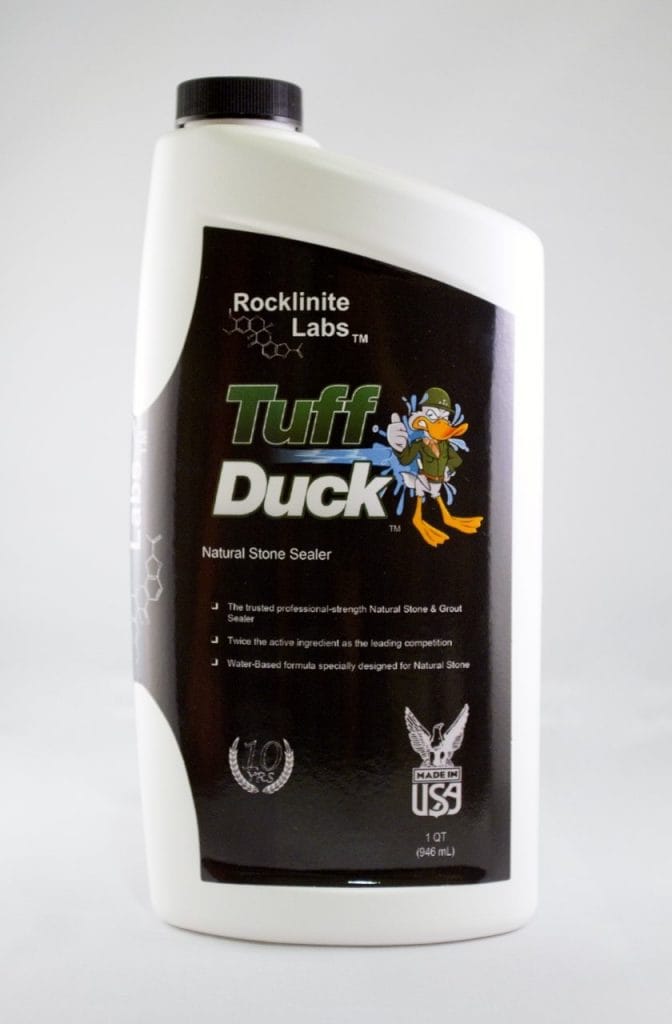 Tuff Duck is a sealer for all natural stones and claims to offer maximum protection without damaging a surface. It's a penetrating sealer and contains advanced water based fluoro-polymers. The formula covers up to 200 square feet and has more active ingredients than other brands. The sealer is meant to last for five years on interior surfaces and three years on the exterior.
Penetrating sealers offer more protection and Tuff Ducks offering certainly does protect surfaces well. It's easy to apply and the water will form beads on the surface, which are easy to wipe off. The sealer doesn't leave the nicest smell, so it's best to apply with your windows open. When you first apply it you'll need to re-apply to keep the sealer from drying. If you have marble surfaces then Tuff Duck can provide you with a good sealer that delivers what it offers. However, it doesn't perform well on granite and isn't one of the best marble sealers.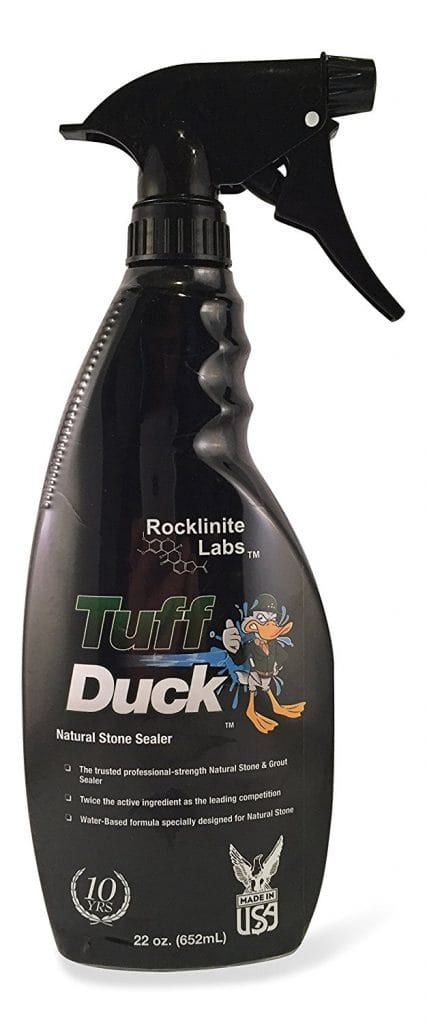 Tuff Ducks second offering has the same features as its predecessor but it comes in a spray bottle. It's more convenient to apply and it also covers up to 800 square feet. It works well and offers good results. Usually, two initial sprays are needed to achieve maximum protection, but the process is each and doesn't result in any leaks or stains to other surfaces.
The only issue with this sealer is it doesn't work well on granite and has been known to stain grout. However, it achieves excellent results on marble surfaces and it's definitely a strong competitor with other sealers.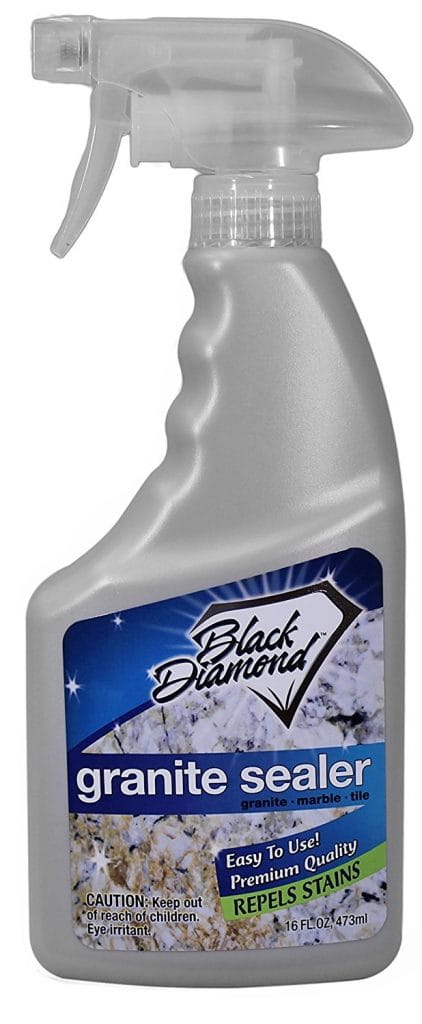 Black diamond sealer is a non-toxic, low-odour, maximum protection sealer. Sounds too good to be true right? The company also claim it's suitable for food contact and is easy to apply. It's a penetrating sealer so it offers a strong level of protection to most surfaces and it can be sprayed on the surface then dried up after three minutes with a towel. The great news is this product even works on granite so you can be sure it'll perform well on marble surfaces.
The sealer works quickly and is very effective. The main problem is it needs to be applied a few times a year but it achieves a nice finish. One bottle of Black Diamond doesn't go far, so you'll probably find yourself buying a few bottles a year. Overall, there are better sealers out there but if you're looking for an easy to apply sealant that won't have you gasping for breath then it may be worth a try.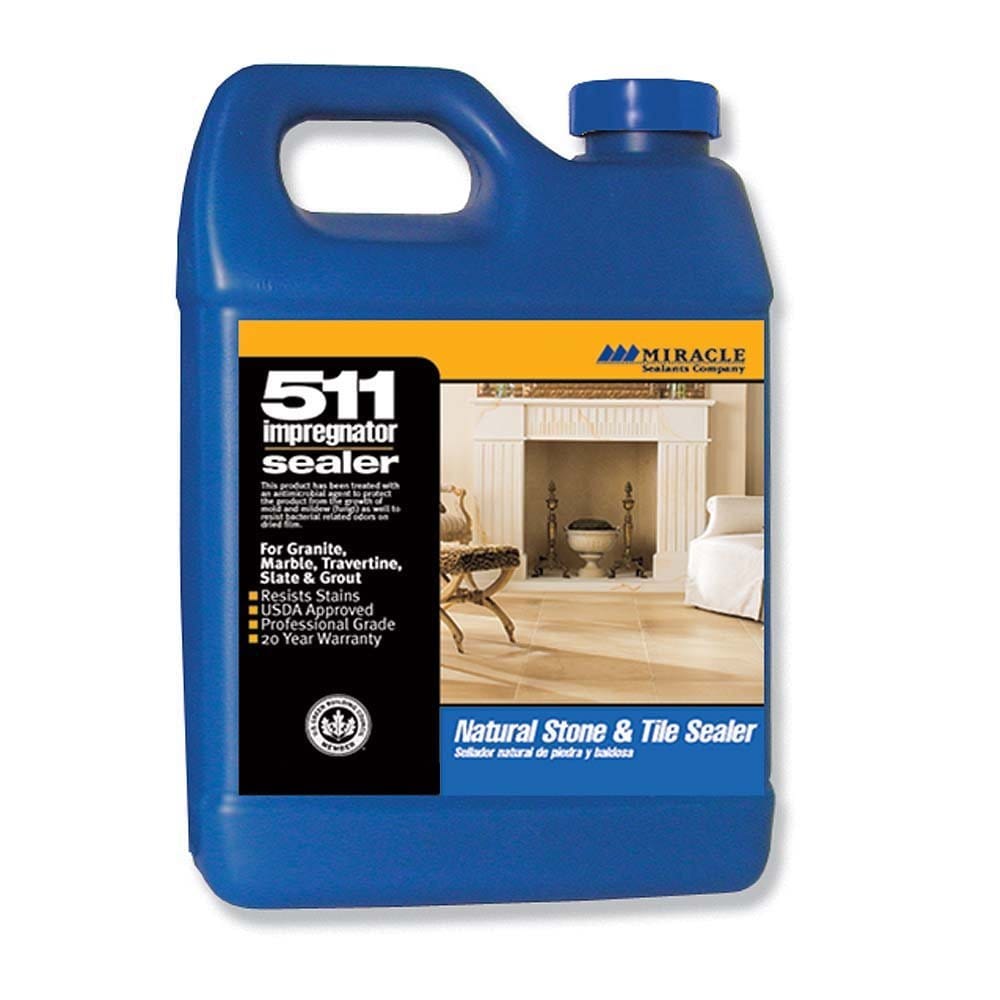 This impregnator sealer covers an impressive amount of surface. One gallon will easily cover 1000 feet, so it's good value for money. It's suitable for use on kitchen counters and is also weather resistant. The application is easy and you'll get the right results and dry the surface with a towel. Miracle sealants have created an oil-based sealant which offers a level of superiority to water-based versions.
It's a powerful product and the smell is rather potent, so you'll need to ensure there's plenty of ventilation. If instructions are not followed correctly then it can leave a slight residue but if you take your time to apply it then the results are brilliant. This sealer will last a long time and you get a lot for your money. It's undisputedly one of the best marble sealers on the market.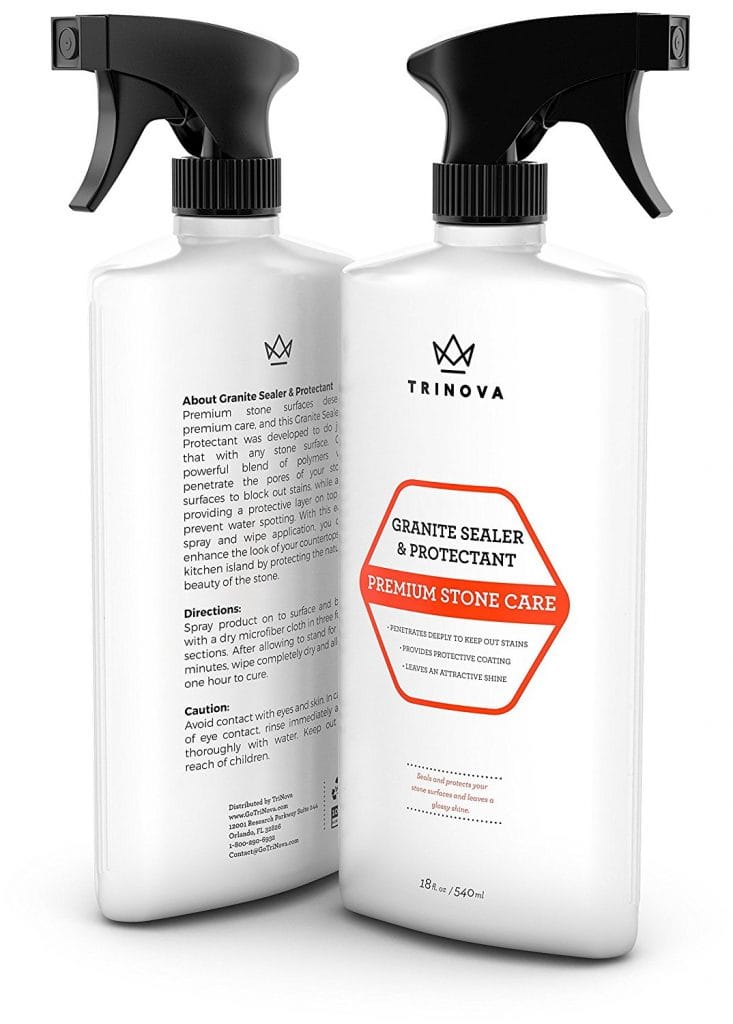 TriNovas sealant comes in a convenient spray bottle and offers advanced stain protection by using polymers to block moisture from entering the marble. If you want to ensure your surfaces look nice after applying sealer, then TriNovas enhanced feature creates a polished look. It's also suitable for both indoor and outdoor spaces and as it's a water-based sealer there's no need for ventilation when applying.
There's a lot of value for money and a little goes a long way so you won't need to regularly replace it. If you're looking for a heavy duty sealer then you'll need something stronger than TriNovas offering. When it's used on marble the results are great and it does give marble surfaces a nice shin and smooth finish. With everything it offers, as well as the surprisingly pleasant smell, TriNova is one of the best marble sealers we've seen.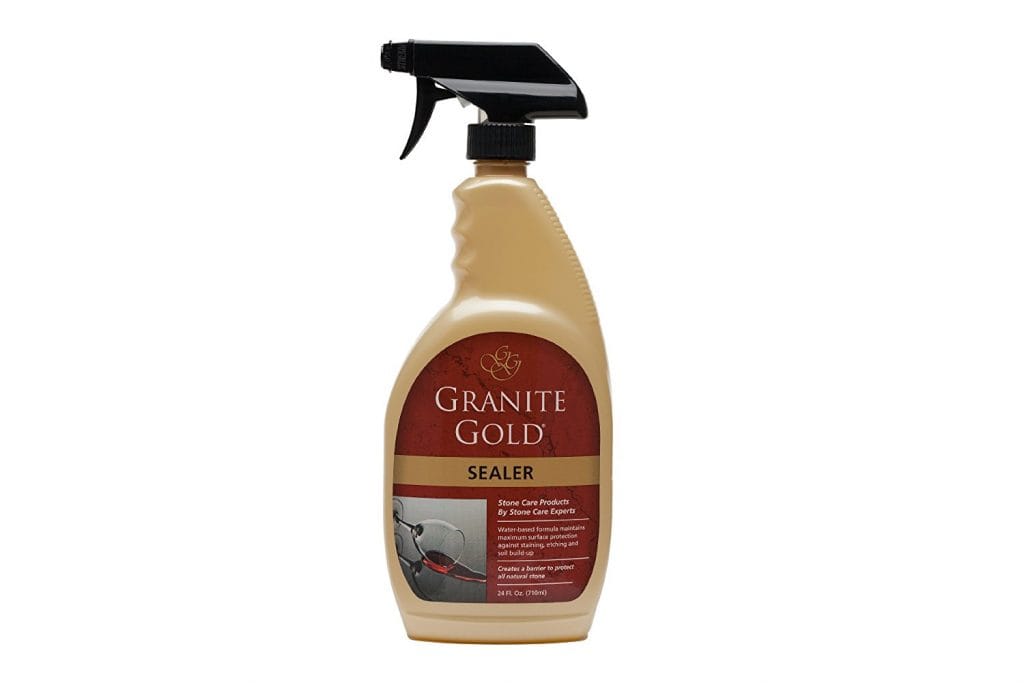 Granite Gold is a non-toxic sealer, suitable for use on kitchen counters. There are also wipes to seal areas quickly and the spray bottle makes application easy. There's a small odour but it's not potent and if you're looking for a smooth finish then Granite Gold will deliver.
If the instructions aren't followed properly then it will leave streaks and for optimal results, you'll need to apply several coats which can be time-consuming. Unfortunately, two applications aren't enough and you're likely to see water rings on your surfaces. Overall Granite Gold is a mediocre sealer and for its price, there are better products available.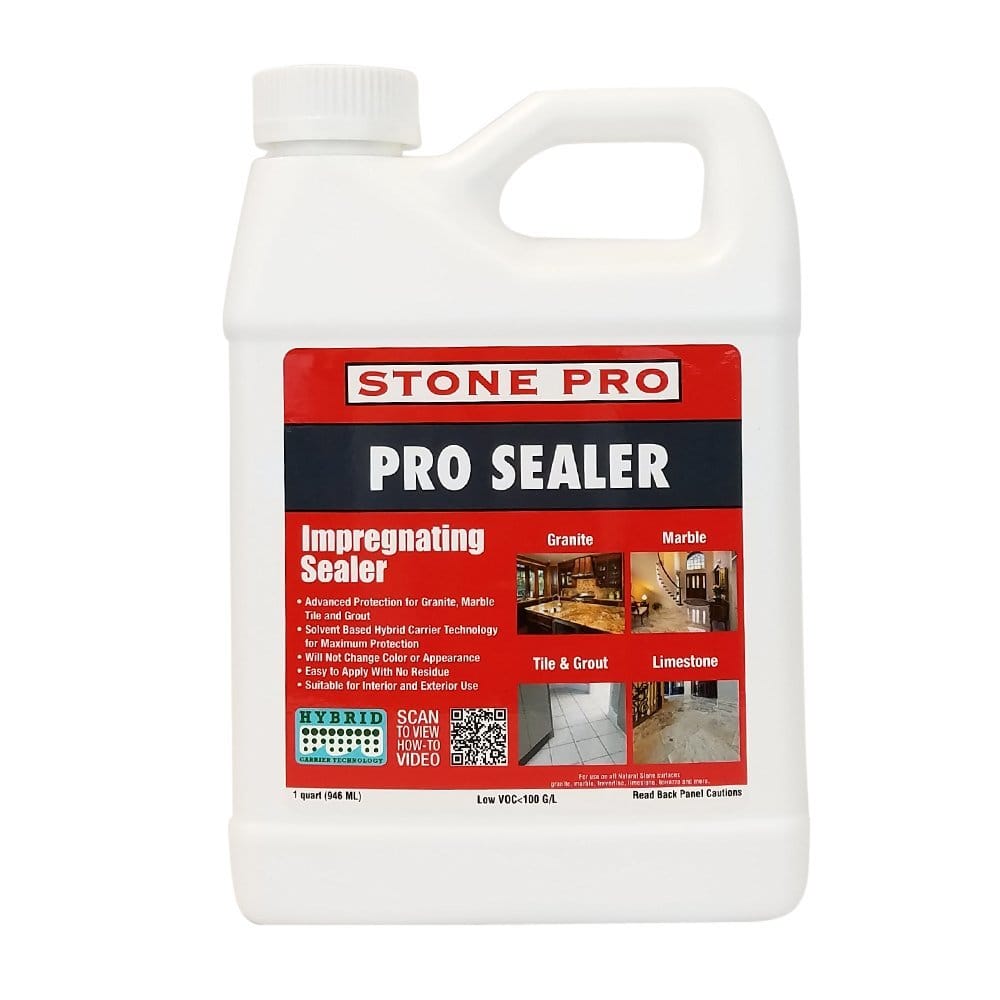 Stone Pro is a solvent based sealer which offers a strong level of protection. It's safe for food preparation surfaces and covers 100-300 feet per quart used. It's easy to apply and for those looking for a heavy duty sealant, the advanced formula offers a strong level of protection. The sealant needs time to absorb into surfaces or it won't achieve the desired finish. If left for 15-20 minutes you'll be left with a satin effect which looks and feels amazing.
The best thing about this sealer is it really goes give the results it claims to offer and you won't be left disappointed. As long as it's wiped thoroughly with a damp cloth it will achieve a lovely finish. There's nothing negative to say about this sealant.It's strong, durable, offers video instructions and it's one of the best marble sealers on the market.