Best Folding Hand Trucks On The Market
Filed under: tools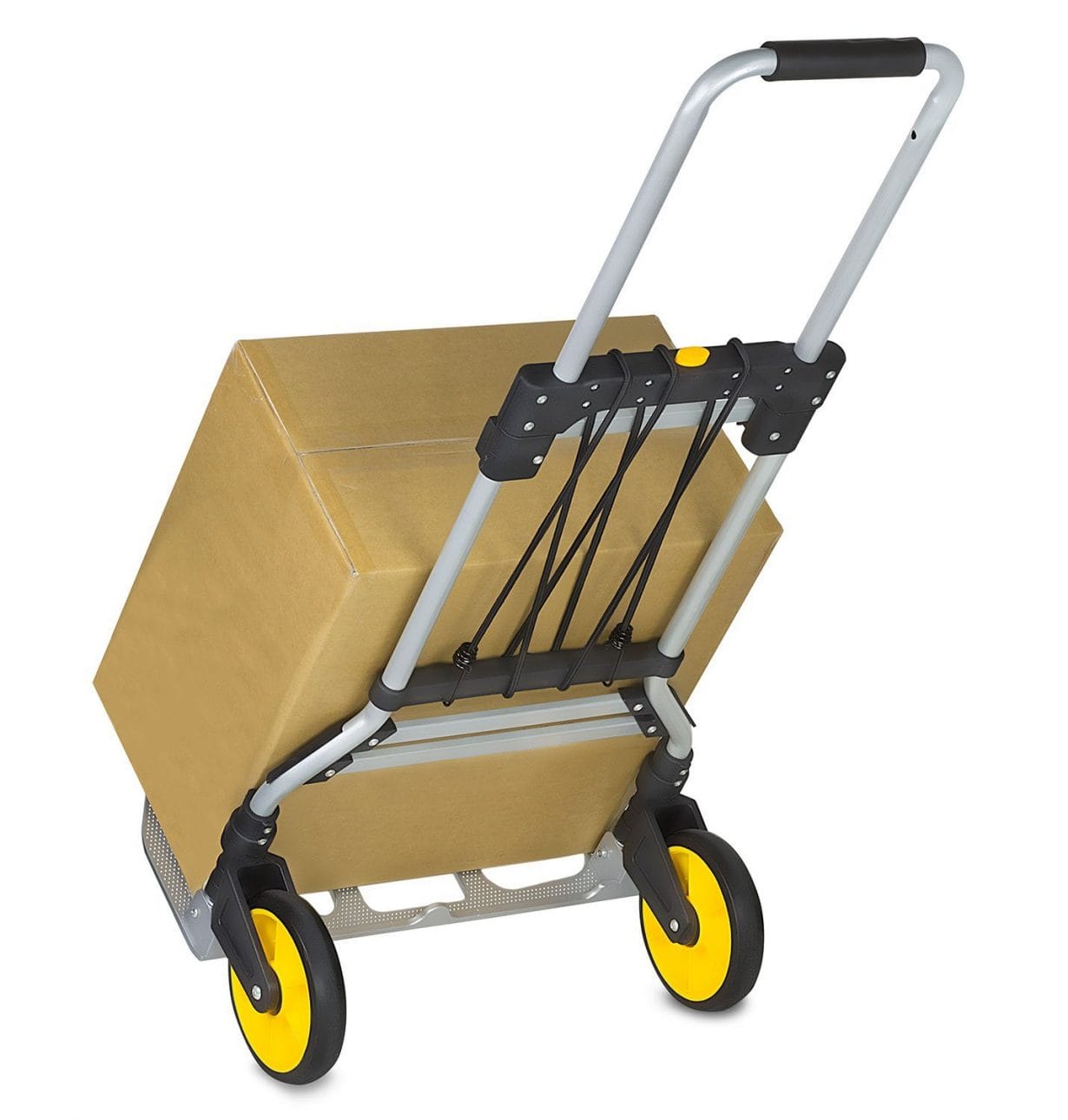 Hand trucks are convenient mobile devices that allow people to transport items. Often used by businesses, they protect people from straining their body and allow the safer movement of goods. In this extensive guide, we'll look at hand trucks, what their benefits are and review the best folding hand trucks on the market.
What Are Hand Trucks?
Businesses need to run efficiently and hand trucks can transport a wide range of items. Businesses such as warehouses, hospitals, retail outlets and restaurants use hand trucks to organize and move goods. People also use hand trucks for their home and traveling.
There are several names for hand trucks including trolleys, box carts, and dollies. They have a ledge for placing objects on, single or double handles, and base wheels. Items are loaded onto the ledge which rests on the floor. The hand truck tilts backward by using the handles enabling movement.
Hand trucks were invented in the 1700s to assist boys moving items on and off ships. It allowed them to lift items with ease and transport multiple amounts at a time. The folding hand truck is a recent innovation and is similar to other hand trucks. The only real difference is that it folds when not in use. Typically, it folds flat and opens out when you need it again.
Folding designs are lightweight and easy to move around. Some models are more suited to carry personal goods, but there are others that can handle a surprising amount of weight. Hand trucks are beneficial for both businesses and individuals but the folding innovations offer a lot more convenience for users.
Why Do I Need A Folding Hand Truck?
Hand trucks prevent strains and injuries to those handling the items. They contribute to health and safety and ensure there are less sick days taken by employees.
It can take 2-3 employees to lift and move items. Hand trucks enable a business to operate smoothly and can also reduce your workforce. They also lower the risk of breakages and damaged goods. Hand trucks can save you a large amount of money in the long term and help develop your business on a larger scale.
For people moving house, or traveling they can save money by reducing the need for removal companies. Hand trucks are also convenient for DIY projects and can be used in a wide range of ways around households.
Maximum productivity can be achieved in homes and workplaces and ensure the smooth running of businesses and projects. They also take up minimal space and can be stored in vans and cars.
Things To Consider When Buying A Folding Hand Truck
There are many advantages folding hand trucks offer, and it's essential to pick the right one for your business. Price, materials, uses, and flexibility should all be taken into account when making your choice.
Folding hand trucks vary in price and every shopper wants the guarantee of value for money. Higher priced models have more features, but they may not be necessary for your business needs. Lower priced models can lack extra design aspects but are ideal for home use or businesses transporting small loads.
The best folding hand trucks have features which allow you to navigate around obstacles. They can also be used on stairs and are easy to operate. Taking the time to consider which features are most important will allow you to pick the right model.
Different models have various weight capacities so deciding whether you'll need a lightweight or more durable model is important. Hand trucks with heavy or lower placed handles are harder to maneuver than those with higher ones.
Folding hand trucks are manufactured from steel, aluminum, and nylon. Steel models are stronger and manage heavier items well but aluminum and nylon offer the advantage of being easier to move around. The wheels are pneumatic tires or rubber and the sizes vary.
The Best Folding Hand Trucks
With so many designs available it's hard to know which is right for you. We've rounded up the best folding hand trucks on the market, each with its own advantages.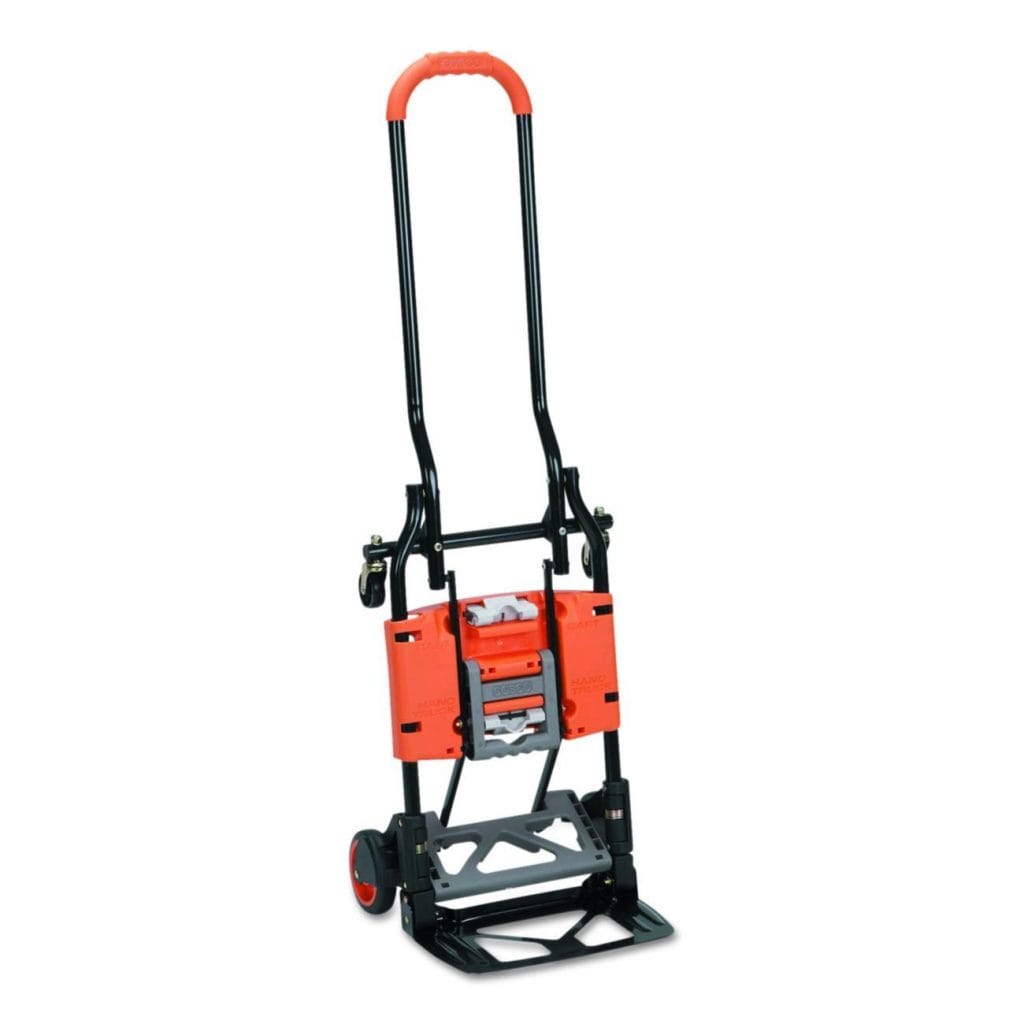 This heavy-duty folding hand truck has a weight capacity of 300 lbs. It has a steel frame and provides long-term durability. The multi-position feature allows you to use it in an upright two-wheel position, as a four-wheel cart and folds completely flat. It's easy to transport and fits into most car trunks.
Cosco has created an easy to operate model, perfect for both business and home use. To change the position and function of the folding hand truck all you have to do is pull a handle. It's important to be careful when switching between two wheel and four wheel positions. The hand truck collapses quickly and can trap your hand if it's placed near the wheels. The safety warnings aren't placed in a convenient place and can be easily missed. Unfortunately, the product doesn't include cords to secure your items, but these can be purchased elsewhere.
The biggest advantage of Coscos Multi-Position design is the versatility it offers users. Goods can be transported in a range of ways and the steel frame ensures a long lasting quality product. Taking the right safety precautions will guarantee you can use the folding hand truck to its best abilities.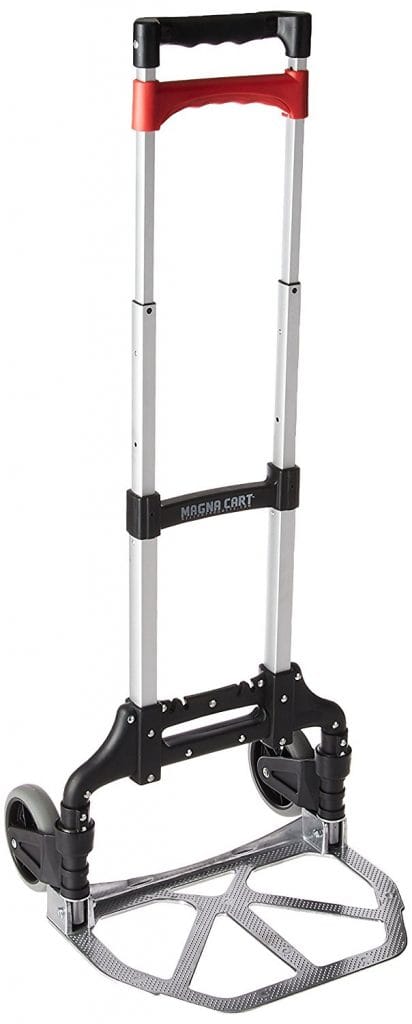 If you're looking for a convenient folding hand truck then you can't go wrong with Magna Carts sleek lightweight design. The rust-proof aluminum frame weighs just 7lbs and can be stored in cars and airplane overhead compartments. It has a weight capacity of 150 lbs and is perfect for travel or moving house. The wheels work on all surfaces including carpets.
There's no assembly required as the Magna Cart comes ready made. It's a handy model and great for everyday use. Tall people may have issues maneuvering the cart due to the short handle length. It's also not suited for heavy-duty items, and professionals might find it doesn't have a strong enough weight capacity. However, it folds completely flat and the ease of use is incredible. The Magna Cart is one of the best folding hand trucks on the market.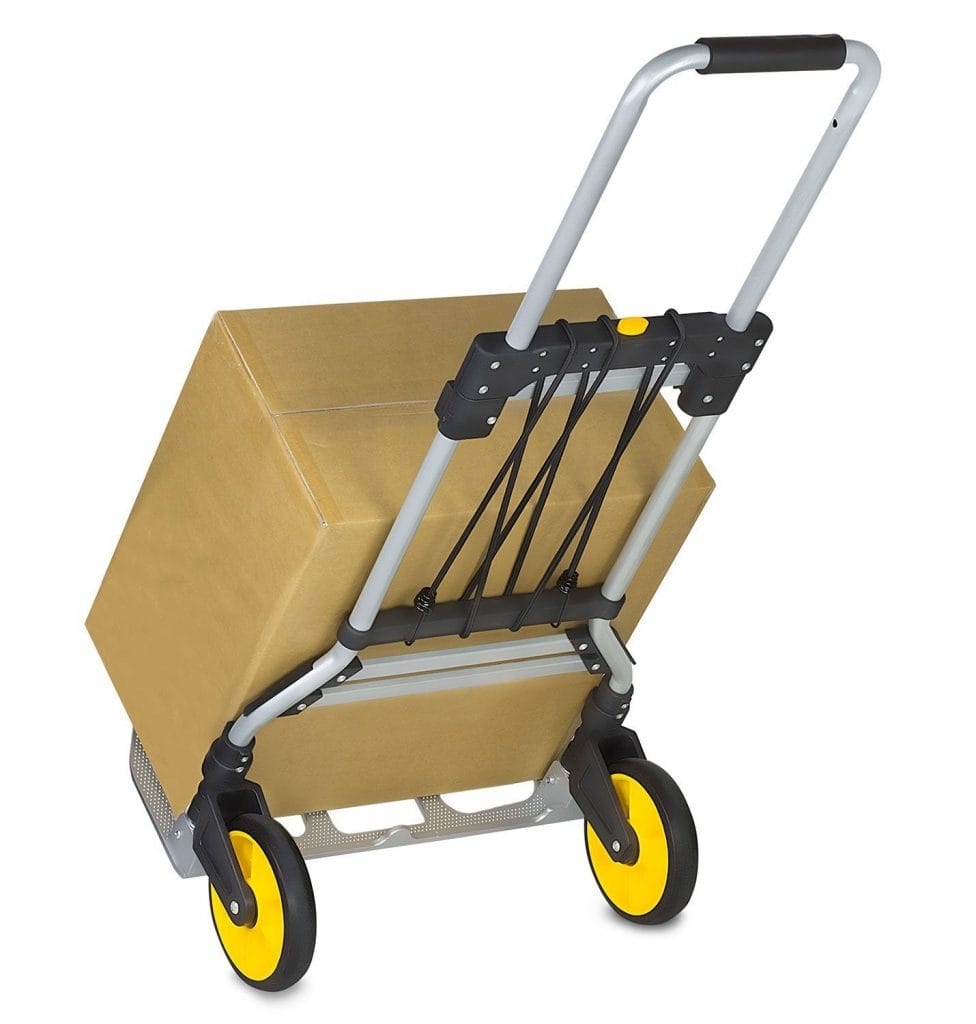 This aluminum folding hand truck is suited for carrying up to 264 lbs and is ideal for homes, businesses, shopping and travel. The truck folds completely flat and can be stored in cars or anywhere around the house. Rubber wheels make it easy to navigate around all surfaces and there's no assembly required.
The best thing about this hand truck is the fully adjustable handles, which make it comfortable for taller people to use. The hand grips are also covered with rubber foam so it can be used for long distances causing no pain. There is a 6.7ft bungee cord to secure items.
A downside of the truck is its weight and if you won't be carrying heavy items then its worth considering a lighter model. If you're looking for a hand truck that does as it says then you won't go wrong with Mount-It's durable folding hand truck.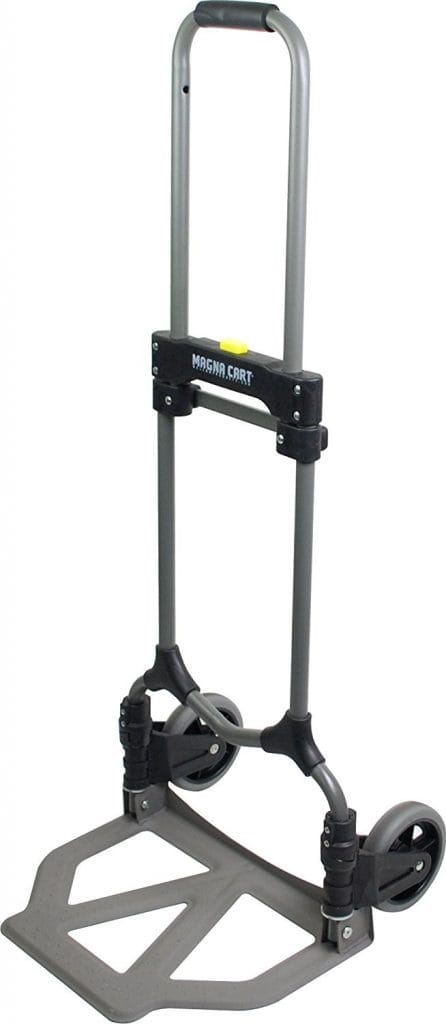 The second offering on our list from Magna Cart is a convenient truck hand which opens at the press of a button. It has a weight capacity of 150 lbs and is ideal for carrying luggage or moving items. The design allows it to fold to just two inches thick, due to the retractable wheels. They're made of rubber and work across all surfaces.
The Ideal Truck Hand is made of aluminum which ensures you've got a durable product. The best thing about this design is how easily it can be stored. It can be taken on an airplane and even hung on a hook.
The main problem with the folding truck hand is its weight capacity. Although Magna Cart claims it can withstand 150 lbs, the frame bends if it has too many items to carry. There's also no bungee cord included and transporting awkwardly shaped items can be a tricky process. It's certainly not one of the best folding hand trucks for professionals, but for individuals that want a reasonably priced lightweight product, it won't disappoint.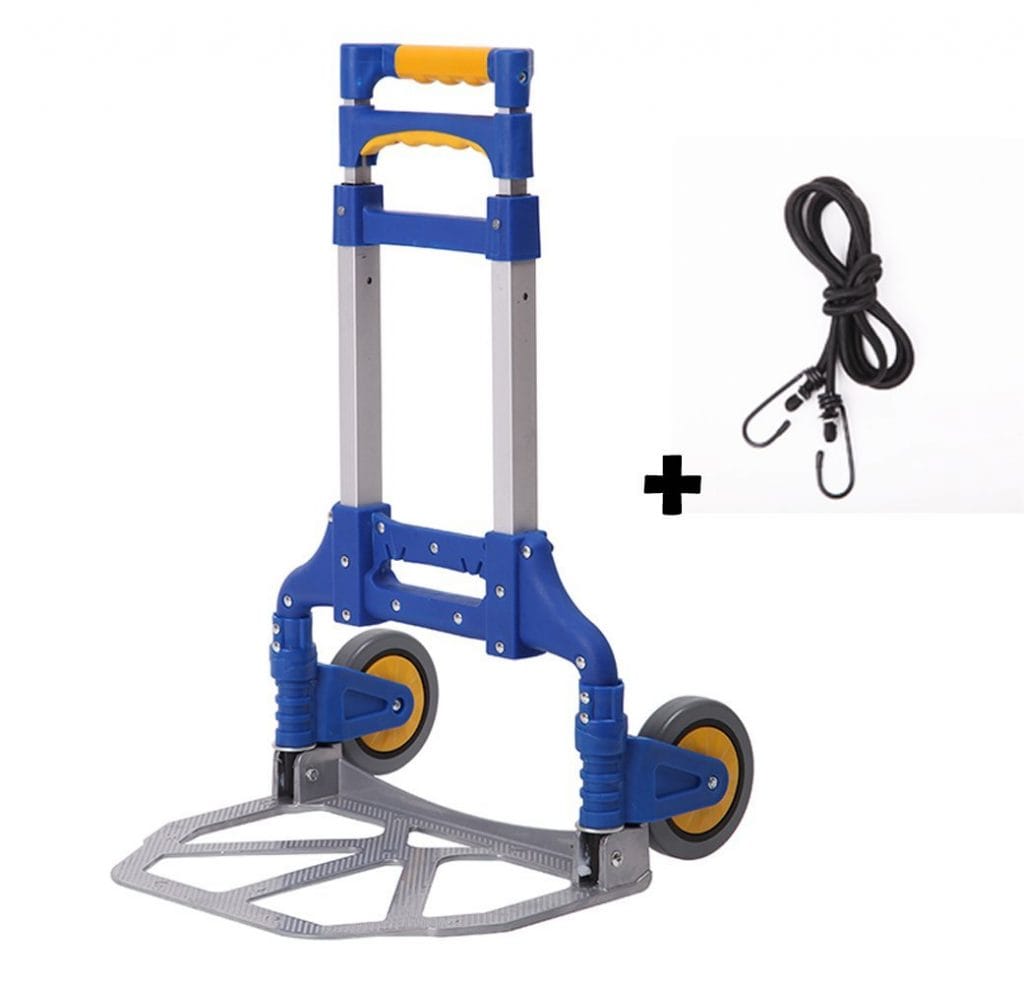 Sharewins contribution to the list is a lightweight aluminum design, made for carrying heavier loads. The hand truck has extendable handles and is suitable for people of all heights. Most heavy duty hand trucks are difficult to store and often have to be left outside or in garages, but this folding hand truck folds completely flat. It can be hung on hooks, transported in cars and stored in airplane overhead carriers.
Bungee cords are an essential addition to secure your items onto the cart. This is one product that includes them with the hand truck. It saves you money and the cords are made to fit this specific design.
The extendable handle can be quite flimsy and breakages occur when the truck is overloaded. The price is reasonable, but if you're planning to regularly use your hand truck then this one might not be a great choice. It works well for moving heavier household products but with so many other products available, the delicate frame and general weakness of the hand truck probably aren't worth the cost.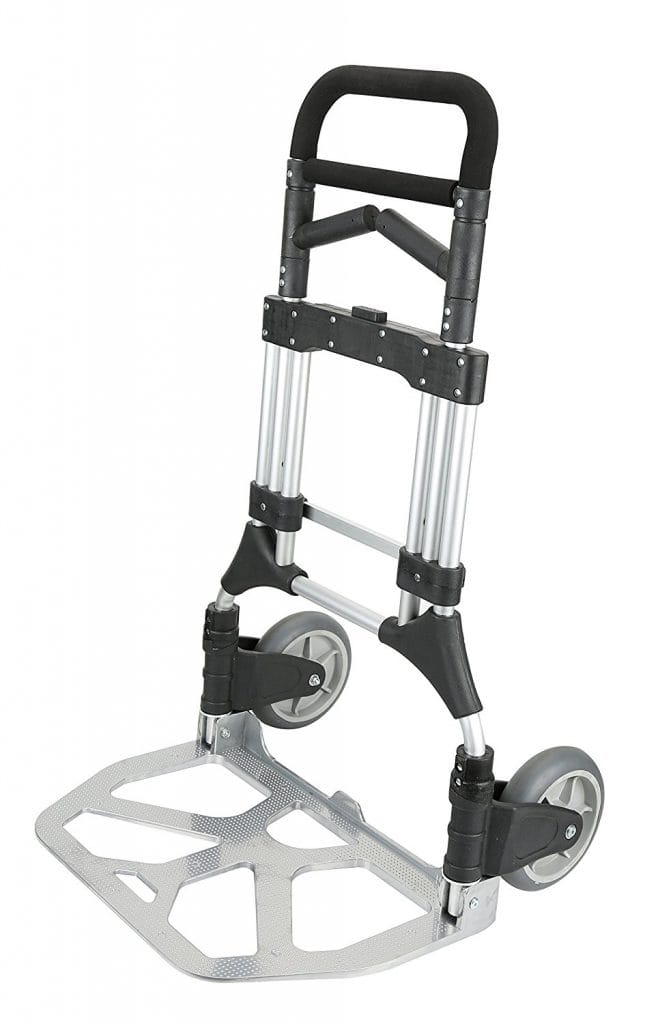 If moving heavy items is your main priority, then you'll be pleased with Pack-N-Roll's folding hand truck. With a weight capacity of 550 lbs and 8-inch pneumatic wheels, it's able to move large amounts across all surfaces. The truck can be folded into a compact design, and while it's not completely flat there's plenty of opportunities to store it in the car or around the home.
There's no doubt that this hand truck delivers what it promises. The aluminum frame is complemented by a single hand lock-and-release handle and the strong construction stops the truck from wobbling.
A disadvantage of the hand truck is how difficult it is to open and close. It can be a two person job, and for people needing to travel with it regularly it may slow you down considerably. The manufacturers have also forgotten to add any instructions for customers which makes it hard to know how to fold the truck and make adjustments.
However, with everything else Pack-N-Roll has to offer professionals and businesses could benefit from this strong design. Ultimately it's low priced, high performing, and one of the best folding hand trucks.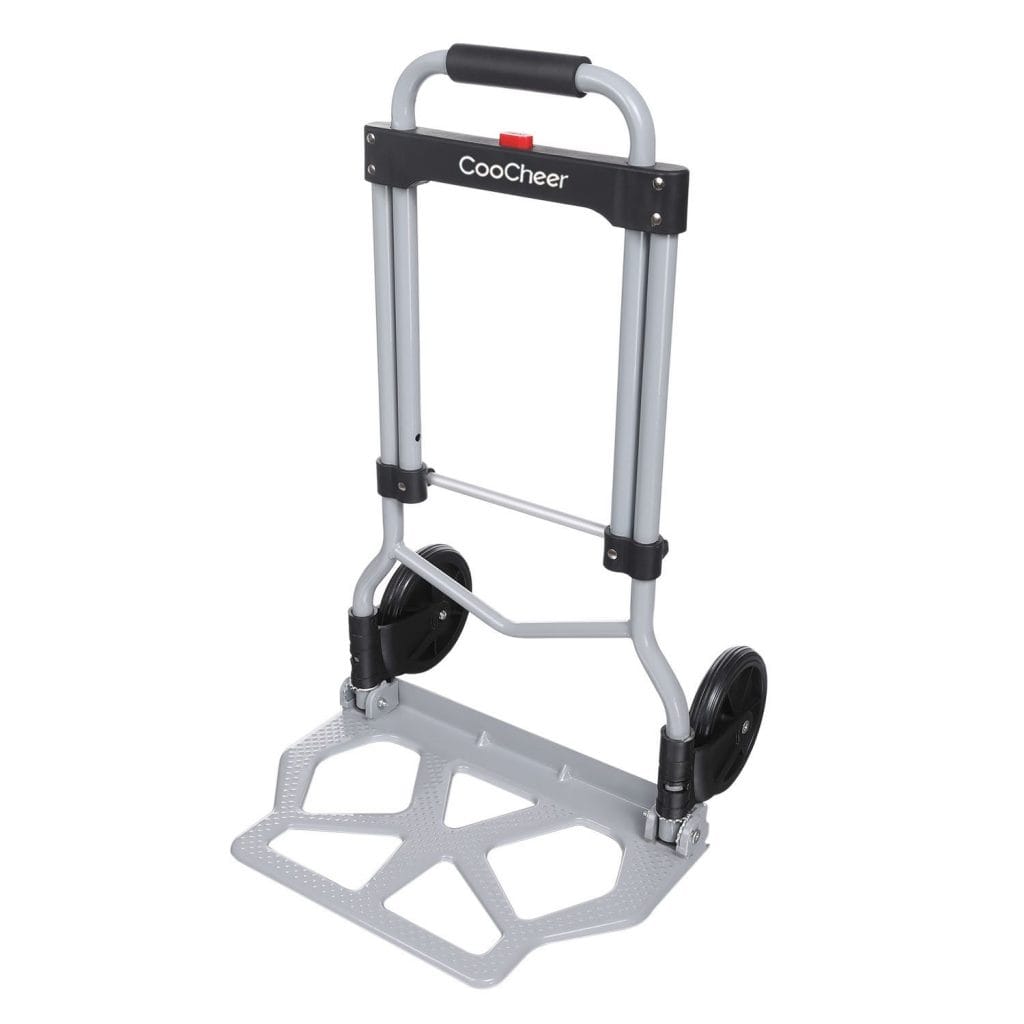 This folding hand truck handles both industrial and grocery items. It has a weight capacity of 220 lbs and 5.5-inch rubber wheels for smooth movement. There's no assembly required, so it's perfect for home use. CooCheer had durability in mind when they designed this truck. It has an aluminum plate, and iron pipes to strengthen it further. Opening and closing the truck is easy, all you have to do it push a red button. It has a lightweight feel with the ability to be folded, but it can handle heavy items well. Individuals with delivery businesses would benefit from how quickly the truck opens and closes.
Short handles are a frequent occurrence in folding hand trucks. They're a problem with this design too, and tall people will struggle to maneuver the truck. Excluding this minor inconvenience, it's easy to handle for most people and no assembly is required. The collapsible wheels can also cause the cart to begin to fold if it's carrying too much weight so it's important to stay within the specified capacity.
Overall it's a great choice for individuals that want a lightweight design with the ability to carry large items. There are some small issues, including the lack of bungee cords but it does offer value for money and performs well. The versatility is exceptional and in our opinion, CooCheer is a worthy competitor for the best folding hand trucks on the market.