The Best Post Hole Diggers On The Market
Filed under: garden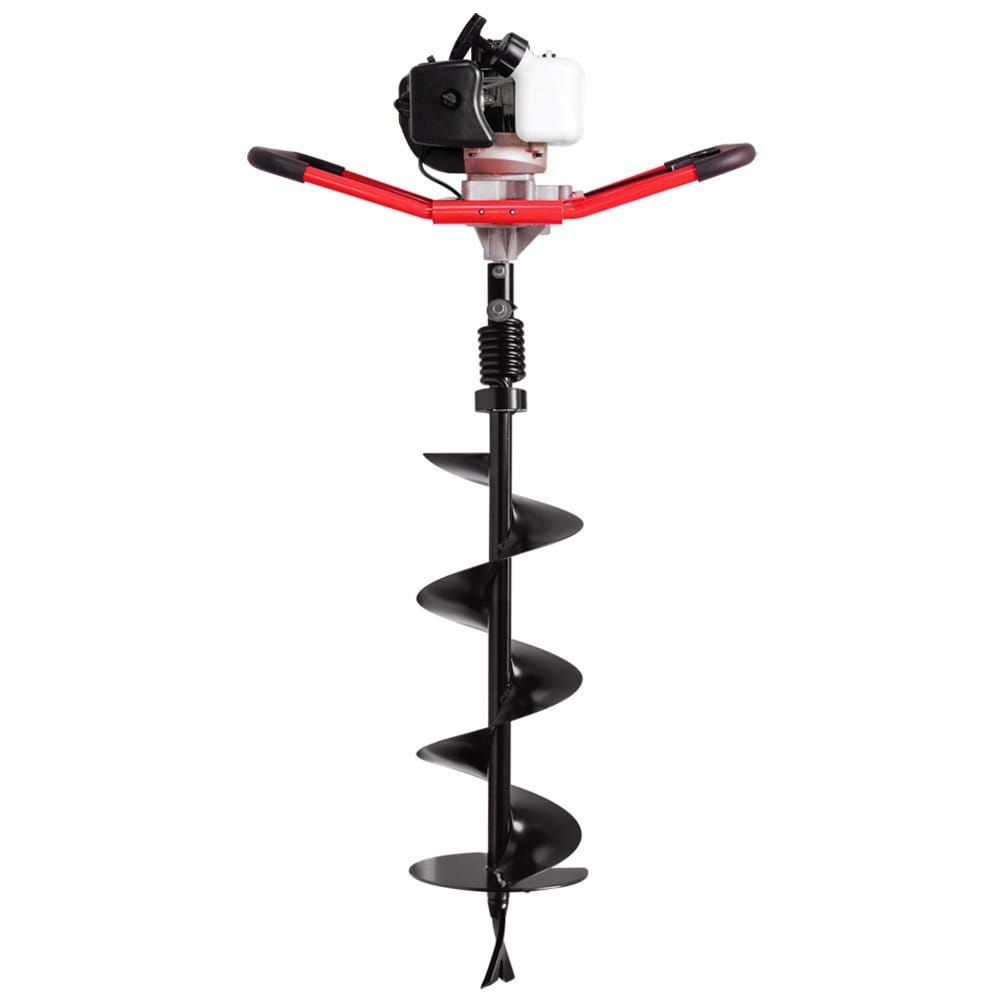 For many people gardening is a tedious task. Using a shovel to dig a hole can be energy consuming, and it's not the best way to spend your weekend. Post hole diggers are a solution for gardeners, professionals and novices. They make your life easier and offer excellent results. In this guide, we'll discuss what post hole diggers do, things to consider when buying one and we'll review the best post hole diggers on the market.
What Are Post Hole Diggers?
Post hole diggers are handy devices that bore out or dig a hole in the ground, suitable for placing a post. However, they have many uses and can also dig large holes, break hardened soil for planting and they can assist with digging trenches for irrigation.
Many people would ask why they need a post hole digger if they already have a shovel, but the size of the hole can't be controlled with a shovel. It means the soil around the hole will be softer because it's been moved which is a problem for those who have hard clay soils. If you need to dig a deep hole and you have hard soil, then a post hole digger is an essential and invaluable piece of equipment.
The Types Of Post Hole Diggers
There are two types of post hole diggers. One bores out a hole, and the other scoops out a hole. It depends on the project and personal choice as to which type you choose. There are also manual, gas or electric diggers.
Manual
If you don't mind using some muscle, or would like to build some then a manual post hole digger might be the tool for you. Manual diggers have two curved blades on the end of two handles. The blades cut into the soil and the handles are pulled to lift dirt from the ground.
Manual post hole diggers work well for light and medium level digging, but for deep jobs you'll need a different model. If you're building a fence, adding to irrigation trenches or planting small bushes and trees then manual post diggers will achieve good results.
Gas
Sometimes soil can be quite rocky and a manual digger can't handle it well. Gas diggers can bore out hard soil and they are also good for digging large holes. They even cut into hard packed clay with ease. Gas post hole diggers are made from steel and have a variety of blades for small and large projects. Most gas powered diggers don't dig deeper than 3ft but for garden work, they perform well.
The gas digger will move rocks out of the way, and they're also perfect for drilling out post holes for fences. Put in simple terms, they're easy to operate, take little exertion to use and bore out holes of various sizes.
Electric
Electric post diggers are the same as gas post hole diggers. They require little exertion and can adapt for different size holes. The main benefit of the electric models is they make little noise whereas gas diggers can be noisy. The main issue with them is they need to be near a power source, so for remote jobs their unsuitable.
Things To Consider Before Buying
Whether you choose a gas, electric or manual model, each has aspects you need to consider before you buy.
Manual Post Digger Considerations
The handles on a post digger are important if you're doing the work manually. Wooden handles are cheaper, but they weaken with use. Manual diggers with fiberglass handles last a lot longer and the best quality products are usually reinforced.
You also must think about the length of the handle which is important for leverage. Longer handles work better as they can dig deeper holes but they also allow the user more leverage.
The blades are kept together by a joint which must be stable. To ensure it's strong check whether the digger you're looking at has a secure swivel point.
Gas Post Digger Considerations
You need a digger with enough power to do the job. Look for a horsepower of between 2-2.5 which may be more expensive but worth the extra cost.
The blades can be made of different materials, but the strongest is high-carbon steel. Other materials could snap, but with steel, it's certain to last longer.
To control your gas digger, you'll need strong handles. There are also handles with anti-vibration padding for longer jobs.
Most gas diggers are lightweight, however you may need two people for tough jobs on hard soil.
Electric Post Digger Considerations
You must purchase a digger with a 1200W motor, which most diggers have. Don't buy a less expensive model because anything less than 1200W just won't do the job.
There are cordless diggers available, but they don't work as well as other versions. If you find one, then remember it may not perform how you want it to.
As with gas diggers, weight, material and handles also need to be considered. Steel blades with anti-vibration handles are the best choices by far.
The Best Post Diggers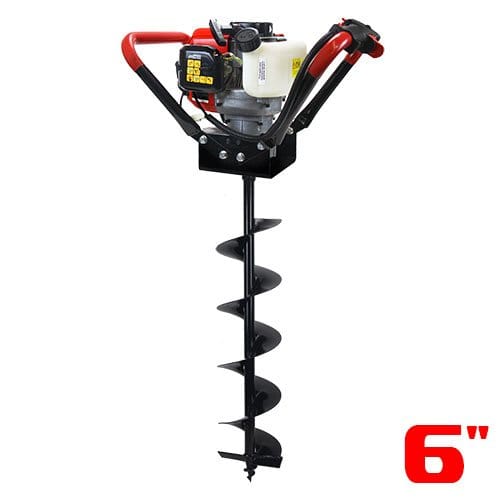 This one-man auger digger is gas powered and comes with different earth auger bits to allow drilling in tough places. It digs up to 2.5 feet, which isn't bad for a digger but the best post hole diggers will usually be able to dig to 3 feet. The digger comes with a 6" bit, but you'll have to buy other attachments yourself. It has a good power output of 1090W and performs well.
One of the main problems with the Xtremepower is its usability. Professionals have no problems with it but novices may struggle to control it, especially if they're using a 12" bit. On the whole, it's a powerful gas digger and while it may have a few minor problems, it's effective at doing what it advertises.

Fiskars post hole digger claims it can dig deeper than others due to the offset handles which also protect your knuckles. It has welded steel blades and shafts which offer a good level of durability. Steel is also a strong material, meaning there's less chance of breakage. The handles are a good feature because they are welded directly to the shaft which makes the digger stronger. It's a manual digger, so it doesn't work on hard soil as well as gas or electric versions, but it does perform well on soft soil. It's a strong digger that performs well and gives quick results.
The main issue with Fiskars manual digger is its weight. It can be quite heavy to use and people who don't have much strength might struggle. The construction is unique, but it works well and it does save your knuckles from banging together. Overall, for a manual digger, it's a great product and can save you money. There's a strong level of durability and providing you have the strength you'll be able to complete many jobs with it. Fiskars design is one of the best post hole diggers available.

This post hole digger is made from steel and has fiberglass handles, two of the best materials for diggers. It also eliminates knuckle collision with the way it's designed and the pointed blades penetrate soil well. The fiberglass handles ensure long-term durability and give the digger extra strength, and the steel heads have a 6.21-inch spread so they're perfect for garden work. Its heavy duty and works well on soil, loosening it quickly.
There's definitely a level of quality from Jackson EZ dig and it's easy to operate. It pulls soil from the ground efficiently and can be used by novices and professionals. It also works surprisingly well for a manual digger and at such a low price it lasts a long time. If you own a digger with wooden handles, you'll notice the superior materials make a difference in digging time. There aren't really any negatives about this post hole digger and it holds its own against gas and electric models.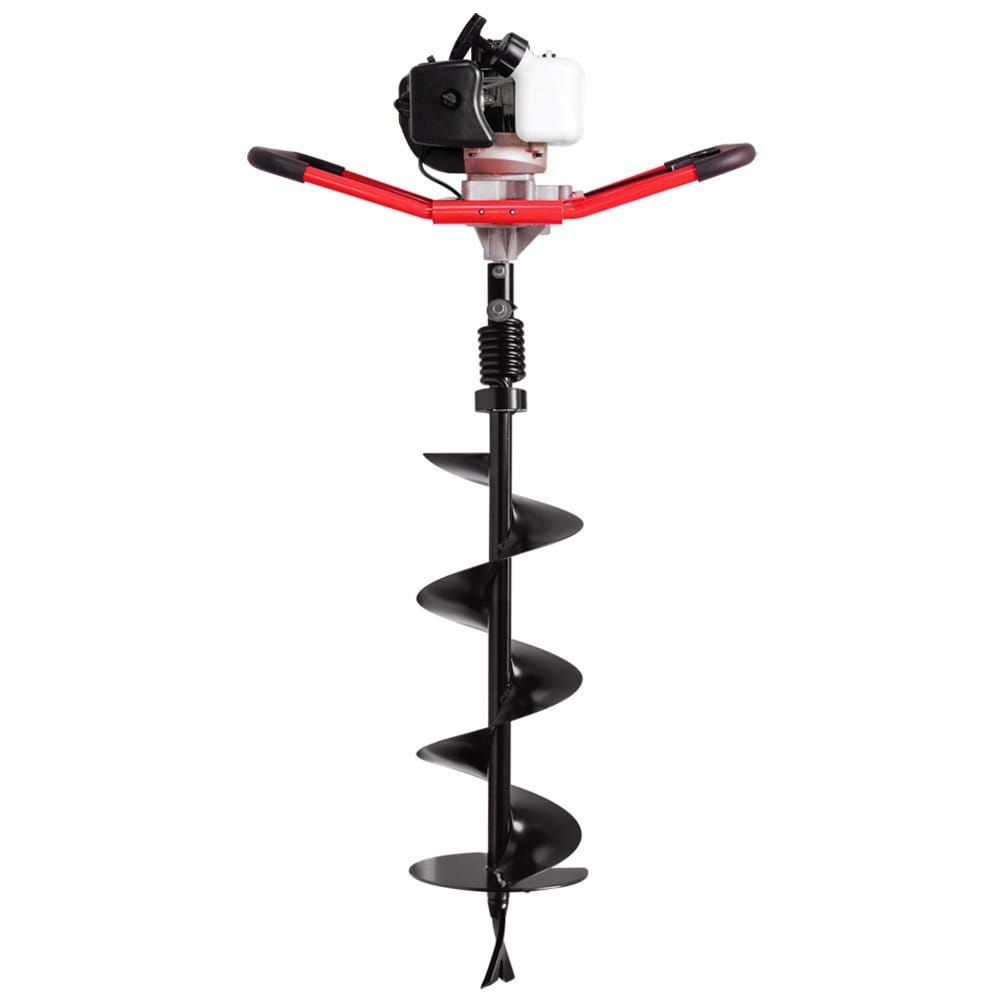 If you're looking for a more powerful post hole digger then this gas-powered model won't disappoint. Its lightweight design makes it easy for one person to use and it also has a manual recoil start. The 43cc engine and bit speed of up to 316RPM make drilling a simple and enjoyable process, rather than tiring and time-consuming. It also has a translucent tank so you can see when the fuel is getting low, Butterfly handles balance the digger but also make the process comfortable for the user too. It comes with accessories too, and the only thing you'll need to buy separately is the 6" but if you find the 8" bit doesn't do the job you want it to.
The digger works well on rocks and hard soil, however, it does struggle with larger rocks which often need to be moved by hand. It digs quickly and to depths of up to 24" which is perfect for post holes, fences, and plants. The main issue is the fumes from the gas, which can cause some inconvenience and the digger does struggle with clay. However, it's a good performer and easier to use than manual models. It may not be one of the best post hole diggers on the market but it does have its uses as long as the soils not too hard.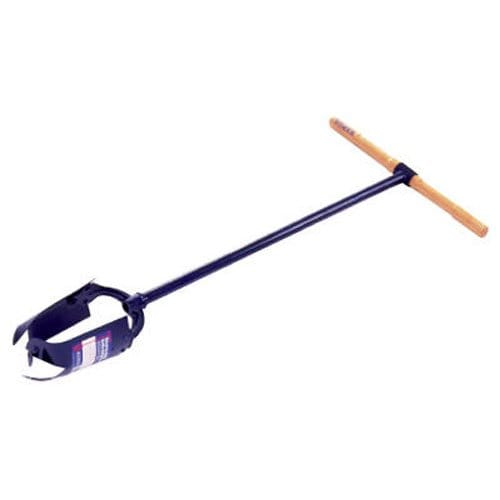 The Seymour Auger is a manual post hole digger with hardwood handles and a steel design. It's a no-frills model, designed to penetrate most types of soil. If you're looking for something, that's easy to maneuver then you won't go wrong here. It's not filled with extra features, but it does the job. With a 6" blade size it's better for digging small holes and it doesn't require much strength.
The only real issue with the Seymour Auger is its inability to cut through large rocks. You'll probably have to move them by hand but for a manual digger it's a superior model. If you don't want to spend a lot of money on gas or electric models, then the Seymour Auger is one of the best post hole diggers available. At a low cost and high performance, you won't be disappointed.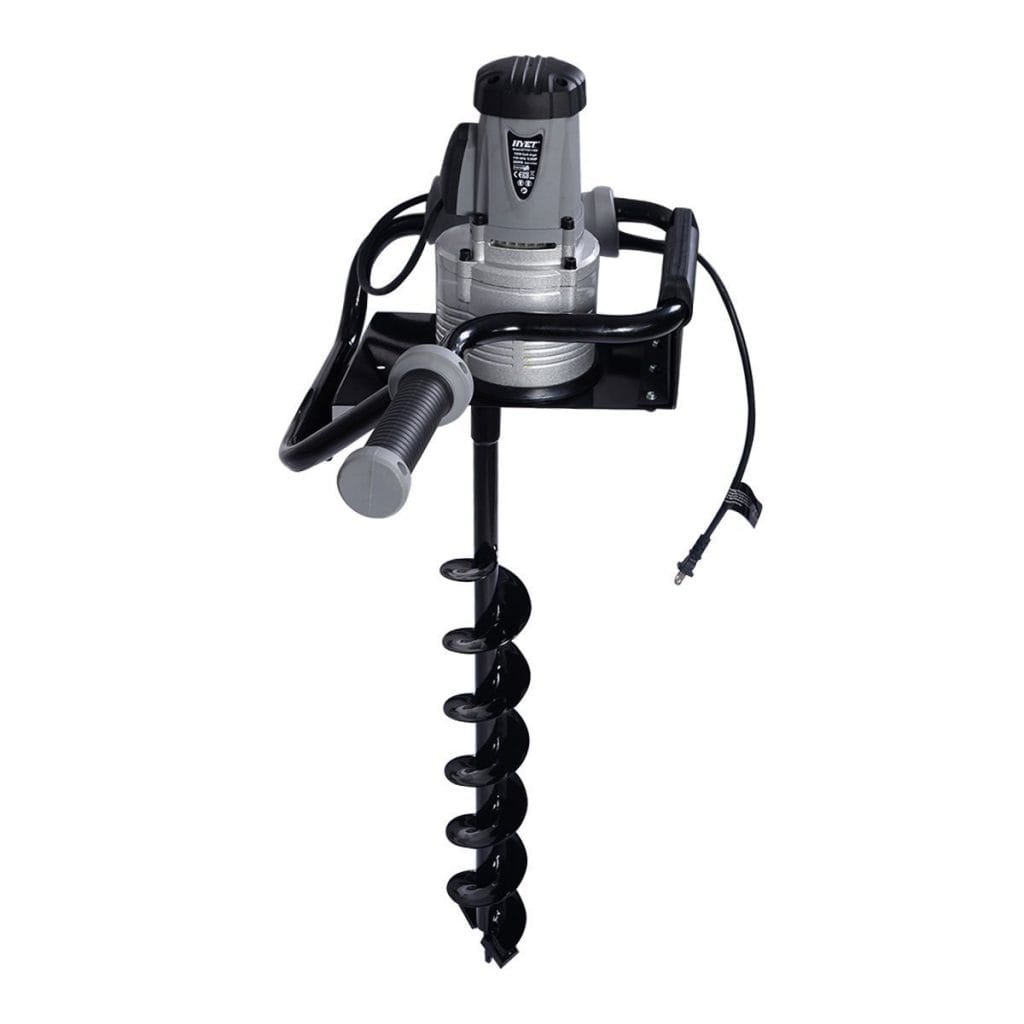 This all singing all dancing electric post hole digger can be used for a range of things. From digging up earth to break ice it's a versatile digger with many extra features. GoPlus have used black paint to make their drill corrosion resistant and high strength manganese steel provides extra durability. The max drilling depth is 22 inches which is appropriate for most projects and it has a speed of 200 rpm. The one man digger also has anti-vibration handles and a 20-inch plug cable.
There's nothing negative to say about the GoPlus electric digger. It performs brilliantly and works as well as a gas powered digger, but saves you from the fumes and works well on soil and ice. For harder soil there is more effort required, but it's a lot more comfortable than using a manual digger. If you don't mind spending some extra money and want a long lasting digger, then you can't go wrong with this one.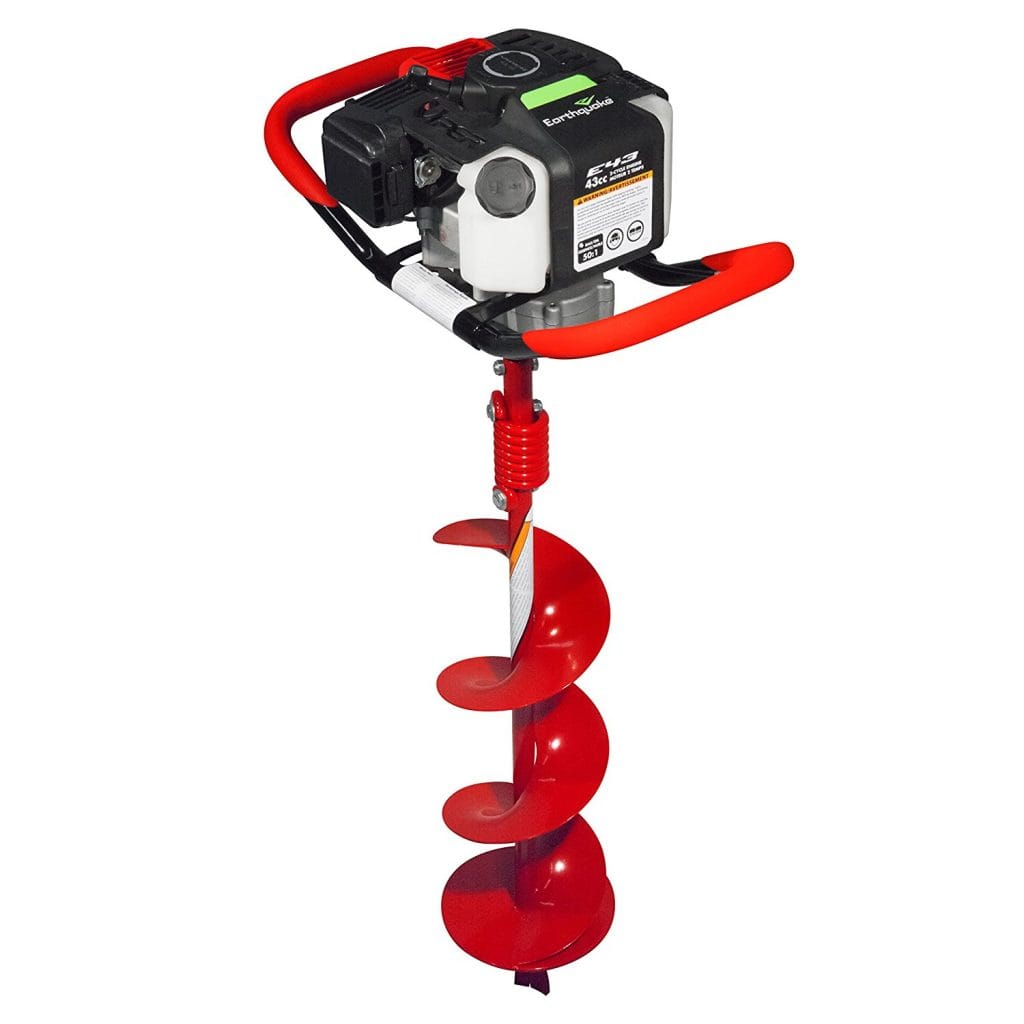 Earthquakes one-man gas powered digger comes with an 8" earth auger and further attachments can be purchased. It's a lightweight digger with shock absorbers which enable precise drilling. The welded steel handlebars ensure durability and although its light, it can withstand a lot of pressure. A job that would take days takes just minutes with this high-powered machine, and there is no assembly required.
The digger works well on most times of soil, but with hard clay it doesn't perform and often won't penetrate. If you need to penetrate hard soil, it will do this in just minutes with little exertion. The best thing about Earthquakes auger is it's so quick to use. If spending hours in the garden digging holes isn't your idea of fun, then you'll appreciate the speed at which you can get things completed. The Earthquake may not be optimal for clay soil, but with all its other benefits it's a competitor for the best post hole diggers on the market.