This is the 21st century and lets's face it, a lot has changed. Technology is running the world right now and from the looks of it, it isn't going to stop anytime soon.
So, with this never ending evolution of technology our lives have been affected as well. Our screens got bigger, phones got larger and our wallets got thinner.
Although big screens aren't necessarily a good thing, we will all agree that these kinds of big screens will fulfill all of our needs. This article will be your personal guide through the world of the best inflatable movie screens.
Why Should You Get One?
If there are people who are wondering why this even exists, then this part of the article is for you.
I understand the argument of having a good, wide, powerful TV which can "replace" the movie screen. What those people don't know is that nothing can replace a good inflatable movie screen, except a better one.
There is a difference between experiencing a movie in a movie theater, home and outside of your house on an inflatable movie screen (or in your house if the rooms are big enough). The inflatable movie screens most certainly carry that "movie magic" inside of them and they are the closest thing to going to the cinema. Plus they look pretty cool and neat!
Surprise your kids
Spend some quality time in your backyard
Invite a bunch of friends over and enjoy the movie in HD
Build your own small movie theater
These are just some of the opportunities that inflatable movie screens may offer you. There is no need to explain any longer, let's dig deep and check out the best of the best.
Best Inflatable Movie Screens – The Amazing Four
Yes, you have read that right! This is a new, innovative way of watching movies at home or outside and feeling like you are in a movie theater, or should I say, feeling like you're an absolute boss!
There are many movie screens on the market today but the ones that I will be talking about are the best inflatable movie screens today. Let's begin.
Inflatable Movie Screen – Huge Portable Outdoor Airblown
Dimensions: 160 x 110 inch
Diagonal: 16ft
This one is a thing of beauty, isn't it? As you can clearly see from its dimensions, it is quite freakin' huge, so if your goal was to impress someone with how wide the screen is, you will definitely accomplish it.
This inflatable movie screen is made out of durable fabric material that has the triple 600DD grade. You can watch movies or watch TV on this bad boy as it has the option to connect to a TV screen.
Of course, you won't have to worry about how you can inflate this movie screen because it comes with a silent blower. With this silent blower, your inflatable movie screen will be ready to go in about 2 minutes or so.
The white part, which is 12 ft tall, can be removed and easily cleaned, which isn't that common with other devices.
Mega Screen Movie Screen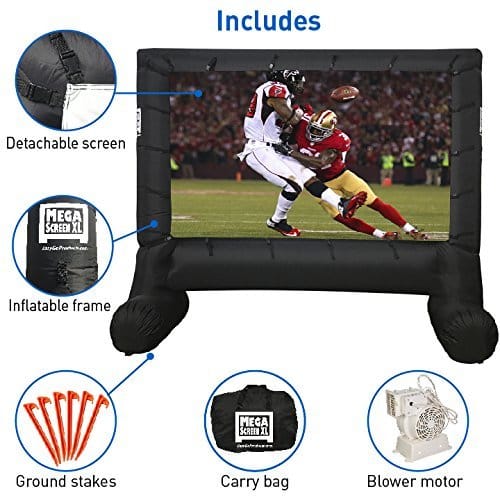 Dimensions: 13' wide x 12' high
Diagonal: 13ft
This movie screen is pretty elegant and quite handy. You see, the Mega Screen Movie Screen comes with an inflatable frame, ground stakes, carry bag, blow motor and detachable screen.
If you need a portable movie screen that you can carry around easily, this might be the one for you. This movie screen weights only 21 pounds.
This product also needs 2 minutes to inflate and like I said before, it comes with its very own blower.
The manufacturers guarantee you 100% satisfaction. Check it for yourself.
Gemmy Airblown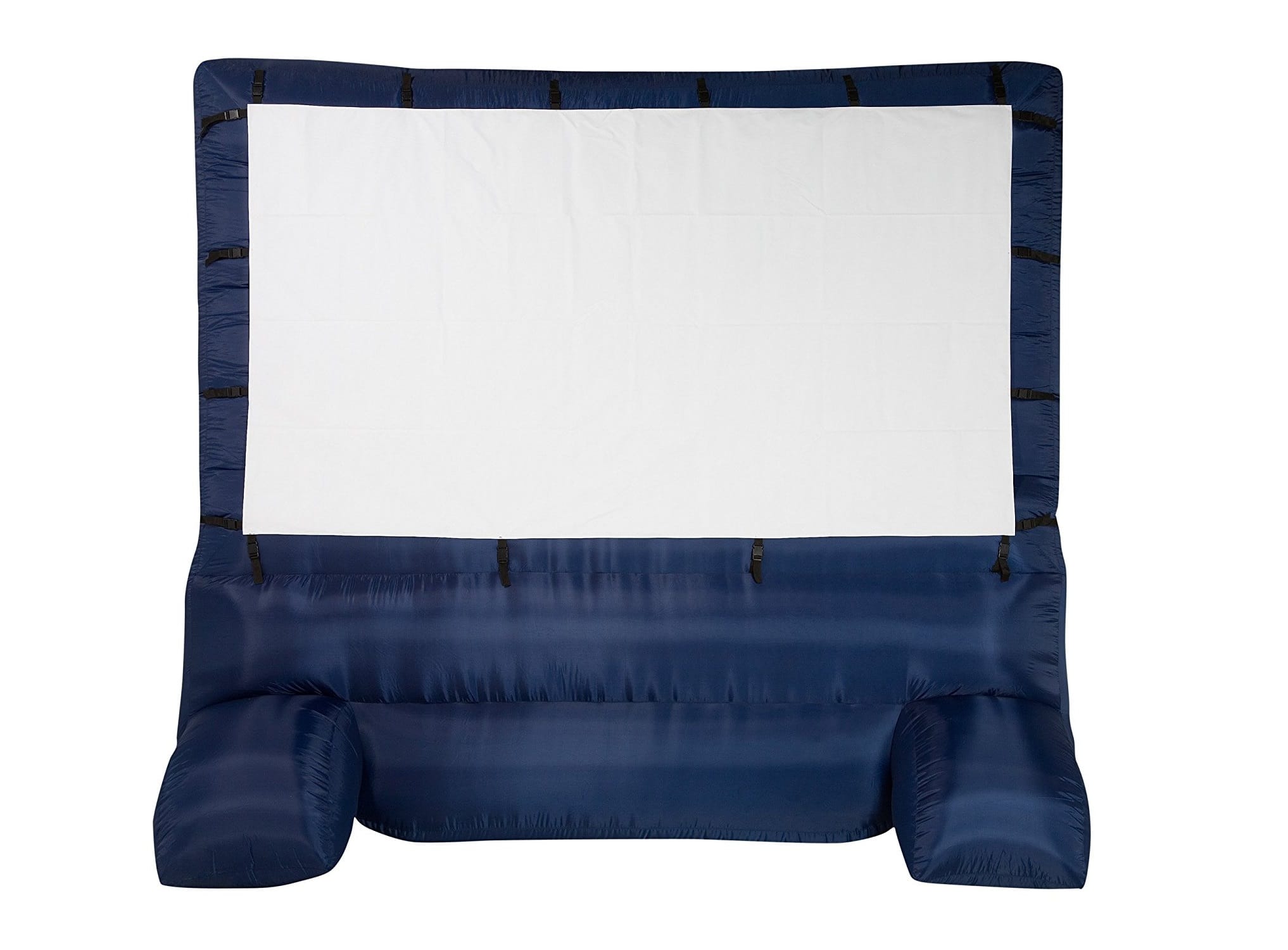 Dimensions: 123″ x 70″
Diagonal: 12ft
The Gemmy Airblown separates itself from the rest by its nice looking design (pay attention to details if they all look similar to you). It self-inflates pretty easy when it's plugged in.
This product is also very portable and easy to be carried around.
Gemmy Airblown comes with yard stakes, a  blower, bag, tethers.
Airblown 39121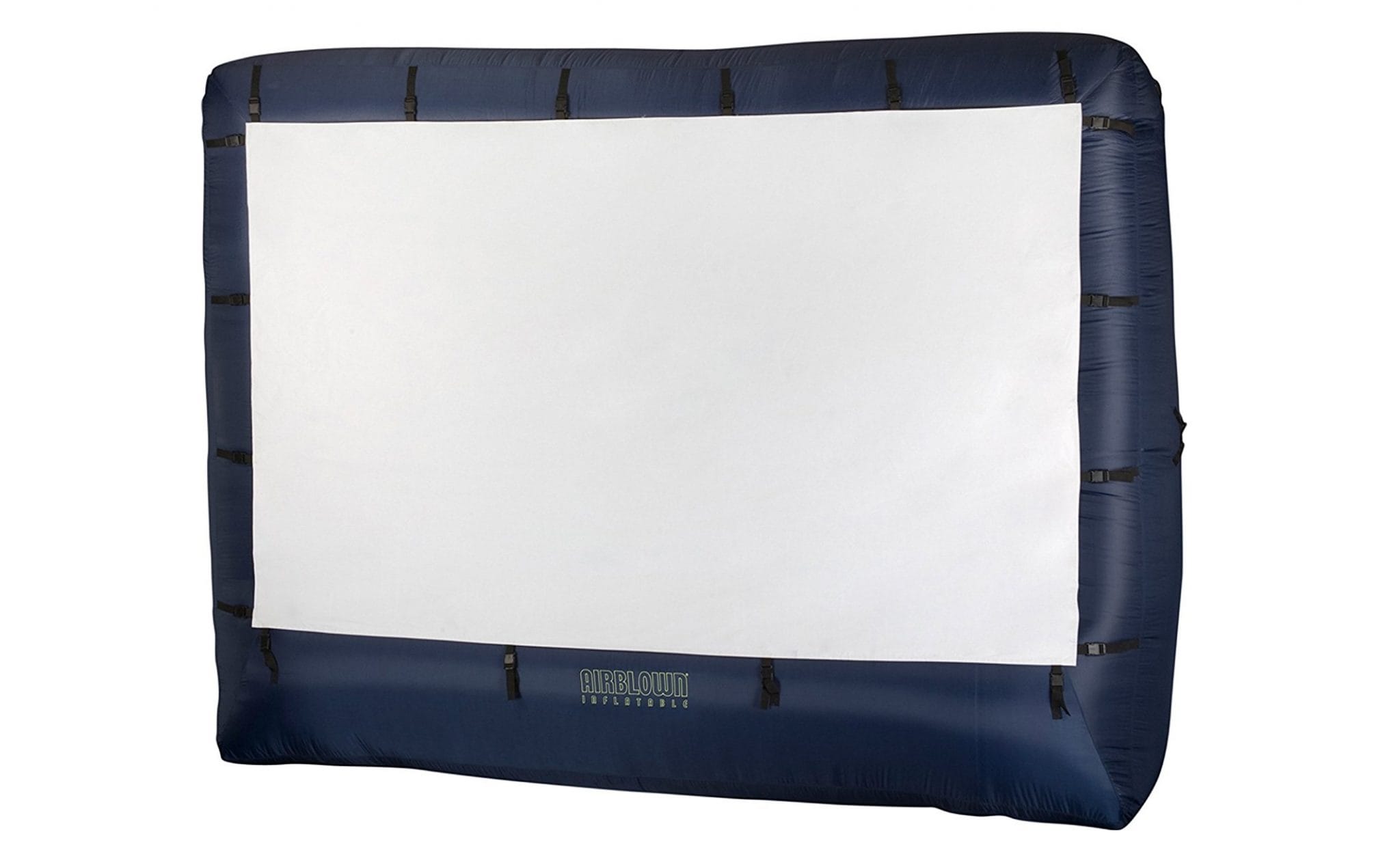 Dimensions: 123x77 inch
Diagonal: 12ft
This one doesn't lack in beauty nor in features, that's why it's in the best inflatable movie screens list. This product weights 24 pounds.
Truly a thing of beauty and the reason for that might be the fact that it is from the same manufacturer as the previous one.
The Final Verdict
These are the magnificent, amazing, gigantic four movie screens that are the absolute leaders on the market today. Consider the price, the functions (although these four are, more or less, pretty similar) the design and then proceed and order your very own inflatable movie screen.
Imagine how owning one of these beauties would feel. Pretty darn well if you ask me. To be honest, going into cinemas will never be the same! This is the game changer.
My Personal Opinion
You can pick whatever product you'd like, you won't be making a mistake since these four are the peak of the mountain when it comes to inflatable movie screens, however, I would like to give you my humble opinion.
Considering the cost and everything else that I previously mentioned, the best pick for me would be the Mega Screen Movie Screen. Reason number one – it sounds cool, you must admit. Reason number two – the design is so smooth and elegant. Reason number three – the price is okay for an inflatable movie screen of that caliber.
That is it.. I hope this article provided you with enough details so that you are now ready to go and buy your inflatable movie screen.