The Best Portable Espresso Makers
Filed under: kitchen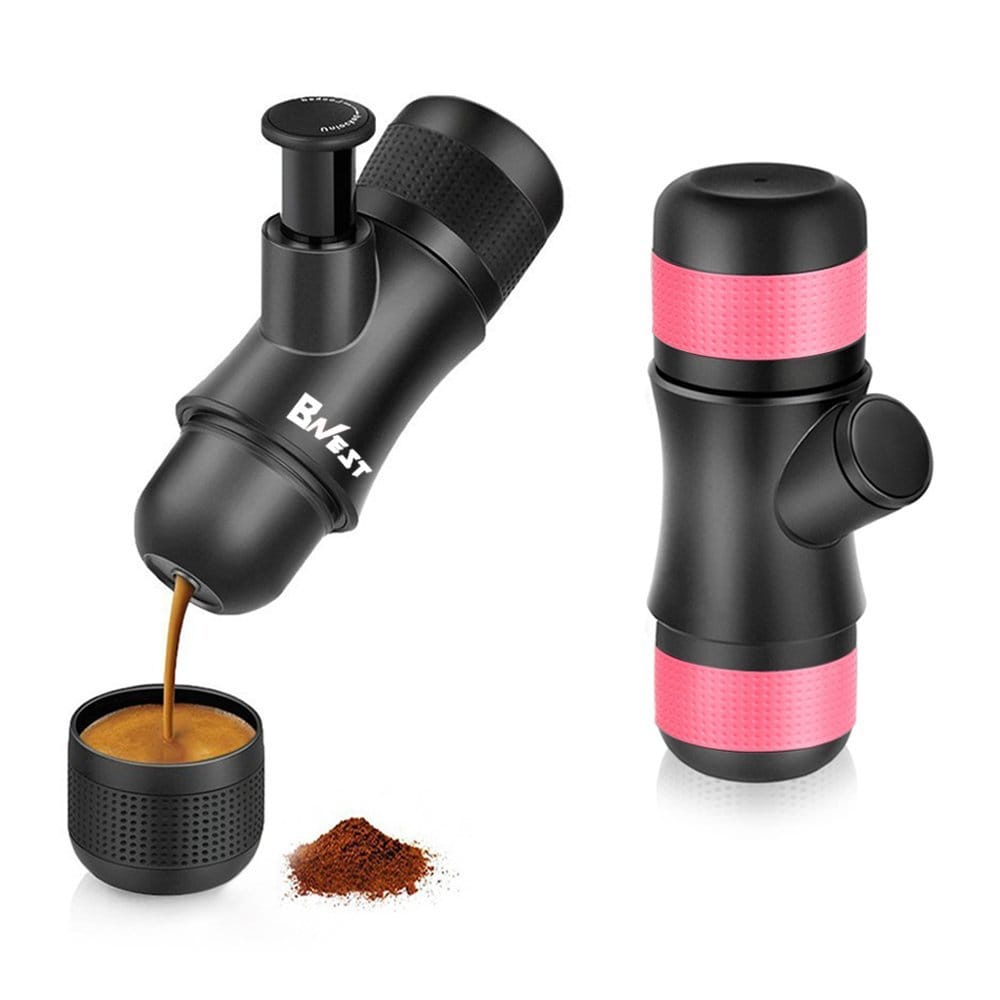 Update May 2019: The Staresso is our choice of the best portable espresso makers. It's won an award for its design and with 20 bar pressure it provides ample strength for that delicious espresso if you're traveling, camping or at the office. I love it.
For many of us, a coffee is a crucial part of our day. From our morning cup to our energy boost at work, it's a huge part of modern culture. Portable espresso makers are becoming a much-needed part of any busy life. They provide convenience as well as making delicious cups of coffee wherever you are. In this guide, we'll talk about portable espresso makers, why you need one and review the best portable espresso makers available.
What Are Portable Espresso Makers?
Coffee is one of the most popular drinks in the world and has been a part of drinking culture for centuries. As technology has evolved, so has how we drink coffee. From an espresso to Mocha everyone has their favourite type.
Coffee makers allow people to make high-quality drinks, in a short amount of time. They are preferable to instant coffee because they taste better and a wide range of beverages can be made. Some use powder while others use coffee pods to create lattes and cappuccinos.
Portable espresso makers are like other coffee machines, the difference is that they can be taken anywhere with you. We've all sampled bad hotel coffee and even worse gas station coffee, but with a portable espresso maker, you can make high-quality drinks. They are lightweight, compact but still deliver excellent results.
Why You Need A Portable Espresso Maker
There are many situations a seasoned coffee drinker might find themselves in and a portable machine can be a necessity for many.
If you're on a trip or travelling in the car for long periods of time, a portable espresso machine enables you to make coffee wherever you are. They are also good to keep drivers alert on long journeys. Many people get tired, but a cup of coffee can wake you up and keep you going.
Most hotels provide coffee for guests but the quality is questionable. Some offer high-quality barista quality drinks, but they come at a price. You can save money by using your own portable espresso machine.
Some jobs require employees to be on the move a lot and many are often unable to stop for regular breaks. If you work long hours and it's hard to find the time to buy a cup of coffee, then a portable machine will provide you with all of your caffeine needs wherever you are.
The Advantages of Portable Espresso Makers
The best portable espresso makers have many advantages, with portability being the most obvious. All coffee lovers want to enjoy a cup wherever they are and portable machines allow you to do that.
Some basic machines are very low priced, with the best portable espresso makers being priced higher, but still affordable. If you think about how much you spend a month on your Starbucks visits, you'll notice a difference in your bank account straight away when you buy a portable machine.
There are manual and automatic devices to choose from. Manual models allow you to make coffee wherever you are and a perfect for long trips or situations where using an electricity source is not possible. Most of the electric machines use batteries, so their still ideal to transport.
Cleaning a portable espresso maker is easy and only requires running the cup under water.
Things To Consider
Where you plan to use your espresso maker will be a key factor in deciding which to buy. If you travel a lot and want to use it on the road, then a manual machine that doesn't need electricity is the best choice.
All portable espresso machines can be transported anywhere, but they vary in size and weight. Make sure you pick the right size and consider where you will carry it. For campers and hikers, a lightweight espresso maker that fits into a bag is ideal.
Some of the most basic portable espresso makers don't have a built-in water heater. It means you have to heat it yourself before making the coffee. Built-in heaters offer a lot more convenience and save time. They also don't require the added appliances.
Manual espresso makers require no power supply and are press-style. They're convenient for travelling and an essential for road trips. Electric models have water heaters and grinders included and need an electrical supply to run. They are better than manual machines, but are more suitable for caravans or taking to work.
You'll be taking your portable espresso machine everywhere with you, so it's important to find a design you like. Most models are sleek and aesthetically pleasing but shop around instead of picking the first one you see.
Consider what you're willing to pay. Higher priced machines are better quality and have more functions, but if you want a simple model, then there's no point in spending a lot of money.
Some portable espresso makers are able to make lattes and cappuccinos too. If you like drinking a variety of coffees, then these will allow you to make a range of drinks. If you only want to make espresso, then finding a machine for that use will ensure you find the best quality espresso makers.
The Best Portable Espresso Makers
Staressos portable coffee maker was the winner of a Reddot Award, so you can be sure of its superior quality. The pressure flow is up to 15 bar and it brews coffee quickly, meaning a much more enjoyable flavour. If you're a fan of cold brew coffee then you'll be familiar with the long brewing times. Staresso's portable machine makes cold brewed coffee in just several minutes, which is perfect for people in a hurry. The machine is manual, so no batteries are needed and it's lightweight design is easy to carry around.
The cleaning process is a bit tedious, but it doesn't take too much time. It's not the most convenient model around but the functionality of the machine makes it one of the best portable espresso makers available.
Here's my unpacking and review of the Staresso…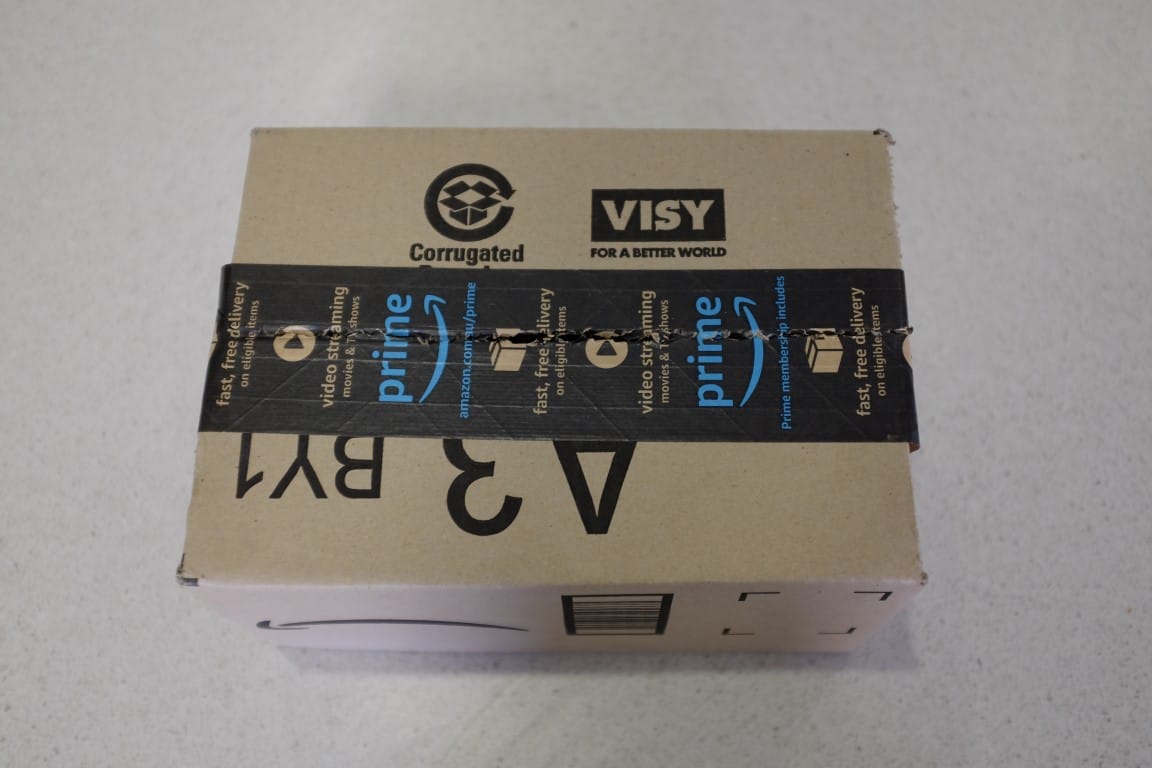 The packaging for the Staresso could be a little smaller to save on materials. I don't see any point for such large packaging for small items.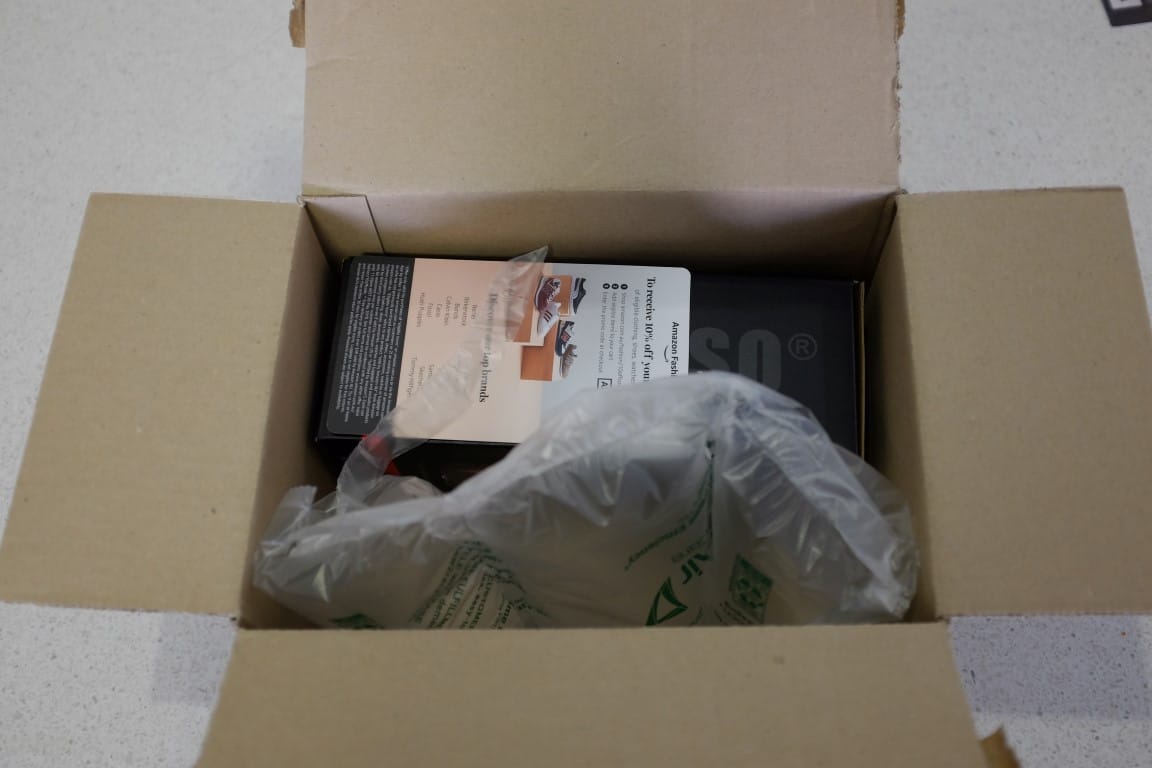 You can see the actual box inside that houses the Stresso. You also get some promotional material from Amazon. In this case I got an offer to get a discount from Amazon Fashion. Joy.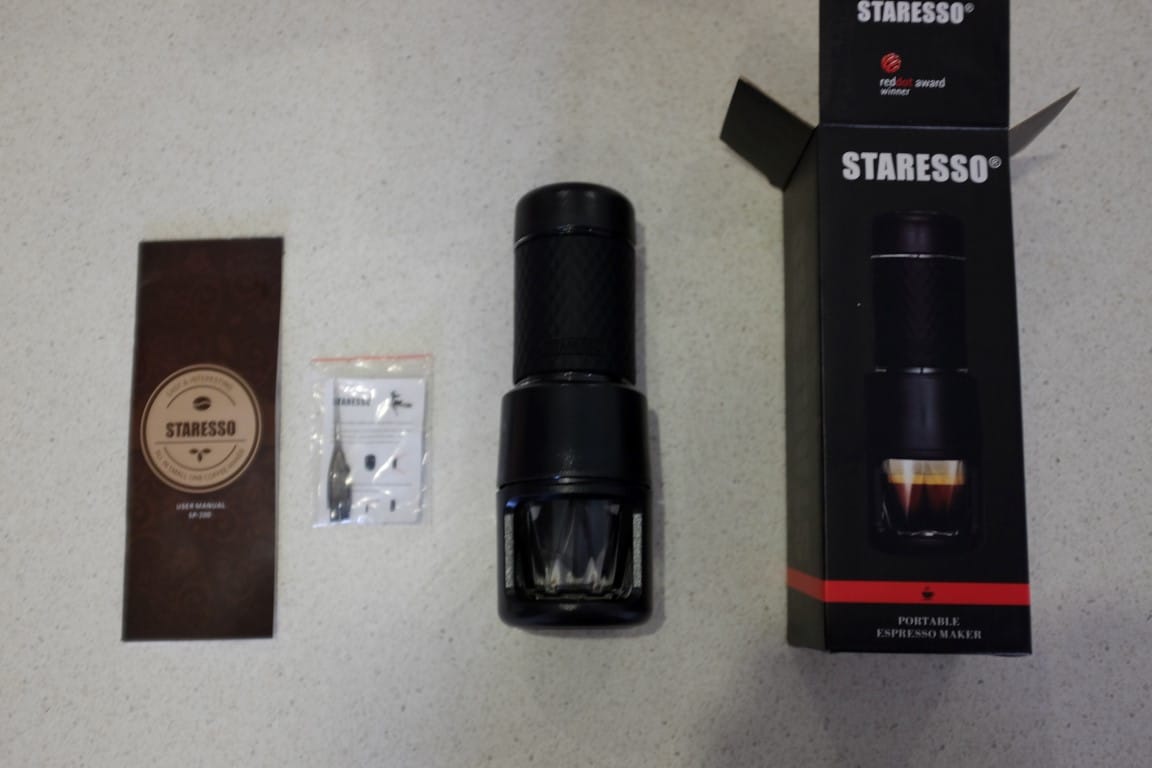 Apologies the pictures are a bit blurry, the lighting was pretty weak when I was taking these. Here you can see everything you get in the box. Some instruction manuals, a little cleaning brush thing which I assume is for getting those hard to reach places and cleaning out the little filter holes. The following is my review of making a coffee with the portable Staresso espresso maker…
Firstly, you need to use the measuring cup to measure out enough of that delicious caffeine to place into the brewing vessel. Getting all of that coffee into the vessel without spilling can be fairly tricky, as you can see below. I'd expect anyone to spill a few granules the first few times they try this. And in fact you might never perfect this transfer process!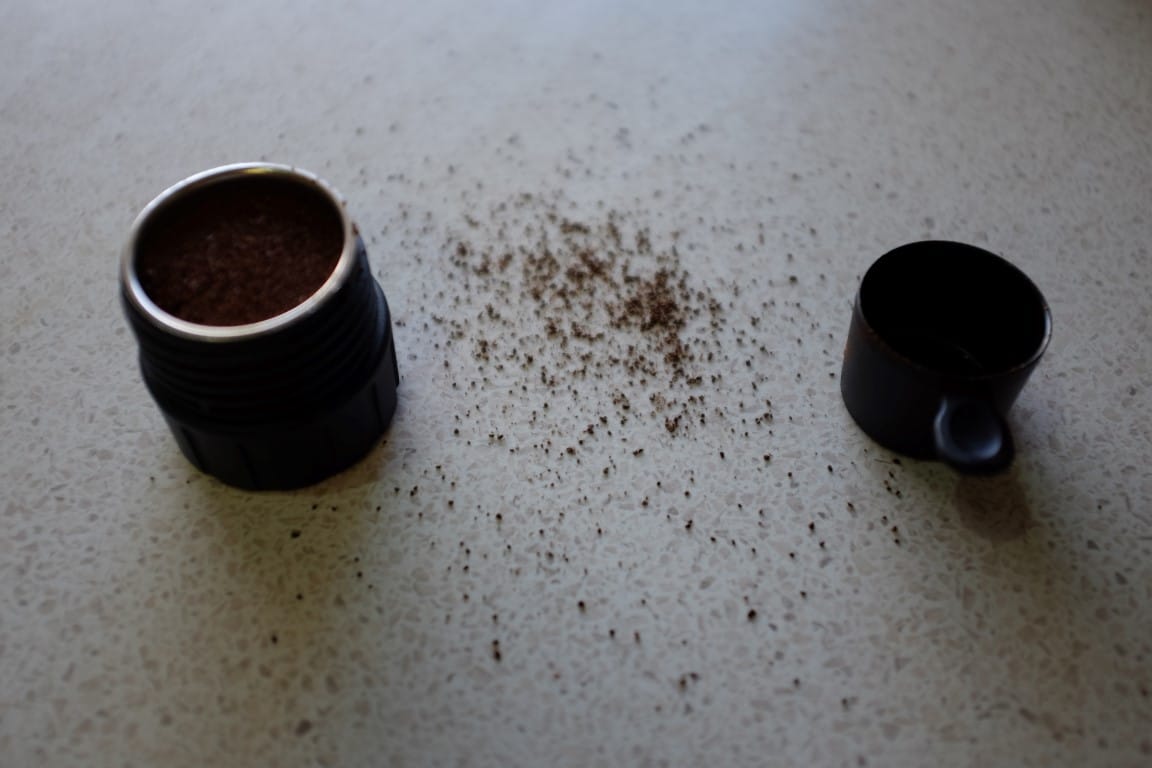 The next step is to screw the water vessel on to the top of the section you just put the ground coffee into. Make sure you create a good snug fit here.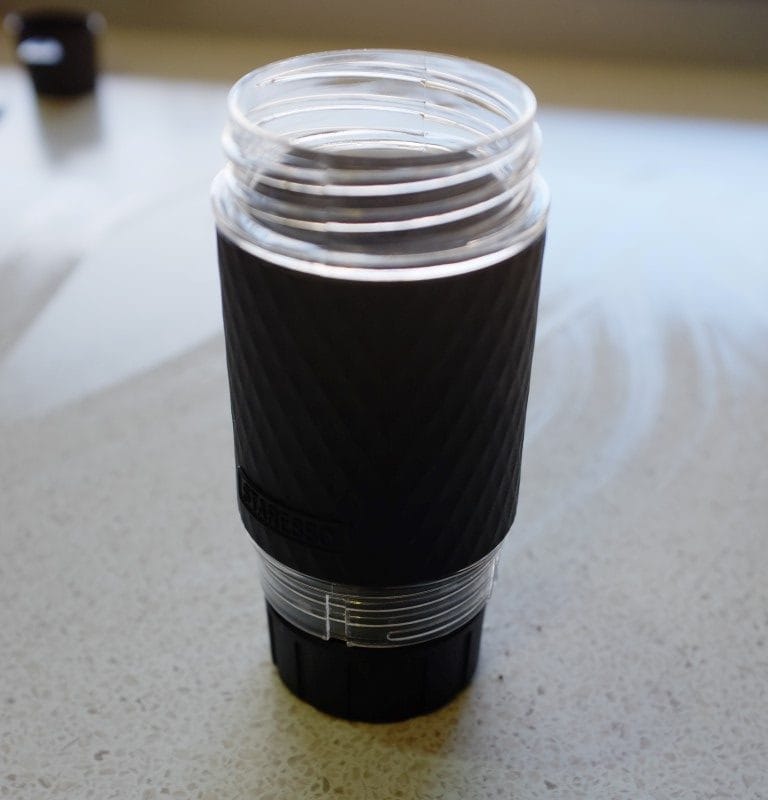 Once that is in position make sure to place your brewing vessel over the espresso glass. It screws in lightly while the espresso glass sort of sits in their loosely.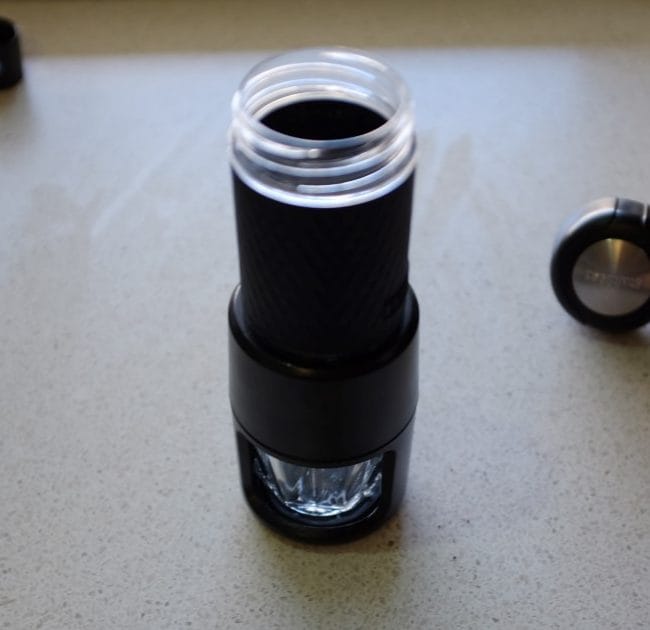 Now it is time to add your boiled water into the top vessel.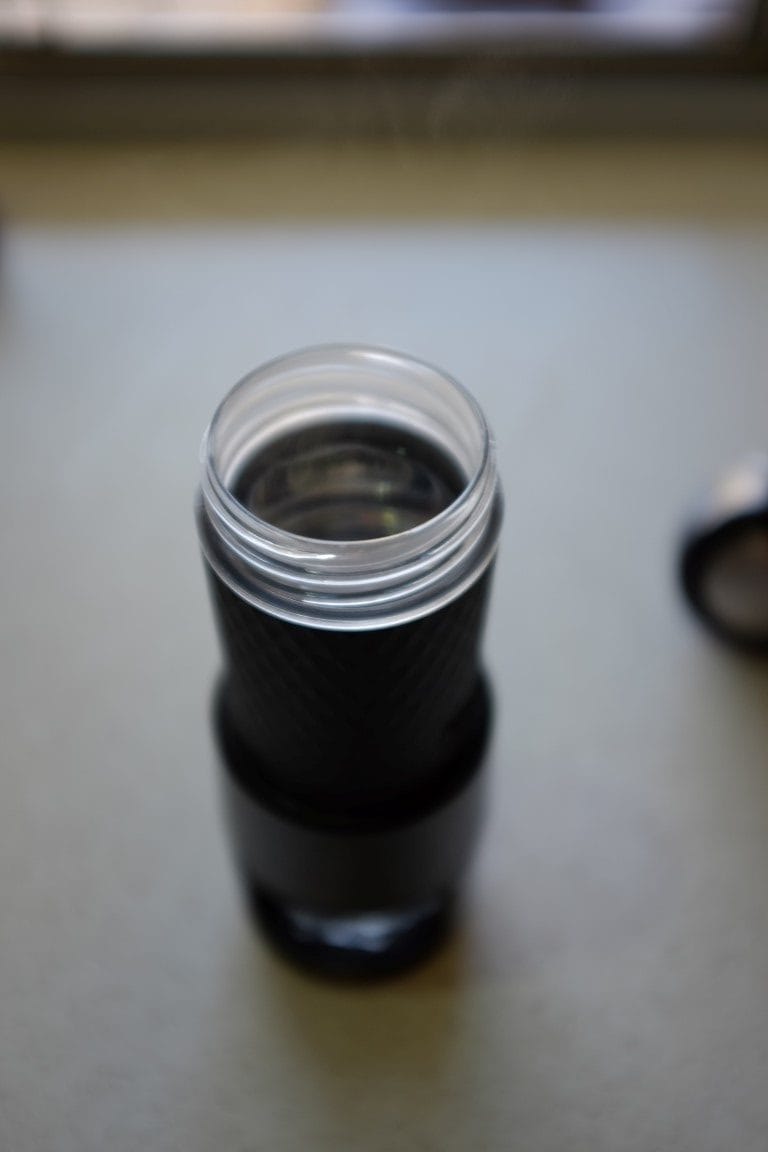 Then all you need to do is screw on the top, release the plung and plung away until your espresso comes out the bottom. Now when you receive your Staresso espresso maker, the plunger will be locked in the down position. In order to release it, you will need to depress it lightly and then turn about a quarter turn. This will then allow it to pop up and you can then pump it. Once all the hot water has gone through your ground coffee, you will feel the resistance on the plunger back off a bit and know that you are finished.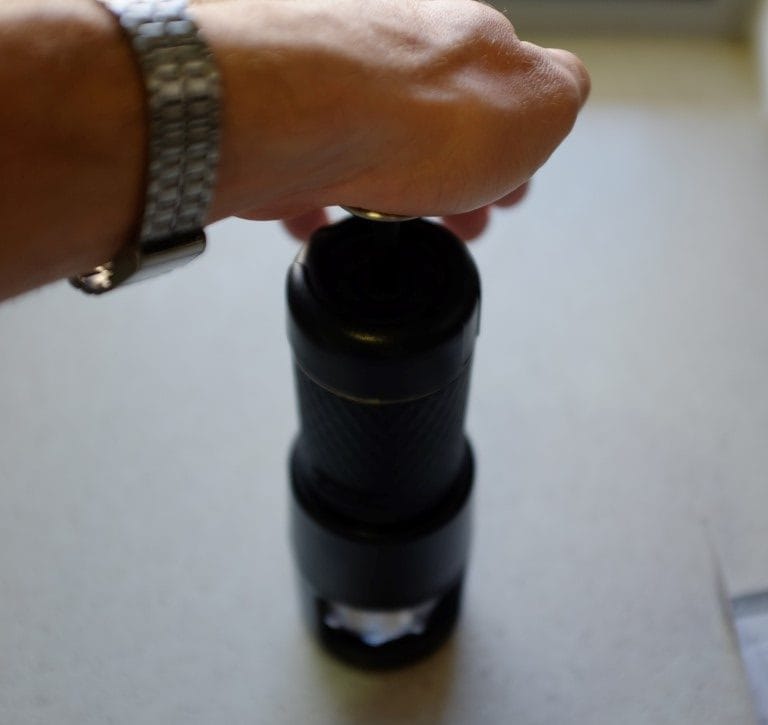 Then you just unscrew the brewing section from the little frame that the espresso glass sits in and enjoy your freshly brewed espresso at work or in nature while camping. I have got to say I was incredibly surprised by how good the coffee turned out. This little beauty allows you to get that rich crema on the surface of your espresso. I couldnt believe how good the flavors were, I have to say I was totally skeptical at the beginning at how this would have turned out, but now my girlfriend wants to drink coffee this way exclusively!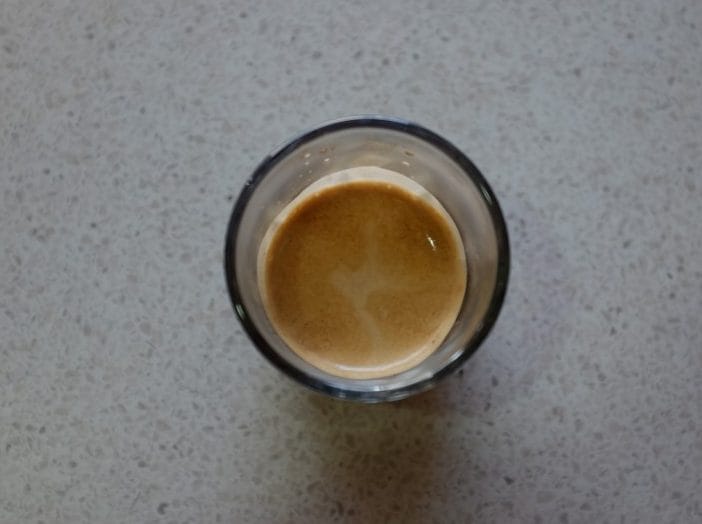 That is one happy camper!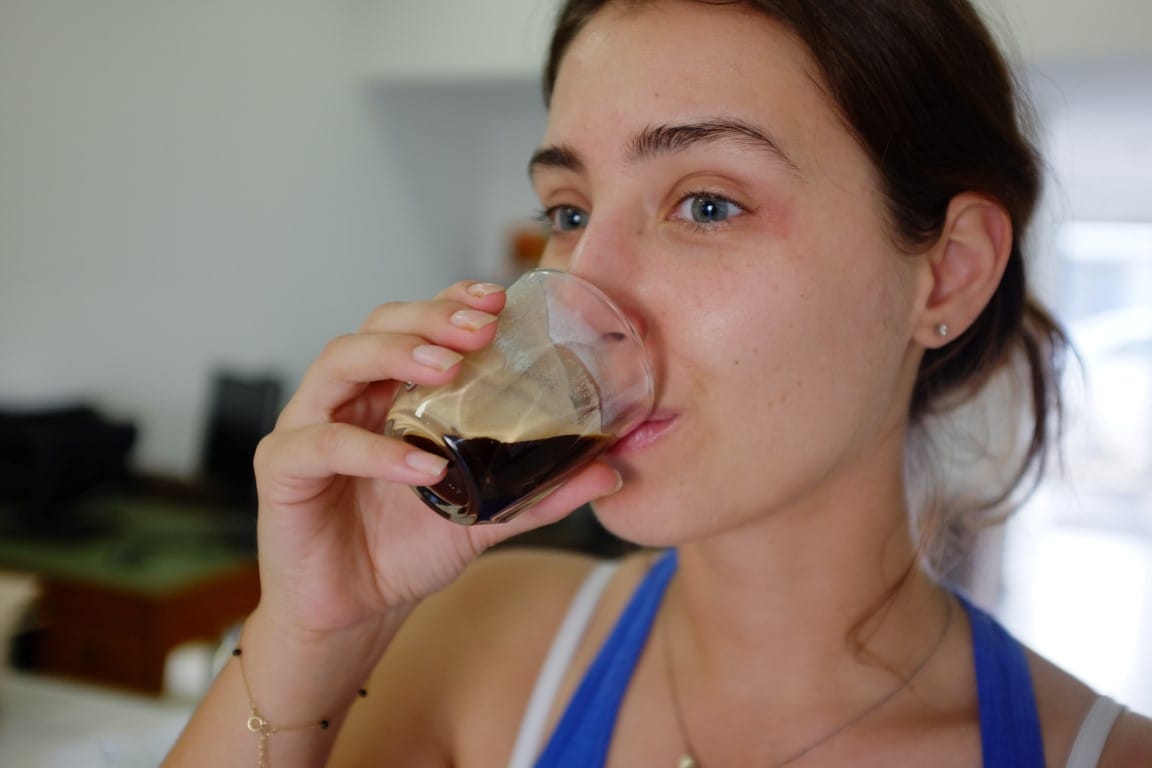 You can purchase the Staresso portable espresso maker here.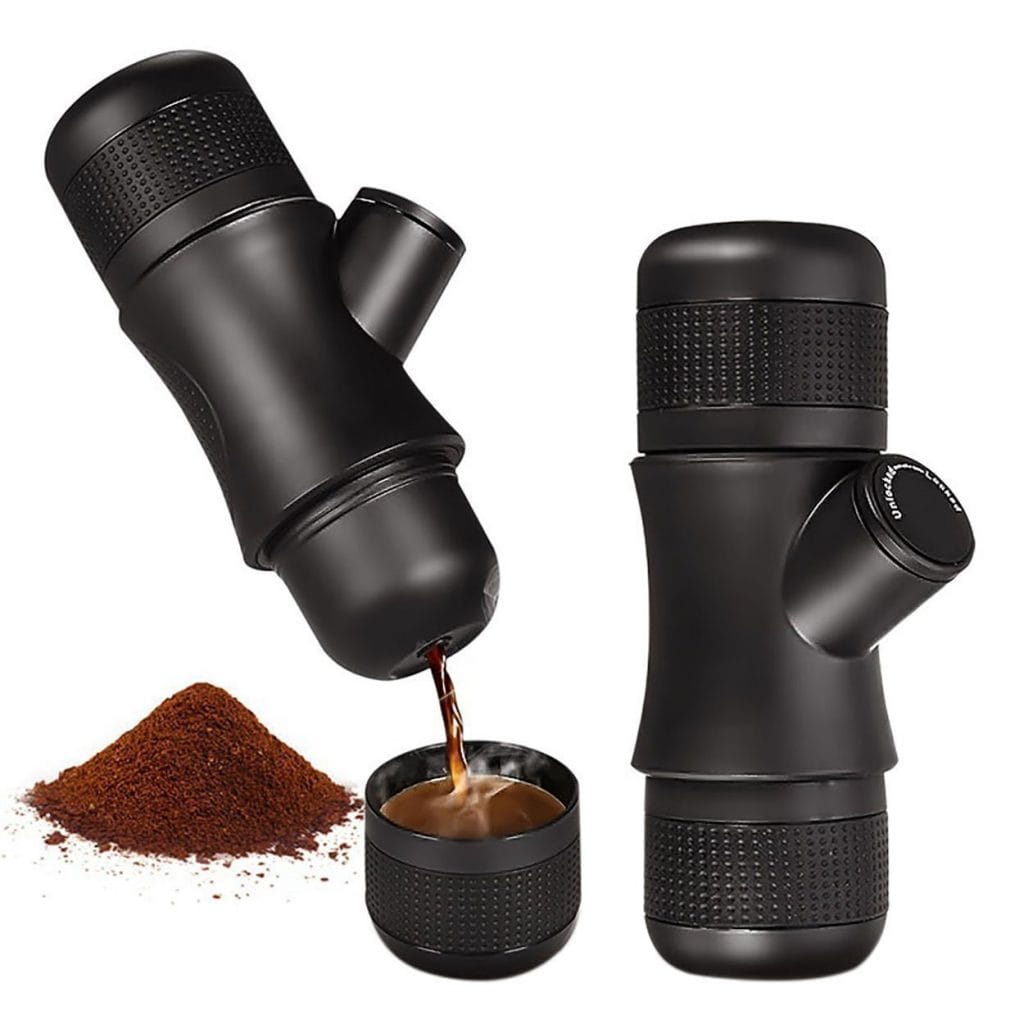 The biggest advantage of this manual espresso maker is how convenient it is to transport and use. It's compact and can easily fit into a backpack without taking up much space. The cup at the bottom screws into the maker, so you won't need to carry extra accessories either. A drawback is the machine only pumps at 8 bars, which is sufficient to produce coffee without an astringent taste but connoisseurs may find the machine lacking in some areas.
You have to add warm water to the maker as it doesn't have heating capabilities. Cleaning the maker is easy and you can simply rinse it out with water. Overall it's a handy little machine and the coffee it produces tastes nice. However, having to add hot water before brewing coffee isn't ideal for people in a rush. There are better portable makers out there, but if you're on a budget then you won't be disappointed with Antiyas espresso machine.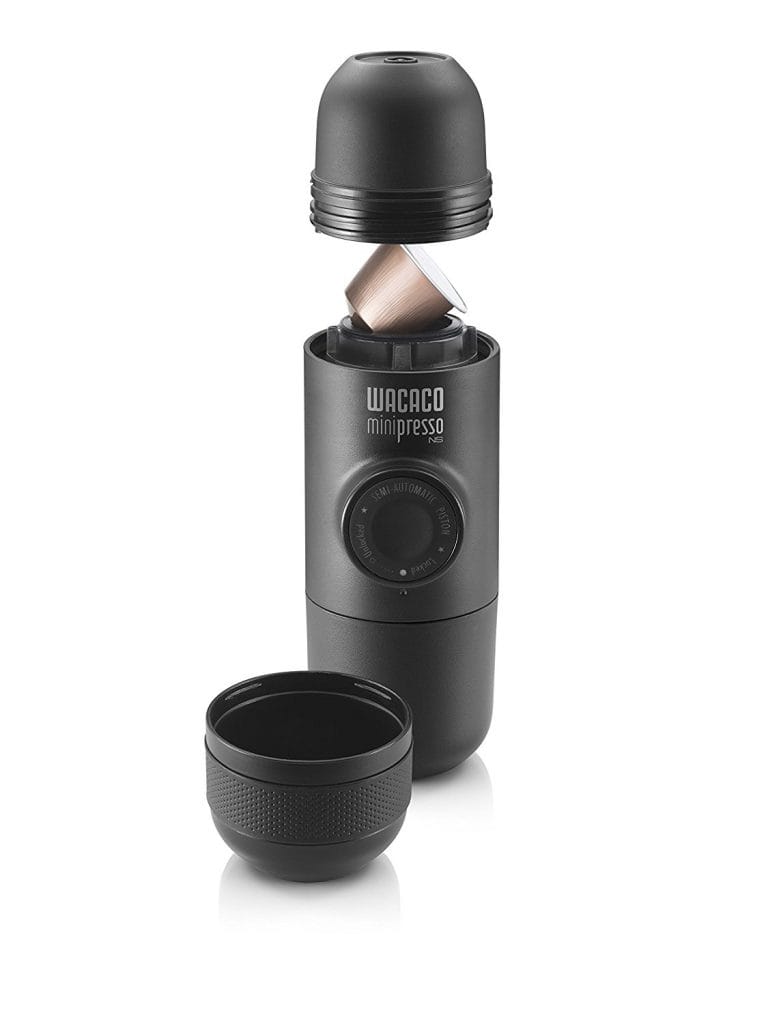 If you're a fan of high-quality coffee then the Minipresso won't disappoint. It's designed for use with Nespresso pods and only requires hot water to be added. There seems to be a lot of portable espresso makers that don't have the ability to heat water themselves. It's an inconvenience but the Minipresso has a number of other features that make up for it. The machine is small and weighs only 1lb making it perfect for hikers and campers. It can be stored easily in bags and glove boxes as it's only 7 inches long.
A disadvantage of the machine is the strength required to pump the coffee. It takes around 20 pumps to get a full shot of coffee and people with arthritis might struggle to use it properly. The pods can be quite expensive, so if you're looking for a machine that's cheap to use then you might be better trying another. Overall it's a good little machine, but the pumping effort required isn't ideal for a lot of people.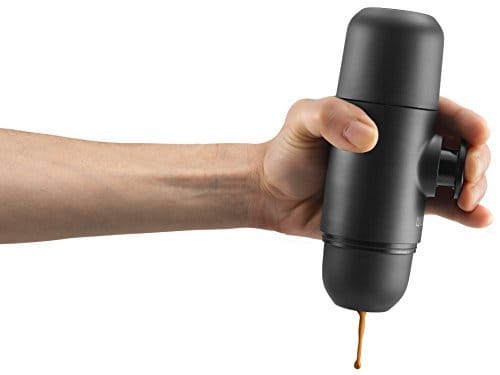 MiniPressos GR portable espresso machine is similar to its predecessor but uses ground coffee instead of pods. It's cheaper to run and many enjoy not having to stick to one brand of coffee. This machine lets you sample different brands giving you the flexibility to enjoy many different flavours. You can also grind your own beans, which gives coffee lovers more control over the preparation. The design is sleek and compact, so you can take it anywhere.
A drawback is that you have to pump the coffee yourself. It's not too strenuous and you're guaranteed a quality cup of coffee at the end. It's also important to note that if the espresso is tamped, then you will damage the machine. The clean up is straightforward and you can rinse the machine out and then reuse. The water reservoir can also leak and cause burns if it's not handled carefully. MiniPressos GR machine isn't one of the best portable espresso makers on the market, but it does have its qualities. The added danger of some unwanted burns may not be worth the risk though!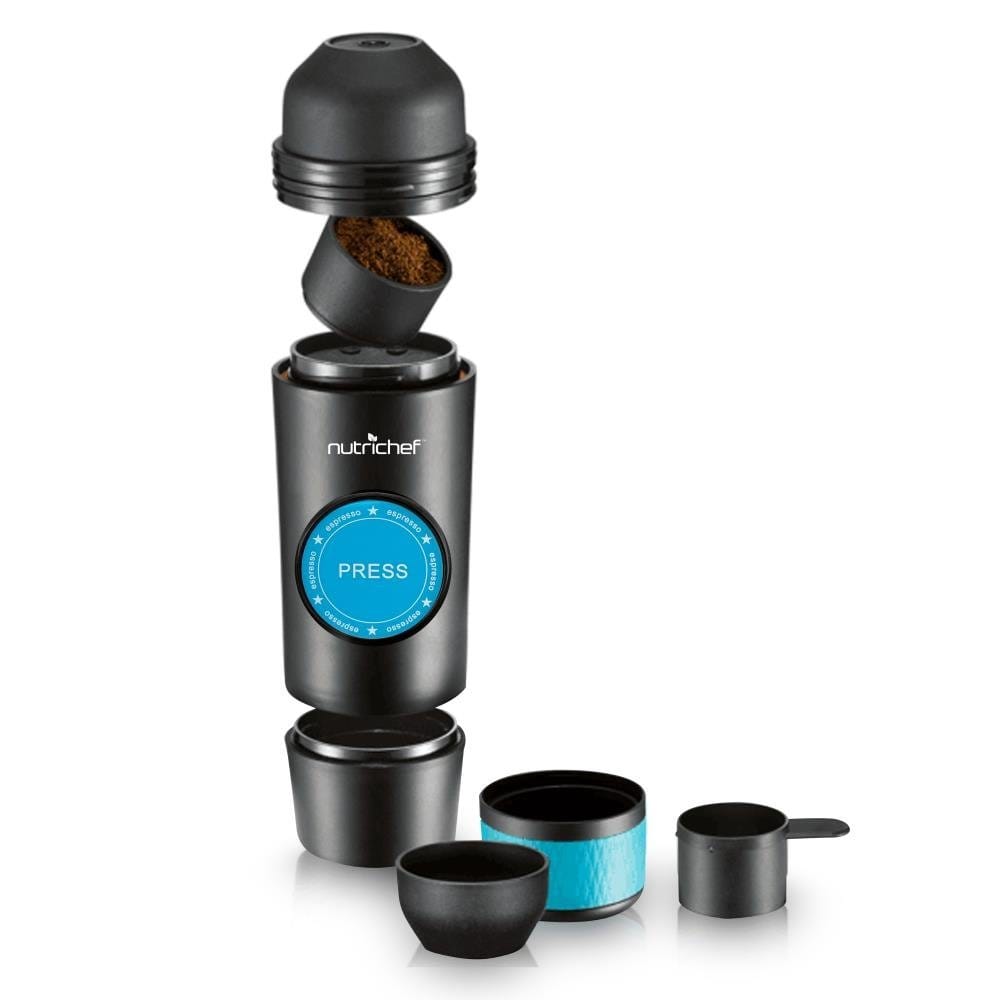 Nutrichefs offering to the list is the first portable electric espresso maker we've seen so far. The biggest advantage is the USB adaptor which can be plugged into any handheld device. You can make coffee in just 30 seconds, without needing to pump at all. It's great for people with arthritis or those that don't have the time to pump their coffee. The machine can use both pods and ground coffee so there are lots of choices available for connoisseurs. It's compact design and weight of just 1.45lbs make it easy to transport wherever you are.
The machine runs on a low voltage so you have to add hot water in order to get a quality cup of coffee. Overall, there's not really anything negative to say about Nutrichefs innovative espresso maker. It enables users to sample a wide range of flavours and is quick and easy to use. If you're looking for one of the best portable espresso makers on the market, then you'll be pleased with everything this little gem has to offer.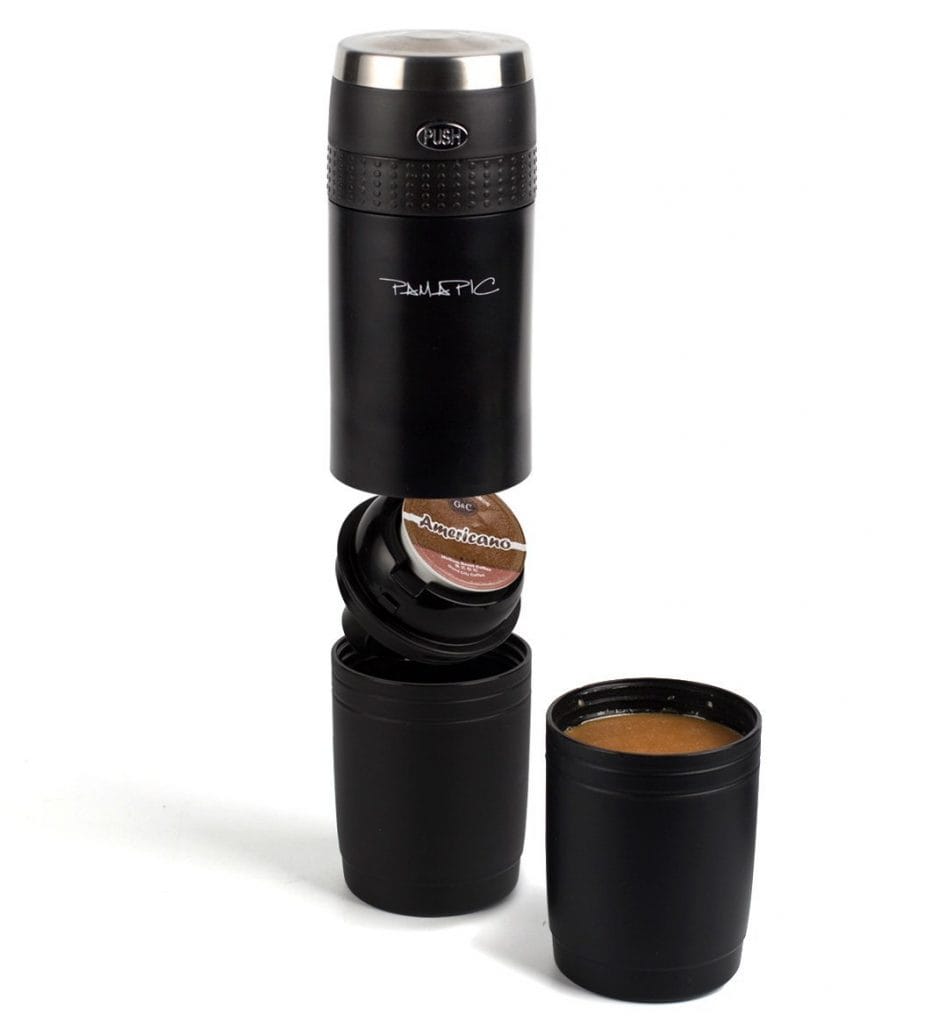 This automatic machine has a button on top to save users from pumping their own coffee. It requires batteries, but many would prefer the extra cost of those than the time spent pumping coffee manually. It's a small machine which is easy to transport and carry around. Each part is detachable, so you can thoroughly clean the machine without damaging it. The machine uses pods, so you can experience a wide range of flavours and coffee styles.
It's important to reassemble all the components securely after cleaning, as the machine can leak and cause burns. The plastic design is sturdy, but a metal design would have been better for transporting hot water. It's a good machine, but there have been problems with faulty battery units. A USB operated device would have been much more practical and user-friendly.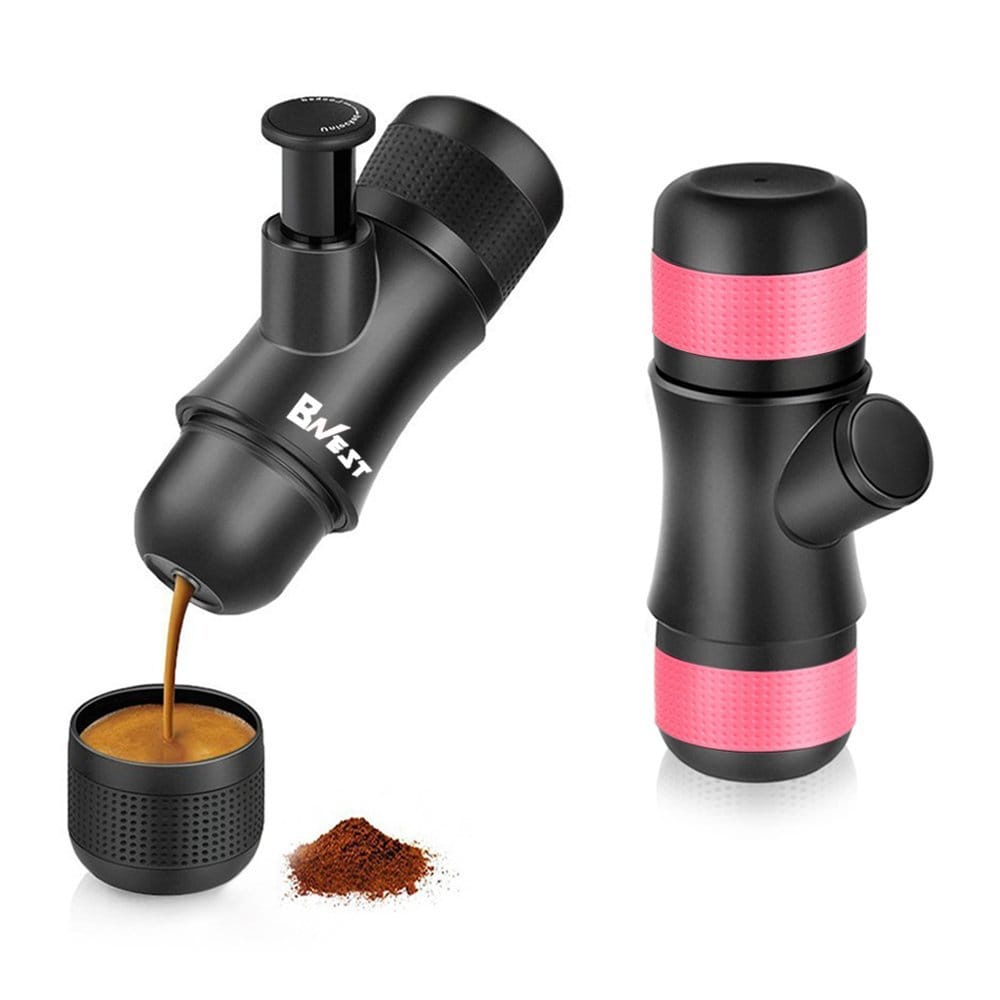 This small machine is easy to carry and despite its size, there's still 8 bars of pressure meaning your coffee won't taste bitter. Cleaning is easy, as the parts are all detachable so it won't get damaged. You need to pump the coffee as it's a manual machine. It can be quite hard to do and sometimes takes up to 3 minutes to brew a strong cup. It's best to use finely ground coffee, as the machine seems to struggle with other beans, which also require more pumping.
The biggest problem with this portable espresso maker is how easily it leaks. After a few months, it seems to loosen and can cause burns as well as an added inconvenience when travelling with hot water. It's not very durable and this seems to be an ongoing problem. The quality of the coffee it produces is excellent, but there are far better portable makers on the market.