The Best Portable Ovens For Baking
Filed under: kitchen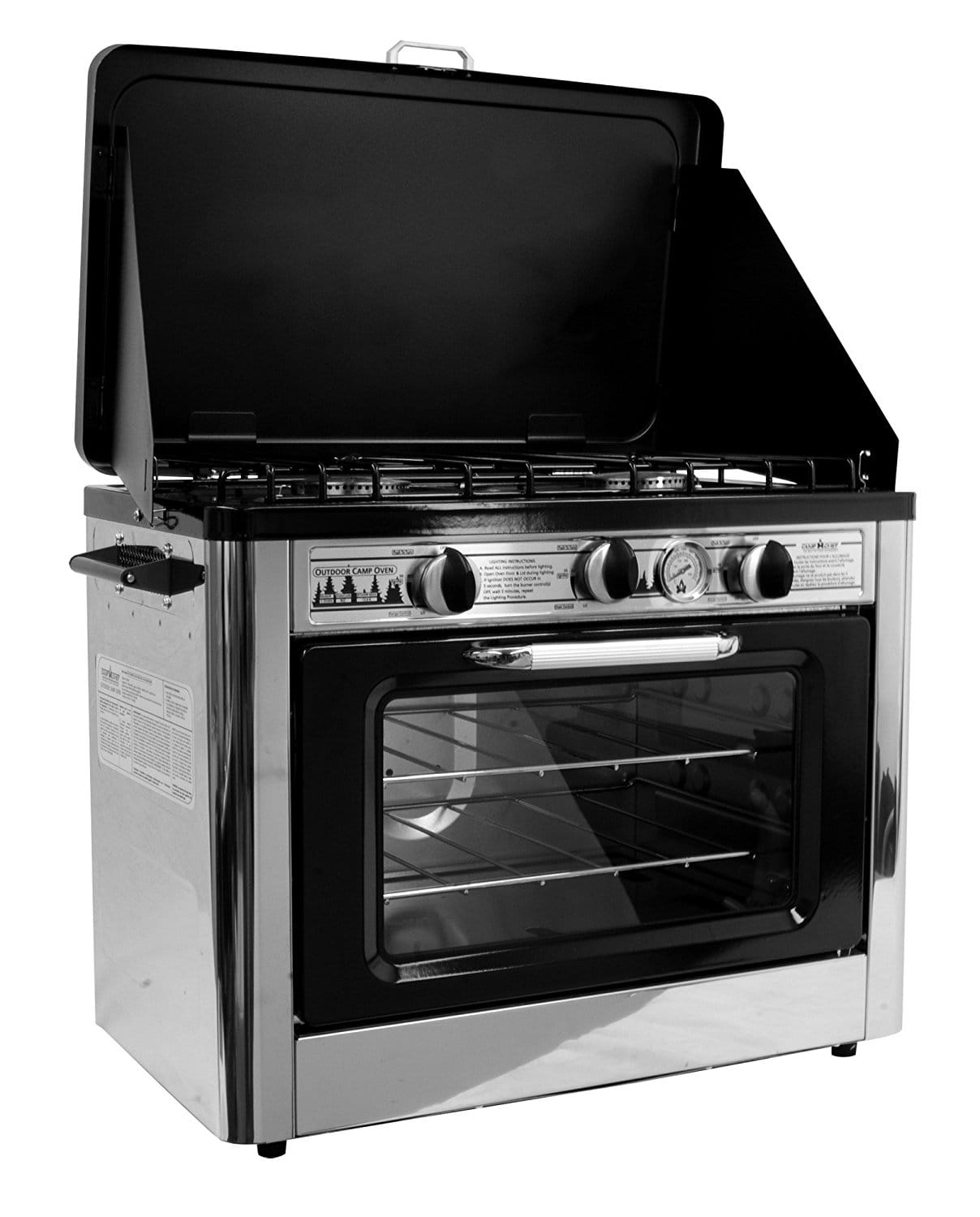 There's nothing like a home-cooked meal. When you're on the road or embracing student life it's easy to live off fast food and takeouts. However, portable ovens allow you to cook a wide range of foods in small spaces and on the go. In this guide, we'll look at portable ovens in more detail, discover their advantages and review the best portable ovens for baking on the market.
What Is A Portable Oven?
Portable Ovens are mini cookers that warm your food.  They work in a similar way to microwaves and crock pots. Pre-cooked food can be warmed, without the need to microwave anything. Some portable ovens also allow you to prepare meals and bake cakes in a shorter time than built-in ovens.
There are different models of portable ovens, and they vary with features. Some portable ovens can only reheat pre-cooked food and don't come with many extra functions. However, there are larger models that function similarly to built-in ovens. They can cook a range of meals from scratch, including eggs, meat, and cookies. The best portable ovens for baking can grill, toast, warm, roast and defrost food.
The Advantages Of Portable Ovens
Portable ovens have many advantages, and for small families and people who travel regularly, they are a popular choice to provide healthy, home-cooked meals. They are much cheaper than built-in ovens, which can range from hundreds to even thousands for a good model. Portable ovens are low in price, with the most basic models being cost-effective alternatives to larger appliances.
They fit anywhere and take up less space. For people living in small apartments or in student housing their perfect. Portable ovens can also be transported anywhere. They're ideal for camping trips, in caravans and on holiday.
Energy efficiency is a vital factor in appliances now. With energy bills rising, everyone's searching for the most cost-effective deal. Portable ovens are smaller, which means they take less time to heat. For people living on their own or small families, switching to a portable oven could save a lot of money. They are also easier to clean as many come with easy to remove trays and racks and cook food quickly.
The ovens contain heat, so the temperature of the room you're cooking in won't change. Portable ovens are a combined version of slow cookers, microwaves, toasters and built-in ovens. They have a lot of features and are helpful for people to cook food to their own taste.
Things You Should Consider
First, you need to think about what your portable oven will be used for. If you're planning to use it primarily to reheat food at work or while travelling then one of the smaller more basic versions would be best. If you're planning on using it at home instead of a built-in oven, then you'll want to ensure it fits on your countertop and has all the required functions. When placing your oven on a countertop, ensure you measure the dimensions to avoid heat transfer onto other kitchen units or walls.
Mini ovens heat and cook food quickly, so it's important to check whether the model you're buying has a temperature control or pre-set programming. Some offer pre-set programming to make it easier for users to cook their food without it burning. A timer is also vital if you're planning on baking and not just re-heating food. It can take some time to become accustomed to how quickly a portable oven heats and a timer will remind you to check on your food. Some of the best portable ovens for baking have an automatic shut off mode to prevent your food from burning.
While mini ovens are much easier to clean than built-in ovens, there are some that have non-stick coatings to make life easier. Check if the oven you're considering purchasing has enamel or stainless steel casings. They're easy to clean and usually require a quick wipe. Most portable ovens also have trays to catch crumbs and drips. They're important to maintain hygiene in the cooking area and should be removable to be regularly cleaned.
Portable ovens come in a range of different sizes and capacities. If you're using it primarily for yourself, then a smaller model will be fine. However, if you're planning on cooking for your family or entertaining large groups of people, then you need to ensure the oven you buy has a high capacity.
In recent years portable ovens have become a popular choice for people to use in the kitchen and everywhere. Many people take them to work, saving money while being able to eat healthily. There are different models to choose from, and all cater to different requirements.
The Best Portable Ovens For Baking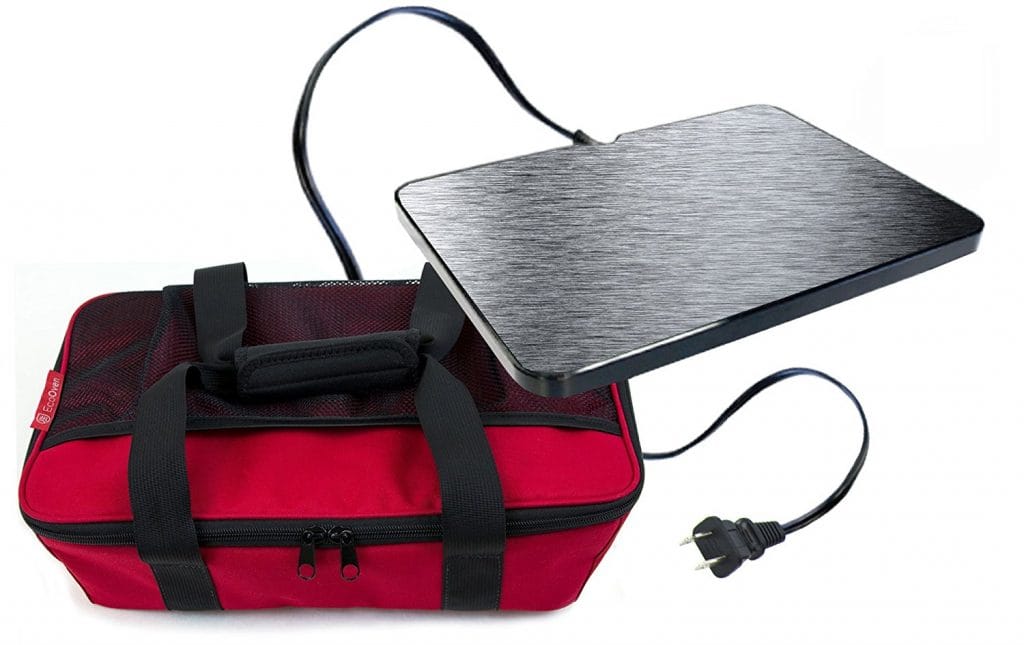 If you have a family, then this casserole size mini oven will suit your needs. It's able to reheat leftovers and frozen meals. The fully portable oven also uses a lot less energy than a microwave and is more convenient to carry. One of the most welcome aspects of the oven is it'll never burn your food. The heat switches off when it reaches a certain temperature, ensuring your food is hot and ready to eat rather than a charred mess.
Food will cook quickly, with frozen meals heating in two to three hours. It's a perfect oven for a day out, or at the office. Overall there's nothing negative to say about Hot Logics portable oven. You'll be able to reheat meals in a multitude of places, which will save money on expensive cafeteria lunches. It's by far one of the best portable ovens for baking you'll find.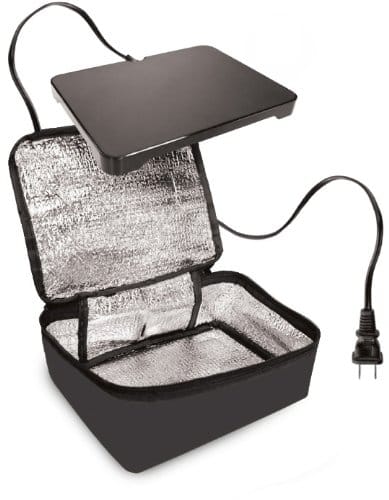 Next on our list is another offering from Hot Logic. The mini oven is basically the smaller version of their family sized oven and is best for individual use. It's compatible with a range of container materials, including paper, metal, plastic, and glass. The mini oven also has an aluminum lining to retain heat for longer periods of time and the temperature will remain stable to prevent your food from overcooking.
Logic Pros mini oven is perfect for people trying to lose weight and save money. You can use it at work and create healthy meals. The only disadvantage is that sometimes the product doesn't work when it arrives. However, the Hot Logic team will replace it immediately, so make sure you buy from a reputable store and have a warranty.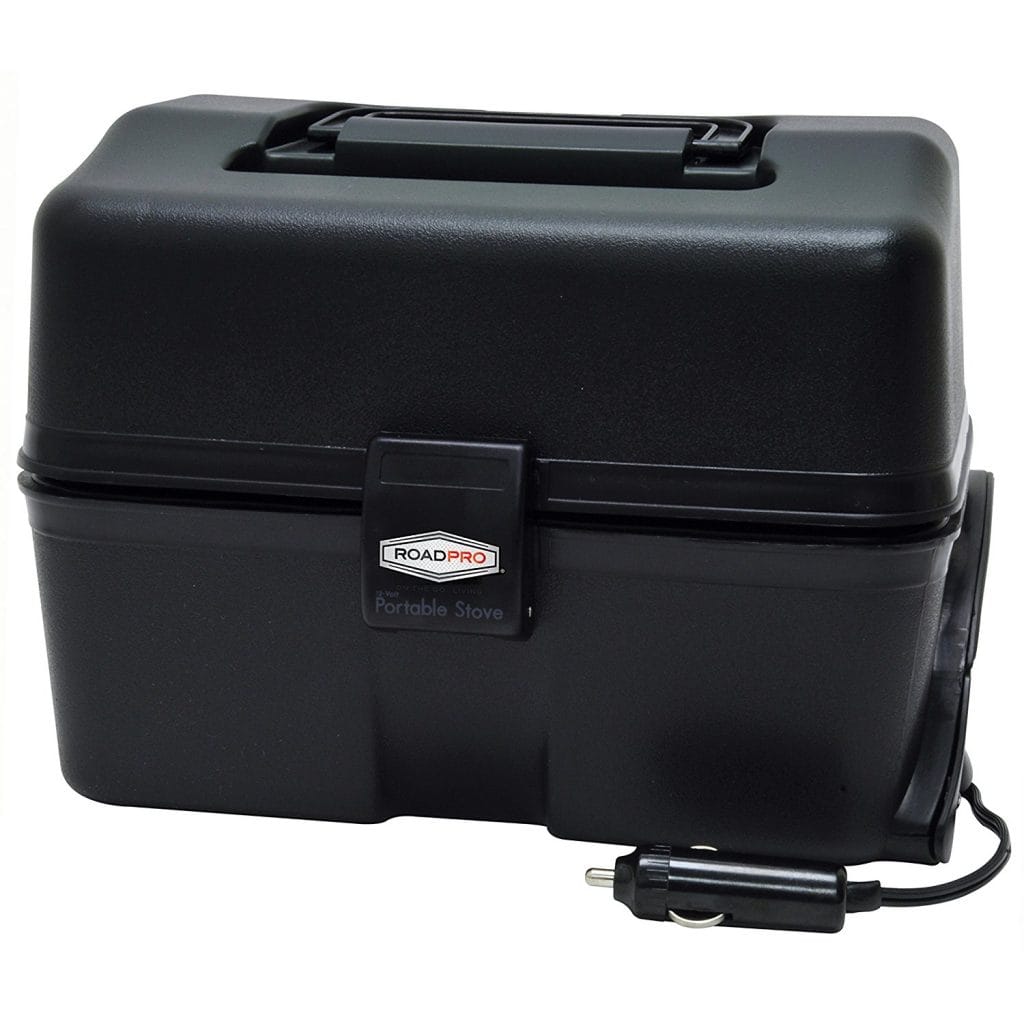 Road Pros portable oven resembles a took box upon first look, but it's actually an ingenious invention and perfect for travelers. The powerful oven can cook foods up to temperatures of 300 degrees and cooks a meal in as little as an hour. It also plugs into cigarette lighters so if you're on the road you can enjoy healthy, home cooked meals and avoid the fast food joints.
An important thing to remember is to always unplug the oven if you're using it in your car. If it's left plugged in then it might drain your battery. The functionality of the oven is fantastic, but there are issues with durability. The snap on the front is made from plastic and breaks quite easily. However, it's fixable and the power Road Pros portable oven offers makes up for this small issue. One of the best portable ovens for baking around, you won't be disappointed.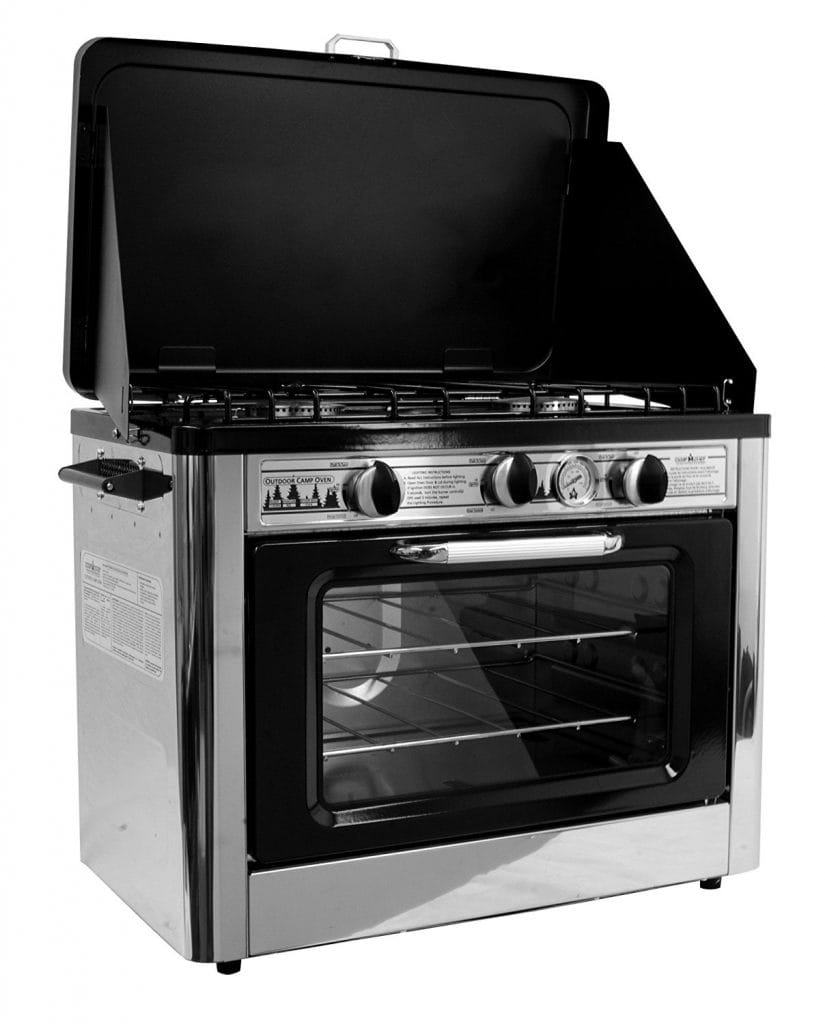 You need to think big with this oven because it's certainly not compact. Camp Chefs portable oven is a high powered machine capable of cooking great meals. It's definitely not something you'd take to work with you but camping enthusiasts would benefit a great deal from this portable oven. It heats food up to 400 degrees and is perfect for family meals. There's also a non-stick cooking surface and the portable oven performs in the same way as other stoves.
While it's not ideal for work lunches, there are carry handles which make it easy to transport. You can make a wide range of foods with the portable oven, including eggs, casseroles and baked goods. The burners can fit two full-sized skillets, so you won't miss out on your morning bacon. Camp Chef has created a niche product really and the ovens only suitable for campsites. However, if you're looking for a portable oven to take on vacation with you then it's high performance and cooking versatility will be a pleasant surprise.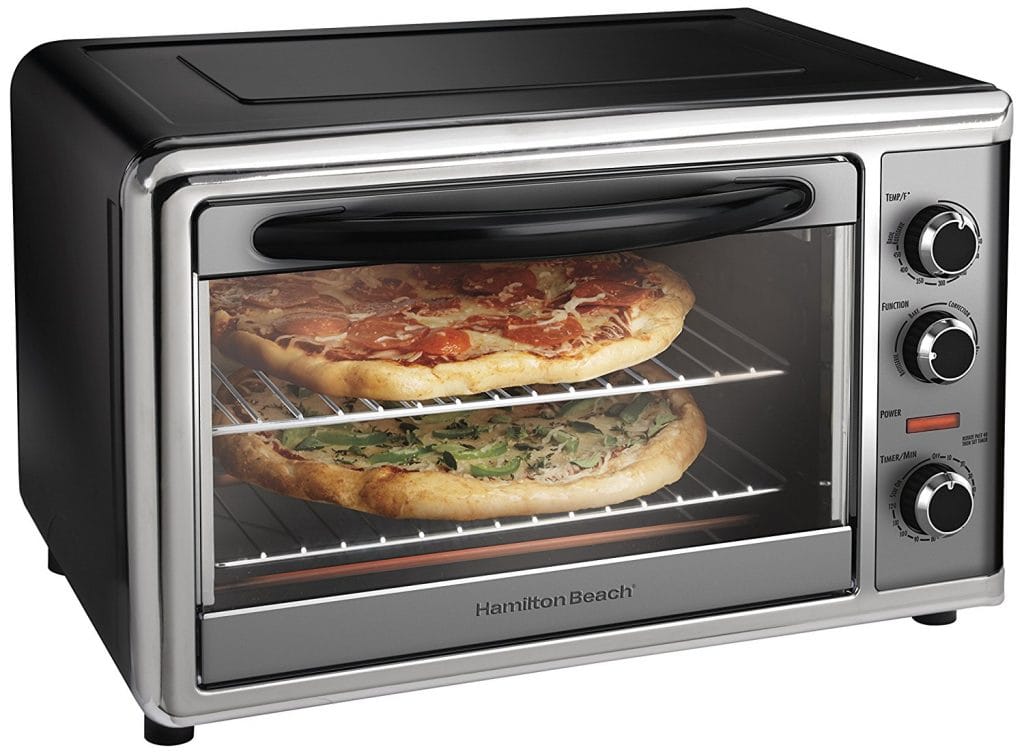 This counter-top oven is versatile and even includes a rotisserie. The convection setting also enables fast cooking and beats traditional ovens. There are also baking trays and racks included so you won't need to purchase accessories separately. If you're cooking for a lot of people, then the good news is the oven has a large capacity. It can hold two pizzas and prepare large meals.
You might be thinking it sounds too good to be true and you'd be right to. While the countertop oven has many impressive features, the glass door has been known to shatter when in use. It's not very well designed and although it's only an occasional issue, the potential is there. The oven is a hit and miss product and many have decided not to take the risk and search for a superior model. It could have been great but the risk of glass shattering everywhere means it's not one of the best portable ovens for baking.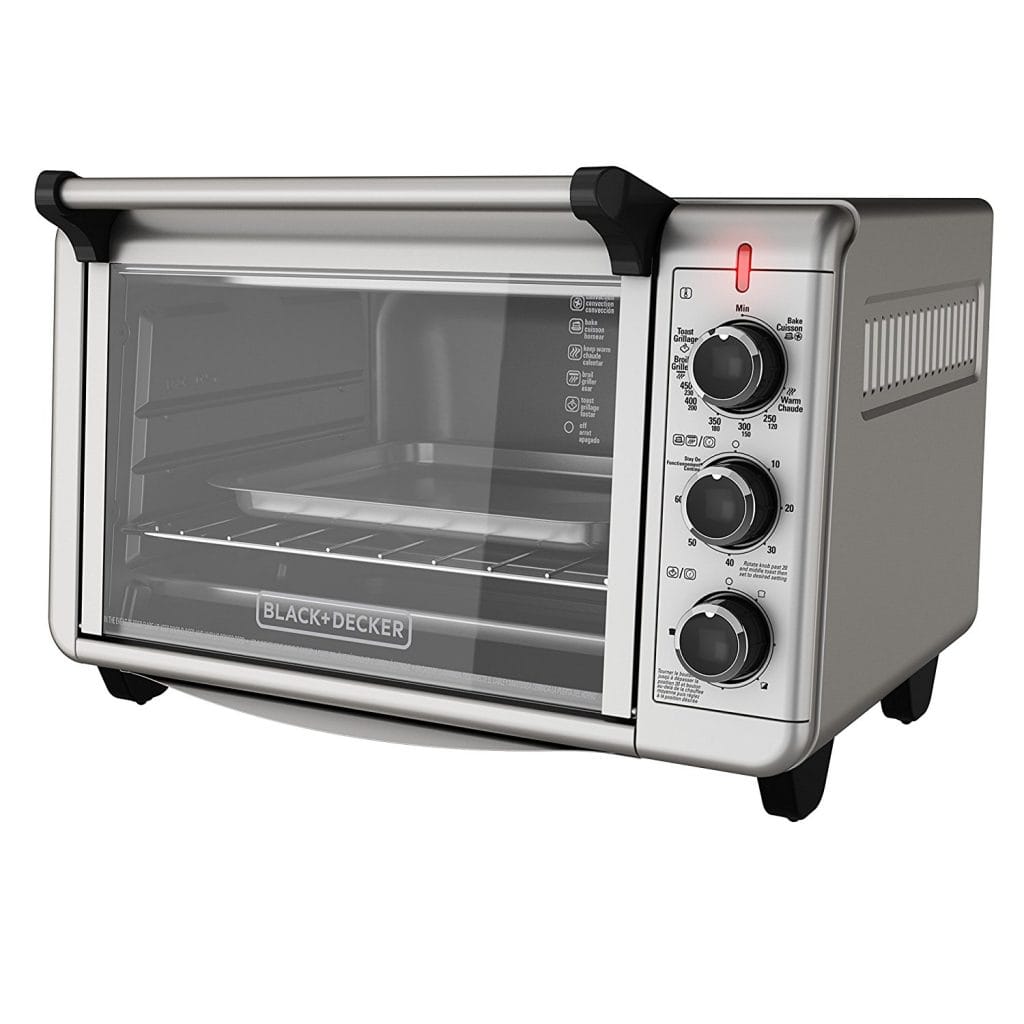 Black and Decker are known for their high-quality products, but did their mini oven meet expectations? Well, you'll be pleased to know that this portable oven has a toasting function. It's been overlooked in other models but Black and Decker have ensured people can toast, broil, bake and keep their food warm. There's a 60-minute timer, which is great because it means you can carry on with your day instead of needing to be close to the oven. You'll be able to fit a 12-inch pizza or six slices of bread into the oven with no issues.
The crumb tray is removable and easy to clean. Overall it's a solid model and can heat your food relatively quickly. The main problem with the oven is the wide wire racks. If you're making cheese based products then expect to have some overspill. It adds to the cleaning efforts and could have easily been avoided by the company. The low price makes it good value for money, but if you have a bigger budget, then you might want to purchase a superior model.