The Best Portable Gas Grills
Filed under: kitchen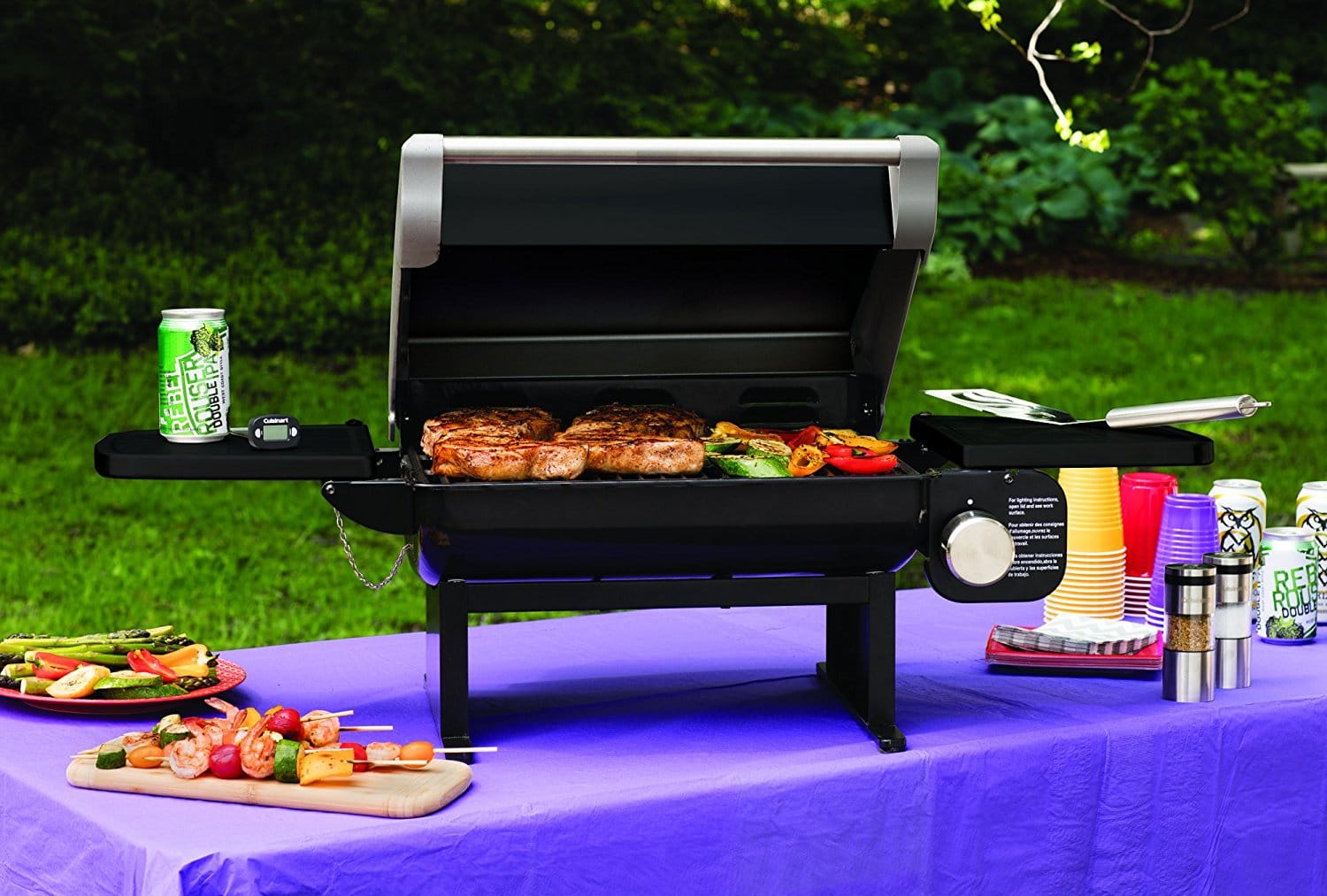 Portable gas barbecues are becoming more popular. They're easy to set up and transport which is perfect for family days out. Charcoal grills are being replaced by gas versions due to their versatility and ease of use. In this guide, we'll look more at gas grills and reviews the best portable gas grills on the market.
What Are Portable Gas Grills?
Portable gas grills are convenient to use and compared to charcoal grills they're so much easier to set-up. If you enjoy having parties with friends or grilling at the beach then a portable gas grill will allow you to do so with little effort.
Gas grills use propane, which is the only gas available. Natural gas isn't an option for portable grills as a gas line installation is required. As most grills are used outdoors, they're made of durable metals, such as cast aluminum, cast iron, and stainless steel.
The grills have a regulator which maintains an even burn. It produces better quality food due to the lower levels of carbon dioxide being emitted during cooking. Some say the best portable gas grills produce the highest quality of food.
The Advantages of Gas Grills
Portable gas grills are smaller than other grills and perfect for people living in small apartments. Some portable grills are so compact they can fit in a bag. It makes them the perfect solution to produce tasty meals with little preparation space.
Charcoal grills are messy to use and require more tools to work. Briquettes and lighter fluid are essential with charcoal grills, but with gas grills, all you need is the portable gas bottle.
Gas grills maintain a constant temperature and don't take long to heat. Charcoal grills take a while to heat and need to be checked constantly to ensure the heat remains consistent.
There's little cleaning required compared to charcoal grills. The grills need to be washed and the propane tank should be disconnected. They're easy to use and convenient to clean.
Things To Consider
You want your portable grill to last a long time and be able to withstand all weather conditions. Cast aluminum is the best option, because not only is it lightweight, it also resists discoloration. Stainless steel is the next best option, but ensure the grill your buying is genuine stainless steel as many manufacturers use cheaper metals.
The cooking surface of a grill is important as it impacts how your food tastes. Some frames are made of iron, which can rust quite easily and affect the quality of your food. Cooking surfaces coated with porcelain and stainless steel are the best options.
Portable gas grills range in price, with some being thousands of dollars. It's important to know what you're willing to spend and find the best grill for your budget. Some come with added features, but if you're looking for a no-frills grill, there's no need to spend lots of money.
The size of your cooking surface matters, especially if you're planning to use the grill for parties. Some manufacturers add cooling racks to the overall dimensions so make sure you know exactly how big the cooking surface is. If the grill is large, you'll need more propane so a smaller grill might be better.
The heat output of gas grills is measured in BTU. Smaller grills require a lot less BTU but too little can increase the cooking time. Meats like steak also need intense heat, so you need to make sure that the BTU levels suit the size of your grill.
Gas grills are ignited by either a push button, which generates a spark or an electronic system. The electronic system requires a battery but is guaranteed to start with just one press each time.
The Best Portable Gas Grills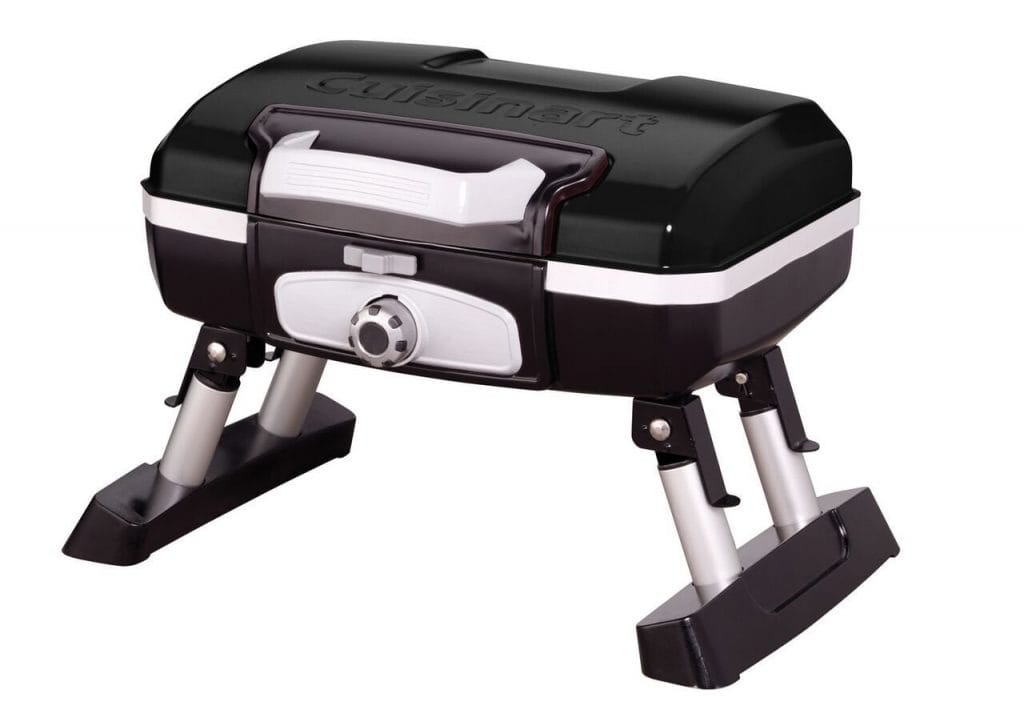 This gas grill has a 145-square-inch grilling area and folds away legs, making it a compact grill which is easily transportable. It can cook up to 8 burgers at once, making it ideal for families and small parties. The grill is porcelain enameled which ensures durability and an even temperature. The suitcase style handle makes it easy to carry and overall the grill produces good quality food. It starts quickly and the BTU levels enable food to cook quickly.
A small problem with the grill is the small capacity of the drippings catcher. If you're cooking a lot of food it can overflow and in the worst cases catch fire. The attachments can sometimes fall off after moderate use, so it's unlikely the grill will last a long time. Overall it's not one of the best portable gas grills out there, but if you're not planning on using it regularly it will provide good quality food.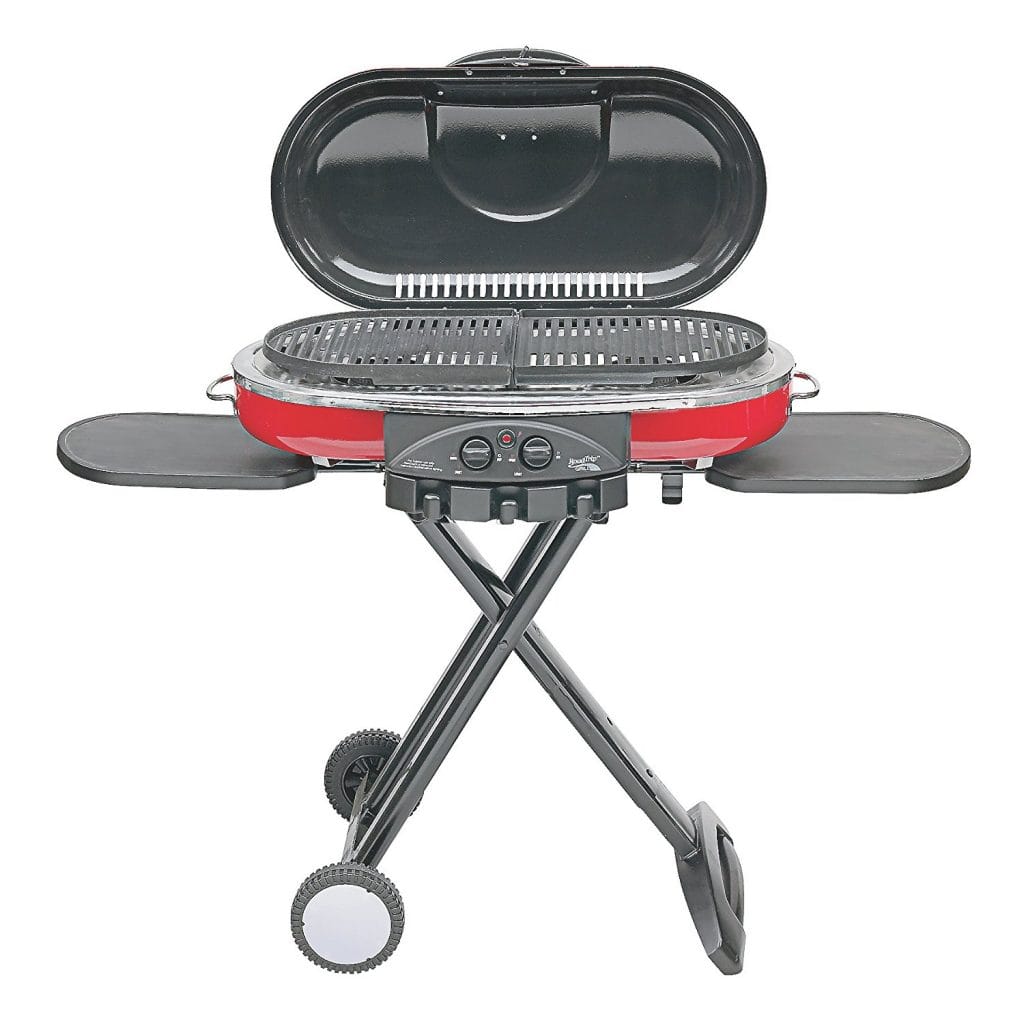 If you're looking for a powerful grill then this one won't disappoint. Delivering 20,000 BTU's of heat over a 285 square inch grilling surface, it's perfect for families and larger groups. It's easy to transport and despite being slightly larger it will fit in most car trunks. The grill area is made of cast iron and coated porcelain which ensures it will last while also producing quality food. Anyone can move this portable gas grill by either lifting it or rolling it along.
The assembly is easy, and tools are included with the grill. It takes about 20 minutes to set up, and then there's no more work required. The grill ignites with one push of the button and the grill heats up quickly. It produces good quality food, whether cooking for a small party or larger groups. The heat consistency can be difficult to control, so you will need to practice with temperatures but it's only a minor issue. Overall it's definitely one of the best portable gas grills on the market.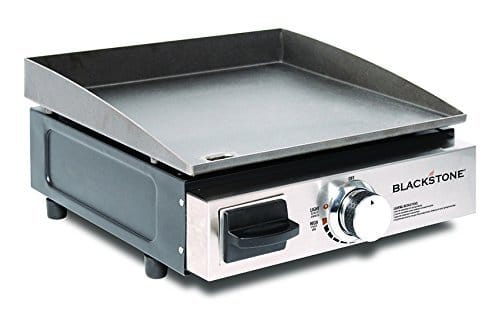 Easy to use, this griddle is perfect for those who prefer a more relaxed way of life. It's so easy, you don't even have to clean it. All you need to do is wipe it with a paper towel after use. There are 260 inches of cooking space so there's plenty of room to cook for families and large groups. It heats up very quickly and is powered with 12,000 BTU's. Heavy-duty steel ensures long-term durability and this sturdy grill can be taken anywhere.
There's nothing negative to say about Blackstone's grill. It's one of the best portable gas grills and provides an even temperature with excellent results. It's easy to clean and maintain, with a sleek design. Whether you're camping, hosting a party or just having some family time this grill won't let you down.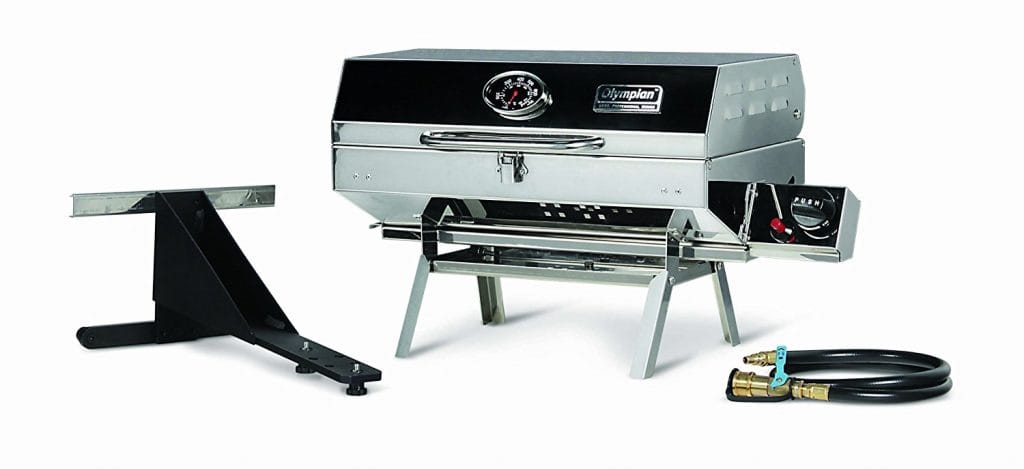 If you have an RV then this portable gas grill will connect to the low-pressure propane supply. There's also a mounting bracket and collapsible legs so it can be used on tabletops too. The grill has 180 inches of cooking space and an electric starter, making it easy for quick use. There's a cast iron smoker plate to produce good quality meats and it's made of stainless steel which guarantees durability.
The temperature and flow can be adjusted with a small screwdriver, which gives you added elements of control over the grill. Many outdoor grills have an issue with producing an even temperature, but Camco's grill won't let you down. If you're looking for a versatile gas grill then you can't go wrong with this one. Be warned though, the ignition is powerful so don't get too close when firing it up.
Webers portable gas grill is made from cast aluminum, which is the best metal to use. It doesn't discolor and ensures a lot of durability. The unique shape is ideal for maintaining heat and producing excellent quality food. The stainless steel burner produces 8500 BTU which heats up a cooking area of 189 square inches. There's also an electric ignition button, meaning there's little effort required to start up the grill. There is also a range of heat settings so you can cook a variety of foods.
It's a small but powerful grill, which is perfect for apartment use and easy to transport. The only issue is the carrying handle which is obstructed by other parts of the grill. It's a minor oversight, but trying to carry it can be annoying. The heat can take a while to reach high temperatures, but when it does the food cooks adequately.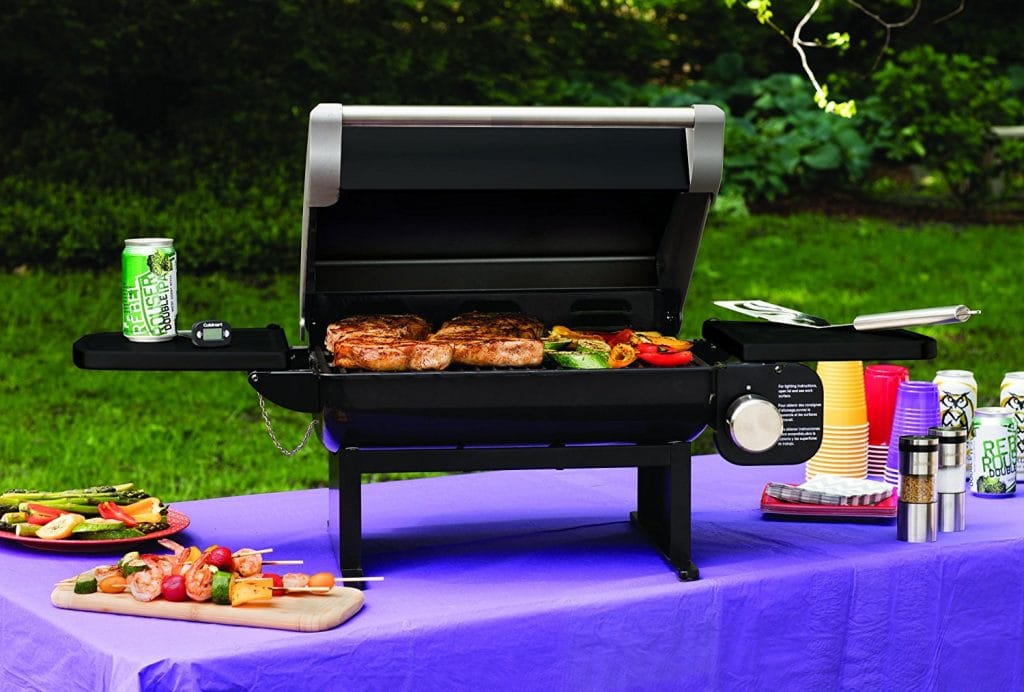 This versatile grill doesn't only cook a wide range of foods, it also stores tools and drinks while cooking. There's a cast iron cooking surface and it starts by twisting the ignition button. You can control the temperature using the built-in precision thermometer which allows you to cook steaks in the way you prefer. The great thing about this grill is it comes with a veggie panel, which is perfect for separating meats and catering for vegetarians. The BTU output is 12,000 which is lower compared to other grills but it still heats up effectively.
Despite being made from good material, the grill falls apart easily and doesn't last very long. If you plan to use it regularly, then you may only get a year out of the grill before having to replace it. Putting the grill together is not the easiest task, and there are other grills out there that offer a lot more convenience. Overall, it's not one of the best portable gas grills out there and for the price, there are longer lasting options.
Colemans lite grill is compact and transportable, which is ideal for campers and travelers. The BTU output is 8500, which isn't as large as a lot of other grills but it will still heat up food adequately. There are 168 square inches of cooking space, so you can fit a moderate amount of food onto the grilling area. An insta-start button allows you to fire up the grill instantly, and EvenTemp burners maintain a constant temperature. The grill can easily cook two large steaks without any hot spots.
An issue with this grill is there can be too much heat. Even on the low-temperature setting, it emits a lot of heat and the regulator needs adjusting to reduce this problem. The legs and drip tray can also be quite unstable, which causes problems when transporting it. The idea of portable grills is that they can be transported regularly without becoming damaged. Unfortunately, this grill doesn't seem to be able to do this and isn't really worth the cost.