The Best Portable Steam Cleaners
Filed under: cleaning
Steam cleaners are a popular choice for cleaning a range of materials. They offer an alternative to cleaning products and remove stains. In this guide, we'll look at what steam cleaners do, the types of steam cleaners and review the best portable steam cleaners on the market.
What Are Steam Cleaners?
Steam cleaners are devices that allow you to clean a variety of surfaces. There's no need for any cleaning solution as the cleaners work with just water. The water and cleaner create a dry vapour by heating it in a boiler. Temperatures can reach up to 360F and the pressure is usually 150psi.
The power generated by the cleaners mean they're effective in removing stains and dirt. They also kill bacteria, mould, fungus and other bacteria. More modern machines have refill tanks which enable the user to add more water as they clean. There are also detergent tanks where people can add cleaning fluids although the water on its own is often enough to remove any stains.
High technology cleaners use vacuums which empty their contents into extraction tanks. This means they can be used with no towels, increasing their productivity.
There are also attachments for the cleaners to provide effective stain removal for a multitude of surfaces.
The Advantages Of Steam Cleaners
Steam cleaners don't require the use of toxic chemicals such as bleach and ammonia. They remove up to 99.9% of bacteria with just heat and water, keeping houses free of chemicals.
If you have pets or children, then you want a safe environment for them. Steamers are non-toxic which means they won't ingest anything harmful. Sodium Hypochlorite is a common chemical in cleaning agents and it can irritate skin, burn eyes, and damage lungs. Bleach is also a harmful chemical and pets ingest it due to the smell. It can be fatal and is best avoided in households.
Using only water and heat guarantees safety for people with asthma and allergies. Chemicals can aggregate symptoms and cause respiratory problems.
Steam cleaners use only water and electricity so you'll save a lot of money. The costs of purchasing special cleaning agents can mount up and the initial cost of the steam cleaner guarantees a cost-effective long-term investment.
Mould can cause health problems as it produces deadly mycotoxins. Many think bleach kills mould, but it only turns it white making it blend in with the surface. The heat steam cleaners produce allow them to completely remove mould and the attachments can clean in between tiles and other surfaces.
The Types Of Steam Cleaners
Steam Mops
These cleaners are designed for cleaning floors and have a water tank attached to the handle. They're great for households but the design means they're only suitable for floors. They don't work well on other surfaces such as counters and walls because they are designed to suit flooring. Steam mops also have to be refilled frequently.
Cylinder Steamers
Cylinder steamers are bulky but effective cleaners. They have a large water tank so there's not much need to refill and they have many attachments suitable for cleaning a range of surfaces. Cylinder steamers are expensive and can be hard to transport due to their size.
Vapor Steamers
Vapor steam cleaners are like cylinder steamers but they offer a "dry" clean. They do this by creating a high heat which leaves surfaces dry. Vapor cleaners are powerful machines but their expensive. Their large size makes it harder to maneuver and they're difficult to store.
Handheld Steamers
Small, portable and easy to maneuver, handheld steamers are the most popular choice. Their also the cheapest option but still provide an effective clean for all surfaces. Although the steamers are compact, they still clean flooring and windows well. They can take more time to clean larger surfaces but are brilliant for reaching difficult spots.
Things To Consider
Weight and Size
Look at the dimensions and weight of cleaners before you choose one. Some are lightweight and suitable for household use, but the industrial cleaners can be very heavy and hard to store.
Cost
Handheld steamers are the cheapest cleaners, but they still deliver strong results. Affordable steamers perform well and many people go for the higher priced models when they don't need to.
Attachments
If you want to clean a range of surfaces, make sure you purchase a steamer with attachments. Some have more than others and you need to consider which areas you need to clean before you make a purchase that doesn't fit all your requirements.
Water Tank
The water capacity a steam holds varies in models. Steamers with small tanks need refilling more often but they are quicker to heat. Handheld steamers often have smaller tanks but they finish jobs quickly.
Pressure and Temperature
Steamers with higher temperatures and pressures remove stains and kill bacteria more. It's also essential to consider whether the steamer can maintain pressure.
Noise Levels
Nobody likes a noise, and the industrial models can be quite loud. Some cleaners list their decibel level so you can consider how much noise you're willing to tolerate. Many steamers don't list their decibel levels so do some research before you buy one.
The Best Portable Steam Cleaners
The ProHeat is designed to clean carpets, upholstery, and rugs with heatwave technology to maintain water temperature. There are attachments including the deep stain tool and tough stain tool. Bissell also includes their own formula to aid in the cleaning process. The steamer is compact and easy to carry, making it perfect for transporting around the house.
The steamer works well to remove stains, and will effectively clean a number of substances. It's easy to store and carry, and the formula is a welcome bonus. However, the hose can leak which causes dirty water to be released onto the flooring. It's not practical and defeats the object of the steamer. For that reason, it's not a strong contender for the best portable steam cleaners available. The versatility isn't great either as it's meant for carpets and upholstery.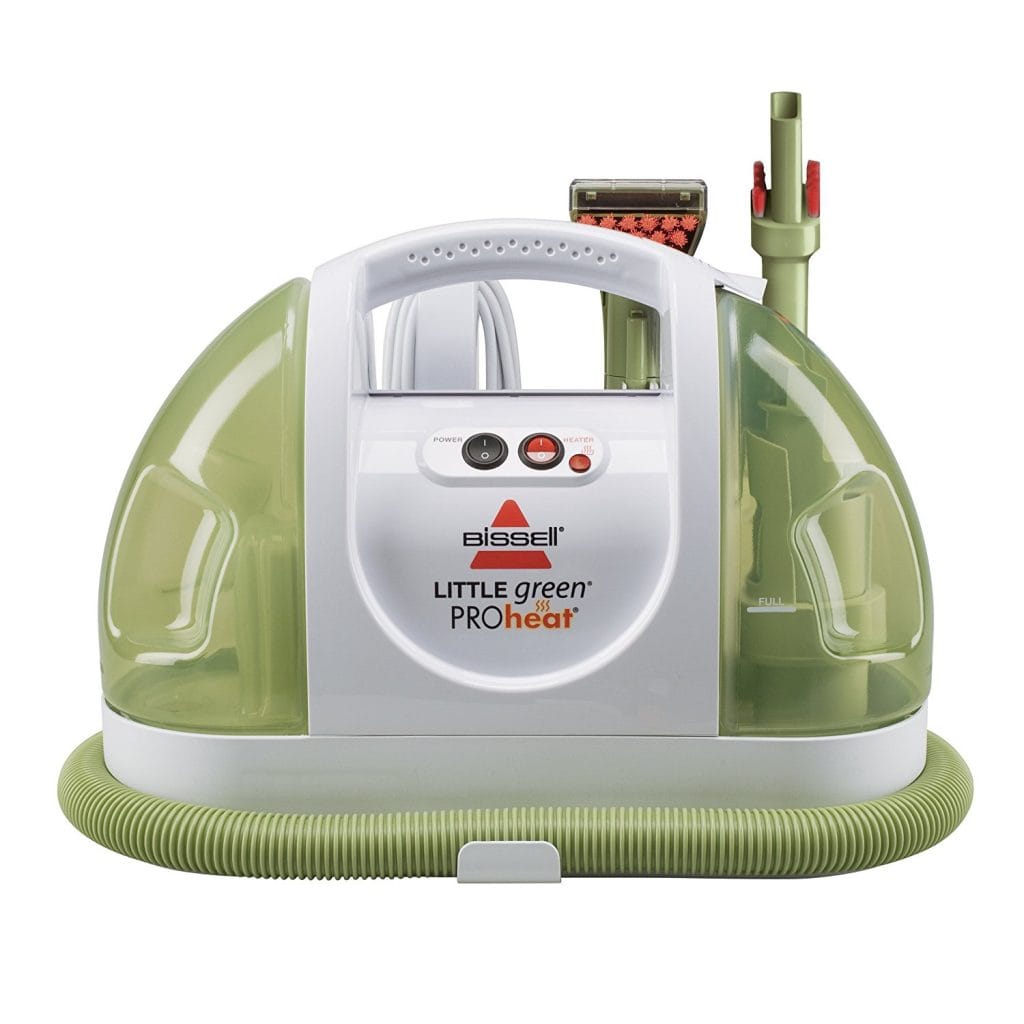 Instead of being a typical steamer, this little green machine has a multi-purpose wet vacuum which provides deep cleaning. It's designed for carpets and has a spray and suction clean feature. It also has a hot water heater and the biggest advantage is the separate clean and dirty water tanks.
The cleaner has tools to reach difficult areas and can be used for all upholstery, including car interiors. The little green isn't as powerful as a regular steam cleaner, but it still delivers good results. If it's left full of water for a while then it will leak, so it's important to empty it regularly. The biggest issue with the cleaner is its durability. The lightweight design won't last long and it's susceptible to leaks and the hose breaking. It's not one of the best portable steam cleaners but if you're on a budget it will remove stains effectively.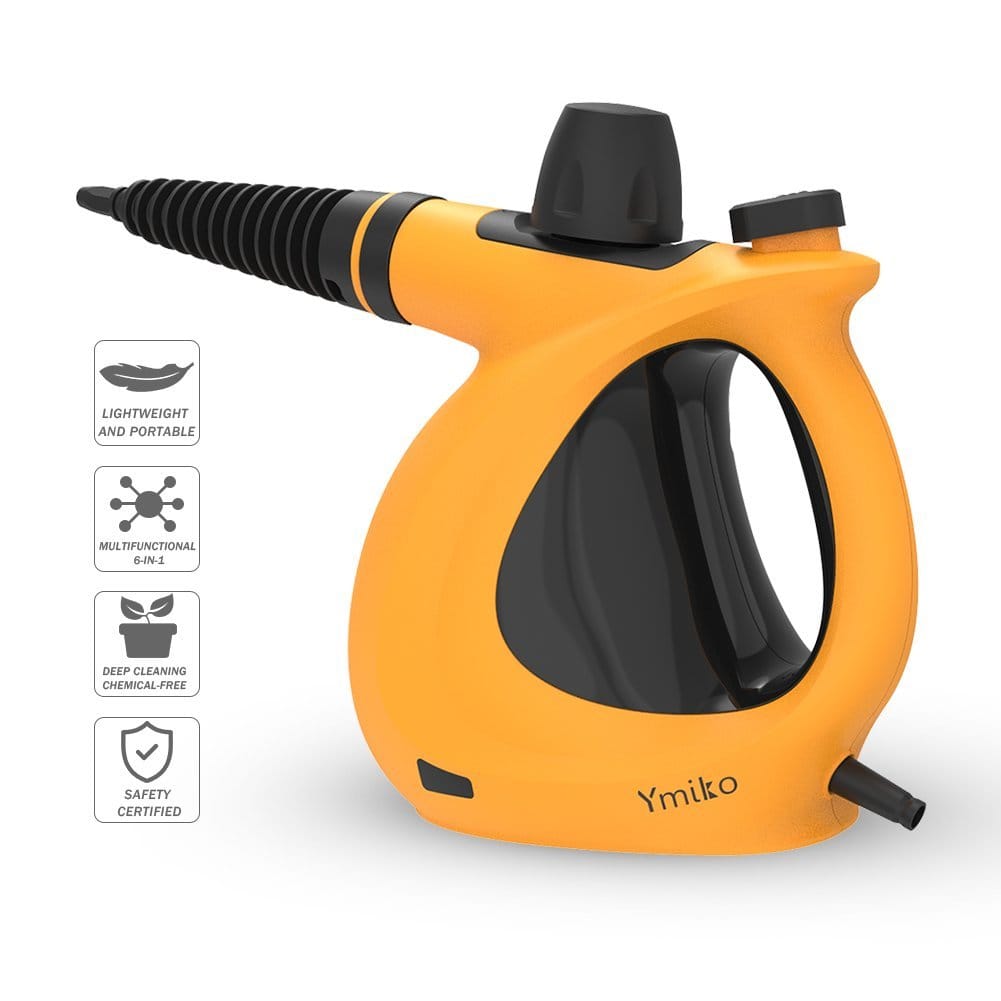 If you're looking for an all singing all dancing cleaner then this could be the one for you. The multi-purpose design cleans a range of surfaces and comes with nine attachments. The water heats within 1-3 minutes allowing you to use it whenever you want. There's also attachments including tools to clean windows and a fabric cleaning tool. The pressure this steamer offers is amazing and three times more than others.
The cleaner is effective and will cut through grease and tough stains without damaging the surface. Despite its small size Ymiko is a powerful cleaner and it delivers great results. The only issue is how long the steam lasts. The company claims you can get 15-20 minutes of steaming with a full tank. However, the hose can start spitting after a few minutes. It's great for cleaning in small bursts, but for a long sustained clean it's not one of the best portable steamers.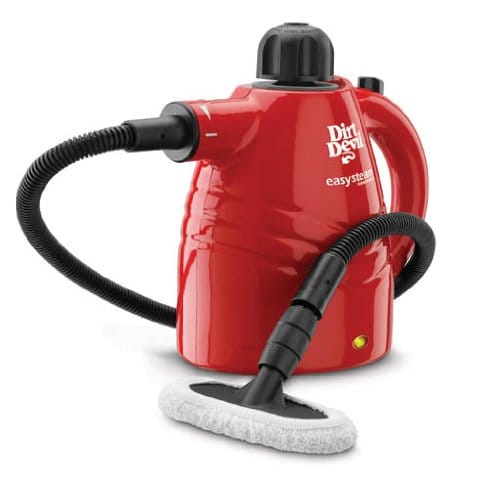 Dirt Devil has created a steamer which is suitable for cleaning a multitude of surfaces, including inside the refrigerator. There's a jet extension tip to reach difficult surfaces and produces a fine steam. There's also a wire grill brush and the machine weighs just 2.6lbs. It's easy to carry and store with a contoured grip handle. For such a small machine there's a lot of steam produced and it gives a powerful clean.
If you're looking for a steamer to clean your upholstery, then Dirt Devil won't give the best results. However, it cleans other surfaces well and despite some small problems with the hose attachment, the overall design and durability are good. It may not be one of the best portable steamers, but it's budget-friendly and will perform well on hard surfaces.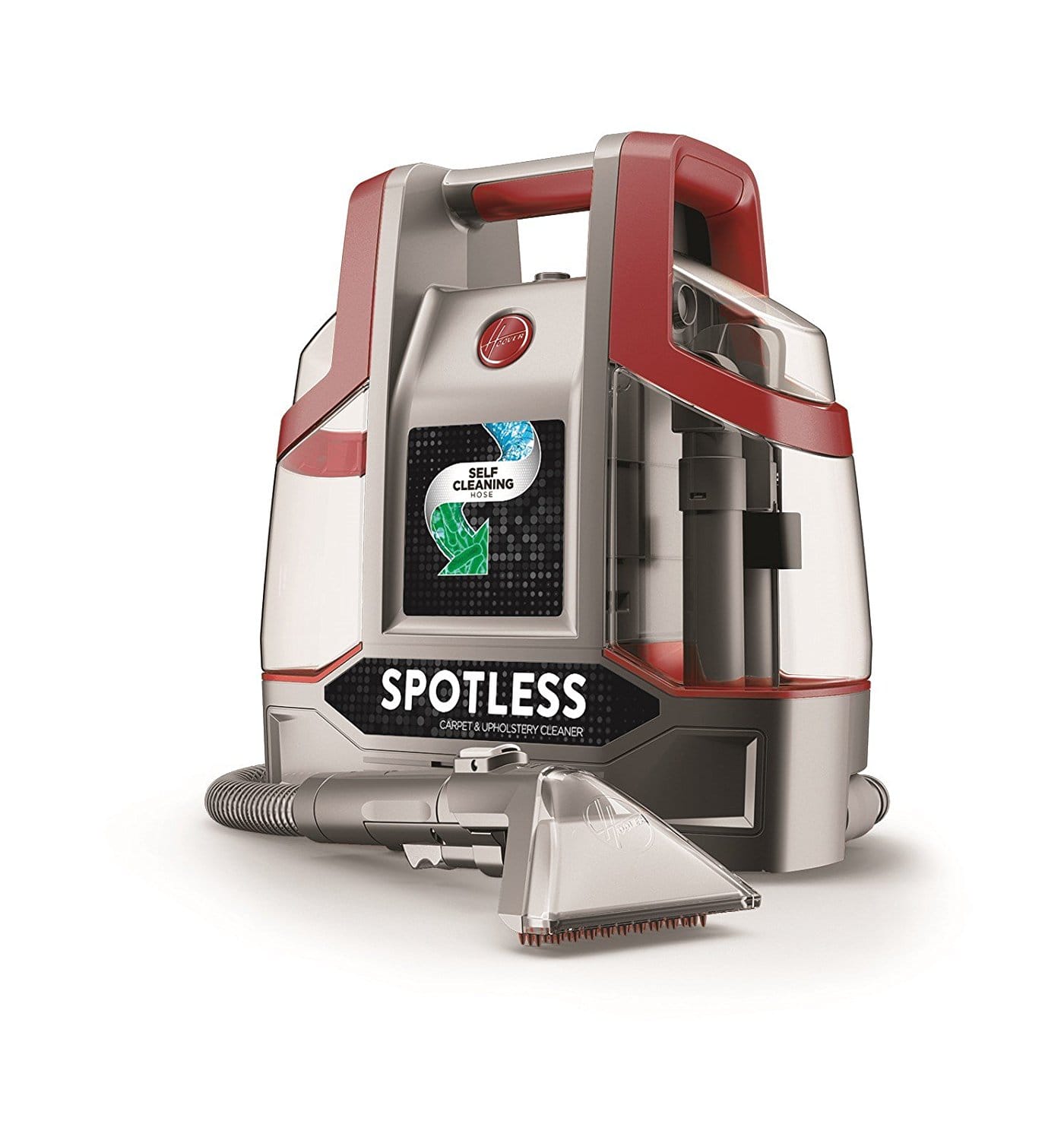 Hoover's unique design has so many features, including its own self-cleaning hose which prevents odours and bacteria building up after each clean. Powerful suction is combined with deep cleaning tools to provide effective stain removal. There are also two removal tanks to separate clean and dirty water which makes it more convenient to use. The machine is lightweight and easy to carry around. The tanks lock into place making it a durable machine guaranteed to last. For the price, it's one of the best portable steam cleaners.
The only issue is that the rubber attachment can leave marks on upholstery and pieces sometimes flake off. It's not a huge issue by any means and the functionality makes up for this minor oversight. There are also a few minor issues with leaks if the tanks aren't emptied regularly, but with proper maintenance, the steamer will last.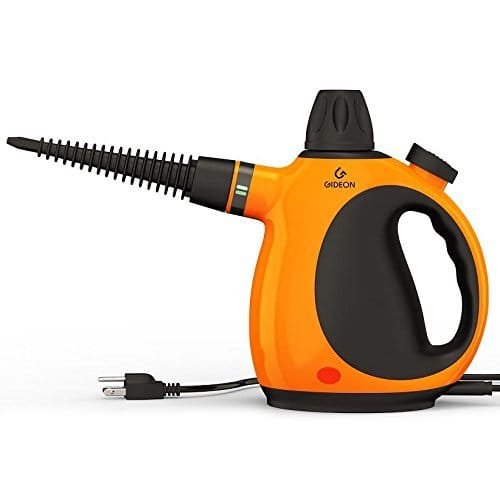 Gideon's steamer is a multi-purpose machine with powerful pressure. It cleans a variety of surfaces and claims to emit steam for 20 minutes. There is a range of attachments to clean hard to reach areas, and the long power cord allows you to move around the room freely. it's important to not overfill the water tank as it will leak and steam won't be produced. Even clothes will be steamed without damage which shows how good this steamer is.
The large water tank means there is less need for constant refills and the steamer heats quickly. The only real issue is the steamer isn't great at cleaning difficult stains. It's perfect for fabrics and upholstery but when it comes to mould and showers there are better machines.