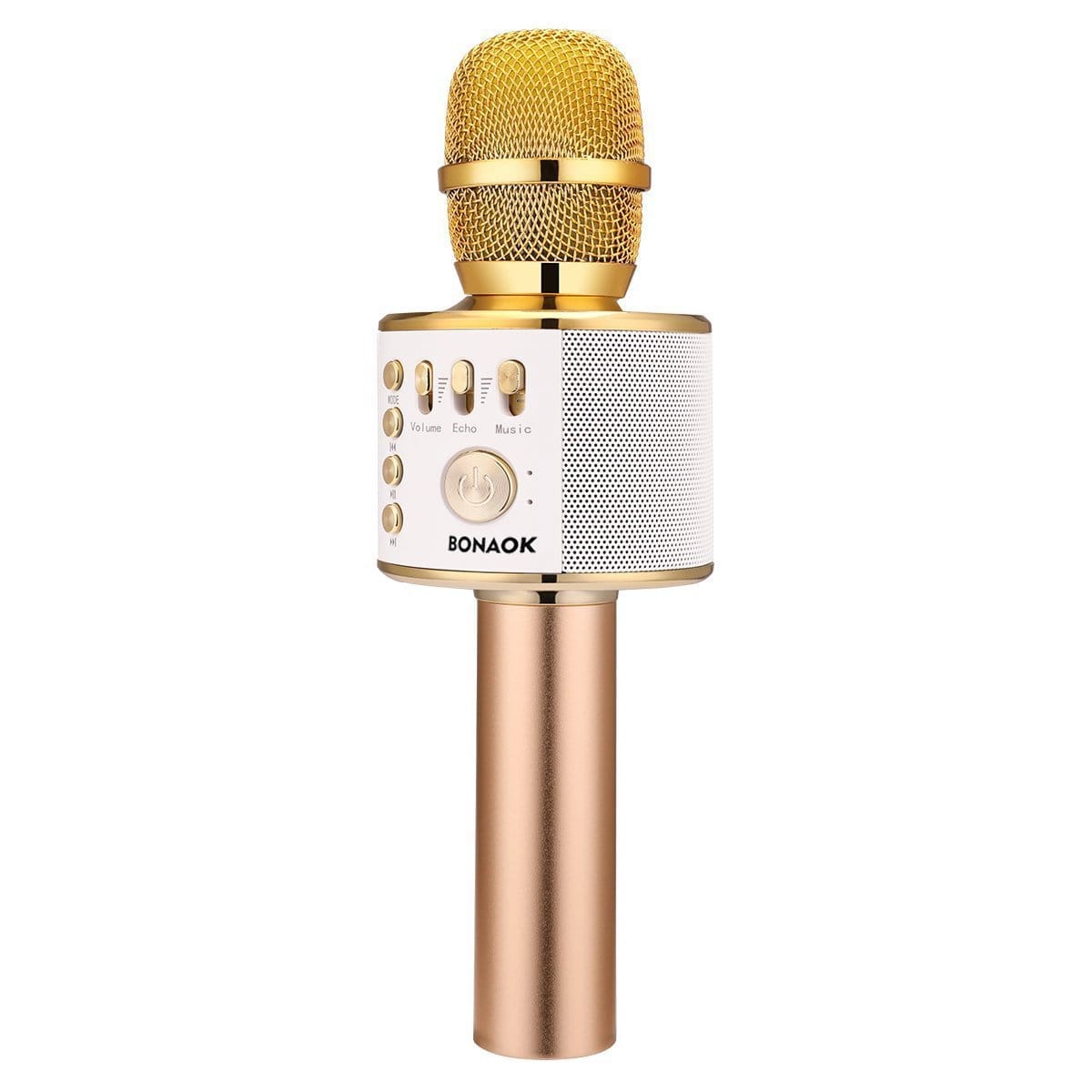 Most people remember the days of plugging in a karaoke and belting out their favourite songs. The machines provide fun for friends and family as well as giving people the chance to improve their singing skills. Many pubs hold karaoke nights and they're popular with the public. Technology has allowed the machines to become more advanced as well as affordable. In this guide, we'll look at portable karaoke machines, the advantages of them and review the best portable karaoke machines on the market.
What Are Portable Karaoke Machines?
Portable karaoke machines allow people to use them in a range of places. Whether it's just moving them around the house or taking them out, they provide convenience. Other machines have to be kept in one location or are heavy to carry. They used to be associated with poor quality but thanks to technology; the machines are high-performing and have loads of features.
Some portable machines can hook up to external televisions and speakers but higher priced one have integrated screens and speakers. They perfect for DJ's and party planners as their transportable as well as capable of powering up bigger systems.
Ten years ago Karaoke machines were a luxury and the portable devices couldn't compete with hardware and software options. Now you can find any portable karaoke machine that will meet your needs as well as giving hours of fun.
Hardware vs Software
The software of a karaoke machine comprises of the digital interface and programmes used to operate the karaoke machine. The hardware is the physical components of the machine. This includes the microphones, audio input, CD, and speakers. While the software is important, the hardware should be taken into more consideration. Some machines without built-in screens don't even use any software, but the quality of the hardware impacts entertainment value.
The Advantages of Portable Karaoke Machines
There are many advantages karaoke machines offer, and they're a popular option because of their versatility.
The machines can be used in a variety of locations and are easy to connect. There are no movement restrictions so they are perfect for parties and professionals.
Their small machines that can be stored and transported. The portable machines fit into your car with no need to move seats and their light to carry. Compared to other karaoke machines they take little exertion to lift and even children are capable of moving them.
If you're on a budget, then a portable machine is the choice for you. Their low prices but have all the features included in higher priced models.
Things to Consider
There are aspects to consider when purchasing a portable karaoke machine. If you want a high-quality machine, then the following points are important.
Power Output
The most critical part of purchasing a portable machine is the power output. It cannot be upgraded so the machine you buy will need to have a good output if you want it to last a long time. For adult use, a minimum of 30 watts is required but some machines come in an output of 60 watts and karaoke lovers will want the largest output possible.
Sound Quality
While wattage is important, the sound quality matters too. For a good experience, you need to make sure the speakers are of a good quality and the microphone is good. If the individual components aren't performing enough, then the wattage will distort the sound.
Size and Portability
There are different sizes of portable machines, and some are harder to transport. For home and family use smaller machines are adequate and won't require heavy lifting. Larger machines are more suitable for professionals.
Laser Eye Quality
The laser eye reads the music and lyrics so people can enjoy the singing experience. Lower priced portable machines often have laser eyes that miss out on 30% of commercial CDGs. Make sure the machine you buy has a high-quality laser eye.
Additional Support
The most fun anyone can have with a karaoke machine is when singing a duet or in groups. Find a device with support for connecting extra microphones.
Compatibility
Most players are compatible with CDG formats but if you want an all-around experience, then find a machine compatible with mp3, Wma, and mp4 formats. That way you'll be able to keep your machine longer as more songs move towards mp4.
Voice Cancellation Technology
Voice cancellation technology allows you to take away the vocals from any music and displays the lyrics for you to sing along to. It's great for use with a radio and can provide hours of fun without the need of purchasing music. It's not a necessary feature, but it's worth spending a little extra money for the experience.
Storage and Recording
Most machines have a built-in ability to record and can even burn CDs. This is essential for professionals and can be fun for families. They also allow everyone to have a good time and enjoy the machine.
The Best Portable Karaoke Machines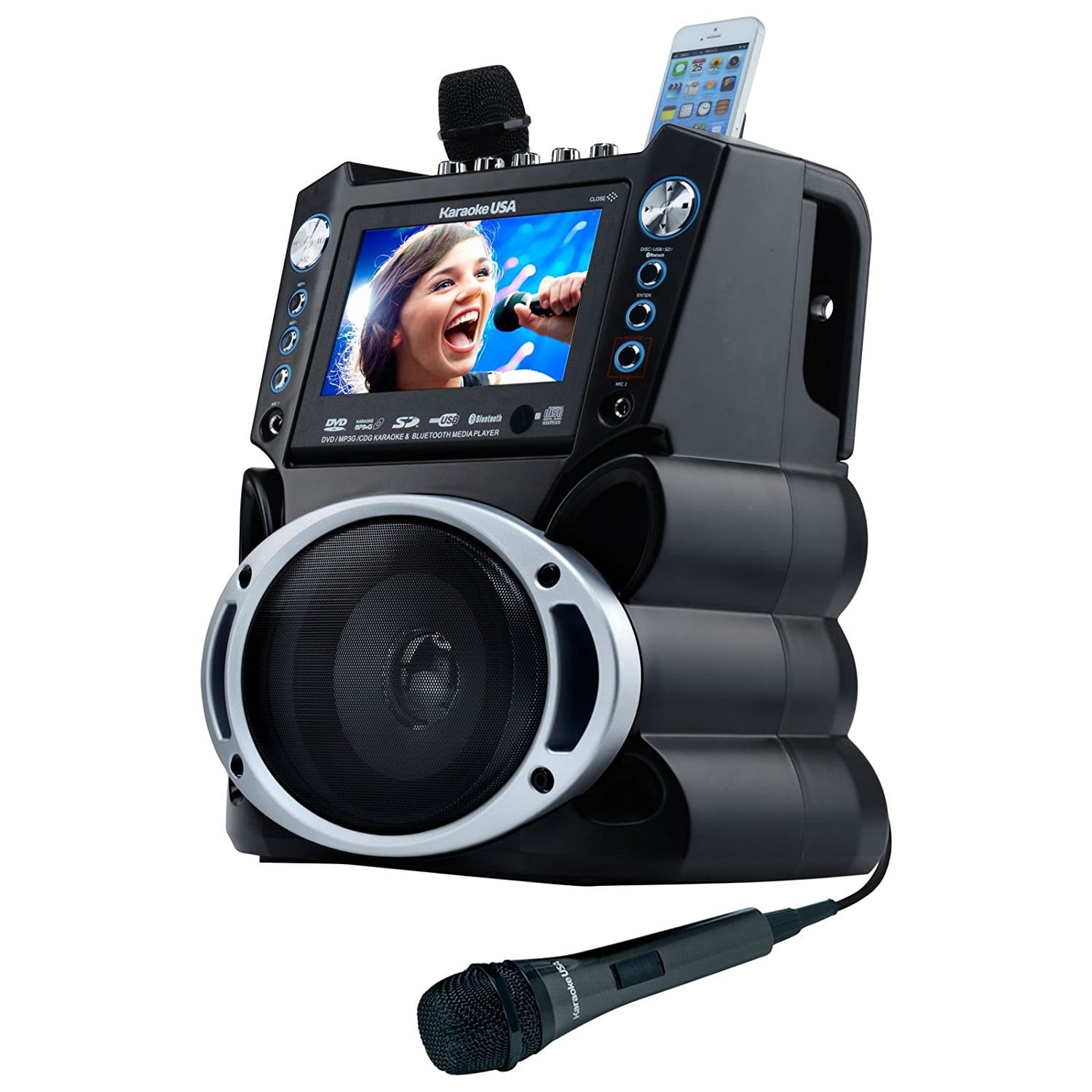 If you're looking for a versatile karaoke machine then the USA will certainly deliver. It has a colour screen to show song lyrics, as well as playing DVDs. Its auxiliary input is compatible with most consoles and personal players. You can also connect your smart device with Bluetooth. Duets are possible as the machine is capable of holding two microphones and the machine will connect to a TV for a bigger picture and sound quality.
With a wattage of 35, it's a machine aimed at children rather than adults. The two CDs that come with the karaoke only have children's songs and the variety isn't great. The controls are easy to operate but the sound quality isn't great and if it's turned up loud, the speaker doesn't like it. Overall it's an adequate machine but the old-fashioned songs and speaker quality let it down.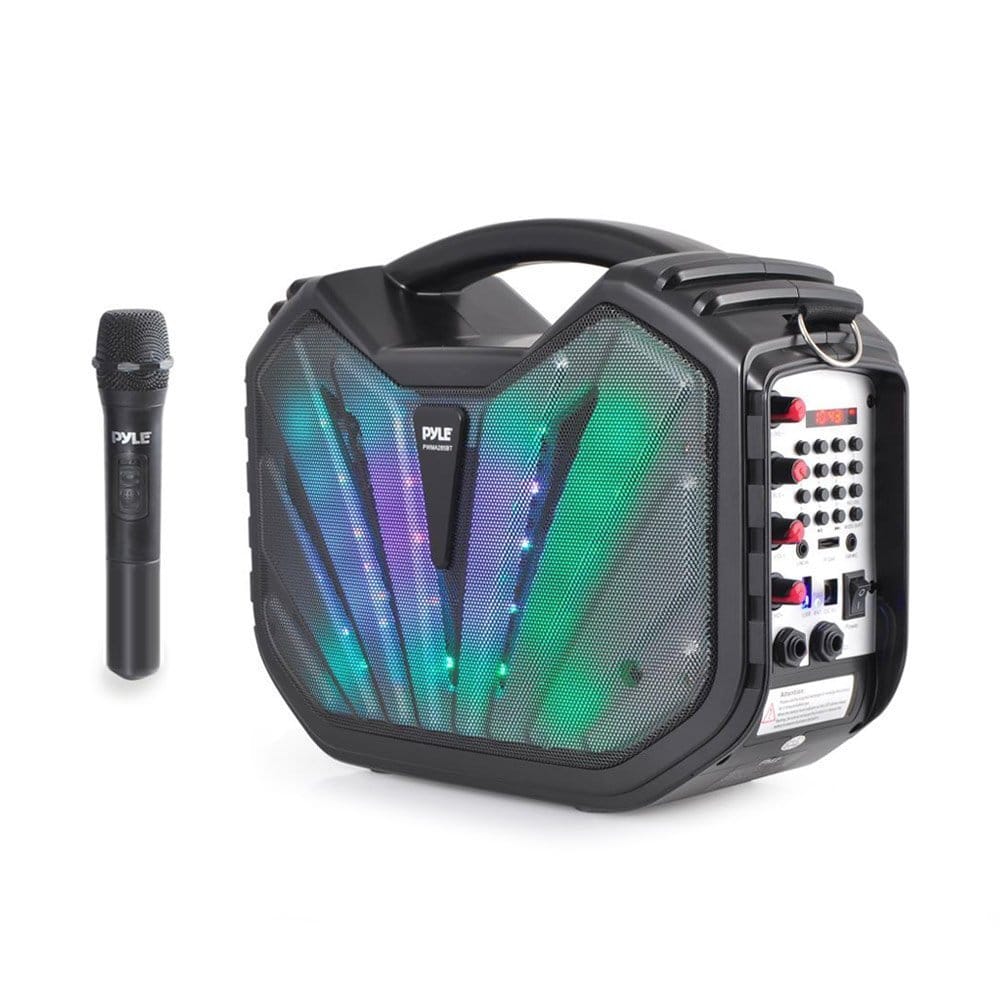 The Pyle machine has the very much appreciated ability to stream music. It means you can pick your favourite songs to enjoy. You can also connect all of your favourite devices and comes with a rechargeable battery, making it more economical. Parties will be fun with the flashing DJ lights and the LCD digital display. The microphones are also wireless, and it's a high tech design with a lot of versatility.
The machine is light and easy to transport and the array of features make it a truly wonderful machine. The only issue is the microphone quality. It's not awful but some people may find the sound isn't good enough. However, with the superior functionality, it's definitely one of the best portable karaoke machines on the market.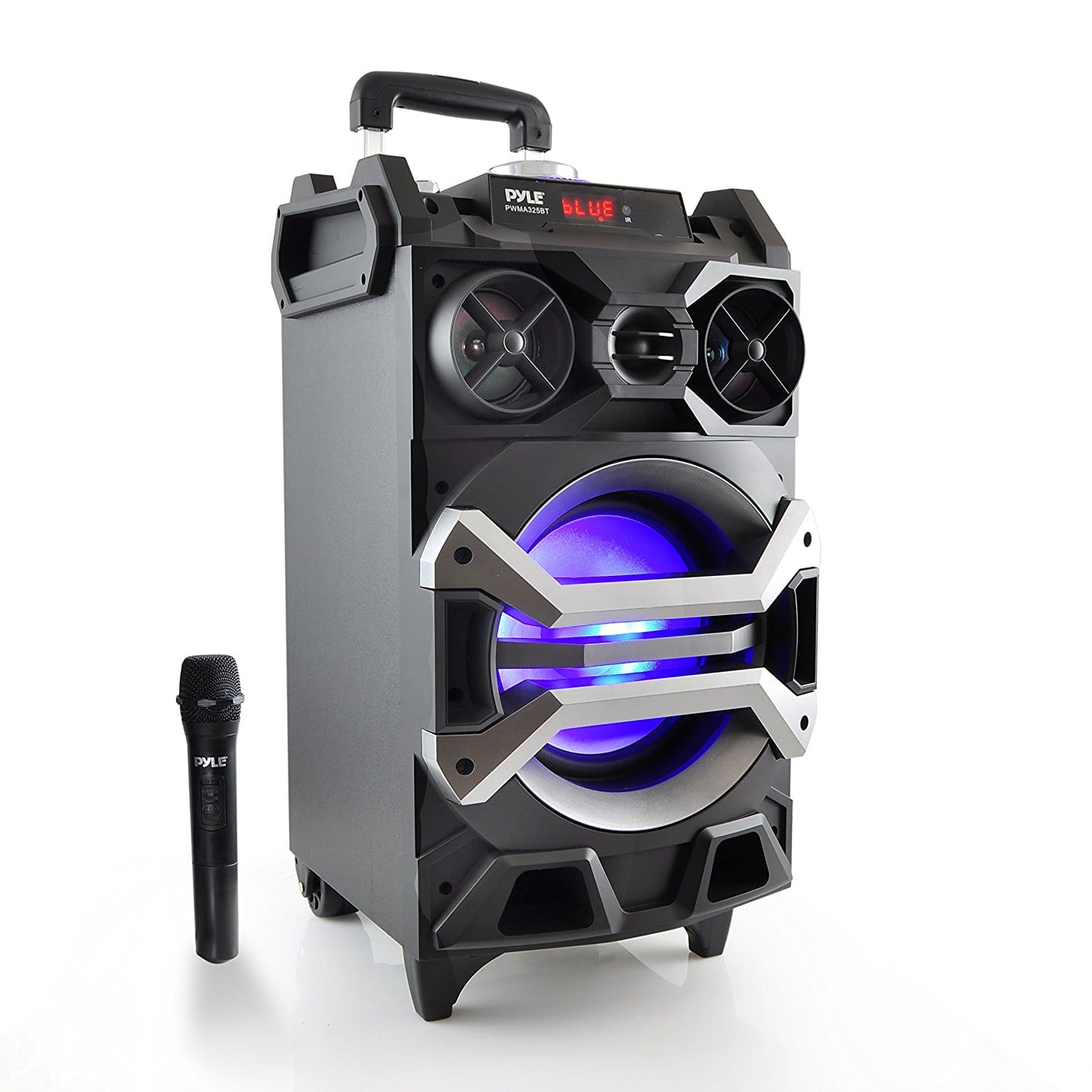 This 500w machine is a high powered karaoke, suitable for outdoor use. The DJ lights flash in different colours making it perfect for parties. There is also a recording ability to sing your own songs and listen to them later. The best thing about this machine is it has wheels which make it easier to transport. The wireless Bluetooth setup means your favourite devices can be connected without the inconvenience of extra cables. There's also a rechargeable battery to save money in the long run.
The main problem with the machine is the microphone. It's not got the best sound and it can drop in and out at certain ranges. If you want a consistent machine then this probably isn't the best option for you. The microphone is one of the most vital components and it doesn't live up to expectations.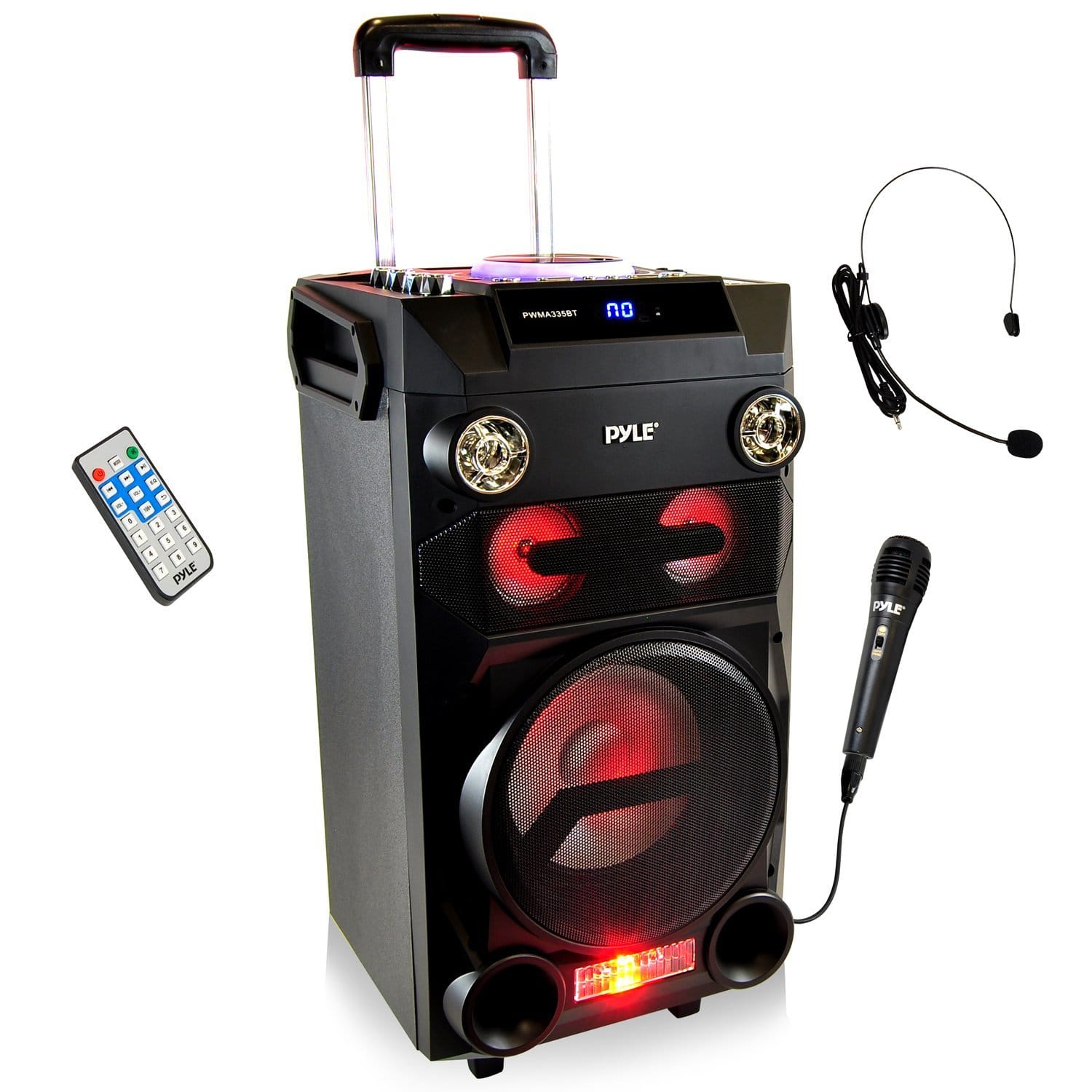 This powerful machine has an 8" subwoofer to produce a high-quality sound. The wireless range is up to 65ft, which is a good distance for parties and there are FM radio and recording abilities. A rechargeable battery makes it convenient to use and saves costs. A welcome extra is the flashing lights, which will get everybody in the party mood. Transporting the device is easy with the carry handle and wheels.
Many karaoke machines have a sub-par sound but Pyles karaoke has a superior sound quality with no distortion. It's the best part of the machine and even at a low setting the karaokes loud. A common problem in portable machines is the quality of the microphone. This one is no different, with a distorted sound and problems fading in and out. Overall the subwoofer quality makes it one of the best portable karaoke machines on the market.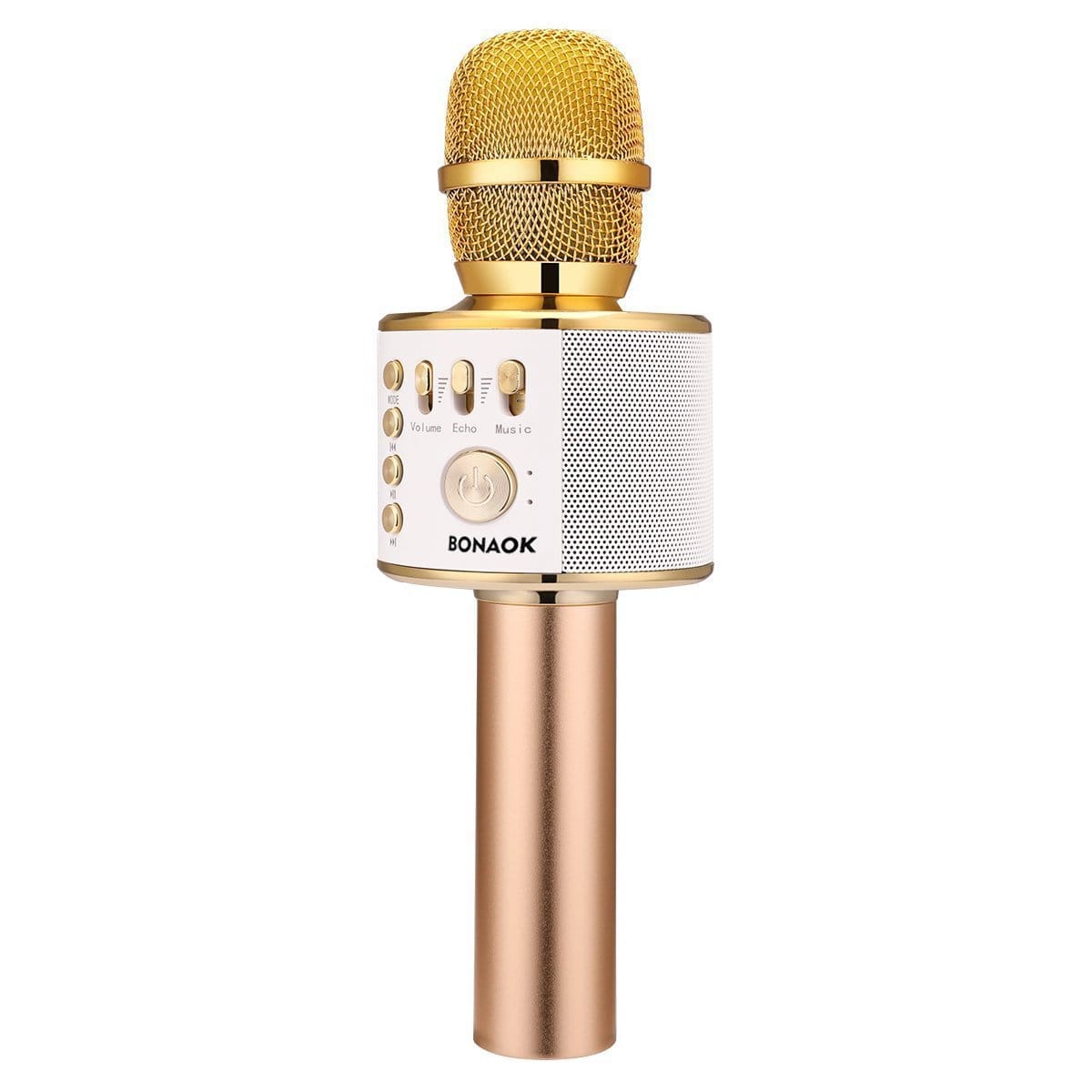 This slightly different design is a portable karaoke microphone instead of a machine. It's an interesting concept, and certainly more convenient to transport but can it compete with the machines? The microphone is designed with three layers of filter head, to stop buzzing noises when singing. It also offers clarity with wind and air flow filters. Built-in speakers produce a superior sound quality and the machine has a mixer which allows you to switch between modes. It's also compatible with smart devices and has Bluetooth capability.
It's a fun karaoke idea and will provide hours of fun. The best part is the compact design which can be taken anywhere. There are mixed reviews about the sound quality but as long as it's being used in a relatively quiet environment the microphone works well. There's also volume control built into the device. The unique and inventive design makes it one of the best portable karaoke machines available.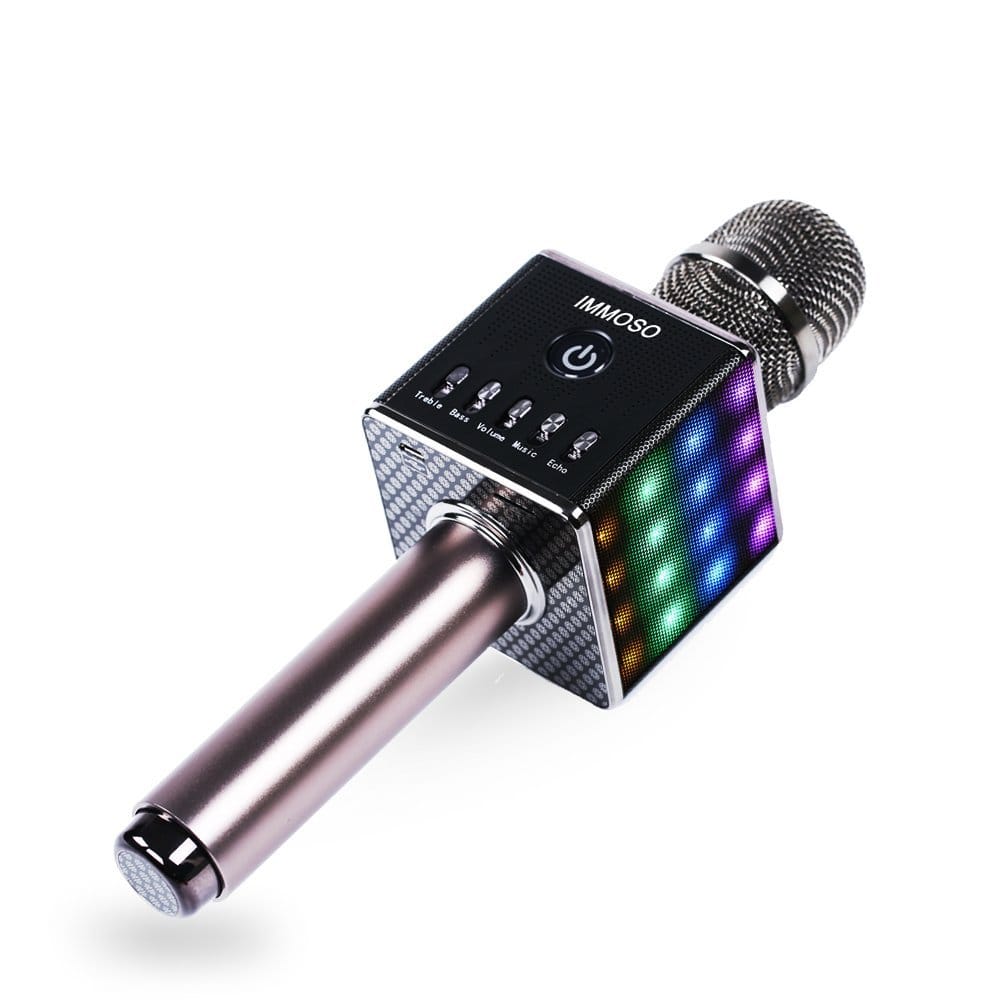 This all singing all dancing portable microphone is perfect for parties. There's an LCD light display and it even has a portable mini KTV. The microphone is made with durability in mind and uses Aluminium-magnesium. There's also a great echo effect and professional tuning system to ensure you get the best sound output for every condition. Bluetooth capacity means you can play a variety of songs and the coloured lights adjust to the beat of the music.
Overall it's a fantastic little machine which will provide hours of entertainment. The colourful lights and the superior sound won't let you down. The only real problem is the echo can sometimes be a bit too late and at maximum volume, the sound can become distorted. These are minor issues compared to the hours of enjoyment IMMOSO have provided.