Best Residential Flag Poles On The Market Today
Filed under: garden
Whether you want to display your patriotism in front of your house or simply in front of a place of worship, office, business or organization, there's no denying the sense of patriotism that a flag brings. Not only does a flag creates goodwill, it also encourages a sense of community and harmony.
Contrary to popular belief, buying a flag pole isn't as straightforward as one would assume: indeed, if you've never bought one before, chances are that you'll be overwhelmed by the sheer number of models on the market. Your store probably carries three main types of flag poles destined for residential, business and telescoping use. If you can afford it, it's always best to go for commercial flagpoles since these can very easily last a lifetime with very little wear and tear. Here are a few tips that you can adopt if you want to buy the very best residential flag pole.
Where to set up the pole
The very first thing to keep in mind when buying a residential flag pole is the location: if you don't have ample yard space, setting up the flag will only bring a bulky and somewhat cluttered look to your yard space. Most people choose to set up the flag near the mailbox, while others choose to go for the side of the house. Aesthetically speaking, if you've got an elevated terrain or rise in your yard, it's always best to set up the pole there since flags tend to look naturally good on higher terrains. Setting up the flag on a raised terrain will also make your pole appear taller than it actually is. More importantly, it will be easier for the fabric to catch the breeze, even on dry summer days.
When scouting for the best location, however, it's quite important for you to avoid locations near large trees or overly-high buildings. As far as the pole height is concerned, be sure to double check your local regulations to ensure that you're not breaking any rules.
Rules and Regulations
When shopping for the best residential flag pole, it's also important to pay attention to your local laws. Take a moment to consult your local municipal regulations to determine the maximum height you're allowed to go for. If you live near an airport, for example, there might be a strict list of rules and guidelines to follow before setting up the pole. It's also important to familiarize yourself with the correct procedures if your pole ever falls into the street or in utility lines. Some stores actually provide a list of rules and regulations with your purchase but it's always best to consult directly with officials from your area.
Features
Unlike what many people seem to think, buying a residential flag pole isn't exactly an easy task. Indeed, first-time buyers rarely know that different poles actually have their own set of features that directly influence the price and quality. Most contemporary poles are fitted with a halyard or two types of ropes that you can use to fly your flag. With an external halyard, you simply need to pull at the rope through the pulley to raise the flag, before securing the halyard to a cleat. The majority of external halyard are made from polypropylene ropes and while these are quite solid, they are not immune to weathering.
For this reason, some people choose to go for flag pole with an internal halyard which is practically immune to corrosion and fraying since it's not exposed to the weather. Still, do bear in mind that this particular feature will bring up the price of your flag pole. It's also more difficult to operate and change, should the need ever arise.
Materials
When browsing for the best residential flag pole, it's important to remember that the material that you'll choose will directly impact the price and overall appearance. Fiberglass poles, for example, are popular options since they tend to be more affordable and can be painted any color you want. Some models are also available in aluminum and these usually display a brushed or satin finish. If you'd like to buy an aluminum pole, do remember that this material is prone to weathering and will require special care to limit anodization.
With these points in mind, here are four of the best residential flag poles on the market.
Valley Forge Flag 3 x 5 Foot Duratex Commercial Grade US American Flag Kit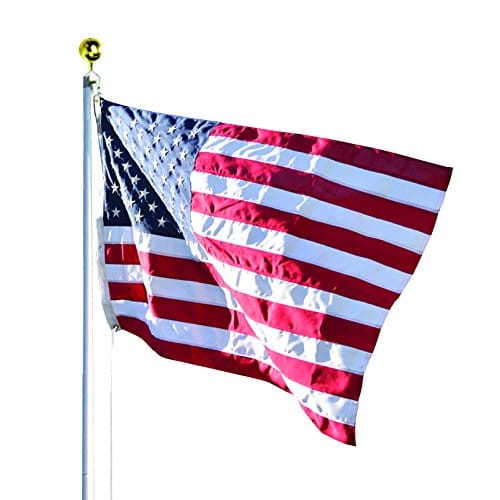 Available in Nylon or Duratex, the Valley Forge Flag is certified Made in USA and displays a commercial-grade built. One of the best residential flag poles on the market, this particular product has been extremely well received by the majority of customers, thanks to its durability and easy set up. In fact, with the complete kit, customers received a 3-inch gold anodized aluminum ball, 5-section brushed aluminum pole and even a PVC ground sleeve that will help you very easily set up the in-ground flag kit. Most customers claimed that they quite liked the very straightforward installation, which only required between forty-five minutes to an hour. According to users, an instructions manual is also included to help first-time users. Because of its superior quality and durability, this flag kit has also been known to dry very quickly after rainfalls. Best of all, users also claim that the flag is extremely resistant to fading as well as windy conditions.
In spite of its mainly positive feedback, a few drawbacks have been reported about this product. One customer claimed that the pole bent after a few weeks, but this was an isolated incident. A couple of people stated that the flag arrived in an extremely wrinkly condition.
Ezpole Flagpoles Liberty Flagpole Kit, 21-Feet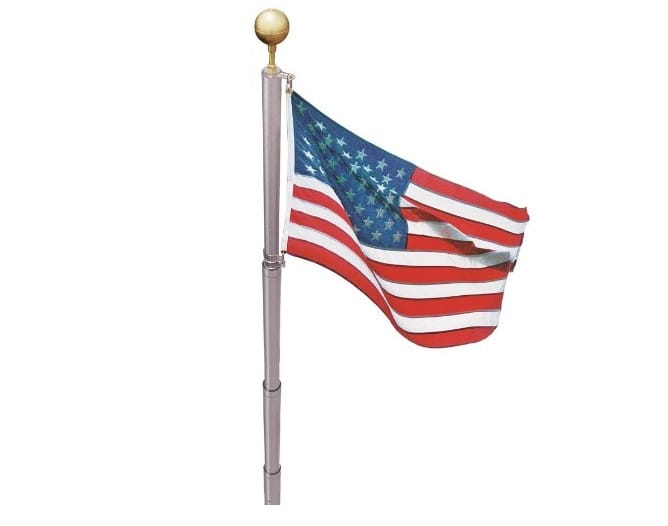 Manufactured in the USA, the 21 feet Ezpole Flagpoles Liberty Flagpole Kit delivers a rope-free telescoping feature which is ideal for first-time users since it's practically effort free. With rust-proof aluminum tubing, this particular kid includes a 3-feet by 5-feet nylon USA flag that can very easily resist wrinkles and sun-induced fading. This kit was extremely well-received by the majority of users who particularly liked the 360-degree feature, where the flag flies a complete circle around the pole. Additionally, customers claimed that the kit was extremely easy to setup, with most people requiring only an hour to set the whole thing up.
With this particular flag kit, customers can also benefit from a 'No Drop Posi-Lock' feature, which prevents the pole from collapsing, even in stormy weather conditions. According to most users, it was also quite easy to lower and raise the pole: all they need to do was continuously twist the pole sections in alternate directions to secure and lock it, something that first-time users had absolutely no trouble with. A disengage button has also been set up for users to quickly and effortlessly lower the pole.
Super Tough Commercial Grade Sectional 20ft. Flagpole
Boasting commercial-grade quality, the Super Tough Commercial Grade Sectional 20ft. Flagpole is twice the size of a regular residential pole, guaranteeing solidity and durability. Customers particularly liked the fact that the flagpole came in four different finishes, allowing them to choose the look they wanted. Best of all, this product came with different types of fittings and accessories to make it far easier for first-time users to hoist up. One of the best residential flag poles on the market, this particular product has a wall thickness of 1/8", which is a leg up from the standard 1/16" thickness of most average poles. According to customers, this particular product is tapered from 3" at the bottom and 1 7/8" at the very top, which made for an easy operation.
While it has been extremely well-received, this flagpole did receive a few negative feedback. For example, some customers claimed that the cleat holes weren't properly aligned, which meant that the cleats could only be accessed at an angle. Additionally, another customer claimed that the threading wasn't of great quality. Consequently, the person had to resort to some sewing work for a more aesthetically pleasing look.
US Flag Store Heavy Duty 20-Feet Residential Flagpole with Valley Forge Nylon Flag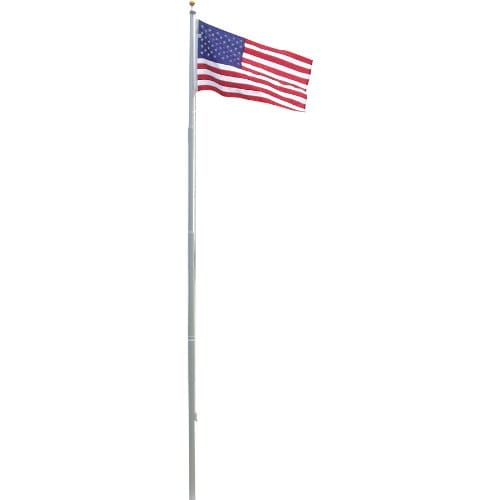 Ideal for windy weather conditions, the US Flag Store Heavy Duty 20-Feet Residential Flagpole boasts sturdiness and stability. Carefully crafted from tough anodized aluminum sections, this particular product has been hailed by customers as being among the easiest poles to set up. As a result, it is quite a popular choice among first-time users. With the boxed packaging, you will also receive all the fittings and accessories needed to install the pole. According to the manufacturers, this product tapers from 2 inches at the top and 3 inches at the base, creating not only an esthetically pleasing look but also guaranteeing an easy operation.
One thing customers did not like was the fact that the flag was shipped separately from the pole, which often meant that they had to wait for a few additional days before setting up their pole. Other than this downside, however, the great majority of people were quite satisfied with their purchase, especially by how the pole withstood temperamental weather conditions.