Best Long Slot Toasters For Delicious Golden Brown Bread
Filed under: kitchen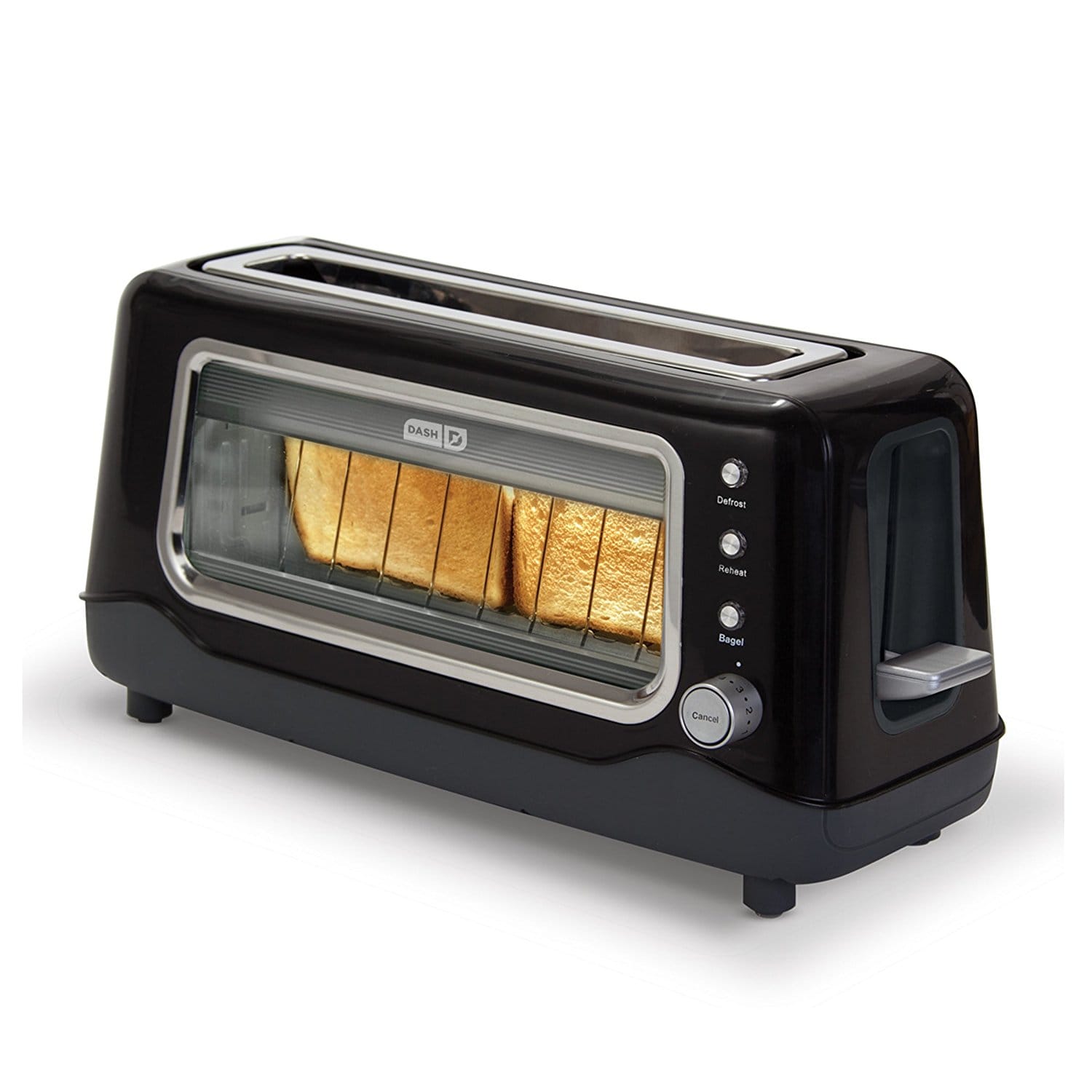 A long slot toaster is just as the name suggests. It is a toaster with slots that are longer than what you will find in a normal toaster. There are various reasons that would make it necessary for you to get a long slot toaster for your kitchen. So how do you know if it is time for you to get one of these kitchen appliances?
Read Next:
Why Should You Buy a Long Slot Toaster?
The reasons you would need a long slot toaster include:
Bread Variety
Some people indulge in more than just standard bread. There are artisanal breads that cannot fit in a normal toaster. In this case, you would have two options: to have your bread without toasting it or to invest in the best long slot toaster that will meet your needs.
Customized Purchases and Cuts
Some people buy full loaves of bread that aren't cut. This could be from the store or from your favorite bakery. Whenever you cut the loaf into slices, they do not have to be similar to standard slices. They are also not regular in width. You therefore want a toaster that will be able to fit any slice of bread regardless of how you cut it.
Safety and Reduced Risk
Smaller toasters make it easy for larger or longer bread to get stuck during toasting. To remove the bread, you might need to use forks or other cutlery that might cause electrocution. Most people are not alert while doing this and could end up hurt because the appliance was still on as they tried to remove the bread. Long slot toasters eliminate this risk as bread will not get stuck because there is enough space.
Space Saving
Long slot toasters are generally narrow and slim. This allows you to save a lot of space. If you have a smaller kitchen where appliances need to share limited space, investing in the best long slot toaster is a good move.
Versatility
With long slot toasters, you are able to get more functions in one appliance. You can get settings that would allow you to prepare grilled cheese biscuits or even tortillas.
What Should You Look For In The Best Long Slot Toaster?
Finding the best long slot toaster is similar to finding any other product or appliance. There are important factors that you need to consider before making a purchase. They include:
Number of slots
Whenever you are looking for a long slot toaster, you must consider the number of slots. Would you do with one, two or four? This depends on how often and in which setting you use the toaster. In a house full of people, the four slot toaster would be a better idea while one slot would be sufficient if you live alone.
Slot Length and Width
This is another important factor. The wider the slots, the more you are able to fit different varieties of bread since thickness is not an impediment. On the other hand, longer slots can allow you to fit a number of slices which speeds up preparation and cuts your power use significantly.
Cleaning
Cleaning the long slot toaster is very important. Having crumbs and pieces of bread stuck in the toaster promotes bacteria and pests such as ants in some cases. While these will die because of the high heat as you prepare your next batch of toast, it is not an ideal hygienic situation. However, cleaning the toaster can also be a difficult task. Therefore, the best long slot toaster is one that has a removable crumb tray. This makes cleaning much easier and is much more hygienic as it prevents pest infestations and bacteria raring.
Numerous Options
While you want a toaster for toasting your bread, you also want to get value for your money. The best long slot toaster is one that can provide you with a variety of options, settings and controls. It should be able to cater to a variety or artisanal bread such as bagels and waffles. It should also have additional features such as keep warm and defrost settings. These allow you to keep your toast warm a few minutes after preparation so that buttering is easy and to defrost bread if you like to store it in the fridge.
Picking the Best Long Slot Toaster
Now that you know all the factors that you need to consider before getting your toaster, the next step is to buy one. Fortunately, there is variety in the market. You get so many options that you can choose from and you are not limited.
However, this can also be problematic if you have conflicting choices that seem to have the same features. You need to know how to pick the best long slot toaster. In order to do this, you must:
Assess Your Needs
The first step is to figure out what you need. How big is your kitchen? How many people will be using the toaster? Do you plan on upgrading the appliance anytime soon? All these questions will guide you on the toaster to pick.
Consider Your Budget
How much can you spend on the toaster? You need to allocate some money by setting a cap on your purchase. The budget, to a large extent, also determines the features you will get. The more you can spend, the more features you get to enjoy. However, cheap does not automatically translate to low quality. The same holds, in that the most expensive toaster is not necessarily the best long slot toaster.
Read Reviews
It is important to read through online reviews before you make a purchase. Narrow down your options then see what other customers have to say about the product. This will give you a picture of what to expect once you buy your long slot toaster.
The following toasters are some of the best you can find. If you are looking for the best long slot toaster then these are options that you should consider as you plan to get a new appliance.
KitchenAid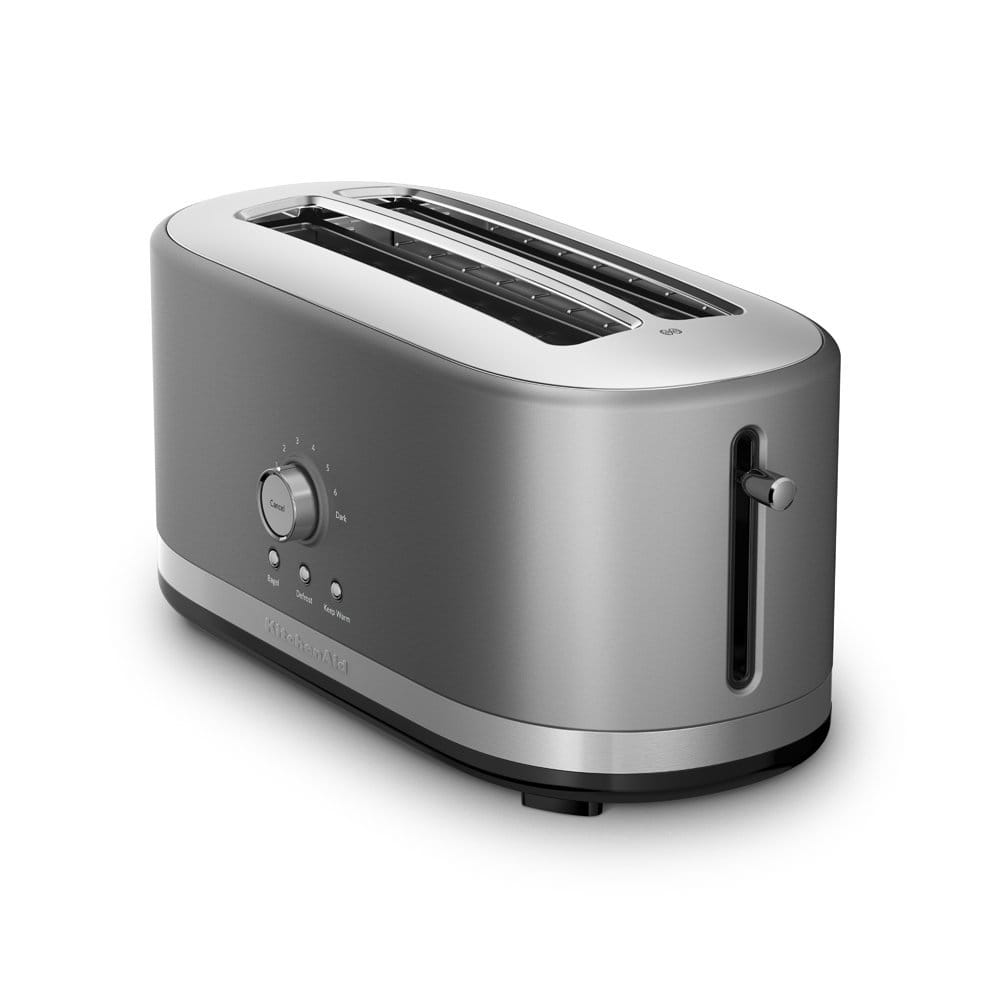 The KitchenAid KMT4116CU ranks as one of the most expensive kitchen toasters in the market. It is available for about $80 and comes in silver, onyx black and empire red. It has a high lift lever and long, extra-wide slots to allow for different varieties of bread. The KitchenAid toaster weighs only 6.2 pounds and is 7.7 by 16.5 by 8 inches in dimensions.
Pros
The 1.5 inch wide slots allow you to fit in 2 standard slices of toast
Keep warm feature keeps the bread ready for buttering minutes after it is done toasting
The defrost feature comes in handy for those who freeze bread
It has 7 different shade options to help you choose exactly how you want your toast
Removable crumb tray to make cleaning easier
Storage area for cord
Cons
Expensive
Toasts bread unevenly
Loud annoying buzzer sound after toast is done
Oster Long Slot Toaster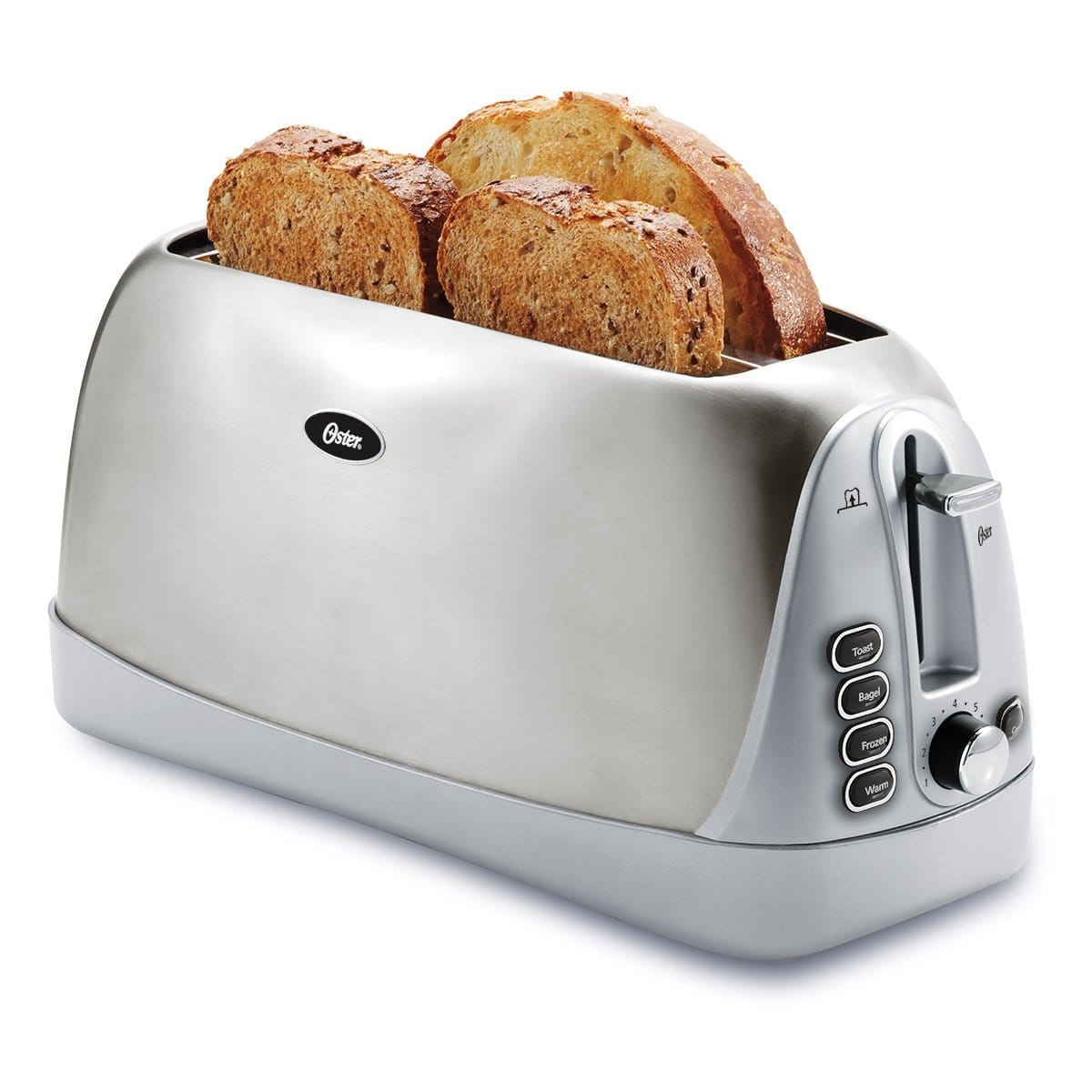 The Oster TSSTTR6330-NP is a four-slice toaster that is built for bread, bagels and waffles among other things. It is available for about $43 and promises to provide consistent toasting results due to the advanced technology on the appliance. This toaster has 1500 watts power setting and weighs 4.8 pounds. It is 7.3 inches high, 6.9 inches wide and 16.6 inches deep.
Pros
Wide slots that accommodate different varieties of bread
7 toast shade settings for preferred toasting
Removable crumb tray for easier cleaning
Anti-jam feature that turns off toaster after a while
Special warm setting to keep bread prepared for buttering
Cons
Uneven toasting burns edges and under-toasts middle
Not durable – gets spoilt after few months of use
No outer insulation which can cause burns
No storage area for cord
Breville Toaster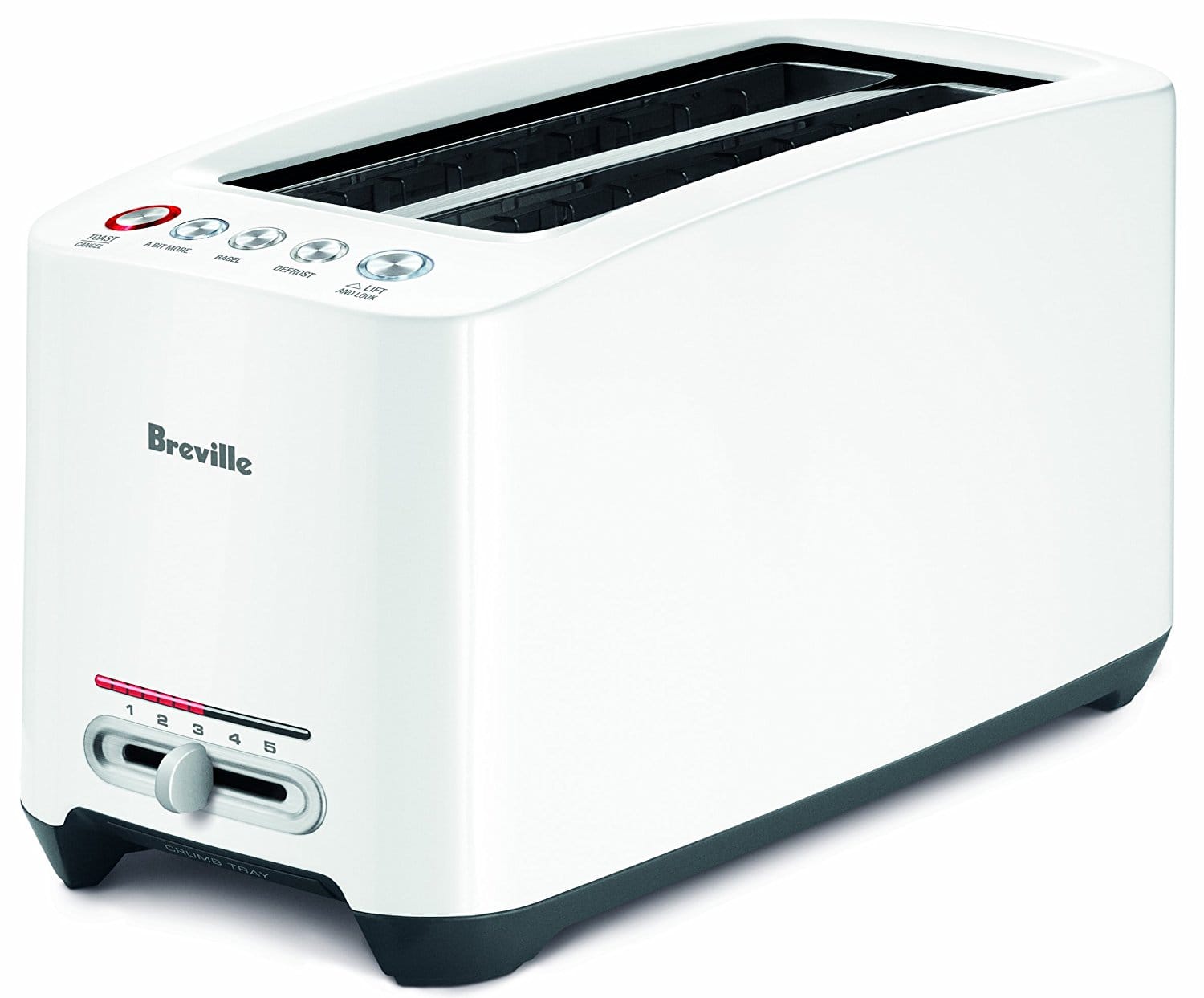 The Breville lift and look touch toaster is one of the more expensive toasters in the market. It is available for $80 but promises to provide value for money. It has mechanized lowering that allows you to handle your toast better and one-more-touch motorized technology allowing you to add preparation time to your toast. Additionally, it weighs 6.1 pounds and measures 8 by 15.5 by 8.2 inches.
Pros
Adjustable controls for preferred browning
LED indicator to show toasting progress
Motorized one-touch lift and look
Long slots allow for variety of breads
Cons
Expensive
Surface gets too hot to touch
Fire hazard as it glitches and pops
Fragile and does not have a long lifespan
Dash DVTS501BK Toaster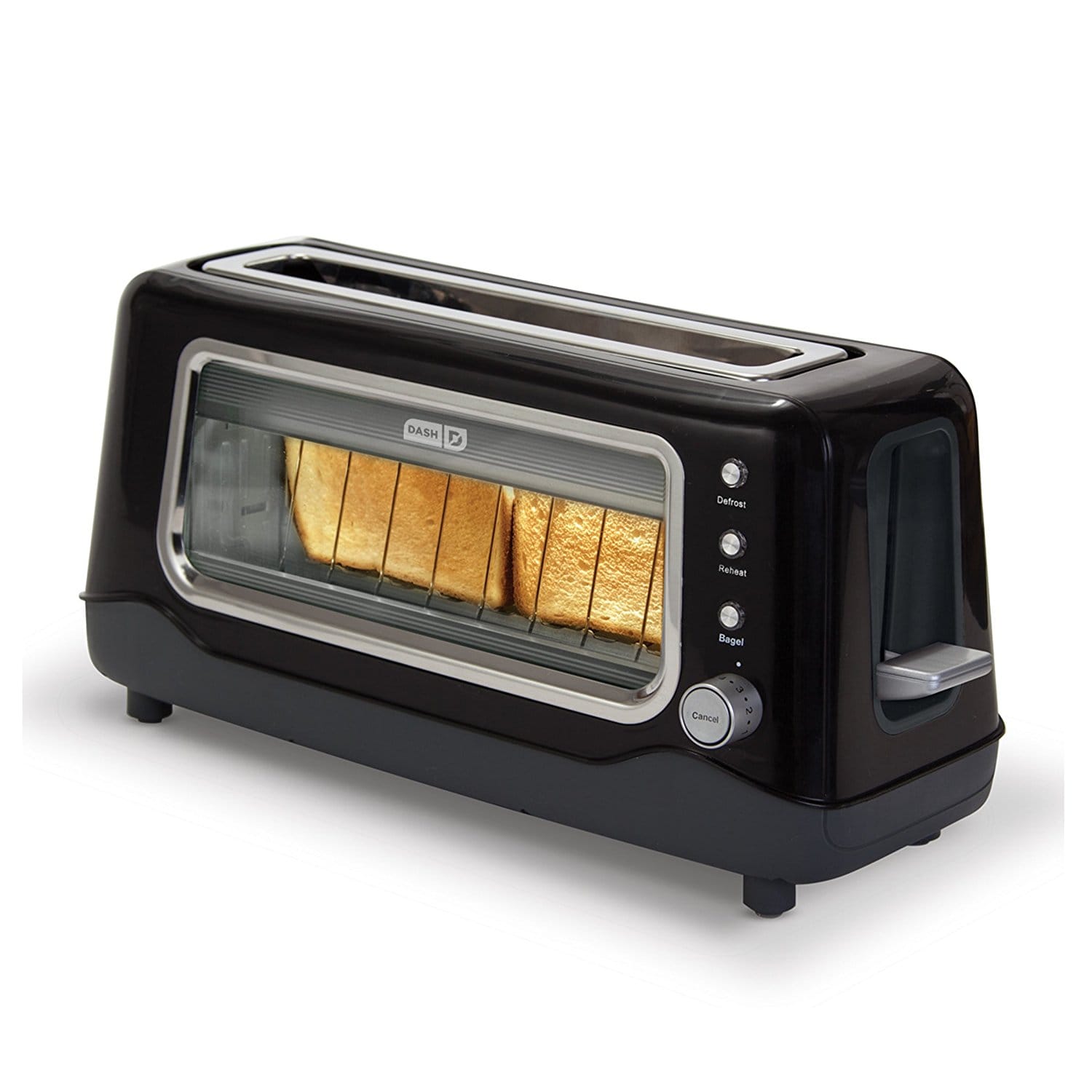 The Dash clear view toaster promises to provide perfect toast every time. It is available for $100 which is quite pricy. Like other long slot toasters, it accommodates variety of bread. In addition to this, it comes with a one-year warranty and a recipe book to help un-process your food. This toaster is 16 inches long, 8 inches wide and 5.8 inches high and weighs 4.4 pounds.
Pros
Viewing glass allows you to view as it toasts
Wide slots that hold bagels and other special bread
Special defrost, reheat and bagel settings
Automatic shut off feature
7 levels of browning control
Cons
Expensive
Has one slot only
Not good for artisan breads
Uneven toasting
Short lifespan
Breville Die-Cast Toaster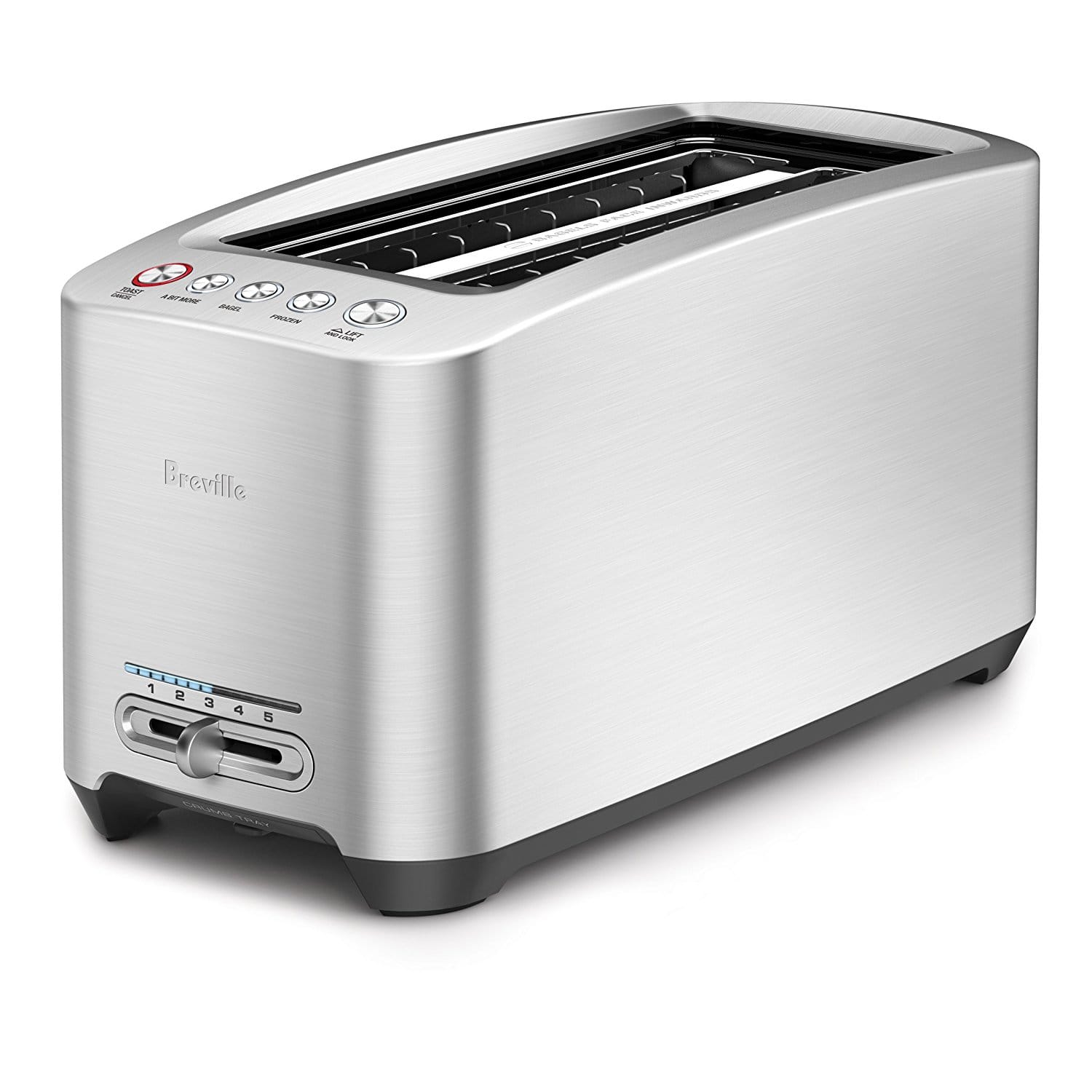 If you thought $80 was expensive for a toaster, think again. This Breville Die-Cast four-slot toaster costs a whopping $179. It has a lift and look toasting feature that allows you to keep up with the browning process without interrupting the toasting cycle. It also has a bagel and frozen setting. This toaster has 1600 watt power rating and is 19.9 inches long, 7.7 inches wide and 7.5 inches high.
Pros
4 long slots accommodating a variety of breads
LED indicator for toasting progress
Die-cast metal body that allows for cool touch
Removable crumb tray for easier cleaning
Different sound alert controls
Motorized controls
Cons
Expensive
Unreliable – breaks down after a short period of use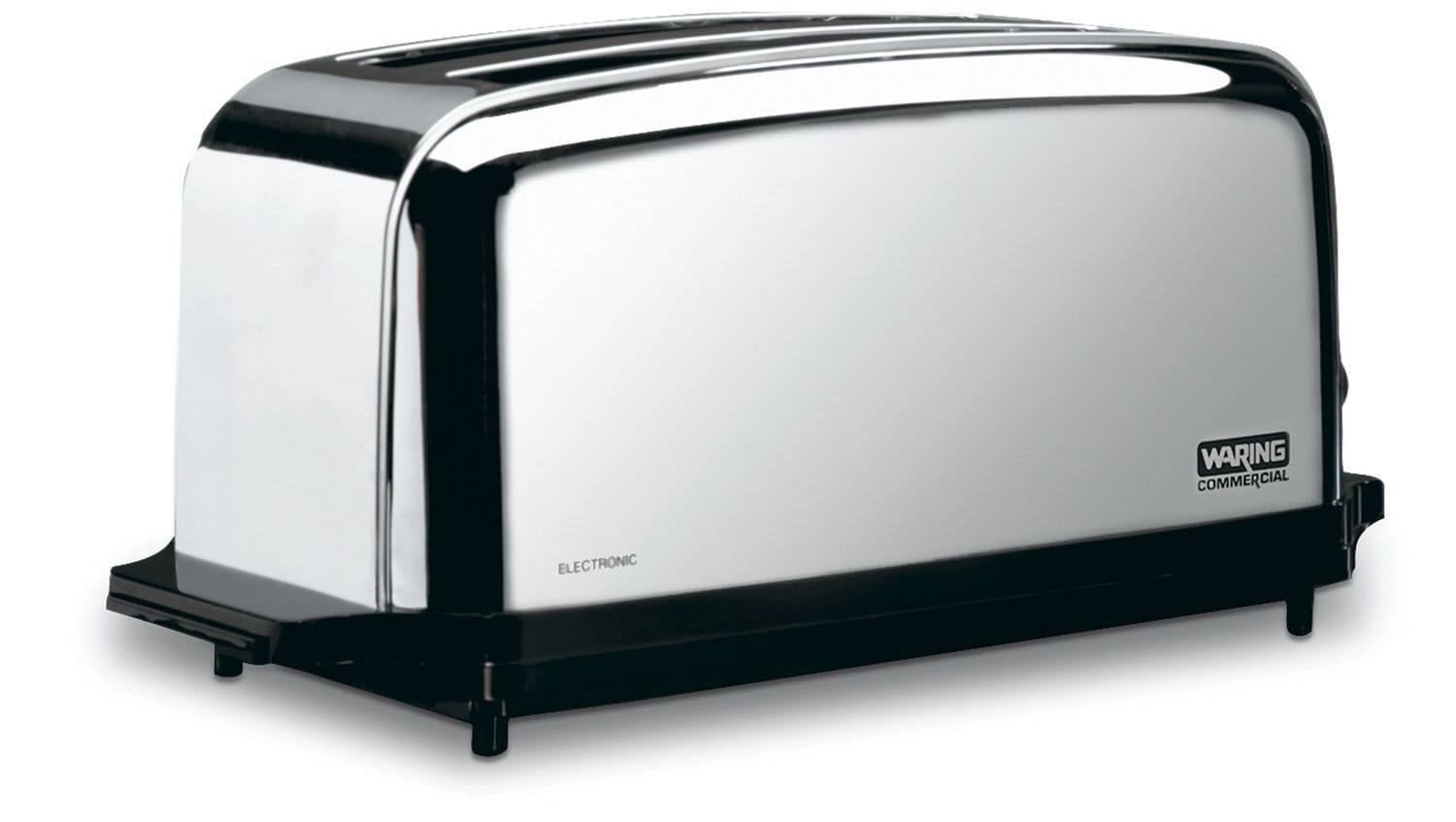 This two-compartment pop-up toaster is made of double chrome plated steel and is available in mirror finish. Additionally, it comes with a one-year warranty during purchase. It has 2 extra long and wide 1-3/8 inch slots, 120 volts, 15 amps and 1800 watts power rating. It is 8-3/4 inches tall, 8-1/4 inches wide and 18-1/2 inches deep.
Pros
Toasts evenly
Self-centering rack for thinnest slices of bread
LED indicators showing functions
Special settings such as defrost, reheat and cancel
Removable crumb tray for easy cleaning
Browning level controls through a rotary dial
Cons
Expensive
Irregular controls in level of toasting
Breaks down easily
Temperature control numbers wear off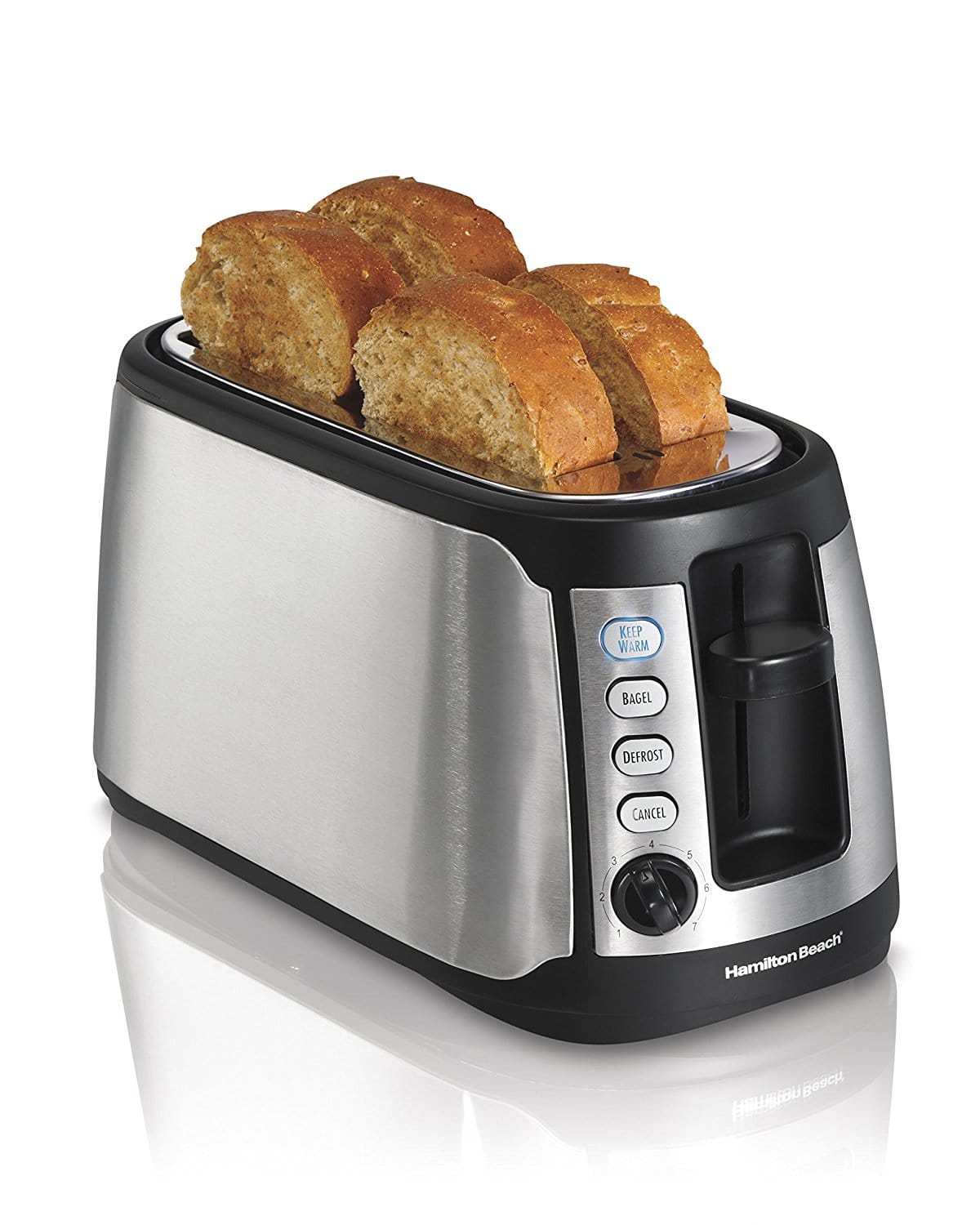 This 4-slice long slot toaster is one of the more affordable toasters in the market. It has a great design and various controls to cater to different preferences when it comes to toasting. It is 7.78" tall, 7.5" wide and 15.77" deep.
Pros
Keep warm feature which makes for easy buttering
Fits extra long and wide breads
Stainless steel sides that provide for cool walls despite high toasting temperatures
Toast boost to allow for easier removal of toast
It has an under-base cord wrap
Cons
Short power cord
Annoying beeping sound
Short lifespan as it breaks down easily
Conclusion
If you want to find the best long slot toaster, you need to consider the various features that you will need first. Once you have this figured out, you can then look through the various options that are available for you to choose from. These 7 long slot toasters are some of the best that you can find in the market. They range from cheap to expensive so you can take your pick depending on your budget.