Best Portable Misting Fans For When Things Heat Up
Filed under: hvac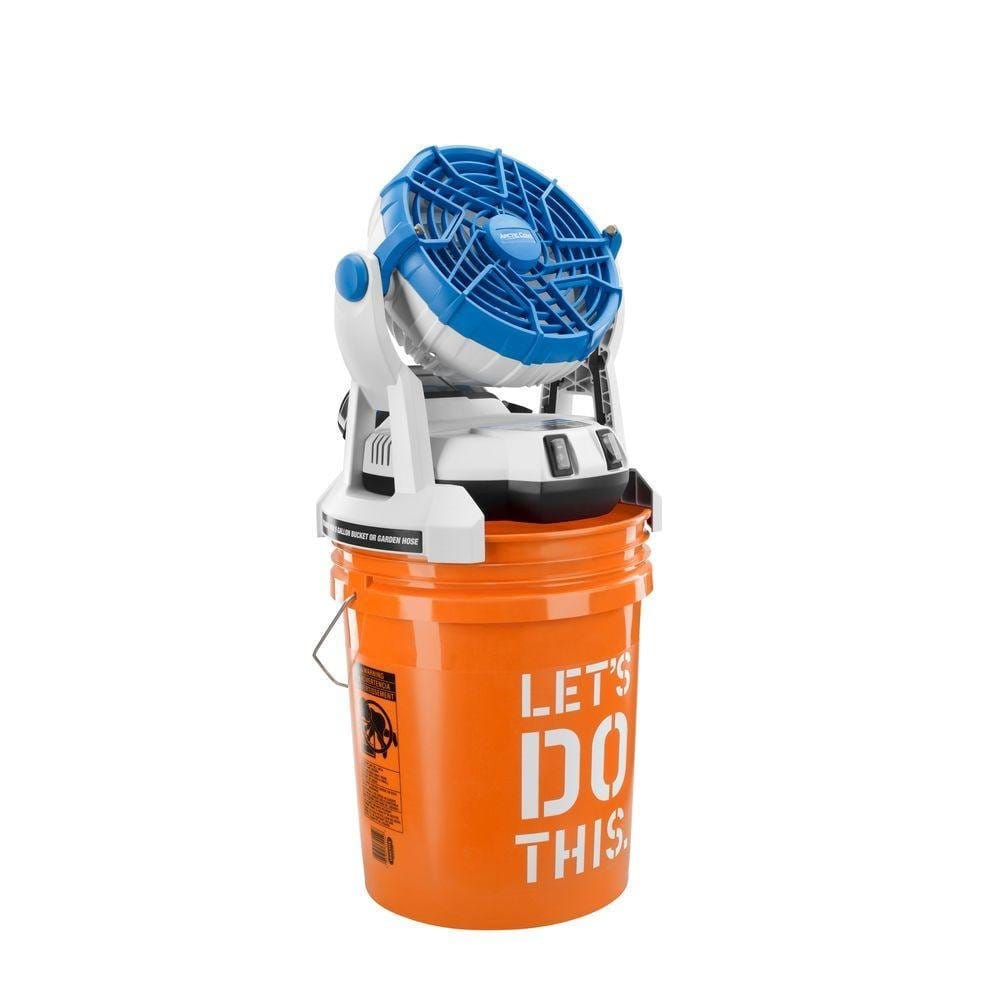 A misting fan is a type of cooling device that expels mists of water to bring about a cooling effect. They come in handy during summer. They are also useful in houses and rooms when you want to turn off the AC to save on electricity bills. In addition to that, misting fans can also be used outdoors and on trips as you wish. It is therefore important to buy the best portable misting fan if you plan on getting a fan to use outdoors.
Types of Misting Fans
Misting fans are generally classified by the type of construction. This influences where you can place the fan. The four broad categories are:
Floor-standing
Tabletop
Compact
Personal
In addition to the construction, each and every misting fan can be broadly categorized into two depending on the type of humidifier used. The two categories are:
Ultrasonic Humidifiers
For this type of misting fan, water molecules are split into fine particles through the constantly vibrating membrane located in the water tank. The water particles then form a water dust clouds which proceeds to the fan where it is dispersed into the air. The main advantage of this type of misting fan is that it is cost-effective. It helps with the efficient use of water and energy.
Spray Humidifiers
Spray misting fans work in a different way. The water is pushed by a high pressure pump through a misting nozzle. The droplets are then expelled into the air where they absorb heat from the surrounding environment and convert into gaseous form. This then cools the environment. This type of fan is best for outdoor use or even indoor use during cold seasons if your space heater burns oxygen and dries the air. However, it is not cost-effective as it requires a lot of water to function.
How to Choose the Best Portable Misting Fan
Certain rules apply whenever you want to buy an appliance or a device. It is the same way if you would like to get, not just a mediocre one, but the best portable misting fan in the market. Some of the factors that you need to take into consideration while making this decision include:
Primary Use
Where do you plan to use your fan? This will determine the fan that you buy. If you would like to use the misting fan indoors, then you can comfortably get fans that are made out of plastic. The fan will be safe from damage. On the other hand, outdoor fans should be metal ones. The fan will be exposed to different elements as well as pets. It therefore needs to be sturdy and durable.
Space
How much space can you spare for your fan? If you have a lot of space, you can get floor standing fans that are larger. If, on the other hand, you have limited space, you might have to get a table fan or even a compact one that will not take up a lot of space.
Noise Level
Whenever you are getting a misting fan, it is important to consider the noise level of the fan. Most misting fans are not quiet. This should count for both indoor and outdoor fans. The rule of thumb is to pick one with the least noise. After all, nobody wants to suffer from a distracting loud hum just so they can be cool.
Water Consumption
You want to get an efficient misting fan. If you buy a fan using spray technology, you have to be prepared to use more water than if you had one with ultrasonic technology. Additionally, the amount of water consumed should match the water storage unit in the fan. Otherwise, you could consider a fan that is fed by a garden hose, specifically, for outdoor uses.
Other Considerations
You must also consider other factors such as the misting capacity, number of nozzles and how that ties in with your desired use. You do not want a fan that makes the surrounding wet as it cools you.
Product Reviews
You can comfortably and confidently say that you know how to pick a good misting fan. With this information, you can narrow down the numerous choices that are presented to you, especially online. Some of the fans that we would rank highest when finding the best portable misting fan include:
Arctic Cove MBF0181 Bucket Top Misting Fan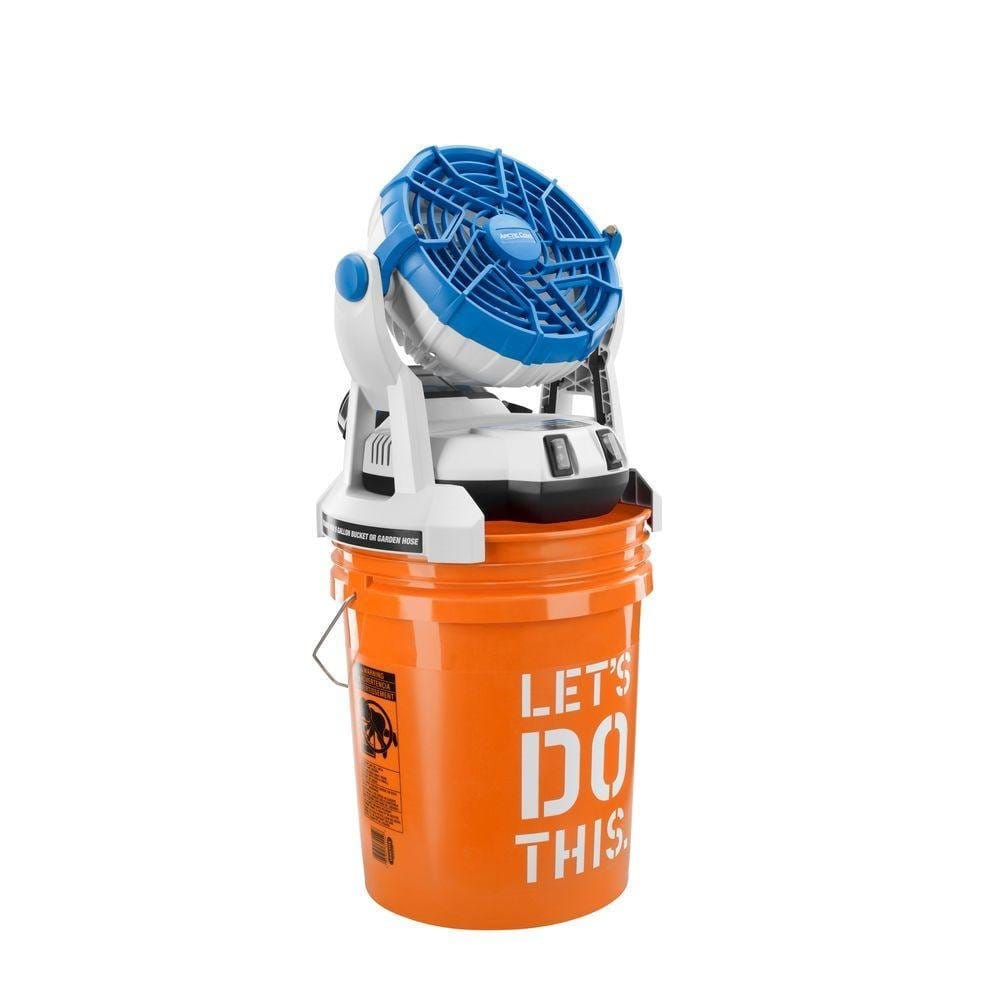 The Arctic Cove MBF0181 ranks high as the best portable misting fan. The fan is designed to fit on top of most 5 gallon buckets. It also has a dual purpose foot design which allows you to use it on a flat surface with a garden hose. It is cordless which makes it easily portable as well. This fan runs on an 18-volt Lithium-Ion battery which guarantees 2.5 to 7 hours of use depending on the fan speed.
Pros
Great for outdoors
Powerful mist
Easily portable
Good air speeds
Cons
Loud
Batteries run out fast so you need an extra set
The dual foot design is a unique feature that allows users to place the fan on different surfaces. If you would like an outdoor fan that you can place on high or low ground, this is a good choice.
Mistcooling Portable Misting System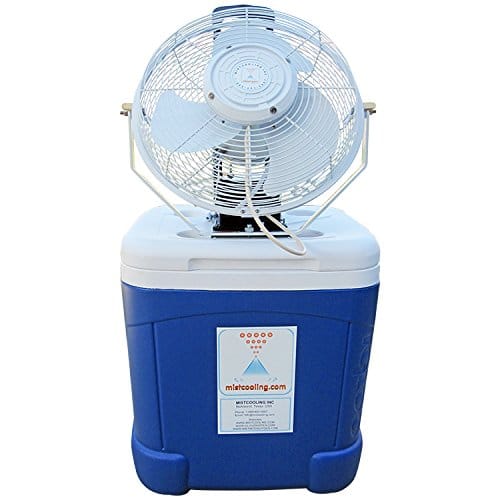 The Mistcooling misting system comprises of a max 300 PSI pump which helps to provide you with high quality mist. The patented hub made up of 4 nozzles also improves the quality further by creating a wider mist area. In addition to this, the Mistcooling portable misting system allows you to install and adjust up to 6 nozzles. This is possible because of the 2.5 Amps CoolerMax which allows you to cool the surrounding without a lot of residual moisture.
Pros
3-speed fan for ultimate cooling
Portable
Works well to provide ample mist for cooling
Cons
Expensive
Has a strong hum
This fan gives you the option to adjust the quantity of nozzles. It is a good buy for those who would like to alternate their nozzles for the desired misting levels.
CoolZone by Sunheat CZ500 Misting Fan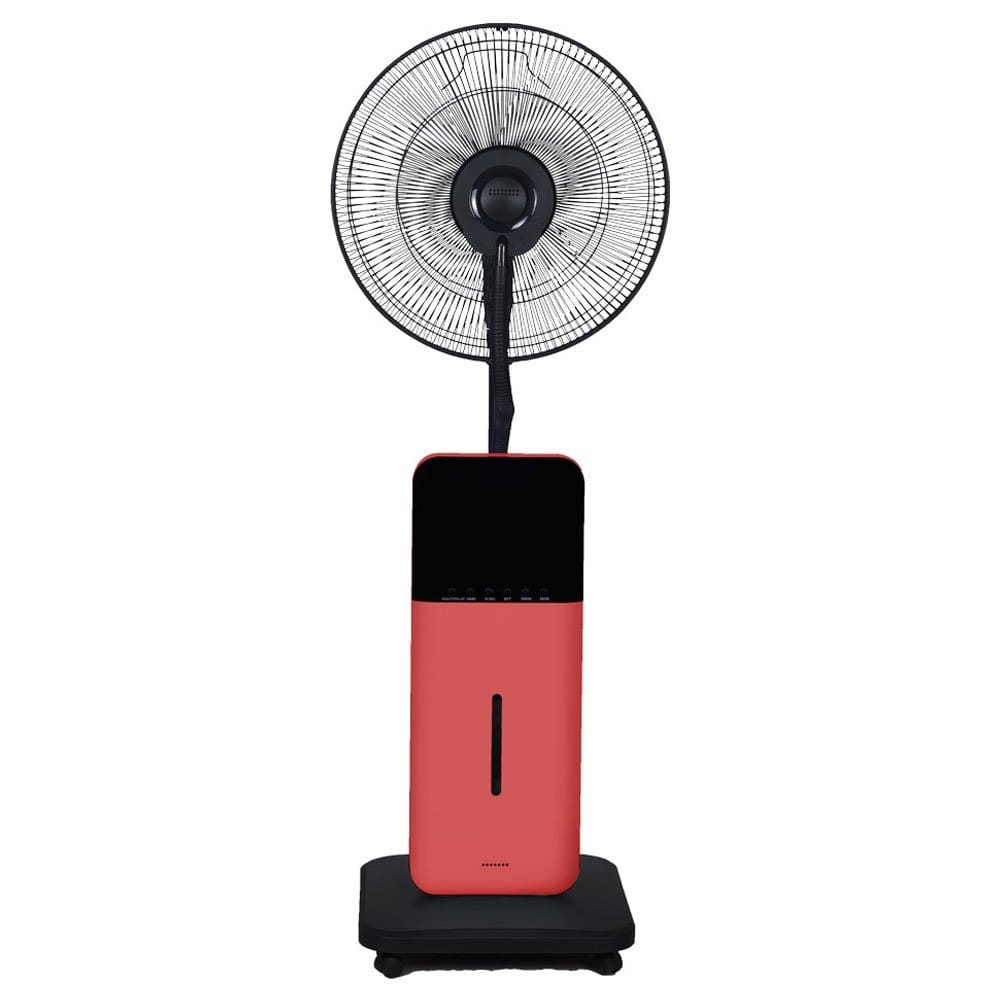 The CoolZone misting fan by Sunheat uses ultrasonic technology to convert water into mist. It features Bluetooth technology and built-in speakers for extra functions. It has a 3-speed fan that tilts and oscillates for maximum coverage. It also has a remote control so you can issue commands remotely and more easily. In addition to this, the fan has four wheels for easy mobility and a function for repelling mosquitoes.
Pros
Great speakers and additional functions
Easily mobile
Really quiet
Cons
Misting area too small on low setting
The remote control and four wheels make the fan easy to move and operate. This would be a great choice if you want to move the fan or be less hands-on with your fan as you use it.
Cool-Off Tahitian-Breeze Portable Outdoor Misting Fan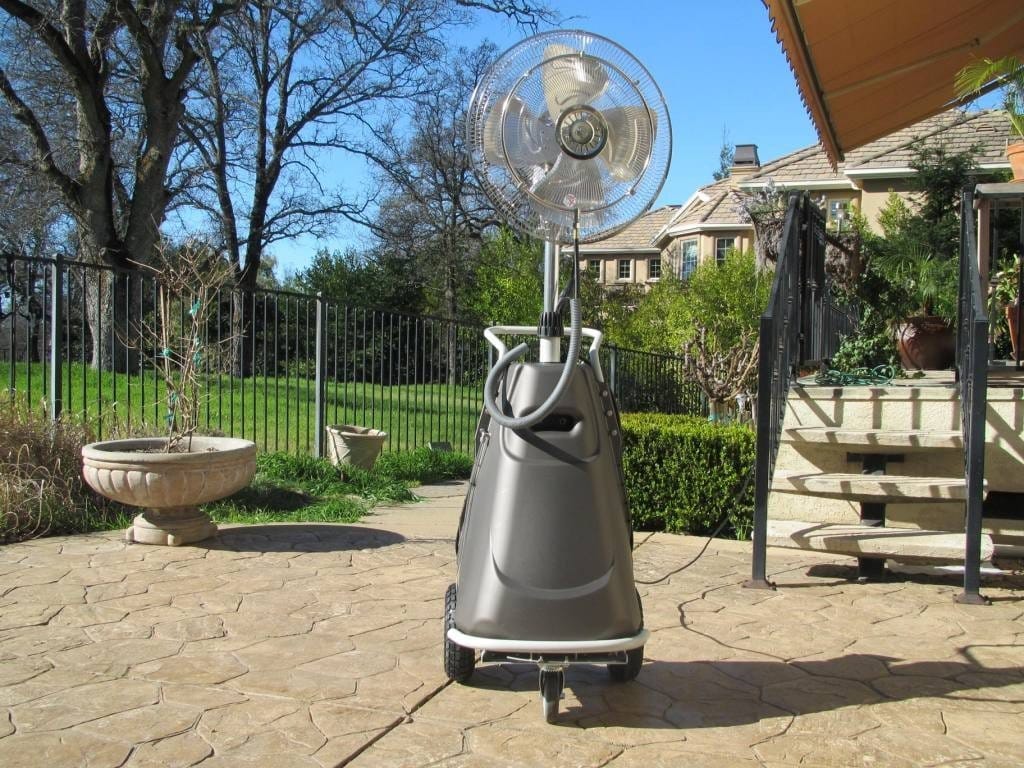 The cool-off tahitian breeze has a 1000 PSI high pressure misting fan and uses a 10 gallon self-contained water tank. It has 4 nozzles for misting and spare plugs that allow you to regulate the mist from the nozzles. It has a 3-6 hour runtime on the same water tanks and cools the surrounding by as much as 30 degrees. The fan promises to cool you off regardless of where you use it.
Pros
Large water reservoir eliminating the need for a hose
Adjustable height option allows for preferential adjustments
Cons
Cool-Off Tahitian-Breeze misting fan has a high pressure pump that allows for large misting coverage. If you want a fan that you can use outdoors for a large number of people, then this is a viable option.
Huluwa Personal Fan Cooling Misting Fan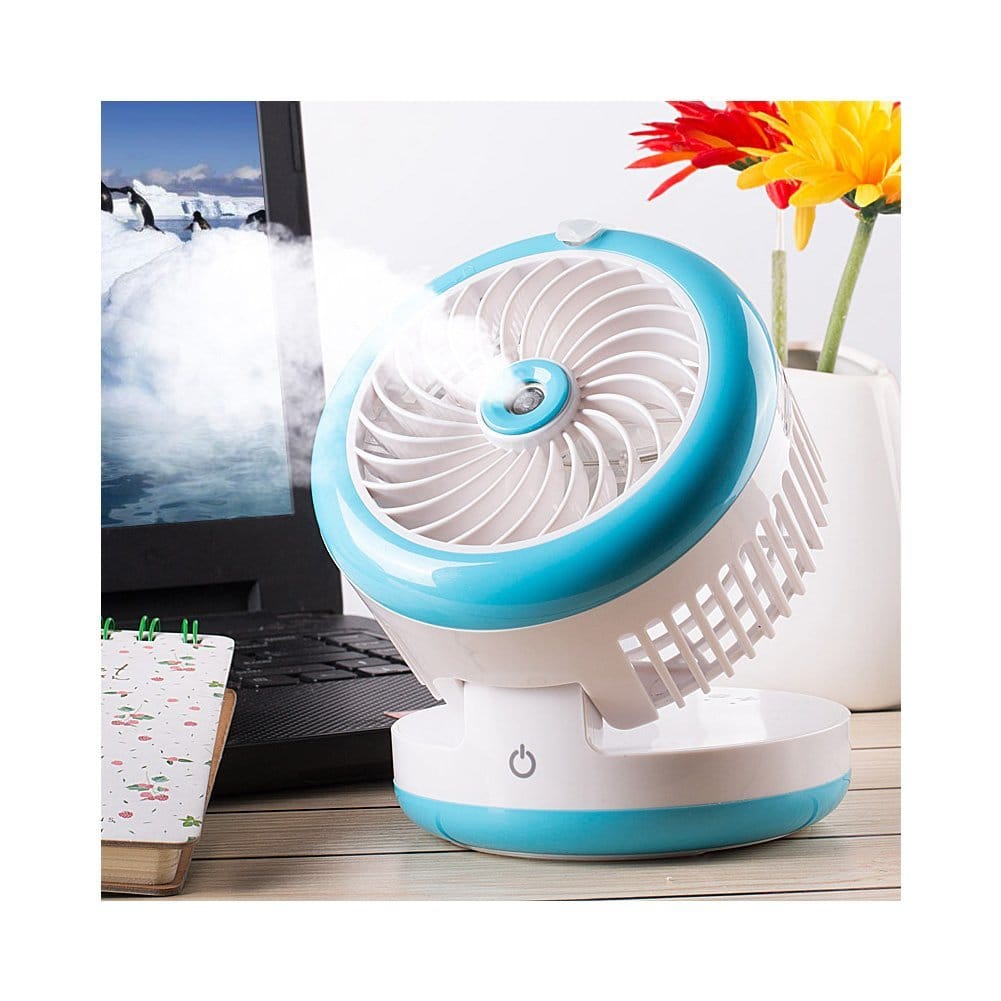 The Huluwa personal misting fan is a small and portable fan that you can carry around with you. It uses the water spray function and batteries. The battery capacity is 2000mAh and lasts long. This allows you to use the fan whenever and wherever at your convenience. Additionally, the batteries are rechargeable through a USB cable that is compatible with various devices.
Pros
Portable as it folds down for transport
Easy to fill as it has a handy filling bottle
Fits anywhere, even in crammed spaces
Has money back guarantee if you are not satisfied
Cons
Mist is not strong enough
The foldable nature of the fan makes it easy to transport. This is a great feature to take advantage of if you would like to have a fan on the go.
Final Verdict
Now that you know how to pick out the best portable misting fan, you can recognize that my top picks are the best. If you want to get an outdoor or indoor misting fan that is easily mobile, I would recommend that you consider these five options. I guarantee that you will not be disappointed as these fans have great misting capacity thus effectively cooling the immediate environment.