5 Best Whole House Water Filters For Well Water
Filed under: water
Whole house filters for well water are a great way to keep things clean and sustainable at home. They allow you to have free water independently. What's better than that?
Before getting started, we can summarize the five best whole house water filters for well water as follows:
What are whole house water filters for wells all about?
Of course, there are some setbacks and disadvantages of supplying your house with well water. The main trouble is that the water from the well can get easily contaminated with particles, sediments or even viruses. For this reason, installing a whole-house filter may come out to be a really convenient remedy. This kind of water filter is suitable for the entire supply of water at your home.
Also known as POE (Point-of-entry) filtration system, the whole house water filter system is now becoming more and more popular. Because of the poor water quality in bigger cities as well as some areas without proper water supply, a lot of people are left with average or even lower-than-average water quality. This imposes finding new ways to better its quality, whether it's municipal or well water.
For this reason, whole house water filters come in really handy. They can totally change the quality of the water that comes from your kitchen sink or bathroom shower. A good water filter can completely remove the bad taste and odor of the water. In addition, depending on the different filters in the system, you can get rid of heavy metals such as lead, iron and rust, and also keep your family safe from bacteria and other harmful organic contaminants.
How do I choose the best whole house water filter for my well?
Obviously, well water depends on some conditions that directly affect its quality. Bad taste and odor, as well as questionable purity, are the common symptoms of unclean well water. However, filtering it may solve all these problems quite easily. On the other hand, this method is pretty sustainable in the long run as you will save lots of money instead of spending it on bottled water.
With the online market constantly being flooded with newer products, finding the right solution to your problems is not an issue anymore. There are tons of water filters on the market now and some of them are specifically designed for well water.
In order to ease your choice, we have compiled a list of 5 of the best whole house water filters for well water. But before we start, you should be aware of a simple go-to guide on how to choose the most suitable water filter for your well.
A Brief Buyer's Guide
As said above, filtering your well water is a must not only for improving your water quality, but also because of safety reasons. When we draw water from our backyard wells, we all must take responsibility for ourselves. The reason for this is because in most cases there are no regulations or laws to give clear instructions on how well water should be used. However, we should be aware of the danger of a contaminated water source so a water filter is a must.
In addition, the conduction of routine tests is highly advisable as the quality and safety of the water should be checked occasionally in order to prevent any contamination and such. Also, you should mind that well water tends to be hard. Although hard water is not that harmful to human health, it may cause stains when used on your home sink or shower. For this reason, some well water filters have the softening feature to fix this problem.
As a general rule of thumb, well water is usually polluted by chemical compounds used in agriculture, such as fertilizers, herbicides, pesticides and so on. The water may also contain different harmful bacteria and disease-causing microorganisms. What's more, you should mind the lead content as well as other heavy metals in the water.
Usually, well water filters combined different stages of filtration. This means there are specific filters that remove larger particles, chlorine as well as organic pathogens. You should be aware that at least 3 or 4 stages of filtration is the norm for good water filters optimized for well water. However, even with that many filters, you still won't get 100% of clean water. An additional reverse osmosis filter may solve your problems if there isn't one in your water filter system yet.
Therefore, choosing the best water filter for your well should be done according to a few criteria. They are tightly connected to the features you should look for in order to purchase a quality product. What's more, you should follow a couple of steps more so you can purchase the water filter that best suits your home.
Location
It is highly recommended that you install your water filter setup right where your water first enters your house. Whether it's in your basement, utility room or somewhere else, make sure you have plenty of room as unlike traditional water filters, the ones designed for wells take up much more space. In other words, you should ensure your installation area is large enough to store a water filter for your well.
Technology
The filtration technology different water filters use varies a lot. Most quality filters use multiple stage filtration in order to ensure good results. In a typical configuration, there is a sediment filter, an iron, manganese and sulfur reduction filter and a carbon, chlorine, chemicals, taste and odor removal filter.
For example, a good configuration for a whole house filter for your well may look something like this:
A sediment filter to trap the larger particles like sand and dust
A chlorinator if you have exceeding chlorine in your well water
An activated carbon filter to remove the bad smell and taste of the water, as well as other microorganisms
A water softener
A reverse osmosis filter to further filter out the salinity and make the water fresh
Additionally, you should consider integrating newer and more effective methods for your system. Ultraviolet lamps or filters ensure that whatever comes through all these stages, is killed by the ultraviolet rays. Usually, these are parasites and other harmful bacteria that may get through the reverse osmosis filter. Therefore, you may decide to ditch the chlorine and carbon filters for the UV one.
Flow Rate
The flow rate or GPM (Gallons Per Minute) are probably one of the main specifications you should look out for. Obviously, a "whole house filter" means it is expected that the filter would supply your home effortlessly as it is specifically designed to do so. Of course, there are some variations in the flow rate of the different water filters for wells. This gives you the freedom to choose a water filter with an adequate flow rate corresponding to the size of your house. In this way, you won't have to pay more for an unnecessarily high flow rate that you will never need.
Longevity
As all do, whole house filters also have a finite lifespan. Normally, they consist of 2 or more integrated filters which remove things like rust, lead, iron, chlorine, bacteria and others from the water. But as they get used up over time, these filters need to be replaced. Otherwise, you'll end up with filters stuck with various sediments, which may eventually pass through the filters and damage your pipes or water appliances.
Furthermore, you may risk getting back the foul taste and smell you have previously got rid of. Therefore, you should be aware of the lifespan of each of the water filters in your system. The replaceable parts of a system are all optional parts – usually the pre-filter and the post-filter. Depending on the particular brand and filter specification, the former is changed every three to six months while the latter every nine to 12 months.
However, you need not forget that the main tanks also need to be replaced. Therefore, you should look up for the capacity that all water filters offer. The water filters for wells have standardized capacities and most good ones have capacities of around 100,000 gallons which is enough for 6-months use by a family of four.
Additional Features
Warranty is a must as most good products on the market offer at least 1 year of warranty and free lifetime support. Also, take into consideration whether the water filter is specifically designed for wells.
Also, bear in mind that if you have very hard water, you might consider placing a pre-filter. It is very beneficial for your home as it not only softens the water, but it also reduces the workload of your main filter. If your water filter setup doesn't include one, you can buy it separately.
Price
First of all, you should bear in mind the possible issues you're going to face when dealing with well water. Your water might be high in iron or manganese content, sulfur or harmful bacteria. For this reason, you can't predict exactly how much you're going to have to pay for your system. Luckily, you will still be able to fix these problems without having to overanalyze every aspect of your well water quality. However, make sure that everything you buy corresponds to your needs. Therefore, it is highly recommended that you conduct a simple water test before choosing a water filter.
Basically, the price of whole house filters for well water range from around $400 to around $2000. As a general rule of thumb, the higher the quality, the higher the price. You should also take into consideration the different features, flow rate as well as technology.
Plumbing Skills
Although this does not directly affect the work of the water filter, the installation of the water filter should also be taken into consideration. If you have some basic knowledge of plumbing, you'll save not only time but also money. However, if you're unsure, you should contact a professional plumber so as not to create unwanted issues in your house. Of course, this may cost you an additional a few hundred dollars, but after all, the end justifies the means.
Our Top 5 Water Filters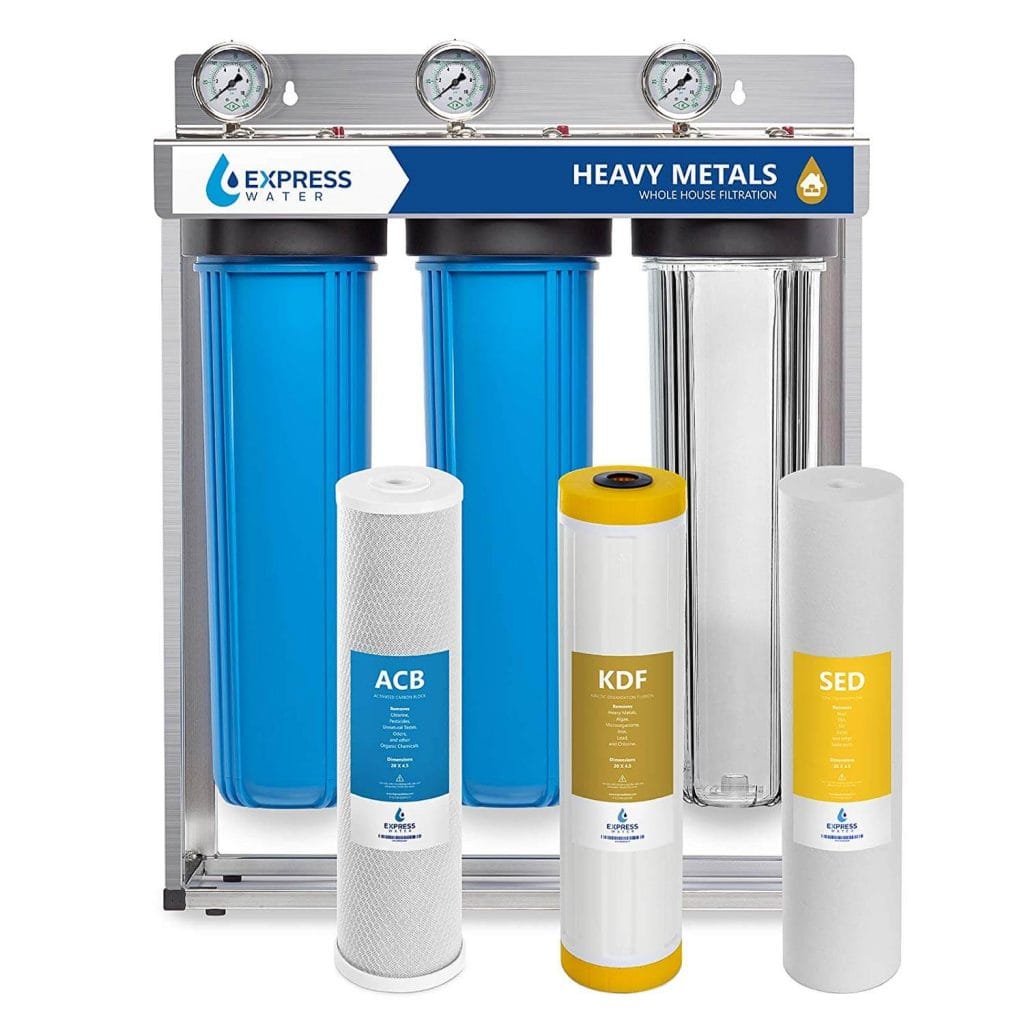 Express Water WH300SCKS Water Filter
Specifications
Capacity: up to 100,000 gallons
Flow Rate: up to 15 GPM
Filtration Stages: 3 stages
Filtration Percentage:
Dimensions: 23.5" x 8.5" x 30"
Warranty: 1 year and free lifetime support
Pros:
Easy installation
Sturdy
Minimal drop in flow rate
Good and helpful customer service
Cheap price
Cons:
The installation instructions are not detailed
If you don't tighten the filter heads and the fittings well as tight as possible, they may start leaking
The WH300SCKS Express Water filter will surely deliver what you need. Crisp clean water for your whole house is the perfect filtration for well water systems. With the 15 GPM, you won't lose any water pressure. The 3-stage filtration process effectively removes whatever unwanted stuff you can think of – sand, dirt, heavy sediments, rust, iron, sulfide, bacteria, algae and many others.
What's more, the set of filters has a relatively long lifespan. They can be safely used for up to 100,000 gallons of water which make for a year of use for a family of 4. This makes the maintenance of the system somehow low cost. On top of that, the base price for the product is pretty reasonable as it is one of the cheapest high-quality whole house filters for well water out there. As an extra feature, the system includes pressure release buttons for the filters which help to stabilize them when needed.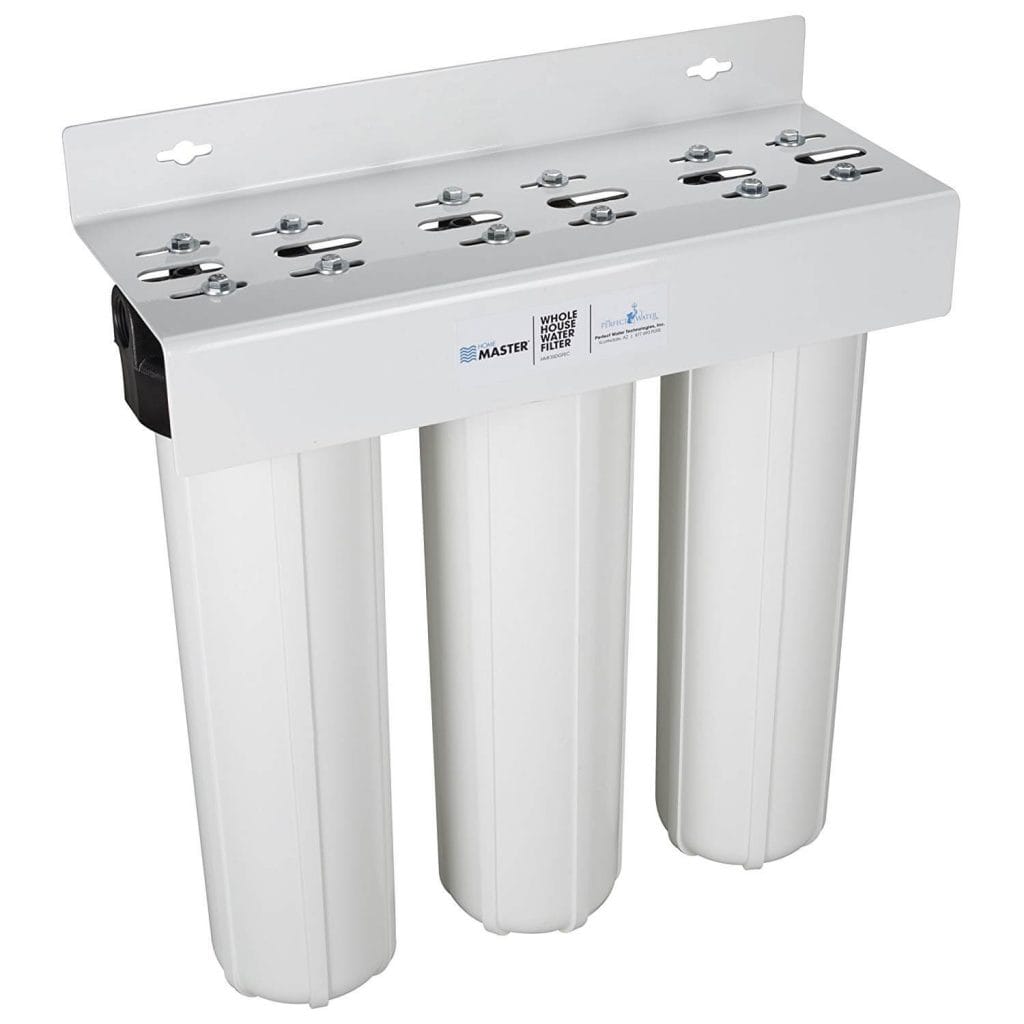 Home Master HMF3SDGFEC Whole House Well Water Filtration System
Specifications
Capacity: 95,000 gallons
Flow Rate: 15 GPM
Filtration Stages: 3 stages
Filtration Percentage: up to 95%
Dimensions: 25 x 24 x 9 inches
Warranty: 2 years
Pros:
Removes up to 95% of heavy metals, sediments, chemicals and other contaminants
Specially optimized for well water
2-year warranty and excellent customer service
Replacement filters from other manufacturers can be used to replace the original ones
Pretty straightforward installation
Cons:
Expensive original replacement filters
Large filters that aren't suitable for every home
The system and the filters are a bit heavy
A typical setup for the brand itself, Home Master presents a three-stage reverse osmosis filtration system. This filter provides very clear water at a very low cost. What distinguishes it from most water filters is that this one is specifically designed for wells. For this reason, HMF3SDGFEC definitely deserves to be on the list.
Furthermore, the 15 GPM allows the use of multiple sinks, showers and whatever comes to your mind, all simultaneously. Although the manufacturer doesn't recommend the system for chlorinated water, the HMF3SDGFEC model is ideal for well water rich in iron, manganese and sulfur. Actually, it must have become obvious since it's a water filter optimized for wells and not for city slickers.
Finally, if you're looking for a water filter for your well – this system will clear your water from heavy metals and chemicals easily. The model will clear virtually every particle larger than 1 micron. It may not be the cheapest one on the market, but it's definitely effective. You can easily change the replacement filters with cheaper versions from third-party manufacturers which makes for low-cost maintenance.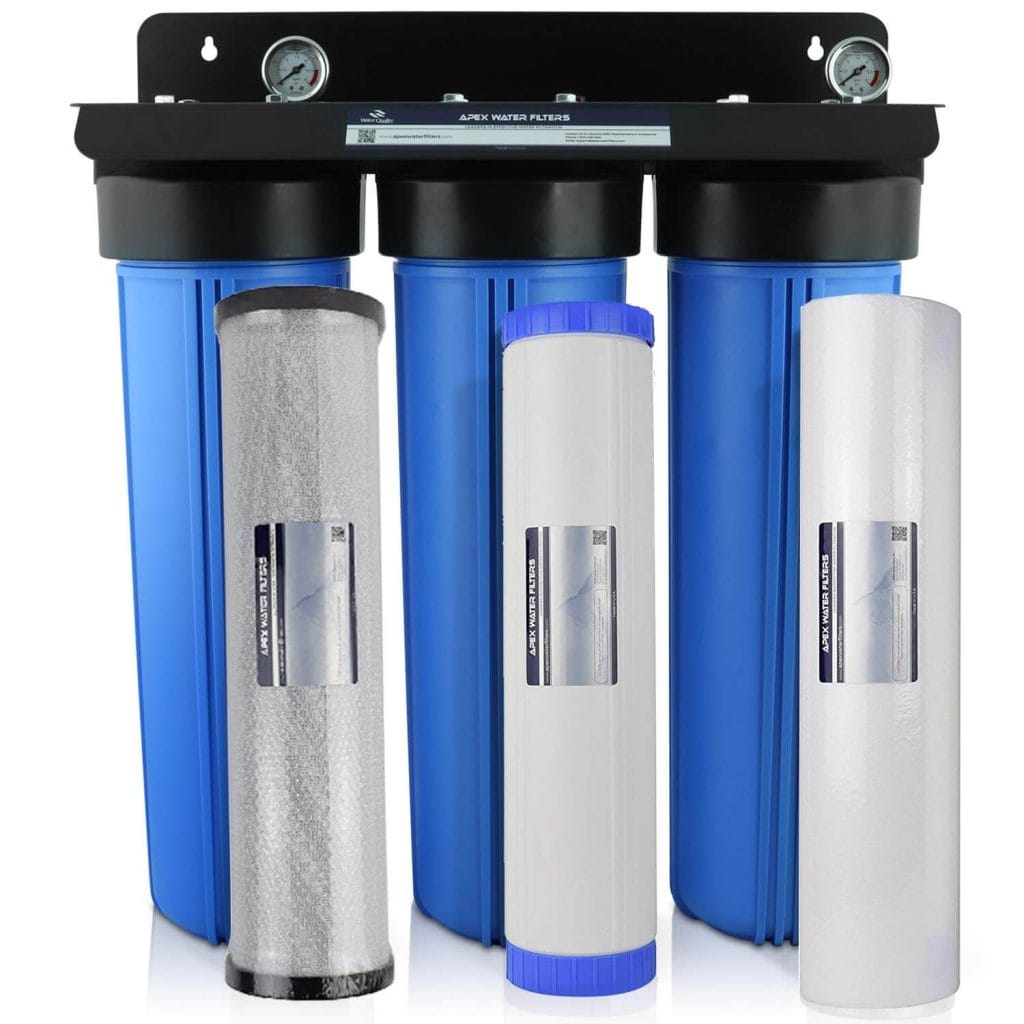 Apex MR-3030 Water Filter
Specifications
Capacity: 20,000 gallons
Flow Rate: up to 15 GPM
Filtration Stages: 3 stages
Filtration Percentage: 99% of water-soluble lead, nickel, mercury, chromium and other dissolved materials
Dimensions: 30 x 24 x 12 inches
Warranty: -
Pros:
The KDF 85 Process Media removes 99% of heavy metals and other sediments
High flow rate
Somewhat sturdy and solid housing
Easy filter change
Versatile installation
Cons:
Difficult filter replacement
Short filter lifespan
May have issues with the PSI
First of all, this whole water filter is advertised as extremely sturdy and solid. Although it may be more suitable for offices, apartment buildings, restaurants and such, it is also suitable for well water. The reason for this is the 3-stage filtration system which eliminates not only chlorine but also larger sediments, iron and other heavy metals. As a result, you get a crystal clear water without clogging and leaks.
Additionally, the large input/output size allows you to maintain the water pressure. What's more, with the 15 GPM you will be able to supply your entire house easily. You can virtually use the system for six months without changing anything. On the other hand, the manufacturer ensures a 100% satisfaction and if you somehow end up dissatisfied, Apex will refund or replace your water filter.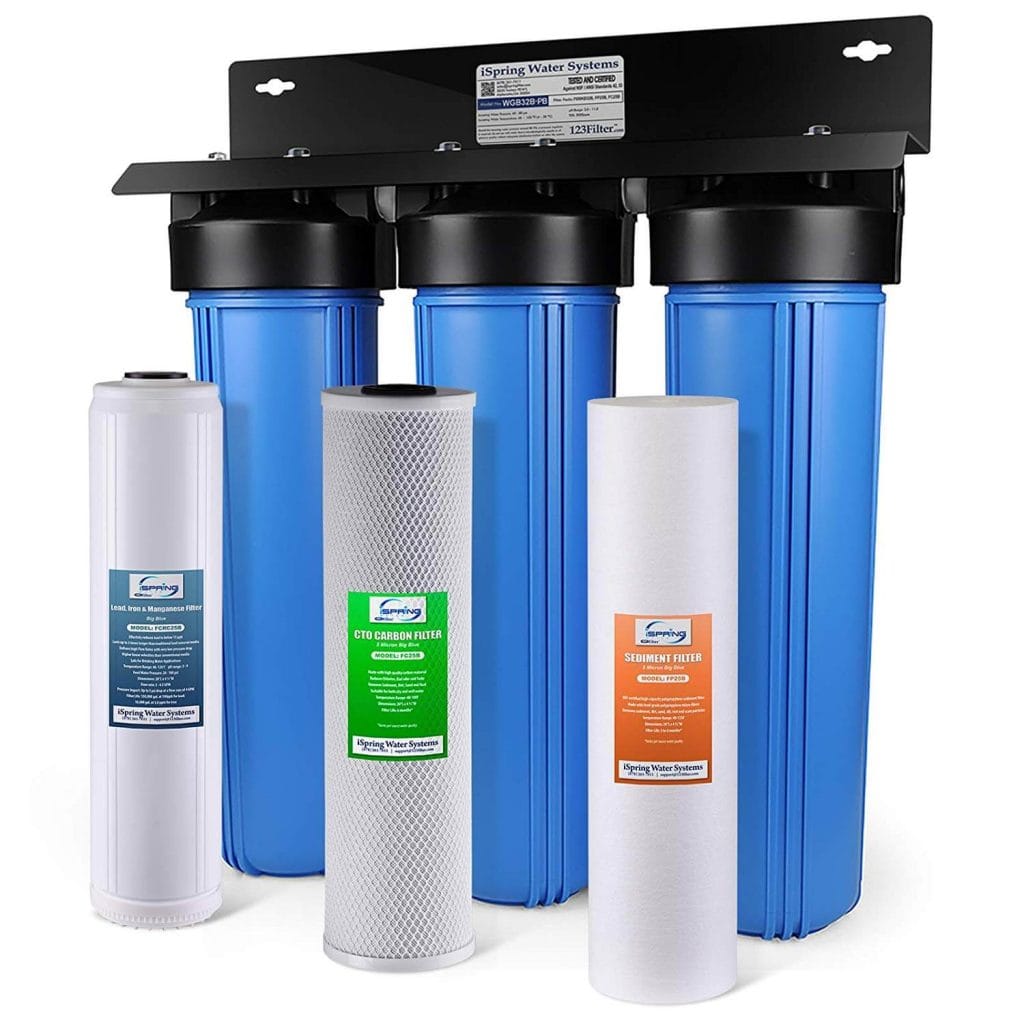 iSpring WGB32B-PB Water Filter
Specifications
Capacity: 100,000 gallons
Flow Rate: up to 15 GPM
Filtration Stages: 3 stages
Filtration Percentage: up to 98%
Dimensions: 21 x 8 x 27 inches
Warranty: 1 year
Pros:
Filters up to 98% of unwanted sediments and bacteria
Easy to install
Somewhat cheaper compared to other filters in the category
High capacity and long lifespan
Suitable for all conditions
Interchangeable cartridge and housing
Cons:
May have issues with leaks from different parts – mainly from the filter heads and air vents
Slightly expensive maintenance
To begin with, the PB version of the iSpring WGB32B is designed for well water. This means it will effectively remove lead, iron, mercury and other heavy metals and sediments from the source water. The feed water temperature can vary from 4 to 38 degrees Celsius which makes the system suitable for all conditions.
According to the manufacturer, the system is nothing like the standard reverse osmosis one as it doesn't reduce the TDS (Total Dissolved Solids). In this way, the filter keeps the healthy minerals in the water. The high GPM is enough to supply a whole house with clean water. You'll never have to worry about unwanted sediments, bacteria and viruses in your water anymore. Although maintaining the WGB32B-PB may come out costly, it is a somewhat cheap system to buy and the 3-stage filtration will provide quality up to 98% removal of all unwanted sediments and bacteria in your water.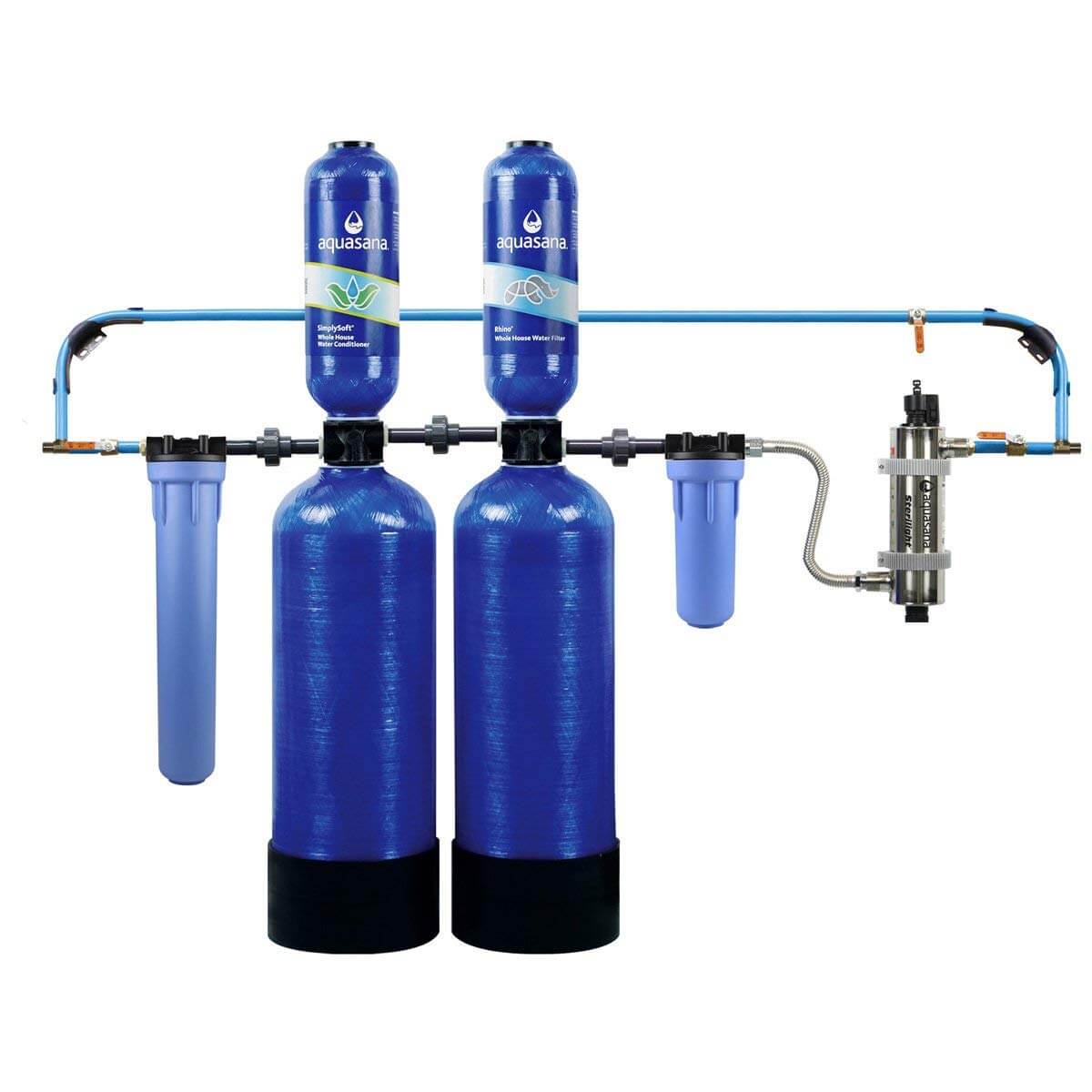 Aquasana 500,000 Gallon Well Water Rhino Water Filter
Specifications
Capacity: 500,000 gallons
Flow Rate: 7 GPM
Filtration Stages: 4 stages
Filtration Percentage: 97% of chlorine; UV filtration kills up to 99.99% of bacteria and viruses
Dimensions: 69 x 10.5 x 57 inches
Warranty: 5 years
Pros:
5-year warranty period
Very high filtration quality
Easy installation
Includes UV filtration which kills up to 99.99% of viruses and various bacteria
Includes professional-grade installation kit
Salt-free Softener included
High capacity and long lifespan
Cons:
Somewhat more expensive than other models in the category
There are some complaints about poor customer service
Some customers receive deliveries with missing parts
Has a lower flow rate than compared to other whole house systems
Some customers experience issues with the quality of filtration
Possible leaks may occur
The Aquasana 500,000 Gallon Well Water whole house filter is the perfect well water filter for homes without municipal water supply. The manufacturer presents a 4-stage filtration system specifically designed for well water.
Despite the lower flow rate, this system provides excellent water quality. The whole filtration process runs through the 20" pre-filter, a carbon media upgrade, a sub-micron post-filter and a Sterilight UV filter. The result is more than satisfying – 97% of the chlorine in the water is removed. What's more, the UV filter kills up to 99.99% of the bacteria. This makes the whole house filter really worthy as it might actually be among the ones of the highest quality in its category.
All in all, you will never have to worry about rust, lead, heavy metals, bacteria and others anymore. Best of all, the high-quality filtration is guaranteed by a 5-year warranty period and 90-day Satisfaction Guarantee.
To conclude
Finally, it is not difficult to make the decision to transition to a cleaner and healthier water. Especially if you are living in an area with low-quality tap water. In addition, using your well to supply your house with crystal clear water is now easier than ever and the only thing you'll possibly have to pay for is maintaining your filtration system. The only hard time you'll get is making your choice as there are tons of water filters on the market. For this reason, this list includes some of the best whole house water filters for well water out there. Cheaper or more expensive, better service or filtration level, there is definitely at least one model that will suit your preferences to satisfy your needs.