Best Whiskey Stones Gift Set
Filed under: whiskey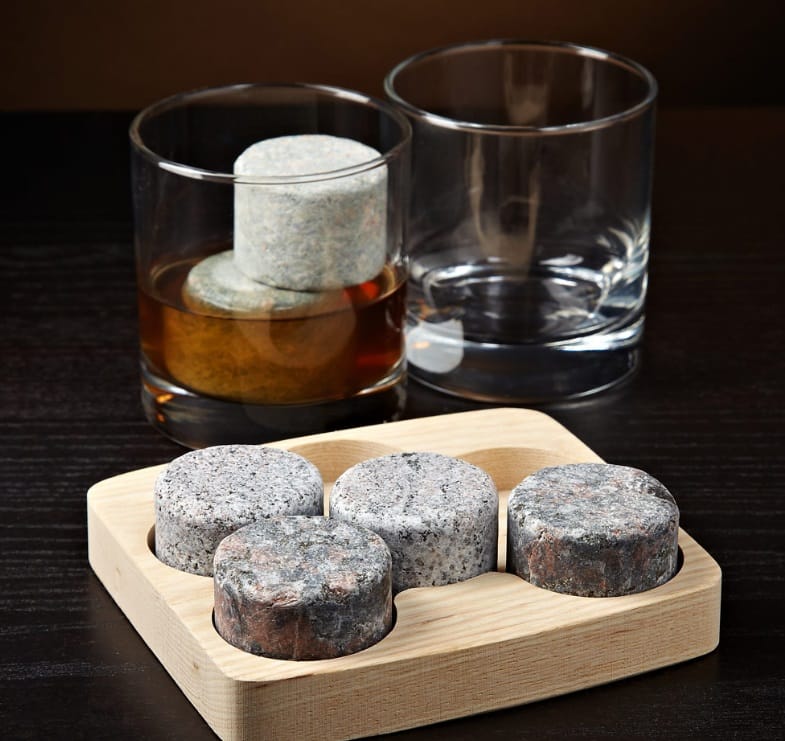 Looking for the perfect gift for a Whiskey drinker? Or are you perhaps looking for a convenient way to enjoy celebrations? Whiskey gift sets make these opportunities easy due to their quirks, such as Scotch and Whiskey glasses, Whiskey flasks, shot glasses, and other companions to the Whiskey lover.
Below is a list of the best Whiskey stone gift sets and information on their usefulness and value. Keep reading to find the creative and original quirks that these sets offer.
9 of the Best Whiskey Stones Gift Sets
2 Whiskey Glasses and 8 Whiskey Rocks Gifts Set. The Scotch Rocking Duo Gift Set by Scotch Rocks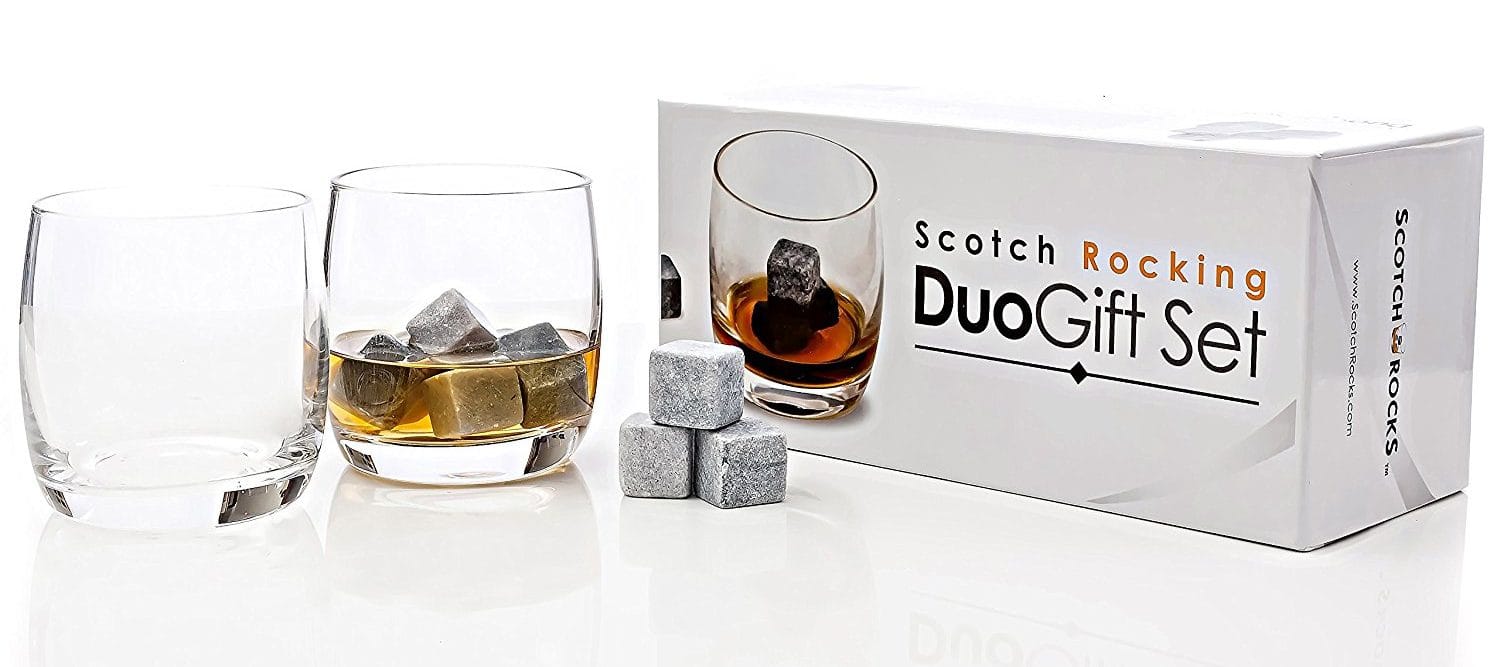 This whiskey set includes 2 Whiskey glasses and 8 Whiskey rocks. Simple, elegant, and easy to carry around, Scotch Rocks designed this Whiskey Set for those who enjoy the straight liquor experience, and state-of-the-art whiskey stones.
The set uniquely includes fashionable non-lead crystal Fifth Avenue scotch glasses and 8 sipping stones that chill the scotch without diluting it. The portable set is also packaged neatly so that it is ready to be wrapped.
Price: Under $40
A Gift Set Of 6 Unique Granite Ice Stones & 2 Crystal Whiskey Shot Glasses by Lord's Rocks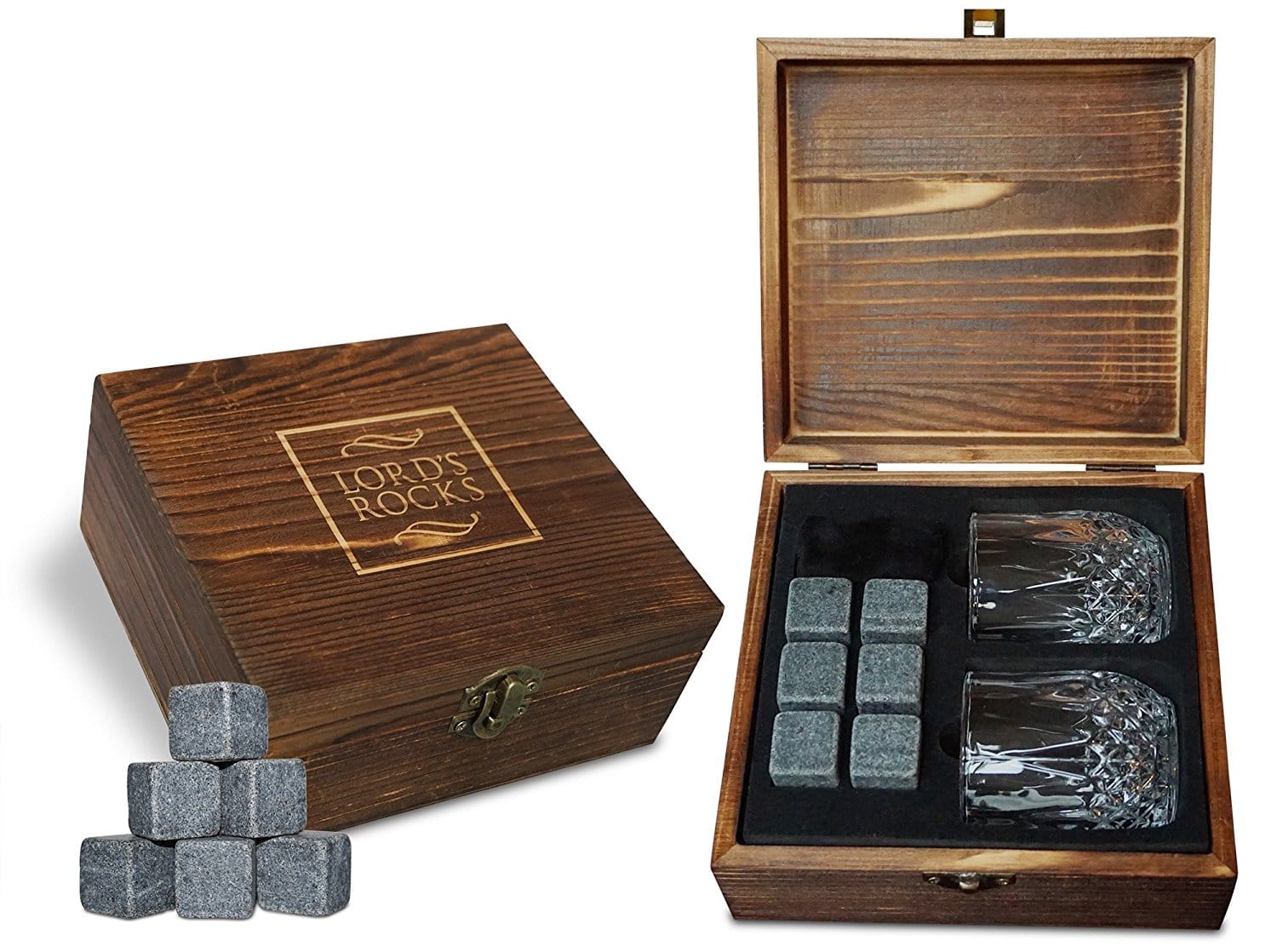 These cold stones are perfect for enjoying a chilly glass of Whiskey. With 6 unique Granite Ice Stones and 2 Crystal Whiskey Shot Glasses, this Lord's Rocks set contains all that the Whiskey-drinker needs.
Sitting in an engraved wooden box made by Lord's Rocks, this set is the perfect gift due to its classiness. Also, the stones are made from 100% pure and natural granite, so you don't have to worry about extra flavors in your drink. Another perk to the set is that you can rinse the glasses after drinking, freeze them again, and use them continually.
Finally, the perfection and quality put into making the stones makes them especially noteworthy. Both the stones and the glasses are made smoothly so that they will not encounter scratches or cracks.
Price: Under $50
Granite Whiskey Chilling Stones "On the Rocks" with Two 10oz Tumblers and Presentation/Storage Tray by Sea Stones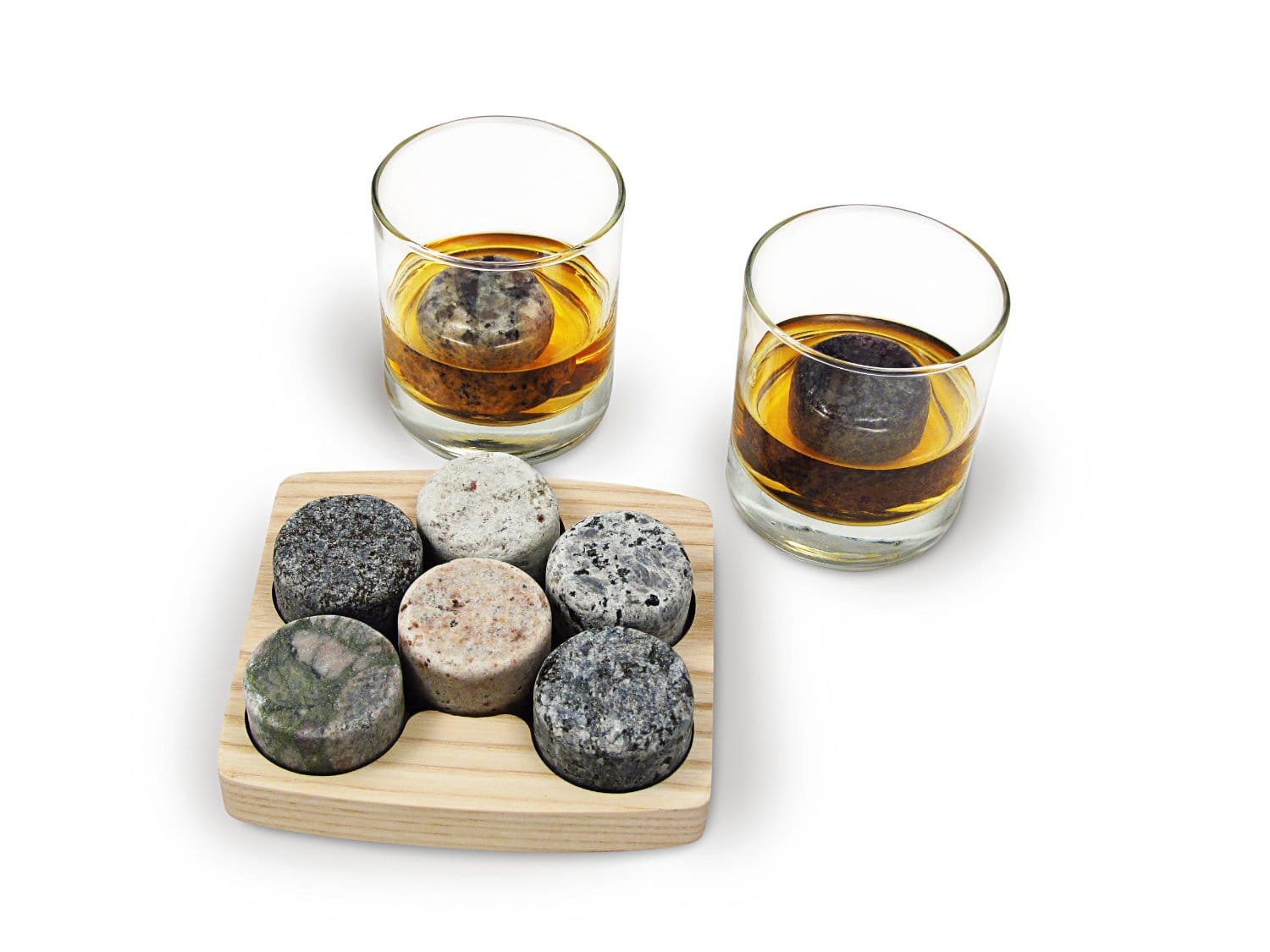 With 2 Free 10-Ounce Tumblers and Presentation/Storage Tray by Sea Stones, this unique presentation consists of 6 handcrafted stone chillers in a hardwood tray with 2 tumblers. The set is perfect for occasions that require freezing and serving.
With six stones that are various beautiful colors, the set is artistically made. Used to chill fine spirits, these stones are convenient, sophisticated, and long-lasting.
Price: Under $40
Beltown Whiskey Stones Gift Set – includes 8 Whiskey Stones, a pouch and stainless steel tongs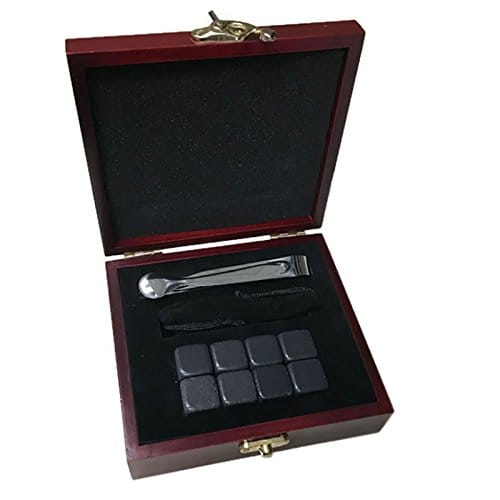 This set includes 8 Whiskey Stones, a pouch, and stainless steel tongs, making it a wholesome and reliable kit. The natural chilling stones keep your drink chilled without diluting it. You won't have to worry about the temperature or taste of your drink after you leave it alone for a few hours.
Not only is the set perfect for Whiskey, but is known to be suitable for Wine, Vodka, Cocktails, and other drinks. The reusable set also comes with a velvet pouch so that it can be kept in the freezer.
Price: Under $40
9 Pieces Soapstone Whiskey Gift Set Includes Wood Box and Velvet Freezer Bag.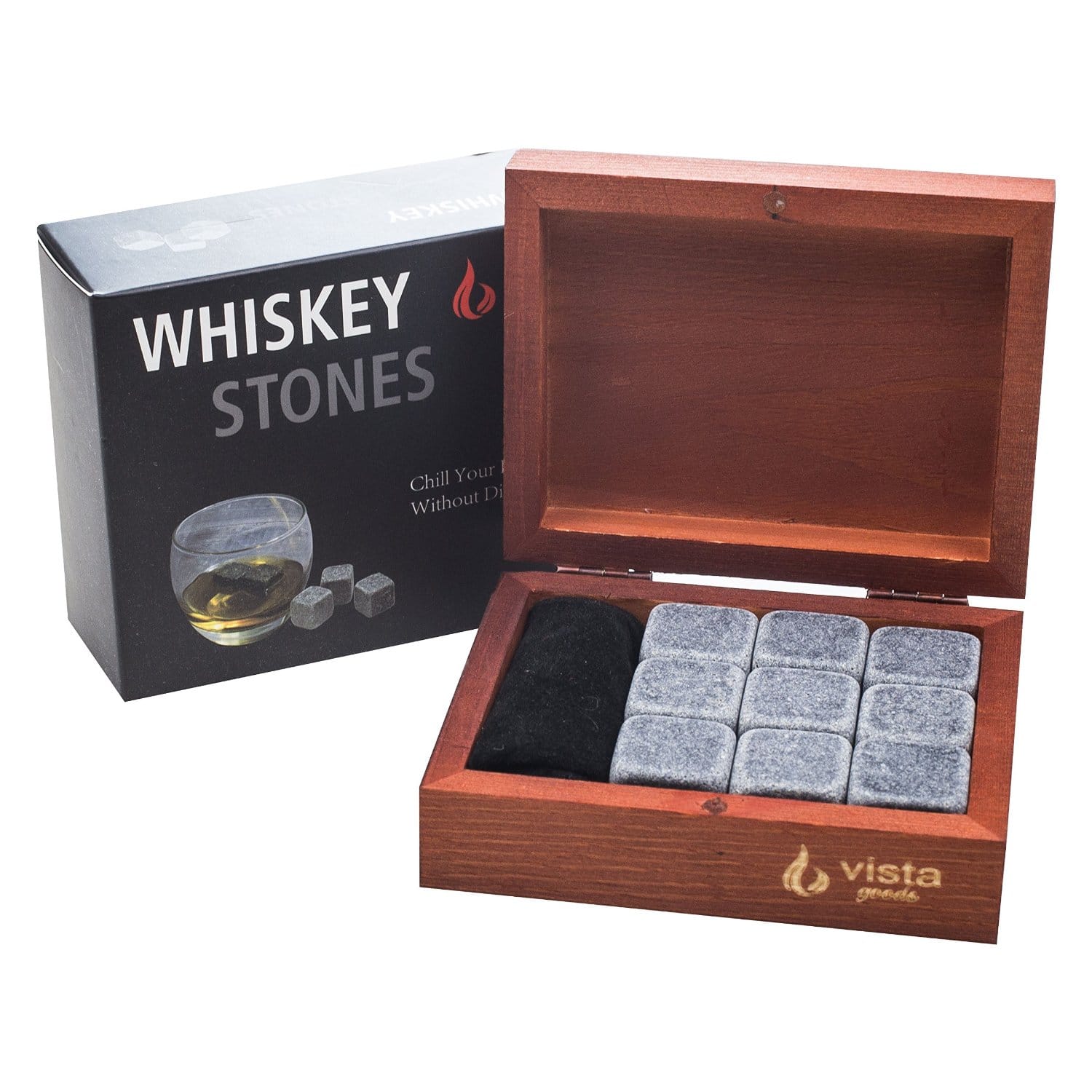 Perfect for those with a bar, the Whiskey Stone Set by Visa includes 9 pieces of Soapstone Whiskey stones, a wood box, and a velvet freezer bag. The handcrafted wooden box allows for simple storage and transportation for the stones.
The set is great for those who love chilled Whiskey, and would prefer stones over ice. With a full pack of nine chilling stones, this set is way more than just cool! It's great for groups of people that are having a good amount of drinks.
Price: Under $20
Glencairn Crystal Glasses Set of 2 With 8 Scotch Rocks Gift Set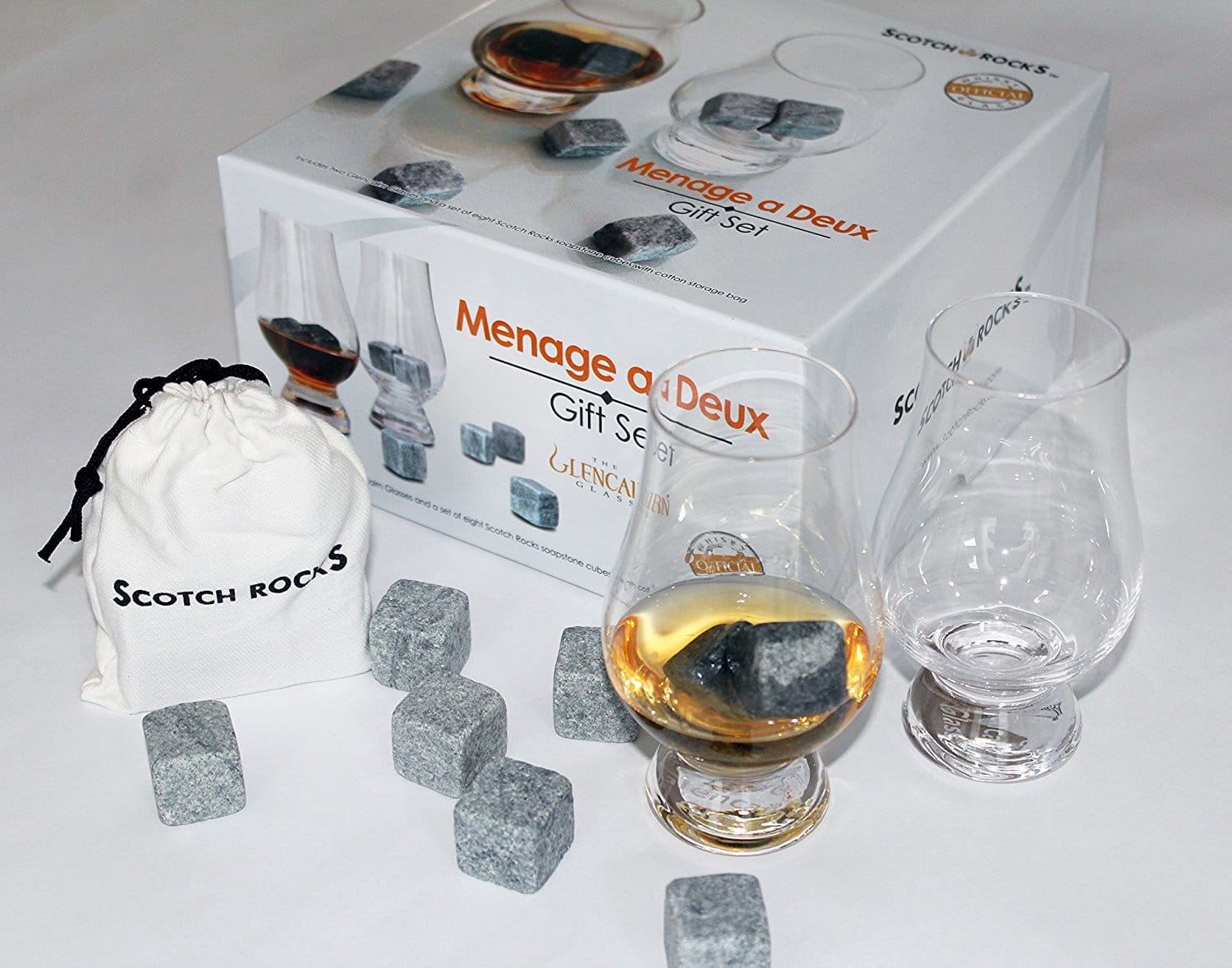 With 8 intricate hand cut Scotch rocks, this set is great for the sophisticated Whiskey or Scotch drinker. The set even includes 2 Glencairn Crystal Whiskey Tasting Glasses distinctively made from Europe.
The rocks are settled in a classy gift box, making it the perfect gift. The set also includes a White storage bag for the rocks so that they are protected and kept safely. These Scotch rocks do the job that any general Scotch rocks do; they chill the drink precisely, without diluting.
Price: Under $40
Set of 4 Whiskey Rocks, Naturale Soapstone – Packaged in an Exclusive Wooden Gift Set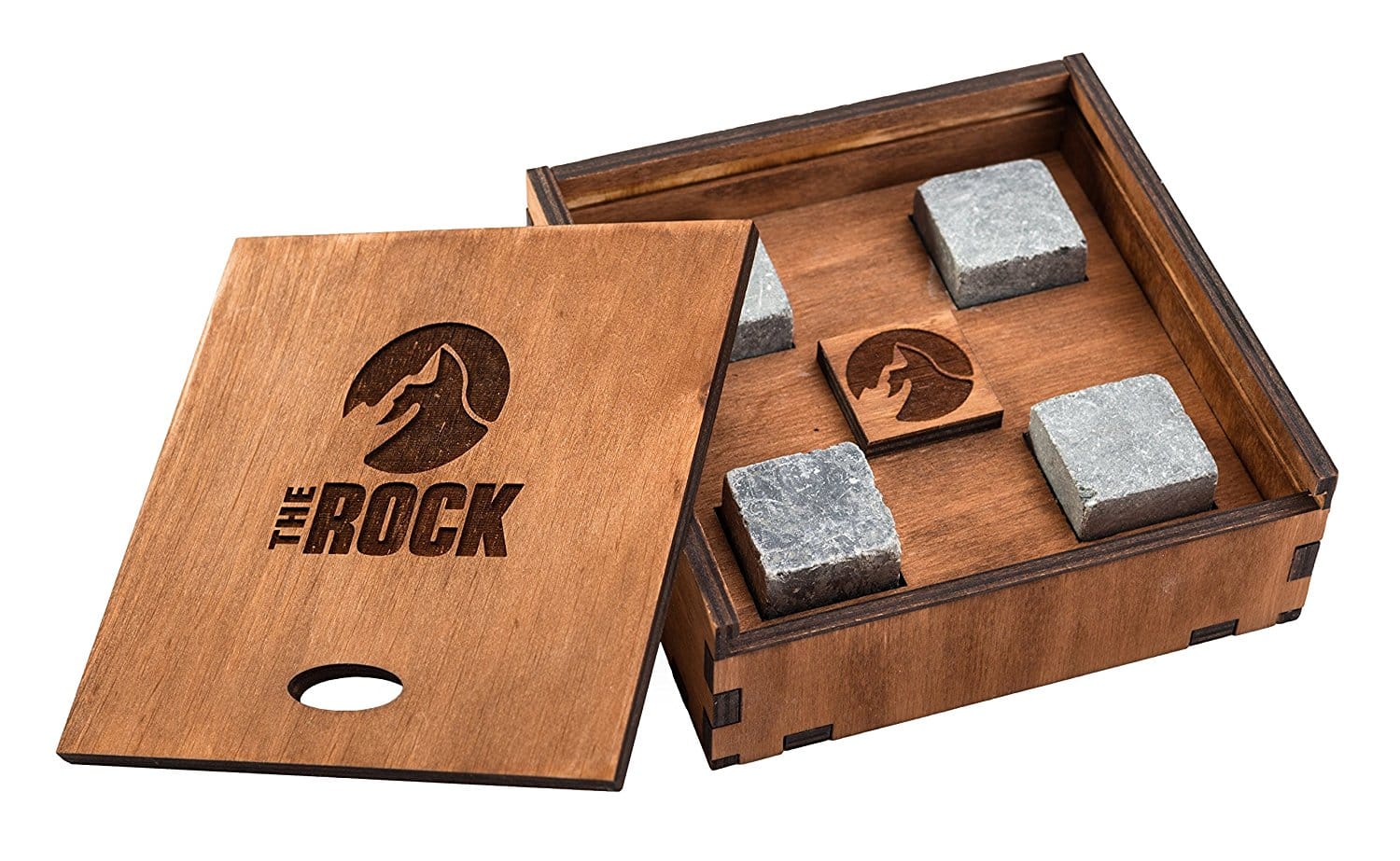 The 4 stones in this set are uniquely made from one single type of natural stone-Steatite. Steatite is known for its high quality, which has been proven to be the best through many tests. The stones, all identical to one another, have smooth sides and sanded surfaces.
A rare and unforgettable gift, this Premium Whiskey Stone set is great for those who prefer a more upper-class type of Whiskey stone. The stones are placed in a box made of Plywood with a delicate and artistic engraved design.
Price: Under $50
Best Whiskey Stones Gift Set – Personalized Winchester Glasses and Whiskey Stones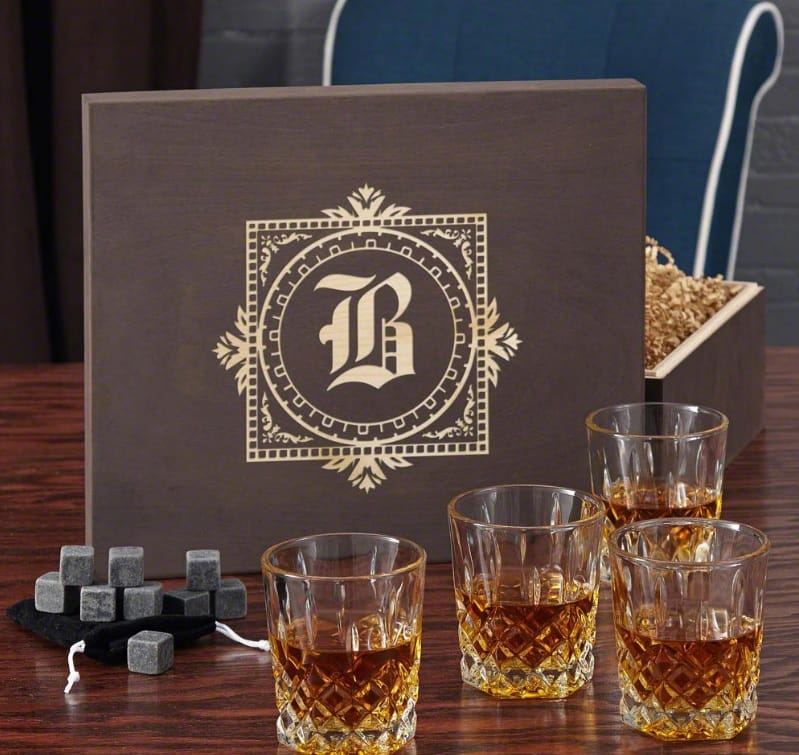 Elegant, convenient, and on the gift list of all Whiskey Stone collectors, these Gift Baskets are made up of a set of 4 premium glass tumblers, a 9-piece Whiskey stone set, and a personalized wooden gift box. Crafted from walnut stained maple, the wooden gift box is just as sacred as the stones.
The Tumblers contain diamond-like detailing, making them a great collector's item. Also, the box is engraved with a Winchester monogram. The set of stones are kept nicely in the artistic and lovely box they come in.
Price: $89.95
Round Whiskey Stones 6 Piece Set with engravable Tumblers.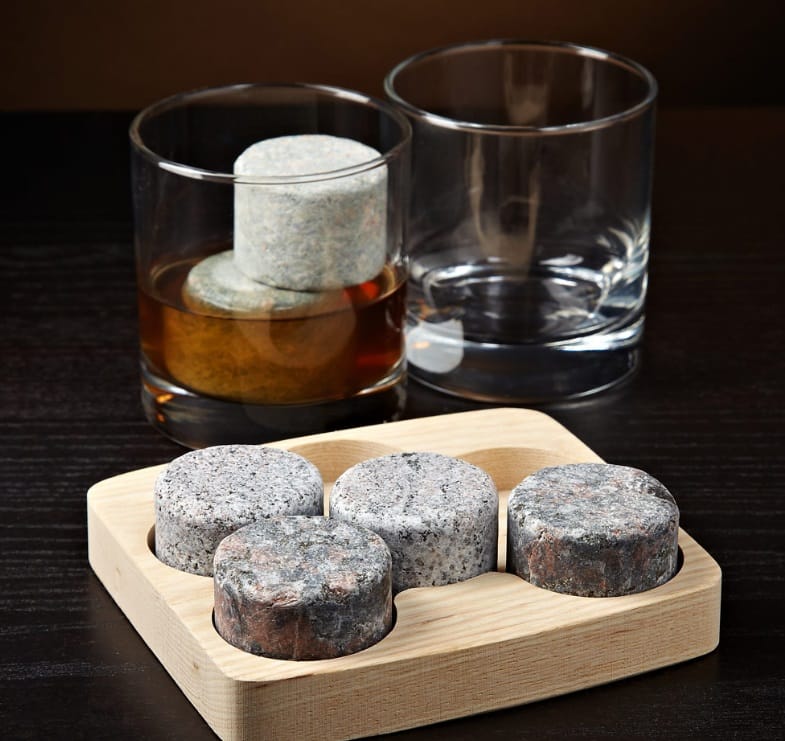 This six-piece disc set comes with two free Tumblers! It is hand carved from high-quality granite, making it a precious gift and household item. A wood Whiskey stones holder is also found in the set; the cherry on top to these collections.
These basic Whiskey Stones chill your Whiskey perfectly, making them a great substitute for ice.  With 6 stones, this set is suitable for both the stone collector, and those who are simply interested in stones.
Price: $24.95
Conclusion
Whether you are seeking to give a gift to a Whiskey Lover or you're a Whiskey box collector, these Whiskey box sets are perfect for many occasions. Consisting of interesting perks, such as engraved boxes and granite stones, these sets are elegant, easy to use, and enjoyable. Instead of worrying about ice melting or watering down your drink, try one of the best whiskey stones gift sets that contain high-quality Whiskey Stones that are known to keep a drink perfect for a long time.
Read Next: The Best All Grain Brewing Kit Reviewed.