Best Hanging Chairs: 14 Of The Coolest Hanging Chair Designs
Filed under: misc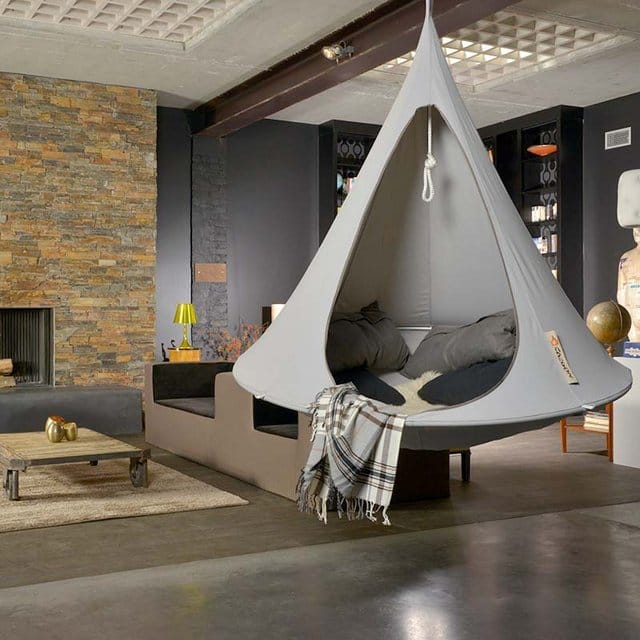 Update May 2019: The teardrop cacoon style hanging chair (as seen above) is now back in stock! You can get it from here.
When looking for the best hanging chairs there are a few different questions to ask yourself:
Do I want egg style, tear drop or hammock chair style?
Do I want to chill or sleep in there too?
Can I attach it to the roof or must it have a stand?
On a scale of 1 to 1,000 thread count Egyptian cotton luxury - how luxurious do I want my life to be?
We've found the coolest styles that will cater for all tastes and purposes, check them out.
Read:
Best Outdoor Hanging Chair For The Patio Or Pool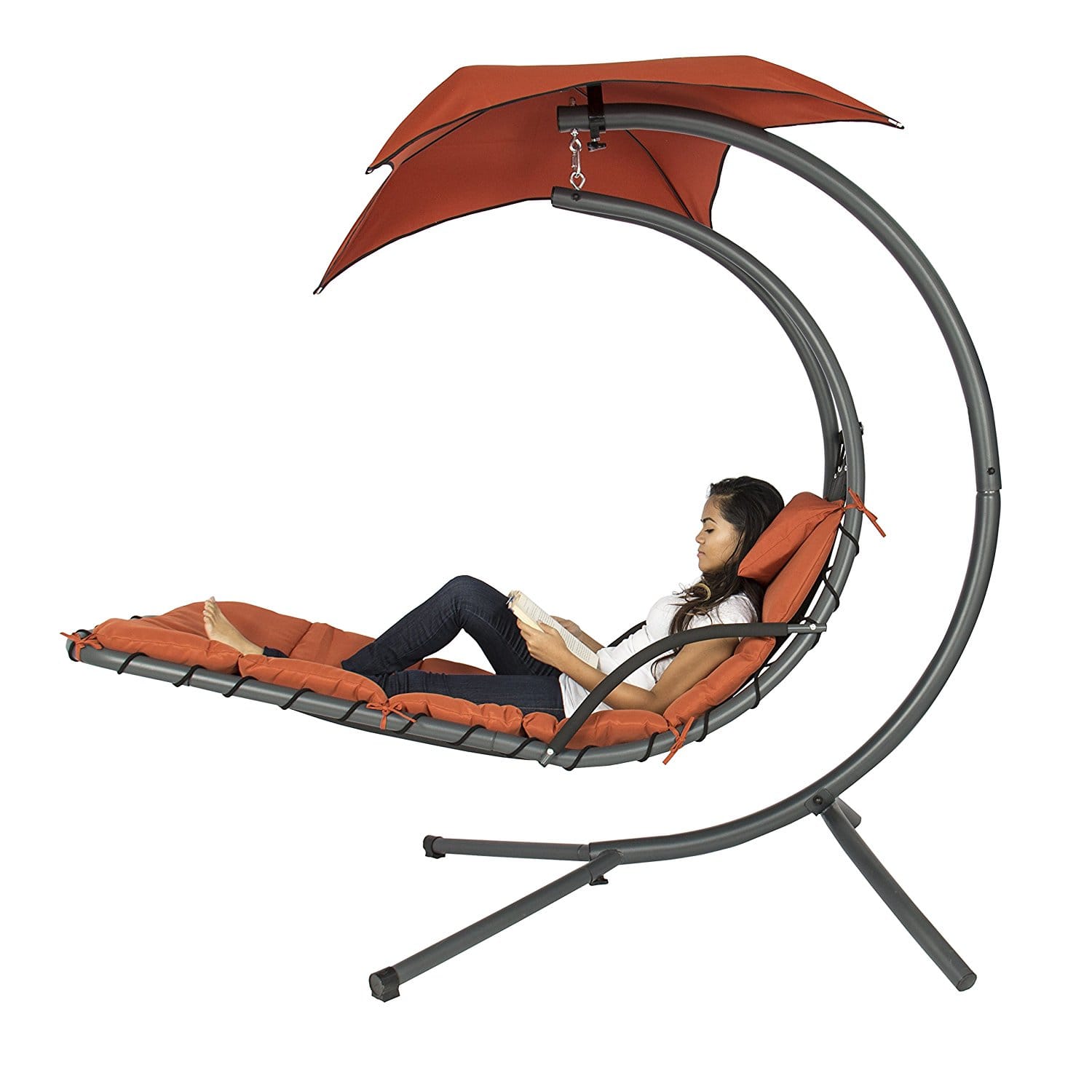 This hanging chaise provides the ample shade one needs when the strenuous days of lounging outside by the pool reading your favorite book and sipping on pina coladas just gets too much. These are without a doubt one of the all-time favorite outdoor hanging chairs. They are extremely comfortable, so much so a short afternoon nap will lend itself to you nicely.
The one downside about the chairs is that they can be prone to rusting in areas where paint has been scratched or chipped off. This can be improved by spraying a clear coat of rustoleum over the surface. The other disadvantage is due to the thick and comfortable nature of the cushions - because they are so large it can take some time for them to dry if they see any wet whether. Some foresight and organisation should prevent this however, otherwise use some waterproofing spray.
Overall, the downsides are only minor in contrast the positives and that's why these are probably the best outdoor chair on the market.
Cool Boho Chic Fashionable Chair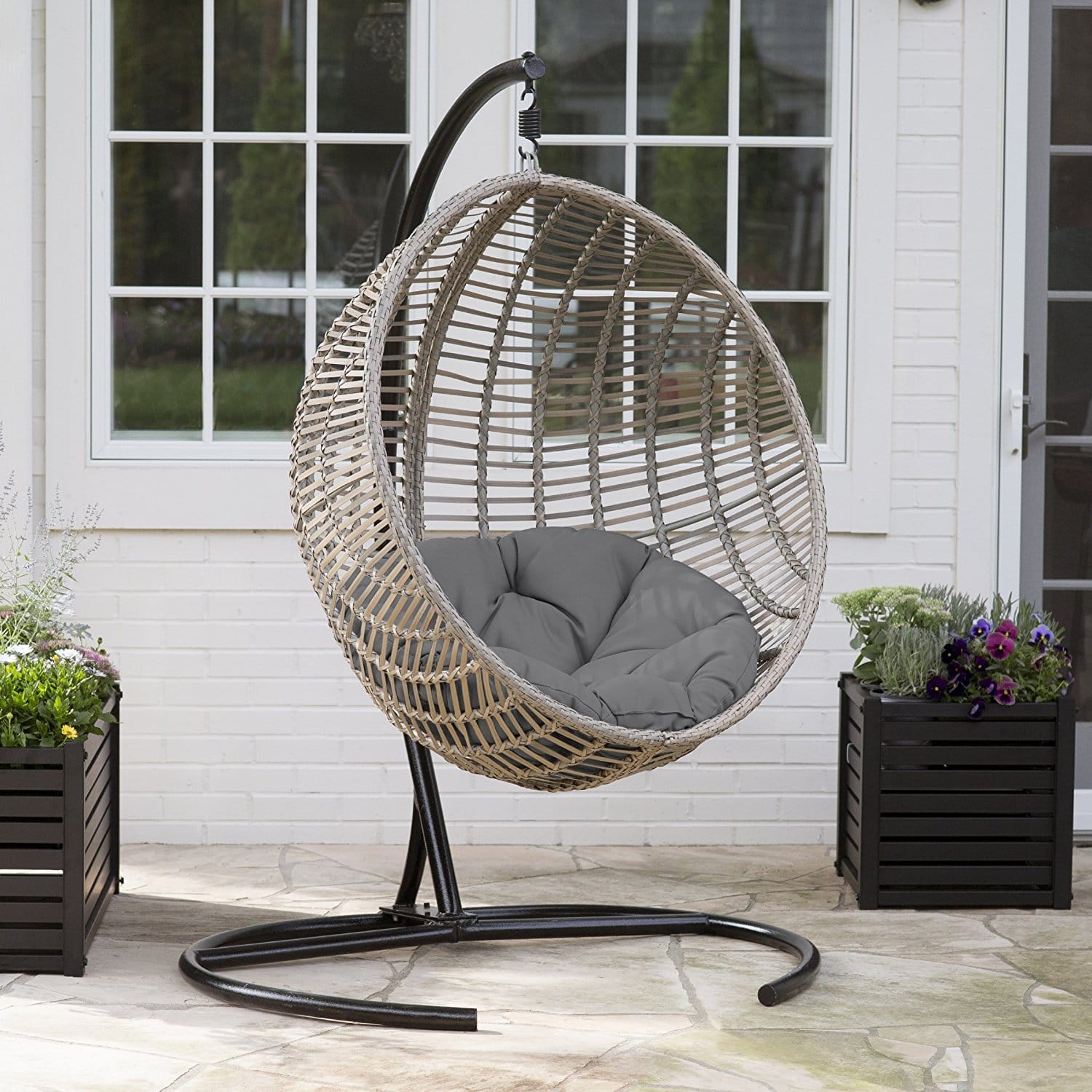 The Island Bay hanging egg chair is a versatile display of boho-chic attitude. Whether you want it placed indoors in the corner of a room and bask in the natural light that flows through the windows or somewhere outdoors taking in the serenity, you're sure to find a cosy spot to chill out with a great book.
The chair is a seriously high-quality construction with no detail spared. From the powder coating of the metal from to the rattan egg and the fluffy cushion it doesn't disappoint, that's why you'll read that everyone is raving about this. Assembly is stupidly simple making this one of the most attractive hanging chairs available online.
Stylish Two Person Hanging Chair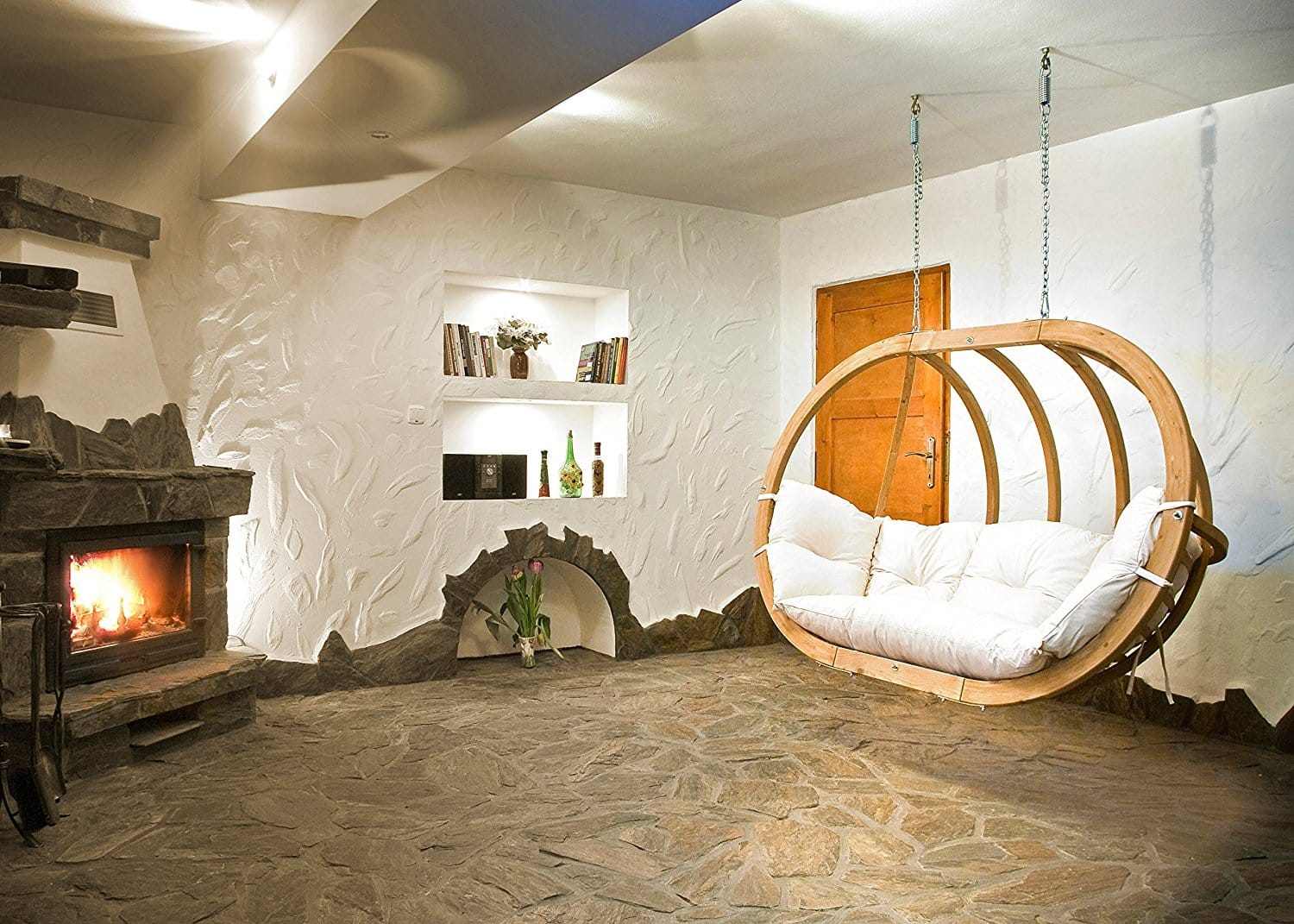 The two person (or a sleepy one) Globo Chair exudes luxury and sophistication. The chair is made from an impressive multi-layered and weatherproofed spruce wood which means it will be able to take on whatever the weather has to throw at it outside without compromising on appearance. It's equally suited to be hung from the ceiling indoors in a den or the centerpiece of a room in front of a fireplace.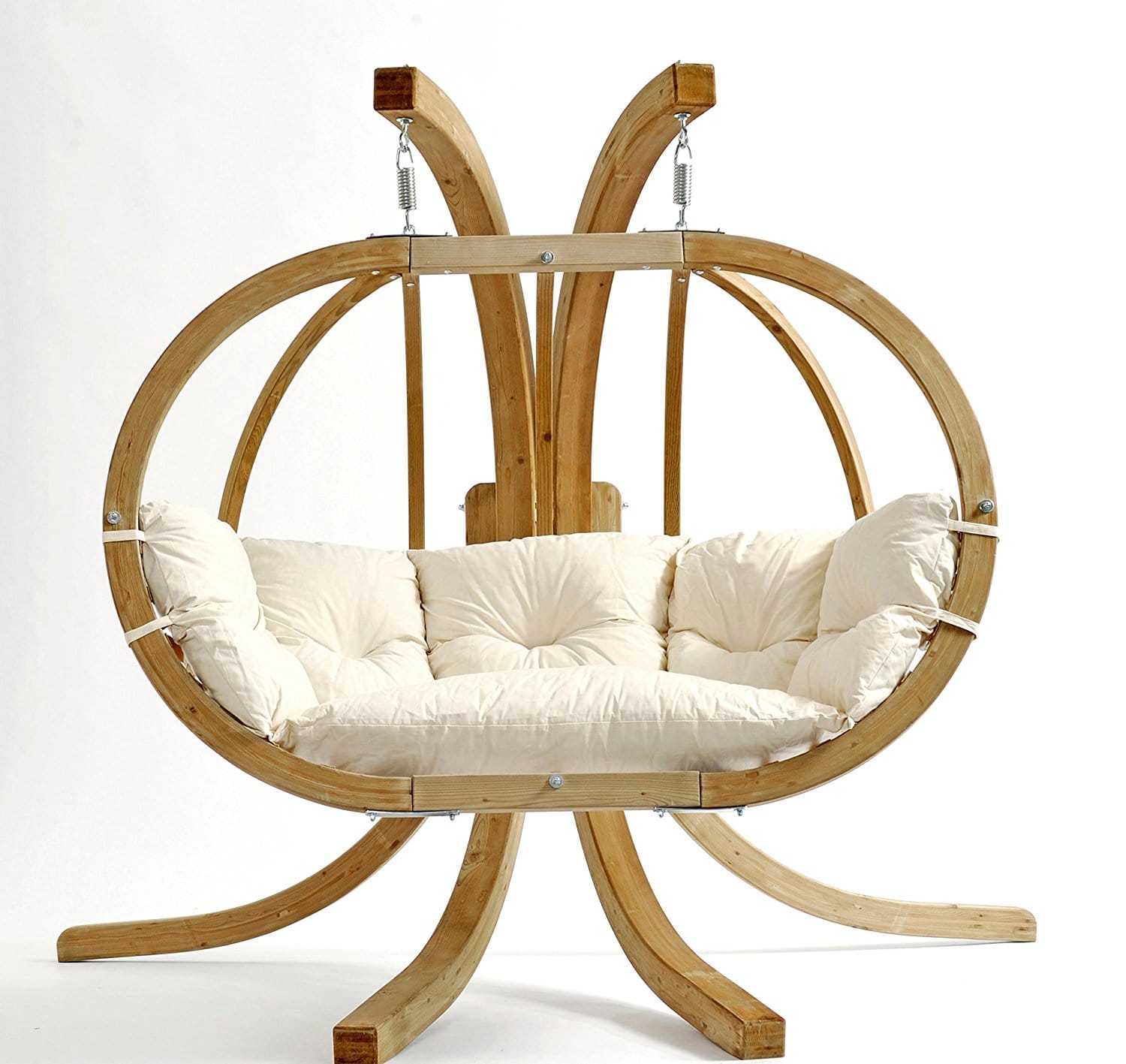 If you're wanting to have it outside but have nothing to hang it from, not a problem. The Blogo comes with a strong and stylish support that maintains the natural spruce wood element. This ranks as one of the best hanging chairs for two people.
Most Expensive Hanging Chair - Nautica Hanging Egg Chair With Base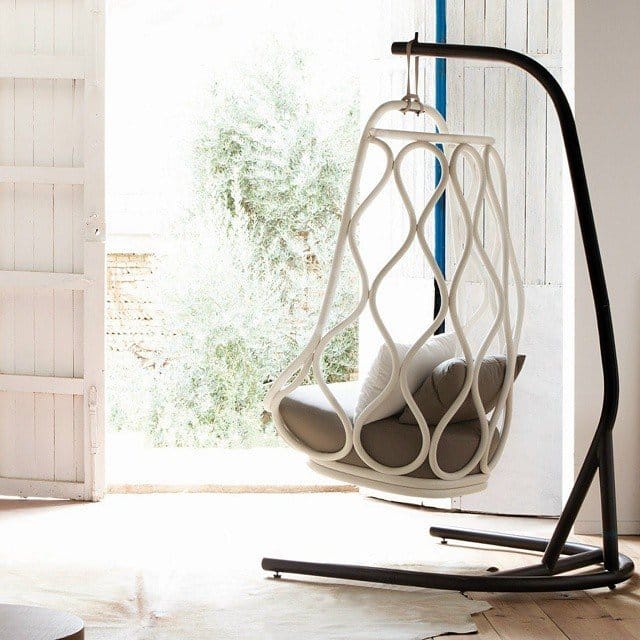 The Nautica hanging egg chair with base infuses cool minimalist design with modern flavors. The chair is an homage to one of the first creations by Expormim in the 1970s. The designer has created a striking balance between the contrasts in nature through its delicate play of shadows, it reveals the nostalgic visual of light reflection from the ocean.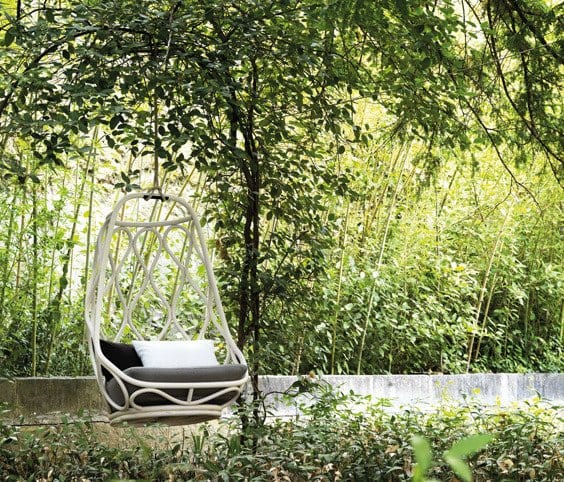 Nautica can be hung from a tree or ceiling and it is also versatile enough to suspend freely from its own self-supporting structure. It's the most expensive of the lot, watch your back pocket.
Cheapest Swing Hanging Hammock Chair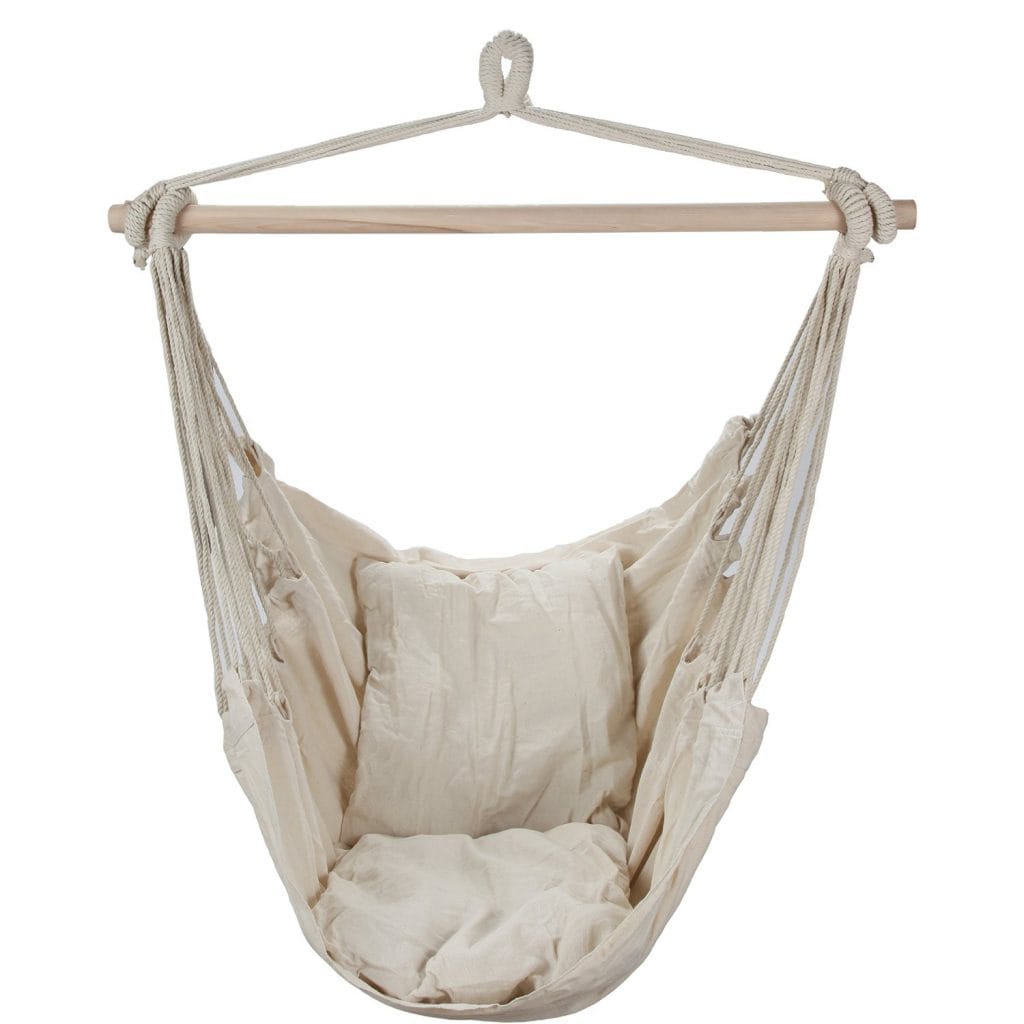 The swing hanging hammock chair is a very affordable option when looking to picking up a hammock or swinging chair for indoors or outdoors. The thick cushions make getting comfortable and counting sheep a breeze. Aligns more with the indoor hanging chairs, leave it outside and you'll be in trouble.
Renoir Rattan Hanging Egg Chair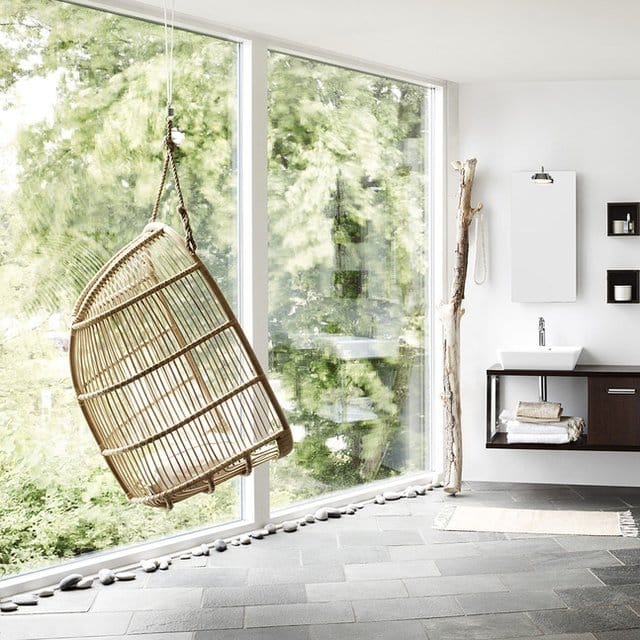 Coming from Italy, the Renoir is an instant classic among the indoor hanging egg chairs. It was recently relaunched into an Originals Collection and is crafted from durable natural rattan.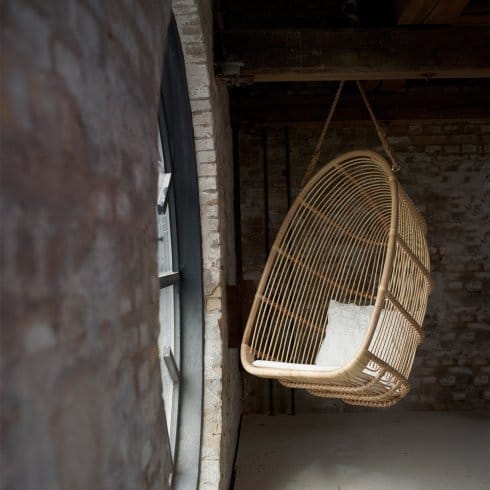 Wicker Swing Chair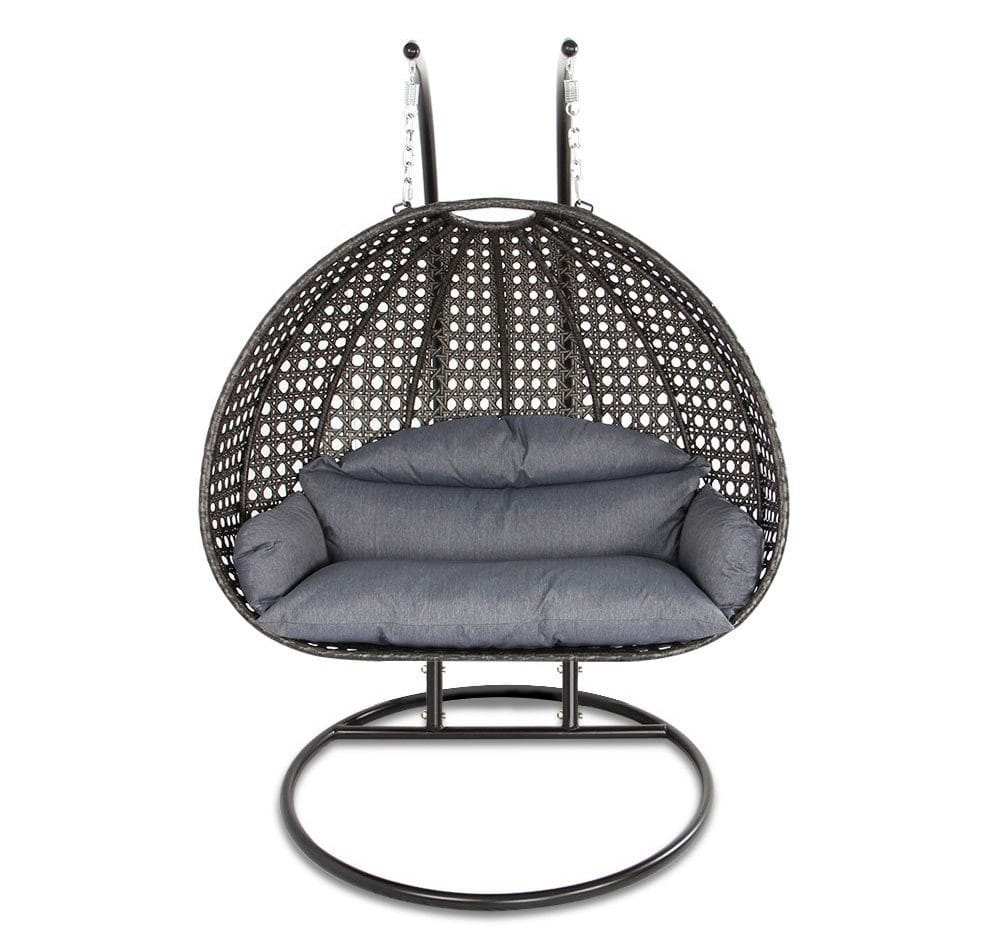 This hanging chair by Island Gale is a classy and versatile item. One of the biggest advantages of getting a flat base hanging chair is the space you get. There's so much room in this chair that you'll be able to curl up and even take a nap - if the afternoon permits.
It has fantastic reviews and is a fully weatherproofed ensemble meaning you can keep it outside or take it in whenever and wherever you please.
Teardrop Double Hanging Cacoon Chair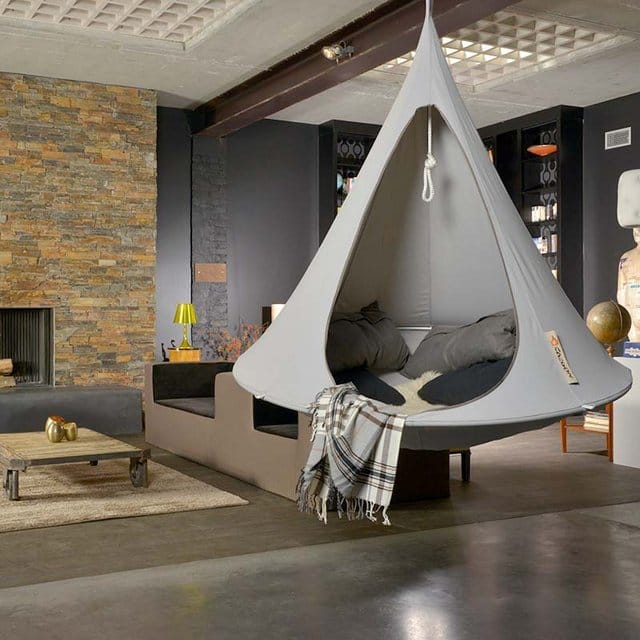 Update: The cacoon hanging chair is now massively discounted (around 70% off). You can check out the deal by clicking here.
This is a premium luxury double hanging chair suitable for both indoors and outdoors. The chair can be packed up into a small carry bag measuring 25 x 80 cm and easily transported if you feel like hitting a secluded park for a picnic.
Features:
Hanging style chair only (no stand available)
Fits two comfortably
The hanging chair is made from durable marine materials making it mold, UV and water resistant. The diameter measures 180 cm so you're gonna be able to stretch out pretty well.
Best Travel Outdoor Hanging Chair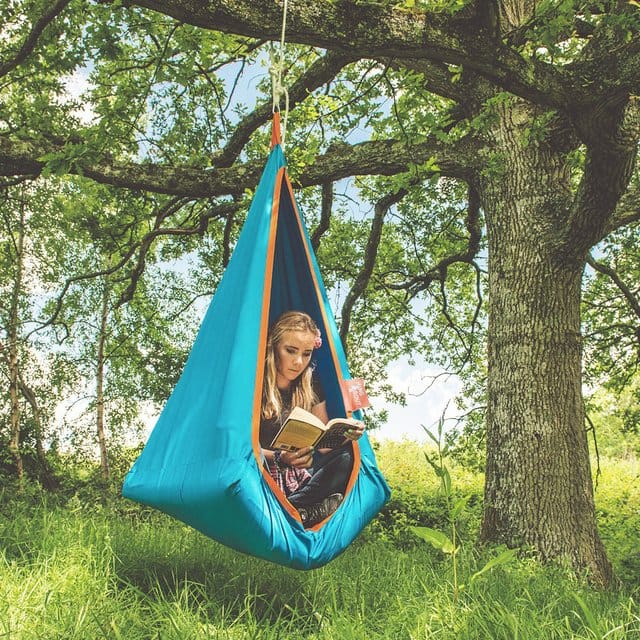 A great one to pack up for when you hit the road and head out doors, the Hang About Outdoors Hanging Chair makes it easy when you want to chill out and the grass is wet. It's a lightweight, compact easy to travel with hanging chair that you can throw in the car and take with you anywhere.
Or Feel Like Something A Little More… Out There?
Unbelievable right?
It was only a matter of time until it happened. The folks over at Flower House are responsible for this otherworldly creation and they are taking it in their stride.
Though don't be quick to fully discredit this hanging chair, it has more than meets the eye. And that is its versatility. The chair can have the sides taken down and rearranged to suit the amount of privacy you want. Take them all down and you've got yourself a cool round swing.
And pretend you're part of a giant pancake.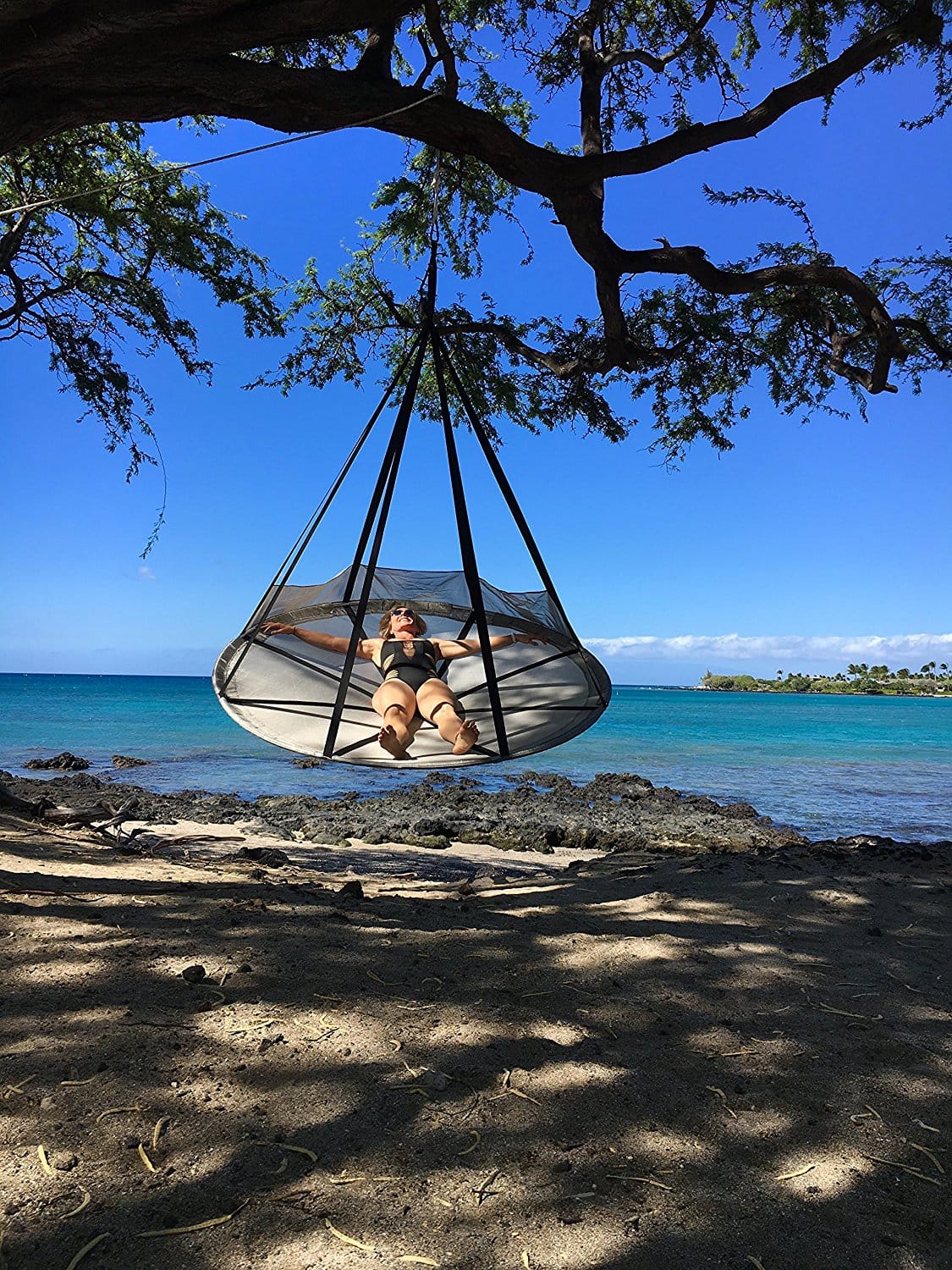 It's a fair compromise between keeping the kids entertained in a makeshift UFO and for the parents to relax in on their holiday.
Maybe The Evil Villain Style Is More Your Thing?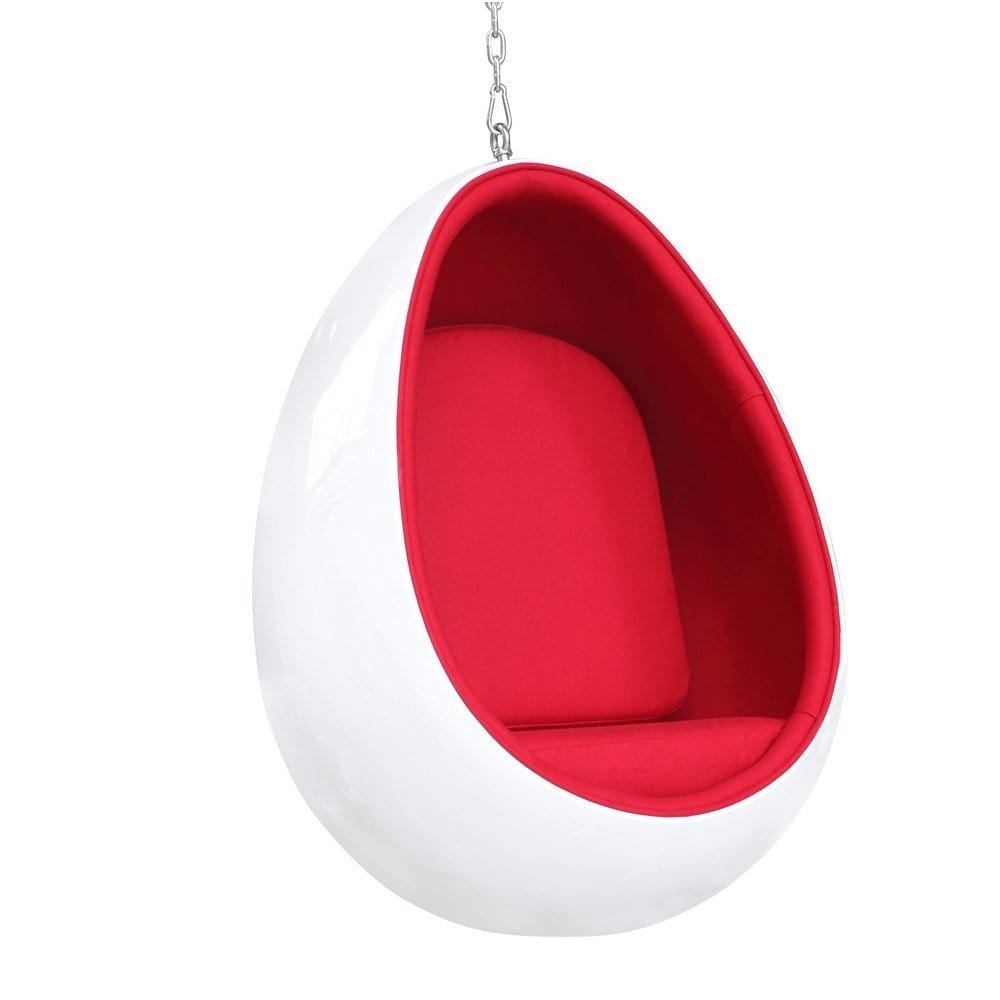 Want to feel like you're the evil villain on the set of an Austin Powers shoot? Or sit inside your own lair built deep into the side of a cliff overlooking the ocean, pretending to be a golden yellow yolk inside your egg chair? That's cool. And now you can do it with this treasure from Fine Mod Imports.
You can also get the chair with a similarly suited stand so there's no hanging required.
Feel like a bit of DIY? Try making your own hanging day bed swing like in the video below.
A Hanging Chair For Kids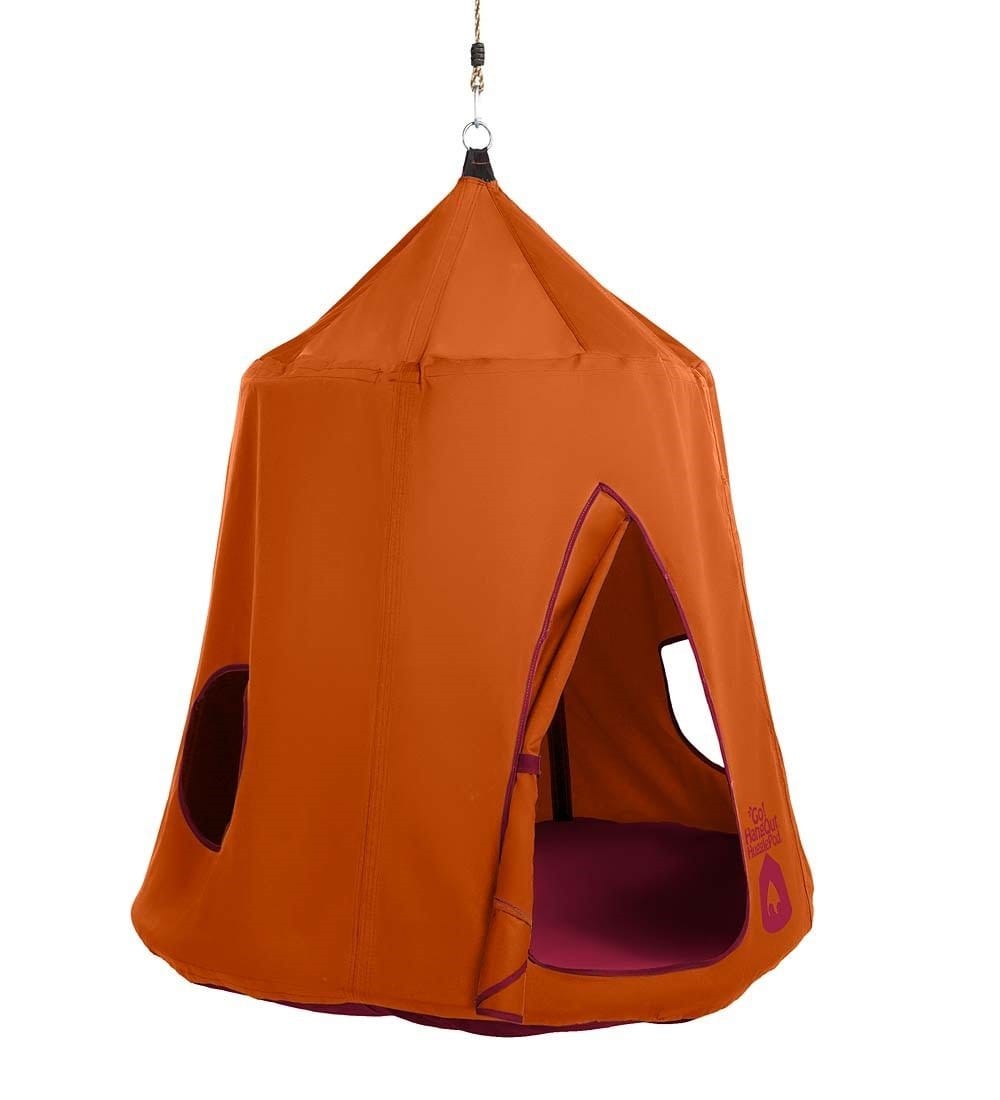 Kids will love the HearthSong hanging chair with LED lights. After all, once you get your own hanging chair, they should be able to join in on the fun with their own right? With enough room for two kids, maybe even three, there's a foam cushion in the center to stop the chair bowing and squishing them all in one fell swoop.
Parents and grandparents revel in their gift giving prowess with comments like: best gift I've ever purchased for my grandchildren, among other boastings.
Macrame Hanging Chair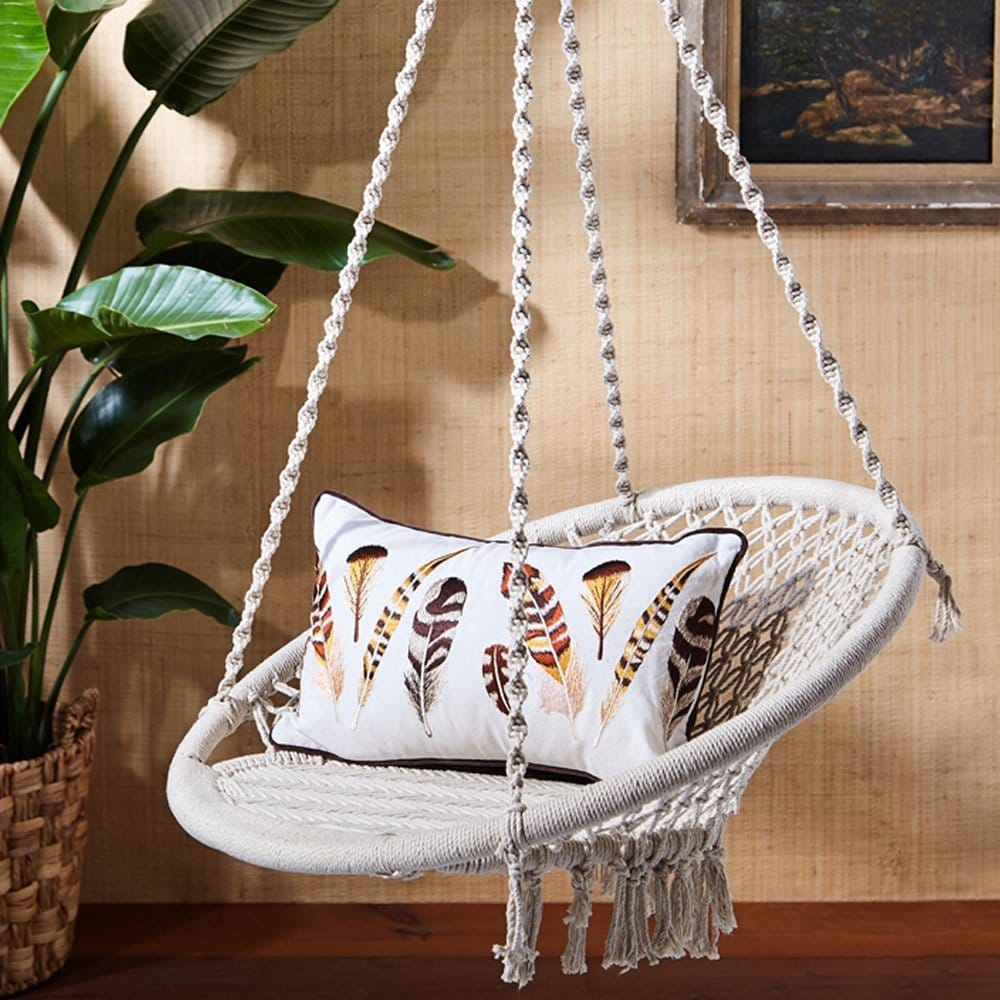 The Macrame hanging chair comes straight out of Africa and imparts a simplistic and cultured aesthetic to your room. Easy to assemble and easy to hang - it's a perfect home decor accent to spice up a room.
Be forewarned: if patience isn't your greatest virtue then perhaps keep looking, shipping times can range between 1 and 2 months.
Pickup Truck Hanging Chair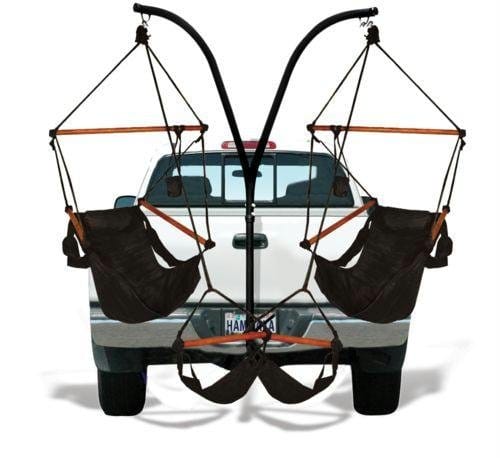 You dream of it, the Internet makes it. That's how it works on the world wide web.
The comments section is alight with hilarious, tongue-in-cheek reviews that suggest the best use of these hanging chairs is not so much for relaxation, but rather for putting the kids into on those long road-trips when they start fighting. Forget 6 Flags, put your kids in the back of these, find a few hairpin corners on the backroads and let loose like one parent did. Warning however, there are no seatbelts and things sound like they get a little turbulent about 55mph, so keep it within reason!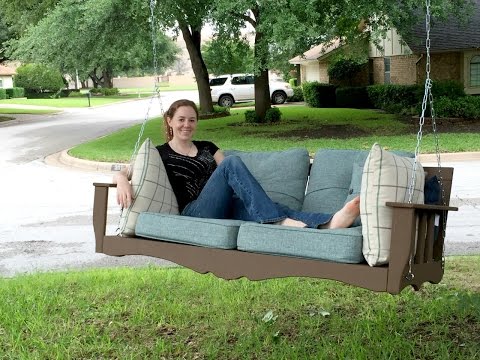 More:
Enjoyed the article on the best hanging chairs? Be sure to share it with your friends or keep scrolling for more cool material.