Discover The Best Way To Store Nespresso Pods
Filed under: kitchen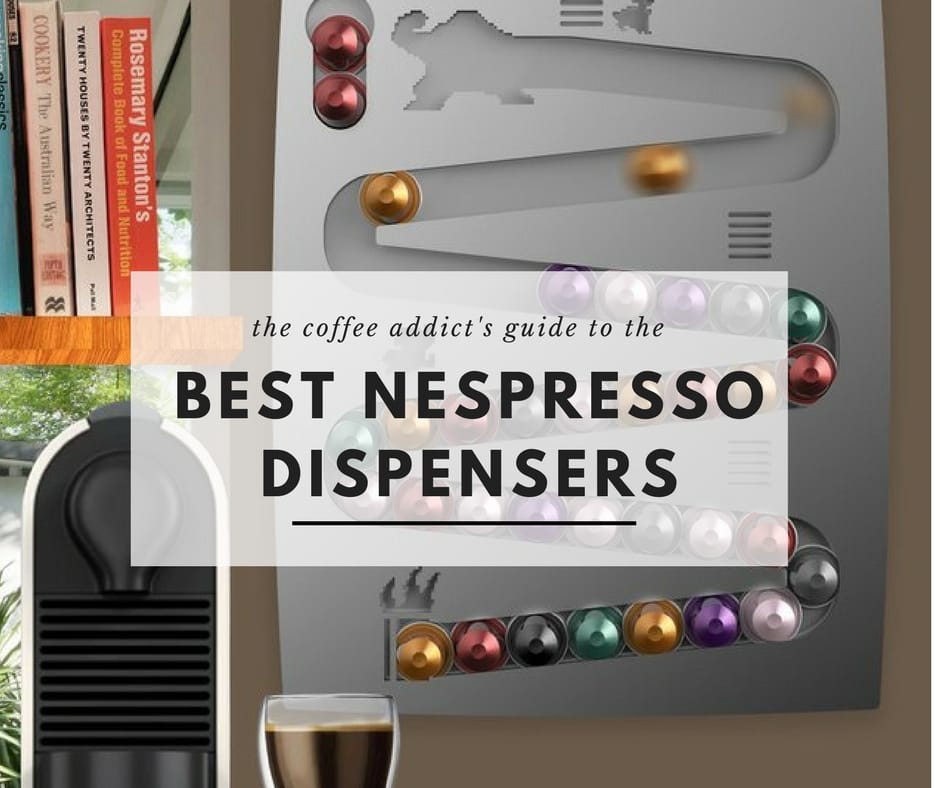 Update: The hexagon capsule holder is currently on sale which may end at any time - click here to check out the deal.
Finding the best Nespresso pod holder for your needs is easy. You already know what type of pods you need to keep organized (vertuoline or original, this is important since the size will matter), from there figure out what kind of space saving requirements you need.
If space is a concern, the drawer type storage units are best as the Nespresso machine can sit atop these and they hold plenty of pods (around 60), otherwise racks, stacked trays and cubes are all at your disposal.
Then you just need to figure out how much coffee you like to drink to find the right storage.
Read Next: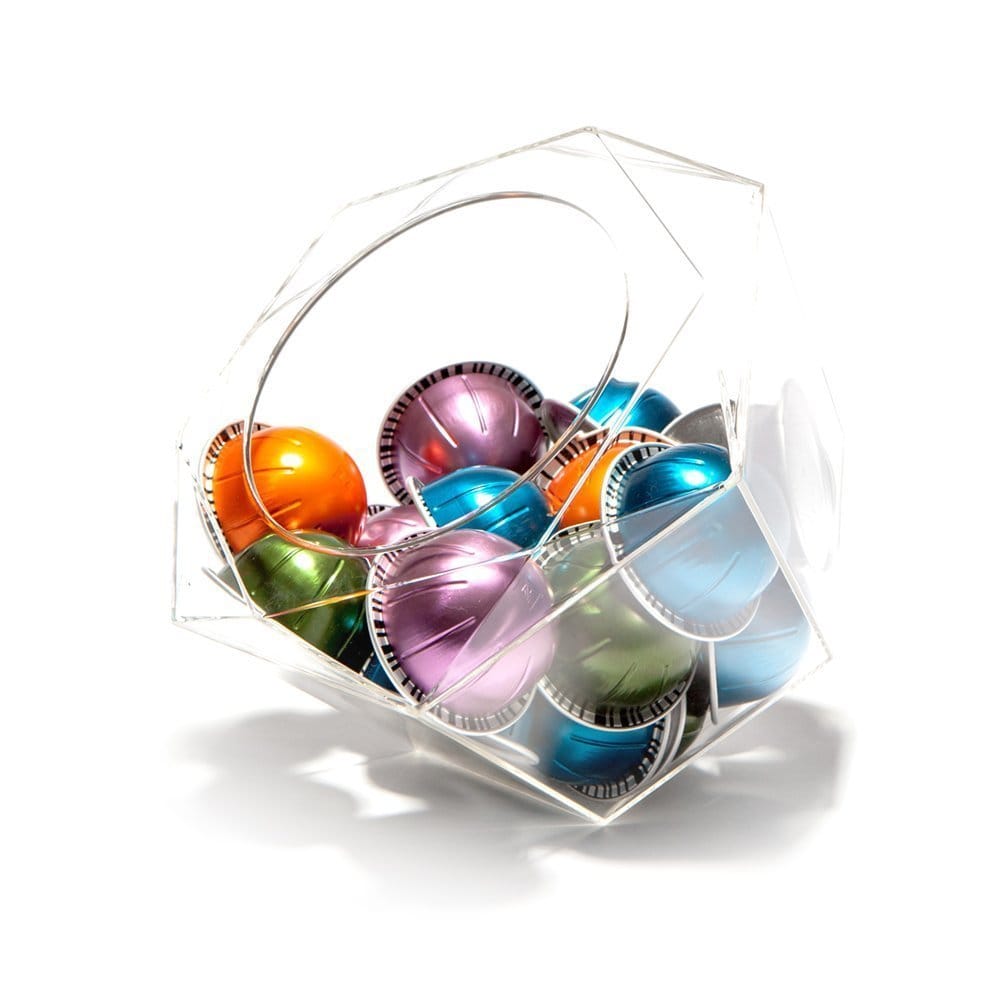 Update: The hexagon plexiglass capsule holder is currently on sale.
It's the first thing in the morning. Do you really want to be sliding, opening drawers, or pulling open containers to get to your instant mood lifting wakeful nectar?
No, I didn't think so.
The hexagon plexiglass coffee pod holder offers just enough design to keep it looking interesting while offering the simplest of all storage solutions. Just dump your pods, doesn't matter whether they are virtuoline, nespresso or whatever else in and you're good to go!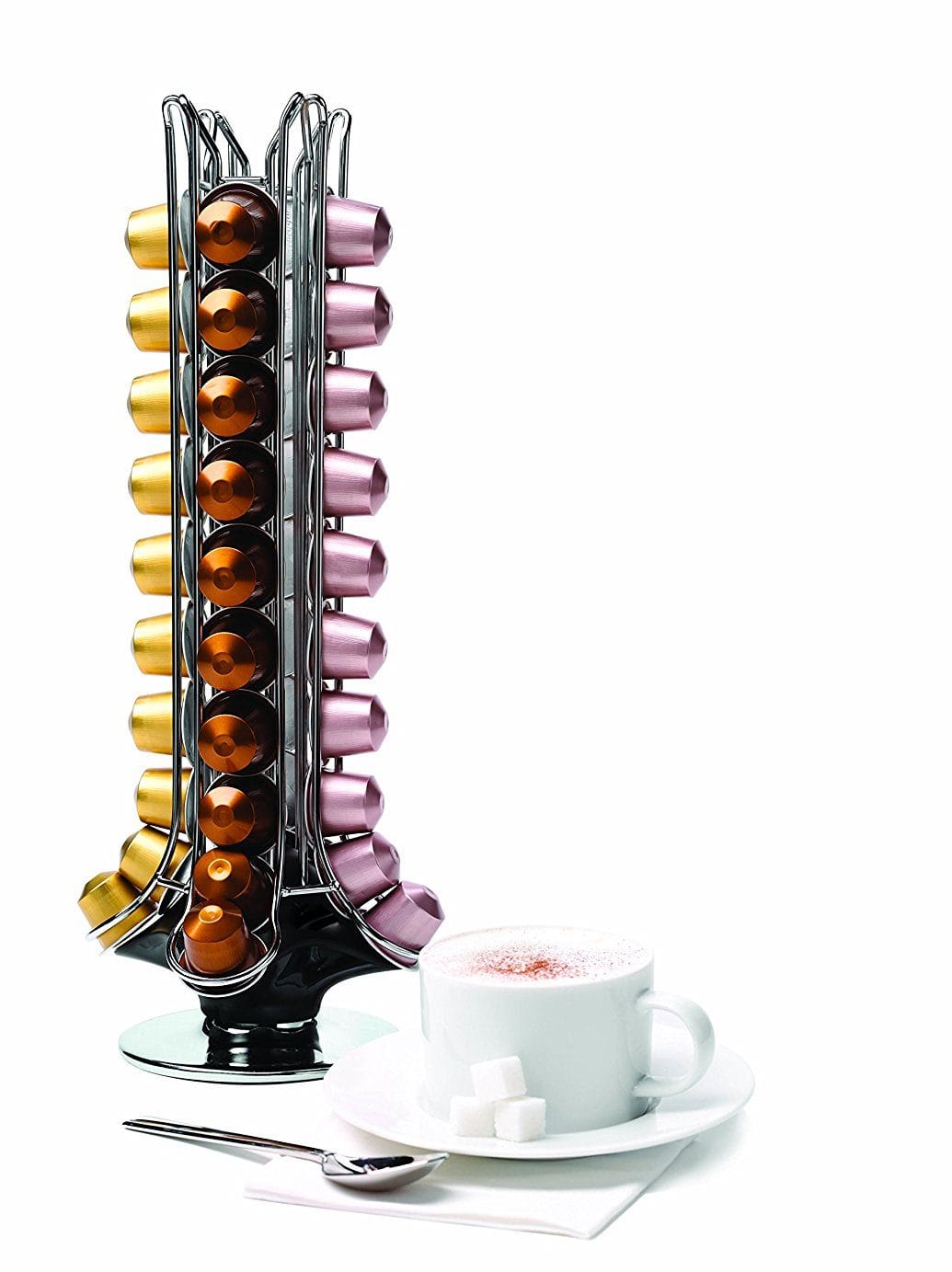 Perhaps you're more of a refined, organised individual and the thought of a tall tower housing all your capsules in a clean organised manner appeals to you. Then the Prepara capsule carousel is the design for you.
It holds 50 nespresso capsules with ease and has a smooth gliding base so you can reach your desired coffee pod. It's a very popular style with fantastic reviews to match.
Abacus Nespresso Pod Rack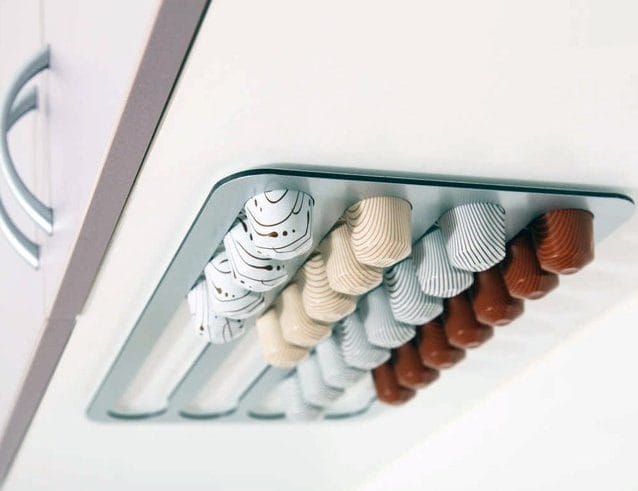 The Abacus Nespresso pod rack is a simple design that exudes minimalism. It can hold either 30 to 36 pods depending on your design preference when ordering.
The most novel feature of the capsule racks is the versatility with which they can be placed. Whether it's hung vertically inside your cabinets or pantry door or tucked away under dining cupboards, it's a product that will be easy to find a home for.
Features:
Constructed from an aluminium composite
Powder coated paint finish
Comes with adhesive mounting strips for easy installation
Holds up to 36 pods
Price:  $32
Functional: CafeStack Nespresso Capsule Organizer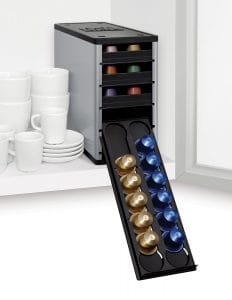 UPDATE: The CafeStack is currently on sale which can end at any time. Get a discounted version of the item here.
Last but not least, the CafeStack capsule holder is another best seller and favorite among coffee enthusiasts with 4.7/5 star rating. With it's shelve storage compartments it will help you organize Nespresso pods in no time. It has enough space to store 60 capsules and the draws feature the unique ability to drop down which helps with selecting pods  if the CafeStack is kept in higher cupboards.  This fits the original line of Nespresso pods (Pixie, Inissia, Citiz, Lattissima, and KitchenAid) not the Vertuoline style.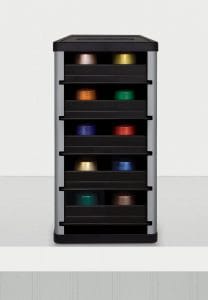 Features:
Stores 60 capsules
Draws pull out and extend down
Compact enough to fit standard kitchen cabinets
Price: Under $30
Best Nespresso Pod Holder: Legonart Coffee Cube Made From Ebony Wood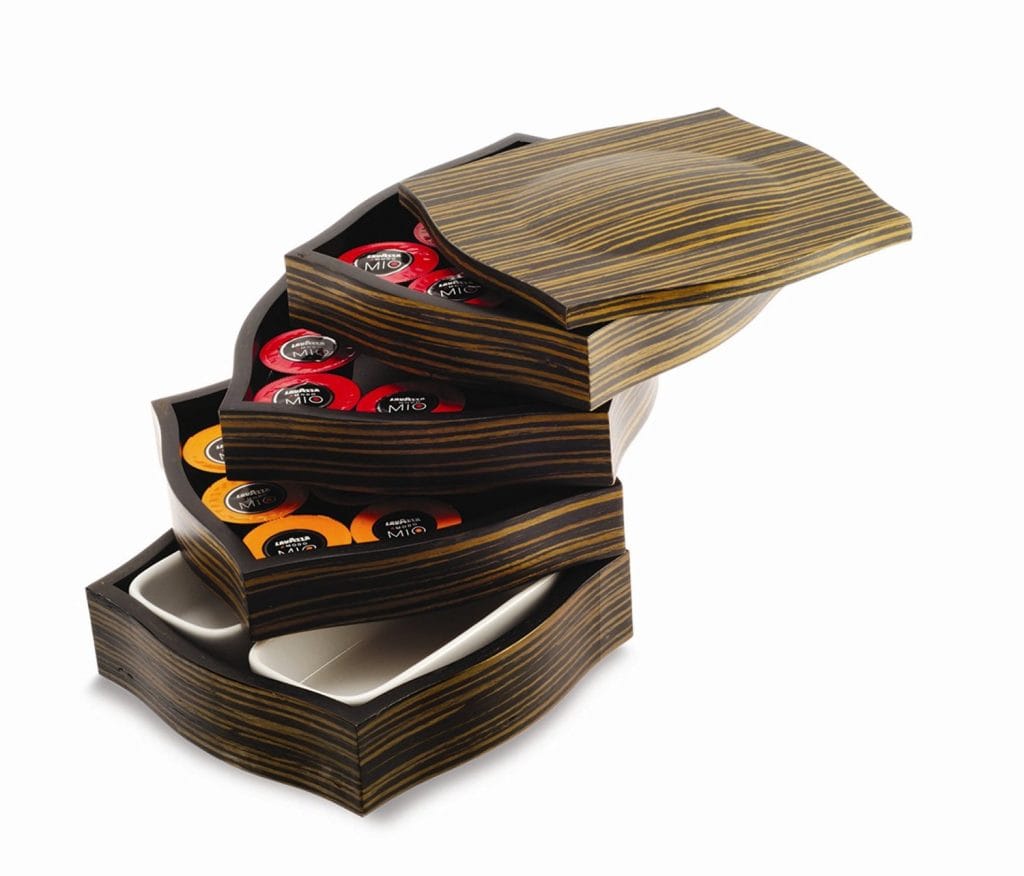 The Italian designed Legonart coffee cube takes the cake as the most stylish design and that's we've given it the best Nespresso pod holder. Complete with ebony wood exterior and black melamine interior with two ceramic dishes for sugar and spoons. You will have to be patient with this one though, it shipping times vary and can be up to 3 - 5 months. It's best to check to find out.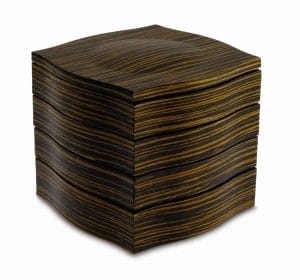 Features:
4 turning shelves (3 for pod storage)
Italian design
Ebony wood exterior
Price: Under $120
UPDATE: Currently unavailable
Cheapest: Nespresso Pod Storage Drawer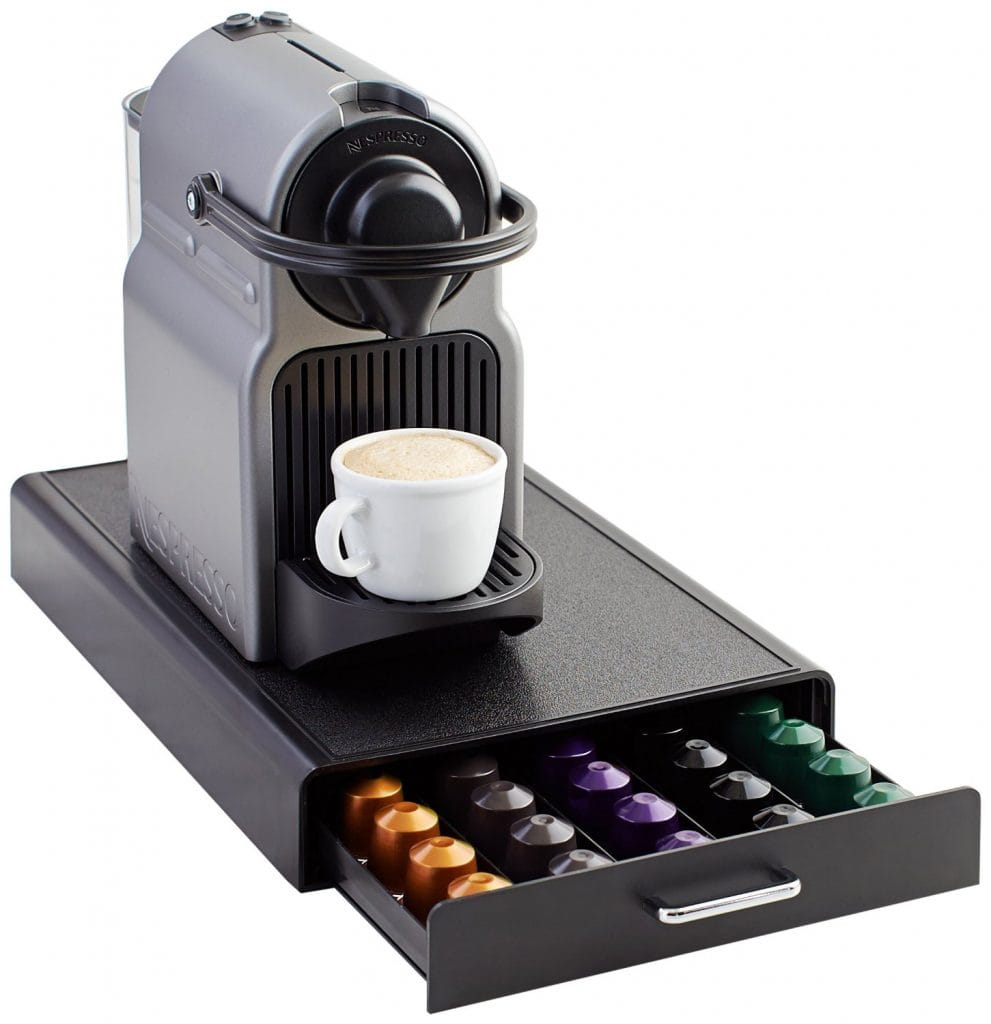 While it's the cheapest Nespresso pod storage drawer, it's not to be overlooked as the tray design means it's incredibly practical and space efficient. You slide your Nespresso machine on top and you've suddenly got capsule storage without any extra space being taken up on your precious kitchen bench. It's also one of the best sellers with a 4.5/5 star review so you  know it's a sure thing.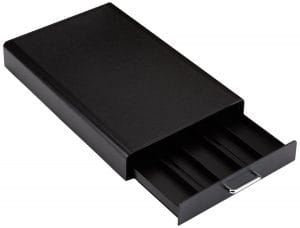 Features:
Storage capacity of 50
Durable design: interior pillar supports weight of coffee machine
Anti-slip pad on bottom protects kitchen bench tops
Price: Under $20
Coolest: Donkey Kong Inspired Wall Mounted Pod Storage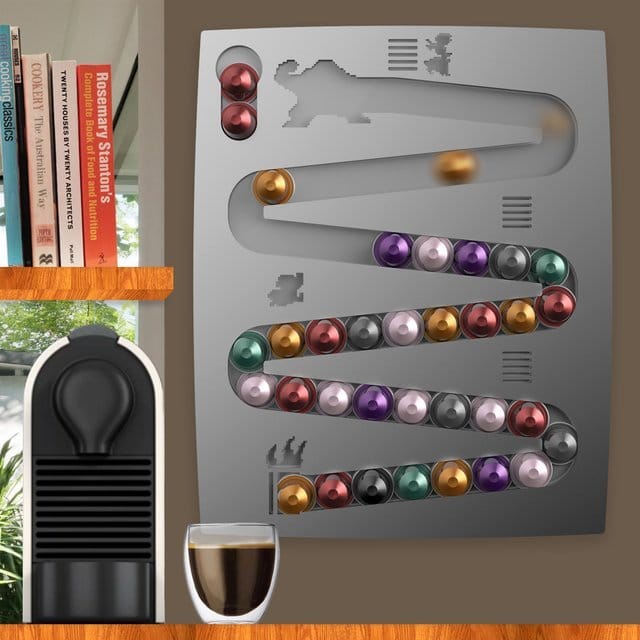 One for the old school gamers! The Donkey Kong inspired Nespresso capsule holder makes use of a rolling zig-zag pattern that is reminiscent of the Kong tossing the barrels all over the shop. The designers over at Hologramer have figured out the perfect angles, slopes and texture so you can watch gravity pull the pods down gracefully to the base. It's made by two Brisbane, Australia, based designers who teamed up to form a pure Nespresso pod design company.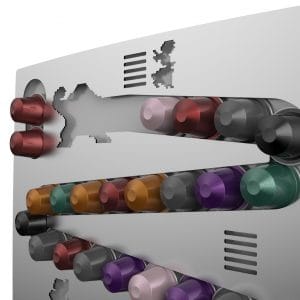 Features:
Crafted from premium anodised aluminium
Hold up to 50 capsules
Wall mounts included
Delivery 2-4 weeks
Price: $295
READ NEXT: Love Toasted, Cheesy Deliciousness? Then You Need One Of These Quesadilla Makers.
Transparent Waterfall Design Capsule Holder
While it's a simple design the cool feature about the transparent waterfall pod holder is that you can display your photos or artwork behind the pods.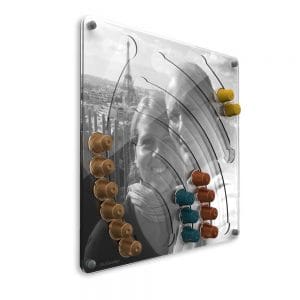 Features:
Laser cut edge plexi glass
Transparent design allows for photographs or artwork to be placed behind
Storage not listed
Price: Under $80
Check out the Cafe Stack in action: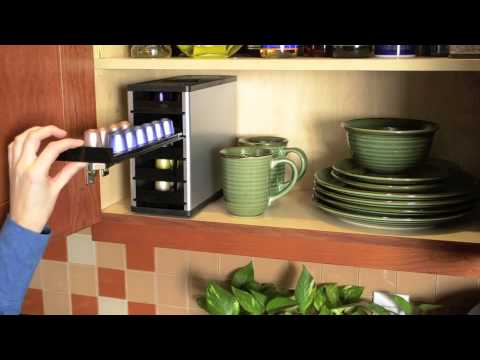 Whether buying for yourself or as gifts for coffee addicts, the best Nespresso pod holder is a vital piece of equipment for your kitchen.
Want To Build Your Own Nespresso Capsule Storage Rack? Then Watch This.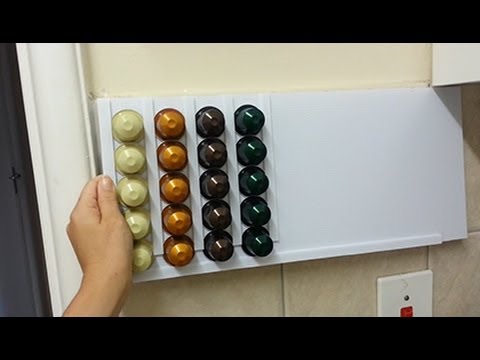 More: These Raclette Grills Are Perfect For When You're Hosting An Event Or Party.